Before you read further, stop and run the back of your hand across your cheek. Does it feel dry or a little scaly? If so, then it's time to exfoliate. As you age, skin turnover slows and dead skin cells pile up and stay attached for longer and longer periods of time. Well, that dry skin is getting in the way of your glow!
Not only will it make your skin appear dull, but it will insulate the deeper layers from being able to absorb the creams and serums you're using to prevent dry skin or aging. Nothing can penetrate when dead skin is in the way.
Ideally, you should exfoliate about twice a week. You can irritate skin by overdoing it, but a gentle scrub or peel a couple of times a week will invigorate skin and maximize absorption of skin care ingredients while also gently stimulating cell renewal at the deepest layers. Plus, your skin will feel soft and smooth – glowy even.
How to make a customized homemade face scrub
We've shared the right way to exfoliate and how to chemically exfoliate with natural alpha hydroxy acids, but it's also easy to physically exfoliate. You can raid the cupboard and mix and match common kitchen ingredients for a customized face scrub (much like we did with customized body scrubs).
Basic recipe for a customizable at-home face scrub
2 tablespoons of exfoliant
2 tablespoons of oil or liquid
1 teaspoon of a skin-enhancing ingredient
Combine the above in small bowl and mix together thoroughly. Wash face and apply scrub to damp skin with clean hands. Gently massage into skin for about a minute, starting with the jaw and working upward, but always avoiding your eyes. Rinse with lukewarm water. Apply toner then serum and moisturizer.
This will yield one application and is best used immediately. Nighttime is the best time to exfoliate so your skincare products can better absorb overnight.
Step 1: Choose the right exfoliant

Ground Almonds
Ground almonds are great for mature skin and will leave your skin nourished and hydrated. The fine grains gently exfoliate, and the oil in the almonds provides skin with vitamins A and E.
Baking Soda
A super fine texture that feels like a microdermabrasion at home. This easy cleanser is great for all skin types, but works especially well on oily skin as it absorbs excess oil.
Ground Rice
Asian women have used ground rice powder on their skin for ages to smooth complexions, lighten skin discolorations and reduce wrinkles. Plus, I read in Giada De Laurentiis's book Feel Good Food that she cleans her face daily with ground rice and olive oil, and that girl's skin looks amazing!
Oatmeal
If your skin tends to be sensitive, you might want to check out the effectiveness of oats as physical exfoliant. Use them whole or grind them up to gently unclog pores and soothe irritation.
Ground flaxseeds are another gentle but effective choice for exfoliation. They're rich in anti-inflammatory and hydrating omega-3 fatty acids.
Step 2: Choose the right liquid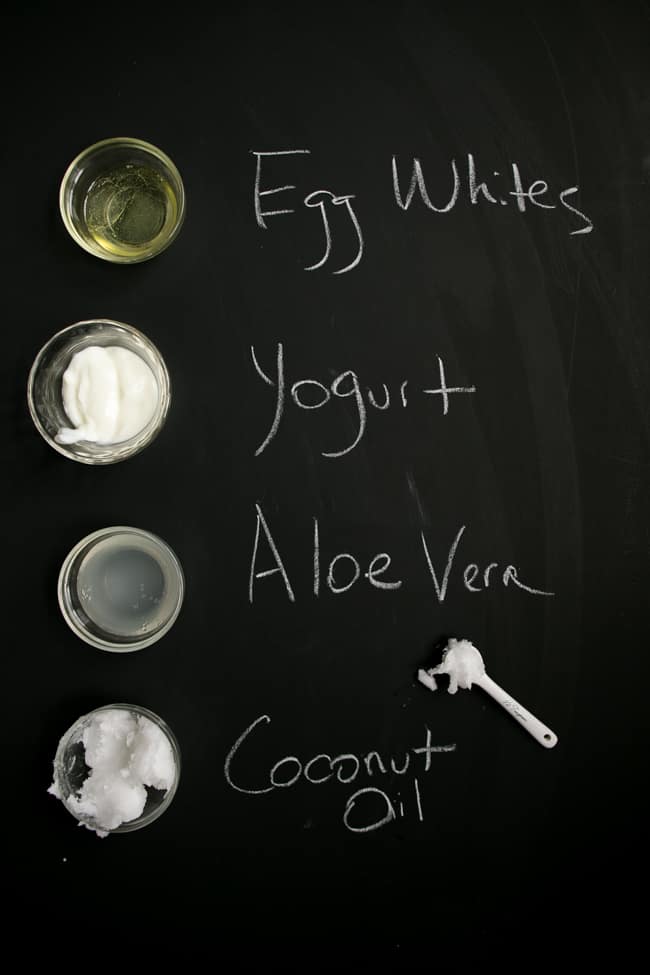 Egg whites
Egg whites are great for oily or aging skin, for tightening and firming skin, and for fighting off fine lines and wrinkles.
Yogurt
Lactic acid exfoliates to reveal radiant skin while the fats and proteins plump up fine lines so definitely go for full-fat versions.
Aloe Vera
Aloe vera is great for keeping skin clear and healthy, not to mention reducing inflammation and pain.
Coconut Oil
The fats in coconut oil moisturize while its lauric acid protects and softens skin. It's also an antiseptic and helps maintain a healthy pH level in the skin.
Step 3: Choose the right extras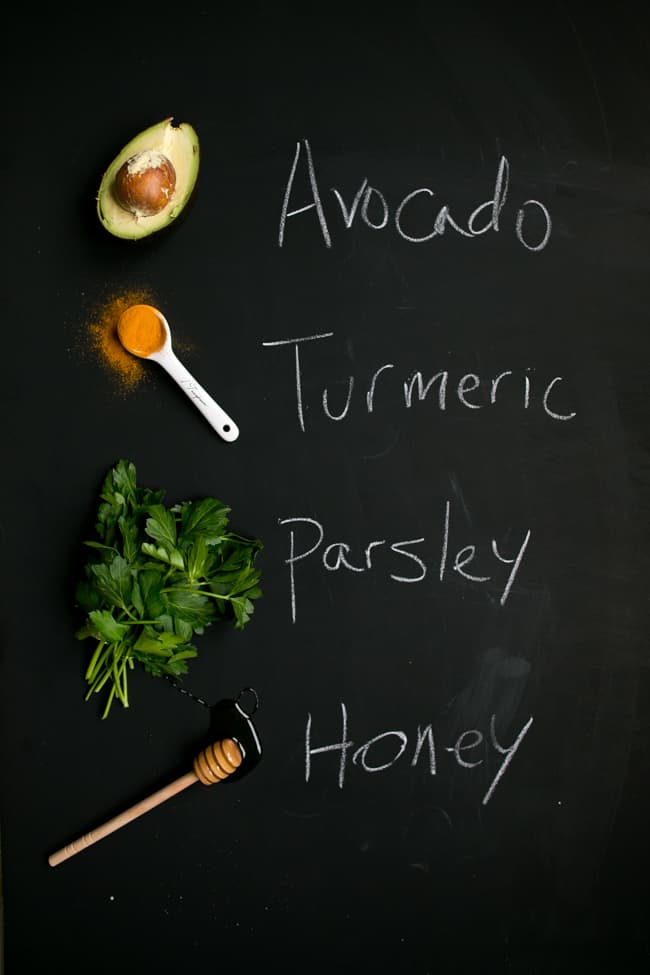 Avocado
Avocado is full of good fats that moisturize dry skin. It's also rich in antioxidants, which are great at fighting the effects of aging.
Turmeric
Turn to turmeric when you want to beat breakouts and fade acne scars.
Parsley
Pick a bit of parsley to fade age spots and treat under eye circles.
Honey
Raw honey kills bacteria, plumps skin and acts as a humectant to draw in moisture and soothe skin. Use raw honey on red or irritated skin to calm inflammation.
Step 4: Mix up the scrub that fits your skin type
Dry skin
Yes, you can – and should – exfoliate even if your skin is dry. Buff off dead skin and let your skin soak up the good fats in ground almonds, coconut oil and avocado.
Oily Skin
Let egg white tighten and tone while baking soda and turmeric help regulate oil production and skin pH.
Mature Skin
Battle age spots with a combination of ground rice, yogurt and parsley that will exfoliate and lighten discoloration when used regularly.
Sensitive skin
When only gentle ingredients will do! Soothe skin with a combination of anti-inflammatory ingredients like oatmeal, aloe vera and honey.
This post was medically reviewed by Dr. Jennifer Haley, a board-certified dermatologist with extensive experience in medical, cosmetic and surgical dermatology. Learn more about Hello Glow's medical review board here. As always, this is not personal medical advice and we recommend that you talk with your doctor.
151