Have you ever exfoliated your lips? Well, ladies (and gents), today is the day to raid the kitchen for a simple DIY sugar lip scrub. In under 5 minutes, you can exfoliate dry skin and enjoy soft, kissable lips all day.
A lip scrub combines exfoliation with much-needed moisture to keep lips softer longer, even in cold winter weather. So get on the lip scrub wagon with these homemade recipes and follow with a homemade lip balm.

How to Make a DIY Sugar Lip Scrub
Lip scrubs are super easy to whip up and require just a few ingredients. Not surprisingly, the main ingredient is sugar. But you can add a variety of other ingredients like skin-soothing oils, moisturizing honey, and nourishing add-ins like cocoa powder and strawberries.
If you're looking for a way to achieve soft, smooth lips without spending a lot of money, making your own DIY lip scrub is a great option. With just a few simple ingredients, you can create a luxurious lip scrub that rivals those found in high-end beauty stores.
To create a basic DIY lip scrub, you'll need a few key ingredients. The first is sugar, which serves as an exfoliant to remove dead skin cells from your lips. You'll also need a moisturizing agent, such as coconut oil or shea butter, to help keep your lips soft and supple. Finally, you can add in a few drops of essential oils or other flavorings to give your lip scrub a delicious scent.
To make your DIY lip scrub, start by combining equal parts sugar and coconut oil in a small bowl. Mix the ingredients together until they form a thick paste, then add in a few drops of your preferred essential oil or flavoring. You can also add a small amount of honey or vanilla extract for added sweetness.
Once your lip scrub is mixed together, apply a small amount to your lips and gently rub in a circular motion. Rinse your lips with warm water, then apply a moisturizing lip balm to lock in the hydration. With regular use, your DIY lip scrub can help keep your lips looking soft, smooth, and healthy.
Creating a DIY lip scrub is a simple and cost-effective way to achieve beautiful lips. By using ingredients like sugar and coconut oil, you can create a luxurious lip scrub that rivals those found in high-end beauty stores. Give it a try and see how soft and smooth your lips can feel!
One of our favorite recipes is this honey sugar scrub. It sloughs away dead skin, replenishes moisture, and locks in nutrients at the same time.
But if you'd like to get fancy, keep reading, and we'll show you how to make your own scrub using our no-fail customizable formula.
Honey Sugar DIY Lip Scrub Recipe
This recipe is a classic! A little honey combined with sugar and almond oil is all you need to moisturize and slough off dead skin. While you can use any kind of honey you like, the raw stuff has nutrients and antioxidants that nourish skin and encourage healing [source].
Mix everything together in a small bowl until you have a paste. Apply to lips with fingertips and massage it in to gently slough off dry, dead skin cells. You'll be tempted to eat the mixture because it tastes pretty darn good! Rinse with warm water and follow with lip balm.
Keep any extra in a small container for up to 7 days.
Customizable Lip Scrub Formula: DIY lip scrub recipe
There are endless ways to make a tasty sugar lip scrub. Of course, sugar is the main ingredient, but there are endless add-ins you can use depending on your preferences and your lips' needs.
Just grab yourself a small bowl, a spoon, and any ingredients you've got hanging out in your pantry. Once combined, store your lip scrub in a small container and enjoy it for up to a week! Here's our foolproof DIY lip scrub recipe: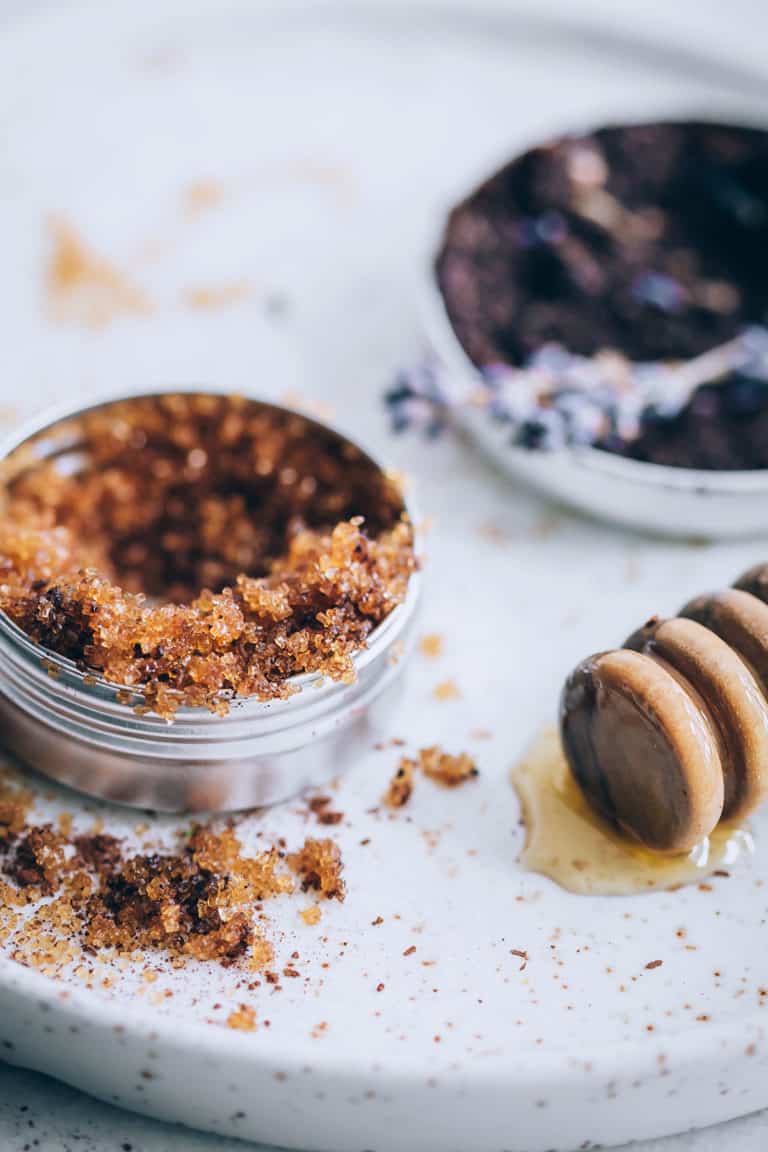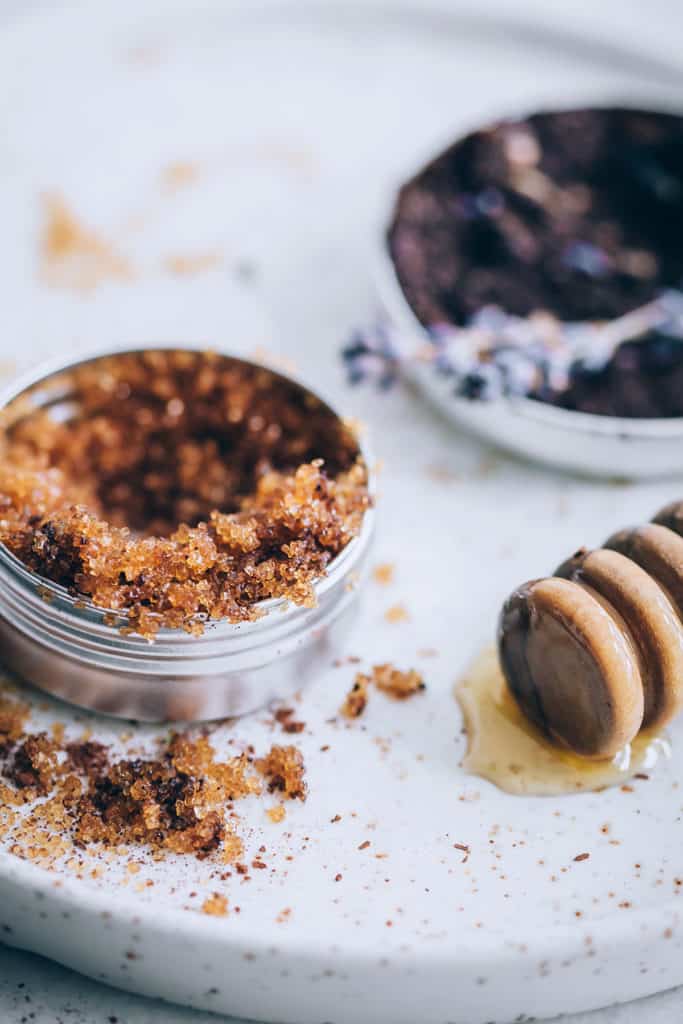 Step 1: Add 1 teaspoon honey
Honey is the ultimate lip medicine. It soothes dry, chapped lips by drawing moisture from the air and depositing it into the skin. It also has tons of antioxidants and can bring relief to irritated lips because of a mild antiseptic effect that speeds the healing of small cuts or burns.
You can use any one of the following to make your scrub:
Step 2: Add 2 teaspoons sugar
Sugar in your beauty routine isn't a no-no like in your diet. Sugar body scrubs are cheap and easy to make because the ingredients are probably in your pantry already. Plus, sugar is gentle enough to polish sensitive areas like the face and lips.
Step 3: Add 1 teaspoon of carrier oil
Add a bit of carrier oil to add moisture to your scrub and hydrate your lips. You only need a tiny amount, so stick with one of the basic oils you've already got on hand.
Step 4: Optional extra add-ins
You can't go wrong sticking with just sugar and honey, but sometimes you want to get experimental in the beauty test kitchen. Here are a few add-in ideas to take your scrub to the next level of awesomeness.
1. Add a dash of cinnamon or cayenne if you want to plump your lips naturally. Start with a tiny, tiny amount because it's easy to overdo it and wind up with irritated lips, which sort of defeats the purpose.
2. If your lips are starting to get cracked and painful, open up a vitamin E capsule and add it to the scrub.
3. Add a dash of cocoa powder for nourishing antioxidants [source] and a bit of chocolate flavor.
4. Mash a strawberry in there, and the natural citric acid will help polish lips along with sugar. Plus, you'll get a dose of vitamin C to help combat signs of aging on the skin around your mouth [source]—not recommended if you have cracks in your lips, as the citric acid will burn.
5. Sprinkle in a 1/4–1/2 teaspoon of pumpkin pie spice if your PSL craving has gotten out of hand.
6. Make your scrub super edible with a teaspoon of vanilla extract. Yum!
How to Use a Lip Scrub
I find it best to exfoliate lips before applying my makeup in the morning. If they happen to be especially dry, I exfoliate again in the evening and apply lip balm to hydrate while I sleep. Since exfoliating may make the dryness worse over time, I prefer to only use scrub a couple times a week. While you're making lip scrubs, try out our favorite lip balms—perfect for repairing winter-ravaged chapped lips!
1. Cleanse your lips to remove any lingering makeup.
2. Using your fingers, scoop a bit of scrub from the container. Apply scrub to your lips using short, gentle strokes.
3. Continue massaging into your lips using circular strokes, focusing on rough spots or flakey areas.
4. Rinse off scrub and apply lip balm or face oil to lock in moisture.
5. Avoid using scrub if your lips are sunburned, extremely chapped, or cracked.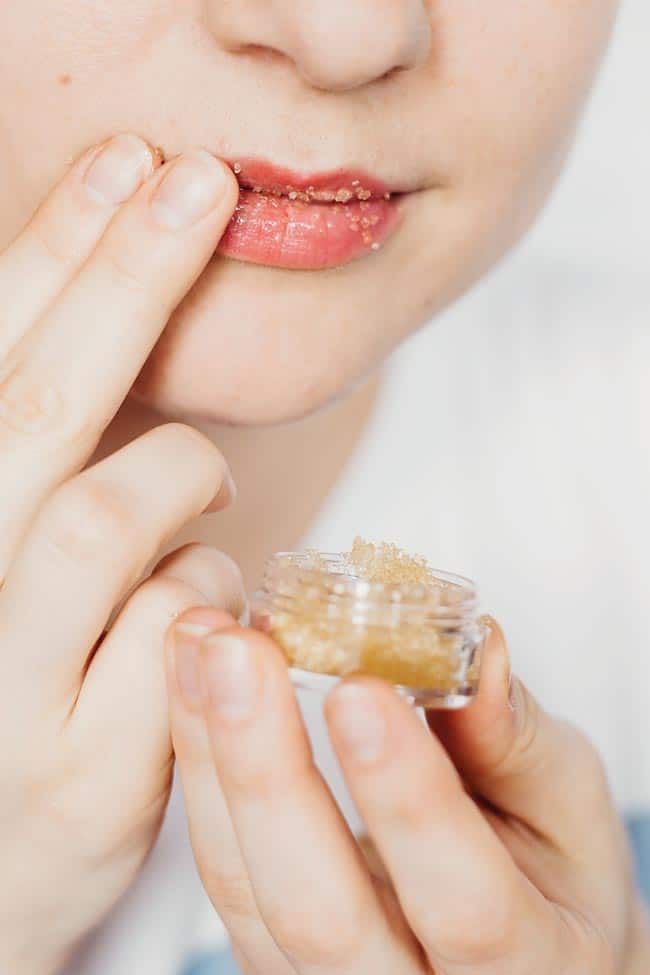 DIY Lip Scrub FAQ
What is DIY lip scrub?
DIY lip scrub is a homemade mixture of natural ingredients used to exfoliate and moisturize the lips, leaving them soft and smooth.
How do I make a DIY lip scrub?
To make a DIY lip scrub, you can mix together ingredients like sugar, honey, and coconut oil. There are many recipes available online that can guide you through the process.
What are the benefits of using a homemade lip scrub?
Using a homemade lip scrub can help to remove dead skin cells from your lips, leaving them soft and smooth. It can also help to moisturize and nourish the lips.
Are there any risks associated with using a DIY lip scrub?
While homemade lip scrubs are generally safe to use, you should be careful not to over-exfoliate your lips, as this can cause irritation or dryness. Additionally, some ingredients may cause allergic reactions in certain individuals, so it's always a good idea to do a patch test first.
How often should I use a DIY lip scrub?
You should use a DIY lip scrub once or twice a week, depending on your skin type and how often your lips feel dry or chapped. Be sure to follow the instructions of the specific recipe you are using, as some may recommend using it more or less frequently.
What can I use in place of almond oil?
Any oil that stays liquid at room temperature will work. A study assessing the use of coconut and olive oil on lips showed good penetration of the surface skin and measured over 6 hours of moisturizing ability [source]. I love jojoba, grapeseed, argan, and rosehip oils because of their ability to repair the skin barrier and regenerative properties [source].
Does DIY sugar lip scrub need to be refrigerated?
No, not if you plan to use it within a week or two. Any longer, and you might want to keep it in the fridge to be safe. If the honey crystallizes in the refrigerator, just run the scrub under warm running water until it softens.
How often can I use lip scrub?
According to the internet, you can use lip scrub anywhere from several times a week to once a day. Just keep an eye on your lips and if you notice additional peeling, cut back on the scrub!
How long do you leave lip scrub on your lips?
1–2 minutes should be long enough. If you'd prefer to do a deep moisturizing treatment to nourish lips, you can try a DIY lip mask.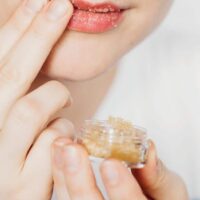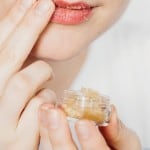 Print
DIY Sugar Lip Scrub with Honey
This DIY sugar lip scrub exfoliates and moisturizes in one fell swoop. Add in your own ingredients to create a custom scrub that's perfect for your pout.
Equipment
Small bowl

Lidded cosmetic container
Materials
1

teaspoon

honey

raw, manuka

2

teaspoons

sugar

brown, coconut, sucanat

1

teaspoon

oil

almond, olive, coconut, jojoba
Instructions
Combine everything in a small bowl and stir well.

Transfer to a lidded cosmetic container and use within 2 weeks.
Notes
Optional add-ins
A dash of cinnamon or cayenne for a plumping effect
A vitamin E capsule to soothe irritation
A dash of cocoa powder for nourishing antioxidants and a bit of flavor
A mashed strawberry for vitamin C and some polishing action
1/4–1/2 teaspoon of pumpkin pie spice for flavor
Apply to lips with fingertips and massage it in to gently slough off dry, dead skin cells. You'll be tempted to eat the mixture because it tastes pretty darn good! Rinse with warm water and follow with lip balm.
This post was medically reviewed by Dr. Jennifer Haley, a board-certified dermatologist with extensive experience in medical, cosmetic, and surgical dermatology. Learn more about Hello Glow's medical review board here. As always, this is not personal medical advice, and we recommend that you talk with your doctor.
Photos by Ana Stanciu
682