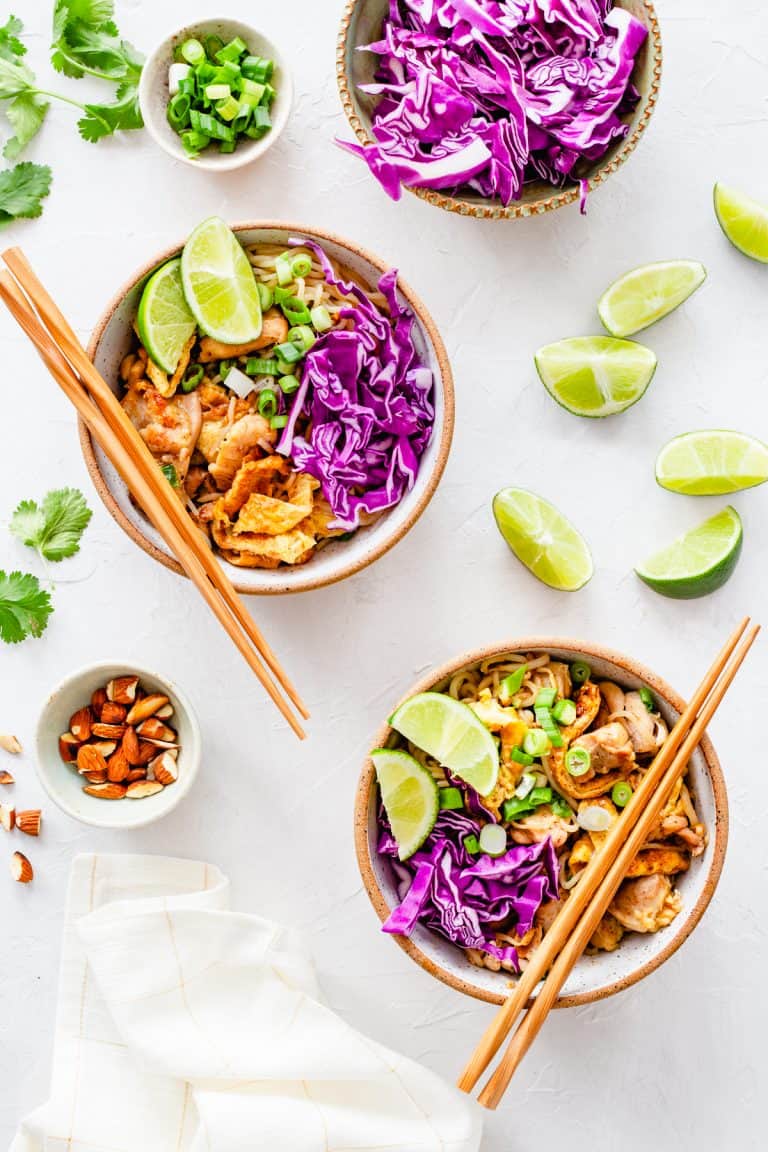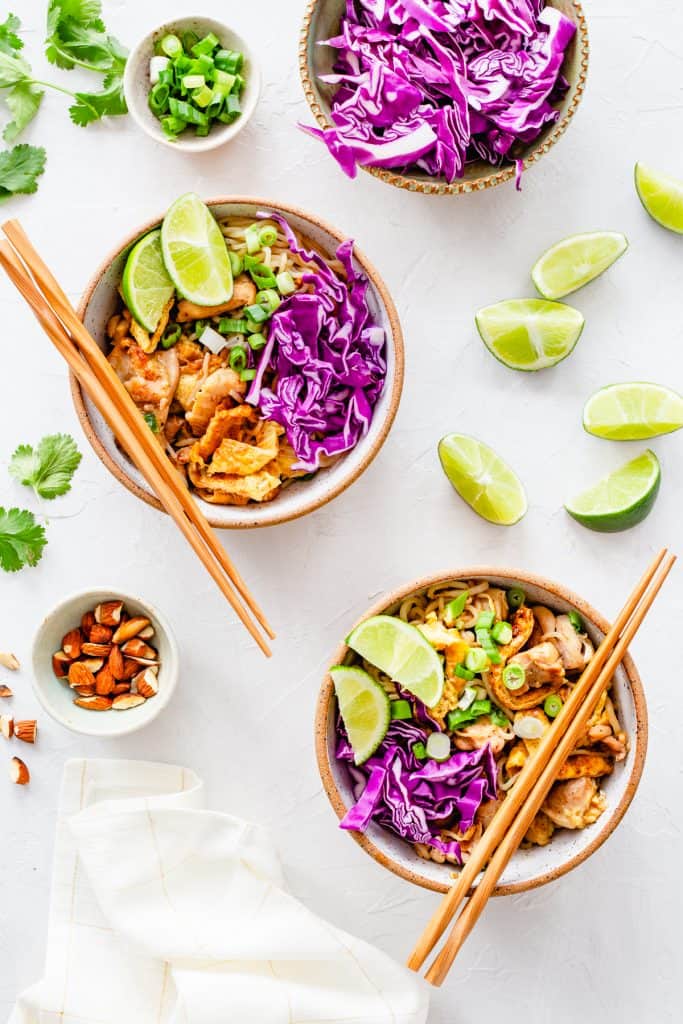 A good keto cookbook is worth its weight in gold. Have been keto for the past year, I have definitely learned a lot along the way. One of the most important things I've learned is that it's always a good idea to keep your eyes open to new and exciting recipes. Just like a traditional diet, eating and cooking can become monotonous and routine.
The Beginner's KetoDiet Cookbook by Martina Slajerova is just what it says. It's a fantastic resource for beginner keto-eaters, but I would argue it's the perfect companion for long-time keto-eaters, too!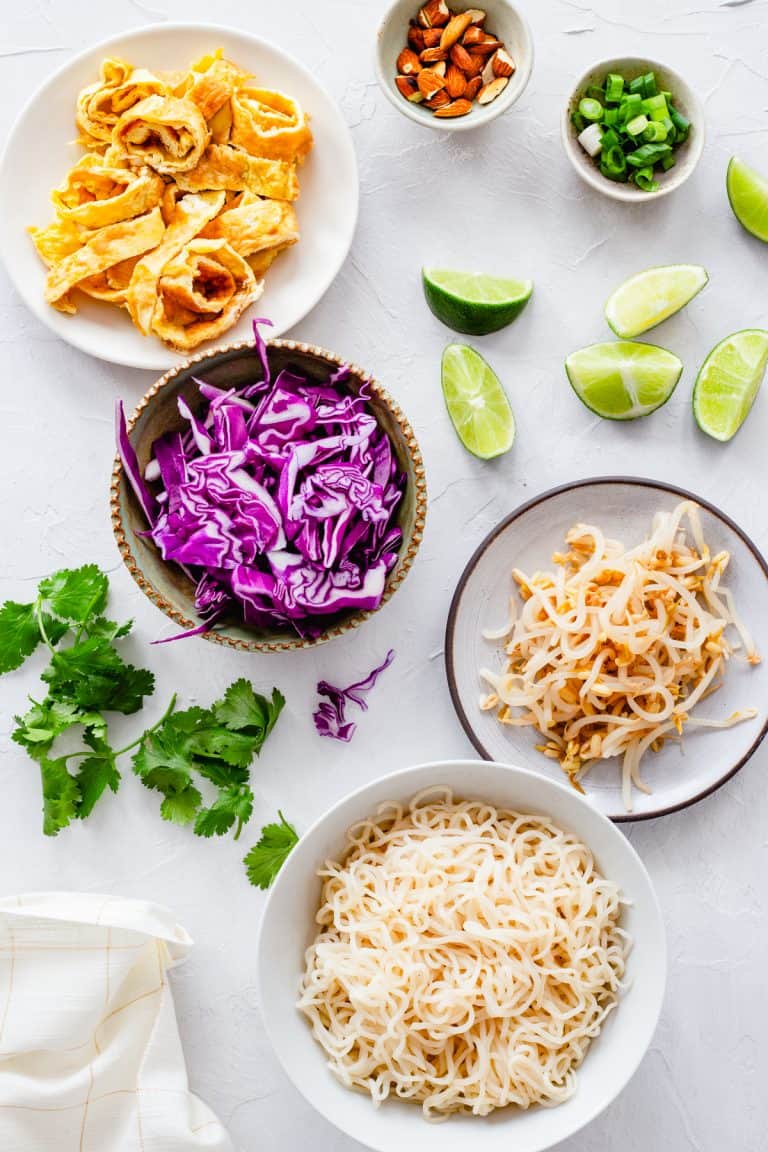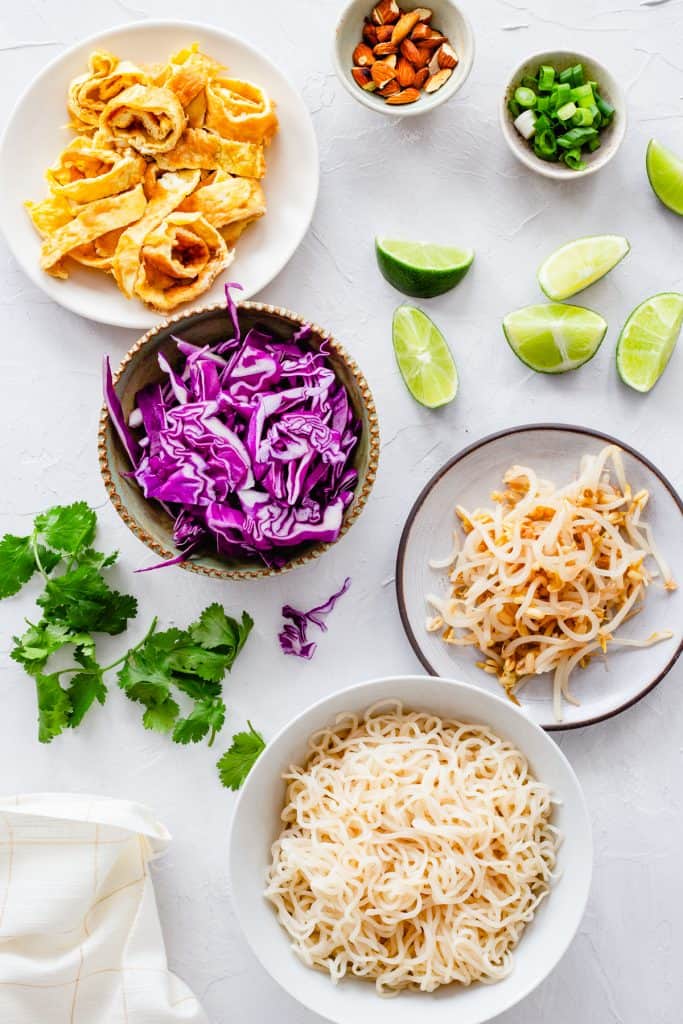 Take these shirataki noodles. When immersing myself in keto research last year, I came across low-carb shiritaki noodles. I excitedly picked up a package of these noodles swimming in water and went home to try to prepare them. I clearly didn't know what I was doing and the results were less than appetizing.
So I wrote them off and completely forgot about them. I went on to live an entire noodle-less year.
That was a big mistake.
I missed noodles. Really missed them. Especially in dishes like this Keto Pad Thai.
In her cookbook, Martina outlines an entire section on keto diet staples, including the PROPER way to prepare these shirataki noodles. It takes less than 15 minutes start to finish then you have noodles to use in any meal you want to make throughout the week. This is a game changer.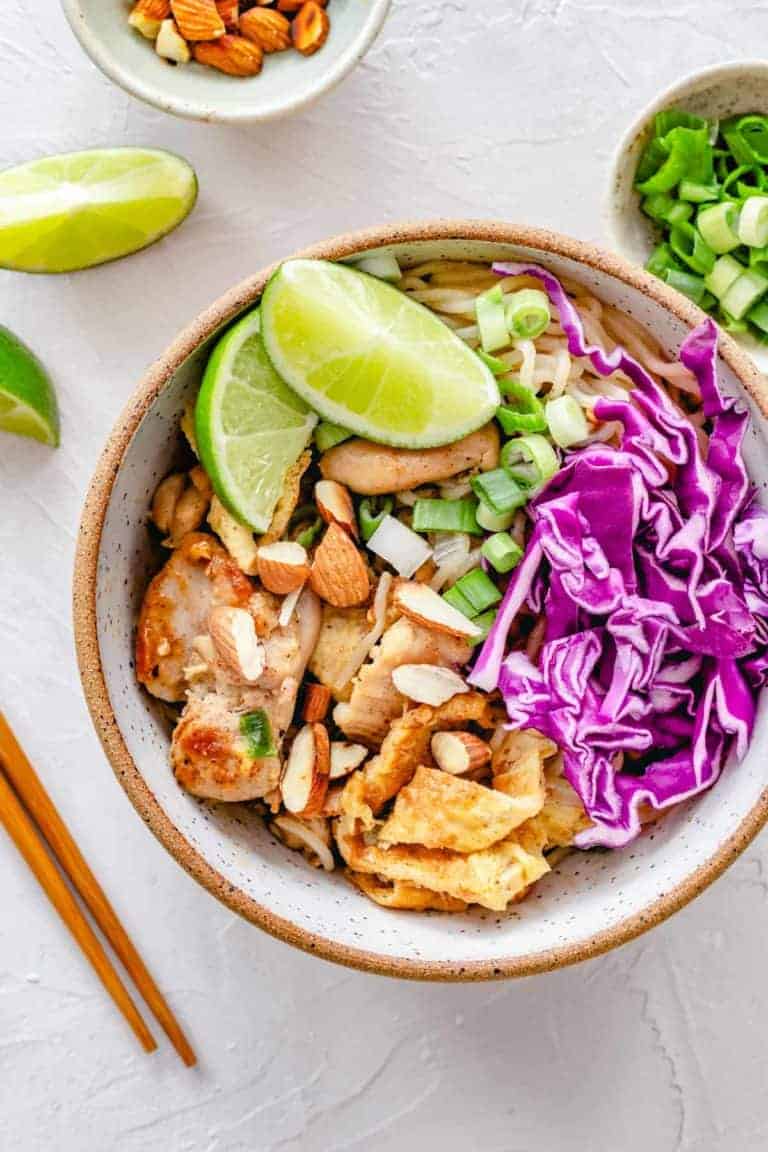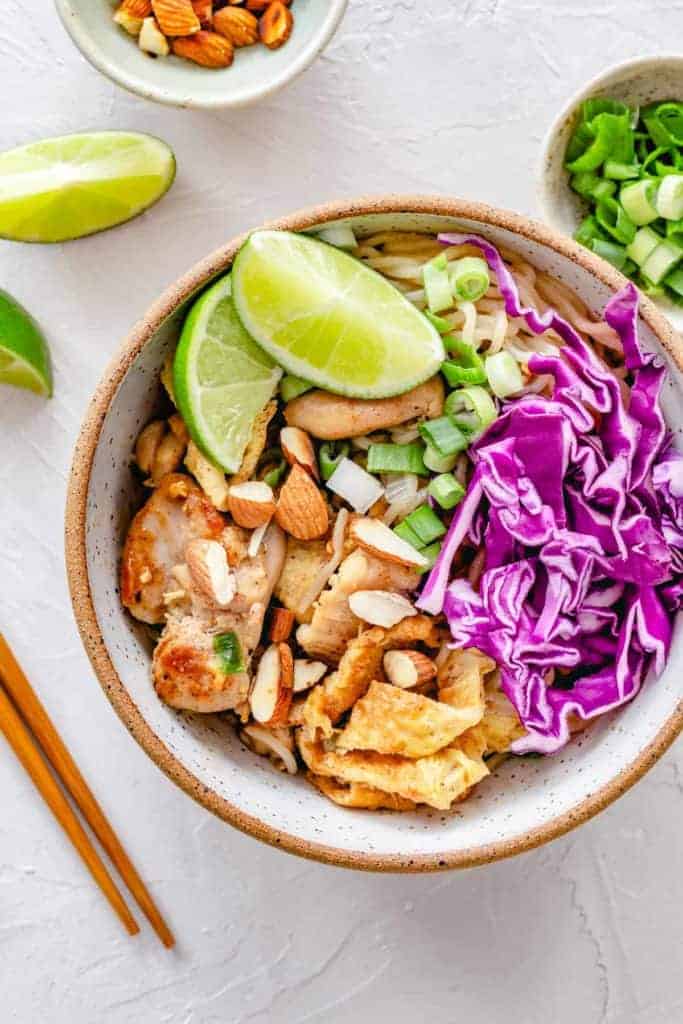 How to Prepare Shirataki Noodles
Wash and drain the noodles
Boil them for 2-3 minutes
Place in a hot, dry pan and fry for about 10 minutes, tossing with tongs while cooking
That's all it takes to be halfway to this incredibly satisfying keto pad Thai. The rest of this recipe includes chicken thighs and easy egg omelets cooked in ghee, bean sprouts, spring onions, and fresh crunchy cabbage.
The simple sauce is made with fish sauce and almond butter and gives the pad Thai an amazingly nutty flavor.
Even my kids loved loved this recipe and my husband who is newish to keto was on cloud nine being able to eat noodles.
Keto-friendly noodles are my new best friend!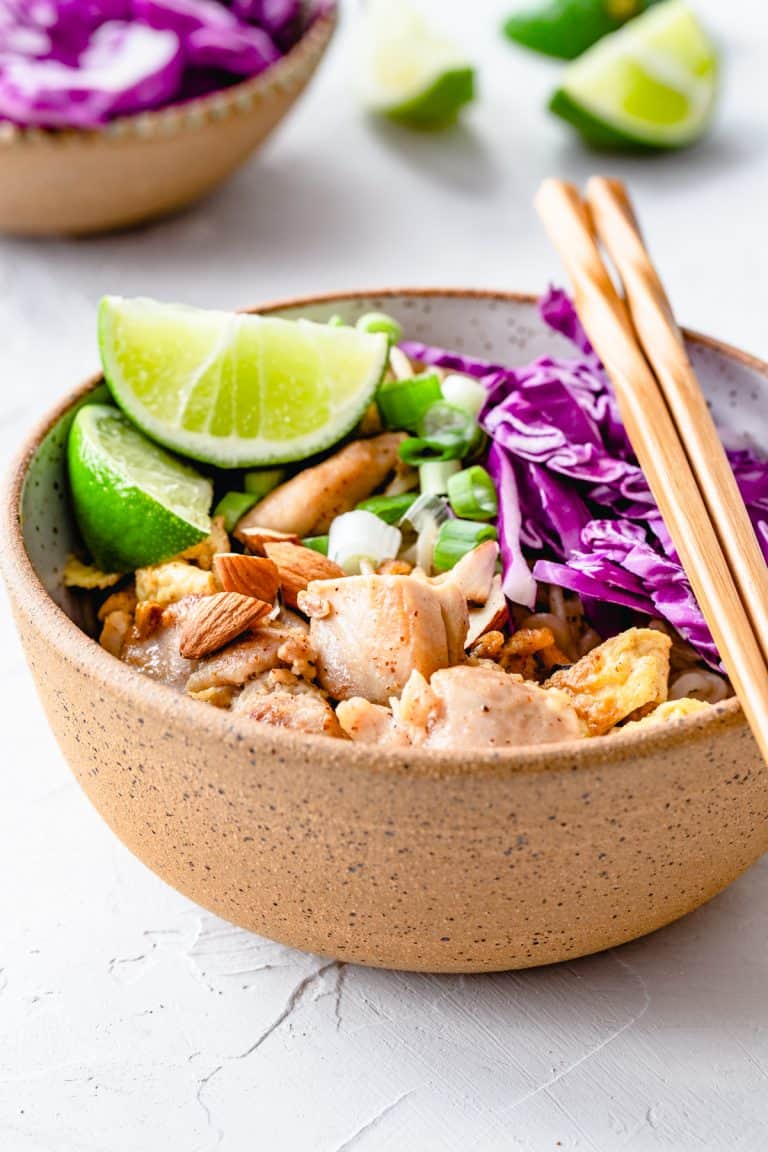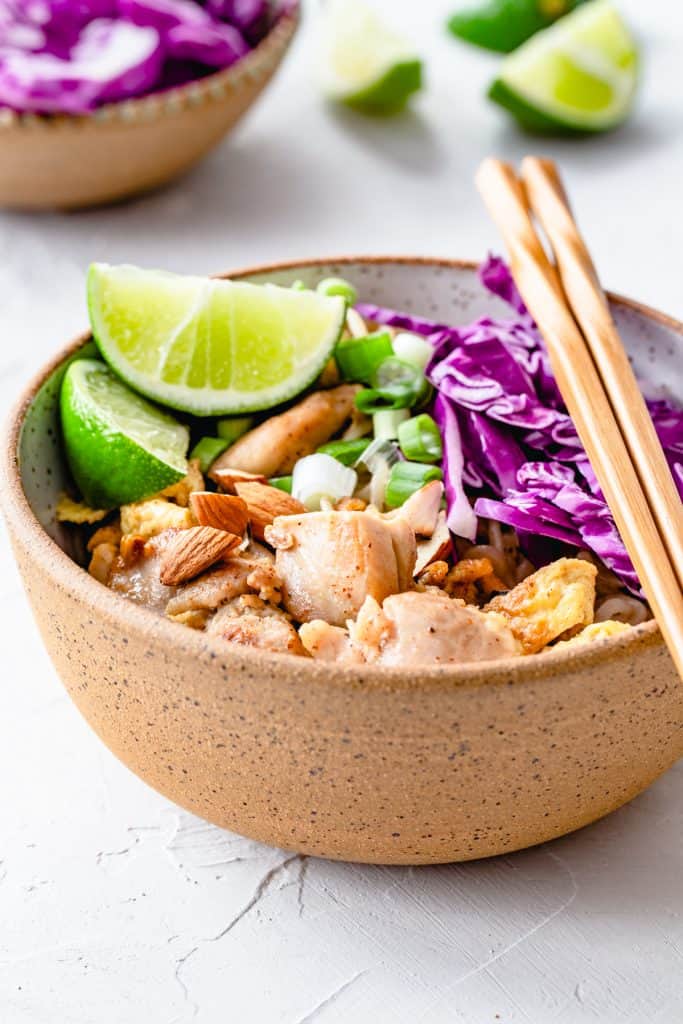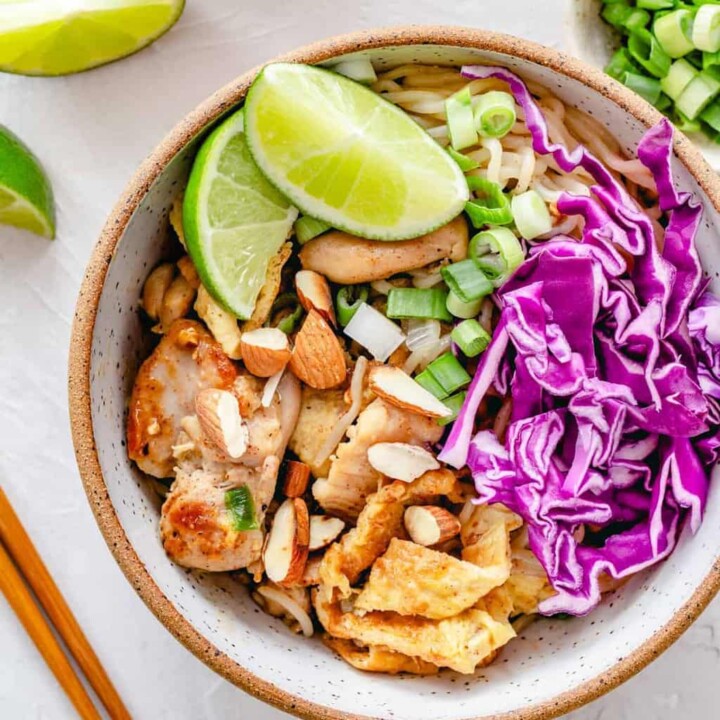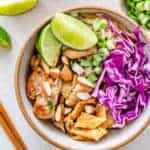 Print Recipe
Keto Pad Thai
Equipment
Small bowl

Stock pot

Frying pan
Ingredients
Sauce:
¼

cup

60 ml fish sauce

1

tablespoon

15 ml coconut aminos

1

tablespoon

15 g/0.5 oz Sriracha

2

cloves

garlic

crushed

4

tablespoons

64 g /2.3 oz almond butter or coconut butter

Optional: 1 to 2 tablespoons erythritol or 5 to 7 drops stevia extract
Stir -fry:
2

packs

400 g/14.1 oz shirataki noodles

4

large eggs

¼

cup

plus 1 tablespoon

70 g/2.5 oz ghee, divided

1.1

pounds

500 g boneless, skinless chicken thighs

2

medium

30 g/1.1 oz spring onions, sliced

2

cups

100 g/3.5 oz bean sprouts

Sea salt and black pepper

¼

cup

15 g/0.5 oz flaked almonds or coconut, toasted

2

cups

140 g/4.9 oz shredded red cabbage

2

tablespoons

30 ml fresh lime juice

Small bunch cilantro

chopped
Instructions
Prepare the sauce: Combine all the ingredients for the sauce in a bowl, including the erythritol, if using. Set aside.

Prepare the shirataki noodles: Wash the shirataki noodles thoroughly and boil them for 2 to 3 minutes. Drain well. Place the noodles in a hot dry pan. Fry over medium-high heat for about 10 minutes. Using tongs, toss the noodles as they cook. Set aside. 

Prepare the omelets: Heat a pan greased with ½ tablespoon of ghee. Beat 2 eggs, pour into the hot pan, and swirl to coat the surface in order to make a very thin omelet. Cook over a medium-high heat for a couple of minutes or until firm on top. Flip over with a spatula and cook for 30 seconds more. When done, transfer to a plate. Grease the pan with the remaining ghee and repeat with the remaining 2 eggs. Set aside to cool down, then roll up the omelets and cut into thin strips.

Cut the chicken thighs into 1-inch (2.5-cm) pieces. Heat a large pan greased with the remaining ¼ cup (55 g/1.9 oz) ghee and cook over a medium-high heat until pale and cooked through, about 5 to 7 minutes, stirring occasionally. Add the spring onions. Cook over a medium-high heat for 1 to 2 minutes. Then add the omelet strips and bean sprouts and cook for 1 minute more while stirring. Add the prepared sauce and shirataki noodles, cook briefly until heated through, and remove from the heat. Season with salt and pepper to taste.

To toast the almond flakes, place them on a dry hot pan and cook over a medium-high heat until fragrant for 1 to 2 minutes. Keep stirring to prevent burning. Serve the pad thai with cabbage, lime juice, cilantro, and toasted almonds.
Notes
There are many different ingredients you can use for this recipe! Feel free to substitute any of your favorite keto noodles, sauce or fresh veggies. The sky's the limit! 
Nutrition
Calories:
547
kcal
|
Carbohydrates:
14.1
g
|
Protein:
36.6
g
|
Fat:
37.8
g
|
Fiber:
5.4
g
223