Thanksgiving is one of those blessed events when we can throw our cares to the wind and eat all the carbs and all the pie. However! If we can pack some extra nutrition into all those classic Thanksgiving dishes, why not? Earlier this week, I shared some simple and healthy Thanksgiving sides, and now I've got another to add to the lineup: Bone Broth Mashed Potatoes.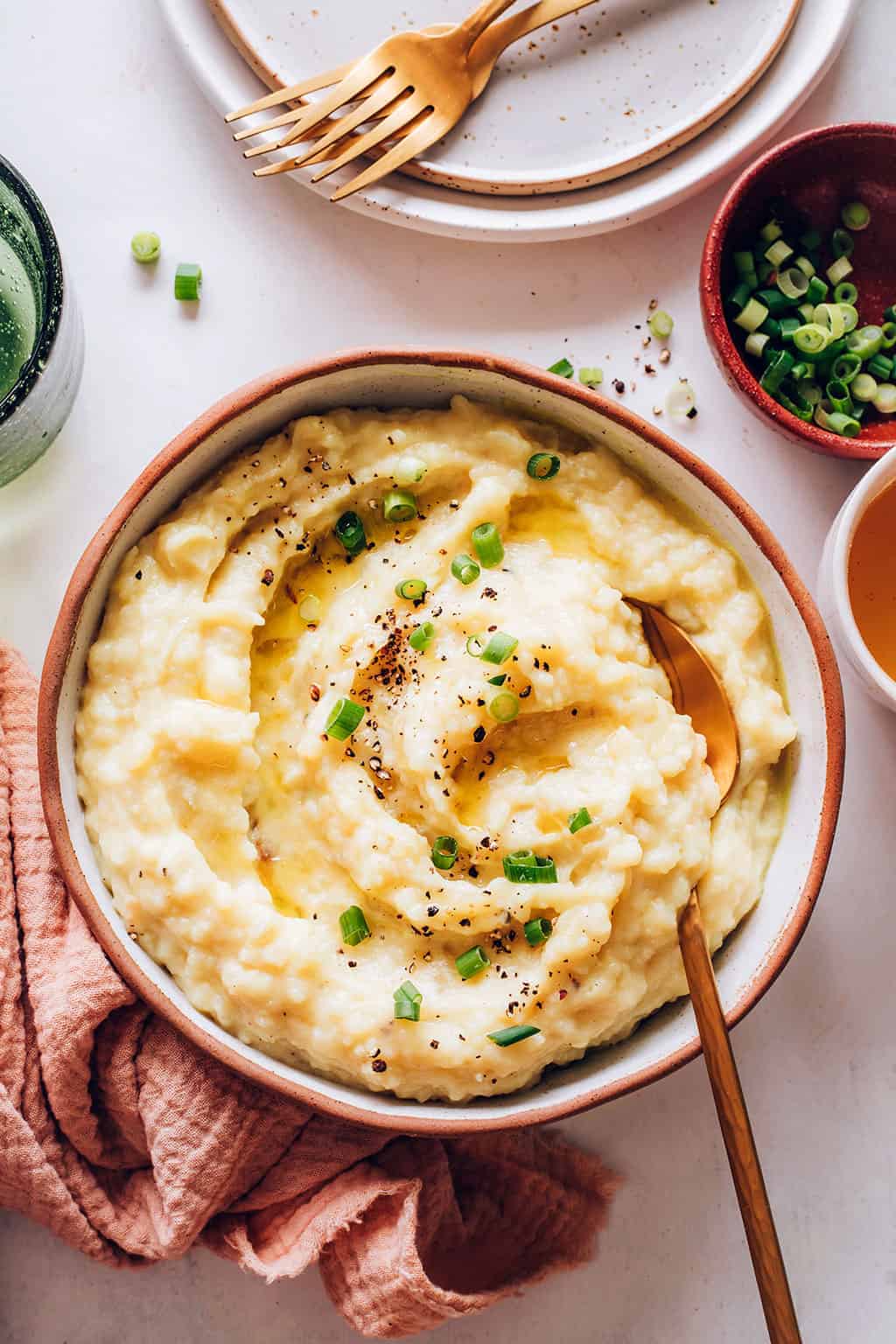 Bone broth is easier than you might think: use whatever meat or poultry you'll be serving, bones included, add some veggies you have at hand, and let the whole thing simmer for a few hours. In fact, you can grab our tried and true recipe here. But why would you make it, you ask?
Why Bone Broth?
Bone broth is rich in nutrients, including calcium, magnesium, and phosphorus. These are all important for a healthy diet, especially during the cold months when our bodies could use a boost. And if you've ever noticed how cold bone broth sets up like jelly, that's because of its high collagen content.
Collagen is essential not just in keeping skin look youthful and elastic, but also in supporting the tendons and ligaments, lowering blood pressure and blood sugar, and even reducing osteoarthritis pain. Collagen might also aid with thinning hair and brittle nails. While taking it as a supplement is an easy, sure way to get your fix, including bone broth in your regular diet might be an even healthier alternative.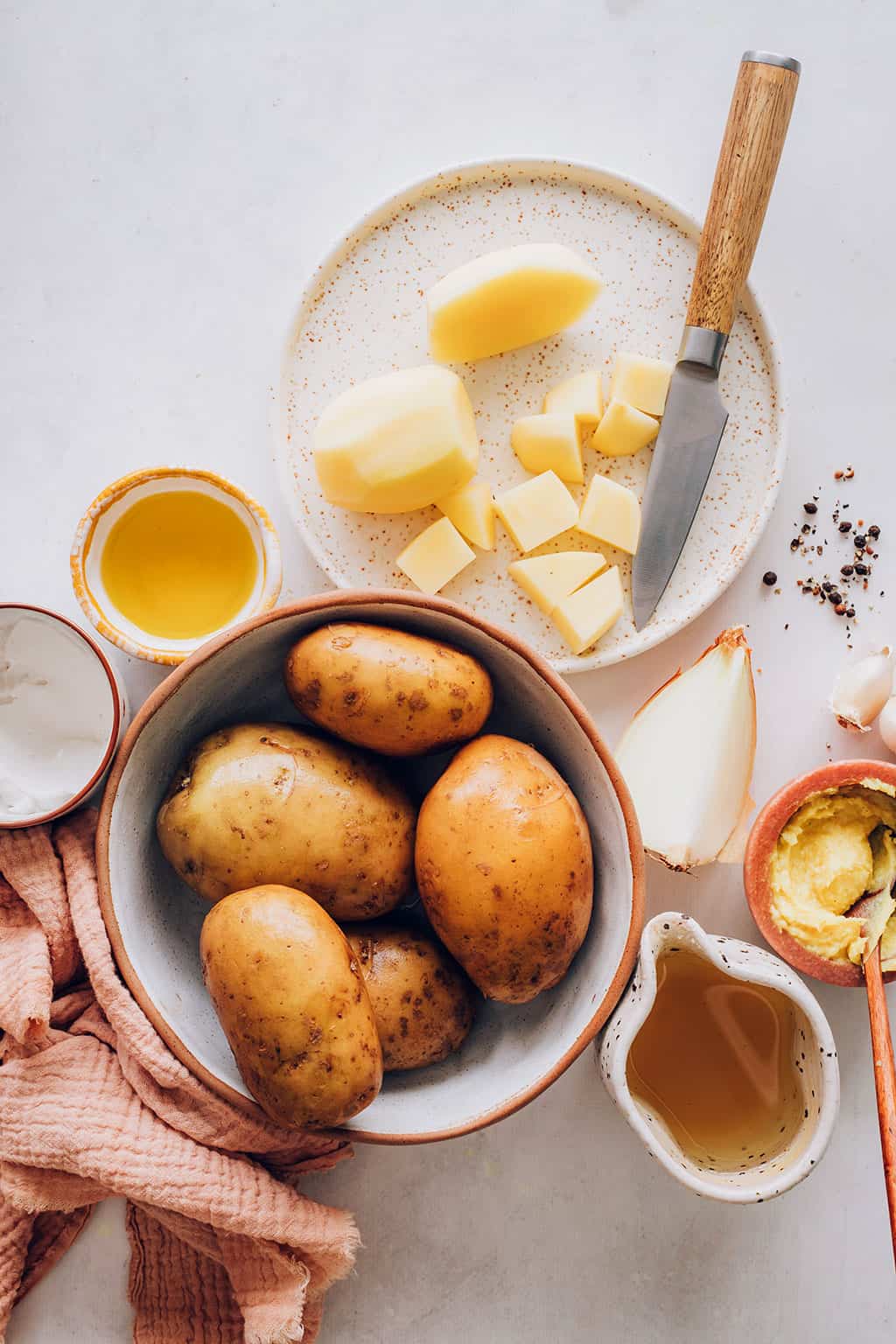 Bone Broth Mashed Potatoes
Our friends at Bonafide Provisions came up with this recipe and it was just too good not to share. It has the gut-healing benefits of bone broth, lots of healthy fats (butter! avocado oil! coconut cream!), and, most importantly: plenty of garlic.
Garlic has been traditionally used as a cure-all natural remedy, due to its antiseptic, antibacterial and antifungal properties. Incorporating garlic into your diet (especially during the cold and flu season) could give your immune system a boost and keep infections at bay.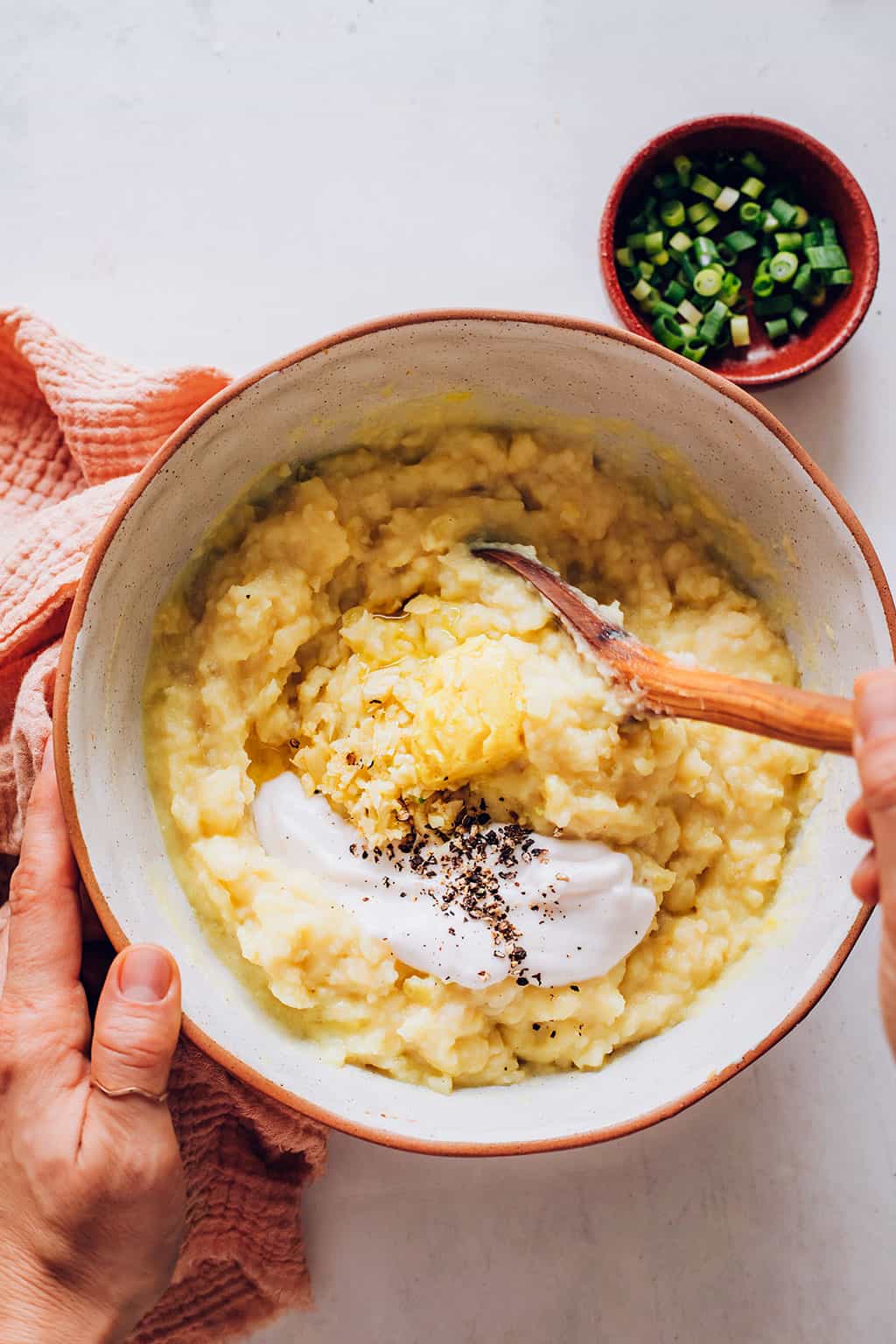 If your Thanksgiving mashed potatoes could use an upgrade, this is it. Flavorful and delicious, healthy and satisfying, perfect as a side dish or on its own.
Bone Broth Mashed Potatoes
These bone broth mashed potatoes have the gut-healing benefits of chicken bone broth, plus lots of healthy fats and plenty of garlic.
Ingredients
2

pounds

yukon gold potatoes

washed and peeled

2

teaspoons

sea salt

1

tablespoon

grassfed butter or ghee

1/2

large yellow onion

diced

3

tablespoons

chicken bone broth

1

tablespoon

avocado oil

8

garlic cloves

minced

1/4

cup

coconut cream

3

tablespoons

grassfed butter or ghee

sea salt and black pepper

to taste

chopped chives

for garnish
Instructions
Place potatoes in a large saucepan or pot and cover with 1" water over their tops. Bring to a light boil over medium-high heat and add 2 teaspoons of sea salt. Cover and cook potatoes for 25 minutes until very fork tender. Drain and set aside to slightly cool and transfer to a large mixing bowl.

In a large pan over high heat, melt 1 tablespoon of butter. Add in diced onion and lower the heat to medium-low. Cook for 4-5 minutes until soft. Add in bone broth and continue cooking for 4-5 minutes until the liquid begins to thicken up a bit. Stir frequently. When ready, transfer the onions to the bowl of potatoes.

Add oil to pan and sauté garlic cloves on low heat for 3 minutes, stirring frequently. Transfer to the mixing bowl.

Mash your potatoes using a potato masher.

Add in coconut cream, butter, garlic, salt, and black pepper and stir to combine. Taste and adjust seasonings as needed.
Notes
Store leftovers in the refrigerator for up to 3 days. 
Photos by Ana Maria Stanciu
57