I get all twitter-pated over pumpkin each fall. The store shelves fill up with big cans of pumpkin puree and suddenly it's pumpkin flavored everything as far as the eye can see. I certainly don't complain. I think it's a cheery thing.
And I say, "Bring on the pumpkin!" I also say, "Bring on the pumpkin quinoa risotto!" Because this is something you absolutely need to make as soon as possible. Trust me on this one, friends.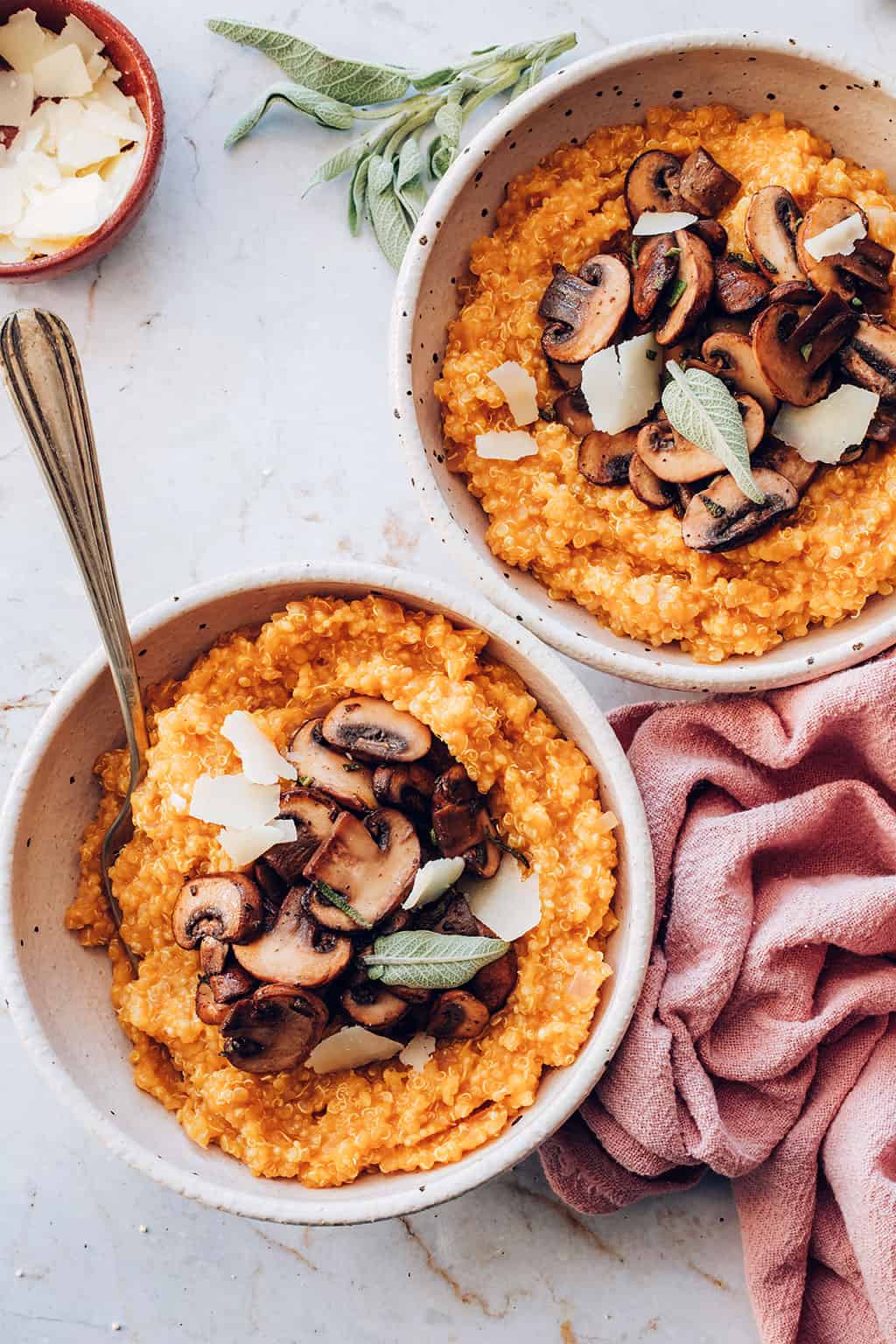 How to make quinoa risotto
Risotto is something I've been getting into this year. It can be a little finicky to make, plus it can be tedious to stand over the stove, constantly stirring, hoping that the rice doesn't turn out mushy and overcooked. It's all about the timing!
But that's risotto made with arborio rice. Today it's all about quinoa risotto – and happily it's much easier and nearly fool-proof to make, but with all the deliciousness and comfort that risotto offers.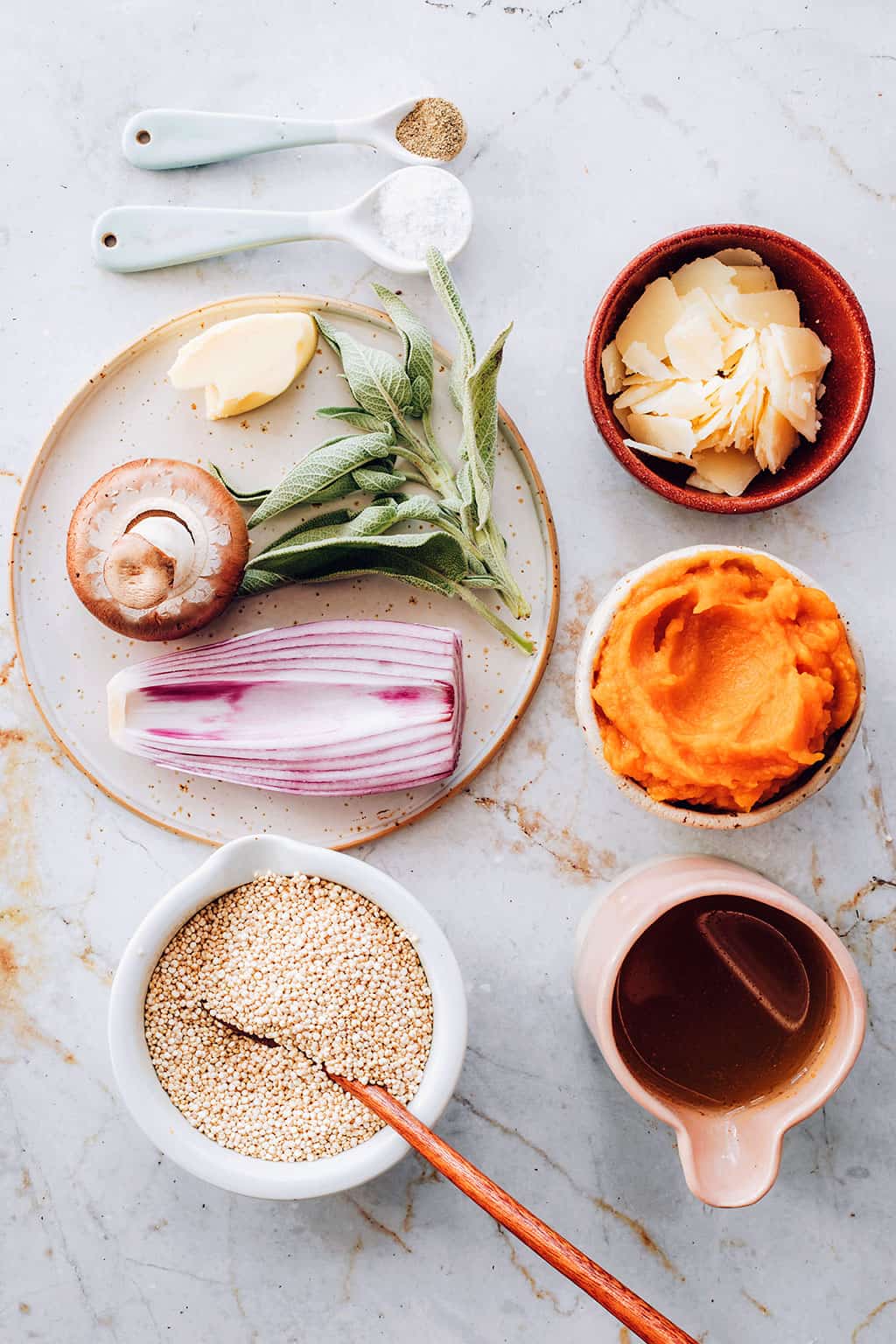 Quinoa is a pseudo-grain. It doesn't really release starch as it cooks in the way that rice or other grains do.
That being said, it does still make a mighty fine risotto. It's also more difficult to overcook it and it doesn't need babysitting.
You can add the liquid in phases, give it a stir, and walk away for a few minutes without worrying about it burning or sticking on the bottom. Nice, right?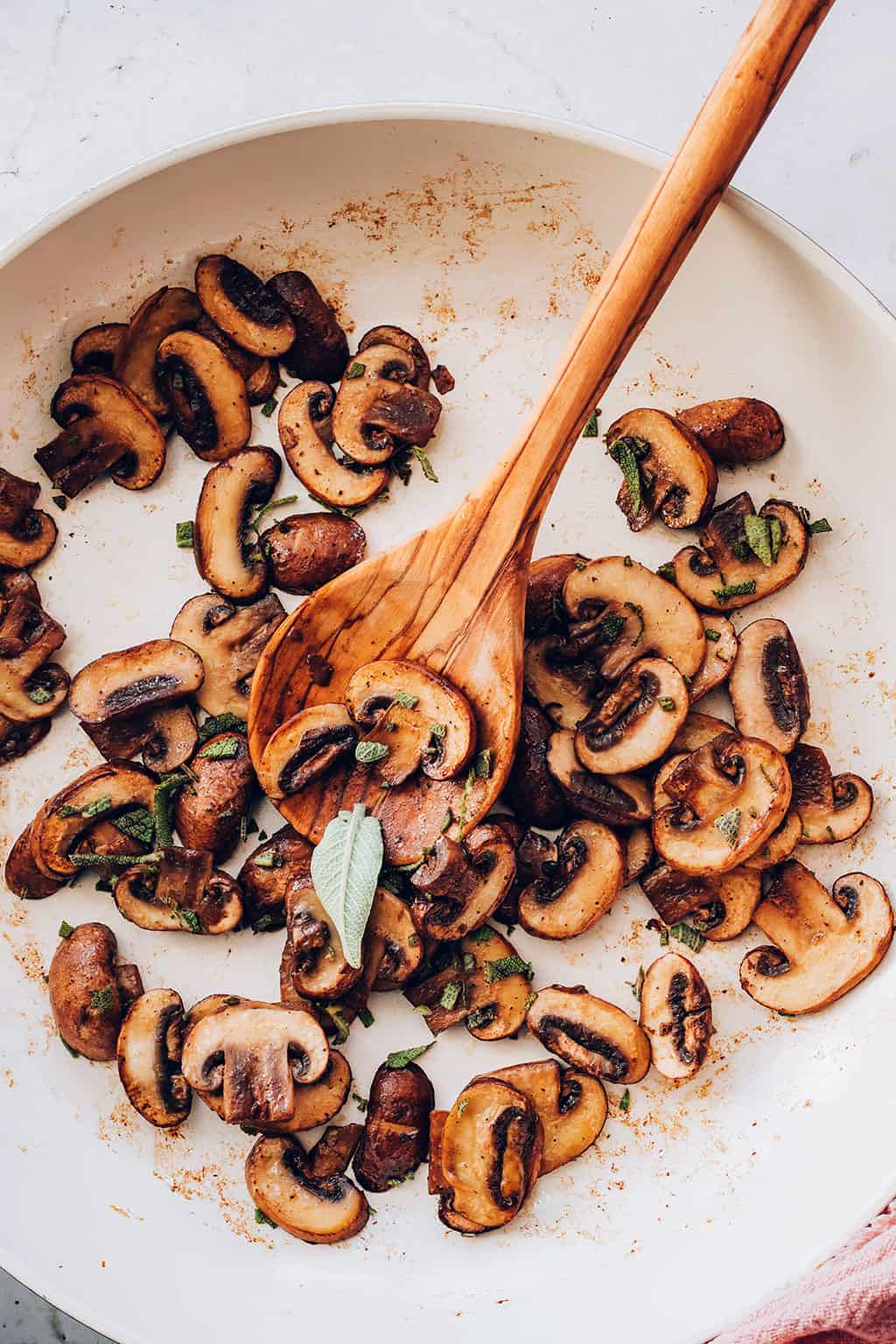 Besides pumpkin, we've got loads of flavor coming from the cheese, and the best part – sautéed cremini mushrooms and sage. (Seriously, you will wonder where those mushrooms have been all your life!)
Dinner comes together in about 40 minutes, including chopping and prep time. Not bad for a meal that tastes like it should be on the menu at your favorite fancy restaurant. This makes four hefty main dish servings or six smaller ones if you serve it as a side or with a salad.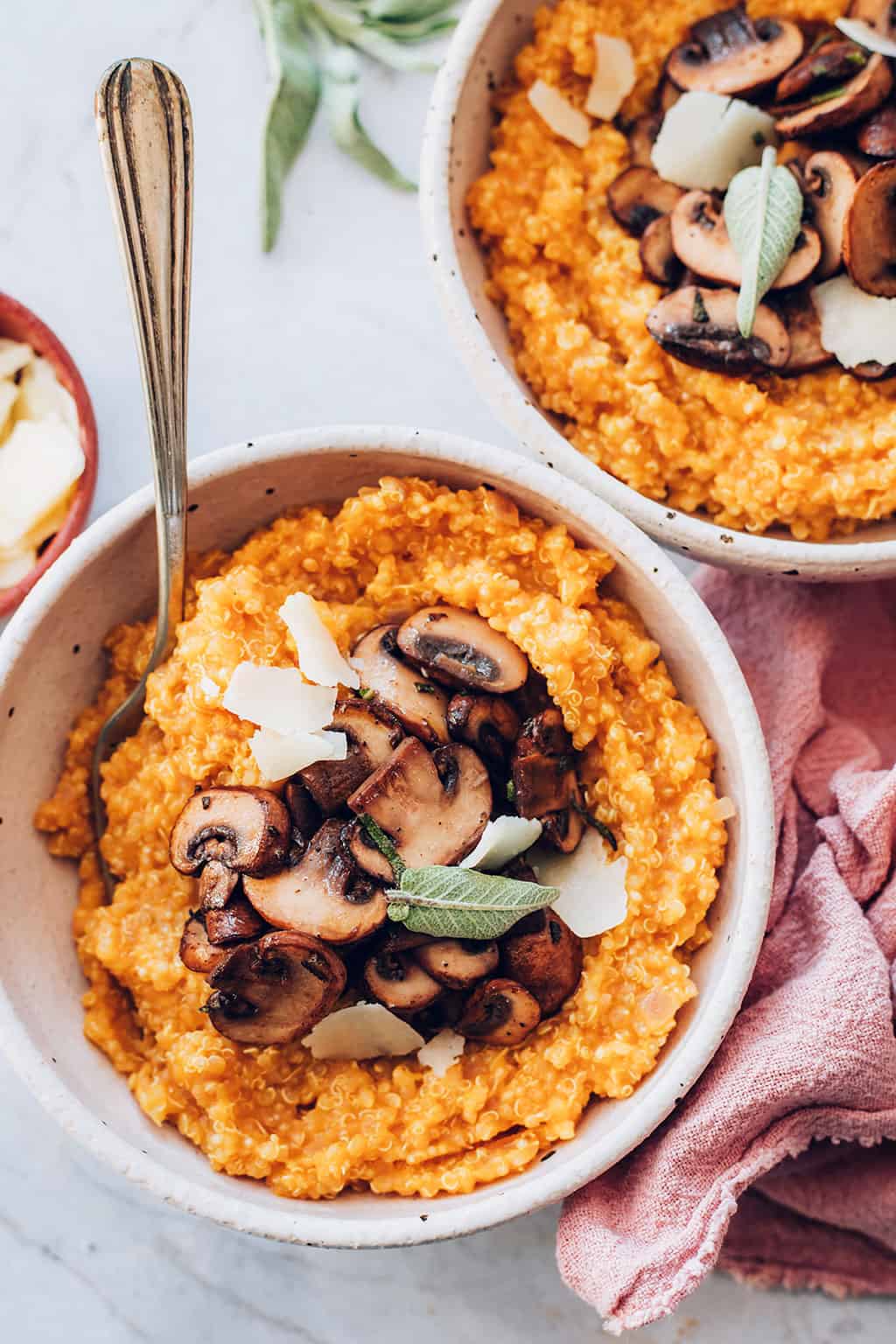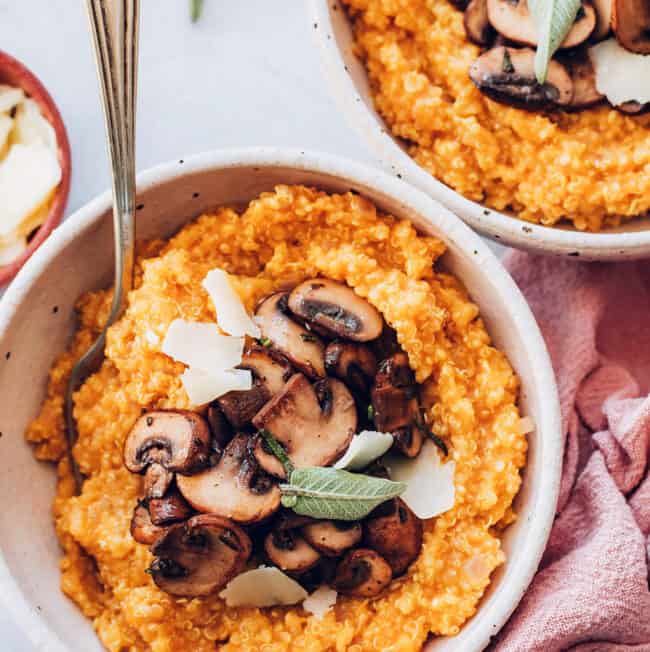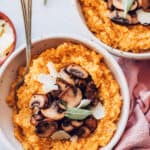 Print Recipe
Creamy Pumpkin Quinoa Risotto
Quinoa stands in for arborio rice in a much-easier-to-make risotto flavored with pumpkin puree and topped with sautéed mushrooms and fresh sage.
Equipment
3-4 quart saucepan

Measuring cup
Ingredients
4

tablespoons

butter

divided

2-3

shallots

finely chopped

1 ½

cups

quinoa

rinsed well and drained

1

cup

dry white wine or water

divided

4

cups

vegetable stock

3/4

cup

pumpkin puree

1/2

cup

grated or shaved parmesan cheese

plus more for garnish

16

ounces

cremini mushrooms

sliced

2-3

tablespoons

finely minced fresh sage

divided

Salt and ground black pepper
Instructions
Heat a 3-4 quart saucepan over medium-high heat. Add 2 tablespoons of butter and allow it to melt. When the foaming subsides, add the shallots. Cook, stirring often, for about 5-7 minutes. Once softened, add the quinoa. Cook, stirring constantly, allowing any of the excess water to evaporate.

The quinoa should start to toast a little bit and dry out. Add the white wine and stir well. Allow the wine to cook down and almost evaporate.

Add 2 cups of the vegetable stock and lower heat to a simmer. Cook, uncovered, for 5-10 minutes, or until all of the liquid has been absorbed. Stir every so often.

Add another cup of vegetable stock, stir a few times, and let cook for another 5-10 minutes.

Once that liquid has been absorbed, add the remaining 1 cup stock plus the pumpkin puree. Stir again and let cook, uncovered, until all of the liquid is absorbed. Add more stock if needed. The quinoa should be cooked through completely.

Stir in the cheese a little at a time, stirring very well between additions. Taste and add salt and pepper, if needed.

While quinoa is cooking, heat a large skillet over medium-high heat. Add the remaining 2 tablespoons of butter and allow to melt. Add the sliced mushrooms and season well with salt and pepper. Cook, stirring often, until the mushrooms start to brown. Add 2 tablespoons of the fresh sage and stir well. Continue cooking until mushrooms are nicely browned and fragrant. Add the remaining 1/2 cup of wine and scrape up the browned bits on the bottom of the pan. Remove from heat, but keep warm until ready to serve.
Notes
To serve, divide the quinoa risotto between 4 wide bowls. Top each with some of the sautéed mushrooms and garnish with a little of the remaining fresh sage and parmesan cheese. Serve immediately.
Photos by Ana Stanciu
29