There tends to be an assumption that kid crafts can't be classy. This fabric bead bracelet tutorial is here to prove that wrong! By keeping it simple and letting your kid get involved in fabric choices and bead patterns, you can make a stunning and unique statement bracelet that you will want to wear time and time again.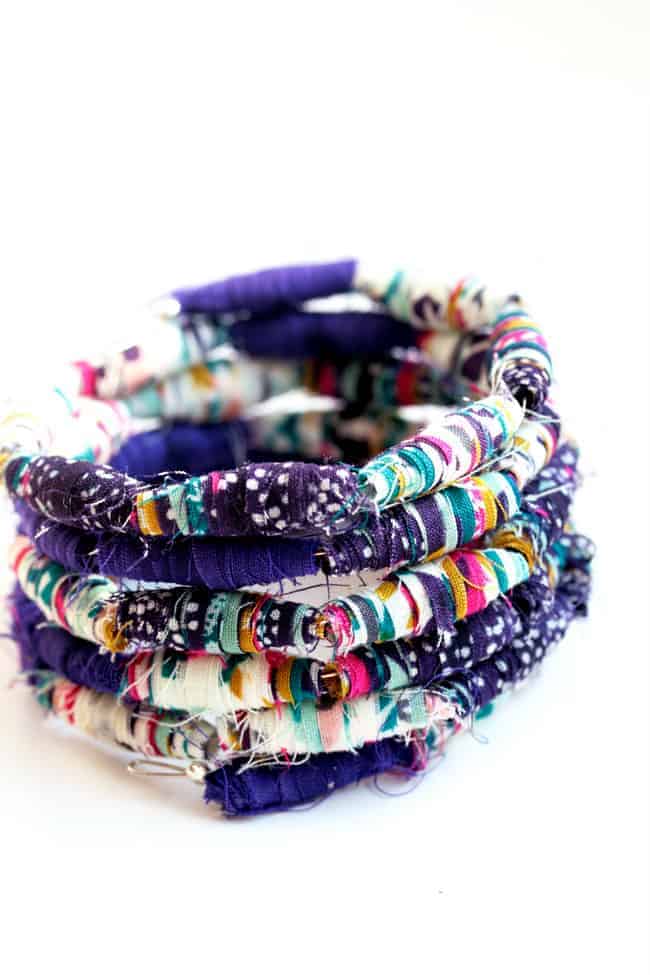 Then again, you might not get a chance to wear the bracelet because your daughter (or son) will keep it for themselves!
Supplies
Scrap/organic fabric cut into triangular strips [we used Koi organic voile and purple batiste 1" at the base by 11" high]
memory wire [approx 44" long]
crimps
crimp covers
pliers
fabric glue [regular old glue can be used in a pinch]
bamboo kebab skewer [sharp end removed!]
How to make your fabric bead bracelet

Step 1
Start to roll your fabric triangles around the bamboo skewer, starting from the wide base of the triangle.
Step 2
Apply glue along the length of the fabric and continue rolling until the bead is complete.

Step 3
Remove your bead carefully and allow to dry completely. [we made 15 beads from each of the 3 fabrics chosen]

Step 4
Bend one end of the memory wire around and secure with a crimp. [requires adult supervision/assistance]
Step 5
Apply crimp cover [requires adult supervision/assistance]

Step 6
Thread beads onto wire.
Step 7
Repeat steps 4 and 5 to finish bracelet.
Variations
Use different shape strips of fabric to create different shaped beads. e.g. rectangular strips will create cylinder style beads!
To create a different finish, you could use non-fraying materials such as felt or knit fabric.
Use recycled magazines and newspapers to create a paper bead bracelet. Seal the outside of the bead with mod podge or similar!
What other variations can you create?
182