Truth be told, I live and die by moisturizers. My skin has always been dry, but age combined with colder than normal weather has me clinging to my jar of shea butter for dear life these days. But recently I heard about rosehip oil and the amazing benefits it has on skin—especially when it comes to fine lines, scars and age spots (oh, the aging trifecta!)
Not only is rose hip oil known to help smooth away imperfections but it also hydrates dry, itchy skin like a dream. So I started adding a few drops to my normal shea butter-jojoba-almond oil combo, and over time it morphed into this age-defying, ultra hydrating moisturizer. It's light and smooth, perfect for sensitive skin on the face and neck, but it's still hydrating enough for more serious areas like the legs, hands and elbows. Keep a jar on your bedside table, in the medicine cabinet or in your bag for daily use and emergency applications alike.
Rejuvenating Rosehip Moisturizer
In case I haven't quite sold you on it yet, rosehip oil is a-maz-ing for skin. Extracted from the seeds of rose plants, it's a natural source of omega-3, 6 and 9 fatty acids which help to repair damaged skin cells and plump fine lines. And since it's a significant source of Vitamins A and C, it naturally encourages cell turnover and brightens dull skin.
Rosehip oil is also incredibly regenerative. For centuries it's been known for its skin firming and anti-aging properties, and some might even say it's "better than botox" (okay, that's just me but I'm sticking to it). Daily use may help stimulate collagen production and improve overall firmness and appearance.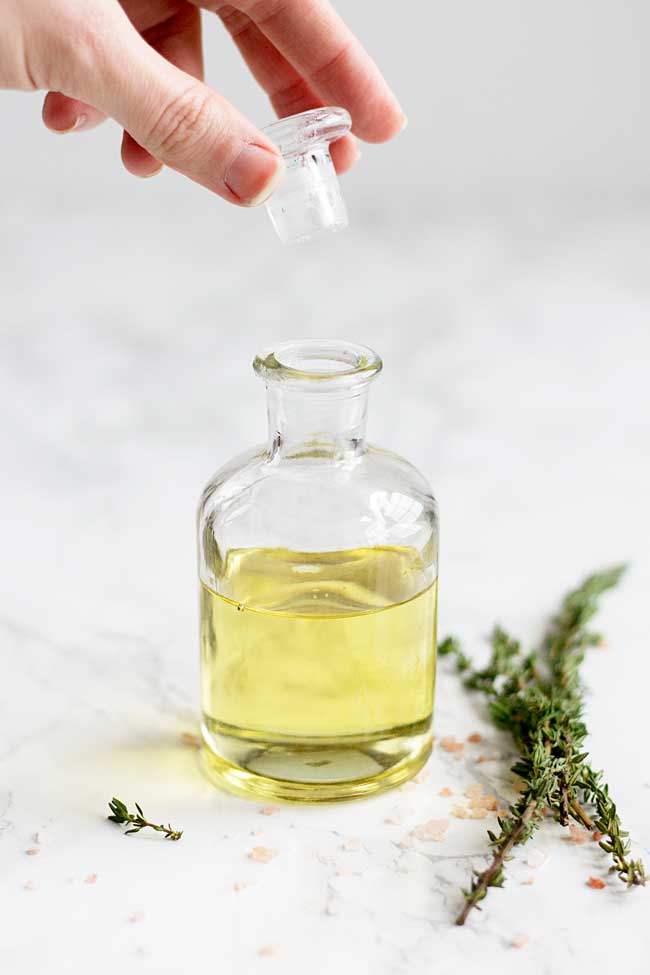 When combined with my two favorite complexion oils—almond and jojoba—it makes an incredibly nourishing lotion that's perfect for all skin types. Almond oil is rich in Vitamin E and antioxidants, and has been shown to be hypoallergenic so it won't break you out. Jojoba oil acts like a liquid wax forming a protective layer over the skin and protecting it from harsh elements.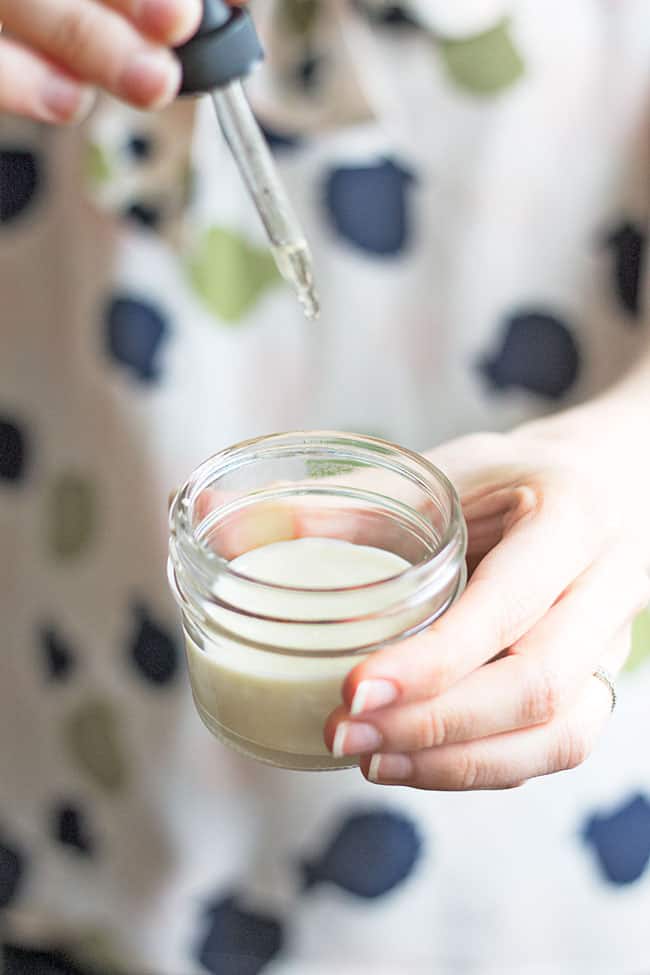 And last but not least, a little shea butter helps to create thick, rich texture to better combat parched skin.
I like to slather it on damp skin in the morning after washing my face and at night right before bed. I find that applying it to slightly damp skin helps it sink in better, otherwise it just creates a shiny film top of my skin. And while I mainly use on my face, it's also perfect as a hand and body lotion on days when you're feeling especially dry.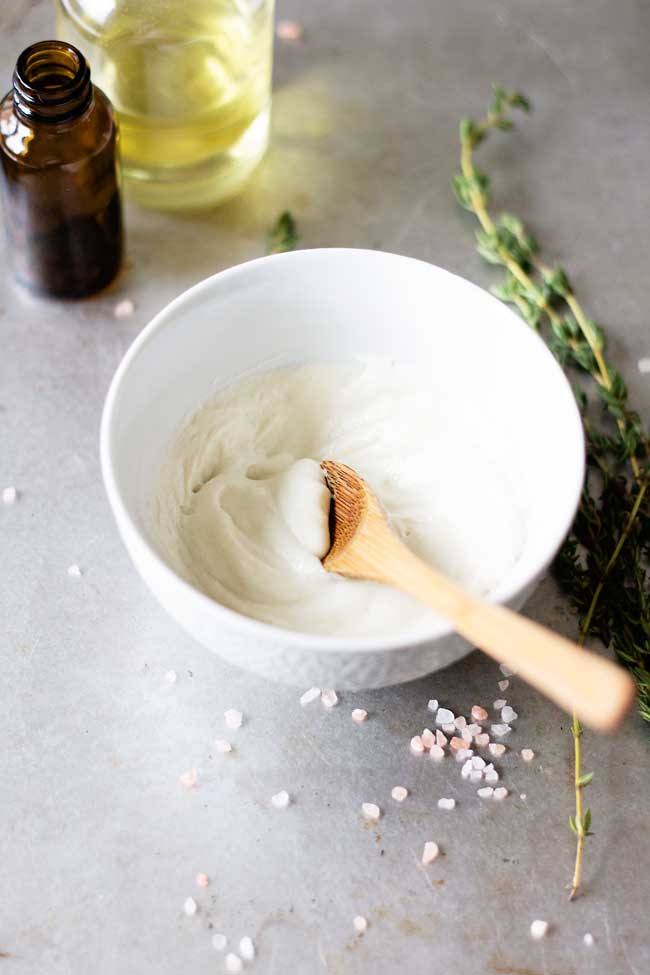 You can also add some of your favorite natural ingredients to the mix, including:
Rosehip seed oil (2-4 drops)
Organic rosehip seed oil (1-3 drops)
Essential oils (1-4 drops) for added benefits and fragrance
Organic shea butter (2-4 teaspoons)
Organic coconut oil (1-2 teaspoons)
Jojoba oil (1-2 teaspoons)
Organic sunflower oil (2-5 teaspoons) for added benefits
Vitamin E oil (1 drop) for added benefits
Organic beeswax (1-2 teaspoons)
Vanilla bean powder (1-3 teaspoons) for fragrance and additional benefits
Apricot kernel oil (1 teaspoon)
Vegetable glycerin (1-2 teaspoons)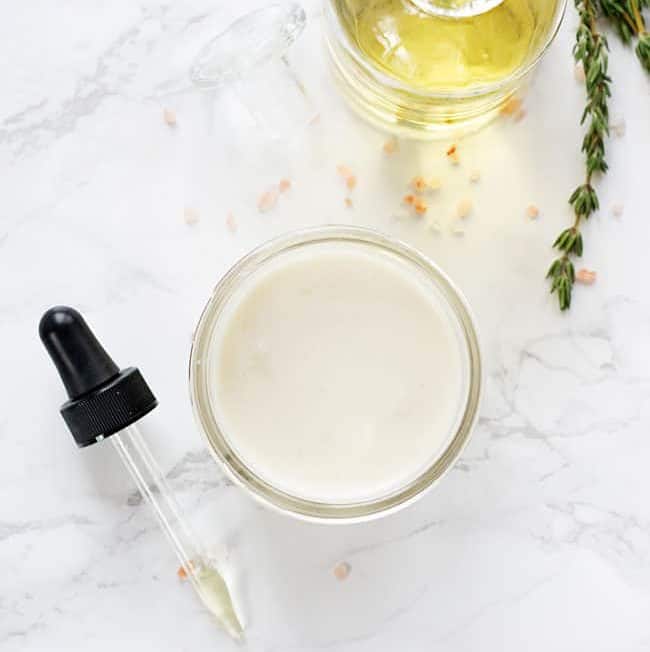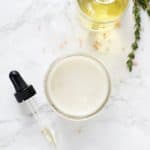 Print
Rejuvenating Rosehip Moisturizer
With rich shea butter, fatty acids and plenty of vitamin C, this homemade rosehip moisturizer is ideal for dry and aging skin.
Instructions
Combine all ingredients in a small glass jar and stir well.

Loosely cover the jar with a lid and set aside for about 2 hours. Once it has solidified, use a fork to stir everything together until you achieve a soft, creamy consistency.
Notes
Apply to damp skin twice a day. Use within two weeks.
Frequently Asked Questions
What is rosehip seed oil?
Rosehip seed oil is a natural oil extracted from the seeds of rosehip fruit, which is known for its nourishing and moisturizing properties for the skin.
How much rosehip seed oil should I add to my DIY moisturizer?
It is suggested to add 2-4 drops of rosehip seed oil to your DIY moisturizer.
Can I use rosehip seed oil on sensitive skin?
Yes, rosehip seed oil is generally considered safe for sensitive skin, but it is always recommended to do a patch test before applying it to your face.
Can I use organic rosehip seed oil for my DIY moisturizer?
Yes, organic rosehip seed oil can be used in your DIY moisturizer. Add 1-3 drops of organic rosehip seed oil.
What should I do if my moisturizer feels heavy or oily?
Remove 1-4 drops of rosehip oil from your DIY moisturizer if you find it too oily or heavy. It may take some experimentation to get it right! Remember, a little goes a long way.
What are some examples of essential oils?
Examples of essential oils include lavender oil, peppermint oil, tea tree oil, eucalyptus oil, and lemon oil. Essential oils can be used in moisturizers, but it's important to use them with caution and in the right dilution to avoid skin irritation or other adverse effects. Essential oils are highly concentrated plant extracts and can be potent, so it's essential to follow proper guidelines and safety precautions when incorporating them into your skincare routine. It's best to consult with a qualified aromatherapist or skincare professional for guidance on using essential oils in moisturizers or other skincare products.
How can organic coconut oil benefit the skin?
Organic coconut oil can benefit the skin by moisturizing and nourishing the skin, reducing inflammation, promoting wound healing, and providing antioxidant properties.
What are the suggested ways to use rosehip seed oil for sensitive skin?
Rosehip seed oil can be used for sensitive skin by applying a few drops on clean, damp skin and gently massaging it in a circular motion, or by adding a few drops to a moisturizer or face cream for added hydration and nourishment. It is recommended to do a patch test before applying it to the entire face to ensure compatibility with sensitive skin.
217