There's a good reason that green tea is an ingredient found in tons and tons of skin care products on the shelves of beauty stores worldwide. In fact, it's been used since ancient times as a cure-all for just about any ailment.
It was discovered in China some 5,000+ years ago and is still considered today to be one of the healthiest beverages on the planet thanks to its high antioxidant content. In short, if you aren't drinking green tea, then are you really doing all you can for your skin and health? But I digress. The reason I'm talking about green tea is actually in regards to its impressive skin care benefits.
Clearly if it can have such a profound impact in our body in terms of our overall health, it's got to be able to work some magic on our largest organ: our skin.
Yes, your skin is considered an organ—an external one at that, covering an impressive 22 square feet of us on average. Which brings us to a perfectly good invention: green tea lotion. Something that's totally awesome for your skin.
Green Tea Skin Benefits
Here are some of the ways that green tea can benefit your skin:
Green tea is anti-aging. The antioxidants in green tea work to repair skin and eliminate wrinkles mainly by fighting off free radicals in the environment that directly cause premature aging. This is in part due to the fact that green tea is rich in polyphenols, a type of antioxidant that slows the aging process in a natural way.
Putting green tea on your skin has also been proven to repair sun damage, so that's another anti-aging bonus.
Green tea helps fight acne. Yep, slathering green tea on your face provides antibacterial benefits thanks to the fact that it contains catechins (namely EGCG) that reduce the P. Acnes bacteria that leads to breakouts. Green tea also serves as a natural astringent reducing oil and build-up in our pores.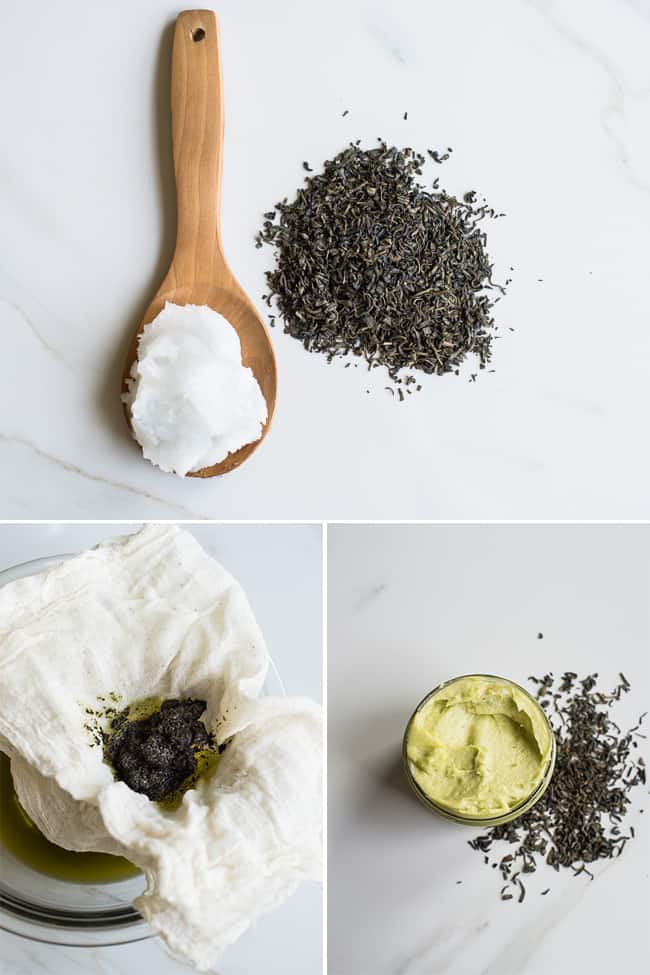 Green tea helps protect against cancer. As already mentioned, green tea has some impressive anti-cancer effects. In terms of the skin, it's been shown in research to reduce the tumor size in certain types of skin cancer.
Calms skin conditions. Green tea has long been used to treat conditions of the skin such as psoriasis, eczema and rosacea. This is mainly due to its anti-inflammatory effects.
So now that we've covered the grounds of why pretty much everyone should be using green tea in and out of their skin care regimen, let's talk about why we should be combining it with other natural ingredients, like coconut oil, if our goal is to create a facial moisturizer.
Whipped Facial Moisturizer
A coconut oil moisturizer hydrates without clogging pores, and green tea can actually reverse sun damage. Whipping it makes a nice frothy texture that's easier to apply and feels less greasy (if that bothers you).
And did I mention that it's green? No it won't turn your skin green, but it does make me smile every time I see it.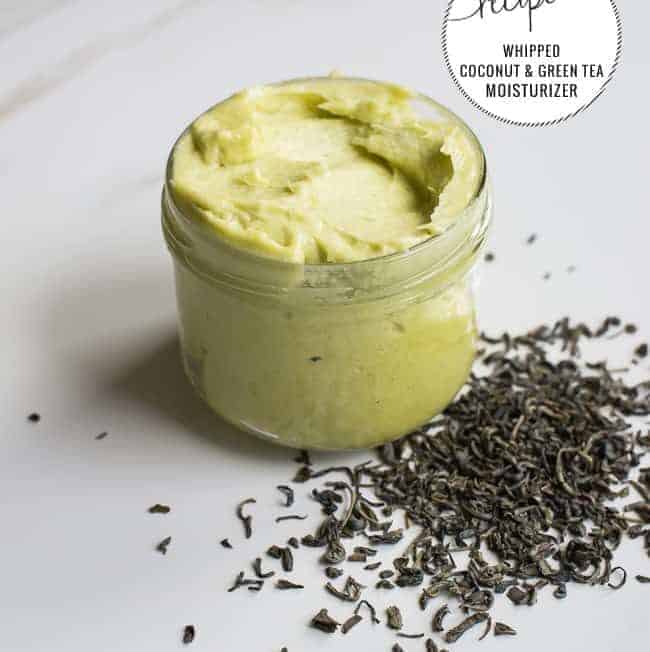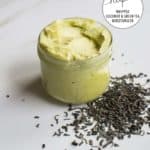 Print
Whipped Coconut + Green Tea Moisturizer
Instructions
Use a double boiler on medium heat to melt the coconut oil.

Stir in the green tea.

Cover and simmer on lowest heat setting for 1 hour.

Strain tea from oil with cheesecloth.

Let cool until almost solid.

Then whip until creamy, 3-5 minutes.
This post was medically reviewed by Dr. Jennifer Haley, a board-certified dermatologist with extensive experience in medical, cosmetic and surgical dermatology. Learn more about Hello Glow's medical review board here. As always, this is not personal medical advice and we recommend that you talk with your doctor.
Photos by Lindsey Johnson
818