There's a good reason that green tea is included in tons of skincare products on the shelves of beauty stores worldwide. In fact, it's been used since ancient times as a cure-all for just about any ailment.
Discovered in China some 5,000+ years ago, it is still considered today to be one of the healthiest beverages on the planet, thanks to its high antioxidant content [source]. In short, if you aren't drinking green tea, then are you really doing all you can for your skin and health?
But I digress. The reason I'm talking about green tea is actually because of its impressive skincare benefits. Clearly, if it can have such a profound impact in our body in terms of our overall health, it's got to be able to work some magic on its largest organ: our skin.
Yes, your skin is considered an organ—an external one that covers an impressive 22 square feet on average. Which brings us to a perfectly good invention: green tea + coconut oil moisturizer. And it's totally awesome for your skin.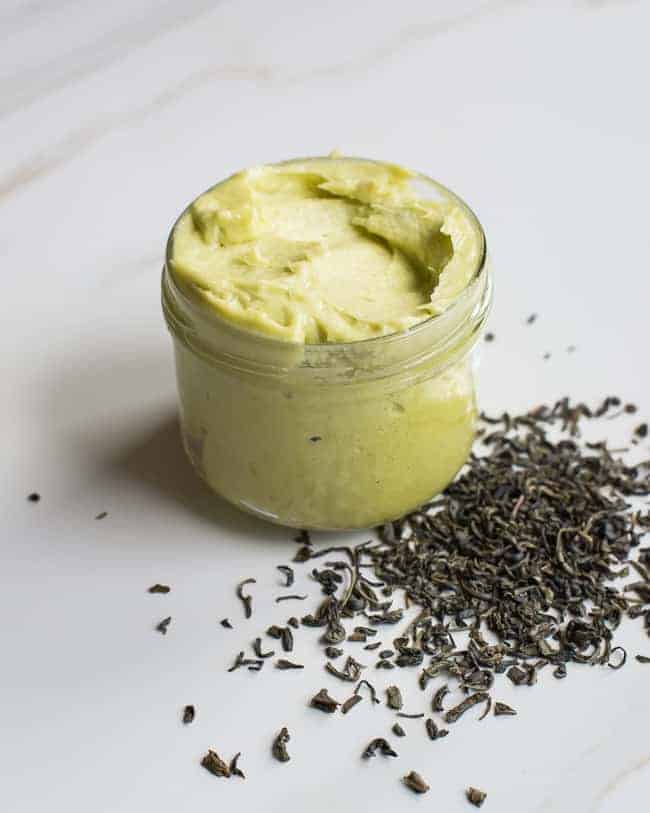 Benefits of Green Tea for Skin
Here are some of the ways that green tea can benefit your skin:
Green tea is anti-aging. The antioxidants in green tea work to repair skin and eliminate wrinkles, mainly by fighting off free radicals in the environment that directly cause premature aging [source]. This is due in part to the fact that green tea is rich in polyphenols, a type of antioxidant that slows the aging process in a natural way [source].
Putting green tea on your skin has also been proven to protect against sun damage [source], so that's another anti-aging bonus.
Green tea helps fight acne. Yep, slathering green tea on your face provides skin-clearing benefits—thanks to the fact that green tea can help reduce oil production [source], thus leading to fewer breakouts.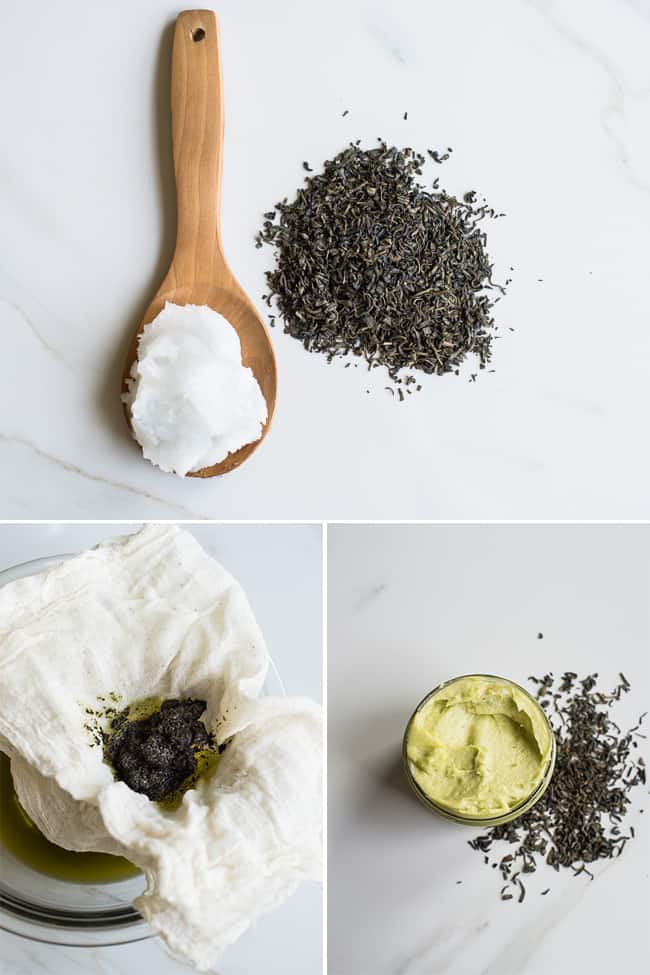 Green tea helps protect against cancer. As already mentioned, green tea has some impressive anti-cancer effects. In terms of the skin, it's been shown in research to reduce the tumor size in certain types of skin cancer [source].
Green tea calms skin conditions. Green tea has long been used to treat various skin conditions, such as psoriasis, eczema, and rosacea. This is mainly due to its anti-inflammatory effects [source].
So now that we've covered the grounds of why pretty much everyone should be using green tea in and out of their skincare regimen, let's talk about why we should be combining it with other natural ingredients like coconut oil if our goal is to create a facial moisturizer.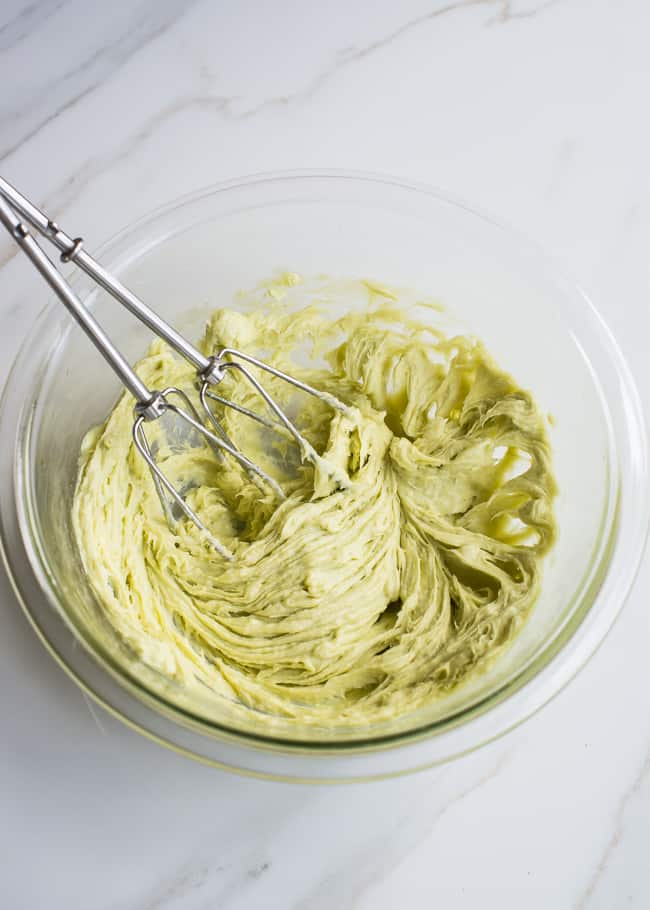 Whipped Coconut Oil Moisturizer
A coconut oil moisturizer hydrates and nourishes skin, while green tea helps to reverse sun damage. So the two working together is pretty amazing for your skin. Whipping it makes a nice frothy texture that's easier to apply and feels less greasy (if that bothers you).
And did I mention that it's green? No, it won't turn your skin green, but it does make me smile every time I see it.
Now, before we get into actually making our moisturizer, I want to talk about coconut oil and acne. Coconut oil is pretty high on the list of comedogenic oils, meaning it can clog pores and cause irritation if you're not careful. But from personal experience, I've found that not all brands have this problem.
High quality, clean brands don't contain as many irritants as cheaper brands do, which is why I recommend Dr. Bronner's coconut oil (not sponsored—I just love 'em.) It's the only one I use on my face because it doesn't break me out like most other brands of coconut oil.
If you decide to try another brand, just keep an eye out for irritation, and stop using it the second you spot a breakout coming on.
Supplies
Instructions
Spoon coconut oil into a double boiler and heat on medium until melted. (If you don't have a double boiler, just do what I do: set a glass Pyrex measuring cup or other heat-proof container in the middle of a small saucepan. Pour water into the saucepan, so it reaches about 2 inches up the outside of the measuring cup. Then place your coconut oil in the measuring cup and turn on the burner.)

Stir in the green tea, cover, and simmer on the lowest heat setting for 30 minutes. Note: the water around the coconut oil should be simmering, not the coconut oil itself. This will help keep the beneficial nutrients in the tea from breaking down.

Strain tea from the oil with a cheesecloth.

Place in the freezer for 10–20 minutes until the mixture is almost solid (like a loose gel consistency when you stir it).

Then whip 3–5 minutes until creamy.
Whipped Coconut Oil Moisturizer FAQs
Can I use a different kind of tea (or other herbs entirely) to make my coconut oil moisturizer?
Yes, you don't need to use green tea at all for this if you don't want to. Rooibos tea can help reinvigorate the skin, while Yerba Mate, which is caffeinated, can help tone skin. You can also infuse herbs such as chamomile, lavender, and rosemary, if you prefer.
Can I add matcha powder without straining it out?
Sure! In fact, we did a whole post on matcha lotion bars. While the ingredients are different, the idea is the same: just add 1–2 teaspoons of powdered matcha, let it steep, and then whip up your moisturizer without straining out the tea. Use within 2–3 months.
Can I make this moisturizer using something other than coconut oil?
I haven't tried it myself, so I don't know for sure, but any butter or oil that is solid at room temperature (e.g., shea, cocoa, or mango butter) should technically work for this recipe.
Will my moisturizer stay whipped over time?
It depends on the climate. Since coconut oil starts to melt once the temperature reaches 78 F, depending on where you live, you may need to keep your moisturizer in the refrigerator a couple months of the year.
How do you use green tea moisturizer?
Use this just like you would any other moisturizer. Cleanse your face then apply toner, serum, and eye cream (in that order). Take a tiny bit of the coconut oil moisturizer onto your fingers and let it melt a bit before gently applying to your skin. Let it sink in for several minutes before putting on your sunscreen.
Use twice a day, every day, to reap all of those healthful green tea benefits.
Is this moisturizer just for the face?
Nope, this nourishing lotion doubles as a body lotion, hand cream, after-shave balm, and smoothing hair serum. This moisturizer has got you covered—it can do it all.
This post was medically reviewed by Dr. Jennifer Haley, a board-certified dermatologist with extensive experience in medical, cosmetic, and surgical dermatology. Learn more about Hello Glow's medical review board here. As always, this is not personal medical advice, and we recommend that you talk with your doctor.
Photos by Lindsey Johnson
861