The weather here in Virginia has been so finicky. One day it's warm, and the next, it's freezing. And thanks to climate change, I don't foresee this trend letting up any time soon. Normally, I don't think twice about the weather, but these constant temperature swings are wreaking havoc on my scalp. I've been seeing a ton of flakes and more shedding than usual (every woman's dream), which means it's high time to break out the scalp oil and give myself a relaxing scalp massage.
In addition to nourishing the scalp and hydrating the hair, a quick massage can promote relaxation and improve circulation to the scalp (hello, longer, thicker hair). Not to mention, a scalp massage stimulates the release of endorphins, helping to boost your mood and give you a sense of well-being. So, if you've got a little extra time in your day, you may want to add a quick scalp massage to your daily routine.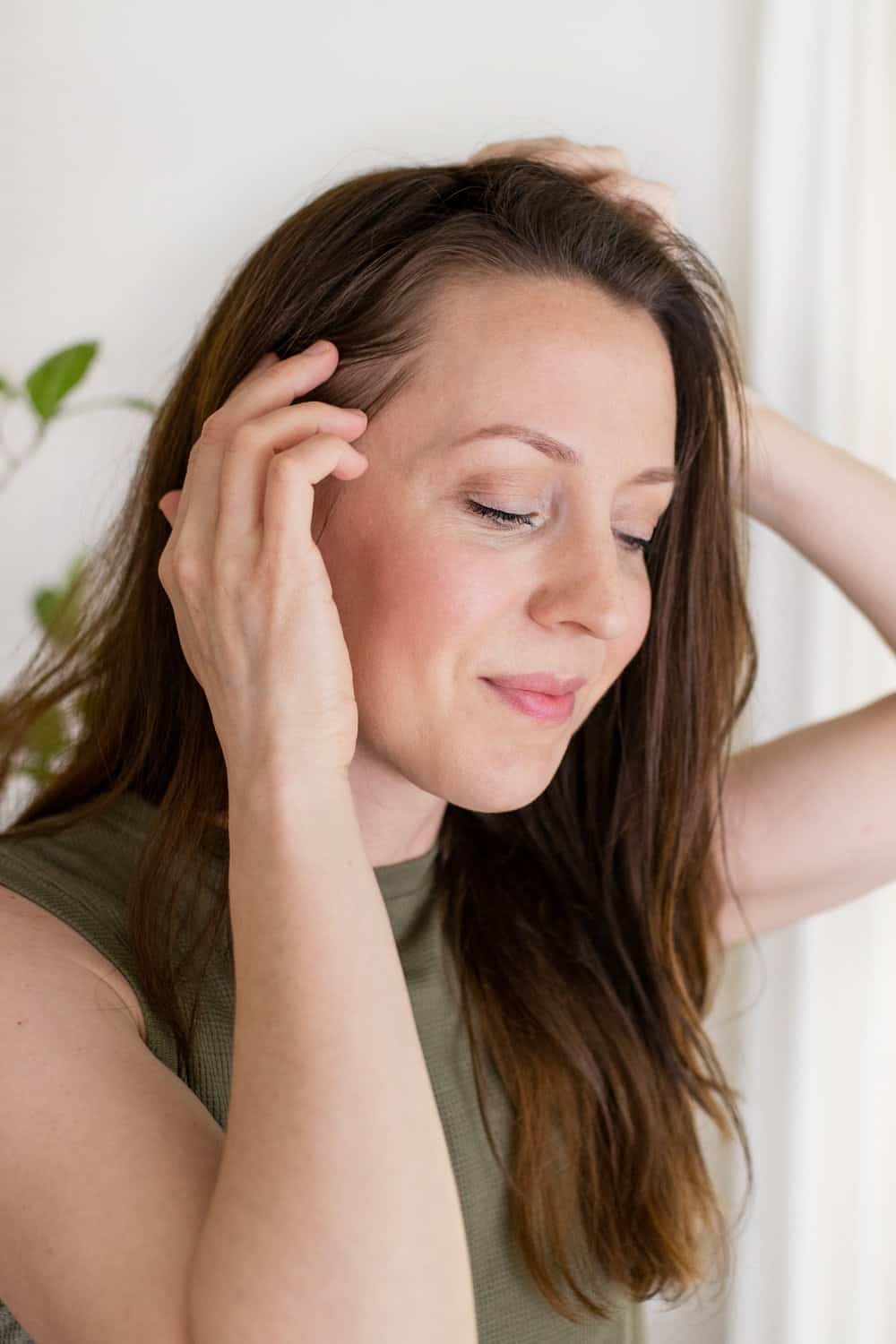 Scalp Massage Benefits
A scalp massage can offer a range of body-boosting benefits for both your scalp and your overall wellness. Whether you are looking to grow longer, healthier hair, reduce stress, or relax after a long day, a regular scalp massage can do it all.
1
.
Promotes hair growth
Scalp massage improves blood circulation to the hair follicles, providing them with the nutrients hair needs to grow. In addition, massaging the scalp regularly can help get rid of excess sebum and product buildup that may block hair follicles and inhibit hair growth.
2
.
Improves scalp health
Massaging the scalp can also remove dead skin cells and other debris that accumulate over time. This will aid in preventing clogged pores and reduce the risk of conditions like dandruff, dry scalp, ingrown hairs, and scalp acne. Scalp massage may even help balance the production of natural oils in the scalp, keeping both hair and scalp moisturized and healthy.
3
.
Relieves headaches
We often experience tension headaches when the muscles in our head and neck become tight and painful. Massaging the scalp, neck, and shoulders releases this tension and promotes relaxation, which may reduce the severity and frequency of headaches.
4
.
Enhances relaxation
The gentle pressure of a scalp massage can stimulate the release of endorphins, the body's natural feel-good chemicals. In addition, receiving a massage is usually a calming and soothing experience, which enhances relaxation and a peaceful feeling.
5
.
Increases lymphatic flow
The lymphatic system is responsible for removing waste and toxins from the body. A regular massage boosts lymphatic drainage, thus helping to remove toxins from the head and scalp more efficiently.
How to Do a Scalp Massage for Hair Growth
You only need to perform this massage for 5–10 minutes 2 or 3 times a week to reap some of its many benefits. I find it easiest to do this routine at the beginning of my shower. That way, the oils have time to sink in while I do other things. When it's all over, wash your hair a couple of times to remove all the oil, and then condition as usual.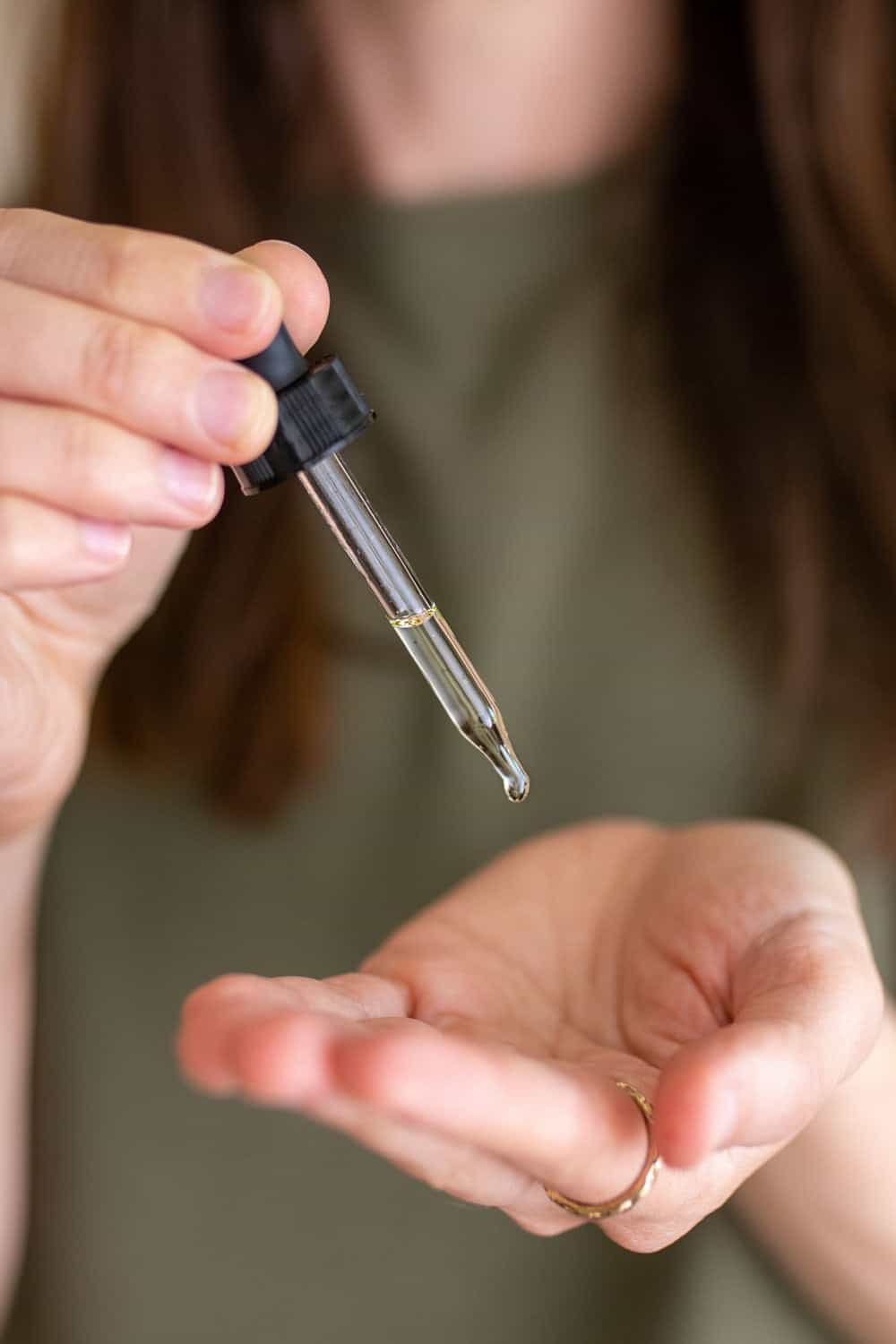 Step 1
|
Apply oil to fingertips
Start by placing a few drops of oil—like this hair growth serum or rosemary hair oil—directly onto your fingertips and rubbing your hands together to evenly distribute it. Alternatively, you can dip your fingers into a small bowl of oil and let the excess drip off.
Trust me; you don't need much oil for an effective scalp massage. In fact, too much oil tends to get messy and difficult to wash out later. A few drops should be enough to nourish and hydrate the scalp without saturating your locks and making your hair look greasy and flat.
Dry hair? Oily hair? Get more customized oil for scalp treatments here.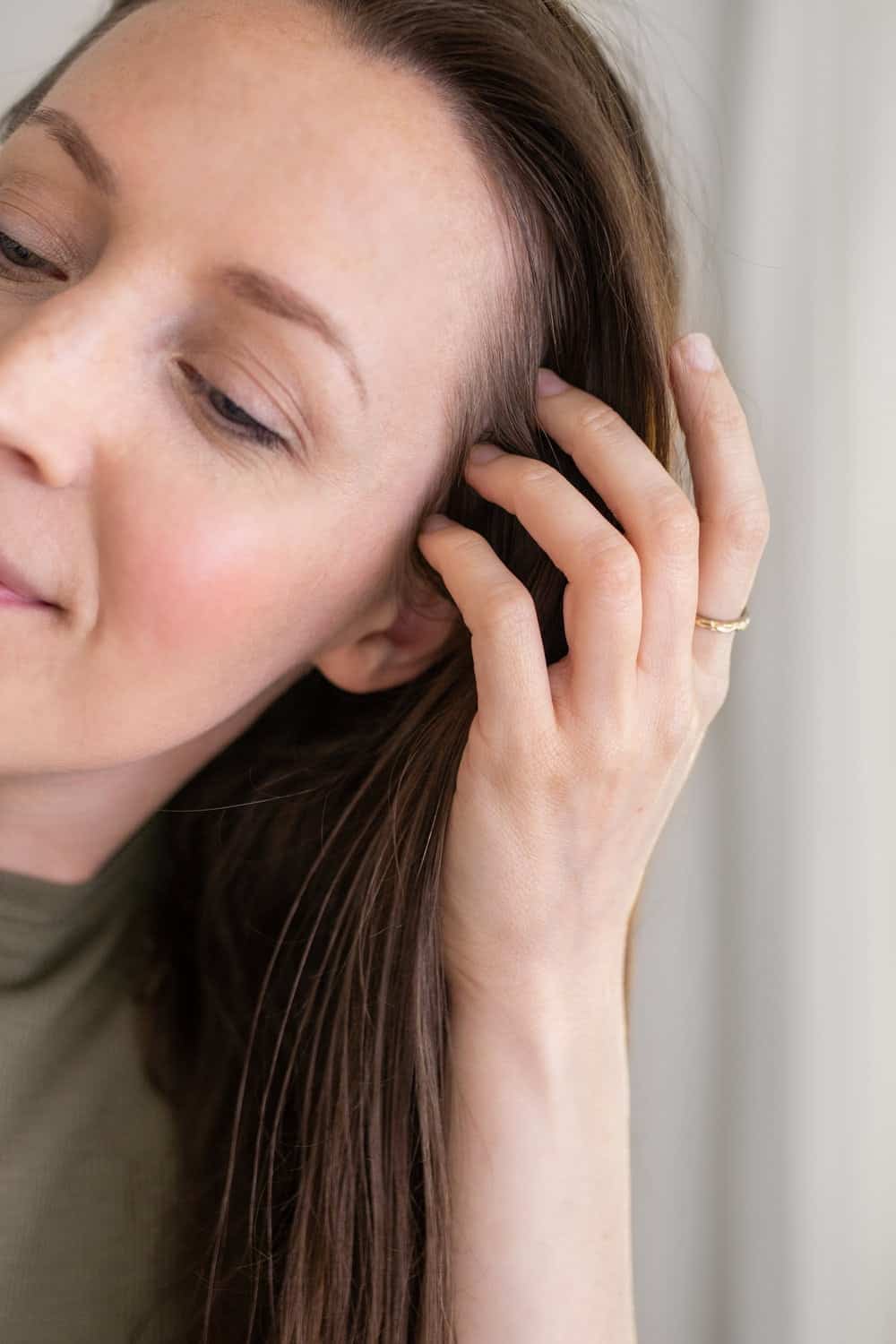 Step 2
|
Start at the front along the hairline
Place your fingers at the front of your scalp, where your hairline is, and gently massage in a circular motion to relieve tension and boost circulation. Spend some time massaging the temples, forehead, and anywhere else you carry stress.
Step 3
|
Work your hands back and down toward the neck
Run your fingertips through the hair, slowly working your hands back and down toward the neck. Use gentle but firm pressure, and be careful not to let your fingers tangle the hair or yank on strands.
Do this for about 2 minutes to gently work the oil into the scalp, reapplying oil to your fingertips as needed. This is supposed to be a very slow, relaxed massage, almost like a meditation.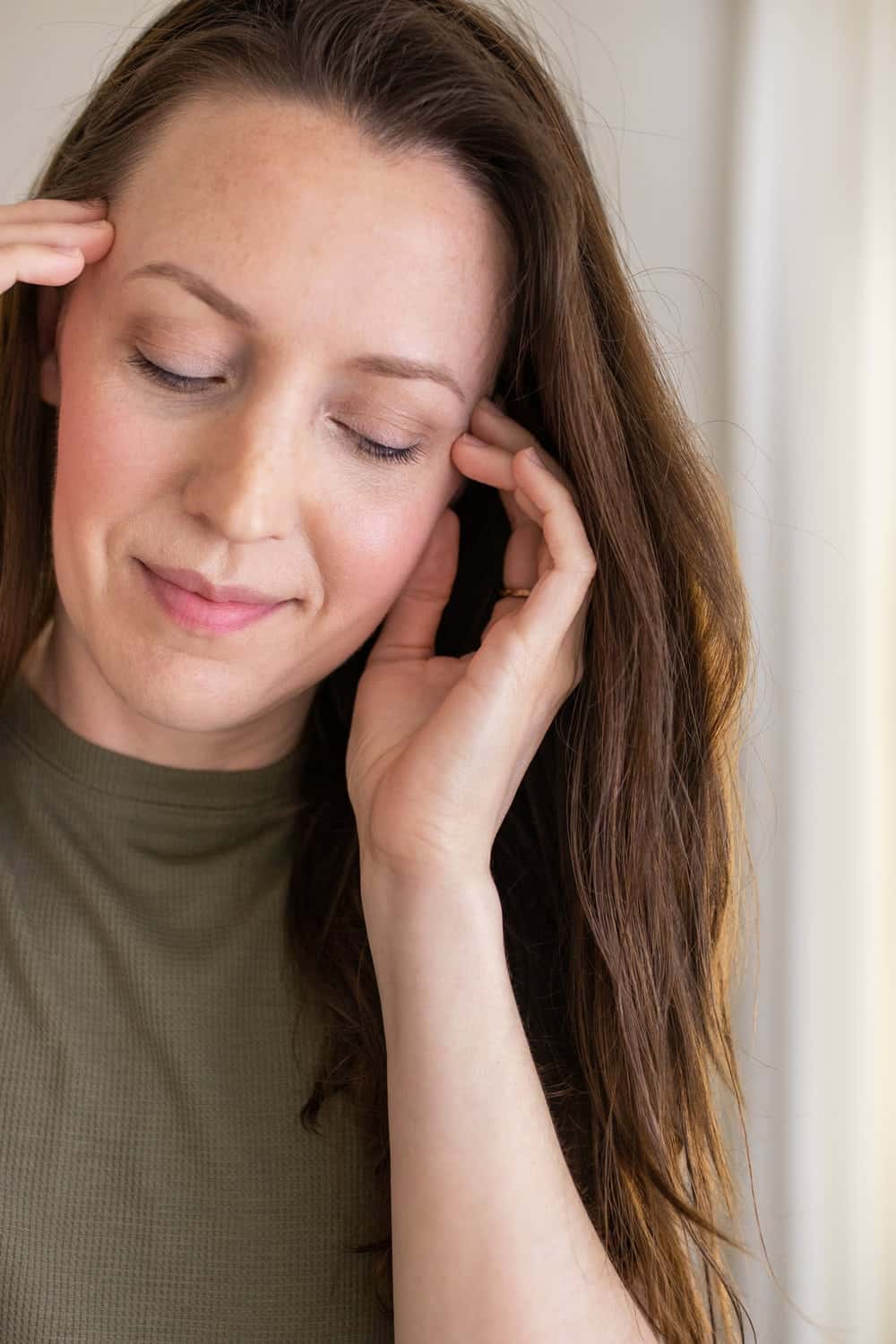 Step 4
|
Focus on pressure points
Several points on the scalp can help relieve pressure and encourage circulation when massaged. These are the most common:
—The top center portion of the head
—The temples
—Behind the ears
—The base of the skull where it meets the neck
The exact point doesn't matter so much as gently massaging the area and promoting relaxation.
Using one or both hands, apply firm pressure and massage the points slowly for about 30 seconds to a minute on each area.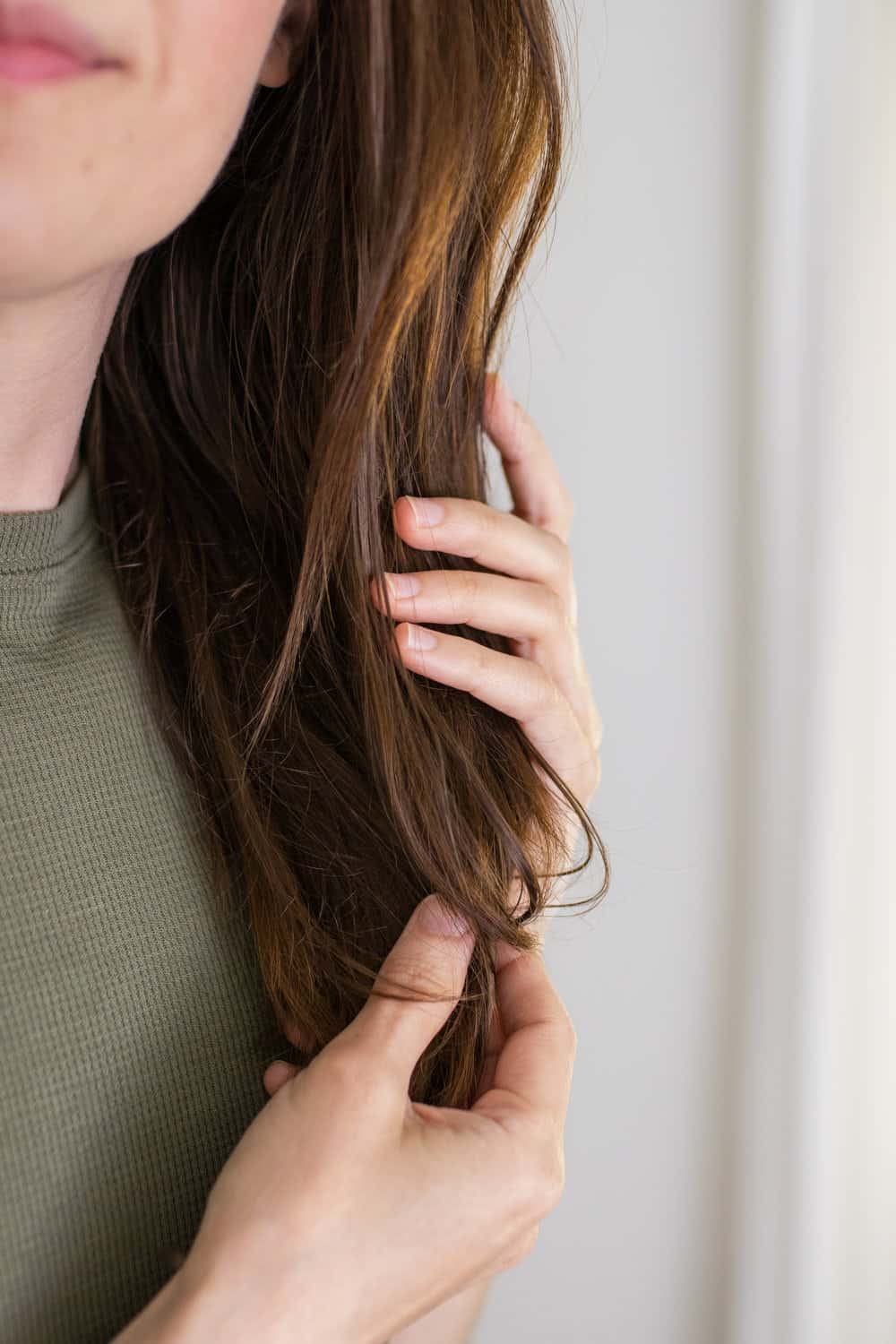 Step 5
|
Apply oil
Lastly, apply oil to the entire length of the hair to moisturize and strengthen the hair shaft. Let it sit for 15–30 minutes before washing it out with a chemical-free herbal shampoo. Then condition your hair as usual.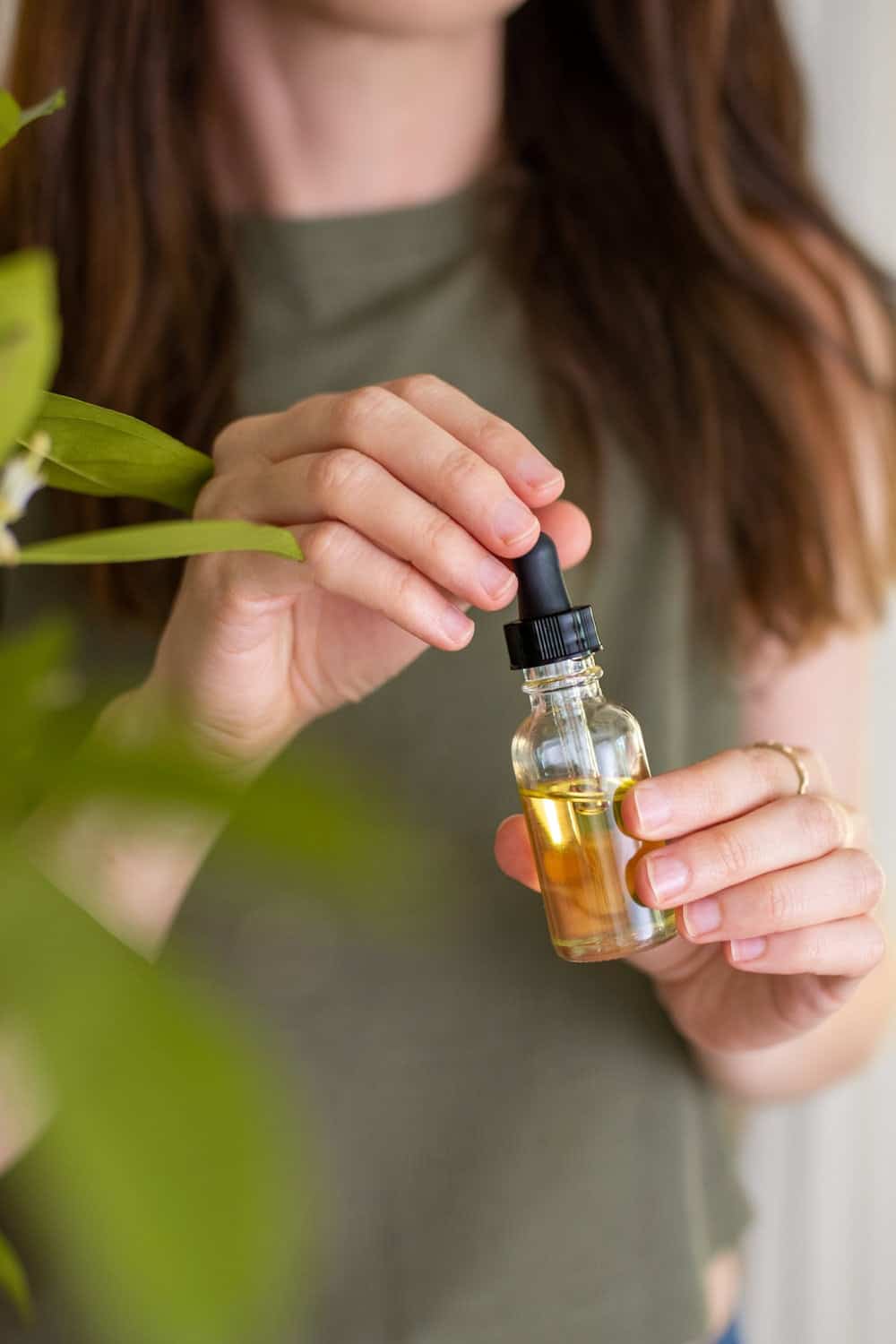 Customize a Scalp Massage for Your Hair Type
You don't need a fancy oil blend to do a scalp massage. These three oils are scalp game changers, so go ahead and use them if you've got 'em on hand.
Scalp massage for normal hair
:
Jojoba oil
Jojoba oil is a great choice for all hair and scalp types. It's lightweight and non-greasy, making it easy to work into your scalp. Plus, jojoba oil is rich in fat-soluble vitamins and emollients [source] that can help nourish the scalp and promote healthy hair growth.
Scalp massage for dry
,
damaged hair
:
Argan oil
Argan oil is an excellent one to use for dry, damaged, or frizzy hair. It's rich in antioxidants, vitamin E, and essential fatty acids that can penetrate into damaged hair follicles to help repair and strengthen hair [source]. It's also lightweight and absorbs quickly into the scalp, making it a great choice for a scalp massage without leaving you with greasy, flat locks afterward.
Scalp massage for sensitive scalps
:
Rosehip oil
Rosehip oil is an ideal choice for those with sensitive or irritated skin. It's rich in vitamins A and C, as well as essential fatty acids, which can help soothe and nourish the scalp. The high levels of antioxidants it contains give it powerful anti-inflammatory properties [source] that can help soothe an irritated scalp and relieve itching caused by dandruff or other scalp conditions.
Scalp Massage FAQ
How long should I massage my scalp
?
It's generally recommended to massage your scalp for at least 5–10 minutes to get the maximum benefits. You can continue your massage for longer if you'd like, but be careful not to overdo it to avoid causing some minor inflammation.
How often should I do a scalp massage
?
You can do a scalp massage as often as you'd like, but it's recommended to do it once or twice a week for the best results.
Do I need any special tools to do a scalp massage
?
No, you don't necessarily need any special tools for a scalp massage. You can use your fingertips or a scalp massager brush or tool to massage your scalp, which will help stimulate blood flow and promote relaxation.
Can a scalp massage help with hair growth
?
Yes, but indirectly. A scalp massage stimulates blood flow to the scalp, which will set the stage for promoting healthy hair growth. This increased blood flow also strengthens hair follicles and reduces hair breakage to maintain optimum hair health.
References:
1. Gad HA, et al. Jojoba oil: an updated comprehensive review on chemistry, pharmaceutical uses, and toxicity. Polymers (Basel). 2021.
2. Gharby S, et al. Argan oil: chemical composition, extraction process, and quality control. Front Nutr. 2022.
3. Lin TK, et al. Anti-inflammatory and skin barrier repair effects of topical application of some plant oils. Int J Mol. Sci. 2017.
This article was medically reviewed by Dr. Gina Jansheski, a licensed, board-certified pediatrician who has more than 20 years of practice experience. Learn more about Hello Glow's medical reviewers here. As always, this is not personal medical advice, and we recommend that you talk with your doctor.
119