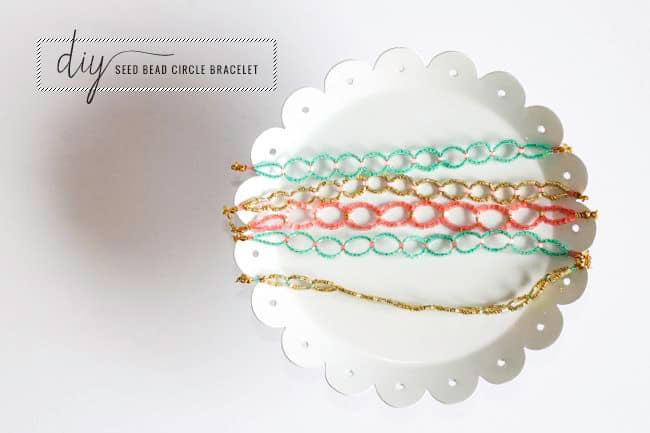 I'm so pleased Stephanie has invited me back to share another tutorial with you all. This time I have used tropical colored seed beads to create these really pretty bracelets. I like to mix and match my bracelets and these look great worn together, but if you like to keep things simple, one individual bracelet looks fab too.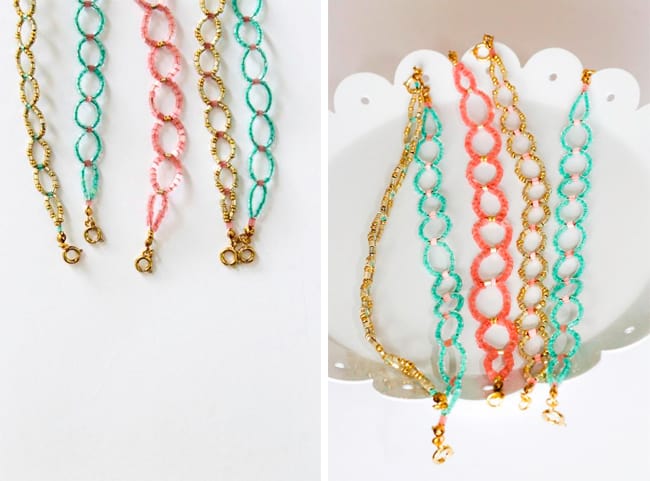 Even though this tutorial has many steps, I promise it's really easy! Once you've made your first bracelet and got the hang of it, it's gonna be hard to stop reaching a full on arm party.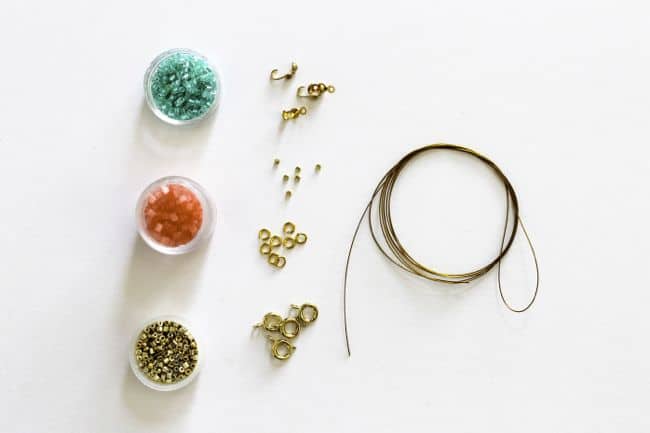 Supplies needed:
A selection of colored seed beads
side-hinge calottes
bolt fastening
tiger-tail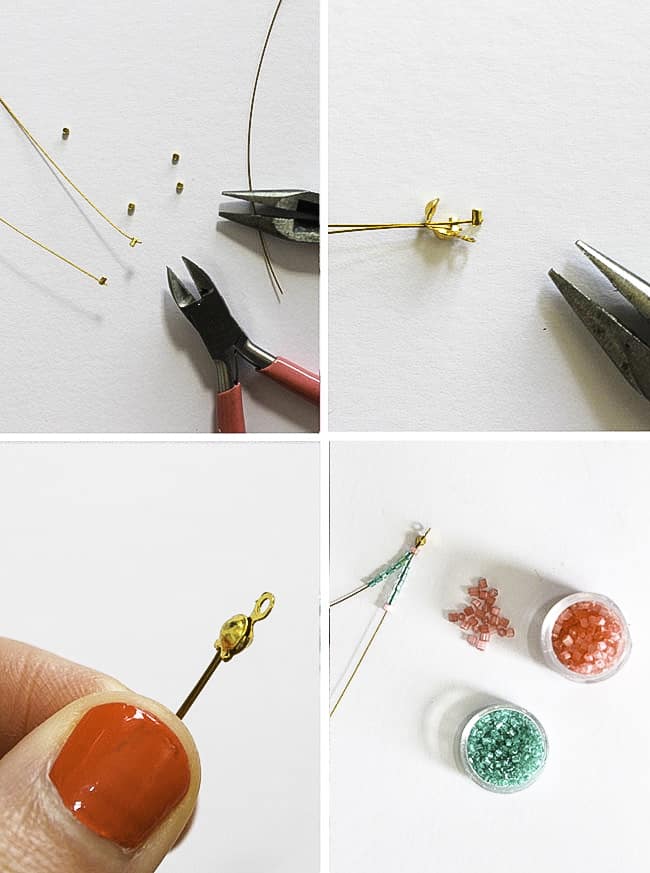 Step 1. Cut two lengths of tiger-tail 50 cm long. This will be far too much but I always think its best to go over for the first bracelet and then adjust the length for the following bracelets you make. Add a crimp to the very end of each piece of tiger-tail, squeeze tight with a pair pliers to close
Step 2. Thread both pieces of tiger-tail through the calotte.
Step 3. Gently close the calotte over the crimped ends.
Step 4. Tread a bead onto both pieces of tiger-tail. Add 7 seed beads to each strand. Add one contrasting bead to one of the strands, it doesn't matter which one.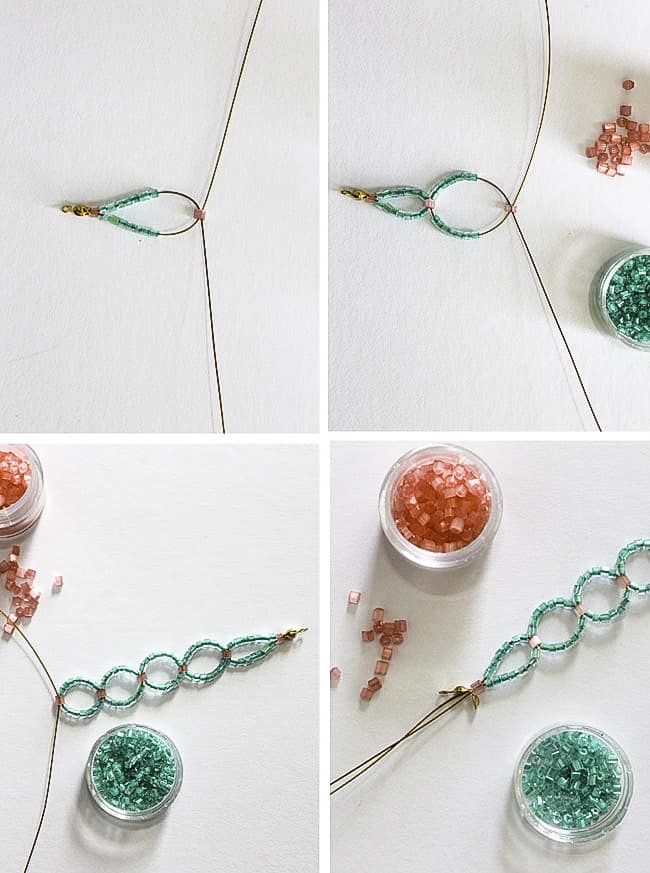 Step 5. Taking the length of tiger-tail without the contrasting bead, thread through the contrast bead in the opposite direction. This will form a loop, pull the ends gently so there are no spaces between the beads.
Step 6. Repeat steps 4 – 5 to make a circle shape.
Step 7. Repeat the above step along the length of the bracelet, mine had eleven complete circles with a tear drop shape either end. Depending on the size of your wrist you might want to have more/less circles.
Step 8. Thread 7 seed beads to both lengths of tiger-tail. Thread both lengths of tiger-tail through a contrast bead followed by a calotte and then a crimp to either length of tiger-tail.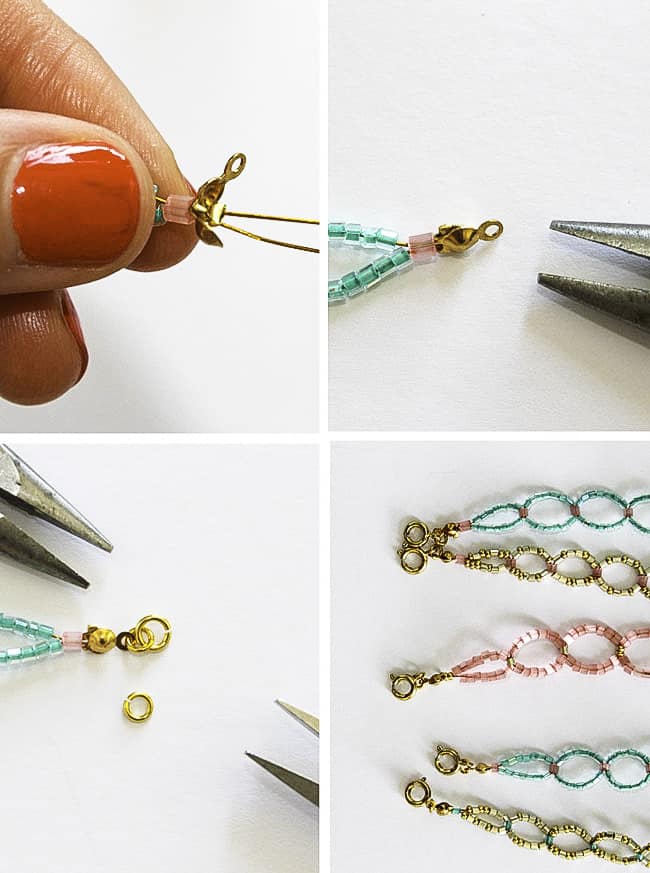 Step 9. Make sure the beads are sitting close together and then squeeze each crimp closed. Snip off any extra length of tiger-tail.
Step 10. Close the calotte over the crimps.
Step 11. Add a jump ring to one end of the bracelet.
Step 12. Using a jump ring add a bolt clasp to the other end of the bracelet.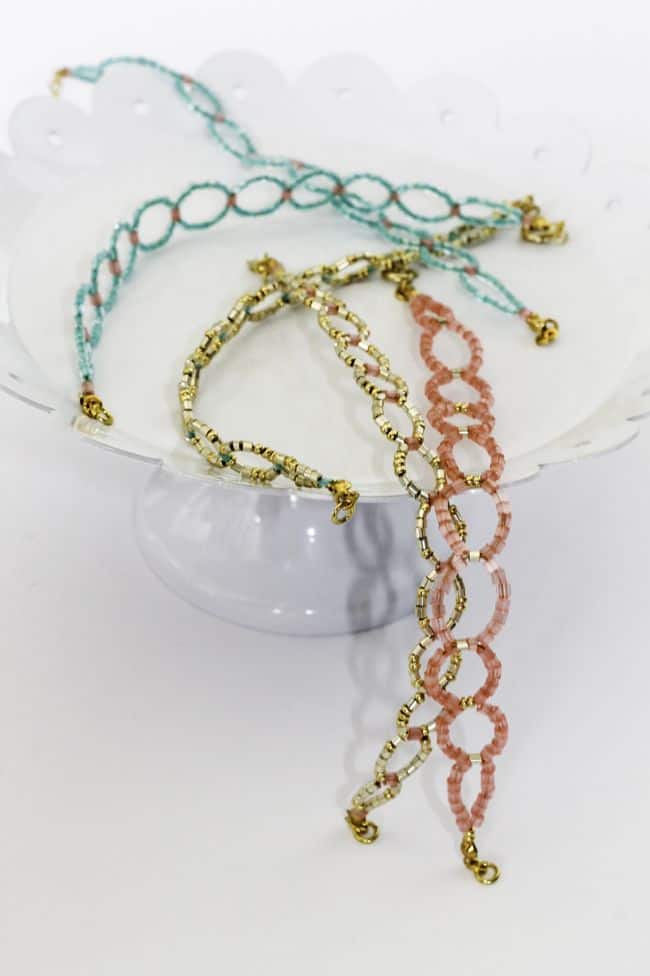 I hope you have enjoyed this tutorial – the bracelets use very few beads so they are perfect for using up any bits and pieces you have in your craft supply box. Happy making!
144