I'm a die-hard fan of food gifts in jars. They are the greatest. Over the years we've been the recipients of some real winners – from homemade BBQ sauce and accompanying spice rub to homemade vanilla syrup to garden salsa and everything in between.
I've got 10 really easy last-minute food gifts that make great presents for neighbors, friends, teachers, coworkers, or just about anyone really.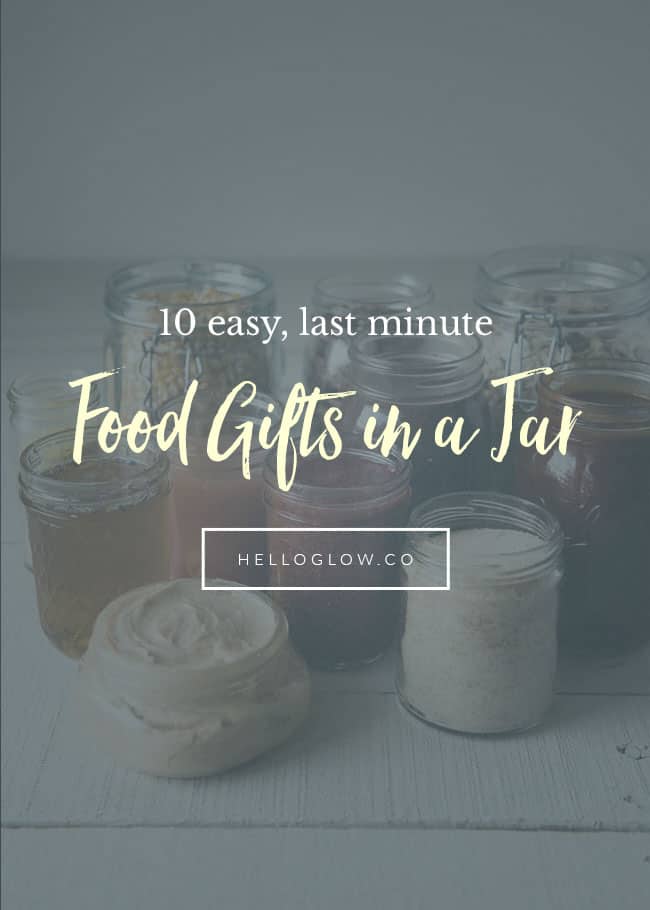 Condiment Food Gifts
1. Homemade vinaigrette
Give the gift of yummier salads. This Raspberry Thyme Vinaigrette is made with 4-5 fresh raspberries, a pinch of dried thyme, 1 teaspoon honey, 1/2 teaspoon dijon mustard, 1/4 cup white balsamic vinegar, and 1/2 cup avocado oil. Just put everything into the jar and shake well.
The vinaigrette will keep for 3-5 days in the fridge, longer without the raspberries. Change it up by using different fruits, vinegars, and oils.
2. Flavored sugar
Vanilla is my favorite flavored sugar. And okay, not really a condiment. But still!
Just mix 1 cup of sugar with 1/2 teaspoon pure vanilla extract. To make a big batch, use 4 cups of sugar and 2 teaspoons pure vanilla extract. Stir together. The mixture will look like damp sand. The extra moisture will evaporate and the sugar will dry out.
A split vanilla bean can also be used. Just place the bean into the jar of sugar and let it stand for a few weeks to infuse the vanilla with its essence.
The bean can be reused over and over, so it's a gift that can keep on giving! Just make note on the gift tag. It's great stirred into coffee or tea and sprinkled on top of just about anything. (Like a condiment.)
3. Chia Berry Jam
Who doesn't love homemade jam? This recipe comes from Hello Nest. It contains a few simple ingredients and is sweetened with honey or maple syrup. The chia seeds thicken the jam, but also add protein and omega-3 fatty acids.
4. Homemade Mayo, Ketchup and Mustard
You can't go wrong with this all-purpose trio! The three recipes are vegan, packed with healthy ingredients, and a real treat on burgers and sandwiches. Ditch the extra sugar, salt and preservatives once and for all.
5. Quick + Easy BBQ Sauce
Whisk together 1 1/4 cups ketchup or tomato sauce, 1/4 cup apple cider vinegar, 2 tablespoons honey, 2 tablespoons molasses, 1 tablespoon chili powder, 1/4 teaspoon garlic powder, salt and pepper to taste. If using tomato sauce, you might need to add a little more honey or molasses.
It's a great all-purpose BBQ sauce. You can add extra spices, like chipotle, to make it hot and spicy, add an Asian twist by adding a little soy sauce and ginger, or make it extra tangy by adding fresh lemon juice.
Snack Gifts in a Jar
Because who doesn't love salty snacks?
6. Popcorn kernels + homemade seasoning blend
I am in love with sprinkling nutritional yeast on popcorn. I made a little blend of 4 Tablespoons of nutritional yeast with 1 teaspoon dried Italian herbs, 1/4 teaspoon garlic powder, and 1/4 teaspoon sea salt. It's addictive and gives the popcorn a slightly "cheesy" flavor.
7. Roasted nuts
Another crowd pleaser! I like sweet and salt combos the best. Buy mixed nuts in bulk for the best value, but any nuts will work fine. My favorite recipe at the moment is this one made with rosemary and vanilla.
If you need an option for someone who's allergic to nuts, you might like these roasted chickpeas (sweet or savory).
Breakfast Gifts in a Jar
8. Instant Oatmeal
For friends who would appreciate something on the healthier side, give the gift of a healthy breakfast. Mix up a big batch of DIY Instant Oatmeal and put it in a pretty jar. (Make a batch for yourself too!)
9. Infused honey
Perfect for so many things! Drizzled on top of oatmeal, toast, fruit, and yogurt; layered in peanut butter sandwiches, stirred into a hot cuppa tea or mug of warm water and lemon. It's also a great way to end the day stirred into warm milk before bed.
See how easy it is to make infused honey here. It's a thoughtful gift that doesn't take much time to make.
10. Maple Cinnamon Butter
Hands down the favorite of many a recipient. Mix one 1 cup (2 sticks) softened salted butter, 2 tablespoons maple syrup or 1 tablespoon maple syrup powder, 1 teaspoon vanilla extract and 1 teaspoon ground cinnamon.
Put it in a jar and give the gift that will make biscuits, bread, muffins, and other baked goods even better.
A few more food gift ideas here on Hello Glow: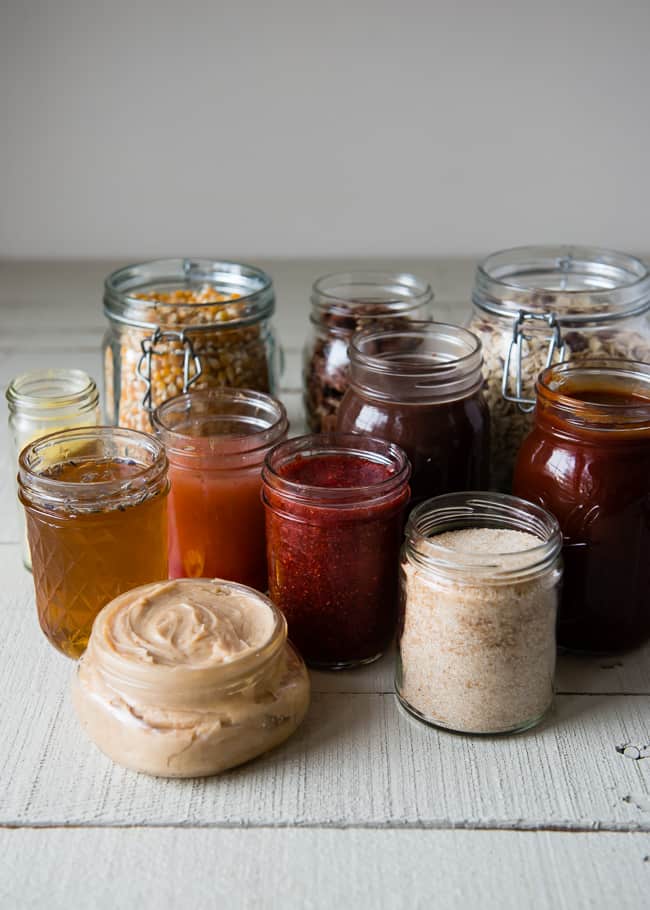 What are your go-to last minute gifts?
231