Candles are a great way to decorate your home with the changing seasons and also to make it smell like fall. Let's be honest, I'm completely OK with the idea of my house smelling like fall all year long, no matter the season.
These DIY chai candles are made in old canning jars and are a pretty, natural way to bring some seasonal cheer inside. They are delicately scented with baking spices—like ginger, cardamom, cinnamon and nutmeg—that will warm your home.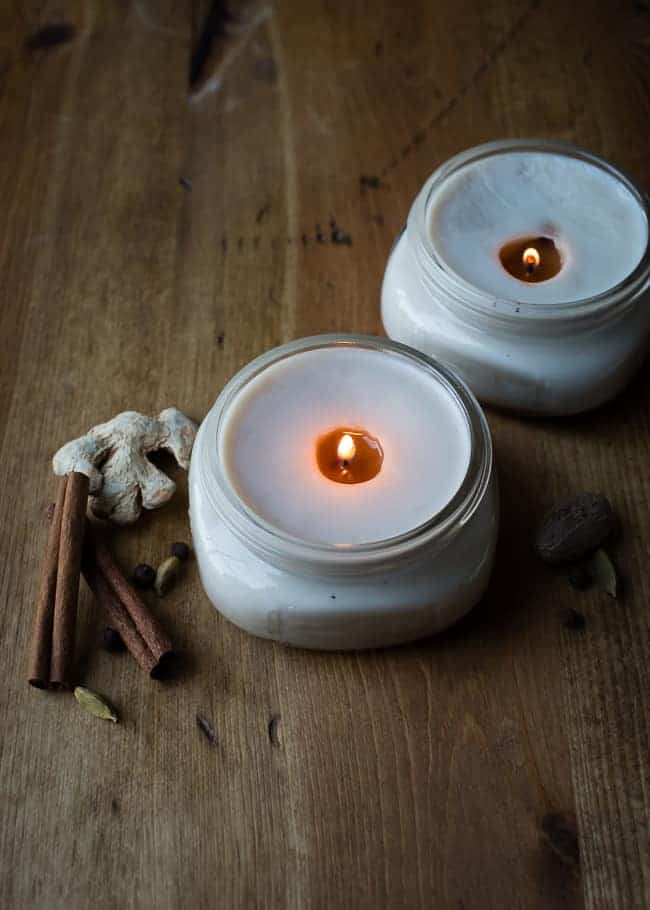 Making candles at home is very easy. You can purchase wax, or recycle old candles by melting down the old ones and salvaging the leftover wax. Essential oils can also be added to the melted wax once it has started to cool but has not fully set.
Supplies needed
– Candle wax flakes (I used soy)
– Skewers or chopsticks
– Jars. The jars I used are 1/2 pint canning jars. I love the cute shape, but any jar can be used. These 1/2 pint jars use about 7.5 ounces (dry weight) of candle wax flakes per jar.
– Spices
– A pan for melting the wax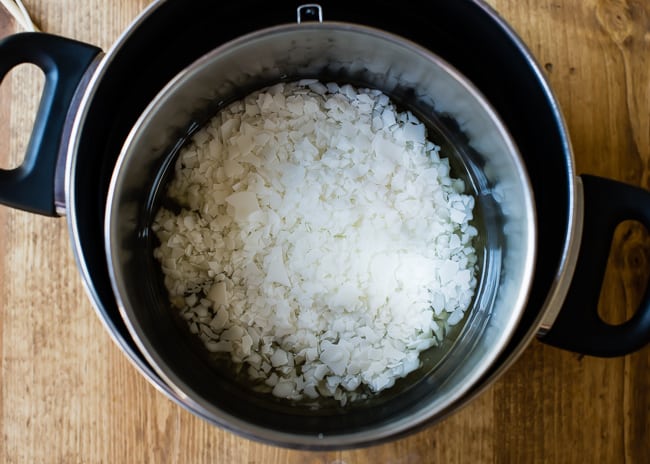 Step 1
Start by melting the wax. The soy flakes melt easily. If you use beeswax pellets or chopped wax, it will melt at a much higher temperature and take quite a bit longer to melt. You don't have to use a pan. A large measuring cup and microwave are even easier. I nestled an old pan inside of another pan to work like a double boiler.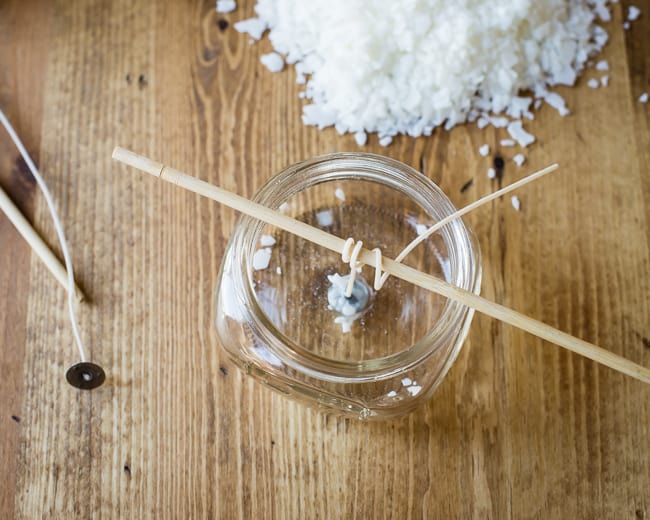 Step 2
As the wax is melting, dip the bottom of the candle wicks into the wax and place them at the bottom of the jar. Use the skewer or chopstick to help hold it in the center.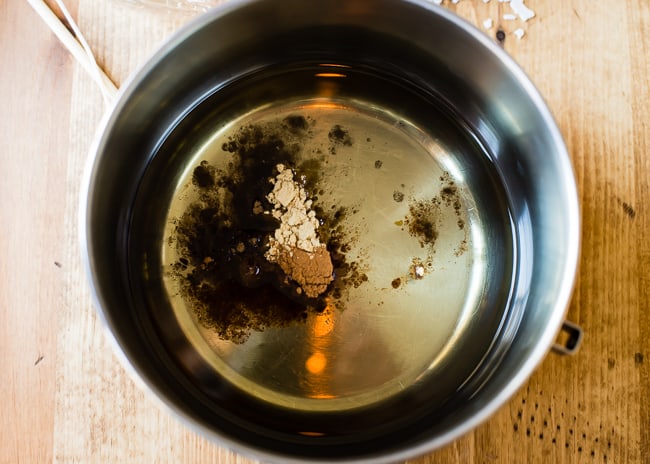 Step 3
When the wax is almost melted, remove from heat and stir or swirl to melt the remaining wax. Add the spices and stir well.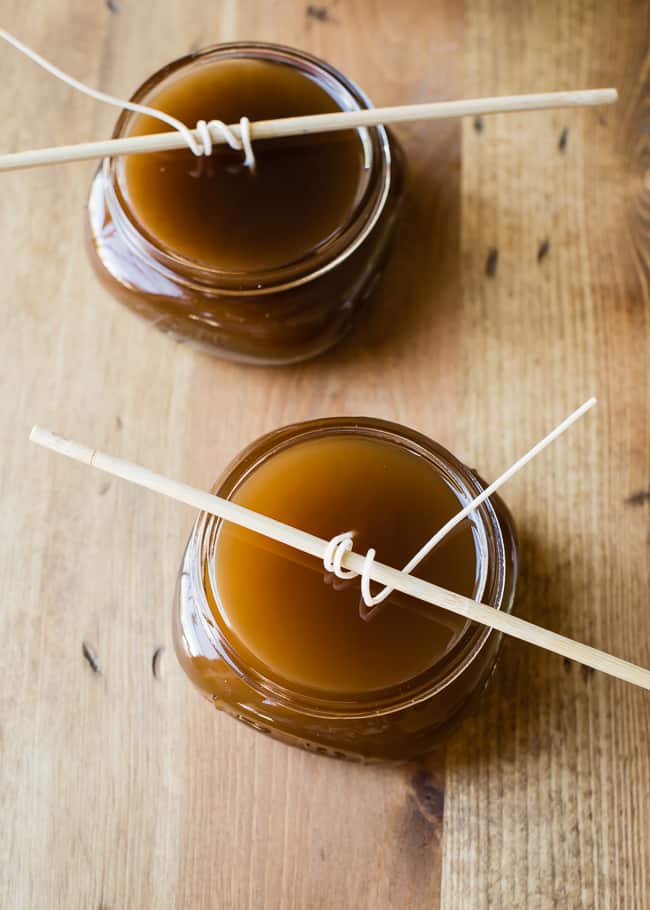 Step 4
Pour into the jars and let wax cool completely.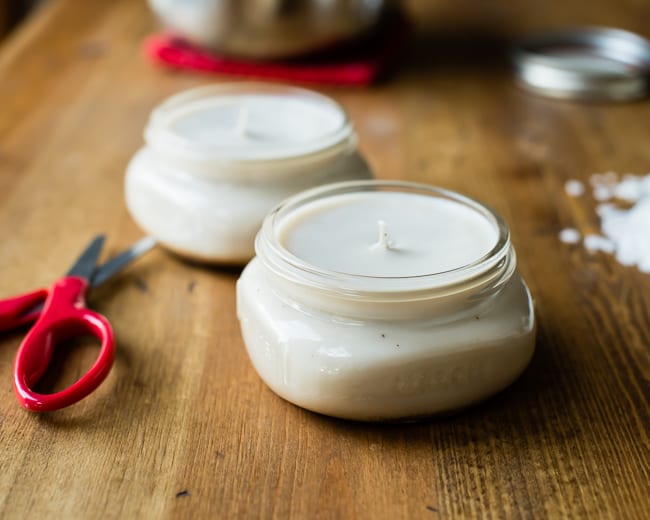 Step 5
Trim the wicks and use as desired or give as a gift!
Other DIY candle ideas for fall
French Vanilla Candles
Cinnamon Candles in Pumpkins
Ice Candles Made From Recycled Candles
Pink Mason Jar Candles
Pretty DIY Colored Votives
DIY Chai-Spiced Fall Candle FAQ
How can I get a stronger scent with DIY candles?
The scent of the spices used in these chai candles can be fairly subtle. If you would like to create a stronger scent, add a few drops of essential oils.
Mixing and matching cinnamon, clove, nutmeg and any other autumn spice oils will give you that chai feel, but vanilla and lemon would also pair nicely with this mix.
When should I add essential oils to my candle?
If you'd like to add essential oils to amplify the autumn scent profile when you make these chai-spiced candles, you should add them after you've poured the wax and once it has started to set. You'll want to wait until the wax has cooled down but has not set fully. If you add oils when the wax is still too hot, the scent will burn off.
What is the best wax for making these candles?
I used soy wax, but you can use beeswax as well. Beeswax tends to have a stronger natural scent than soy, so I opted to use soy instead.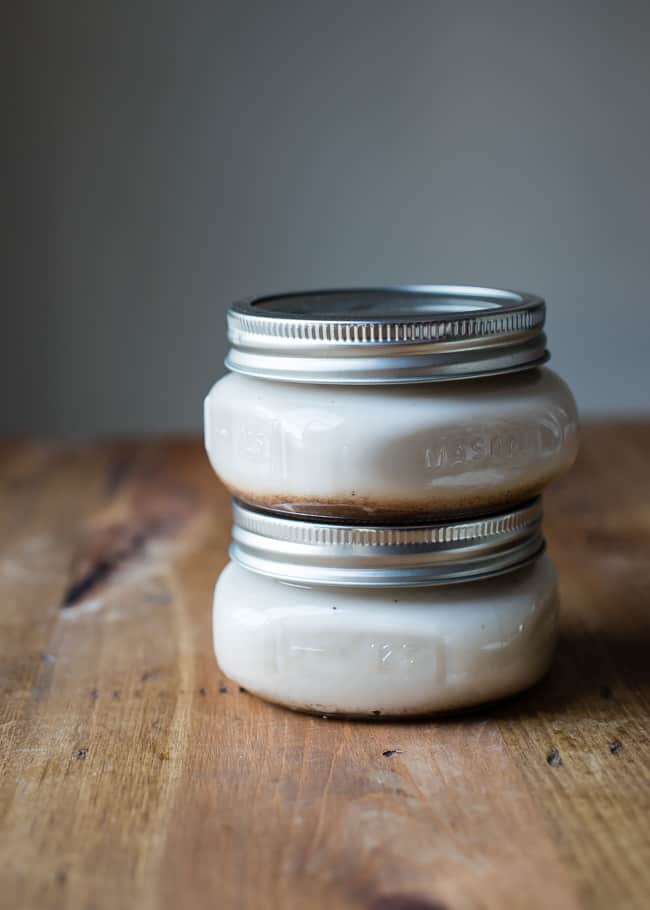 257