Candles are a great way to decorate your home with the changing seasons and also make it smell like fall. These DIY chai candles in canning jars are a pretty, natural way to bring some autumn cheer inside. They are delicately scented with baking spices – ginger, cardamom, cinnamon and nutmeg – that will warm your home.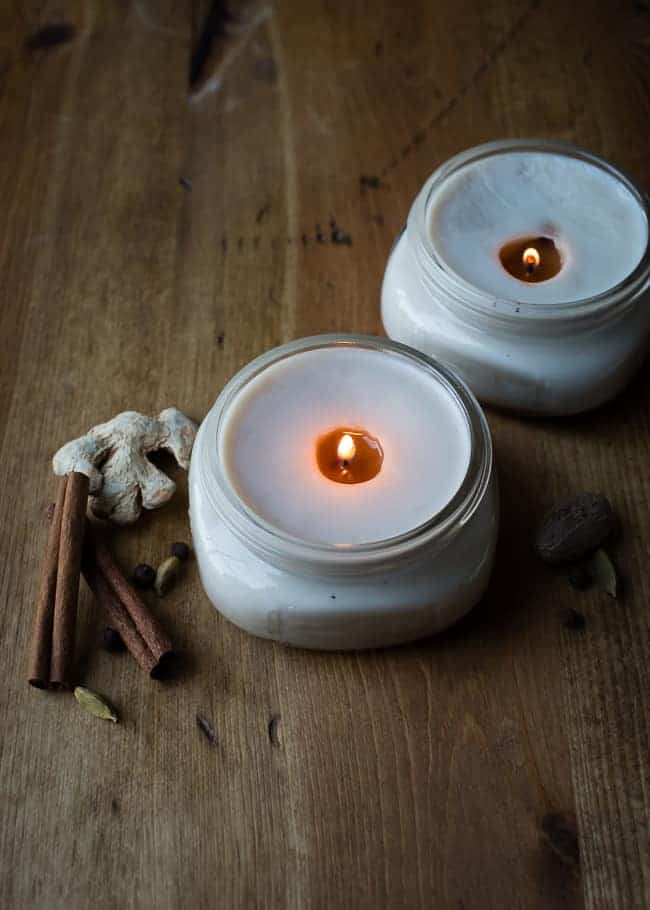 Making candles at home is very easy. You can purchase wax, reuse or recycle old candles for these. Essential oils can also be added either to the melted wax or the first time the candle is lit for a stronger scent.
Supplies needed
Candle wax flakes (I used soy)
Skewers or chopsticks
Jars. The jars I used are 1/2 pint canning jars. I love the cute shape, but any jar can be used. These 1/2 pint jars use about 7.5 ounces (dry weight) of candle wax flakes per jar.
Spices
A pan for melting the wax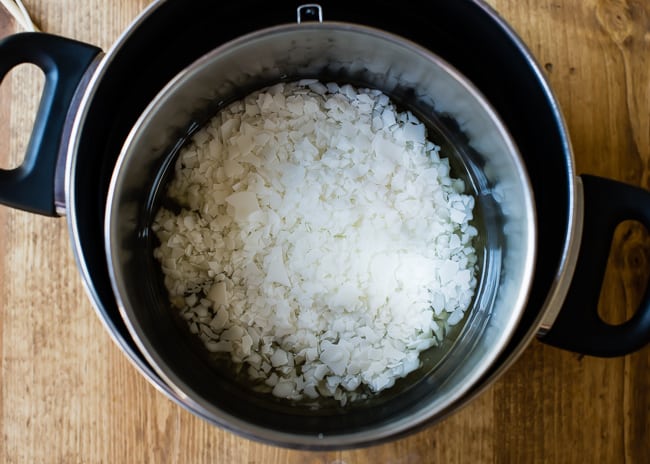 Step 1
Start by melting the wax. The soy flakes melt easily. If you use beeswax pellets or chopped wax, it will melt at a much higher temperature and take quite a bit longer to melt. You don't have to use a pan. A large measuring cup and microwave are even easier. I nestled an old pan inside of another pan to work like a double boiler.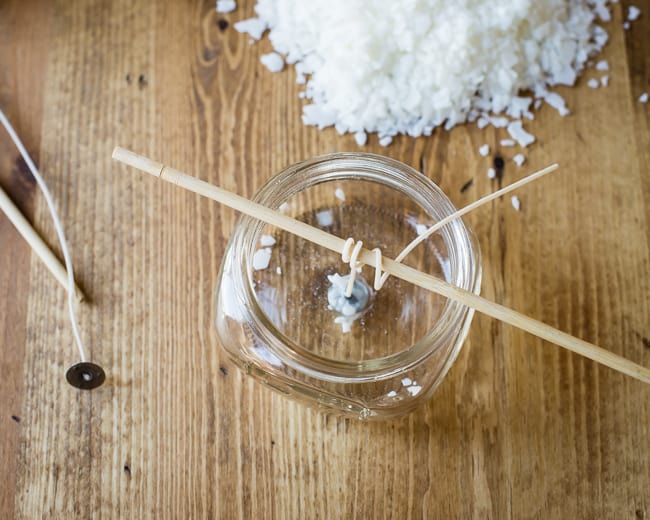 Step 2
As the wax is melting, dip the bottom of the candle wicks into the wax and place them at the bottom of the jar. Use the skewer or chopstick to help hold it in the center.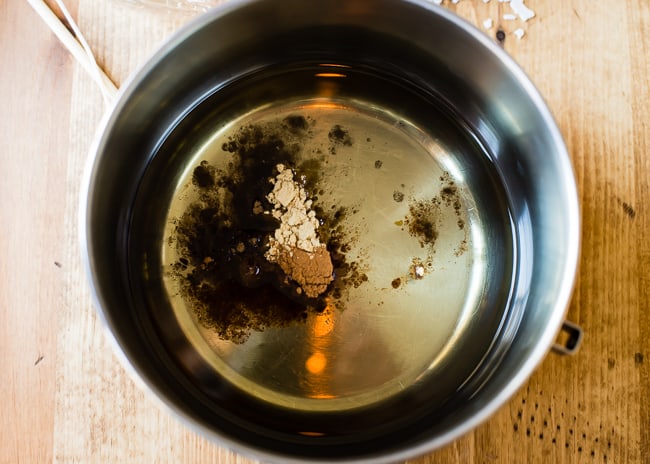 Step 3
When the wax is almost melted, remove from heat and stir or swirl to melt the remaining wax. Add the spices and stir well.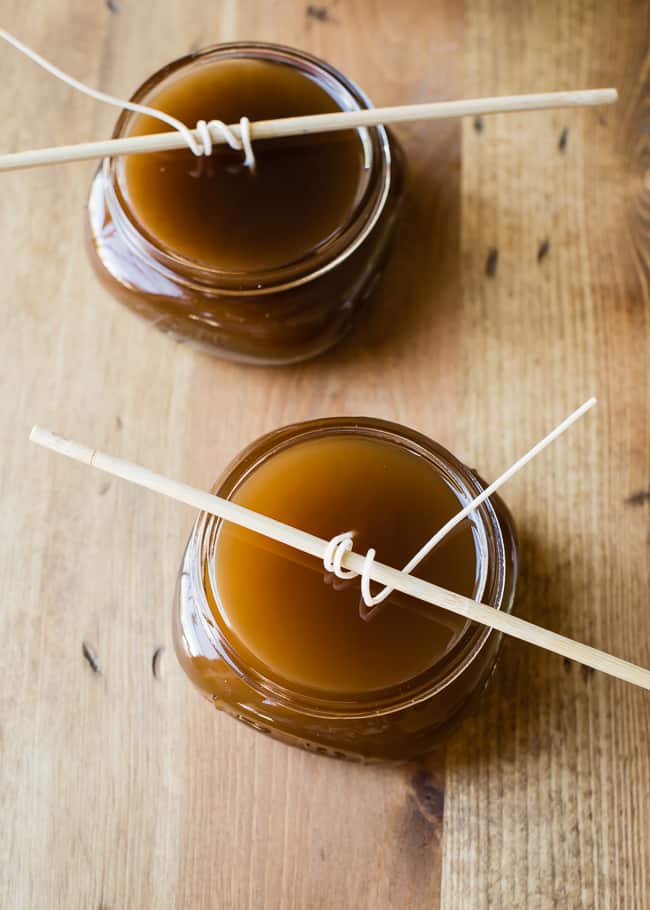 Step 4
Pour into the jars and let wax cool completely.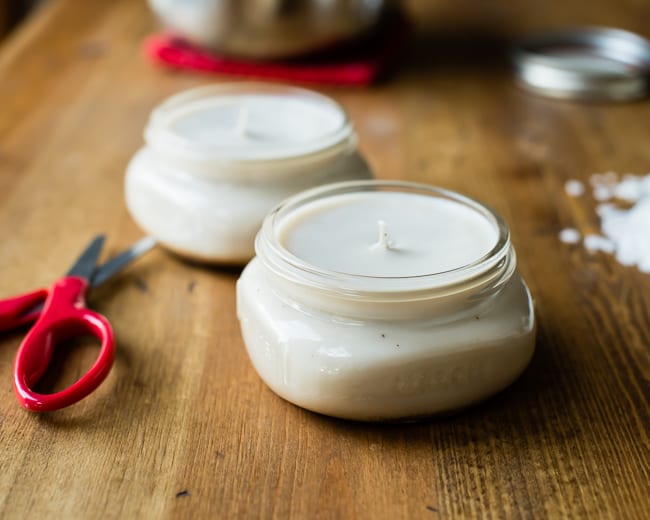 Step 5
Trim the wicks and use as desired or give as a gift!
Other DIY candle ideas for fall
French Vanilla Candles
Cinnamon Candles in Pumpkins
Ice Candles Made From Recycled Candles
Pink Mason Jar Candles
Pretty DIY Colored Votives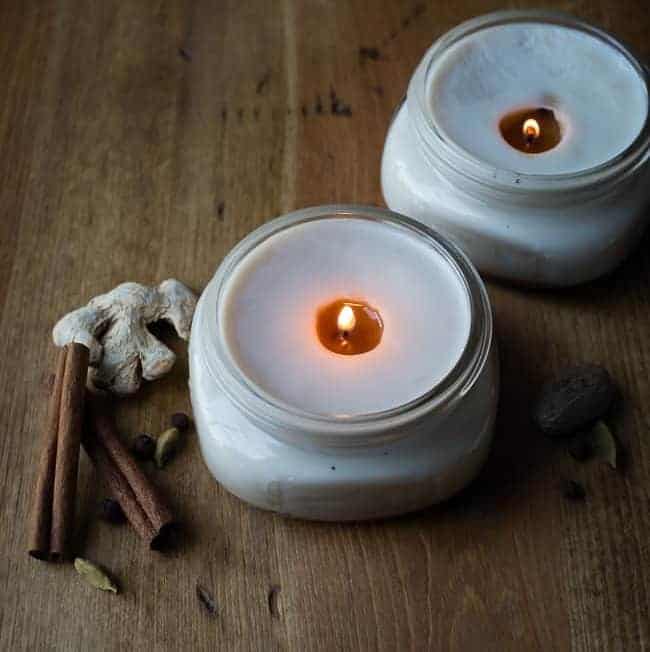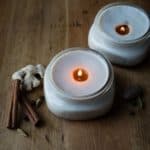 Print
DIY Chai-Spiced Fall Candle
Materials
14-15

ounces

soy wax flakes

per candle

1/2

teaspoon

each: ground ginger, cardamom, allspice, cinnamon and nutmeg

Chopsticks or skewers

An old pan or clean can for melting wax
Instructions
Place wax flakes in a double boiler or large glass measuring cup in the microwave.

Dip the end of the candle wicks into the melted wax and adhere to the center of the bottom of the jars. Wrap the wicks around chopsticks or skewers set over the top of the jar to keep the wicks centered.

Once wax has almost melted, remove from heat and stir to finish melting. Add the spices and stir well. (Some will sink to the bottom of the jar.)

Pour the wax into the prepared jars, leaving a little space at the top. Let cool completely.

Trim the wick to desired length and use or give as a gift.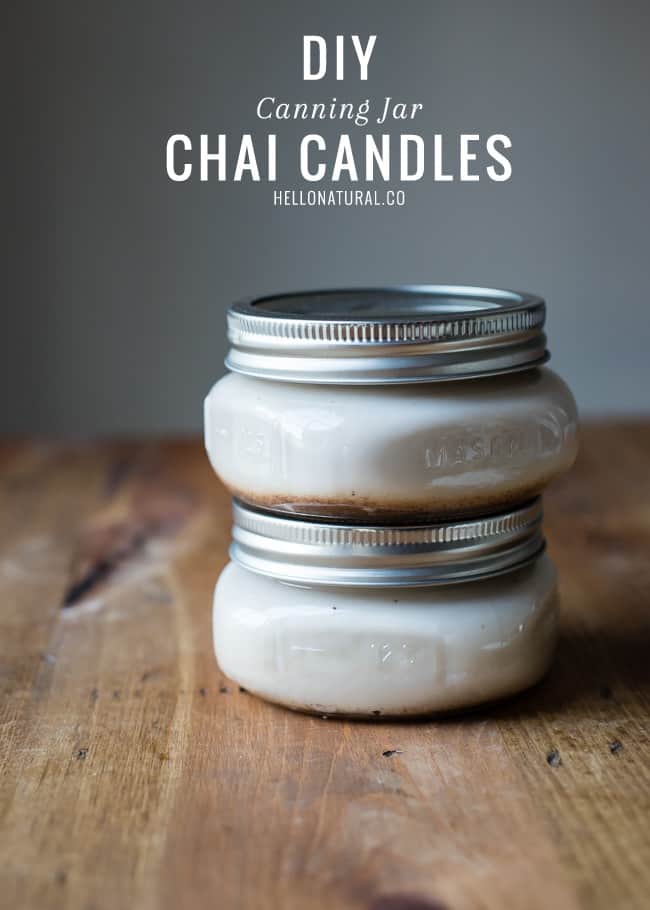 126