Infused waters kind of seem like a summer thing, but there are plenty of fall flavors to be had. Especially during the season of candy, parties, cocktails and heavy foods, these infused water recipes can help keep you full and hydrated so you don't overindulge.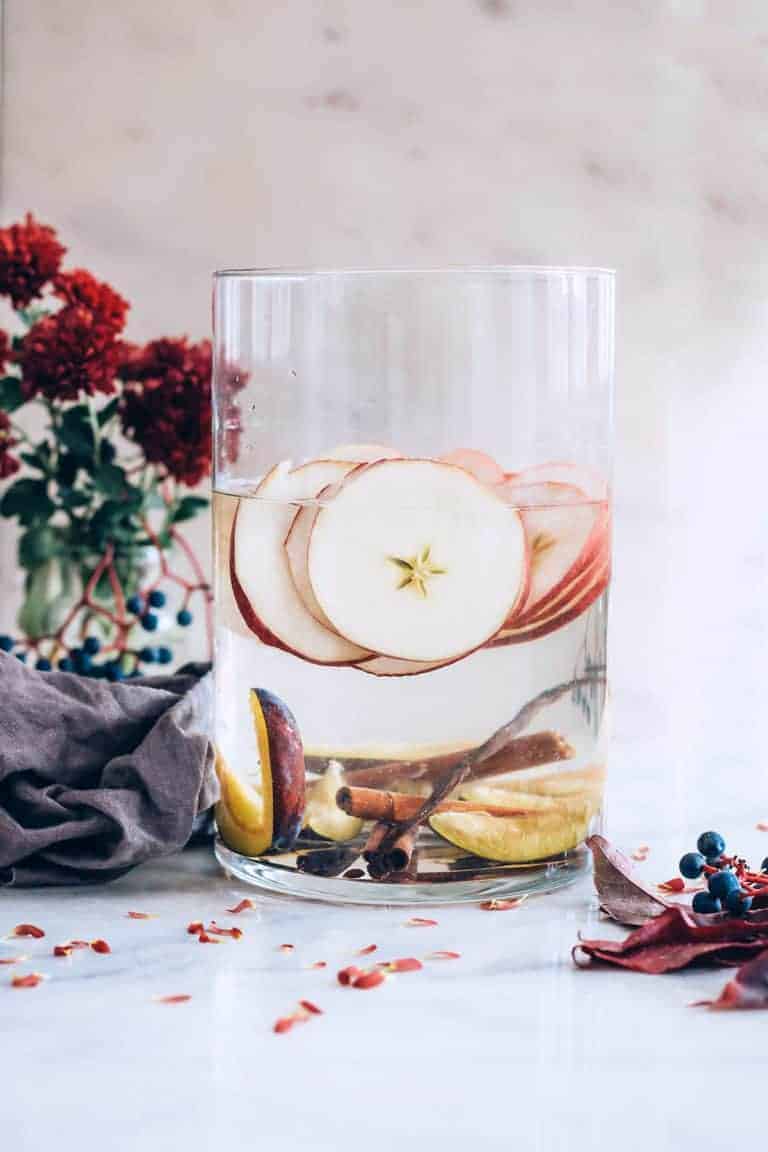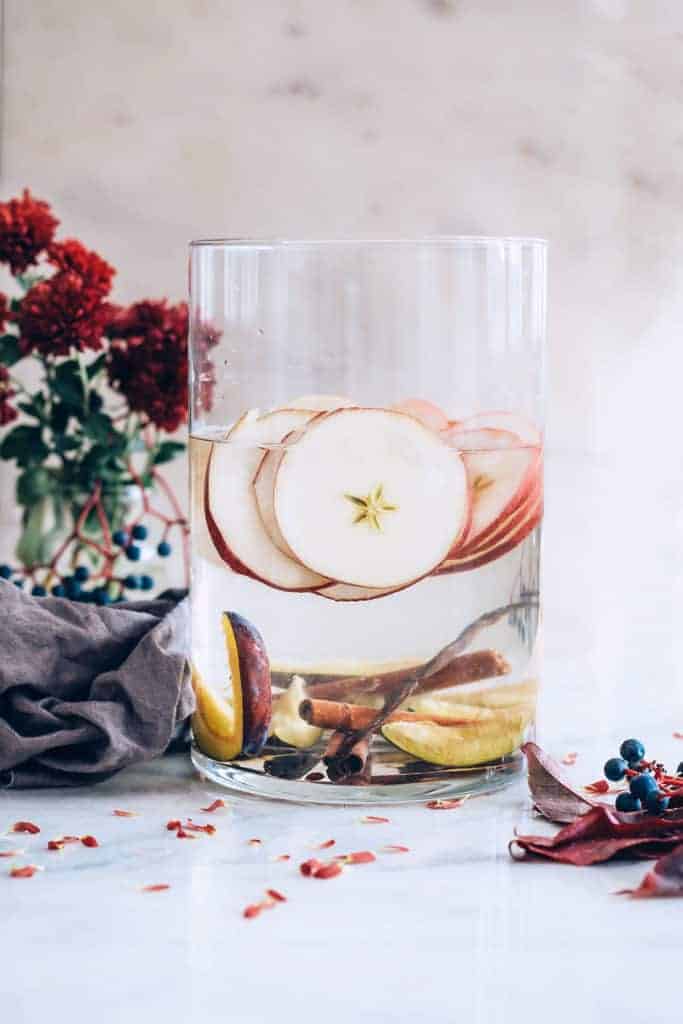 21 Infused Water Recipes for Fall
A delicious fall flavored water, combining the tart taste of apples and plums with the sweetness and coziness of vanilla and cinnamon spices, to recreate your favorite autumn dessert in a drink – apple pie.
If you love the sweet-tart combo, this vitamin C-rich water from Make Life Lovely will be your new favorite.
The fruit in this water from the Skinny Fork gets you to drink more, and the chia seeds are super healthy and fill you up!
Bridge the gap between summer and fall with this sweet-yet-earthy blackberry-sage combo from Evermine.
Kick-start sluggish digestion with this gingery, citrusy recipe from Hello Glow.
All your favorite tangy citrus fruits are in season. Pair them with spicy cilantro to add vitamins and minerals, and a completely unique taste, to water.
Think of this chamomile-mint-cardamom water from She Who Eats as a diluted tea that you can sip all day.
This one tastes just live harvest season! A couple of cinnamon sticks add just enough spice to make you crave this drink.
This idea from The Kitchn is genius! Simply put a cinnamon stick in water, or make the concentrate ahead of time and your house will smell amazing.
We don't know why rosemary pairs so well with fruit, but it does! Plus it aids in digestion, which is important this time of year.
Infuse a big bottle of water with purifying, refreshing, detoxifying lemon, cayenne and honey, and sip on it all day. Great for suppressing sugar cravings!
Rosemary not only aids digestion, it gives off a slightly floral (but not overpowering) scent, making it perfect for pairing with tart lemon and sweet blueberries.
Grapefruit gets some help from extra vitamin C and is sweetened up with stevia in this refreshing beauty water.
Okay, it's not a sugar cookie…but this vanilla water from Real Healthy Recipes will at least help you postpone that sugar craving.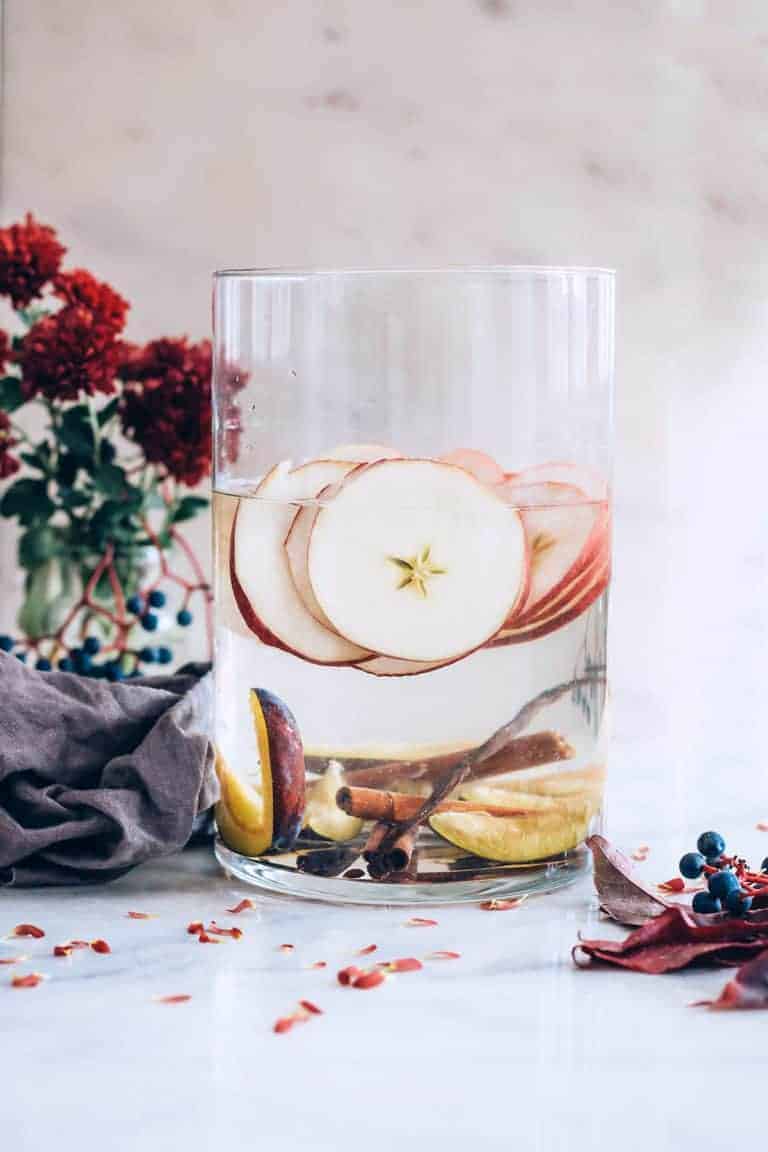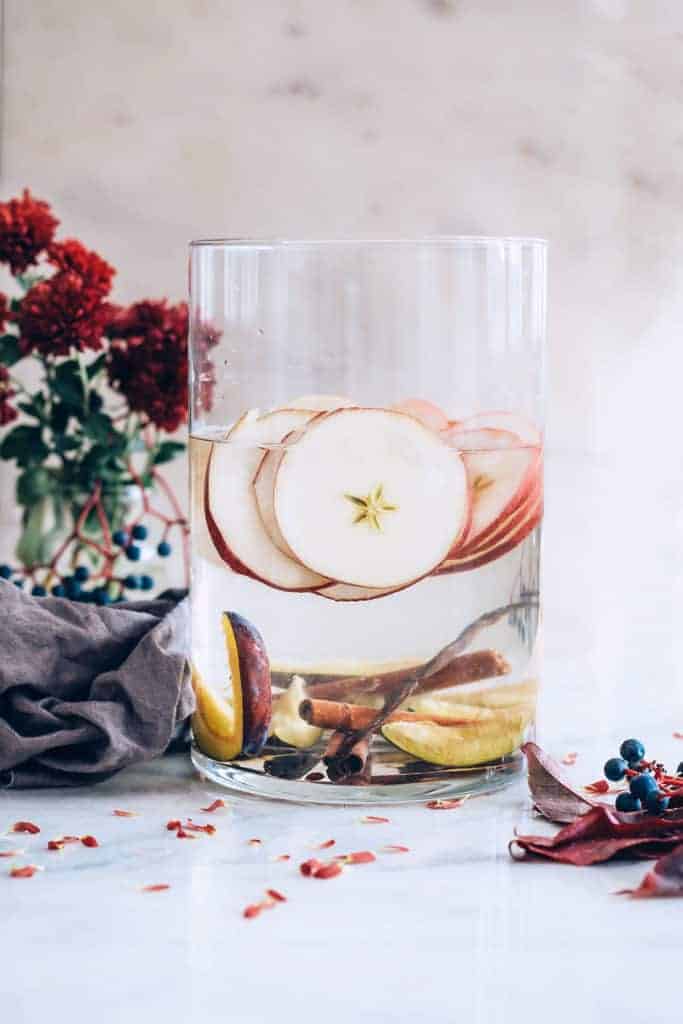 The classic apple pie taste in a healthy, tall drink of water. It doesn't get more fall than that.
When Clementines are in season, this blueberry-orange water from The Peach Kitchen is a perfect way to use them up!
If you're craving apple juice, try this instead. The cinnamon makes it extra delicious!
Spicy ginger pairs well with sassy cinnamon and mellow pears.
This blend from Posh Little Designs is earthy, peppery and surprisingly refreshing.
A winter-y infused water to keep your immune system on track, plus help regulate blood sugar, improve skin health, and give you a dose of antioxidants.
Cucumbers are high in silica, which is instrumental in collagen formation. But most of the silica in cucumbers is found in the skin, so to get the most out of your cucumbers, buy organic and don't peel them.
163