You probably know we're nuts about mason jar salads around here – we can't help it! Salads are the perfect light meal to bring to work, a road trip or to a picnic, and jars are by far the safest way to carry them around. Packing in mason jars not only prevents the fruits and veggies from altering, but it's also eco-friendly.
25 Mason Jar Salad Recipe Ideas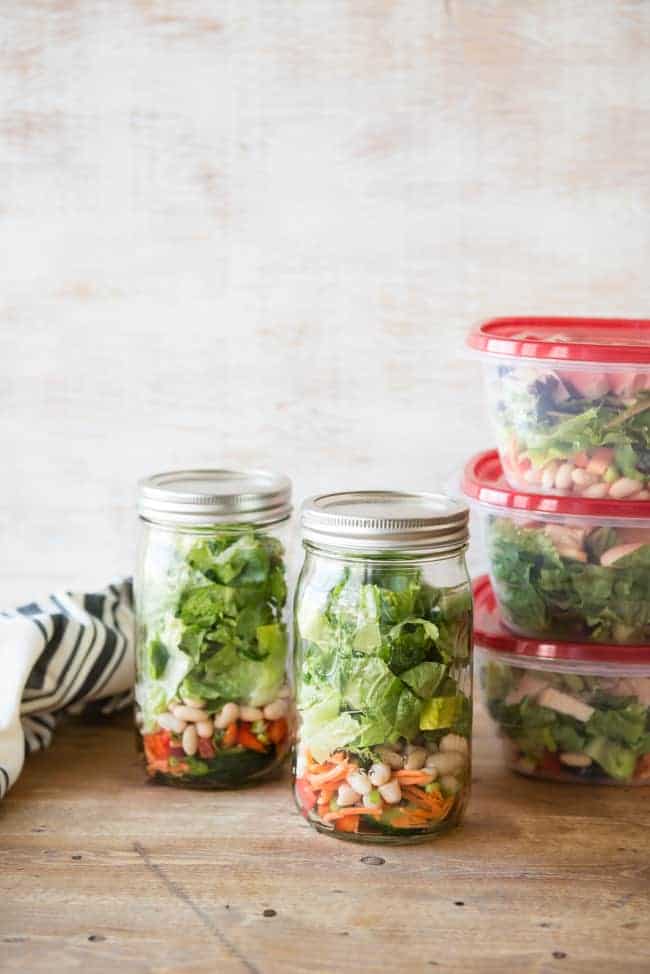 1. Make-ahead salad by Hello Glow. Not one, but 15 salad recipes you can make ahead and pack in jars for the whole week.
2. Rainbow fruit salad by Hello Glow. Mason jars are so great because you can see the layers and have fun with the colors of the ingredients. This simple fruit salad is a great example.
3. Simple mason jar salad by Eat Within Your Means. Greens, nuts, radish and apple make for a tasty and filling combination.
4. Layered taco salad by Jen Around the World. Use the leftovers from Taco Tuesday to make a salad lunch on Wednesday.
5. Greek-style mason jar salad by Double Thyme. Stacking salad in a jar keeps the greens away from the dressing, making them last longer.
6. Strawberry Spinach Salad in a Jar by Wholefully. All the fresh tastes of spring in a single mason jar!
7. Zucchini noodle caprese salad by Mason Jar Salads. Refreshing caprese made more filling with the aid of fresh zucchini noodles.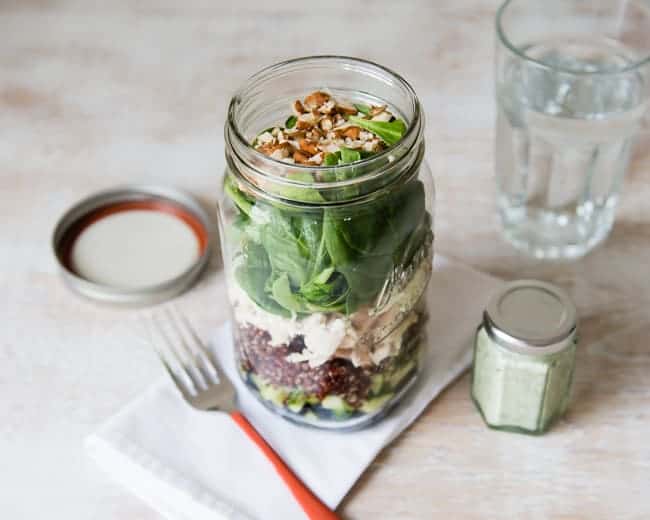 8. Layered salad jar by Hello Glow. A filling and healthy salad you can easily fit inside a jar.
9. Pomegranate and pear salad by Fake Food Free. Sweet fruits make this a treat while the spinach, pecans and blue cheese make it nourishing too.
10. Guacamole mason jar salad by Pop Sugar. Replace chips and guac with a healthy guacamole salad, neatly packed in a jar.
11. Watermelon and feta salad by Brooklyn Farm Girl. Refreshing watermelon and cherry tomatoes plus the salty feta make for an explosion of tastes.
12. Tex Mex quinoa salad by Fit Foodie Finds. Satisfy your Mexican food cravings with a healthy salad in a jar.
13. Thai quinoa salad with miso peanut dressing by Leanne Ray. Satisfying, crunchy, and full of flavor, this salad is bound to become an office favorite.
14. Burrito bowl by Strictly Delicious. A deconstructed burrito that gets the form of a mason jar salad.
15. Fresh fruit salad by This Gal Cooks. Combine light fruits with nutritious ones to create the perfect fruit salad.
16. Asian zoodle salad jars by Foxes Love Lemons. Zucchini noodles are super tasty with bell pepper, peas and citrus.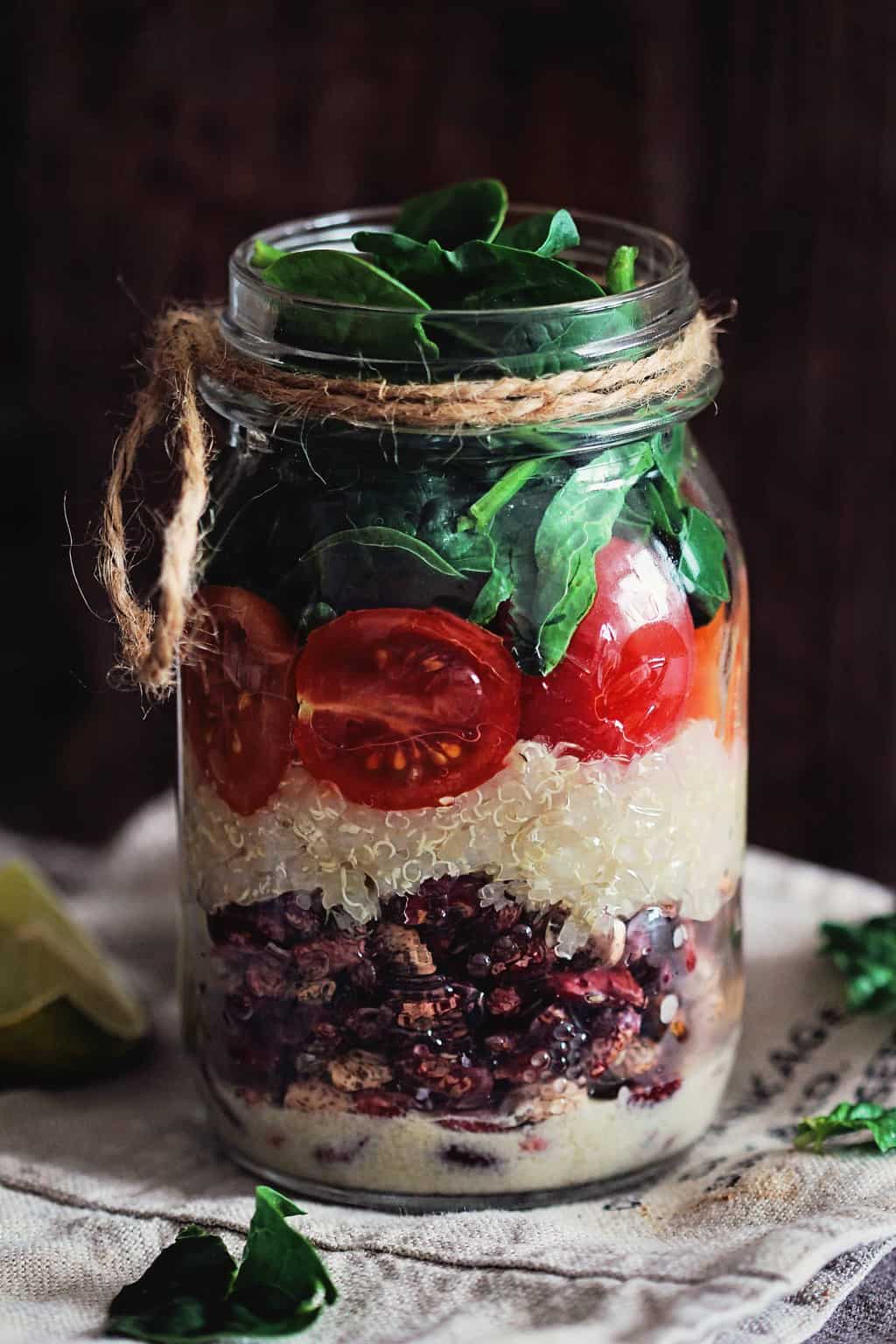 17. Layered quinoa bean salad by Hello Veggie. Enjoy a beautifully colored salad that's packed with healthy nutrients!
18. Mason jar fruit salad by Le Zoe Musings. Healthy snacking doesn't get any easier or prettier. Not to mention, it's completely mess-free!
19. Mason jar salad 3 ways by Elke Living. Meal prep is a breeze with these three mason jar salad versions.
20. Caprese salad in a jar by Apron and Sneakers. The easiest salad recipe in the world just got easier: just put the three ingredients in a jar & drizzle with olive oil.
21. Sprouted spring salad in a jar by Inspired Edibles. The spring sprouts make this super healthy and looks so cute!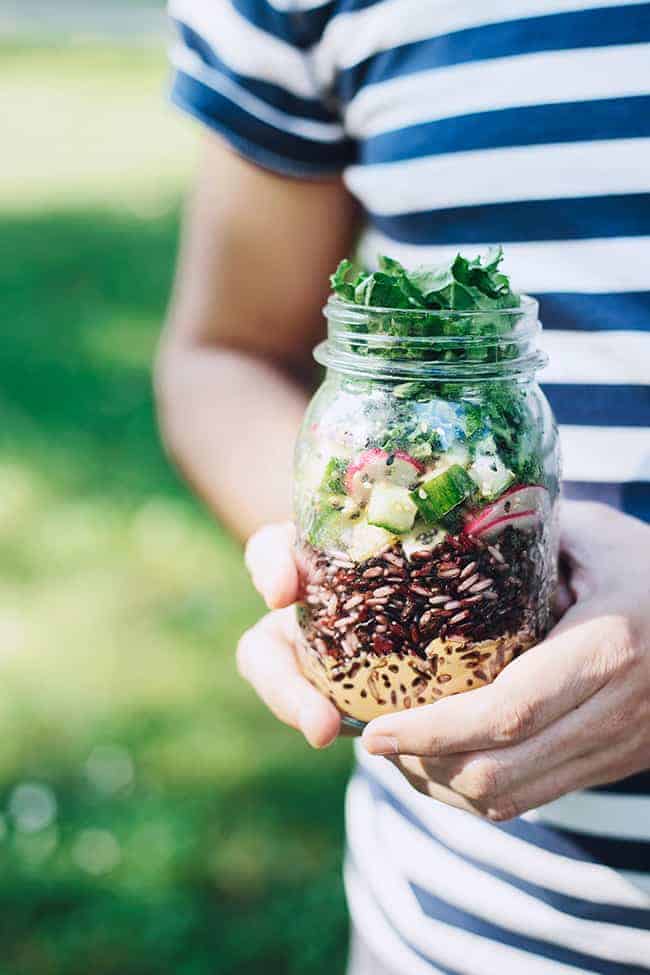 22. Crunchy Kale Slaw with Spicy Peanut Butter Dressing by Hello Veggie. The perfect summer salad to take with you on a picnic!
23. Vegan cobb salad with coconut bacon by Cooking for Peanuts. Coconut bacon is just the thing when you're on a vegan diet but miss the smoky flavor of bacon.
24. Big mac salad by Peanut Butter and Fitness. This deconstructed burger makes for a truly satisfying lunch break!
25. Salad in a jar by Hello Wonderful. Made with kids in mind, this is the type of salad little ones can't refuse.
41