You already put MCT oil in your coffee and smoothies—now it's time to make these MCT oil salad dressing recipes for another easy way to get your MCT fix. Here are four superfood recipes to help you add an extra dose of nutrition to your greens.
After eating my hundredth kale salad of the season, it occurred to me that I've been thinking about my salads all wrong. Yes, salads are a great way to get those healthy foods into your diet. But what about the nutrition-packing potential of an often overlooked salad staple: the dressing?
Toss in some adaptogens here and some probiotics there. Even add some herbs, seeds and healthy fats if you have them. They blend right into most dressings and are usually so subtle you won't even know they're there!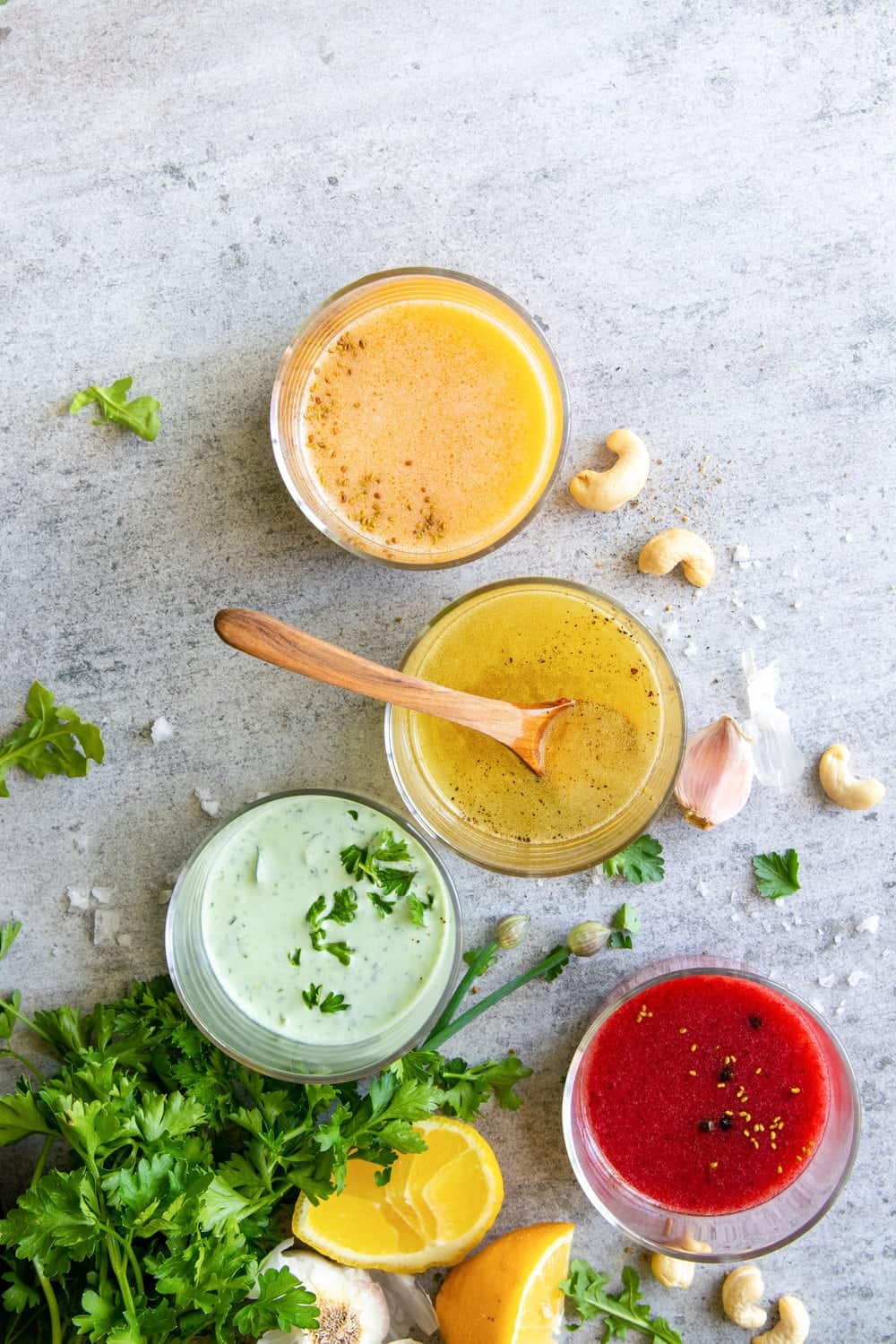 4 Superfood MCT Oil Salad Dressing Recipes
Dressings are by far the most versatile part of any salad. Not only are they a blank slate you can add pretty much anything to, but it's so easy to swap in healthy-er ingredients. Think apple cider vinegar instead of balsamic, raw honey instead of white sugar and coconut MCT oil instead of olive.
What is MCT oil?
Medium-chain triglycerides ("MCTs" for short) are a type of fat naturally found in coconut oil. They're more easily digested than other types of fats and are metabolized quickly by the liver [source], which means they're more likely to get burned as energy rather than stored as fat in the body. They're so effective that some studies suggest that substituting MCT Oil for other fats may even help to support healthy weight and body composition [source].
MCT oil has quickly become my salad dressing base of choice because it packs in so many benefits and doesn't taste strongly of coconut, so it works in a salad. Plus, unlike other oils, MCT oil doesn't become rancid or degrade as quickly as other oils. If stored properly, a bottle might last for years without a noticeable difference in taste.
Because it's so mild, MCT oil pairs well with a variety of vinegars and superfood ingredients. Feel free to play around with your own combinations and test out whatever you have on hand to make your own dressings.
Or experiment with new superfoods, like:
Herbs, Spices and Roots
Turmeric is a potent anti-inflammatory spice that can add a warm, earthy flavor to salad dressings. Meanwhile, garlic is rich in antioxidants and has potential anti-inflammatory and anti-cancer properties and ginger adds a sweet-spicy kick.
Some others include maca root, cacao, cumin, moringa and cinnamon.
Berries
Berries such as blueberries, raspberries, and strawberries are high in antioxidants and vitamins. You can also kick things up a notch and try some lesser known berries, like goldenberries, acai, goji or elderberries for additional nutrients. They'll add a sweet and tart flavor to salad dressings.
Seeds
Chia seeds are a popular option because they're a good source of fiber, protein, and healthy omega-3 fatty acids. But you can also use hemp, flax, sesame, poppy or sunflower seeds if you want your dressing to have a slightly crunchy texture.
Greens
Using dark leafy greens in homemade salad dressing is like getting two salads for the price of one. Kale is a nutrient-dense leafy green that is high in vitamins A, C, and K, as well as antioxidants. But things like spinach, cilantro, parlsey, wheat grass, or broccoli sprouts will also do the trick.
And that makes me wonder: did salad dressings just become the new smoothies? Read on for the recipes.
1. Green Goddess Dressing
Green goddess dressing is often used as a dip for vegetables or as a dressing for salads, sandwiches, and wraps. Instead of using dairy as a base, this recipe relies on soaked cashews and MCT oil for its creamy consistency. I also toss in a handful of parsley and either chlorella or a superfoods powder to make it "green."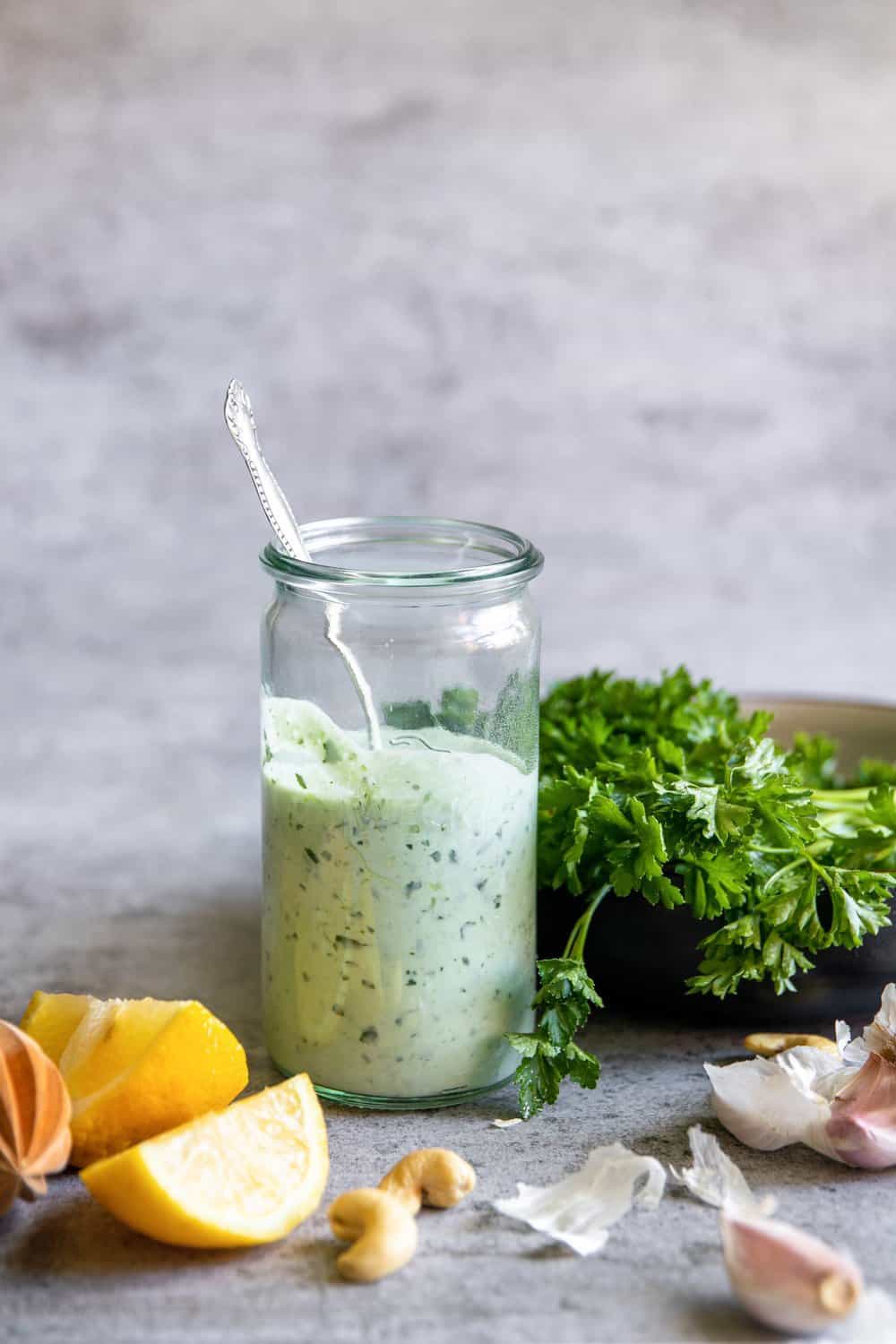 Green Goddess Dressing Recipe
—½ cup raw organic cashews, soaked for at least 2 hours
—1 cup parsley
—1 green onion
—1 clove garlic
—1 lemon, juiced
—1 cup coconut MCT oil
—1 teaspoon chlorella or green superfoods powder
—Pinch of salt
Instructions
1. Combine all ingredients in a blender and puree until smooth. If needed, add water until you reach the desired consistency.
2. If you're not a fan of cashews, go ahead and swap in plain yogurt (either traditional or plant-based) for a protein-packed substitute. Store in an airtight container in the refrigerator for up to one week.
2. Spicy Ginger Dressing
Made with fresh ginger, tangy apple cider vinegar, pungent Dijon mustard, sweet honey, and nutrient-rich MCT oil, this dressing is bursting with flavor and nutrition. Ginger, in particular, is known for its potential anti-inflammatory and digestive benefits, making this dressing not only delicious but also great for your gut.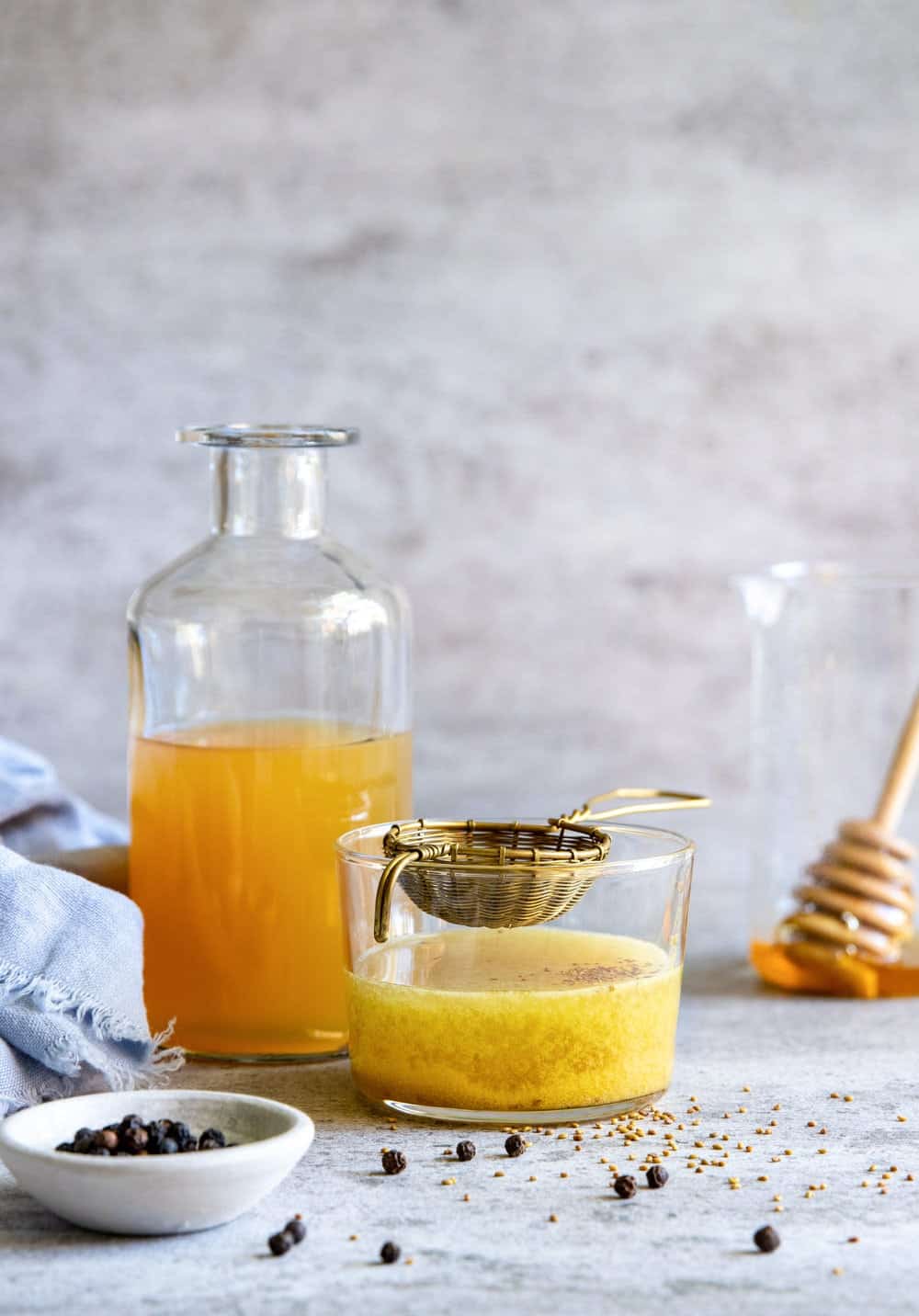 Spicy Ginger Dressing Recipe

—¼ cup raw apple cider vinegar
—½ cup coconut MCT oil
—1 tablespoon Dijon mustard
—1 teaspoon chia, flax or broccoli seeds
—1 teaspoon raw honey
—Pinch of sea salt and black pepper
—1-inch piece of ginger, peeled
Instructions
1. Puree in a blender until smooth or whisk by hand for a standard vinaigrette consistency. If you're not a fan of ginger chunks in your dressing, strain it through a coarse mesh strainer to get rid of any large pieces.
2. Store in an airtight container in the refrigerator for up to one week.
3. Antioxidant Berry Dressing
Perfect for drizzling over your favorite greens or as a dipping sauce for veggies, this berry salad dressing is a summer staple in our house. It's made with antioxidant-rich blackberries and acai berries, tangy red wine vinegar, zesty garlic, and sweet raw honey for a hit of flavor and nutrition. Then sprinkle in some nuts or seeds for a crunchy kick.
Antioxidant Berry Dressing Recipe

—½ cup coconut MCT Oil
—3 tablespoons red wine vinegar
—2 tablespoons raw honey
—1 clove garlic
—½ cup fresh blackberries
—2 teaspoons acai berry powder (optional)
Instructions
1. Combine all ingredients in a blender and puree until smooth. This dressing can be on the tangier side, so feel free to add more honey if you prefer it a bit sweeter.
2. Store in an airtight container in the refrigerator for up to one week.
4. MCT Oil Citrus Vinaigrette
Last but not least, here's a vibrant and refreshing dressing that's sure to brighten up just about any salad. Made with freshly squeezed grapefruit juice, tangy Dijon mustard, sweet maple syrup and kicky garlic, this MCT oil salad dressing is the perfect balance of sweet and savory flavors. Pair it with fresh leafy greens, sliced summer fruits or even grilled vegetables.
MCT Citrus Vinaigrette Recipe

—½ cup fresh grapefruit juice
—2 tablespoons MCT oil
—1 tablespoon raw apple cider vinegar
—2 teaspoon Dijon mustard
—1 teaspoon maple syrup or honey
—½ teaspoon sea salt
—½ teaspoon garlic powder
—Freshly ground black pepper
Instructions
1. Add all the ingredients to a glass mason jar. Shake well to combine.
149