Cauliflower "rice" is my newest healthy food obsession. It's the darling of paleo, low-carb and gluten-free eaters--and for good reason. If you haven't tried it or made it at home, now is the time. In fact, here are three ways to make it! I'm betting that you'll fall in love with this cauliflower rice salad so much that you'll be buying a head of cauliflower every time you go to the store.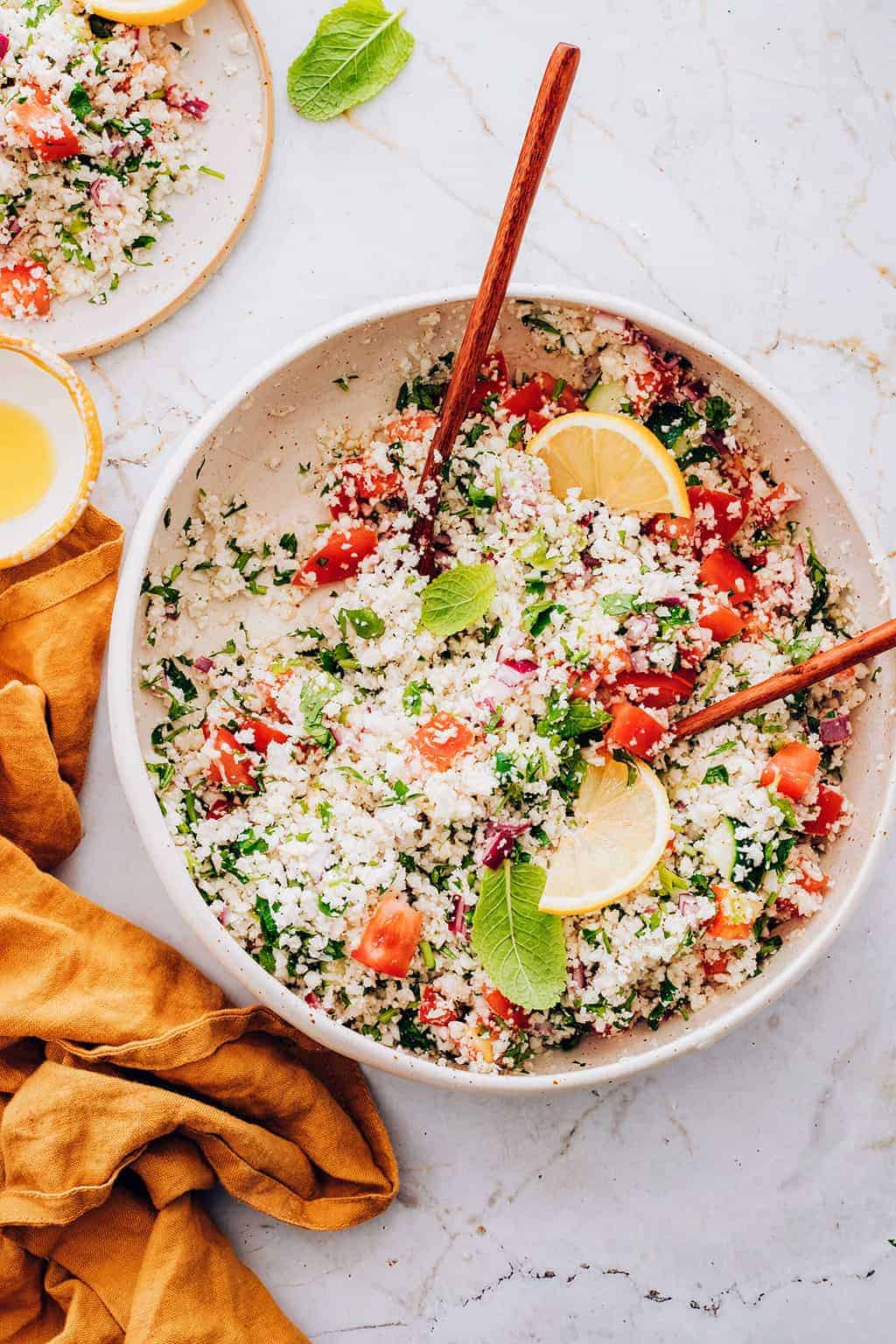 One thing I love to make in the summer is tabbouleh - the Meditteranean classic salad typically made with bulghur wheat, cucumbers, tomatoes, loads of fresh parsley and mint, and a refreshing lemony vinaigrette. I kept true to the original for my Cauliflower Tabbouleh Salad and only swapped out the bulghur for the cauliflower rice.
My husband was skeptical at first, but even he admitted that it tastes just like the real thing. SO healthy and SO delicious.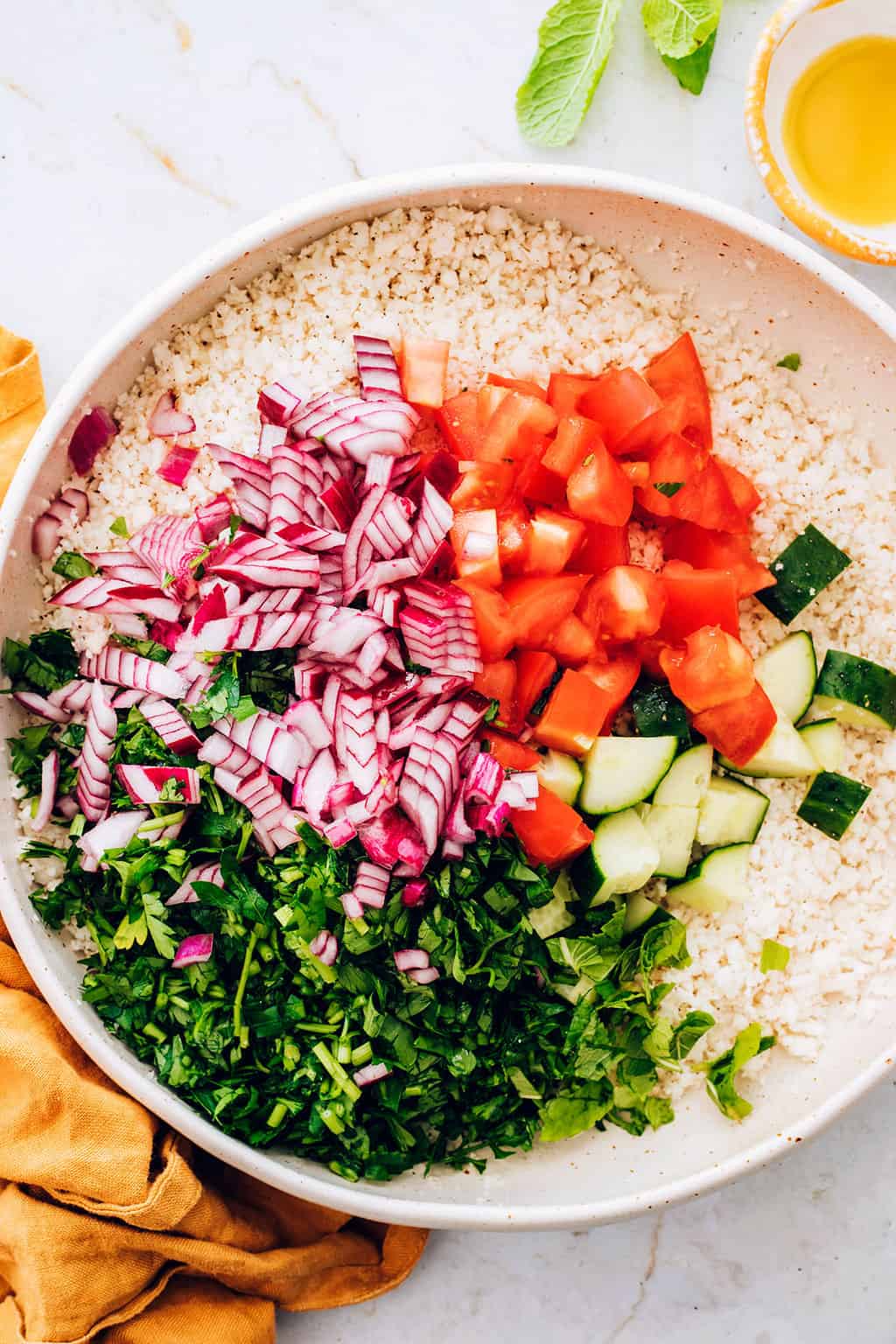 Cauliflower is low-carb, full of nutrients - vitamins C, K, and B (folate, B6, B1, B3, pantothenic acid) - and high in fiber. Because of its high sulfur content, cauliflower is a powerful detoxifying food which can help prevent cancer while providing anti-inflammatory benefits. And, if that isn't enough, cauliflower also provides many cardiovascular and digestive tract benefits.
How to make cauliflower "rice"
I usually use half of a large cauliflower for one salad. Instead of making all the rice at once, I make it in two batches.
I feel like it keeps from drying out better that way and losing nutrition. (That could be in my head, but it sounds good!)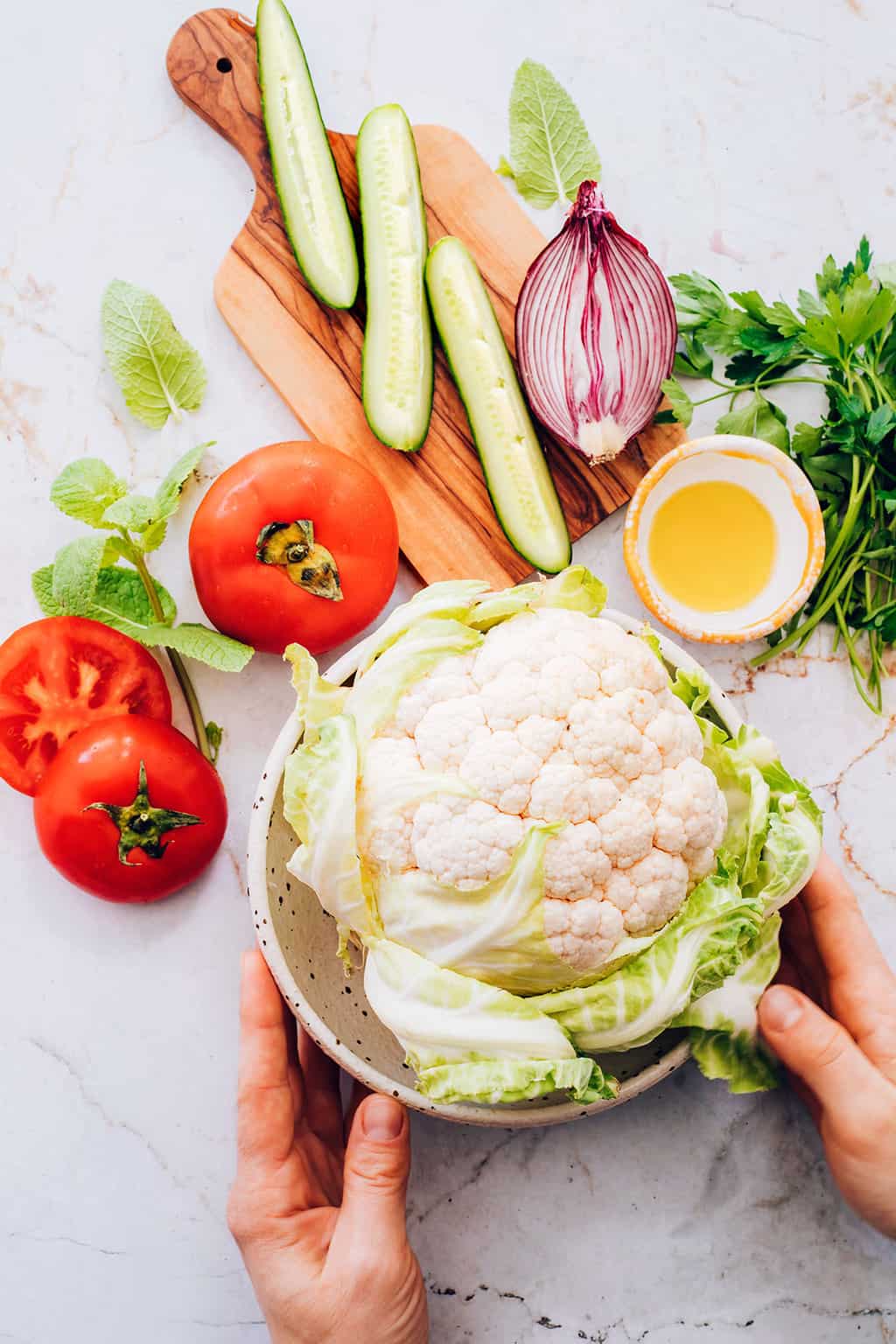 Remove the leaves and tough stem from the cauliflower. Cut in a circle around the stem to remove the toughest of the leaves, then cut the core out. For the rice, use mostly the florets. The stems are fine if they are tender and not dried out at all.
Break into florets and place in a food processor. Depending on the size of the food processor, you might need to do this step in two batches.
Pulse until the cauliflower is finely chopped and resembles couscous. (We call it "rice" but it's more like couscous in texture and appearance.)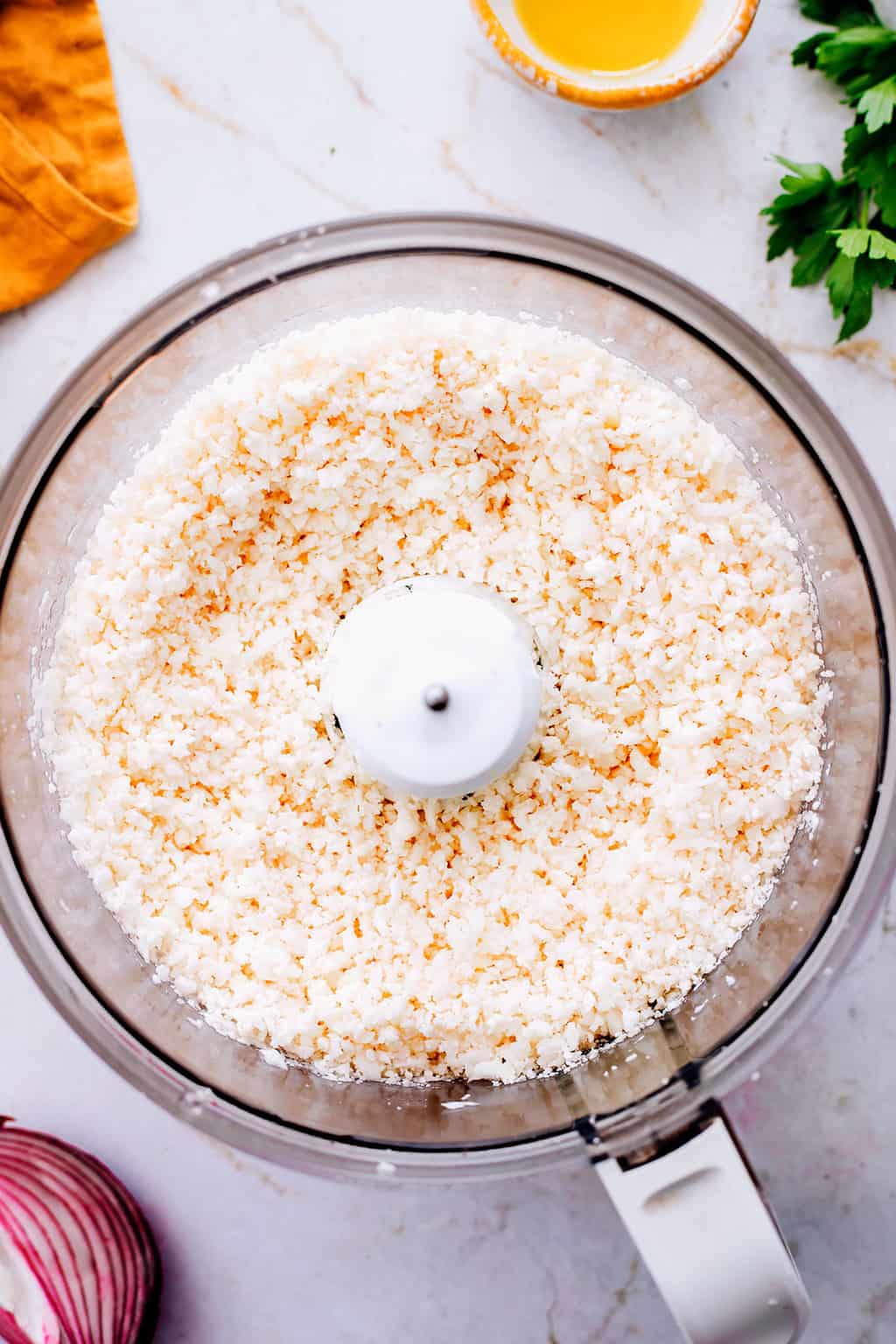 Then, make beautiful and healthy cauliflower rice tabbouleh with it! This is the perfect summer weeknight meal: fast, fresh, and full of hydrating cucumber and tomato, plus the detox power of parsley and lemon.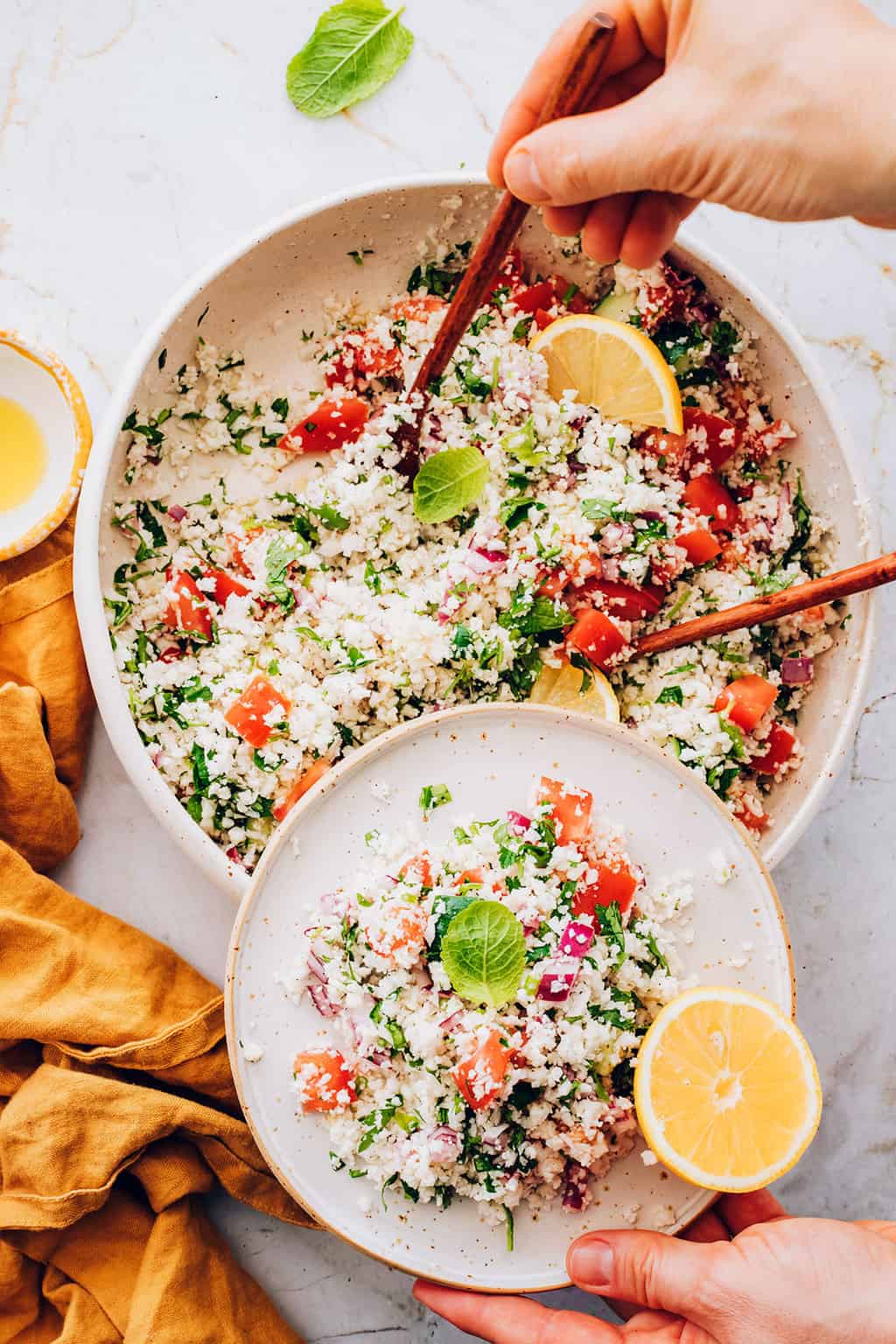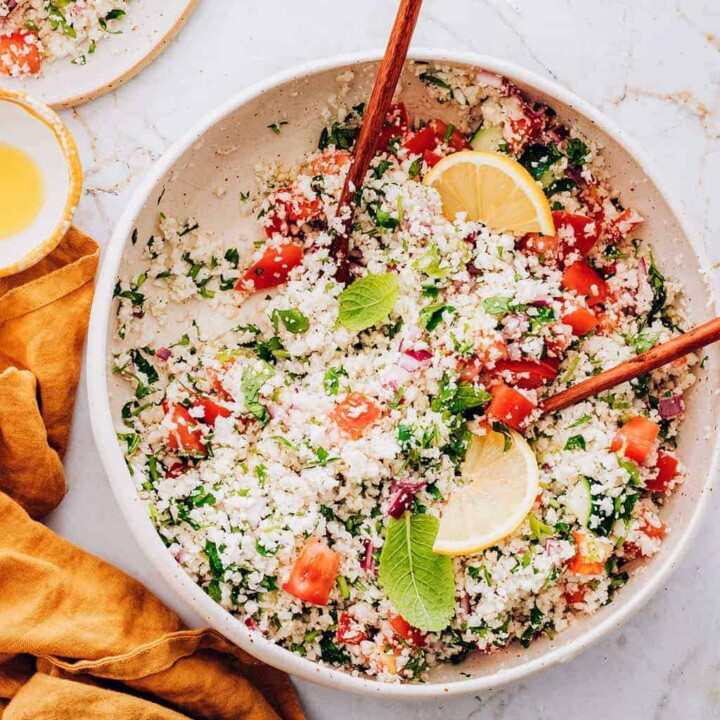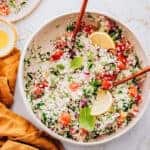 Print Recipe
Cauliflower Rice Tabbouleh Salad
A gluten-free twist on a classic favorite - loaded up with cucumbers, tomatoes, fresh herbs, and a refreshing lemon and olive oil vinaigrette.
Ingredients
3

cups

cauliflower "rice"

2

cups

diced tomatoes

1

cup

chopped cucumber

1

shallot

minced

1

cup

parsley

roughly chopped

1

cup

fresh mint

roughly chopped

Juice of 1-2 large lemons

2-4

tablespoons

avocado or olive oil

Salt and pepper

to taste
Instructions
Place cauliflower "rice" in a medium bowl. Season well with salt and pepper. Add tomatoes, cucumber, shallot, herbs, lemon juice, and oil. Toss to combine. Taste again and add salt and pepper, if needed. Serve immediately.
Notes
Serve with crackers, as a topping on another dish, or by itself.
Store leftover tabbouleh in an airtight container in the fridge for up to 4 days.
Photos by Ana-Maria Stanciu
151