We've already talked about which vitamins are important for beautiful skin, and now it's time to eat our way there with a delicious salad and lemony detox dressing. This salad is loaded up with vitamins A, C, B, K and E, but more than that, it's absolutely delicious!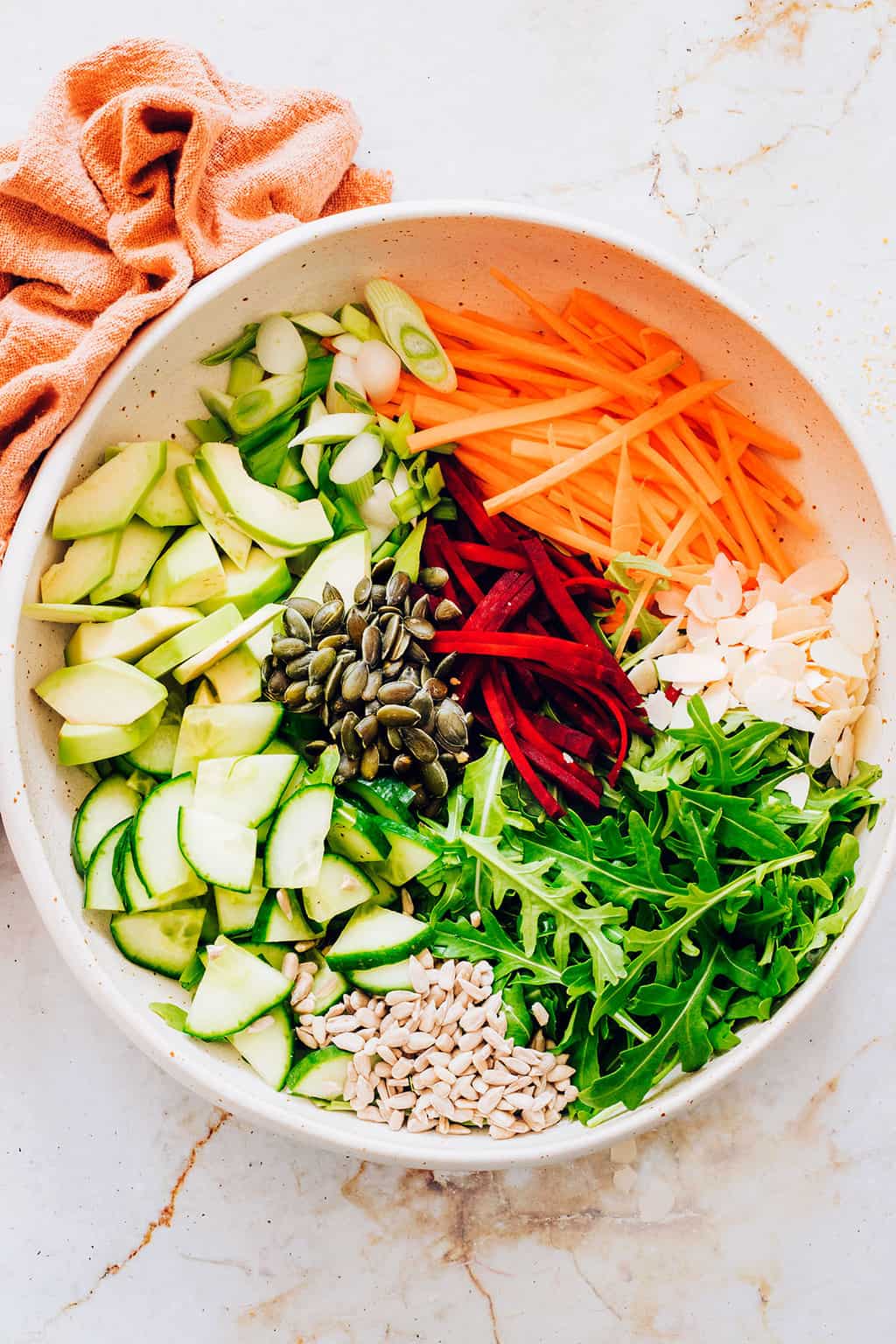 Glowing Skin Salad and Detox Dressing
This salad takes advantage of nature's skin-clearing super powers to help boost your skin from the inside out. Arugula is rich in cancer-fighting phytochemicals, as well as being a great source of folic acid, vitamins A, C and K.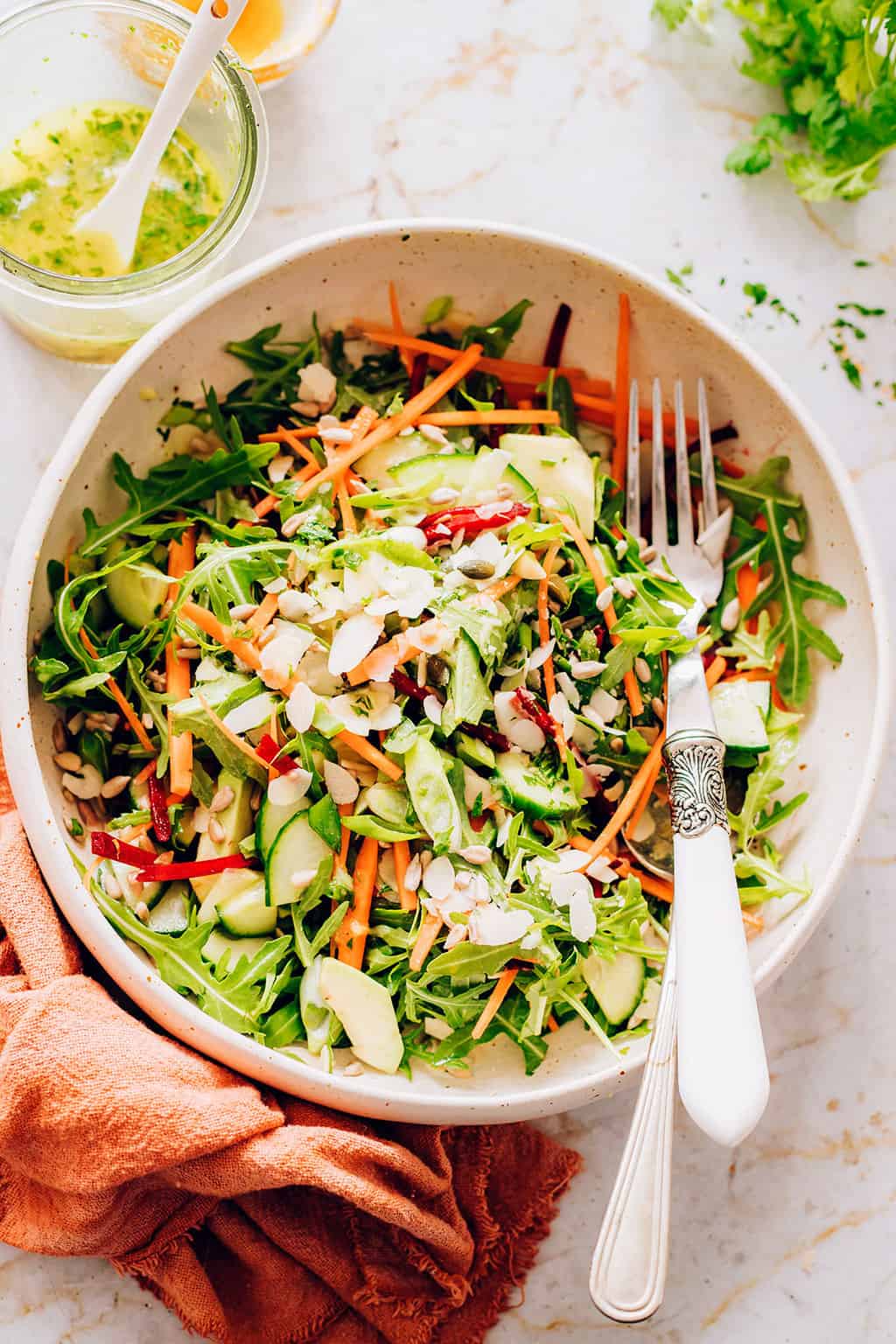 It has a nice peppery flavor that goes really well here, but it could be substituted with spinach or raw, shredded kale for similar nutritional benefits. Beets and carrots are loaded with antioxidant and phytonutrients to nourish skin and improve cell health.
And avocados are a great source of much-needed healthy fats.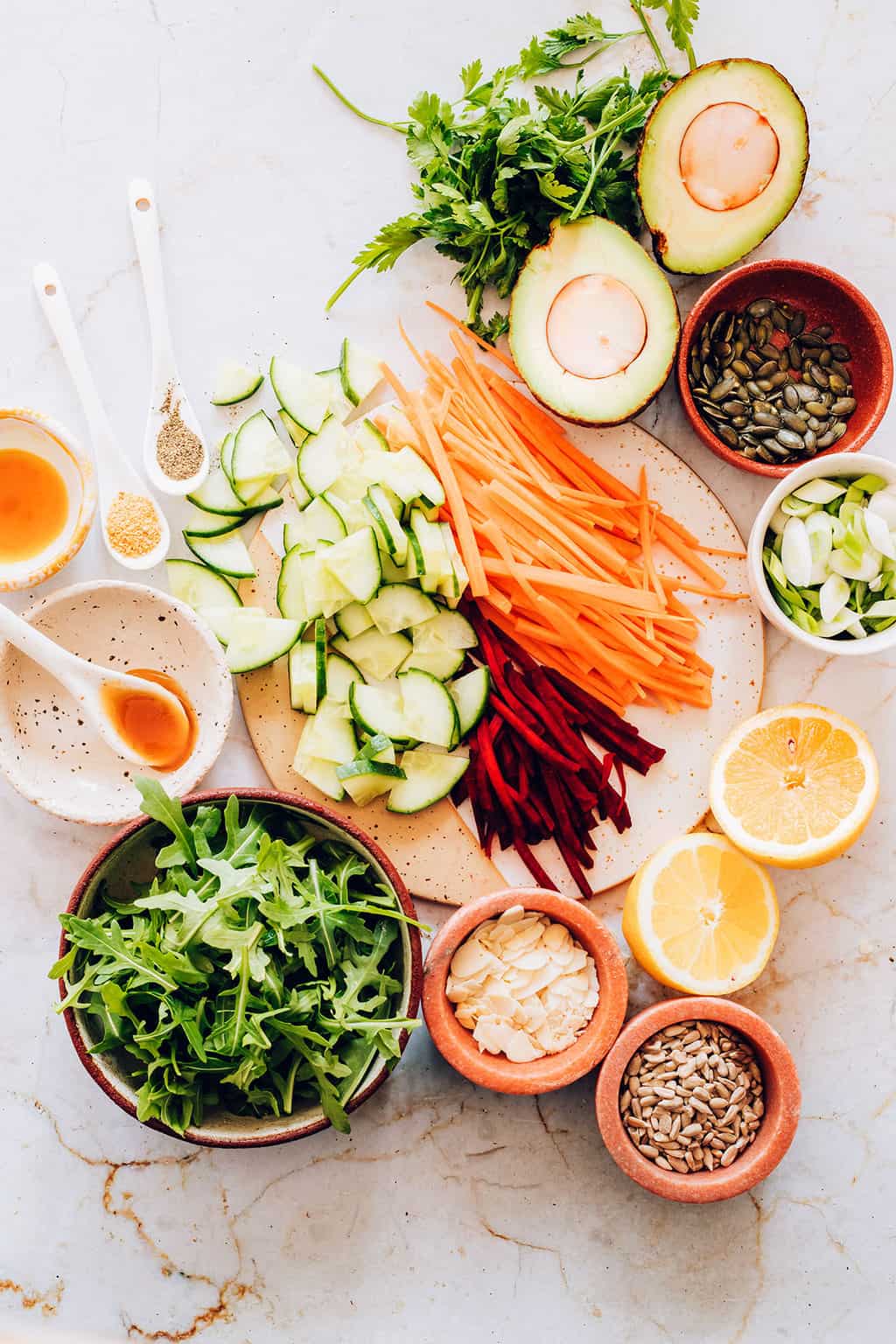 Part of having beautiful skin means getting enough healthy fats into your diet, as well as staying hydrated. The vegetables in this salad have a high water content which makes it extra refreshing and provides hydration as well as good dietary fiber.
Avocado, nuts and seeds add a lot of nutrition in the form of healthy fats and vitamin E. I know that if my skin looks a little tired, it's time to amp up my intake of bio-available vitamin E through food.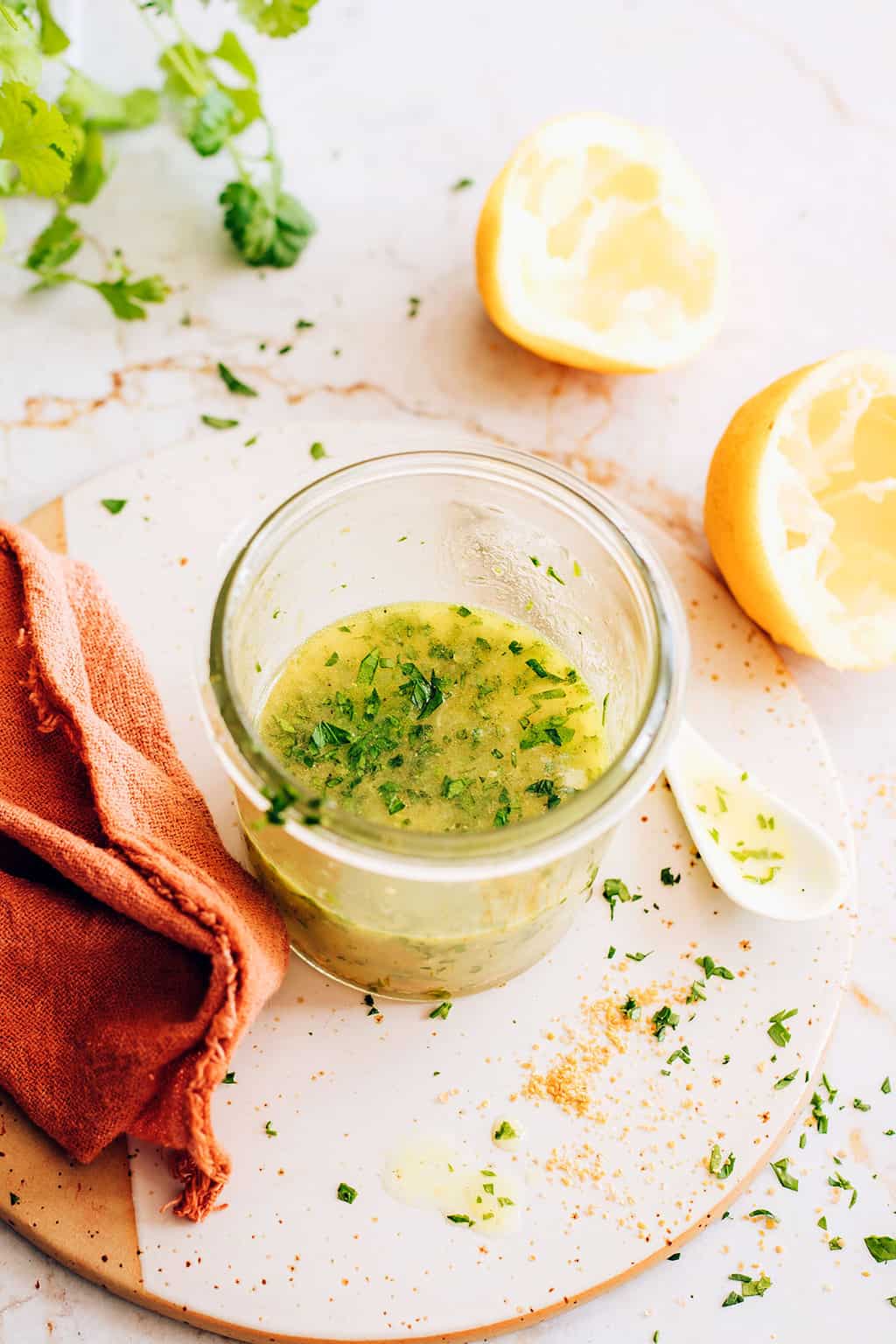 The detox dressing also has avocado or olive oil which is another excellent source of fat and vitamins. The lemon gives the dressing a lot of bright, fresh flavor and doesn't leave the dressing feeling too oily or heavy. It's very refreshing with freshly chopped parsley added in.
Eating your way to beautiful skin never tasted so good!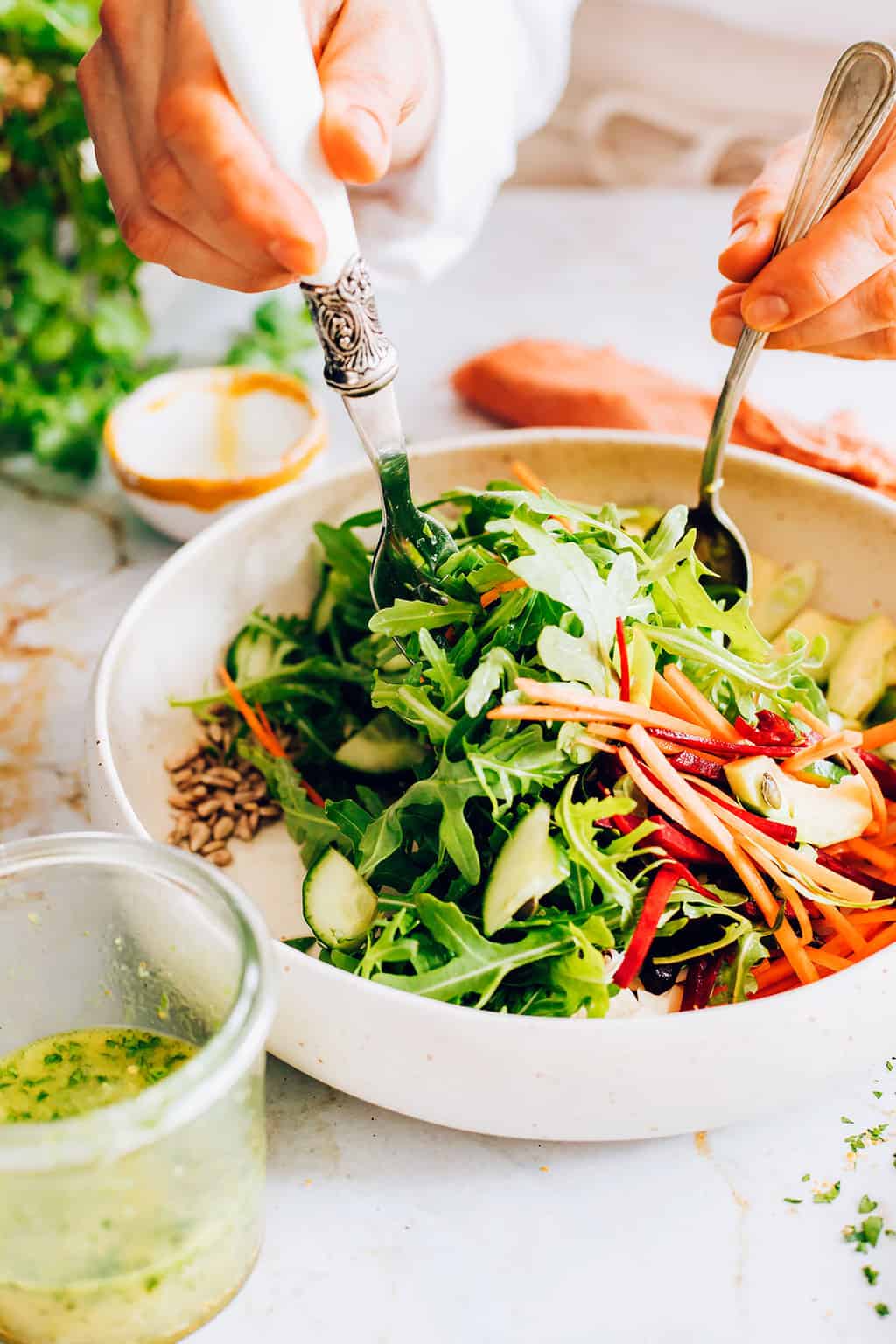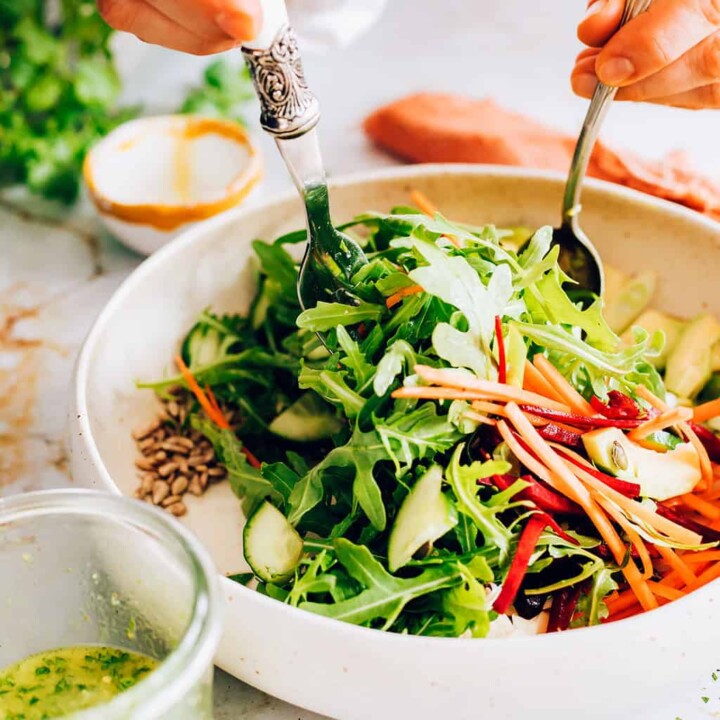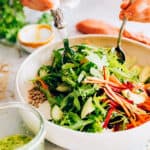 Print Recipe
Salad For Glowing Skin + Detox Dressing
This refreshing salad will help you attain beautiful, glowing skin. It's loaded with raw veggies high in vitamins A, B, C, E and K.
Ingredients
For the salad:
3

ounces

organic baby arugula

1

large carrot

scrubbed well and shredded

½

medium beet

peeled and shredded

½

cucumber

cut into quarters lengthwise and thinly sliced

1

small bunch green onions

thinly sliced

1

firm ripe avocado

diced

2

tablespoons

sunflower seeds

2

tablespoons

raw sliced almonds

2

tablespoons

raw shelled pumpkin seeds

pepitas
For the detox dressing:
Juice of 2 lemons

strained to remove seeds

½

teaspoon

raw honey

½

cup

avocado or olive oil

pinch

dry mustard powder

sea salt and black pepper

¼

cup

fresh parsley

chopped
Instructions
Toss arugula with the shredded and sliced veggies. Sprinkle the nuts and seeds over the top.
To prepare dressing:
place the lemon juice and honey in a small jar with a tight-fitting lid.

Shake to dissolve the honey.

Add the oil, mustard powder, salt and pepper.

Replace lid and shake vigorously until well-combined. Add the parsley and shake again.

Pour some of the dressing over the salad and gently toss to coat it lightly. (There will be leftover dressing.)

Serve and pass extra dressing alongside if needed.
Photos by Ana-Maria Stanciu
102