If you've been struggling with focus, then you've come to the right place! There are a number of things you can do to improve your attention and memory.
For instance, drinking enough water, eating a healthy diet, exercising regularly, limiting screen time, and getting adequate sleep all contribute to brain function and overall health. And, yes, essential oils can help as well!
Essential oils (EOs) have become increasingly popular in recent years, and for good reason. These highly concentrated oils derived from plants are known for their therapeutic properties. They can be used in an unlimited number of ways, including aromatherapy, massage, and even in household cleaning products. Some popular examples include lavender, peppermint, and tea tree. If you're interested in trying EOs, it's a good idea to start with an essential oil diffuser.
An essential oil diffuser is a device that disperses the oils into the air, allowing you to enjoy their benefits without direct contact with the oil. There are many different types of diffusers available, including ultrasonic, nebulizing, and heat-based diffusers. To diffuse EOs, simply add 2 to 28 drops of your favorite EO blend to the diffuser, depending on the size of the diffuser and the strength of the oil.
For instance, these handy oils can help you feel
more stimulated

more focused

more energized

more attentive and help your memory

less stressed and anxious

less down in the dumps
7 Essential Oil Diffuser Blends for Focus and Memory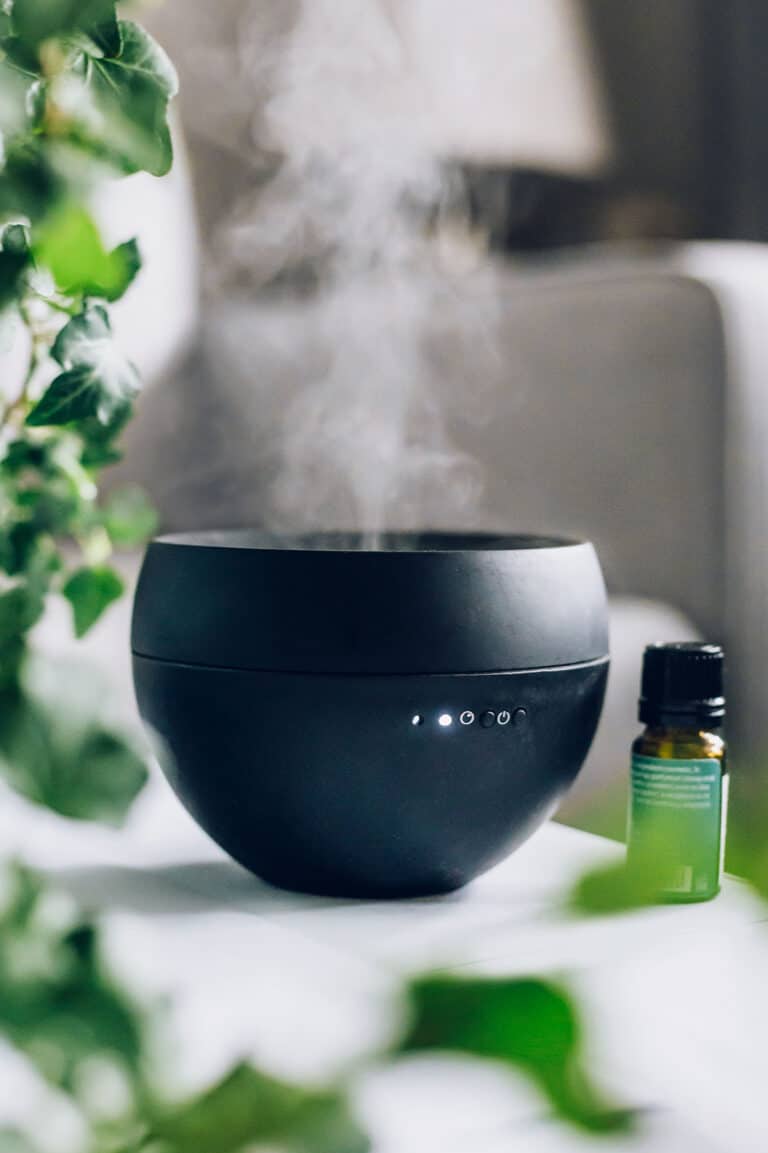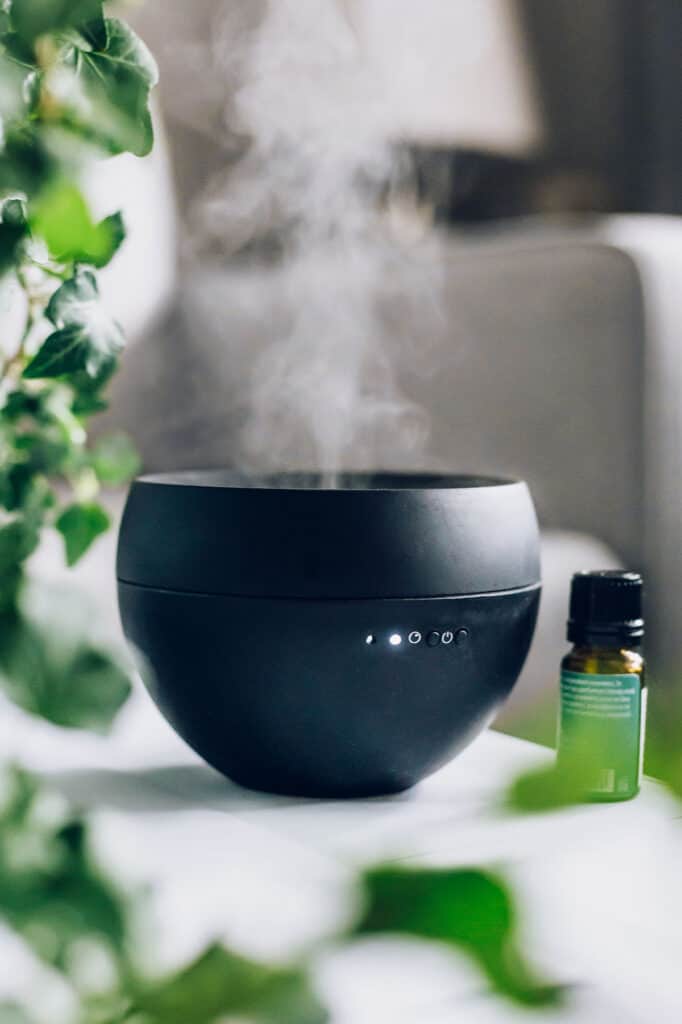 Below, I've reviewed three essential oil diffuser blends that are beneficial for focus and memory. Each EO listed supports brain function in specific ways. However, feel free to substitute different oils to suit your particular needs.
Blend #1: Peppermint, Rosemary, and Lemon
If your brain is feeling sluggish and stressed, and you're mentally exhausted, then this is the blend for you! Peppermint, rosemary, and lemon are a fantastic combination of EOs to stimulate your mental capacity and help you feel energized so you can concentrate on what needs to get done.
With its crisp, minty aroma, peppermint EO is one of the most commonly used oils for focus and memory. There is something about the cool, refreshing fragrance that automatically perks you up and clears your mind.
In fact, a study looking at cognitive performance and mood found that peppermint EO increased both alertness and memory in participants when the aroma was inhaled [source].
Rosemary is often referred to as the "herb of remembrance" and is frequently listed as one of the best EOs for focus and memory. A study looking at serial subtraction and visual processing showed that the aroma of rosemary EO improved performance on cognitive tasks [source].
Another very interesting paper showed significant changes in the test participants' beta brain waves, indicating its ability to stimulate mental activity [source]. So the next time you're studying for an exam or trying to get a big presentation done for work, you might consider diffusing rosemary EO to help sharpen your focus.
If you're having trouble concentrating because you're totally stressed out, then lemon EO is the one for you. Its bright, citrusy aroma is great for lifting your spirits and energizing your mind, all while reducing stress [source].
Don't you already feel happier just thinking about the pleasant, fresh aroma of lemon EO? I know I do!
Blend #2: Vetiver, Lavender, and Eucalyptus
This blend would be especially beneficial if the reason you're struggling with focus and memory is that you're feeling out of sorts and distracted. This is a grounding combination of EOs that can help you feel more centered and bring some clarity.
Vetiver EO has traditionally been used for its beautiful fragrance. But it is also a wonderful option if you're having a hard time concentrating on mental work. Due to its grounding properties, it can help you feel more relaxed and focused.
Vetiver has been shown to improve alertness and leave one feeling refreshed [source]. And in one study, it even helped improve reaction times in participants while they performed a visual task [source].
It shouldn't surprise you to see lavender on this list. Lavender EO is normalizing and also helps promote a calm environment. So, if you're having trouble focusing due to anxiety, stress, or overstimulation, lavender would be a great choice [source].
Additionally, it blends nicely with most EO and has awesome synergistic properties as well!
The sharp, menthol-like aroma of eucalyptus is well-suited for energizing the mind and improving focus. It's a stimulating oil that not only can help promote clear breathing but it is also believed to improve clarity and energy. Just a couple sniffs of the rich aroma can help get your foggy mind back on track and focused!
Blend #3: Sweet Orange, Patchouli, and Clary Sage
If you're unable to concentrate because of stress, anxiety, or depression, then this is your blend! These EOs work together to help you feel calmer and more relaxed, all while uplifting your spirits.
I find myself using sweet orange EO more and more. It's quite versatile and combines so nicely with other oils that it frequently makes an appearance in my blends. Like other citrus oils, sweet orange has a way of lifting the spirits and improving your mood [source].
So, if feeling down or even a bit depressed is making it hard for you to focus, sweet orange can help boost your mood while bringing in those relaxing vibes.
Similar to vetiver, patchouli is a calming EO that is balancing and grounding. It can be beneficial when you're feeling irritable, frantic, anxious, or depressed. In a study with human volunteers, inhaling the fragrance reduced some chemicals in the body's stress response by 40% [source].
It can also be used to sharpen intelligence and improve concentration [source]. If you're new to patchouli, I recommend using only a drop or two in blends until you become more accustomed to its distinct aroma.
If your inattentiveness and memory issues are due to stress, anxiety, or depression, then you should give clary sage EO a try. It contains antidepressant and anti-anxiety properties and is a great option to consider if you need help balancing your thoughts and emotions [source].
I have found that I really love the aroma of clary sage and frequently use it when I am stressed out and having trouble focusing on the task at hand.
OR, feel free to mix things up. Any combination of the 9 oils mentioned would be beneficial for memory and focus. Here are 4 more variations to get you started!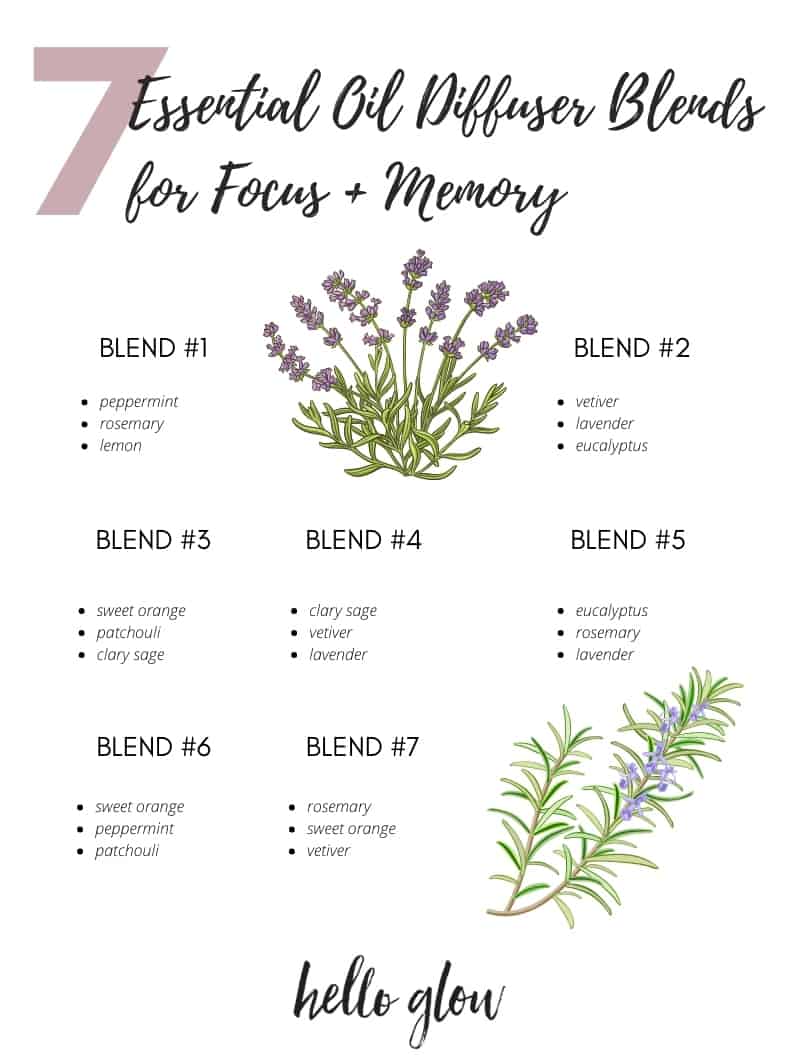 Blend #4: Clary Sage, Vetiver, and Lavender
This is a great blend if feelings of anxiousness or panic are keeping you from the task at hand. Not only does this blend smell amazing, but it can also help promote feelings of calm.
Blend #5: Eucalyptus, Rosemary, and Lavender
This blend is fantastic for helping you feel more energized. The crisp aromas of eucalyptus and rosemary combined with the balancing scent of lavender are great for those times when you're feeling tired and scatterbrained.
Blend #6: Sweet Orange, Peppermint, and Patchouli
This is an ideal choice for times when a high level of stress or even illness leaves you feeling completely out of sorts. The grounding aroma of patchouli and the energizing aroma of peppermint mixed with the calming scent of sweet orange make a great combo for those rare times when you feel totally bewildered and completely unable to concentrate.
Blend #7: Rosemary, Sweet Orange, and Vetiver
These 3 oils combine nicely to help you with memory and retention, as well as helping you feel more energized and centered while you're at it!
How to Use Focus and Memory Diffuser Blends
Diffusion is one of the simplest and safest ways to use EO. Simply combine equal amounts of the oils listed in a specific blend based on your diffuser's instructions. Then, use your focus and memory blend as needed whenever you are in relatively quiet surroundings so that you can relax and take them in.
Other Blends to Try
If you love these memory-boosting blends, try a few of these delectable EO blends as well:
Fresh Air Essential Oil Diffuser Blend: Combine 2 drops of lemon EO, 2 drops of peppermint EO, and 2 drops of sweet orange EO.
Relaxation Essential Oil Diffuser Blend: Combine 2 drops of lavender EO, 2 drops of cedarwood EO, and 2 drops of frankincense EO.
Immunity Boost Essential Oil Diffuser Blend: Combine 2 drops of tea tree EO, 2 drops of lemon EO, and 2 drops of sweet orange EO.
Focus Essential Oil Diffuser Blend: Combine 2 drops of peppermint EO, 2 drops of lemon EO, and 2 drops of rosemary EO.
Mood Boost Essential Oil Diffuser Blend: Combine 2 drops of frankincense EO, 2 drops of sweet orange EO, and 2 drops of patchouli EO.
In Conclusion
We all go through times when we struggle with focus and memory. Luckily, many healthy habits can be incorporated into your routines to improve thinking, focus, and function, letting the therapeutic properties of EOs work for you. Just whip out your EO diffuser whenever you need a brain boost.
In fact, using EOs is one of the simplest things you can do. Whether you're feeling run down, anxious, depressed, distracted, or you're just in a slump, EOs can help you become more relaxed and focused so you can get your life back on track!
References (in order of appearance):
1. Moss M, et al. Modulation of cognitive performance and mood by aromas of peppermint and ylang-ylang. Int J Neurosci. 2008.
2. Moss M, et al. Plasma 1,8-cineole correlates with cognitive performance following exposure to rosemary essential oil aroma. Ther Adv Psychopharmacol. 2012.
3. Sayorwan W, et al. Effects of inhaled rosemary oil on subjective feelings and activities of the nervous system. Sci Pharm. 2013.
4. Komiya M, et al. Lemon oil vapor causes an anti-stress effect via modulating the 5-HT and DA activities in mice. Behav Brain Res. 2006.
5. Cheaha D, et al. Modification of sleep-waking and electroencephalogram induced by vetiver essential oil inhalation. J Intercult Ethnopharmacol. 2016.
6. Matsubara E, et al. Volatiles emitted from the roots of Vetiveria zizanioides suppress the decline in attention during a visual display terminal task. Biomed Res. 2012.
7. Appleton J. Lavender oil for anxiety and depression. Nat Med J. 2014.
8. Zhang LL, et al. Antidepressant-like effect of Citrus sinensis (L.) Osbeck essential oil and Its main component limonene on mice. J Agric Food Chem. 2019.
9. Haze S, et al. Effects of fragrance inhalation on sympathetic activity in normal adults. Jpn J Pharmacol. 2002.
10. Swamy MK, et al. A comprehensive review on the phytochemical constituents and pharmacological activities of Pogostemon cablin Benth.: an aromatic medicinal plant of industrial importance. Molecules. 2015.
11. Seol GH, et al. Antidepressant-like effect of Salvia sclarea is explained by modulation of dopamine activities in rats. J Ethnopharmacol. 2010.
136