'Tis the time of year for making your house smell like a seasonal dream. I'm a sucker for a good spicy scent in the fall, but not every candle you light or freshener you spray adds good things to the air you breathe. Instead of circulating headache-inducing artificial fragrances, enjoy your favorite aromas naturally with this super simple DIY reed diffuser.
Simple and Natural DIY Reed Diffuser
Like I said, I'm a sucker for scents...which means I've tried lots of methods for diffusing natural fragrances. So believe me when I say that this one just may be the simplest yet!
Requiring only a few materials, you can put this DIY diffuser together in a matter of minutes and even style it to fit your own space. Once it's finished, it doesn't require a plug-in or flame, so you can leave it to release fragrance continuously without needing to keep an eye on it.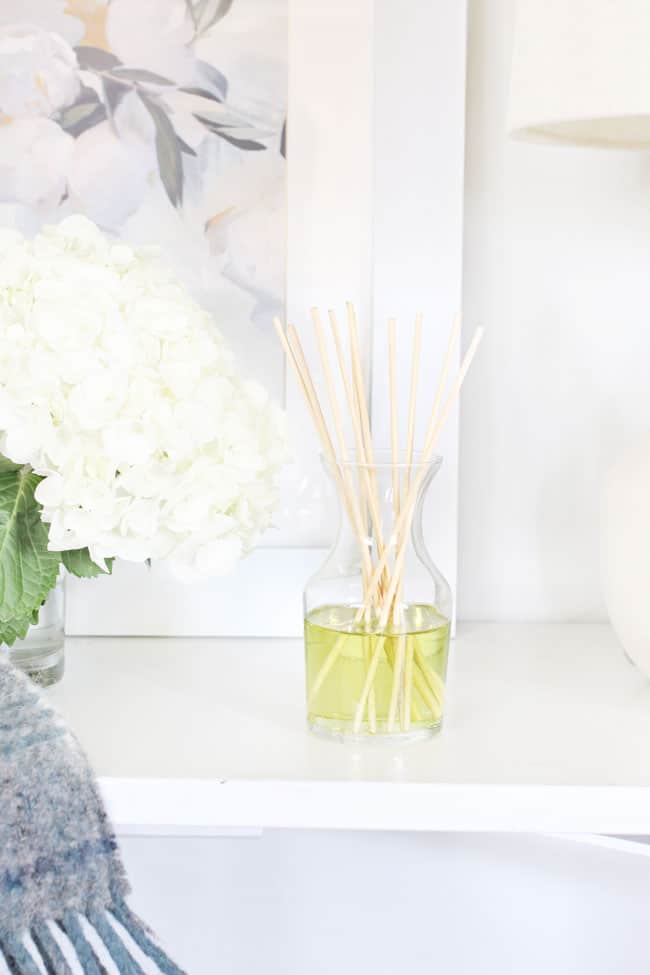 The diffuser pulls from a light carrier oil mixed with your choice of essential oils to naturally fill the room with some of your aromas. And instead of just trying to cover up bad smells, like many artificially scented sprays do, essential oils can actually help purify the air while offering many aromatherapy benefits at the same time.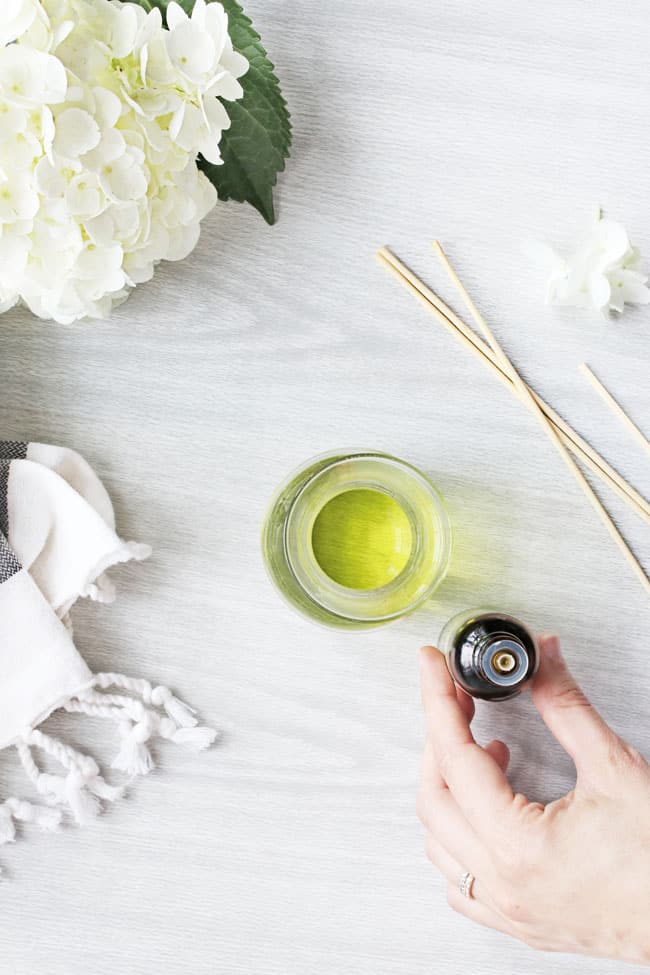 In fact, perhaps the most difficult part of this entire DIY project is choosing which blend you'd like to spread throughout your room!
To fill my reed diffuser, I used one of my favorite, simple essential oil blends: Cassia and Wild Orange. Cassia, a spicy, cinnamon-scented oil can help boost the immune system, a perfect choice for cold and flu season. Wild Orange is a natural mood lifter and helps keep the blues away as the weather gets chillier. Give this blend a try, or check out this list of fun seasonal combinations to give you some more ideas!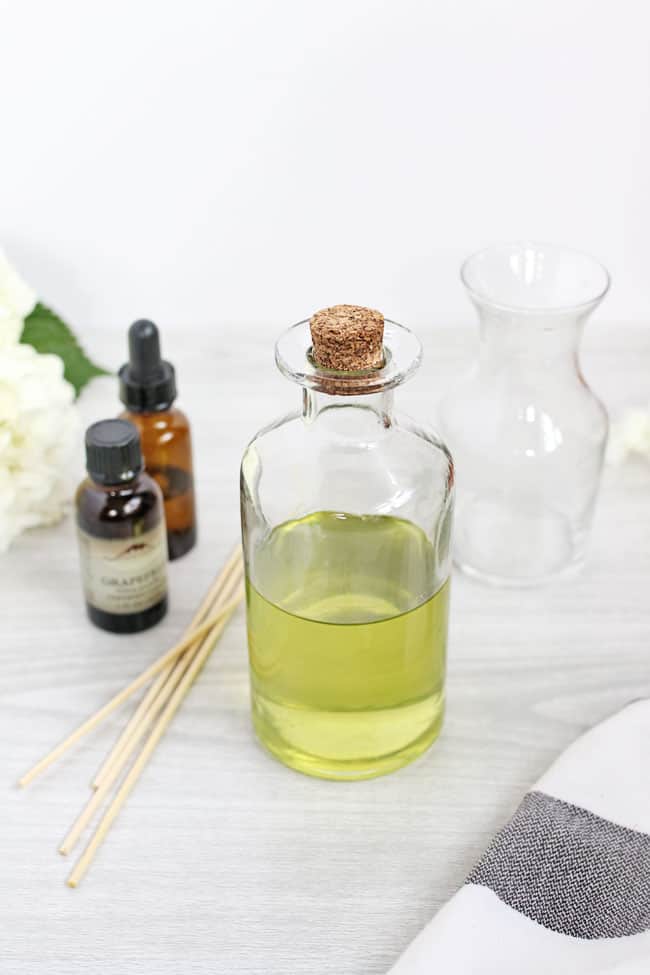 How to Make a DIY Reed Diffuser
Once you've picked your blend, all you will need to make a reed diffuser is: a glass jar, reeds or bamboo skewers, a light carrier oil such as almond or jojoba oil, and your essential oils.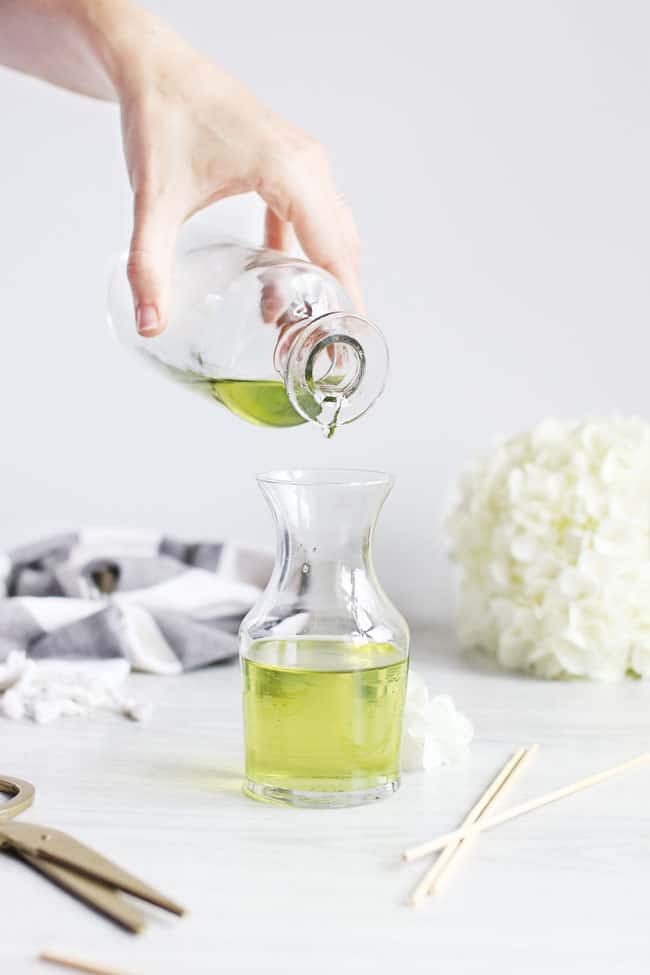 How to make a reed diffuser
1. Pour your carrier oil into a glass jar.
2. Add about 20 drops of essential oils per ¼ cup carrier oil.
3. Immerse your reeds into the oil and stir gently.
4. Let the reeds sit for 1-2 hours, then flip them to expose the oil-soaked ends.
5. Whenever your reeds seem a bit dry, or if you feel the fragrance is lessening, just flip the reeds over again for a fresh release of your essential oils!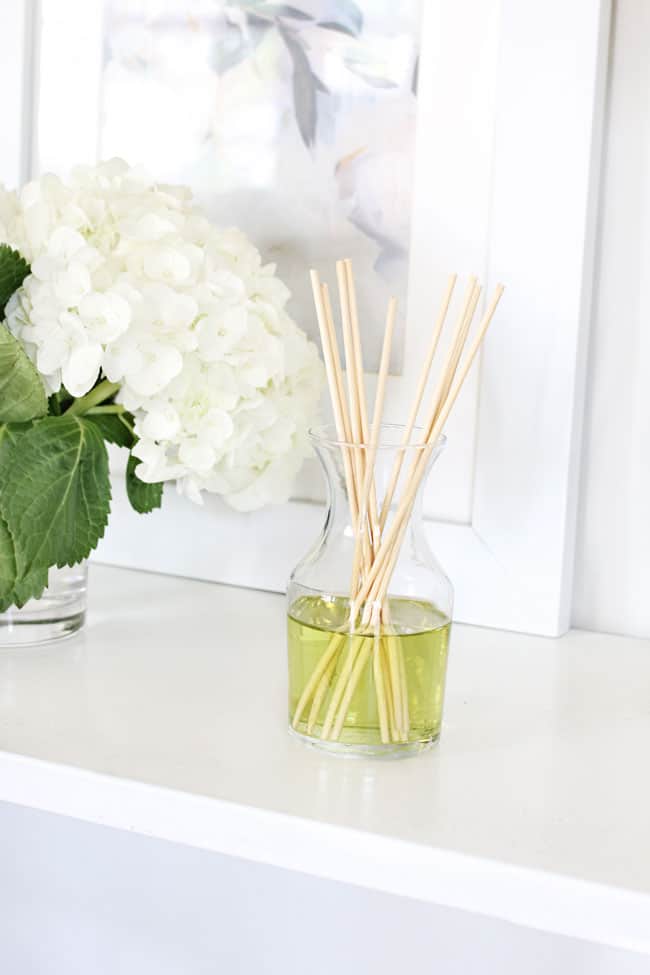 Photos by Stephanie Pollard
282