My trusty favorite diffusers have served me well over the years. In fact, I really don't know what I'd do without them! Currently, I own five diffusers that I stash in different places around the house so that I can bring them out at a moment's notice.
Not sure what to diffuse? Below are seven of the best essential oils for diffusers (and a few more), along with some simple blend recipes to use them in.
5 Benefits of Essential Oil Diffusers
I diffuse oils for SO many things. For instance, when my children are going through the dreaded insomnia phase, I break out their diffuser to use with sleep-promoting oils. Once and a while, I use it for migraines [source]. Or, when someone is sick, I diffuse air-purifying and germ-fighting essential oils.
But sometimes, I just diffuse for the sheer pleasure of it. Often, I like to diffuse mood-boosting blends or even blends just to make the house smell nice.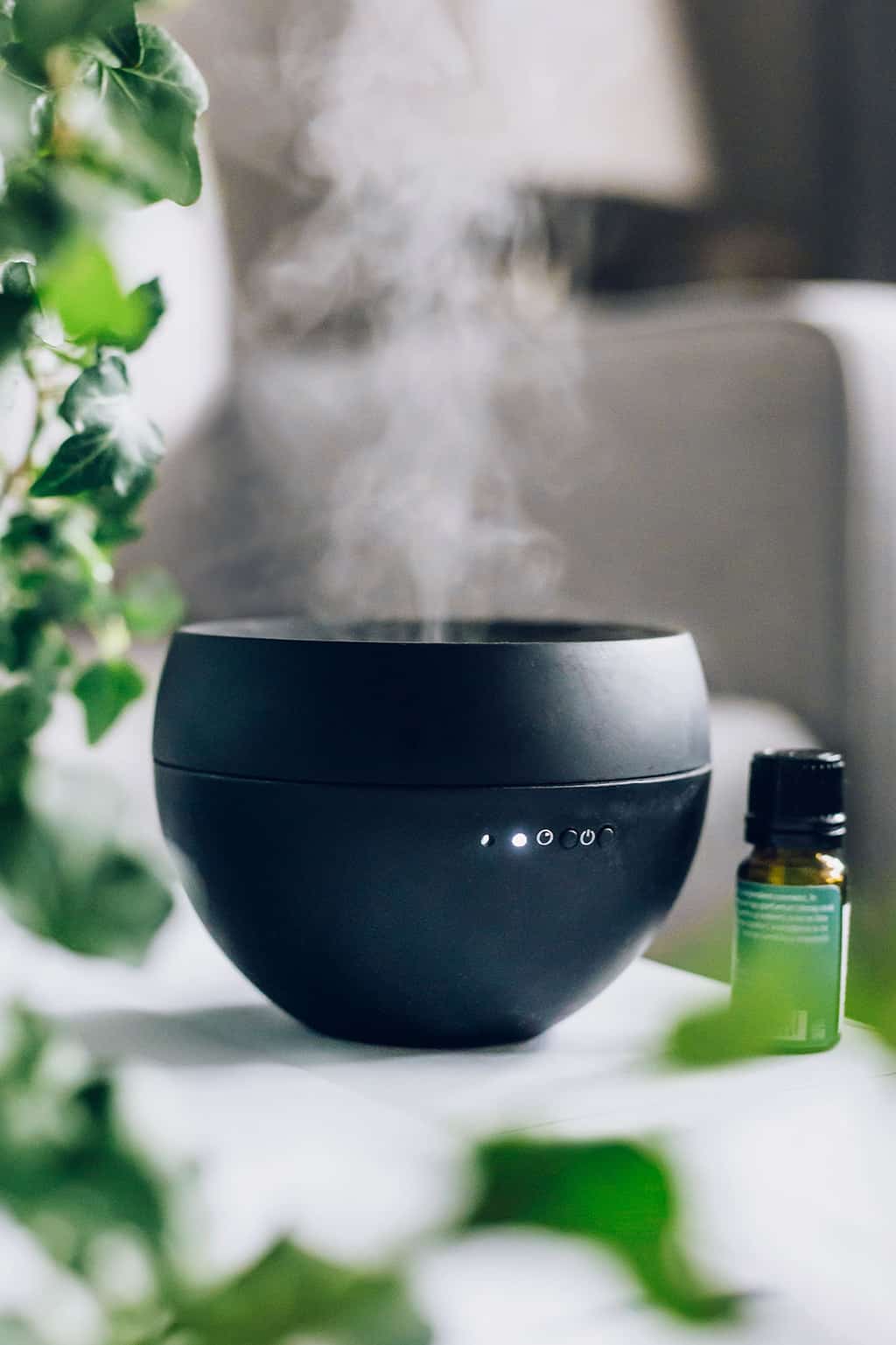 1
.
Rest and relaxation
Many people start using essential oils and aromatherapy to help them with relaxation and stress relief. Certain essential oils evoke physical and emotional responses that can help ease the stressors of everyday life.
2
.
Support for a healthy immune system
Many essential oils have a detoxifying effect on the body. Diffusing them will help to not only purify the air.
If you are using oils as a means to get better rest [source] and resist food cravings [source], which, in turn, may help strengthen your immune system. Diffusing essential oils has also been shown to have antibacterial effects [source].
3
.
Balanced emotions
The emotional center of your brain, the limbic system, is linked to your sense of smell. When you breathe in essential oil vapors, your olfactory bulb sends impulses to your brain [source], affecting heart rate, blood pressure, breathing, stress levels, memory, and hormones.
Does smelling lavender help calm you down, too [source]? That's because our brain creates a link between scent and our memories and emotions! When you smell the oil vapors, you are opening up those links. You can also make new connections and memories with the new oils you use.
4
.
Support for a healthy respiratory system
Our family is personally affected by respiratory issues, so we know how important it is to have a healthy respiratory system, which supplies oxygen to your entire body. The respiratory system has many different components (sinuses, nasal cavity, lungs, trachea, diaphragm—to name a few), and we want each of those parts working properly!
There are many essential oils that can help fight germs in the respiratory tract [source] and promote healthy breathing throughout the year.
5
.
Fresher air
Take a quick look at your air freshener that smells like apples and cinnamon. Are apples and cinnamon the only ingredients listed? Probably not. And as we all know that there are chemicals in such products, we may or may not choose to still use them.
However, most of these products just mask odors instead of eliminating them. When you diffuse essential oils into a room, you have a way to knock out and destroy bacteria in the air [source]. Vaporized essential oils will actually alter the odor molecule structures, rather than just covering them up.
The Best Essential Oils for Diffusers
Truthfully, with few exceptions, the sky's the limit as far as which essential oils can be used for diffusion. Essential oils are so versatile, but each of these essential oils has been chosen for specific reasons.
Most of them have multiple therapeutic properties and can be used in numerous situations, but some are included simply because of their potency or particular characteristics. That's the beauty of using essential oils—their versatility makes them easily adaptable to suit your individual needs!

1
.
Lavender to relax
No doubt you've heard lavender's many praises sung repeatedly. But the fact is, it's an amazing essential oil. It's especially beneficial for diffusion because it's just so darn versatile.
Lavender is known for its calming properties [source]. So it's a great idea to diffuse lavender essential oil to promote relaxation.
Additionally, due to its antibacterial [source] and antiseptic properties, it's also useful with illness to fight germs. And it is effective for relieving migraine headaches [source].
For a simple, relaxing blend diffuse:
2
.
Oregano to fight germs
Oregano is an especially potent essential oil. It's also REALLY great at fighting germs and infection. It's antibacterial [source], antiviral, and antifungal, making it a no-brainer when trying to prevent illness.
A drop or two added to a blend can boost the germ-fighting properties of any blend. Just remember, it does have a strong aroma that can easily overpower if not used in small amounts.
And, as it is one of the more potent essential oils, Essential Oil Safety recommends it not be used around young children or pregnant or breastfeeding mothers.
For a potent germ-fighting blend diffuse:
3
.
Citrus to clear the air and boost your mood
Really, just about any citrus oil can be included on this list. Due to their fresh, fruity aromas, citrus oils are wonderful to include in mood-boosting diffusion blends. In addition, quite a few of them, like lemon [source], lime, and grapefruit, contain strong antimicrobial properties as well [source].
This makes them especially beneficial when diffused in air-purifying and germ-fighting blends. Some citrus oils, like sweet orange and bergamot, even have calming [source] and sedating properties and are often used to reduce stress.
For a bright, mood-lifting blend, diffuse:
4
.
Peppermint to relieve headaches
Peppermint makes the cut due to its versatility. It's an excellent air freshener and purifier, but it's also beneficial when fighting off germs. It is traditionally used when dealing with digestive issues and headaches [source].
If you've got a headache, pair it with lavender and diffuse away. If you are struggling with nausea, pair it with ginger [source]. Feeling a bit sluggish and unable to concentrate? Diffuse it near your work area and let its refreshing scent naturally perk you up [source]!
For a headache blend, diffuse:
5
.
Ginger for nausea
Ginger is naturally antibacterial and antiseptic. It has potent antimicrobial properties that make it useful when dealing with illness, and it's often used for pain relief. It's a warming oil that is also considered an effective remedy for stomach and digestive issues.
It's frequently used for nausea [source], travel sickness, constipation, and digestive issues in general [source]. When paired with other nausea-reducing oils, it can create a pleasant-smelling and effective way to deal with those pesky stomach troubles!
For an antinausea blend, diffuse:
6
.
Eucalyptus for respiratory issues
Eucalyptus is another essential oil that happens to be great for diffusers. It's commonly used with respiratory illness, so it would be especially beneficial to diffuse when dealing with coughs, colds, and congestion.
Due to its fresh scent, eucalyptus helps with fatigue [source] and is considered to be stimulating to the mind, so it would be a good choice to diffuse if you're looking for a mental boost as well. And truthfully, it's just really good at freshening the air due to its antibacterial and antiviral properties [source].
For a respiratory blend, diffuse:
7
.
Cinnamon leaf to scent your home
I find myself using cinnamon leaf more and more in my diffuser blends. It contains antibacterial [source], antiviral, and antifungal [source] properties and can be beneficial when there is an illness in the house. I usually diffuse it when somebody is sick, but I also really just love the smell of it.
I like to include it in blends to freshen and purify the air, and during the holidays I diffuse it often. When combined with orange and pine oils, it creates a lovely holiday blend that can be enjoyed all year!
For a festive holiday blend, diffuse:
8 More Diffuser Oil Blends To Try
Here are a few great blends to try in your cold-air diffuser! Drop recommendations are for a diffuser, but you could easily make a mixture to store in a roller or dropper bottle. Try using 1–2 drops at a time in your diffuser jewelry.
Wake Me Up Combo - lemon and peppermint (2–4 drops of each)
Odor Attacker - tea tree, lemon, orange, and frankincense (1–2 drops of each). Another good combo to try is rosemary, citronella, tea tree, lemon, and cinnamon.
Happy Clean Combo - lemon, orange, and grapefruit (2 drops of each)
Just Breathe - bergamot, ylang ylang, patchouli (2 drops of each), or try a combo of frankincense and bergamot (2–4 drops of each)
Sweet Dreams Combo - chamomile, bergamot, clary sage (2 drops of each)
Concentration & Memory Blend - peppermint and orange (2–3 drops of each), or try 4 drops of rosemary, 6 drops of lemon, and 4 drops of cypress for mental clarity
Respiratory Blend - 1 drop each of rosemary, clove, eucalyptus, and cinnamon
Immune System Support - lemon, lime, peppermint, rosemary, and eucalyptus radiata (1–2 drops each)
This article was medically reviewed by Dr. Gina Jansheski, a licensed, board-certified physician who has been practicing for more than 20 years. Learn more about Hello Glow's medical reviewers here. As always, this is not personal medical advice and we recommend that you talk with your doctor.
152