Hair salon treatments for dry or damaged hair can be extremely effective at moisturizing locks and increasing shine. However, they often come at a cost, and it's an expensive one! Have you ever thought about trying a homemade hair treatment that can produce salon-worthy results?
These all-natural, simple homemade honey hair masks are perfect for addressing a variety of hair needs. Plus, they're inexpensive to make and foolproof to apply.
Benefits of Honey for Hair
Honey has been used as a medicinal substance and a skin and hair treatment for centuries [source]. It functions both as an emollient (meaning it soothes and softens dry hair) and a humectant (it retains moisture).
So honey not only boosts your hair's moisture content, but it also locks it in, making hair softer, shinier, and more manageable. And it does more than just that.
Using honey on a regular basis may help:
Stimulate hair growth. Honey has been shown to nourish and help regenerate epithelial cells [source] (of which the scalp has many!)
Give you naturally sun-kissed highlights. Since it has natural lightening properties, honey can accentuate your hair's natural highlights without the need for chemicals.
Kill scalp bacteria. Because honey is naturally antibacterial [source], it's said to help treat infections and kill the bacteria that lead to dandruff [source].
Kick inflammation to the curb. Honey can promote rapid and improved healing associated with things like eczema and psoriasis [source].
And with plenty of amino acids, vitamins, and minerals [source], it's no wonder that honey can be highly beneficial for dry hair needing extra attention. To reap the benefits, all you need to do is apply honey to hair and let it sink in for a few minutes while the nutrients fortify strands and soothe the scalp.
But, honestly, where's the fun in that?
Better yet, combine the healing power of honey with other hair-nourishing ingredients with the help of these three honey hair masks. Just apply, rinse, and say hello to the lushest hair of your life.
3 Homemade Honey Hair Masks for all Hair Types
I tried to make these honey hair masks suitable for a variety of different hair types. But since all hair is different, it might be best to whip up a small batch and test it on a section of hair before slathering on your entire head. That way, if you don't like it, it's easy to rinse out and try again.
Warm Honey and Olive Oil Treatment (for dry/damaged hair)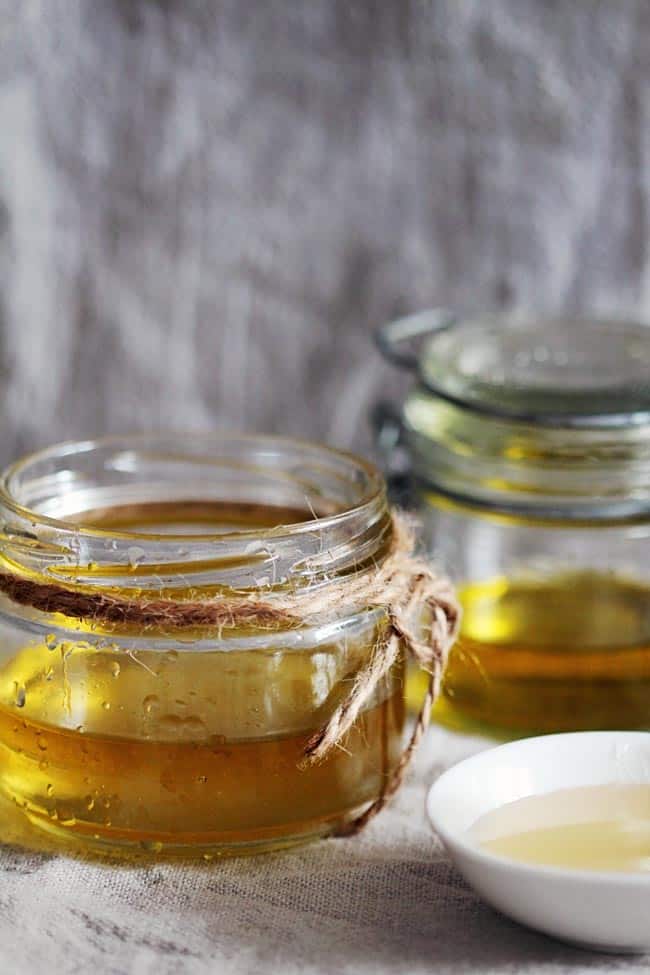 Applying honey alone can get very sticky, so olive oil is a wonderful addition to this mask to help smooth and coat the hair shaft. Mix the honey and olive oil together, and then warm over the stovetop or in the microwave for a few seconds.
Mix again well after heating and check the temperature to make sure it is just slightly warmed and not too hot. Apply from the scalp to ends and leave on for 10–20 minutes before shampooing.
If you have trouble getting the oil out of your hair, I recommend using baking soda to break it down (simply sprinkle it on your scalp, and use your fingers to gently massage it along the length of your hair). Then shampoo and condition like you normally would.
Apply this mask once a week or once every few weeks.
Honey
,
Coconut Oil
,
and Yogurt Deep-Conditioning Hair Mask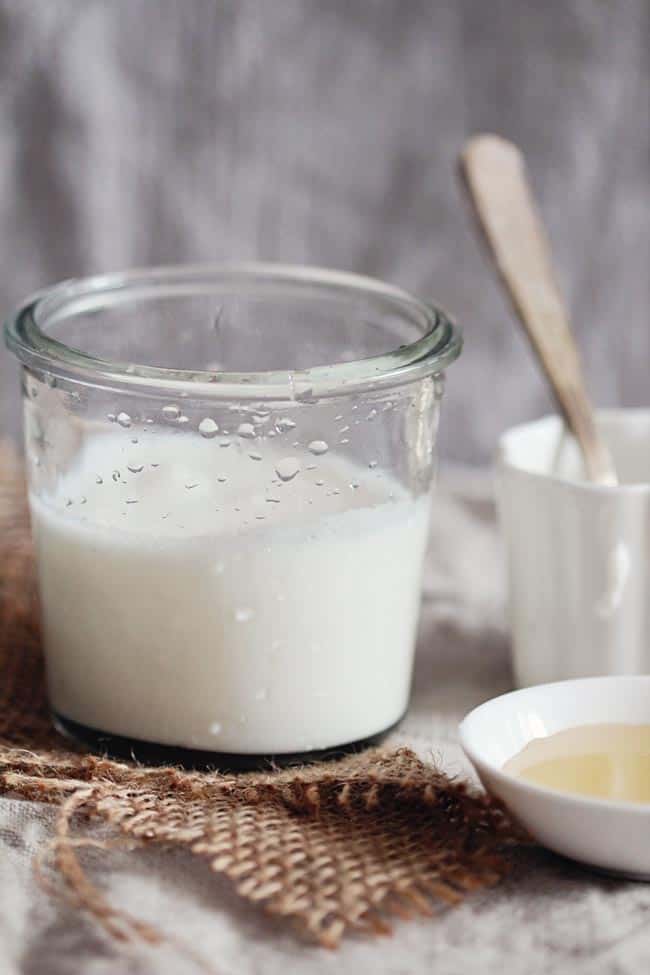 The lactic acid in yogurt will cleanse the scalp while the proteins nourish and strengthen the hair. Coconut oil penetrates the hair strands well [source], leaving the hair shiny, lustrous, and smooth. It can also prevent split ends due to its moisturizing properties.
Combine all the ingredients in a bowl, using less coconut oil for shorter hair and more for longer hair. Massage into your scalp and work through to ends, leaving on for 15 minutes before shampooing. Apply this mask once a week or once every few weeks.
Banana and Honey Hair Mask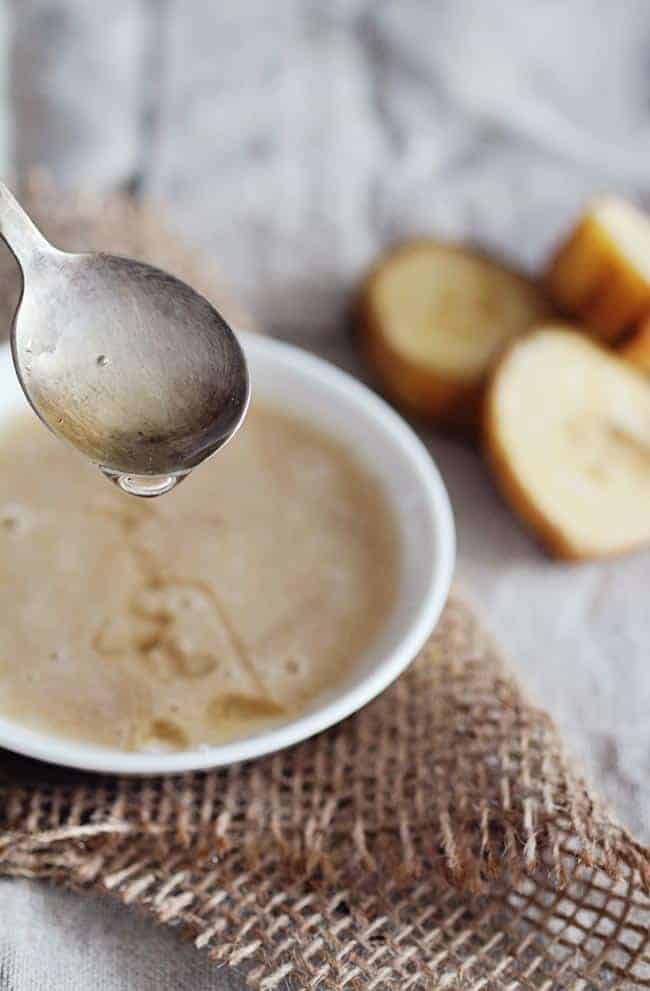 Banana not only soothes an itchy scalp but it also moisturizes the hair. Applying banana topically to hair can prevent breakage and split ends. For fine hair, banana creates volume and maintains natural elasticity.
Honey helps retain moisture and is also beneficial for a healthy scalp. Olive oil serves as a detangler and frizz minimizer.
Combine the honey, bananas, and olive oil in a blender and mix until it reaches a pureed consistency. Apply from the top of your head to the tips of your hair with a hair dye brush. Leave on the hair for at least 10 minutes. Option: cover with a shower cap for deeper penetration.
The banana can stick to the hair shafts a bit, so you might need to add more oil depending on hair length, hair type (dry hair = more oil), and possibly shampoo twice to remove any residual mask. Continue with your usual shampoo, conditioner, and styling. This mask can be applied once a week or once every few weeks.
Other Natural Hair Conditioners You Can Try
Nature makes some pretty epic hair conditioners. You can use the following ingredients in addition to or in place of some of the ingredients mentioned above.
We haven't tried all the combinations you can possibly make, but since natural ingredients are usually pretty gentle, don't be afraid to play with 'em until you find a recipe that works for your hair type.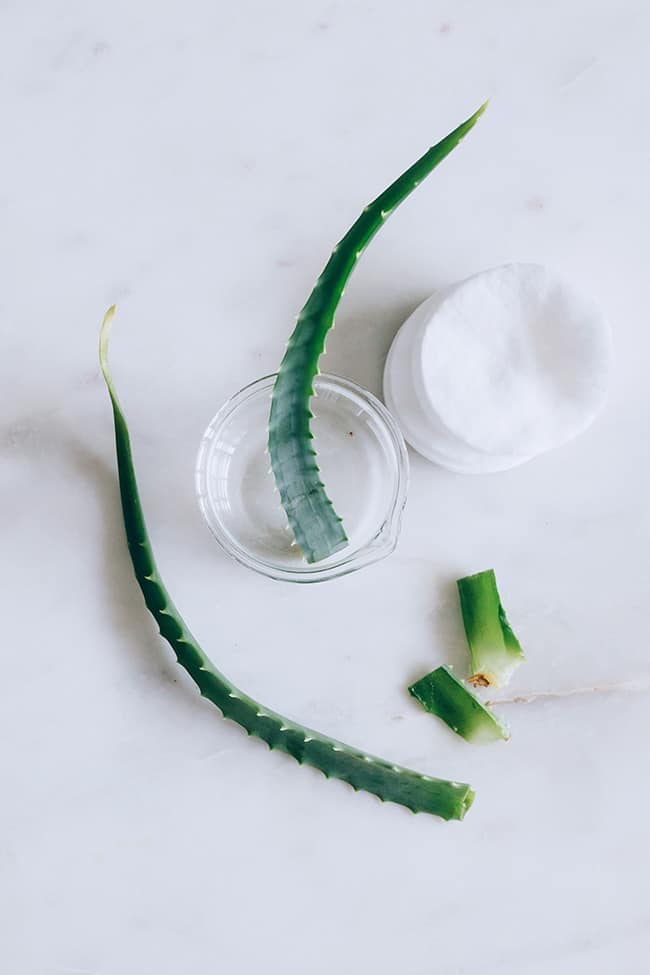 A good rule of thumb is to add 1–2 teaspoons of an ingredient to your mask and then wait to see how your hair responds. If you're worried about messing it up, apply the mask to a small, inconspicuous patch of hair to see what happens before applying it to your whole head.
Raw mashed avocado

Aloe vera

Shea butter, either melted or whipped

Raw egg

Greek yogurt

Banana

Pumpkin

Avocado oil

Mayo
Using a Homemade Hair Mask the Right Way
It's hard to go wrong with any of our honey hair masks, but there are some things you can do to make your mask a little more effective:
1. Wash and towel dry your hair first. I know we said earlier that you can apply your mask to dry hair, and you can, but if you use a lot of product or your hair is naturally curly, washing out old product and relaxing your locks may help the mask sink in better.
2. Spread the mask evenly throughout your hair, section-by-section, to ensure you coat strands evenly from top to bottom.
3. Using your fingertips, give yourself a quick scalp massage. Then gently finger-comb your hair to get rid of any tangles.
4. To enhance the mask's effectiveness, cover your head with a warm, damp towel (a shower cap will also work) and let that sit for at least 10–20 minutes.
5. Rinse with cool water. If you have fine hair, apply shampoo and conditioner like you normally would to get rid of any buildup. Follow up with baking soda and a second round of shampoo to get rid of any stubborn oil residue.
6. Reapply weekly for damaged hair or every few weeks for regular maintenance.
Home Remedies for Dry Hair
Still struggling with dry hair? Here are a few easy ways to soften damaged hair and restore moisture.
Don't wash your hair every day
.
Stripping the natural oils from your hair only encourages your scalp to get completely out of whack. Rather than a daily shampoo sesh, try washing your hair every few days to give your scalp enough time to replenish its natural oils.
Skip the hot water
.
Hot water is notoriously harsh on hair. If you can, only use lukewarm or cool water when rinsing your hair.
It'll help seal the hair shaft and lock in moisture, making your hair look smooth and radiant almost immediately.
Use a blow-dryer with a cool setting
.
Like with hot water, heat styling can strip your hair of much-needed moisture. To prevent this, always use your blow dryer on the medium heat setting. Then finish off with a blast of cool air to smooth the hair shaft and lock in moisture.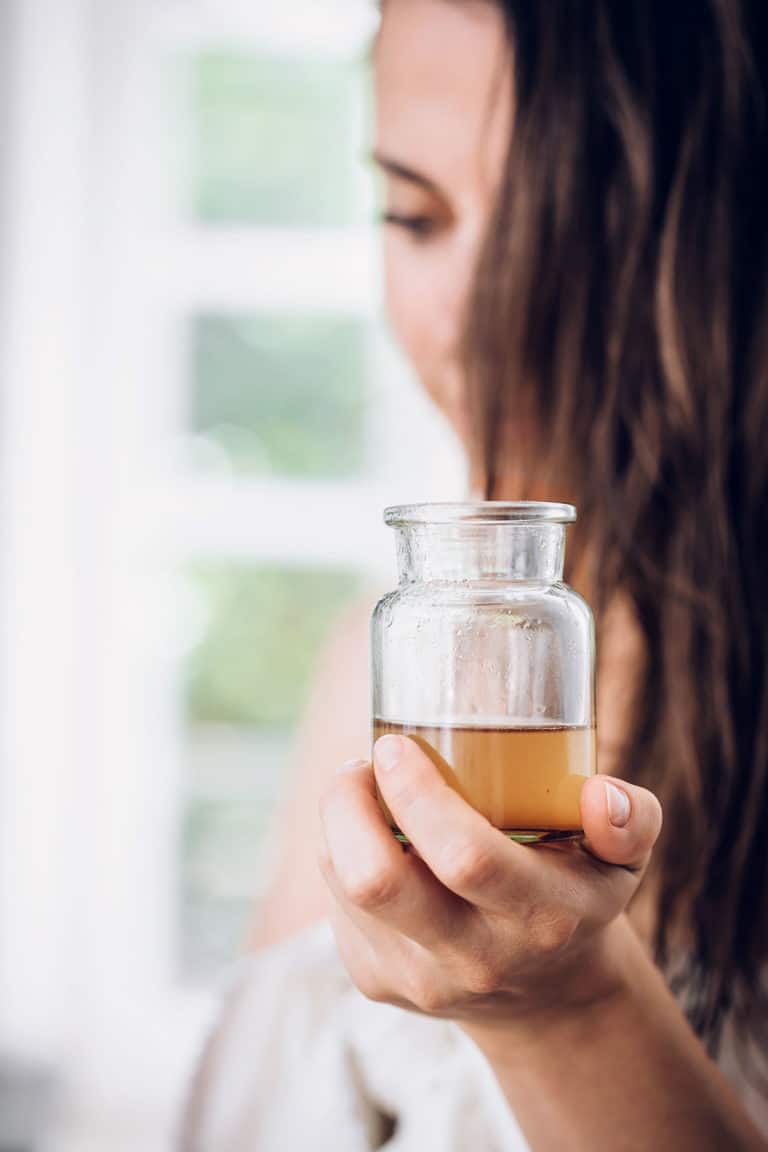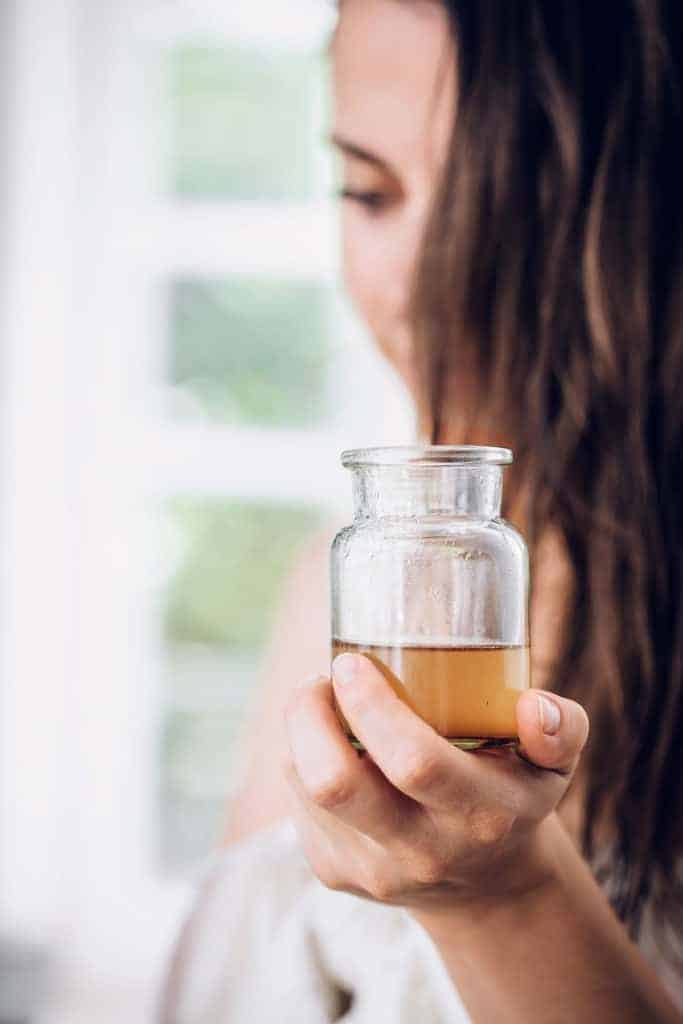 This post was medically reviewed by Dr. Rina Mary Allawh, M.D., a dermatologist who practices adult and pediatric medical dermatology, skin cancer treatment, and cosmetic dermatology. Learn more about Hello Glow's medical reviewers here. As always, this is not personal medical advice, and we recommend that you talk with your doctor.
726