There's really nothing more nourishing for your hair than a mayo hair mask. It moisturizes, tames frizz, strengthens the hair shaft, and makes hair feel insanely soft. And, in true hair mask fashion, wearing one for 15 minutes forces you to drop all chores and just sit back and relax. Heaven.
While mayonnaise can be applied directly to hair, I love adding a few extra ingredients to my mayo mask to target specific scalp or hair issues. But that's totally up to you! Whether you prefer to keep yours simple or spruce it up, read on to learn all about how to do a mayo hair mask and customize it for your hair type.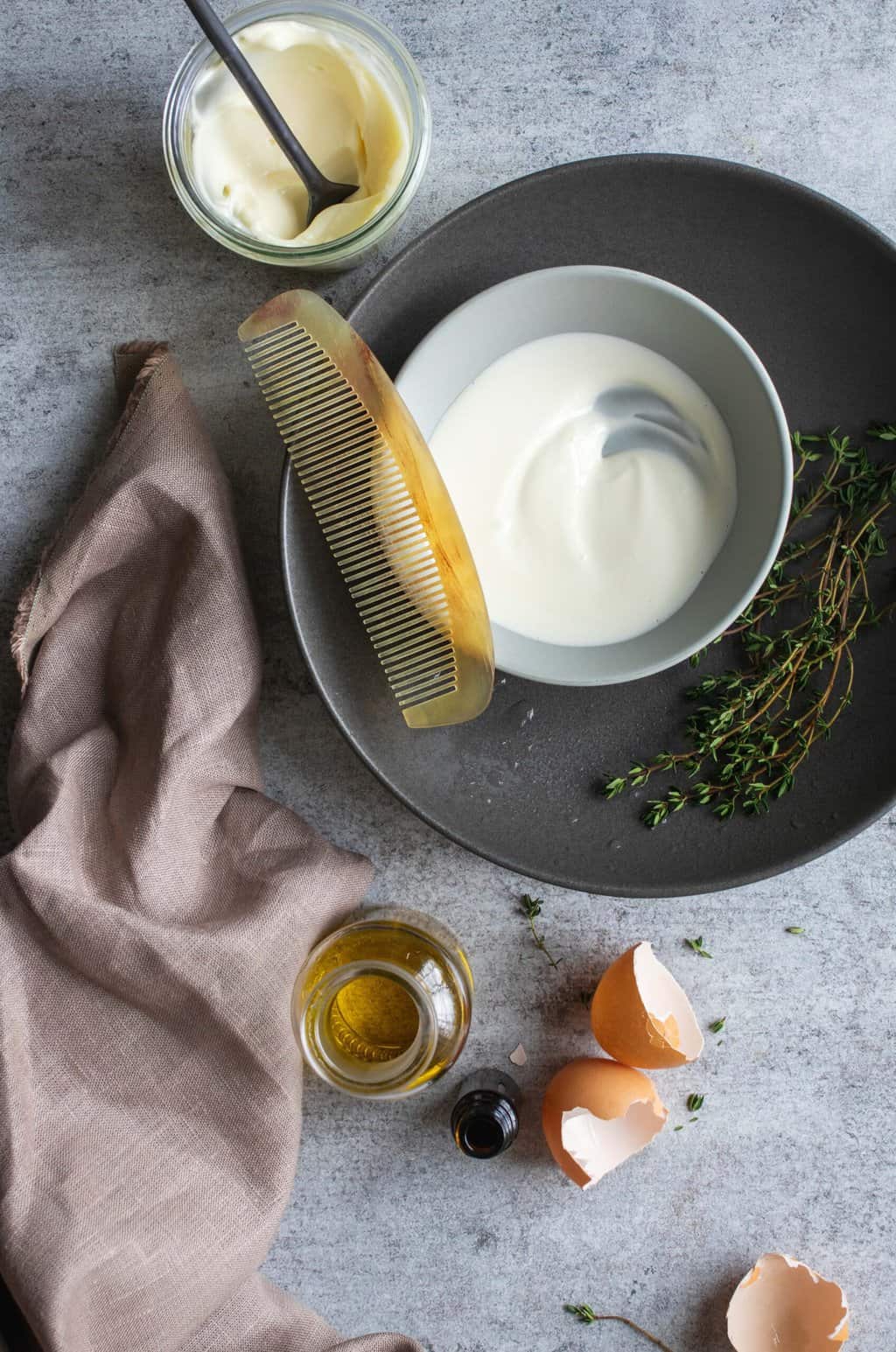 The Benefits of Using a Mayonnaise Hair Mask
If you're looking for a natural way to repair damaged hair and promote healthy hair growth, mayo masks are a godsend. Mayo is technically just eggs and oil, both of which help replenish moisture and nourish hair from the outside in. Here are a few of the ways mayonnaise can help boost your hair for the better:
Adds shine
Egg yolks are loaded with amino acids, which can help promote hair growth. They also contain vitamins A, E, and D, biotin, folate, and fatty acids [source], which nourish and replenish dry, tired strands. Meanwhile, the oil in mayo helps strengthen the hair shaft, sealing split ends and making hair appear healthier.
Deep conditions dry and damaged hair
If you've ever done a hot oil treatment, you'll know how amazing your hair feels after an intense hydration boost. The moisturizing properties of mayonnaise can help to improve the overall texture of your hair.
Helps cut down on dandruff
Thanks to its moisturizing and anti-inflammatory properties, mayo can help reduce flakes and irritation. It also nourishes the scalp and controls excess sebum production, which can help keep dandruff at bay.
Protects against split ends
Not surprisingly, healthy, hydrated hair is less prone to breakage [source]. Plus, the hydrating properties of masks help seal the hair shaft and keep locks looking thick and shiny.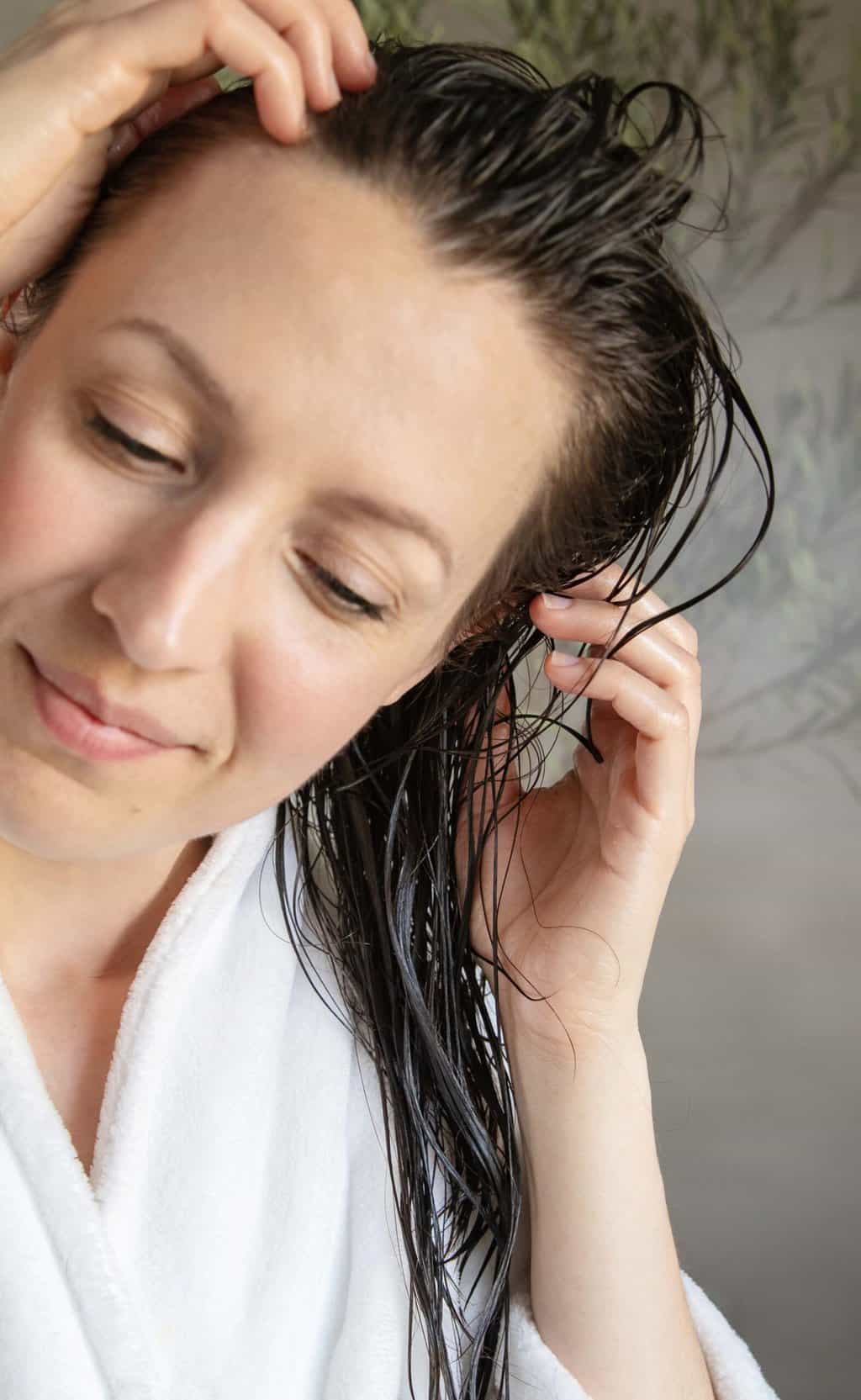 Who Should Use a Mayo Hair Mask
?
Mayo masks are safe to use on all hair types. In fact, anyone with dry, frizzy, or over-processed hair should use a weekly hair mask or hot oil treatment to replenish moisture and nutrients, no matter what type of hair you have. That being said, mayo is the ultimate hair hydrator, so you may notice that it leaves thin hair looking a little weighed down and greasy—even after a good wash.
If you have fine hair, definitely don't use it right before a big event, as a few shampoos may be needed to get it out entirely. If you have coarse, curly, or thick hair that can take a little extra moisture without looking limp, go ahead and use mayonnaise hair masks as much as you like! Your hair will thank you.
How to Make the Perfect DIY Mayo Hair Mask
Whether you're looking for a strengthening protein treatment or just a simple way to make your hair look healthier, a homemade mayo mask can be the perfect solution. Applying mayonnaise straight out of the jar is a quick, easy way to reap its hair-boosting benefits.
But if you have specific issues, like flakes, scalp irritation, or breakage, you may want to add some targeted ingredients to your mask. Just note that any of these extras are optional, and you can leave them out entirely if desired.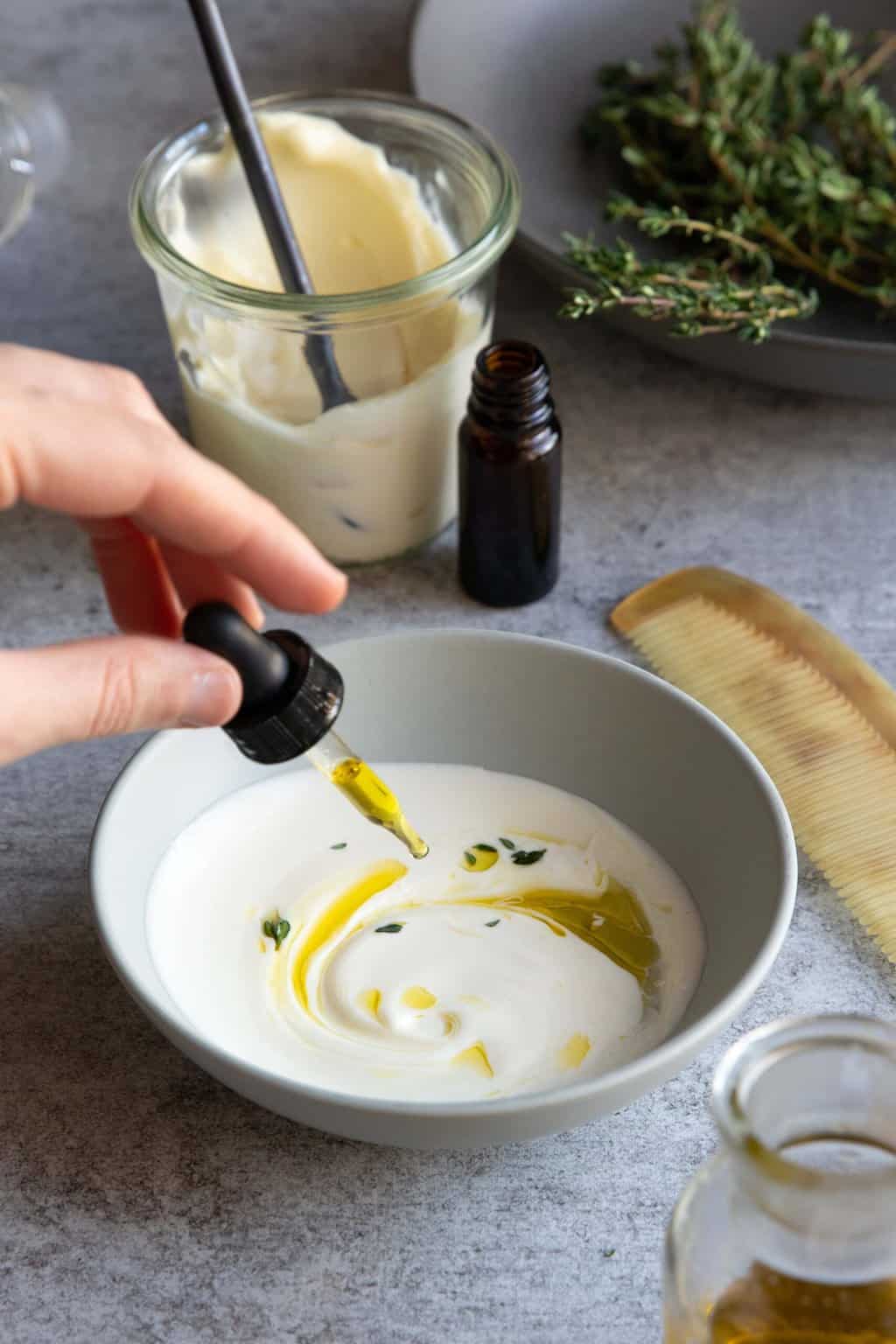 Optional ingredients include:
Essential oils
Adding 3–4 drops of essential oil to your mayo mask can help enhance its benefits. Rosemary essential oil is said to promote hair growth, while lavender oil soothes irritation, and tea tree oil prevents dandruff. Essential oils can also help improve the scent if you're not a fan of that mayo smell.
Eggs
I said earlier that mayonnaise already contains eggs, so why would you add more? Well, depending on the brand of mayo you choose, it may be mostly oil and not a lot of eggs. If that's the case, adding an extra protein-rich egg can help fortify the hair, make it feel softer, and reduce the risk of breakage.
Honey
Honey is a natural humectant [source], which means it helps to attract and retain moisture in the hair. If you have especially dry or damaged hair, adding a little honey to your mask can lock in moisture and smooth down the hair cuticle, making it look shinier and healthier.
Yogurt
Yogurt contains lactic acid, which can help strengthen the hair by removing dead skin cells and buildup from the scalp. The proteins and fats in yogurt can also help improve the texture of your hair by smoothing down the cuticle and reducing frizz.
Ground oats
Finely ground oatmeal, otherwise known as colloidal oats, has anti-inflammatory properties that can soothe an itchy, irritated scalp. Oats also help to gently remove dirt and oils, leaving the scalp and hair feeling clean and refreshed.
There are a ton of other optional ingredients you can use in homemade hair masks. Feel free to play around with different ingredients and see how your hair responds. Or just stick with plain ol' mayo for an easy out-of-the-jar mask.
How to Apply a Mayo Hair Mask
Because of the mess involved, you may prefer to do mayo masks in the shower as part of your regular routine. As always, do what works for you!
1
.
Wet your hair
Start by wetting your hair with warm water to open the hair follicles and help the mayonnaise sink in.
2
.
Apply the mayonnaise
If you're adding extra ingredients to your mask, mix everything together in a small bowl ahead of time. Otherwise, scoop a generous amount of mayonnaise out of the jar and massage it into your hair, starting with the roots and working your way to the ends. Using a comb, evenly distribute the mayo from roots to tips.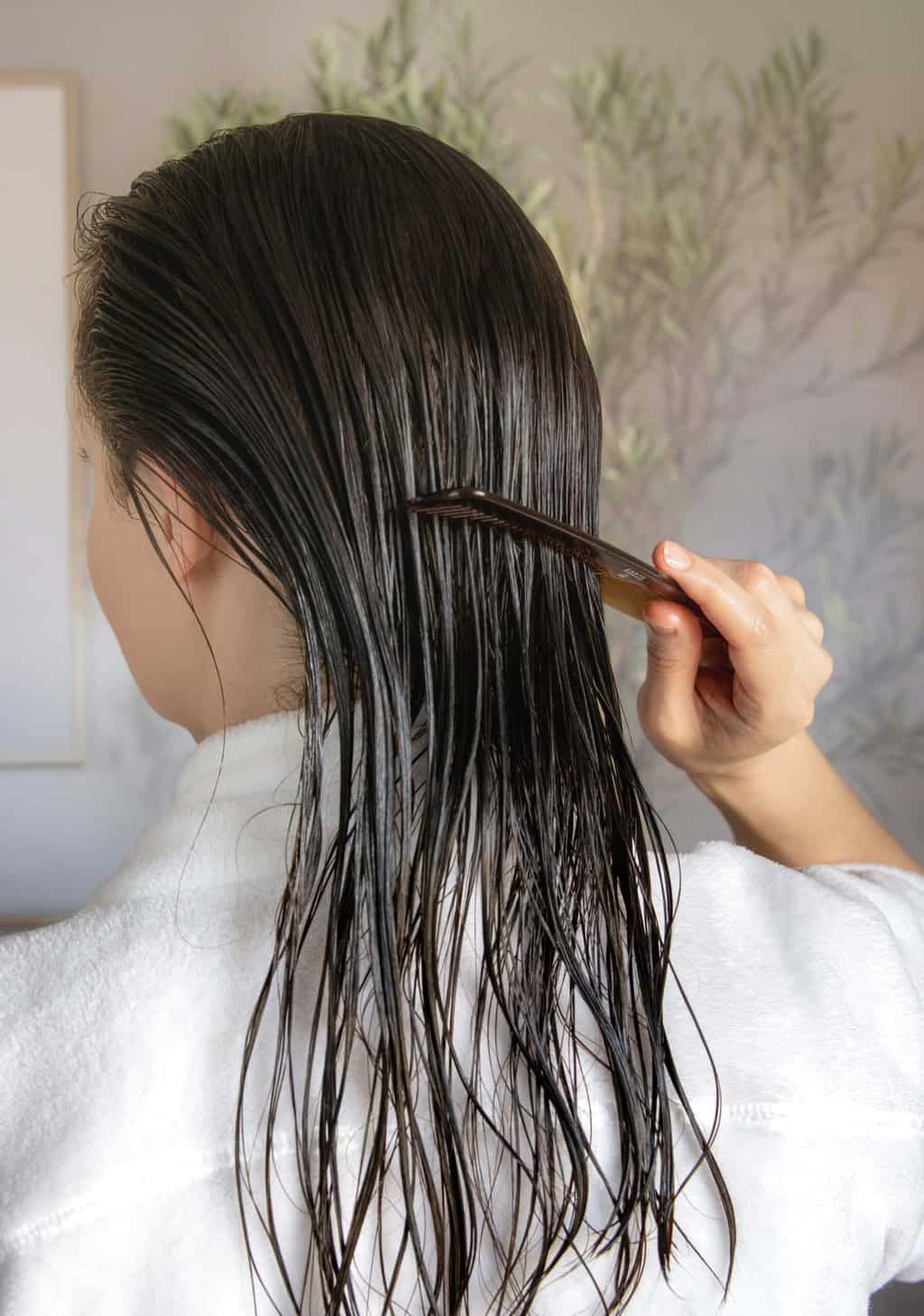 3
.
Gather hair into a bun
To prevent dripping (or rinsing prematurely if you're in the shower), gather your hair into a bun. While not totally necessary, feel free to wrap your hair in a warm towel or cover it with a shower cap to help the mayonnaise penetrate the hair.
4
.
Wait 15–20 minutes
Leave the mask on for 15–20 minutes or even longer if you desire. The longer you leave it on, the more intense the treatment will be.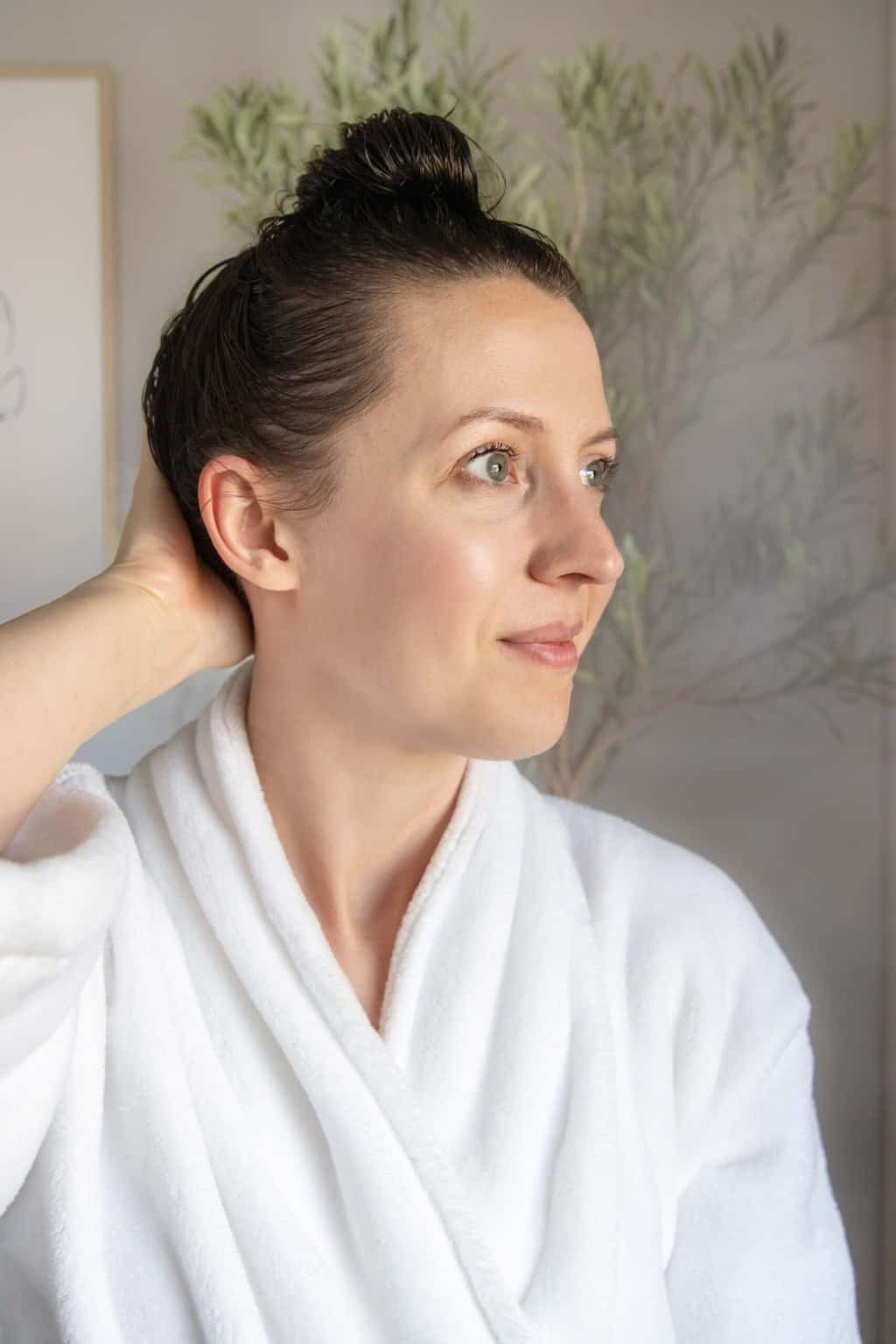 5
.
Rinse
Rinse your hair thoroughly with warm water to remove all traces of the mayonnaise.
6
.
Shampoo
Wash your hair with a gentle shampoo to remove any residue from the mask. If needed, use a clarifying shampoo to break down the oil more easily and leave your hair feeling cleaner.
7
.
If needed
,
shampoo again
Mayo is greasy, so you may find it hard to get it all out. That's par for the course! Adding a little baking soda to your shampoo and washing your hair again can boost the shampoo's clarifying properties.
8
.
Condition
Finish with a nourishing conditioner to lock in moisture and further improve the texture, health, and shine of your hair.
9
.
Repeat once a week
For most of us, a weekly mayonnaise mask is enough. But if you have dry hair, you can use it 2–3 times a week.

Mayo Hair Mask FAQs
What does a mayonnaise hair mask do?
A mayo hair mask helps to nourish and moisturize the hair, leaving it soft, shiny, and healthy. It's also great for reducing frizz and fortifying damaged strands.
How often can I use a mayo hair mask?
Once a week is a good start for most hair types. If you have super dry or brittle hair, you can try doing a mayo hair mask twice a week—just keep an eye out for scalp irritation or flakes.
When should you use a mayonnaise hair mask?
A mayo mask is meant for hair that is dry, brittle, and lacks shine. Since it can leave hair feeling a little greasy or flat, it's best to do your hair mask at night. That way, you can shampoo and condition again in the morning before heading out the door.
Do you put a mayo hair mask on wet or dry hair?
Applying mayonnaise to damp hair allows the moisture and nutrients to sink in more easily. After applying the mask, you can cover your hair with a shower cap or wrap it in a warm towel to help the mayo penetrate even further.
Can I leave a mayo hair mask on overnight?
Yes, you can. Just make sure to cover your hair with a shower cap to prevent the mask from rubbing off onto your pillow and linens.
References:
Réhault-Godbert S, et al. The golden egg: nutritional value, bioactivities, and emerging benefits for human health. Nutrients. 2019.
Gavazzoni Dias MFR. Hair cosmetics, and overview. Int J Trichology. 2015.
Mandal MD, et al. Honey: its medicinal property and antibacterial activity. Asian Pac J Trop Biomed. 2011.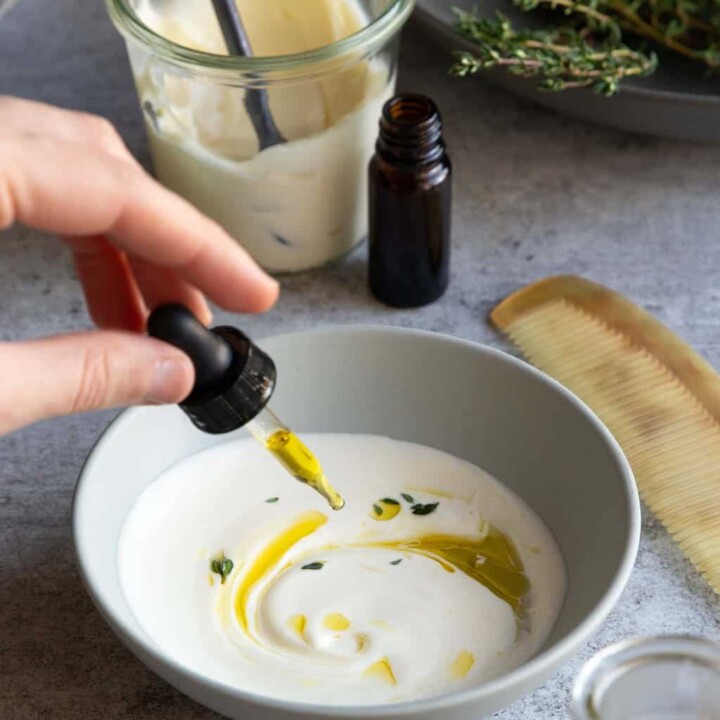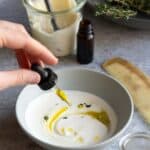 Print
Mayo Hair Mask
There's really nothing more nourishing than a mayo hair mask. Feel free to use this mask recipe weekly to repair damaged tresses and hydrate parched locks.
Instructions
In a small mixing bowl, combine the mayonnaise, honey, and essential oil. Mix well until all ingredients are fully blended.

Apply the mixture to your hair, starting at the roots and working your way down to the ends. Use a wide-tooth comb to distribute the mixture evenly throughout your hair.

Put your hair in a bun and leave the mask on for 15-20 minutes.

Rinse your hair thoroughly with warm water. Then shampoo and condition your hair as usual.
Notes
This hair mask can be used 2-3 times a week to help nourish and strengthen your hair. The mayonnaise provides deep conditioning while the honey and essential oil helps repair damaged hair. 
18