Are you ready for one of the most refreshing smoothies ever?! I swear to you I would just about rather sip a coconut water smoothie than anything else on a hot summer day. This beauty smoothie is full of fruity flavor, and the lion's share of vitamins and nutrients you need for beautiful, radiant skin.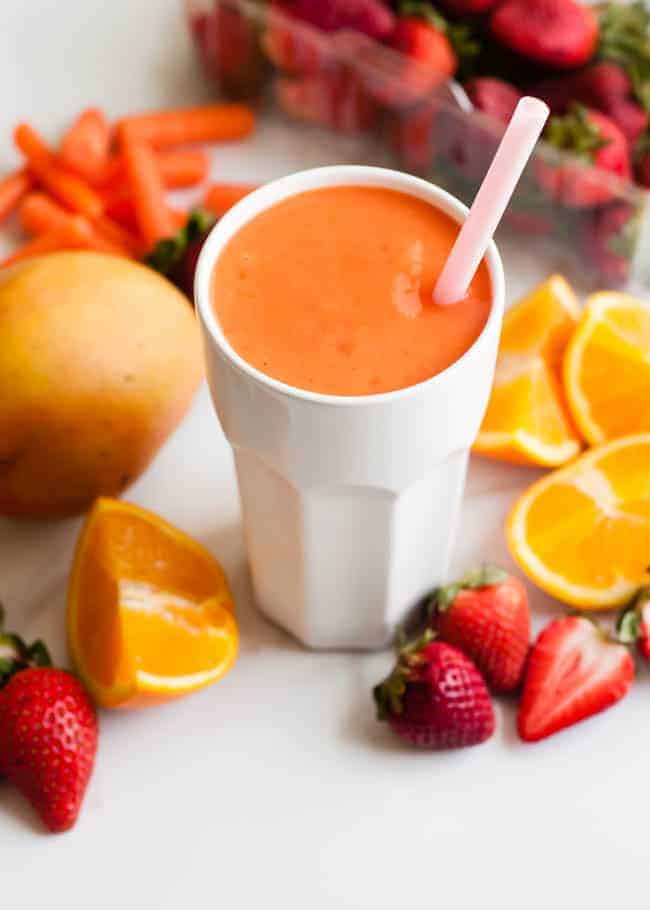 Carrot Smoothie Recipe for Glowing Skin
We've talked about the best vitamins for beautiful skin before, but here's a quick refresher in case you missed it. As we age our skin loses its elasticity, it can start to look dull, those darn age spots might start popping up. Number one important thing to do is stay hydrated. Here are some awesome beauty smoothie ingredients to keep your skin happy and glowing.
Coconut water
Coconut water is nature's sports drink. Full of potassium and electrolytes, coconut water replenishes and rehydrates skin from the inside out, making it softer and younger looking. It's also full of antioxidants, which fight free radicals, decrease the effects of sun damage and improve the look and feel of fine lines.
Strawberries
Strawberries are one of the best sources of Vitamin C, which is a powerful antioxidant, and is needed for our bodies to make collagen. They make a great ingredient for smoothies, not only because of their beauty benefits, but because of the pretty color as well.
Carrots
Our bodies convert the beta carotene found in carrots into retinoids, which are powerful anti-aging antioxidants that reduce inflammation and speed up the healing process. Carrots also contain high amounts of vitamin C, which is said to help heal skin and improve health at a cellular lever. Eating carrots regularly may even help the body recover faster from wounds and trauma.
Mango
Mangoes are loaded with vitamins! Just 1 cup of diced mangoes supplies 76% DV of Vitamin C, 25% DV Vitamin A, plus smaller amounts of Vitamin E, K, and B (thiamin, riboflavin, niacin, B6, folate, and pantothenic acid). Plus they also give this smoothie a rich, creamy consistency without adding too much in the way of sugar.
Oranges
Oranges are loaded up with Vitamin C, a powerful antioxidant that is essential for collagen production. Getting a high amount of vitamin C in one's diet is said to aid in the skin's natural regeneration process, which helps your body repair damaged skin cells and improve skin's texture.
Because this smoothie uses a lot of sugary fruits, the end result will likely be very, very sweet. Think of it more like a dessert smoothie than a breakfast smoothie, and if you do happen to consume it the morning, make sure to sprinkle some cinnamon on top to balance blood sugar and prevent insulin spikes later in the day.
This recipe makes enough for two smoothies - perfect for blending up for you and a friend after a workout.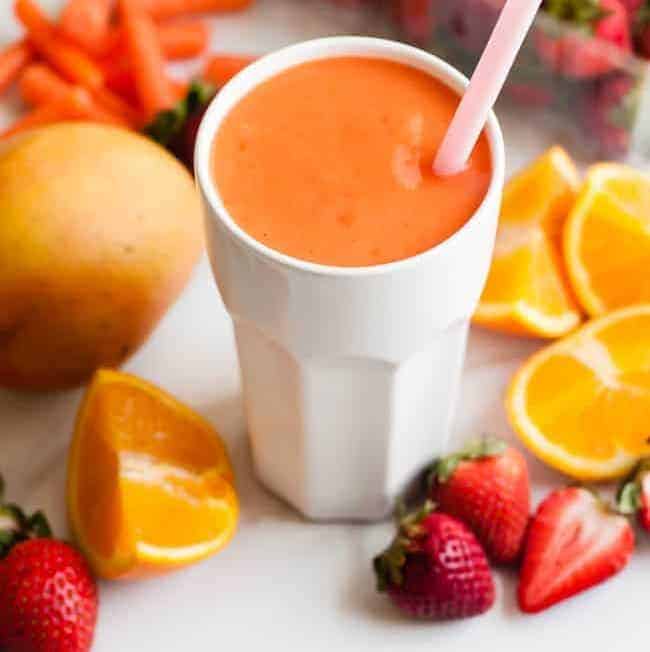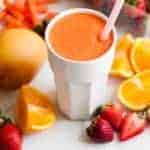 Print Recipe
Strawberry Carrot Mango
A refreshing, healthy smoothie full of vitamins and nutrients for radiant, beautiful skin.
Ingredients
1

cup

coconut water

chilled

1

cup

fresh or frozen organic strawberries

1

cup

organic baby carrots

1

cup

fresh or frozen mango chunks

1

navel orange

peeled
Instructions
Puree ingredients in a blender until smooth.

Note: can add some ice to make it cold if using fresh strawberries
Notes
Freeze leftovers in an ice cube tray and add to future smoothies.
176