Are you ready for one of the most refreshing smoothies ever?! I swear to you I would just about rather sip a coconut water smoothie than anything else on a hot summer day. This beauty smoothie is full of fruity flavor, and the lion's share of vitamins and nutrients you need for beautiful, radiant skin.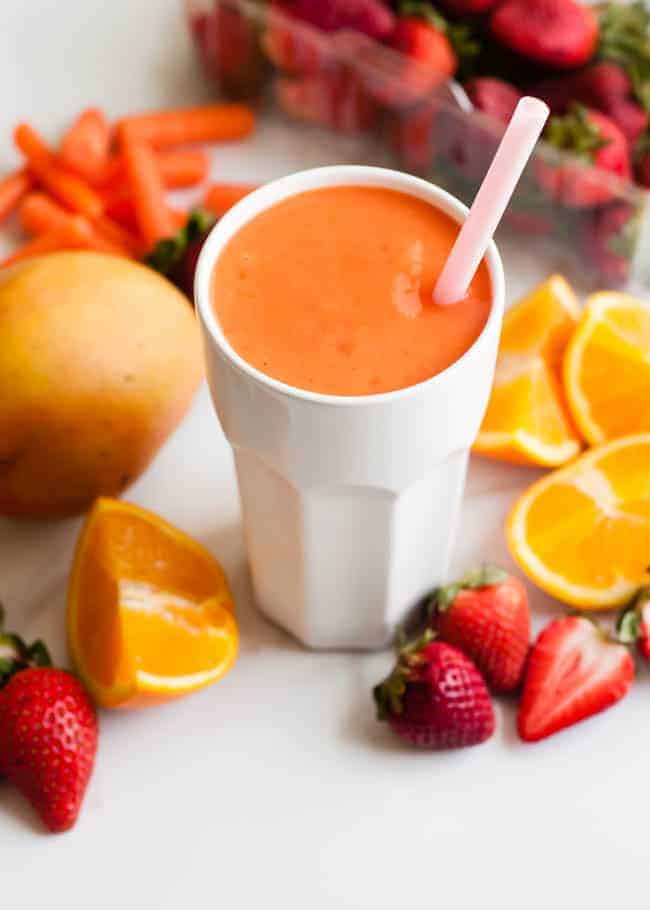 We've talked about the best vitamins for beautiful skin before, but here's a quick refresher in case you missed it. As we age our skin loses its elasticity, it can start to look dull, those darn age spots might start popping up. Number one important thing to do is stay hydrated. Here are some awesome beauty smoothie ingredients to keep your skin happy and glowing.
Coconut water
This smoothie uses a coconut water base that is not only rehydrating, but a good source of magnesium and potassium, as well as smaller amounts of Vitamins C and B. It's an excellent way to replenish electrolytes.
Strawberries
Strawberries are one of the best sources of Vitamin C, which is a powerful antioxidant, and is needed for our bodies to make collagen.
Carrots
Our bodies convert the beta carotene found in carrots into retinoids that are powerful anti-aging antioxidants.
Mango
Mangoes are loaded with vitamins! Just 1 cup of diced mangoes supplies 76% DV of Vitamin C, 25% DV Vitamin A, plus smaller amounts of Vitamin E, K, and B (thiamin, riboflavin, niacin, B6, folate, and pantothenic acid).
Oranges
Oranges are high in Vitamin C, but also contain flavonoids which help with cell growth, plus they add natural sweetness.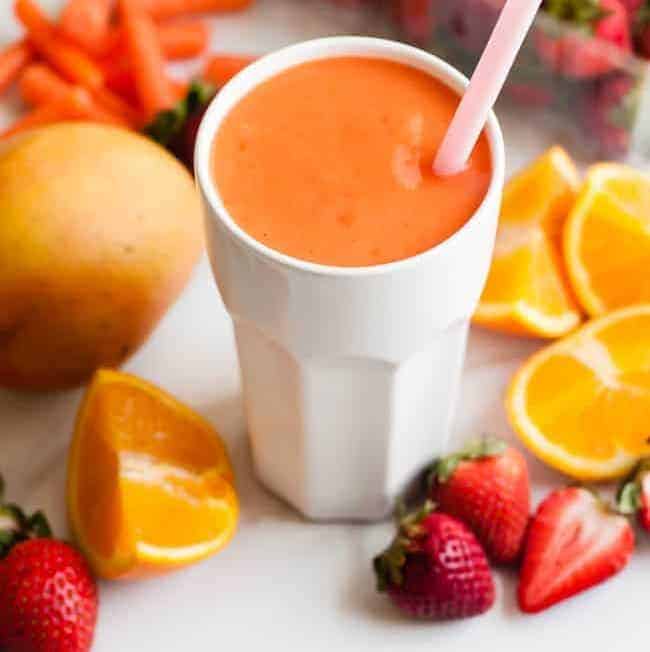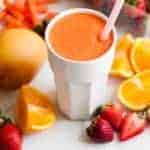 Print Recipe
Strawberry Carrot Mango
A refreshing, healthy smoothie full of vitamins and nutrients for radiant, beautiful skin.
Ingredients
1

cup

coconut water

chilled

1

cup

fresh or frozen organic strawberries

1

cup

organic baby carrots

1

cup

fresh or frozen mango chunks

1

navel orange

peeled
Instructions
Puree ingredients in a blender until smooth.

Note: can add some ice to make it cold if using fresh strawberries
This recipe makes enough for two smoothies – perfect for blending up for you and a friend after a workout.
64