It is officially springtime! And you know what that means. Yep, it's time to get ready for swimsuit season! What better way to prepare than with a fat-burning strawberry mango smoothie?
For a lot of us, this year has meant less exercise than usual, and a whole lot more banana bread and pasta. So as the sun is beginning to peek through the clouds and temperatures are rising, sunny days spent at the pool and beach are just within your reach. The metabolism-boosting smoothies will help you get there!
1. Strawberry Mango Smoothie Recipe
This light and refreshing smoothie contains two special metabolism-boosting ingredients: cayenne and cinnamon. I think we are all fans of sweet and fruity beverages that can help us lose weight, so we won't keep the secret from you any longer!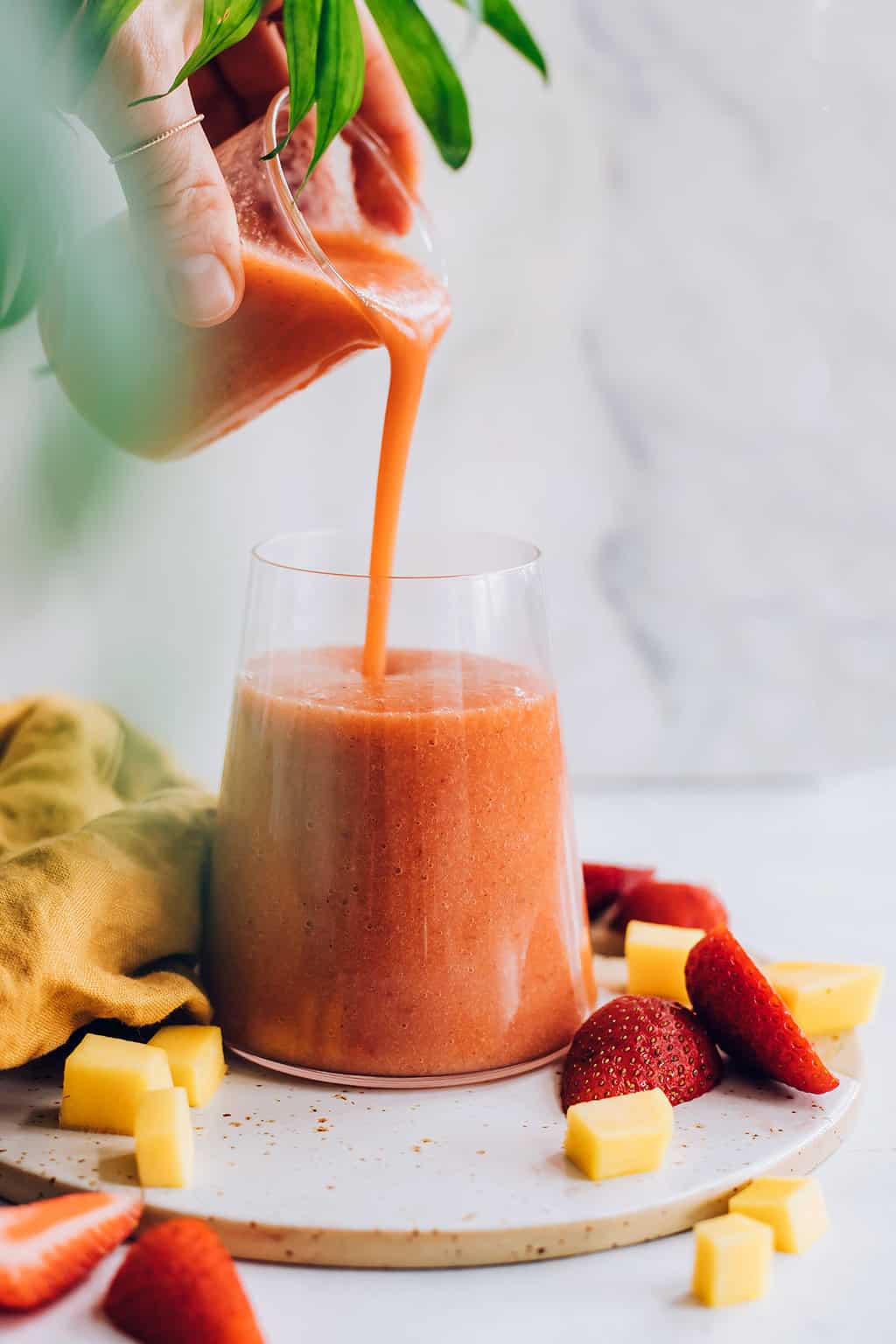 Cayenne pepper
Our first all-star ingredient is cayenne pepper. Numerous studies show that cayenne pepper stimulates your metabolism, thanks to a nifty compound called capsaicin. It helps to break down fatty acids in your tissues, liver, and muscles [source].
It also speeds up tissue heat production, which causes a loss of its extra fat [source]. I know what you're thinking now: Bring on the cayenne, and let's feel the burn! To integrate it in your diet, you can simply combine it with lemon and water for a morning cleanse water. Or you can go for our strawberry mango smoothie. But let's not get ahead of ourselves.
Cinnamon
Next up is cinnamon, a favorite among our kitchen beauty ingredients. Not only does this beautiful ground spice bring exceptional flavor to food and drinks, but it helps regulate your blood sugars [source]. This is important because blood sugar (glucose) levels can affect how hungry and energetic we feel.
Glucose also determines whether we store or burn fat. And let's not forget the antioxidants cinnamon contains [source]. Sounds like a good idea to add a pinch to all of our smoothies from now on, right?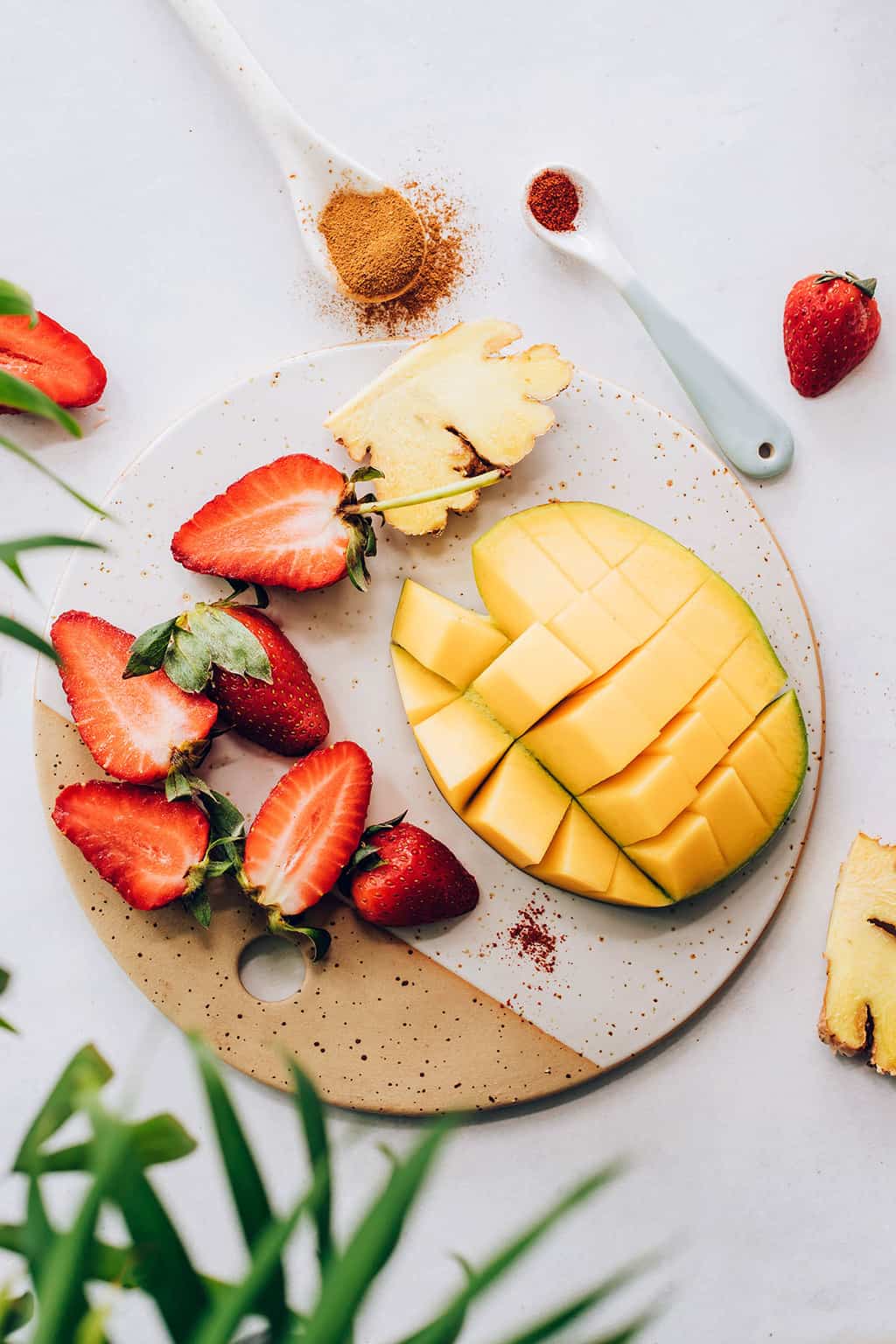 Strawberries
Another important nutrient is vitamin C, and strawberries are said to be one of the best sources. Vitamin C has a significant role in collagen production [source], and collagen supports both the scalp and hair follicles [source].
Mango
Mangoes are another great source of vitamins and minerals. High in fiber, vitamins A and C, folate, B6, and iron, mangoes can improve the overall health of the body, which in turn improves hair health. For similar benefits, you can substitute peaches in place of mangoes if you prefer.
The added ginger and coconut water help keep your body hydrated and fueled for the day.
2. Green Strawberry Mango Smoothie
This strawberry mango smoothie is full of protein, vitamins, and nutrients for radiant, glowing skin (not to mention absolutely delicious). AND it boosts energy and metabolism with a balance of healthy fat, protein and carbs. Let's break it down!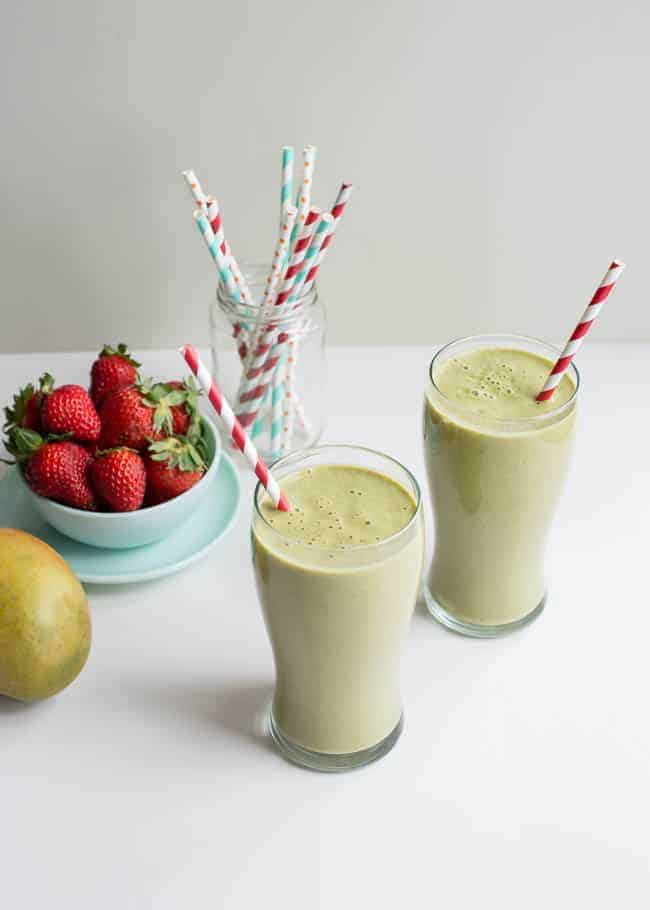 Rev Metabolism with Healthy Fat + Carbs + Protein
Much like metabolism-boosting snacks, your smoothie recipe needs a combo of carbs, good fats and protein.
Swiss Chard
This smoothie has loads of vitamin A, iron, and fiber from the dark, leafy greens and mangoes [source].
Walnuts
Walnuts are one of the best nut-based sources of omega-3 fats and are also rich in biotin (vitamin B7) [source], zinc, iron, and vitamin E. Vitamins E and C, both powerful antioxidants, will help protect hair and skin against damage from UV rays [source].
Flax seed
Flax seed contains fiber, lignans, protein, and omega-3 fatty acids. Side note: flax can also improve hair strength and texture!
Lignans, in particular, improve hormone balance and decrease free androgen levels [source], which have long been known to exacerbate hair loss in both men and women.
Greek yogurt
And don't forget your dairy—Greek yogurt contains protein, vitamin D, and healthy fats.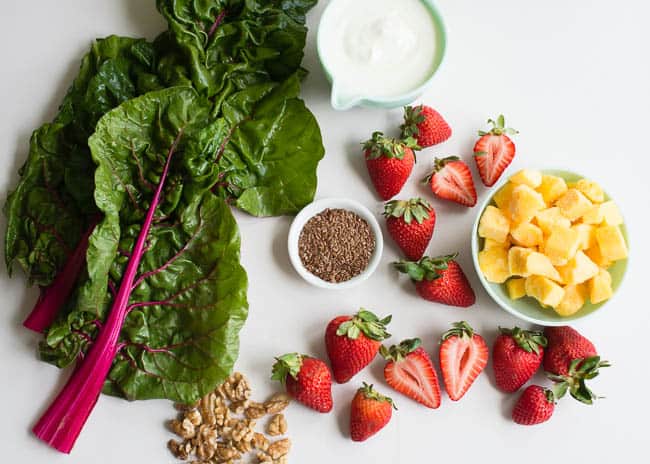 When to eat a breakfast smoothie
To get the most bang for your buck, strive to eat breakfast within an hour or two of waking up to maximize the metabolism-boosting effects. By eating an early breakfast, you're signaling to your body that you have enough food and don't need to conserve as much energy (in the form of fat) to make it through the day. In other words, breakfast literally tells your body to start burning calories.
In order to start my day off feeling energized, I like to drink a smoothie just after I wake up. This strawberry mango smoothie is my current go-to drink.
How to make smoothies easier
To make this smoothie even easier, try making it ahead of time and freezing it in ice cube trays. Then when you're ready to eat, simply toss a few cubes in a blender, add a little extra green tea and blend away!
Cheers to a smoothie that makes you feel and look good!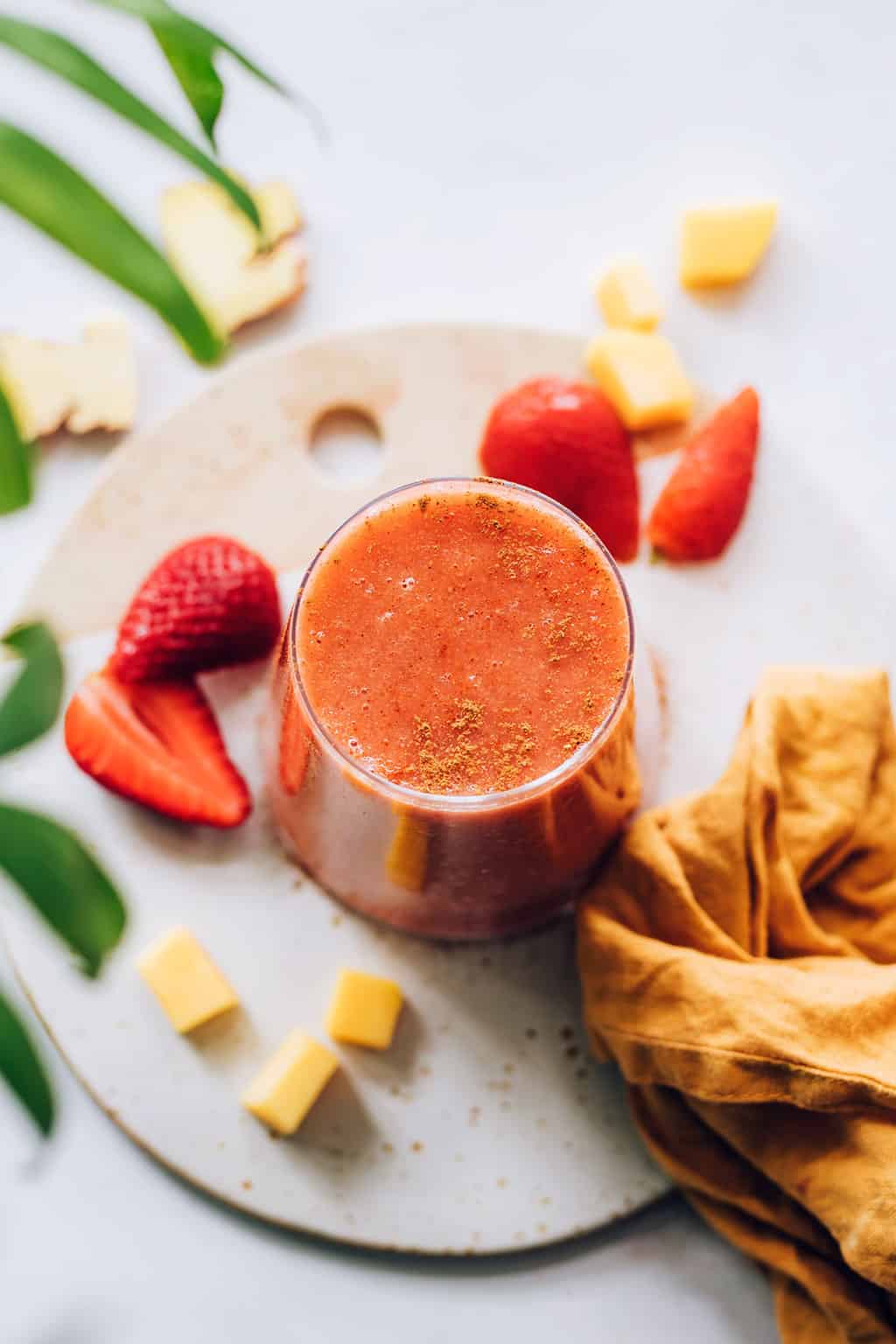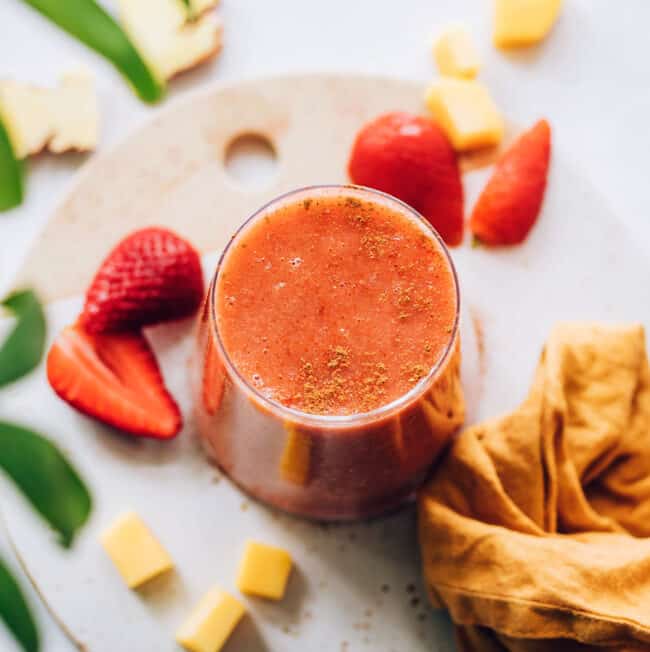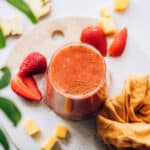 Print Recipe
2 Metabolism-Boosting Strawberry Mango Smoothies
Ingredients
Strawberry Mango Smoothie
2

cups

coconut water

1

cup

frozen strawberries

1

fresh mango

chopped

1

tablespoon

fresh ginger root

chopped

½

teaspoon

ground cinnamon

Pinch

of cayenne pepper
Green Strawberry Mango Smoothie
3

large

Swish card leaves

(washed well, tough stems trimmed)

1

cup

frozen mango

1

cup

strawberries

1

cup

plain Greek yogurt

¼

cup

walnuts

1

tablespoon

flaxseed

½-1

cup

water or coconut water
Instructions
Strawberry Mango Smoothie
Add coconut water, frozen strawberries, mango, ginger, cinnamon, and cayenne into a blender. Blend on high speed for 1 minute until smooth.

Serve immediately. Enjoy!
Green Strawberry Mango Smoothie
Place the ingredients into a high speed blender. Add enough water for easier blending. Serve immediately, or refrigerate for up to 2 days.
This article was medically reviewed by Dr. Gina Jansheski, a licensed, board-certified physician who has been practicing for more than 20 years. Learn more about Hello Glow's medical reviewers here. As always, this is not personal medical advice and we recommend that you talk with your doctor.
Photos by Ana-Maria Stanciu
137