Have you heard of salt therapy before? Also known as halotherapy, it's an ancient practice that involves cleansing and purifying the air, and our bodies, using large chunks of pink Himalayan salt placed in a space.
It's been shown to ease anxiety and insomnia; skin conditions like psoriasis and eczema [source]; respiratory conditions such as asthma, bronchitis, congestion, colds, and sinus infections [source]; as well as ear infections, among many other issues.
Unlike regular old table salt, Himalayan salt—the same kind you can cook with, and that salt slabs for serving food are made from—is rich in healing minerals. This salt releases negative ions that bond to uncharged molecules and rid the air of them. These ions are also released by moving bodies of water, like lakes and rivers, and are said to boost mood.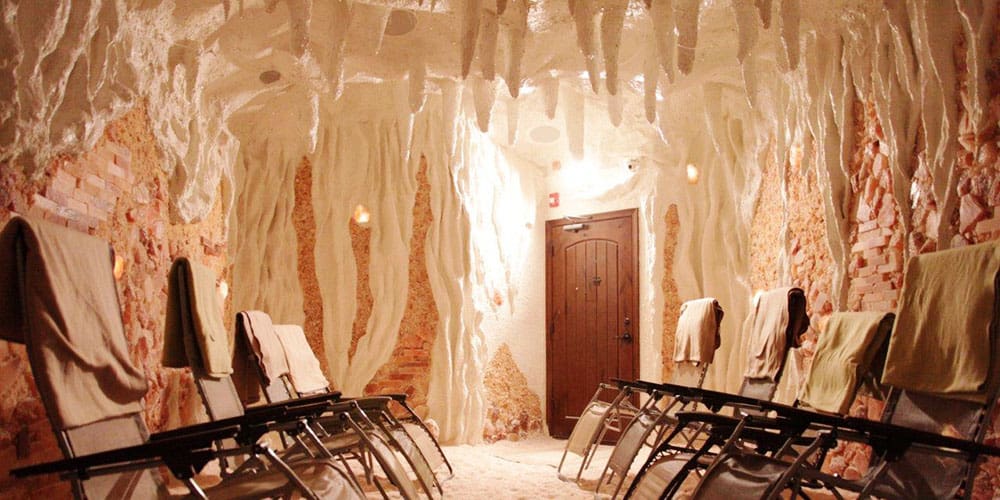 I hadn't heard of it until a friend talked me into trying a therapeutic salt cave (this one, to be exact) with her. In olden times, people would go into salt mines to get the benefits of halotherapy, and these caves (sometimes actual caves, sometimes just a room) emulate that experience.
I was struggling with constant fluid buildup in my ears that was driving me nuts and got worse every single time I flew, so I happily accepted one of her guest passes and thought, "This will probably be weird. But I'll try it."
And it was a little weird. We were shown into a dark, 85°F basement room that has walls made out of beautiful pink salt, where we relaxed in recliners for about 45 minutes while ocean noises played, and pharmaceutical-grade aerosolized salt was piped in through a vent. The salt totally worked, too—it was almost like spending a day at the beach.
I left with a runny nose and covered in white salt crystals, but my ears felt much clearer, I could breathe more easily, my hair had beachy waves, and my skin was perfectly moisturized and super soft for days. Even the tiny bit of eczema I tend to get on my hands in the winter had completely disappeared. Perhaps best of all, I slept like a baby that night.
All About Himalayan Salt Lamps
Himalayan salt lamps have become a popular addition to many households due to their alleged healing benefits. Salt lamps made from a chunk of Himalayan salt, and when lit with a light bulb, it emits a soft pinkish-orange glow that is said to have many health benefits. Himalayan salt lamps are believed to release negative ions into the air, which can help to neutralize the positive ions that are produced by electronic devices.
The health benefits of Himalayan salt lamps are numerous. For example, the negative ions released by salt lamps are said to have a calming effect on the body, which can help to reduce stress and anxiety. Salt lamps are also believed to be effective in improving the air quality in a room. When the salt crystal in the lamp is heated, it releases negative ions that attach to positively charged particles in the air, such as dust and pollen, causing them to become too heavy to stay airborne and ultimately fall to the ground. Additionally, Himalayan salt lamps work as natural dehumidifiers by absorbing moisture from the air.
The healing benefits of Himalayan salt lamps extend beyond just air purification. Many people claim that Himalayan salt lamps have helped to alleviate symptoms of asthma and allergies. Some also believe that salt lamps can improve sleep quality and increase energy levels. While there is no scientific evidence to support the health benefits of salt lamps, many people find them to be a soothing and relaxing addition to their homes. Whether you believe in the power of negative ions or simply enjoy the soft glow of a salt lamp, there is no denying the popularity of this unique and interesting decorative item.
How to Buy Salt Lamps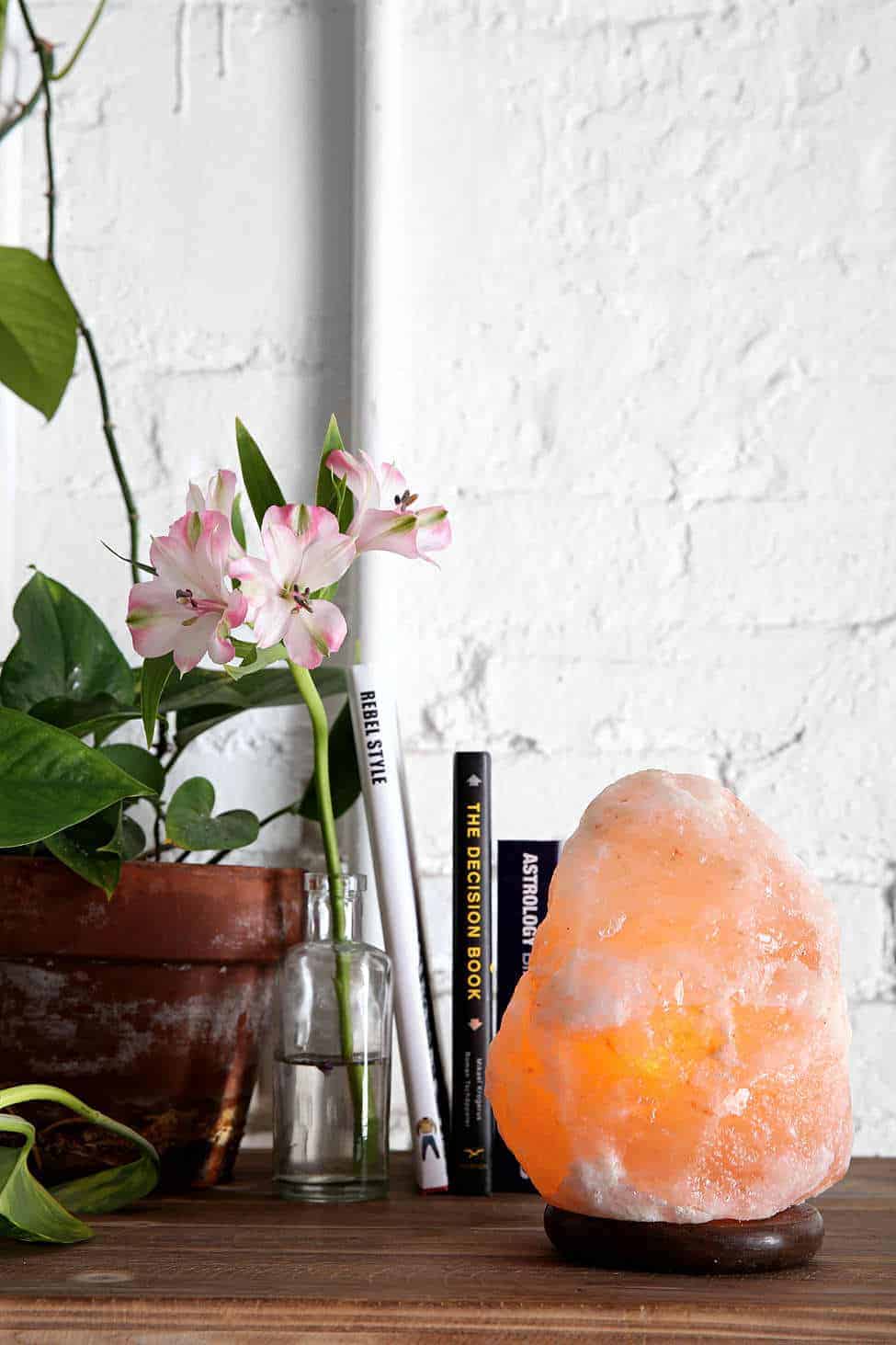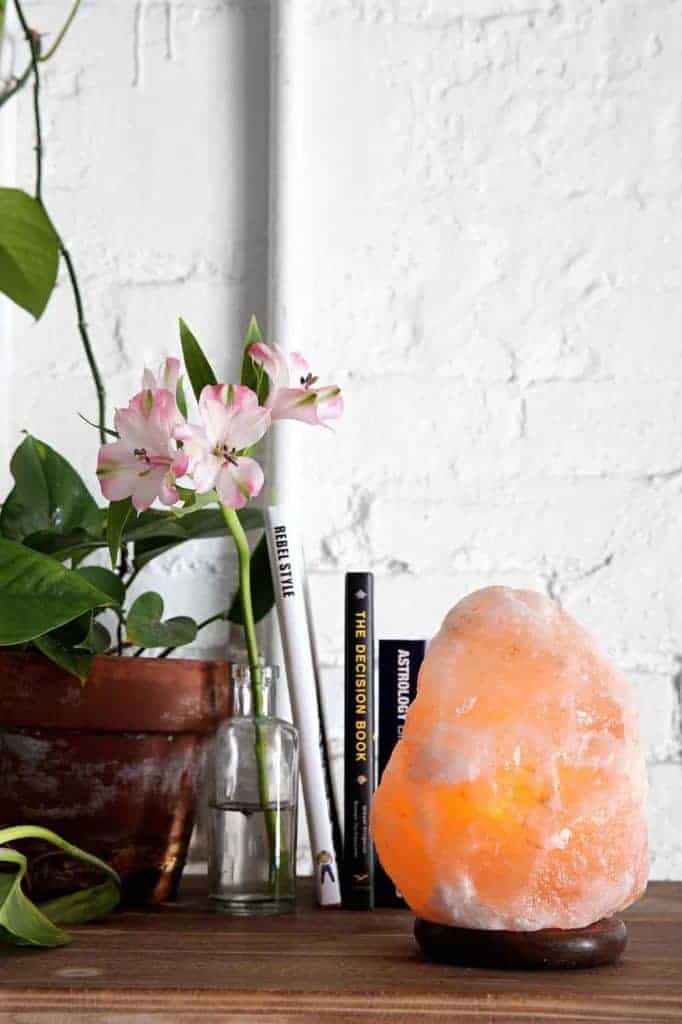 The benefits of salt therapy are cumulative—especially if the conditions you're trying to treat are chronic—which is why it's recommended that you seek it out regularly. However, not everyone has a salt cave nearby, nor do most people have the time or money to go to one regularly, which is where Himalayan salt lamps can come in handy.
Himalayan salt lamps work on a much smaller scale, but they have many of the same benefits. They work like a regular lamp, but the lightbulb heats the salt to release it into the air.
Here's what you need to know to get started with salt lamps:
1. Make sure it's Himalayan pink salt.
There are many imitation Himalayan salt lamps out there. Make sure you're getting the actual benefits by purchasing one guaranteed to be made from pure Himalayan salt.
2. Decide what shape you want.
You can buy a lamp that features an organic, natural shape, or sleek geometric shapes (like spheres, blocks, cylinders, or pyramids) to fit just about any decor style. You can also buy candle holders if you want to go the non-electric route.
3. Be prepared to dust. A lot.
The negative ions released by the lamp attach themselves to dust, pollen, and dirt particles, which not only cleanses the air—it causes the particles to become heavier and drop onto your surfaces. So you'll probably find you need to dust more often when you have salt lamps in the house.
4. Pick the right surface.
Salt lamps can sit on just about any surface, but be aware that a little sweat can sometimes collect on them as the negative ions attract moisture in the air, especially if you live in a humid climate.
This could leave a salt ring on your table or dresser, so you may want to place it on a surface where you won't be heartbroken if there's a ring, place the lamp on a piece of wood or plate, or buy one with a wooden stand (many of them have this).
5. Pick the right location.
Any room can benefit from the purifying effects of a salt lamp, but they can be especially helpful in rooms where there is a lot going on or where you like to relax, like a living room, office, or bedroom.
Beyond the benefits of the actual salt, there's definitely something soothing about that pink-orange glow, especially in the colder months (especially in a place like Minnesota, where I live, and the winter struggle is all too real), which makes it a great addition to a reading nook or bedroom.
Make sure you are placing it in a room where you actually spend a lot of time, so you reap the benefits.
6. Buy the right size.
Himalayan salt lamps are available in many sizes depending on the room you'll place it in. If you want to purify a large room, make sure to get a larger lamp, or put a smaller lamp next to a chair or someplace else where you'll usually be hanging out.
7. Replace the bulbs when needed.
The salt should last for a very long time, but you may need to replace the bulb occasionally, just like a regular lamp.
Have you tried halotherapy before? What did you think?
FAQs about Himalayn Salt Lamps
What are Himalayan salt lamps?
Himalayan salt lamps are decorative lamps made from natural pink salt crystals that are found in the Himalayan region. These lamps are carved out of large salt crystals and have a bulb or candle inside them to emit a soft glow.
How do Himalayan salt lamps work?
Himalayan salt lamps work by emitting negative ions into the air when heated. These negative ions neutralize positive ions, which can be harmful to our health. The negative ions produced by the salt lamp can help improve air quality, reduce allergies, and alleviate asthma symptoms.
What are the health benefits of Himalayan salt lamps?
Himalayan salt lamps have numerous health benefits, including reducing stress and anxiety, improving sleep quality, and boosting mood. They are also believed to alleviate respiratory problems such as allergies and asthma, and reduce electromagnetic radiation.
A Himalayan salt lamp has many purported health benefits. One of the main claims is that they can improve air quality by releasing negative ions into the surrounding air. These negative ions are said to bind with positive ions in the air, neutralizing them and purifying the air. It's important to note that there is limited scientific evidence to support these claims, but many people still believe in the benefits of salt lamps.
Another potential health benefit of a salt lamp is its ability to help relieve allergy and asthma symptoms. The theory behind this claim is that salt lamps can attract water molecules from the air, which carry allergens like dust and pollen. When the water molecules are absorbed by the salt, they evaporate, leaving the allergens trapped in the salt. This means that fewer allergens are present in the air, potentially leading to a reduction in allergy and asthma symptoms. Again, it's important to note that scientific evidence to support this claim is limited, but some people have reported experiencing relief after using salt lamps.
Do Himalayan salt lamps need special light bulbs?
No, Himalayan salt lamps do not need special light bulbs. They can be used with regular incandescent or LED bulbs.
How do you clean Himalayan salt lamps?
To clean a Himalayan salt lamp, simply wipe it with a damp cloth. Do not use any cleaning products or chemicals, as this can damage the salt crystal. It's also important to keep the lamp away from moisture, as salt is hygroscopic and can absorb water.
How to choose a Himalayan salt lamp?
If you're looking to add a Himalayan salt lamp to your home or workspace, there are a few things to consider. First and foremost, make sure you're purchasing a genuine Himalayan salt lamp. These lamps are made from large salt crystals mined from the Himalayan region and should be labeled as such. Be wary of cheap imitations made from other types of salt or synthetic materials.
Next, consider the size of the lamp. Himalayan salt lamps come in a range of sizes, from small desktop models to large floor lamps. The size you choose will depend on the area you want to light and the amount of negative ions you want the lamp to emit. Additionally, pay attention to the color of the lamp. While most Himalayan salt lamps emit a warm, pinkish glow, some can have a deeper orange or even red hue. Ultimately, the right Himalayan salt lamp for you will depend on your personal preferences and the space you want to use it in. With a little research and careful consideration, you can find the perfect Himalayan salt lamp to add a warm, calming glow to your home.
This article was medically reviewed by Dr. Gina Jansheski, a licensed, board-certified physician who has been practicing for more than 20 years. Learn more about Hello Glow's medical reviewers here. As always, this is not personal medical advice and we recommend that you talk with your doctor.
936