Have you heard of salt therapy before? Also known as halotherapy, it's an ancient practice that involves cleansing and purifying the air, and our bodies, using large chunks of pink Himalayan salt placed in a space.
It's been shown to ease anxiety and insomnia; skin conditions like psoriasis and eczema [source]; respiratory conditions such as asthma, bronchitis, congestion, colds, and sinus infections [source]; as well as ear infections, among many other issues.
Unlike regular old table salt, Himalayan salt—the same kind you can cook with, and that salt slabs for serving food are made from—is rich in healing minerals. This salt releases negative ions that bond to uncharged molecules and rid the air of them. These ions are also released by moving bodies of water, like lakes and rivers, and are said to boost mood.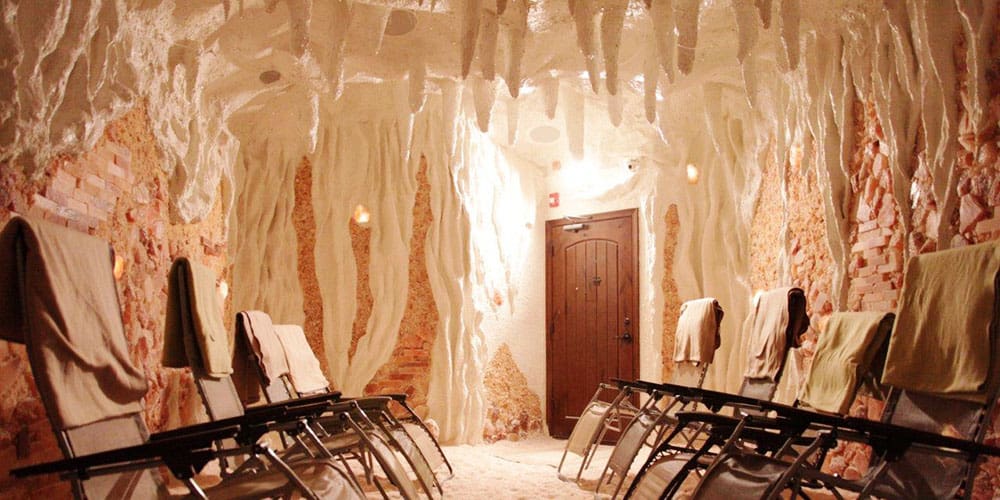 I hadn't heard of it until a friend talked me into trying a therapeutic salt cave (this one, to be exact) with her. In olden times, people would go into salt mines to get the benefits of halotherapy, and these caves (sometimes actual caves, sometimes just a room) emulate that experience.
I was struggling with constant fluid buildup in my ears that was driving me nuts and got worse every single time I flew, so I happily accepted one of her guest passes and thought, "This will probably be weird. But I'll try it."
And it was a little weird. We were shown into a dark, 85°F basement room that has walls made out of beautiful pink salt, where we relaxed in recliners for about 45 minutes while ocean noises played, and pharmaceutical-grade aerosolized salt was piped in through a vent. The salt totally worked, too—it was almost like spending a day at the beach.
I left with a runny nose and covered in white salt crystals, but my ears felt much clearer, I could breathe more easily, my hair had beachy waves, and my skin was perfectly moisturized and super soft for days. Even the tiny bit of eczema I tend to get on my hands in the winter had completely disappeared. Perhaps best of all, I slept like a baby that night.
How to Buy a Salt Lamp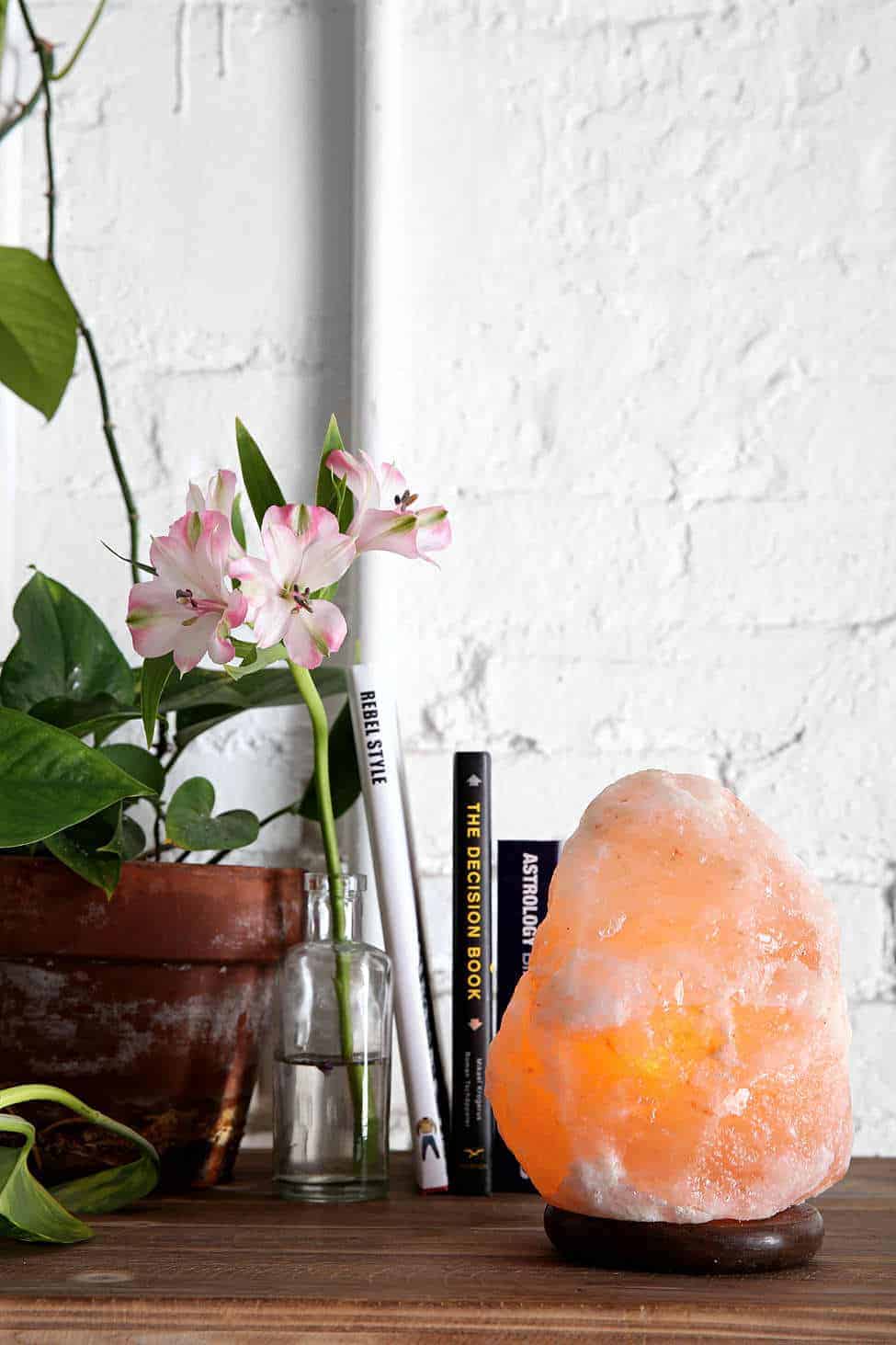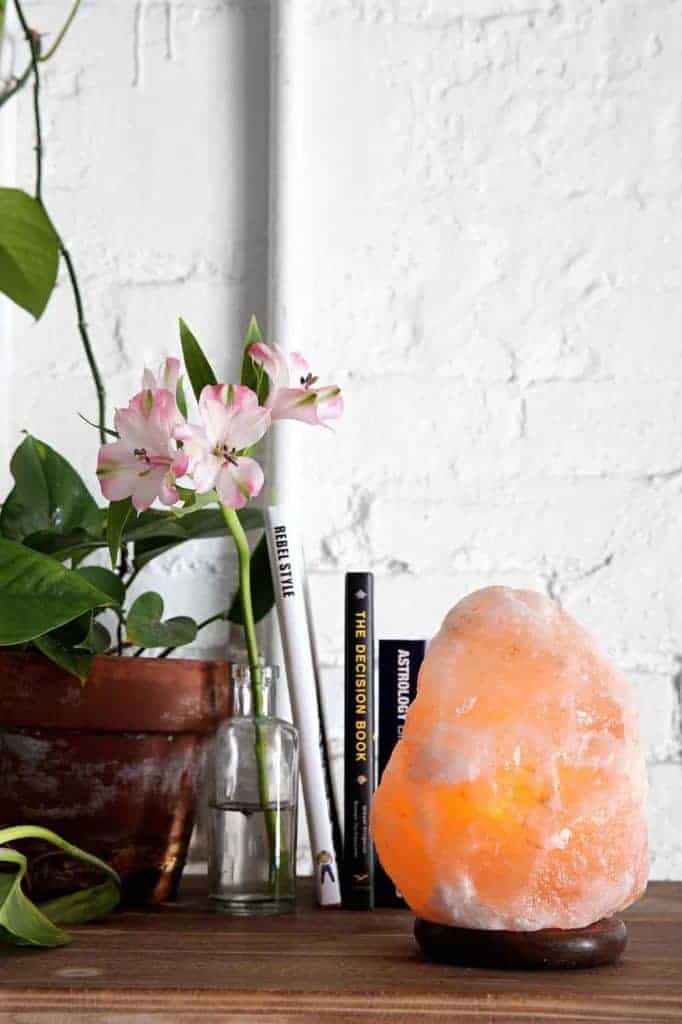 The benefits of salt therapy are cumulative—especially if the conditions you're trying to treat are chronic—which is why it's recommended that you seek it out regularly. However, not everyone has a salt cave nearby, nor do most people have the time or money to go to one regularly, which is where a Himalayan pink salt lamp can come in handy.
Salt lamps work on a much smaller scale, but they have many of the same benefits. They work like a regular lamp, but the lightbulb heats the salt to release it into the air.
Here's what you need to know to get started with a salt lamp:
1. Make sure it's Himalayan pink salt.
There are many imitation salt lamps out there. Make sure you're getting the actual benefits by purchasing one guaranteed to be made from pure Himalayan salt.
2. Decide what shape you want.
You can buy a lamp that features an organic, natural shape, or sleek geometric shapes (like spheres, blocks, cylinders, or pyramids) to fit just about any decor style. You can also buy candle holders if you want to go the non-electric route.
3. Be prepared to dust. A lot.
The negative ions released by the lamp attach themselves to dust, pollen, and dirt particles, which not only cleanses the air—it causes the particles to become heavier and drop onto your surfaces. So you'll probably find you need to dust more often.
4. Pick the right surface.
A salt lamp can sit on just about any surface, but be aware that a little sweat can sometimes collect on them as the negative ions attract moisture in the air, especially if you live in a humid climate.
This could leave a salt ring on your table or dresser, so you may want to place it on a surface where you won't be heartbroken if there's a ring, place the lamp on a piece of wood or plate, or buy one with a wooden stand (many of them have this).
5. Pick the right location.
Any room can benefit from the purifying effects of a salt lamp, but they can be especially helpful in rooms where there is a lot going on or where you like to relax, like a living room, office, or bedroom.
Beyond the benefits of the actual salt, there's definitely something soothing about that pink-orange glow, especially in the colder months (especially in a place like Minnesota, where I live, and the winter struggle is all too real), which makes it a great addition to a reading nook or bedroom.
Make sure you are placing it in a room where you actually spend a lot of time, so you reap the benefits.
6. Buy the right size.
Lamps are available in many sizes depending on the room you'll place it in. If you want to purify a large room, make sure to get a larger lamp, or put a smaller lamp next to a chair or someplace else where you'll usually be hanging out.
7. Replace the bulbs when needed.
The salt should last for a very long time, but you may need to replace the bulb occasionally, just like a regular lamp.
Have you tried halotherapy before? What did you think?
This article was medically reviewed by Dr. Gina Jansheski, a licensed, board-certified physician who has been practicing for more than 20 years. Learn more about Hello Glow's medical reviewers here. As always, this is not personal medical advice and we recommend that you talk with your doctor.
925