No matter how hard we try, sometimes it seems like stress is just part of this modern, tech-filled age. I was shocked a few years ago when my doctor looked at my blood work and told me I was stressed. She didn't even pose it as a question, more like a statement of fact. And it struck me as odd because I didn't feel stressed (I felt great!!! with exclamation points and all), but behind the scenes my body was stressed just the same.
It's not always enough to relax, workout, be mindful and meditate. Sometimes your body needs a little extra help when it comes to shutting off the stress response and adapting to hectic situations–and herbs are great doing just that. This herbal tincture uses things like lemon balm, valerian and CBD oil to help you release tension and better manage stress. Use it to release stress in the moment or as a daily supplement to help support the body and improve your body's stress response over time.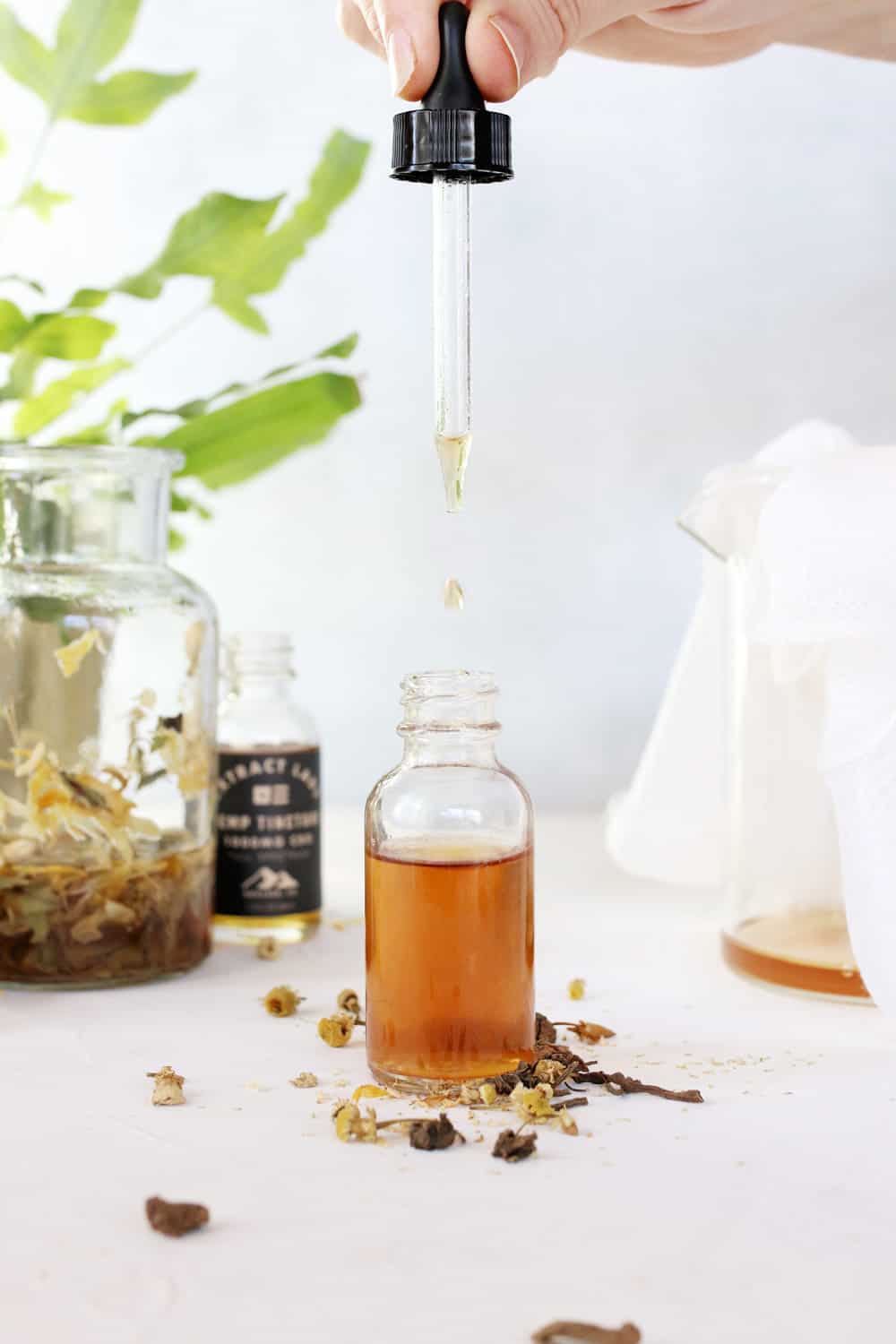 Relaxing Herbal Tincture
The nervous system is said to be the major communication pathway in the human body. Because it plays such a major role in bodily processes, it's thought that almost every health disorder originates with the nervous system. And if you take it a step further, that means most diseases may have a stress component as well.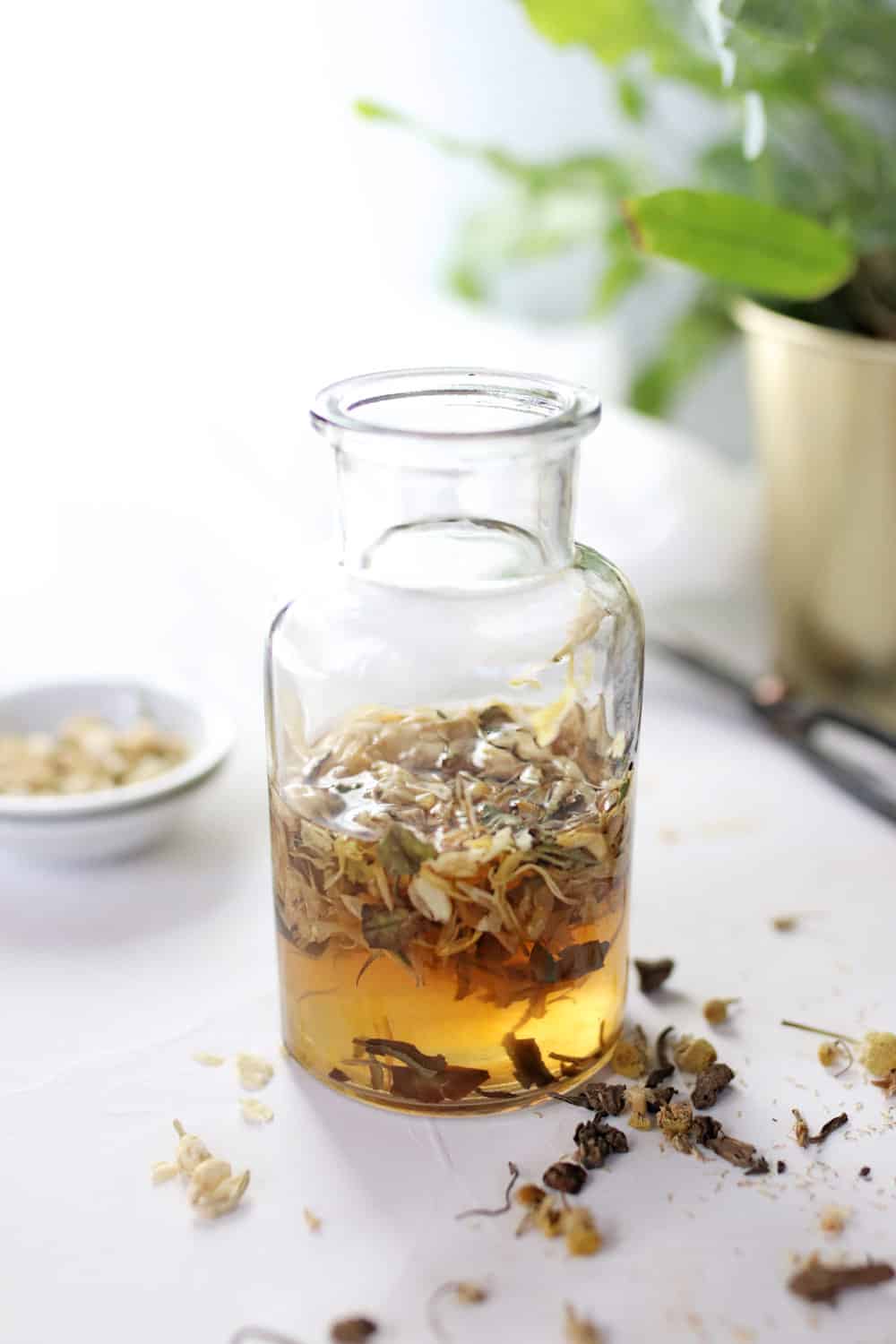 Herbal remedies have been used for stress and anxiety for centuries, but scientific research is finally catching up to what folklore has said all along: herbs work. And there are a number of herbs said to help relieve stress and anxiety. Some work gently, like lavender and chamomile, while others have more potent sedative effects, like valerian and kava.
This stress tincture uses powerful nervines (herbs that help strengthen and support the nervous system) to buffer and lessen the effects of stress, both in the moment and cumulatively over time.
Chamomile
Chamomile is one of my favorite calming herbs because of its subtle taste (at least as far as herbs go!) which makes it great for teas and tinctures. It's also wonderful at soothing aches and ailments, whether stress related or not. Chamomile is a naturally calming herb that relaxes nerves and reduces pain. It has been known to settle the stomach and reduce gas as well as help injuries heal more quickly.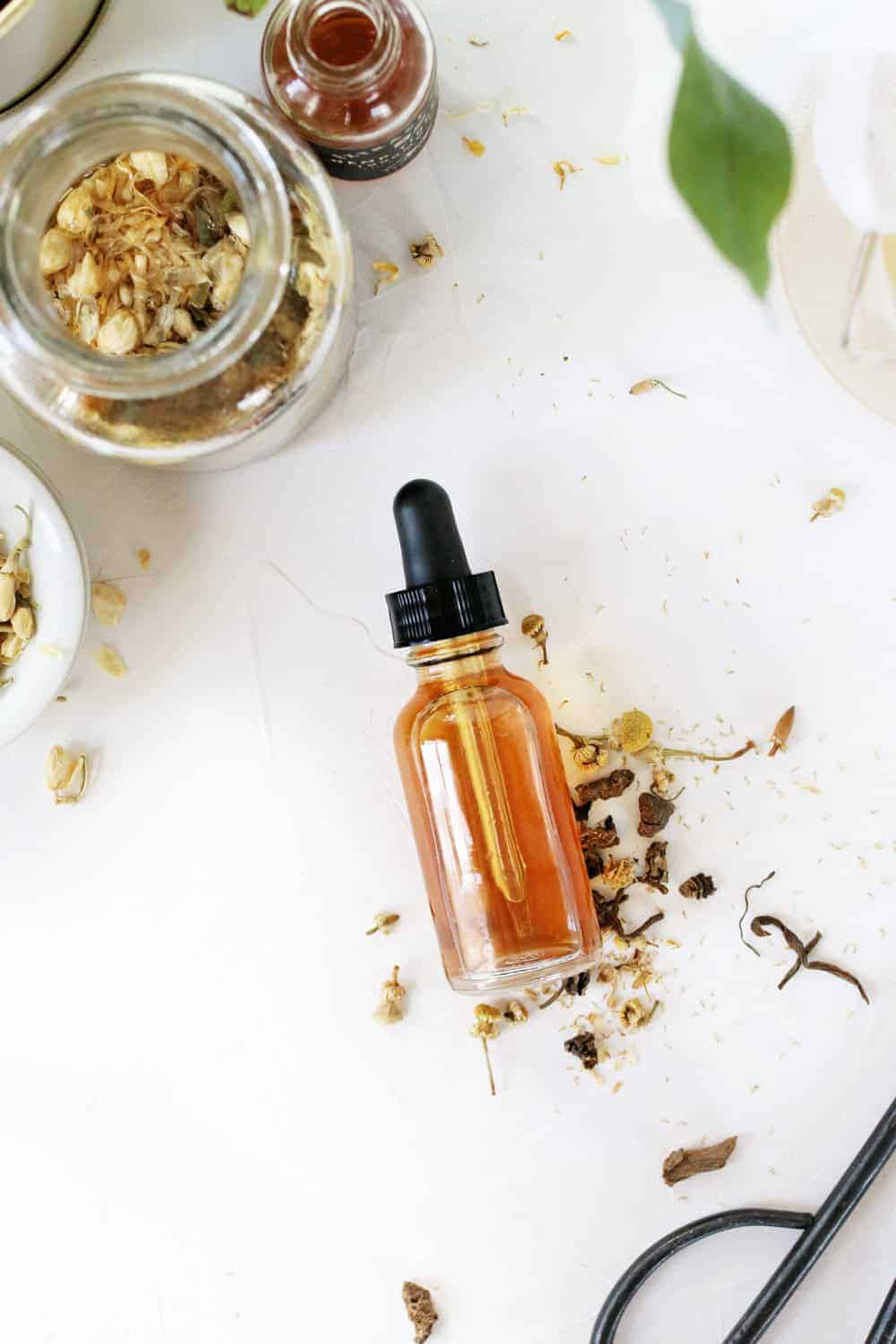 Lemon balm
Used as a medicinal herb for hundreds of years, lemon balm helps relieve anxiety, promote sleep and sooth agitation. Higher doses of lemon balm extract have been shown to relieve pain.
Valerian
A flowering herb native to Europe and parts of Asia, valerian is most commonly used for sleep disorders. It's also used for anxiety and psychological stress because it seems to act like a sedative on the brain and nervous system.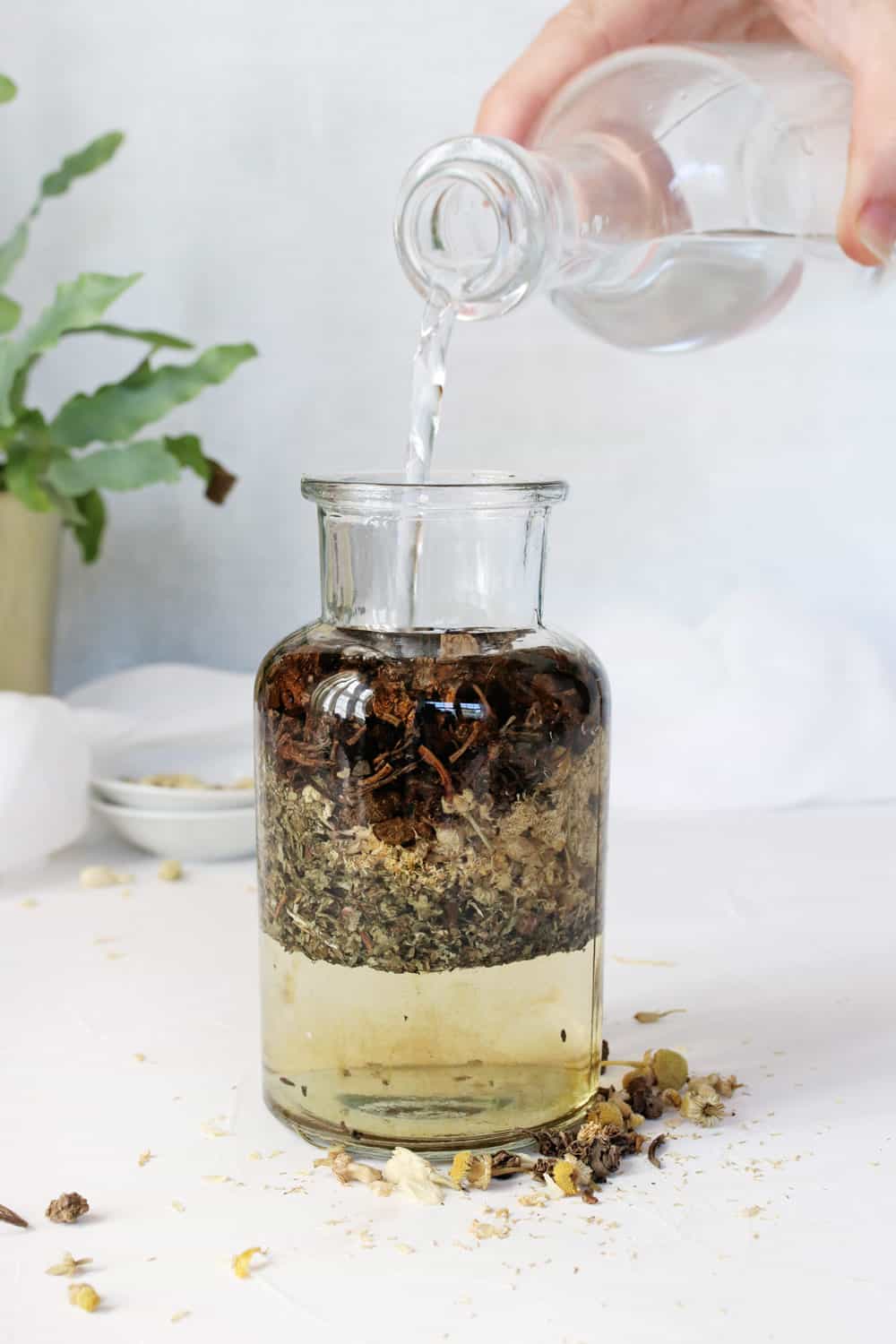 CBD
Cannabidiol, or CBD for short, is an extract made from hemp plants. The exact way CBD affects stress isn't fully understood, however, it's thought to alter serotonin signals in the brain, which in turn decrease anxiety and depression. The National Institute on Drug Abuse says that CBD has been shown to reduce stress and improve physiological symptoms of anxiety (like increased heart rate) in animal studies.
I chose each of these herbs based on their history of use, the research supporting their benefits, and my personal experience. But you're not limited to just these. When it comes to herbs, you should do you own research and choose ones that work best with your body and health conditions.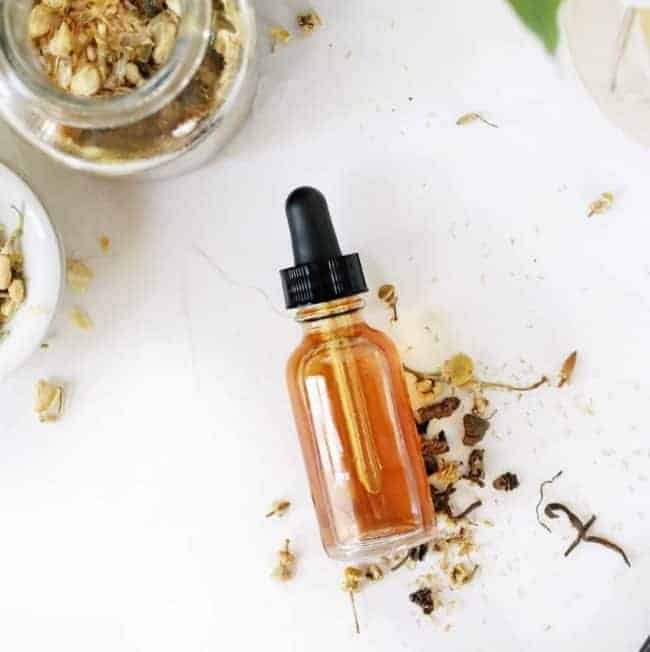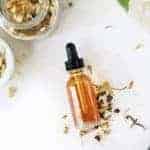 Print
Relaxation Tincture
A blend of calming herbs and CBD oil makes this tincture the perfect remedy for stressful days.
Equipment
One 8-ounce glass jar with lid

Two 2-ounce glass dropper bottles
Materials
1/3

cup

chamomile flowers

dried

1/3

cup

lemon balm

dried

1/3

cup

valerian root

approximately 1 to 1 1/2 cups vodka or rum

cheesecloth

1

teaspoon

CBD oil

Rather than using specific amounts

I typically use ratios of herbs so I can make as little or as much as I like. The measurements above are just approximations. If using the ratio method, fill your jar halfway with a 1:1:1 ratio of chamomile, lemon balm and valerian. Cover the rest of the way with alcohol.
Instructions
Put dried chamomile flowers, lemon balm and valerian root in clean glass jar

Fill the rest of the jar with vodka or rum (do not use rubbing alcohol or non-consumable alcohol!) and put the lid on.

Store in a cool, dark cabinet for 4 - 6 weeks, shaking every couple of days. 

After 4-6 weeks, pour the tincture through cheesecloth or strainer. Transfer the tincture to a dropper bottle and add your CBD oil.
Notes
It's best to stop the steeping process somewhere between 4-6 weeks in order to prevent the herbs from releasing a sour, bitter flavor.
To use, shake well and place a dropperful under the tongue whenever you're feeling stressed.
Your tincture should last about a year if stored in a cool, dry place.
84