It's super common to wake up and head straight for the coffee maker. Drinking coffee in the morning is as much about the ritual as it is about the enjoyable taste and smell of a cup of Joe.
While there is nothing wrong with having your beloved coffee in the morning, I challenge you to drink a mug of warm lemon water first.
When you wake up in the morning, you're at least mildly dehydrated as you probably haven't had any water in over 8 hours. Giving your thirsty cells something to drink first thing will perk you right up! While plain water is perfectly fine to start your day with, I recommend an upgrade: warm water with fresh lemon juice.

Our favorite lemon water hack
The last thing I want to do first thing in the morning is to make a big mess cutting and squeezing lemons. And what to do with the leftover half? Yes, you can drag out a container and save it for the next day, but that takes work. I'm lazy, especially before my morning coffee, and just thinking about all of those steps makes it not seem worth the effort.
Here's the trick that has actually made warm lemon water doable for me, an average human with small children: lemon juice ice cubes!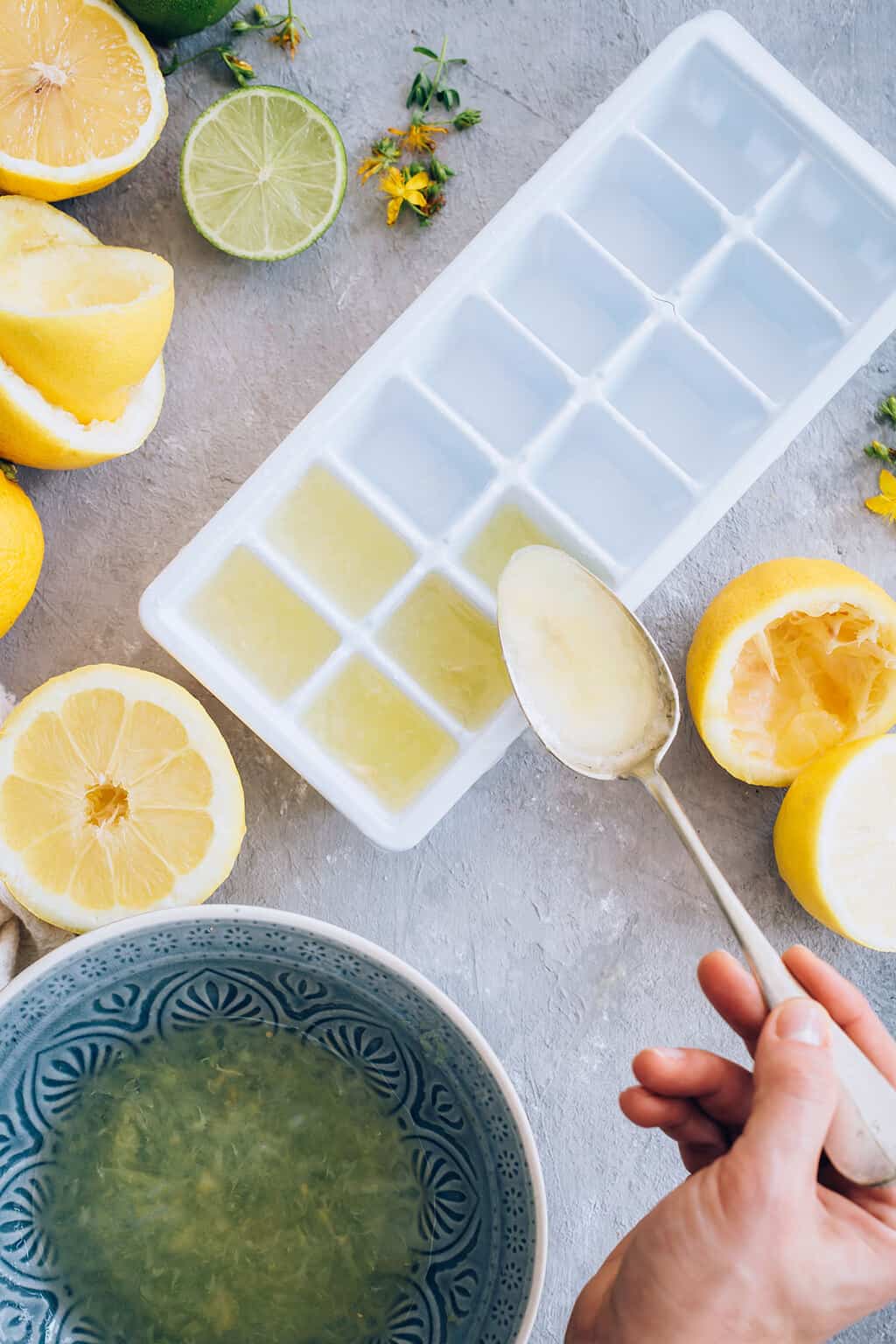 It saves so much time and effort in the long run if I squeeze several lemons at once and freeze the lemon juice into ice cubes. After they're frozen, pop the cubes out of the tray and store them in a plastic storage bag in the freezer.
In the morning, grab a cube, and fill your cup the rest of the way with warm water. The cube melts in a flash, leaving you with warm and comforting lemon water that's sippable right away—with very little effort and without the mess.
I often see that when my clients opt for a mug of warm lemon water instead of the coffee first thing, they not only feel more energized and alert (thanks to the lemon's citric acid), but also they find they don't want or need as much coffee as they did before. Intrigued? Here are 4 more reasons to give it a shot!
4 Benefits of Warm Lemon Water
1. Supports hydration & digestion
We want to gently wake up the digestive system by hydrating and softening the tissues. Coffee is a diuretic, so it can be dehydrating. You're already a little on the dehydrated side first thing in the morning, so we don't want to push our bodies further into that side of the water balance.
Why warm water instead of cold? Think of a dry piece of leather—if you soak it in warm water, it will soften; cold water would just wick off. Additionally, warm water is easier to assimilate because your body doesn't have to work to heat it up to body temperature. Lemon juice supports bile and enzyme production, both of which are key for optimal digestion.
2. Supports elimination
Lemon has a phytonutrient called d-limonene that supports liver detoxification enzymes [source] and also stimulates peristalsis [source], which is the wave-like muscle contractions in your colon, helping to move the waste out of your body in the morning by moving your bowels. The rind of lemon contains high amounts of this, so feel free to break out the microplane and add a little lemon zest to your mug!
3. Boosts your immune system
Lemons contain ample amounts of flavanones and vitamin C, which are potent antioxidants that can help lower inflammation and boost your immune system [source]. Go with warm water, not boiling hot, as high heat can denature the vitamin C [source].
4. Improves your complexion
Dehydration makes the skin look dry, wrinkly, and lackluster. By contrast, when you are properly hydrated, your skin appears firmer, glowier, and more radiant. Adding lemon, a rich source of vitamin C, helps to boost collagen production and improves skin elasticity [source].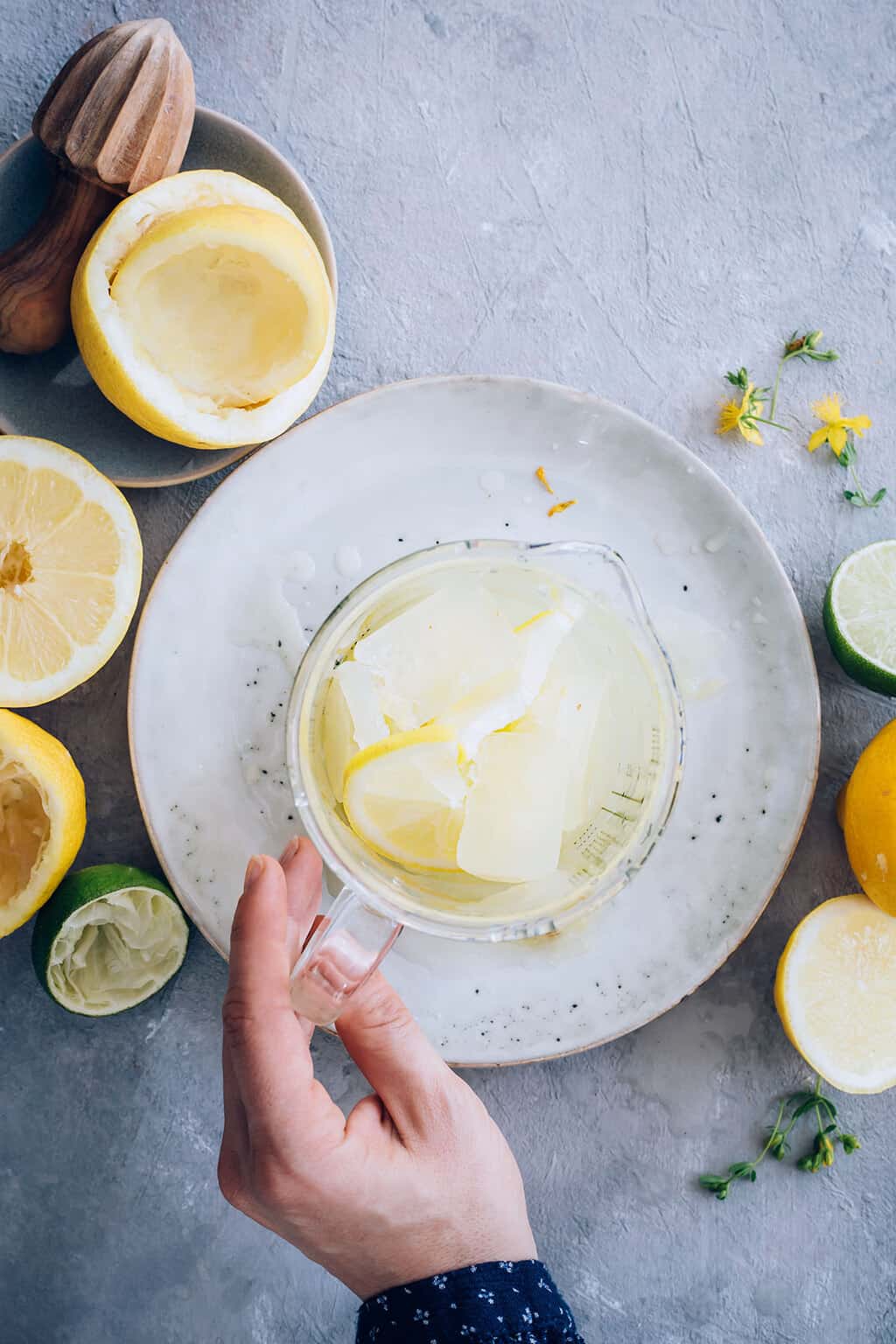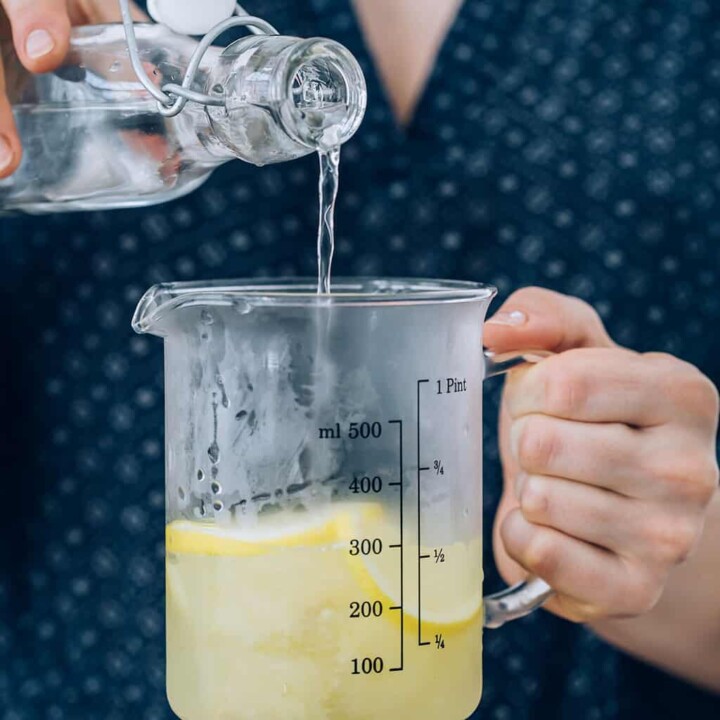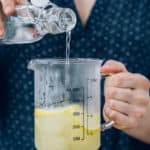 Print
How to Make Warm Lemon Water
Giving your thirsty cells something to drink first thing will perk you right up!
Materials
12

ounces

warm water

½

fresh lemon or 1 lemon juice ice cube
Instructions
Lemon Ice Cubes
Squeeze 6–8 lemons with a lemon squeezer. Pour the juice into ice cube trays and freeze. Transfer cubes to a plastic storage bag or other freezer-proof container, and keep frozen.
Lemon Water
To make morning lemon water, first boil water in a kettle or run warm tap water.

Grab one lemon juice ice cube and add to a mug. (Or squeeze a lemon half into a mug.)

If you're using boiled water, fill the mug a ¼ of the way up with cold water, then top off with hot water from the kettle.

If using tap water, fill your glass with warm water.

Sip straight away.
Notes
If using lemon ice cubes: In the morning, grab a cube and fill your cup the rest of the way with warm water. The cube melts in a flash, leaving you with not-too-hot lemon water that's sippable right away—all without the mess.
This article was medically reviewed by Dr. Gina Jansheski, a licensed, board-certified physician who has been practicing for more than 20 years. Learn more about Hello Glow's medical review board here. As always, this is not personal medical advice and we recommend that you talk with your doctor.
Photos by Ana-Maria Stanciu
101