Ascorbic acid, better known to us as vitamin C, plays a vital role in skin health. While taking vitamin C daily internally is known to be beneficial for boosting immune health, fighting the common cold, and improving the strength of collagen throughout the body, applying it topically will also nourish and protect the skin.
Let's break down why vitamin C belongs in your skincare routine.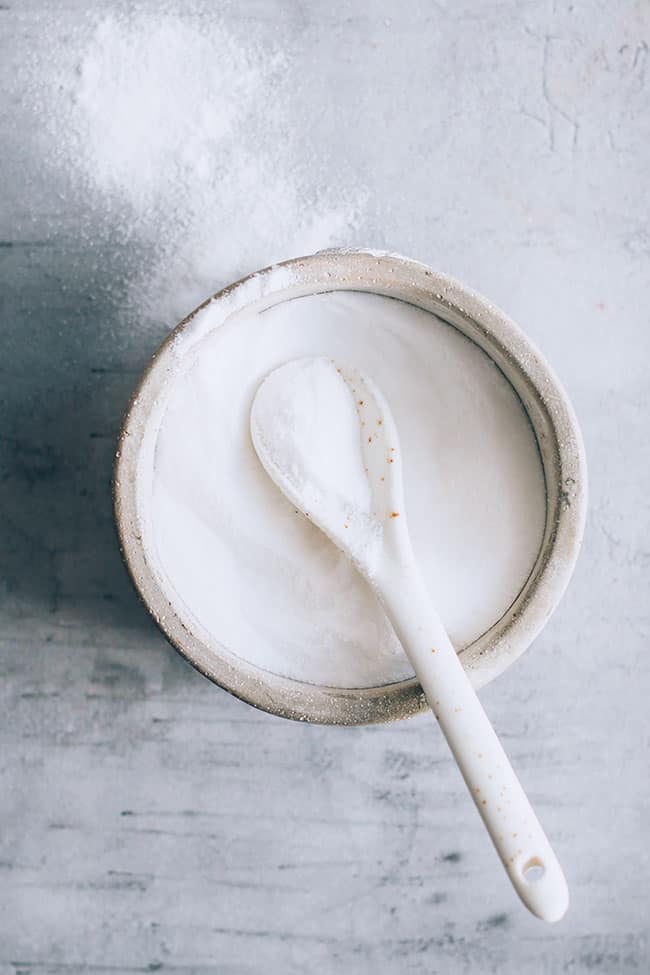 What does vitamin C do?
Vitamin C is an antioxidant that reduces damage from UV rays and pollutants in the air and environment. Vitamin C can also speed up wound healing time, decrease inflammation, and alleviate dry skin, and it's crucial for collagen production.
Humans are unable to manufacture vitamin C and must obtain this water soluble vitamin from our diet. It's naturally found in both our epidermis (outer layer of skin) and dermis (deeper layer of skin).
As we age, the vitamin C levels in our skin decrease, making us more susceptible to skin damage. Furthermore, exposure to UV light, pollution, and cigarette smoke lowers the amount of vitamin C found in our skin.
How can we increase our vitamin C?
Is it possible to just increase our oral intake of vitamin C and get the same effects as topically applied vitamin C? No. Studies have shown that oral consumption alone does not have the same effects as topically applied vitamin C.
Topical vitamin C application results in an increased ability to protect against photo-damaged skin, and a reduction in skin wrinkling. A combination of both internal and external vitamin C is ideal for optimal skin benefits.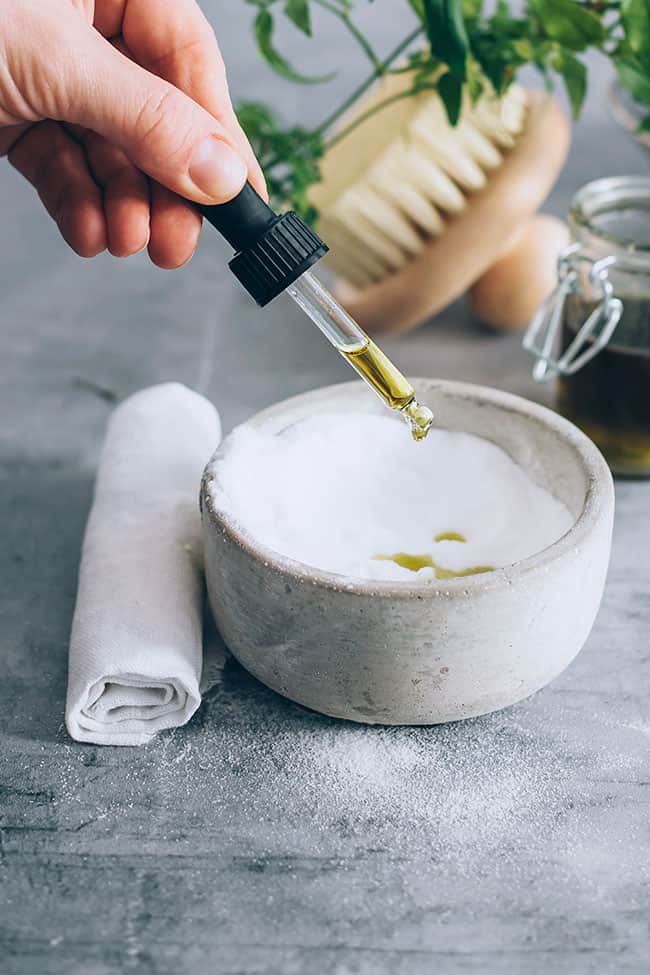 When should we apply vitamin C?
Ideally vitamin C serums or drops should be applied in the morning, beneath sunscreen. Since vitamin C actively fights free radicals, it is important to make sure this step is taken in the morning before we step out into the world of pollutants and radiation. Additionally, this simple Vitamin C Facial Mask that can be done weekly.
Vitamin C Facial Mask
In a small bowl, mix the L-ascorbic acid powder and the oil. It's important for your vitamin C powder to be L-ascorbic because that means it's a stable form of vitamin C. Blend well and then apply with facial brush to face and neck. Leave on for 10-15 minutes and then rinse with warm water. Apply regular moisturizer and sunscreen.
Don't want to DIY?
If you'd like to incorporate Vitamin C into your daily routine but aren't sure where to start. Here are our most loved Vitamin C products.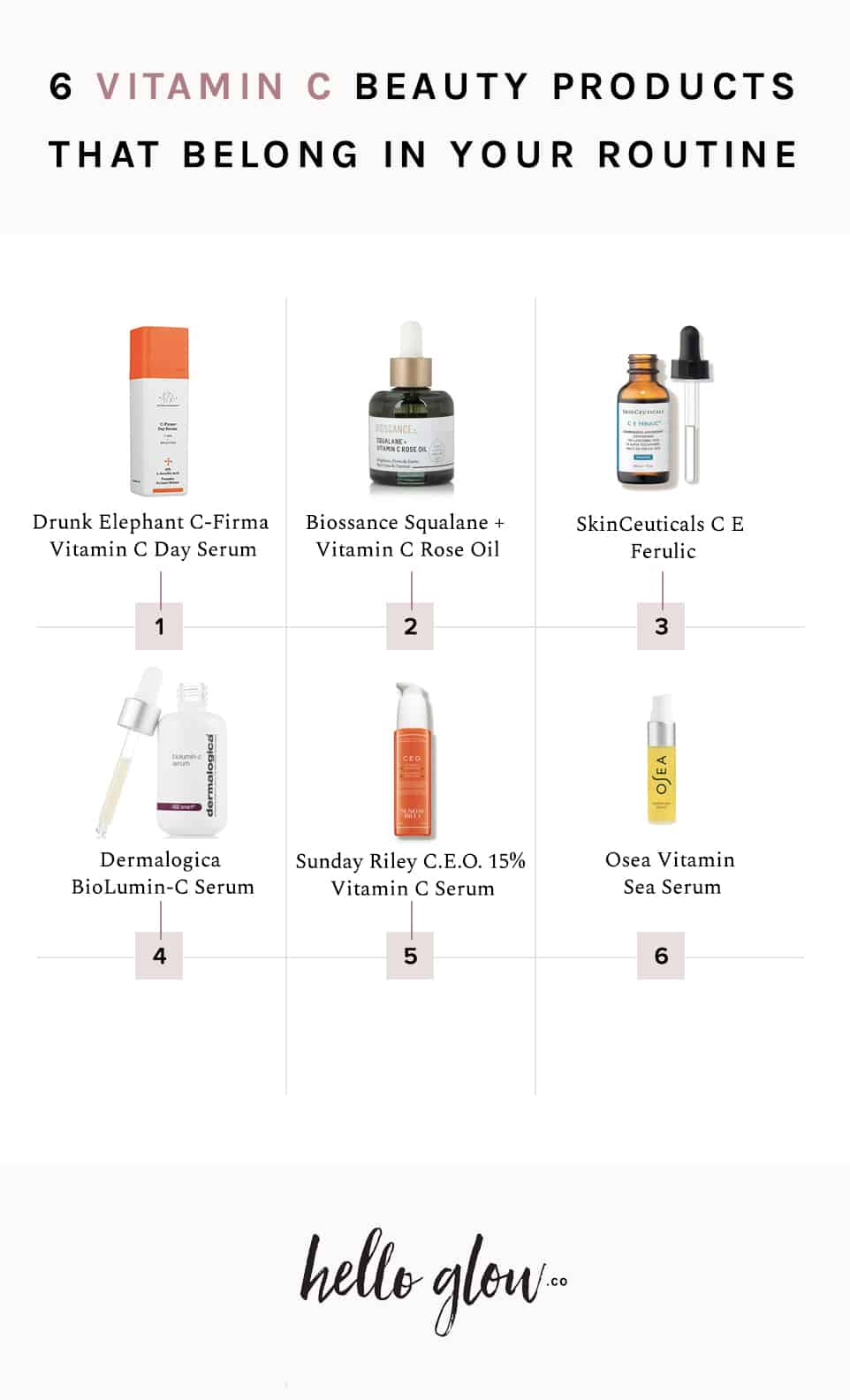 Unlike many serums available, this is extremely lightweight and can be used by normal to oily skin types in addition to dry/combination. The 15% L-Ascorbic Acid plus Ferulic Acid and 1% Vitamin E combines to create a potent serum that minimizes signs of photo aging. This product should be used in the morning beneath your sunscreen.
This lightweight oil is ideal for normal to dry skin types. Sulfate and paraben free, this oil can be used both day and night. The addition of squalane helps lock in moisture while the Chios Crystal Oil addresses firming needs.
Long touted as a holy grail of vitamin C serums, this one packs a potent punch. The combination of E and ferulic acid in addition to the L-ascobic acid addresses free radicals, hydration, and is brightening as well. This serum is very lightweight and is good for all skin types.
A stable vitamin C that is one of Dermalogica's newer products, this serum encourages cell turnover due to the lactic acid and collagen production thanks to the peptides. Ideal for all skin types, this serum is fragrance free and can be used morning and night.
If you prefer more of a lotion to an oil, this is a perfect choice. It is a creamy consistency and should be used daily. It is sulfate, fragrance and paraben free, and can be used on all skin types. Containing glycolic acid, this helps with congested skin that is prone to clogging.
This serum is based in hyaluronic acid and contains Vitamins A, C, and E while being oil free. So if you're nervous about clogging this lightweight serum is easily absorbed. Turmeric helps with radiance and is high in antioxidants.
This post was medically reviewed by Dr. Jennifer Haley, a board-certified dermatologist with extensive experience in medical, cosmetic and surgical dermatology. Learn more about Hello Glow's medical reviewers here. As always, this is not personal medical advice and we recommend that you talk with your doctor.
Photos by Ana Stanciu
88