The beginning of a new year is a chance for a fresh start, a clean slate, and a good time for setting goals or reevaluating them. Oftentimes New Year's resolutions include health-related goals, such as eating more wholesome foods, creating a menu and prepping meals in advance, exercising more, drinking more water, etc.
We've created a delicious, easy and Better For You recipe for Chicken Fajita Meal Prep Bowls. These meal prep bowls are great for a post-work out meal, to take to work for lunch or dinner, or just have on hand for a quick meal whenever needed. When meals are prepped and ready to go, it's easier to stay on track, eat better, and resist the temptation to order takeout.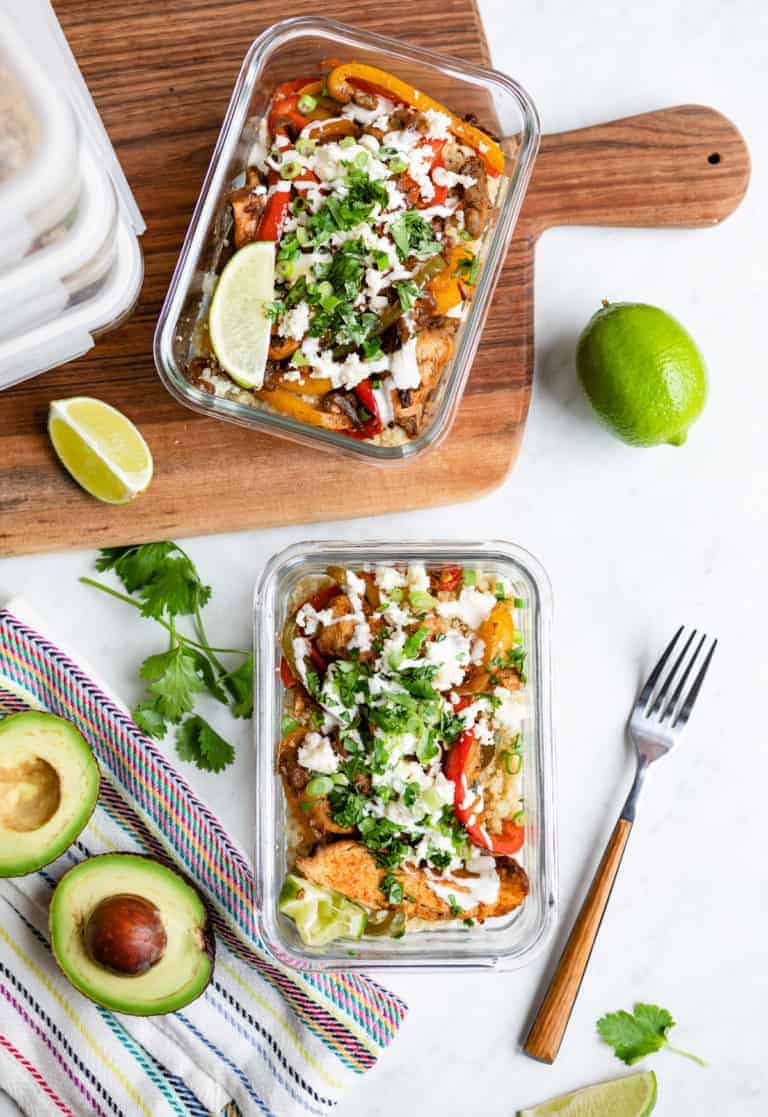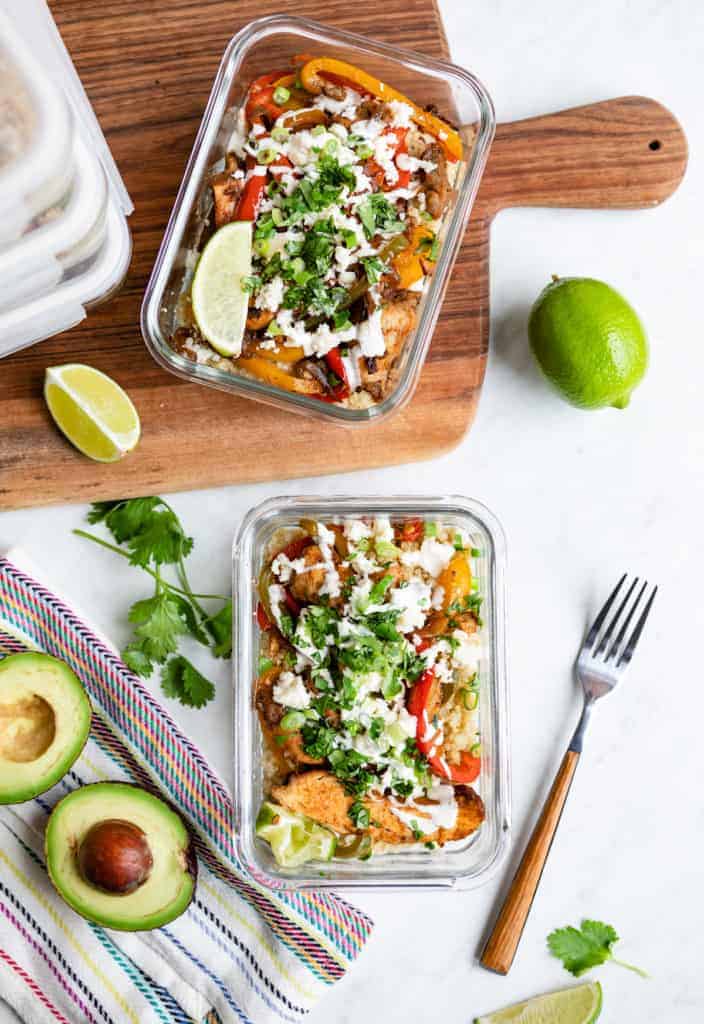 Chicken Fajita Meal Prep Bowls Help Save Time
Fajitas are one of my very favorite meals. It's hard to beat the combo of onion, peppers, and grilled chicken strips served on top of quinoa or brown rice, and sprinkled with my favorite toppings. As far as meal prep bowls go, this is one of the quickest to make and most delicious to eat, IMHO.
This is also a meal that holds up well to being prepped ahead and reheated. And the chicken fajita bowls can be served at any temperature – warm, or chilled like a quinoa salad.
Spending around 30 minutes, once a week, making chicken fajita meal prep bowls means I have a hearty, delicious and wholesome lunch (or dinner) ready to simply reheat and enjoy for a whole week. This recipe could easily be doubled for a significant other or roommate too.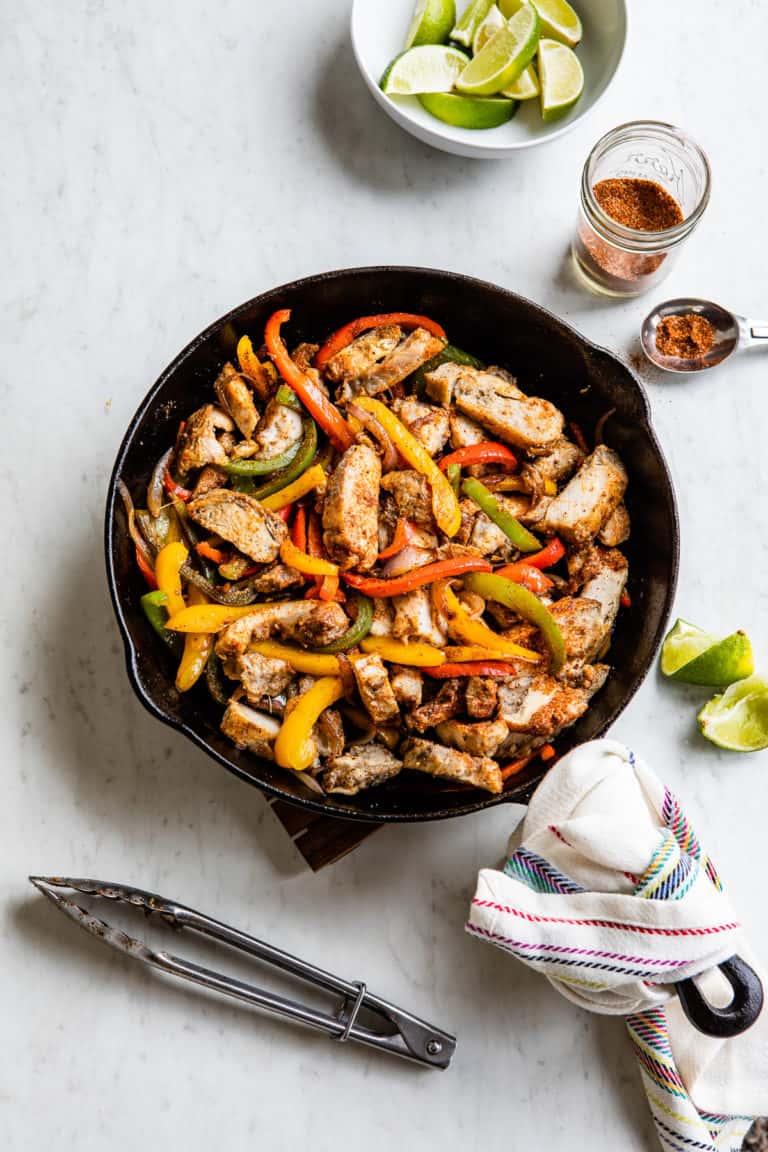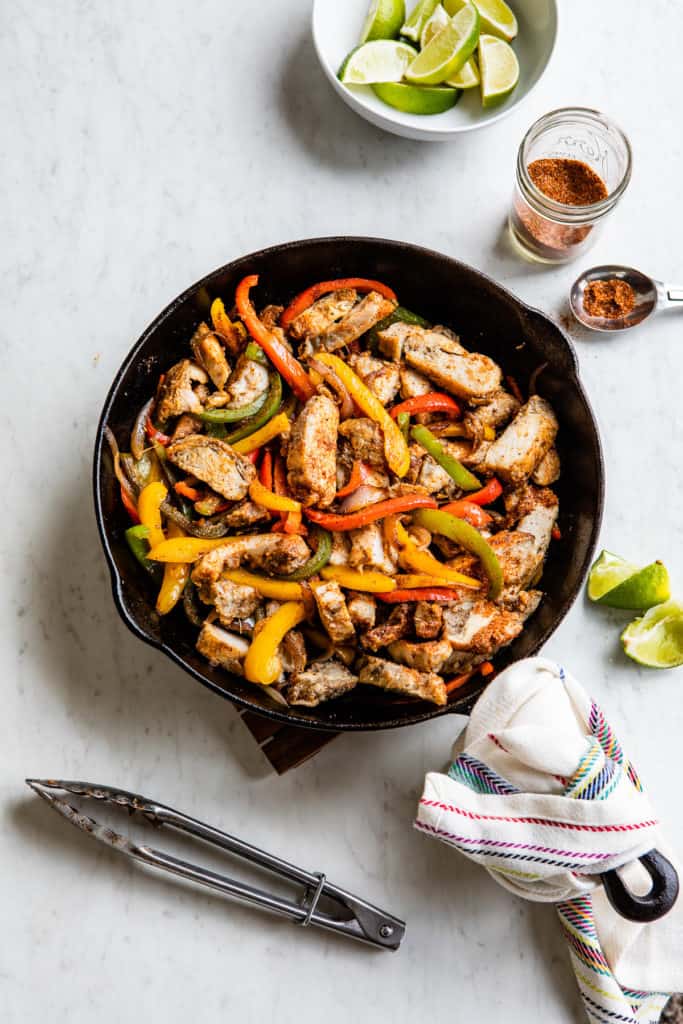 How to cook veggies for fajitas

The key to the best fajita veggies is using a very hot, heavy-duty skillet or even a wok. The goal is to kind of sear the veggies and give them some color and caramelization, without overcooking them.
I like to heat a cast iron skillet over high heat, add the oil, and then add the veggies. I allow them to cook and blacken a bit before I start to sauté or turn them over. If my skillet is hot enough, this only takes about 5 minutes. If you prefer veggies that are more on the tender side, lower the heat after the initial searing and allow them to cook for 3-5 minutes more.
The other important thing is to make sure the veggies aren't crowded or they will steam rather than sear. A 12-inch skillet is usually big enough. For smaller pans, sauté onions first, remove from pan and cook the peppers, then add the onions back to the pan.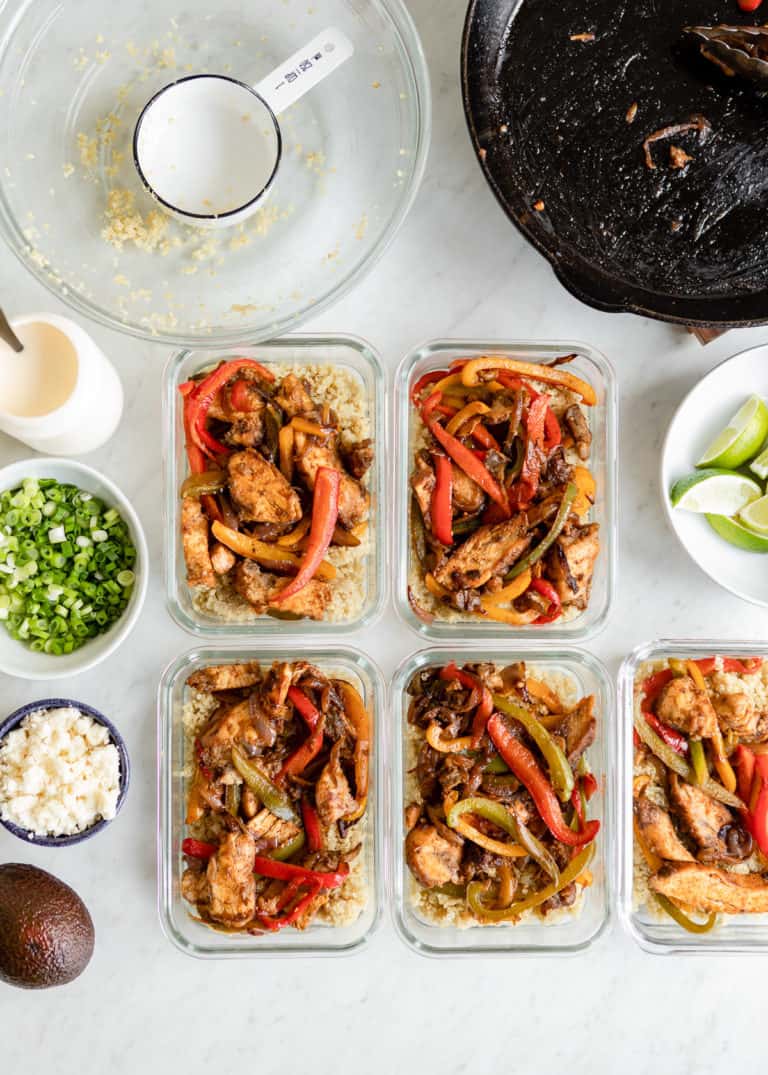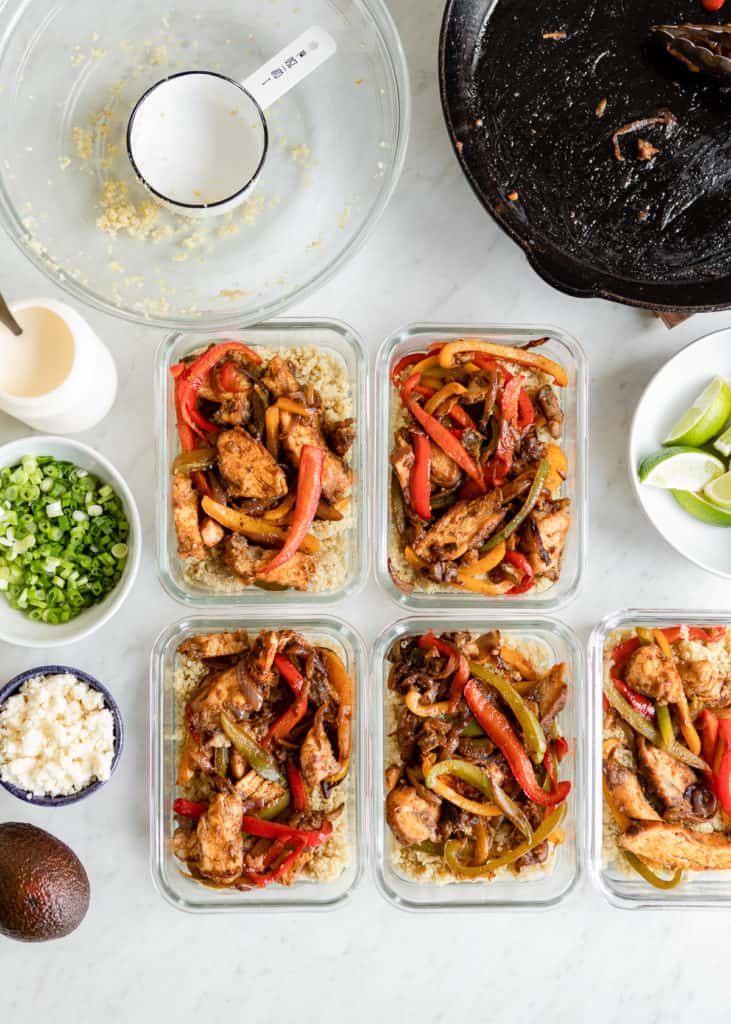 For even more flavor in these chicken fajita meal prep bowls, I cooked the quinoa in chicken broth, but that's totally optional. The veggies and chicken have plenty of flavor to carry the dish.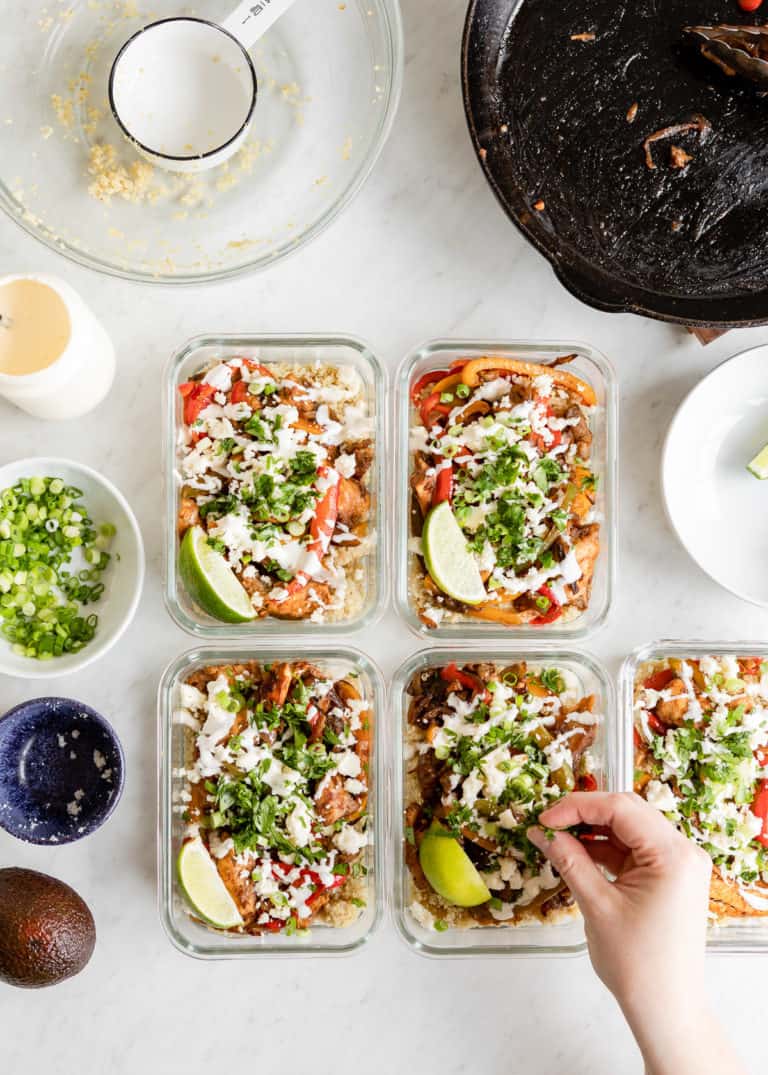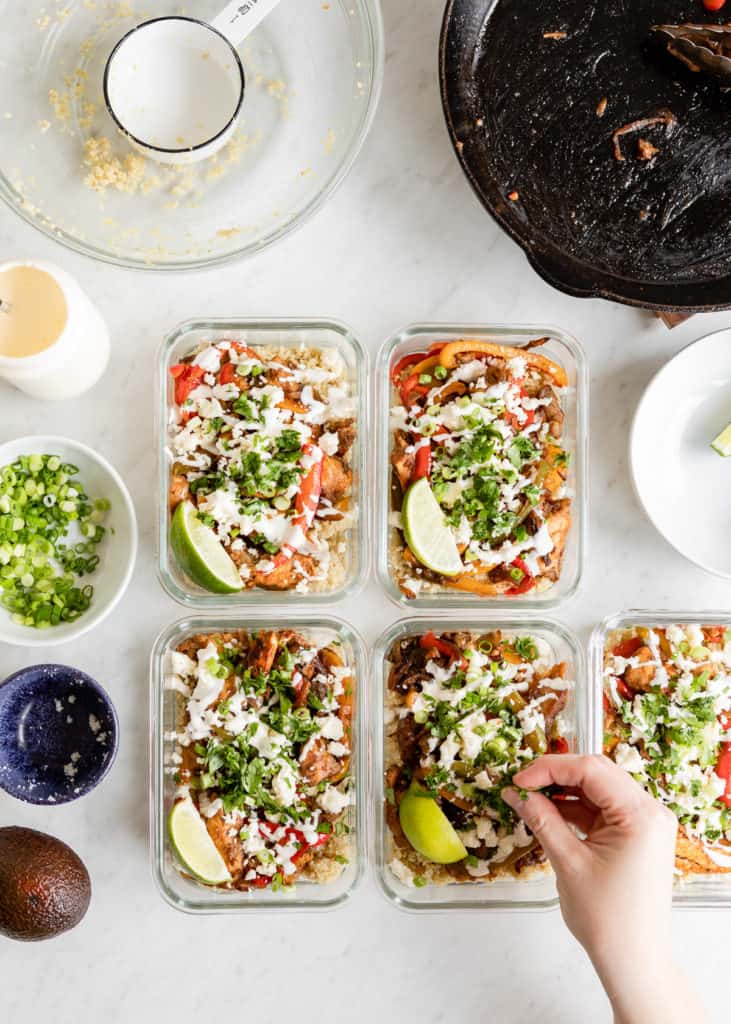 I'm a toppings gal. My favorite toppings for this recipe are Mexican crema and fresh cheese (cotija, queso fresco, etc.), fresh lime juice, sliced avocado, a generous sprinkling of chopped cilantro and green onions.
I don't slice up the avocado until the day I'm ready to eat the fajita bowl. Tossing cut avocado with lemon or lime juice will help prevent oxidation and browning.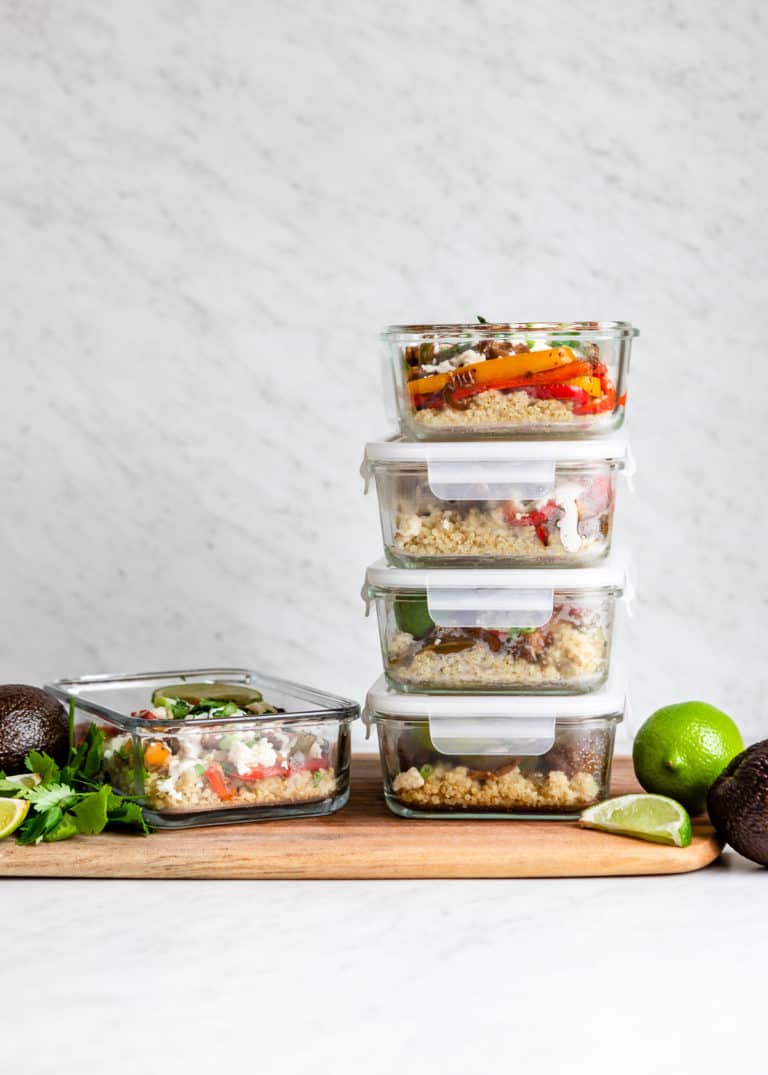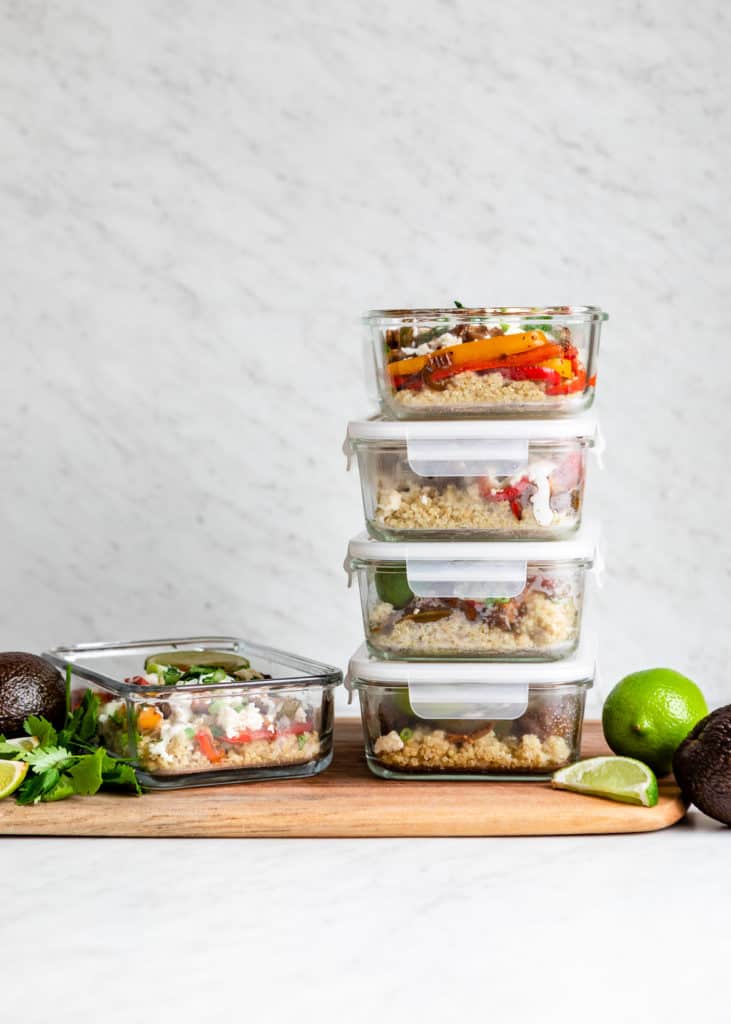 This recipe makes enough for 5 good-sized meals. I like to use glass meal prep bowls with tight-fitting lids. They help keep flavors in and they're microwavable.
Refrigerate the bowls until you're ready to eat. The chicken fajita bowls only need about 2 minutes to be reheated or you can eat them straight out of the fridge.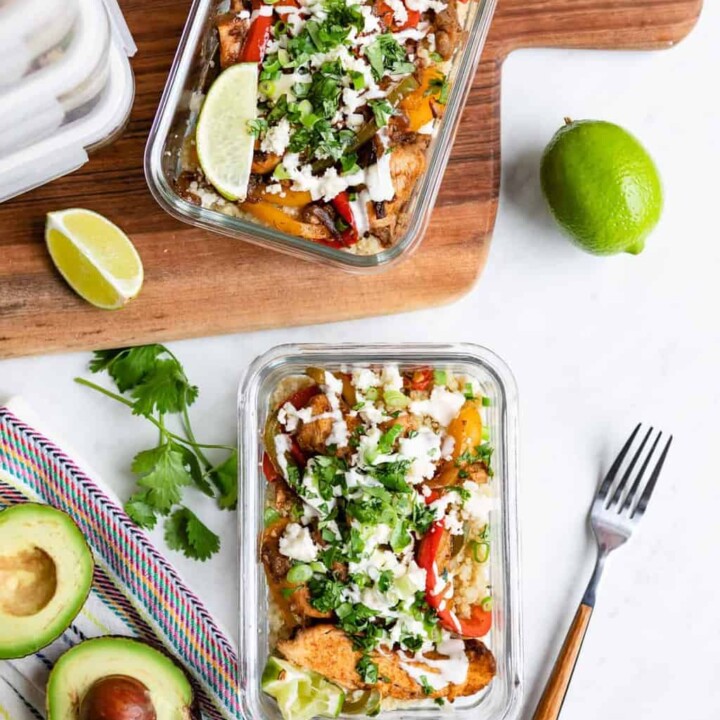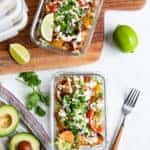 Print Recipe
Chicken Fajita Meal Prep Bowls
Meal prep is a snap with these delicious fajita bowls. Top with your favorite toppings and store in the fridge to use throughout the week.
Equipment
Skillet

5 meal prep containers
Ingredients
4

cups

cooked quinoa or brown rice

cooled

2

tablespoons

avocado or olive oil

1

medium red onion

halved and thinly sliced

3

bell peppers

any color, thinly sliced

1

tablespoons

fajita seasoning

2

tablespoons

fresh lime juice

5

tablespoons

queso fresco or cotija cheese

crumbled

For serving: Crema Mexicana or sour cream

lime wedges, cilantro, sliced avocado, thinly sliced green onions
For The Chicken
24

oz

chicken thighs or breasts, cut into strips

You can also look for frozen fully cooked fajita chicken strips

¼

cup

lime juice

1

tablespoon

olive oil

1

teaspoon

cumin

1

teaspoon

paprika

1

teaspoon

garlic powder

¼

cup

fresh cilantro, chopped

salt and pepper
Instructions
Combine chicken and marinade ingredients in a bowl. Stir to coat the chicken and refrigerate for at least 30 minutes.

Heat a large skillet over medium-high heat. Add oil to the pan and heat for 30-60 seconds. Add sliced red onion and bell peppers to the pan. Sauté for 5-10 minutes, or until the veggies are turning golden on the edges and are cooked to desired doneness. (I prefer tender-crisp.) Transfer to a plate.

Add the chicken to the pan. Sprinkle with the fajita seasoning and squeeze fresh lime juice over the top. Toss well and cook until done throughout. Taste and add salt and pepper, if needed. Let cool to room temperature.

To assemble the meal prep bowls: Have the containers ready. Divide the quinoa evenly between the five containers; about ¾ cup each. Divide the chicken and vegetable mixture evenly between the containers. Sprinkle 1 tablespoon crumbled cheese on top of each bowl. Top with desired toppings. (Avocado is best added just before or the same day the bowl will be eaten.) Cover tightly and refrigerate until ready to serve.

To serve: reheat in microwave, if desired, or eat chilled.
Notes
For extra flavor, cook quinoa or rice in chicken or vegetable broth.
Add in mushrooms or extra veggies such as zucchini or butternut squash if desired.
Sour cream can be substituted for Mexican crema.
Monterey Jack, cheddar, a Mexican blend, or another Mexican cheese can be substituted for the cotija or queso fresco.
Add avocado just before serving or on the day off; toss with lemon or lime juice to help keep the avocado from turning brown.
Nutrition
Calories:
827
kcal
|
Carbohydrates:
125
g
|
Protein:
41
g
|
Fat:
13
g
|
Cholesterol:
96
mg
|
Sodium:
193
mg
|
Potassium:
817
mg
|
Fiber:
6.5
g
|
Sugar:
4.5
g
|
Calcium:
79
mg
|
Iron:
4
mg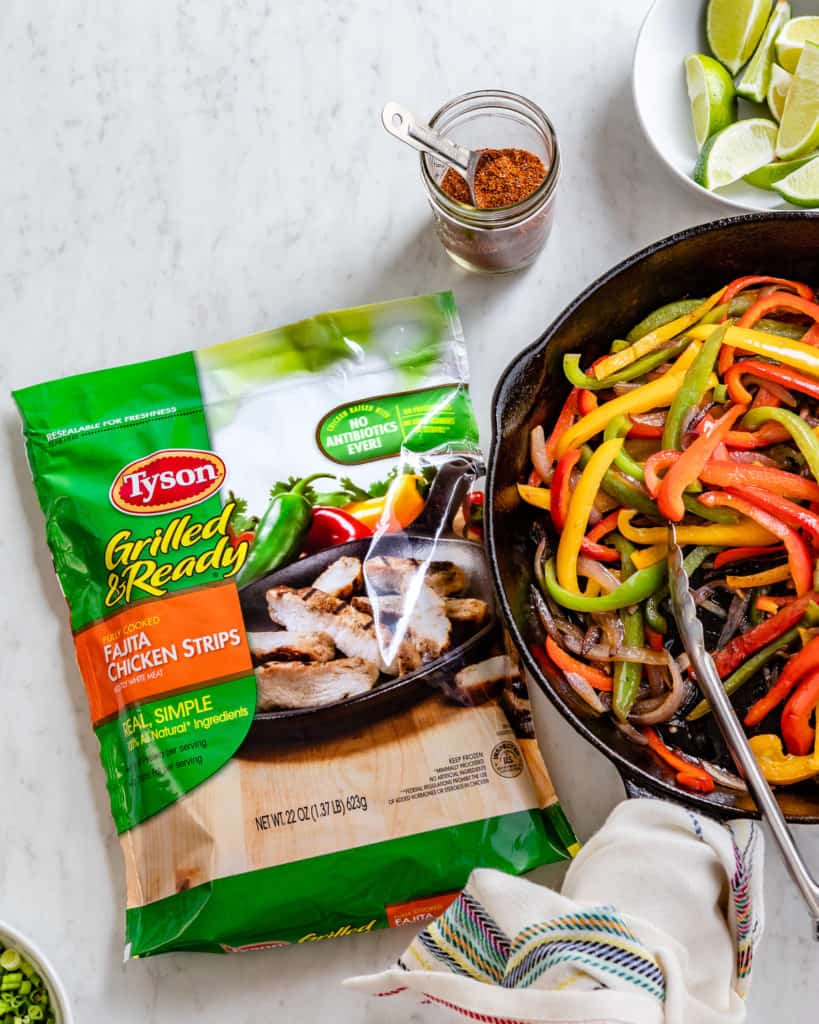 Bonus: Basic Fajita Meal Prep Recipe
You can change things up by adding ingredients to this basic fajita recipe.
3-9 boneless, skinless chicken breasts, sliced
1-2 boneless, skinless chicken thighs, sliced
3-12 bell peppers (a mix of orange, red, and green), sliced
3-12 onions (a mix of red and white), sliced
1-2 tablespoons chili powder
1-7 tablespoons fajita seasoning
3-4 tablespoons olive oil
Salt and pepper, to taste
Juice of 1 lime
Fresh cilantro, chopped, for garnish
Instructions:
Preheat the oven to 375°F (190°C).
In a small bowl, mix together the chili powder and 1-4 tablespoons of the fajita seasoning.
In a large bowl, combine the sliced chicken with the spice mix, 1-2 tablespoons of olive oil, and salt and pepper to taste. Mix well.
Spread the chicken out in a single layer on a baking sheet and bake for 20-25 minutes or until cooked through.
In a large skillet over medium-high heat, heat 2-4 tablespoons of olive oil. Add the sliced bell peppers and onions, and sauté for 5-7 minutes or until softened.
Add the remaining fajita seasoning to the skillet and stir to combine.
To assemble the meal prep bowls, divide the cooked chicken and sautéed vegetables evenly between 4 meal prep containers.
Drizzle each container with the juice of ¼ lime and sprinkle with chopped fresh cilantro.
Store in the refrigerator for up to 4 days.
Notes:
You can use store-bought fajita seasoning or make your own.
You can substitute the chicken with beef, shrimp, or tofu.
Serve with black beans and cauliflower rice for a complete meal.
To reduce saturated fat, use skinless chicken breasts instead of thighs.
108