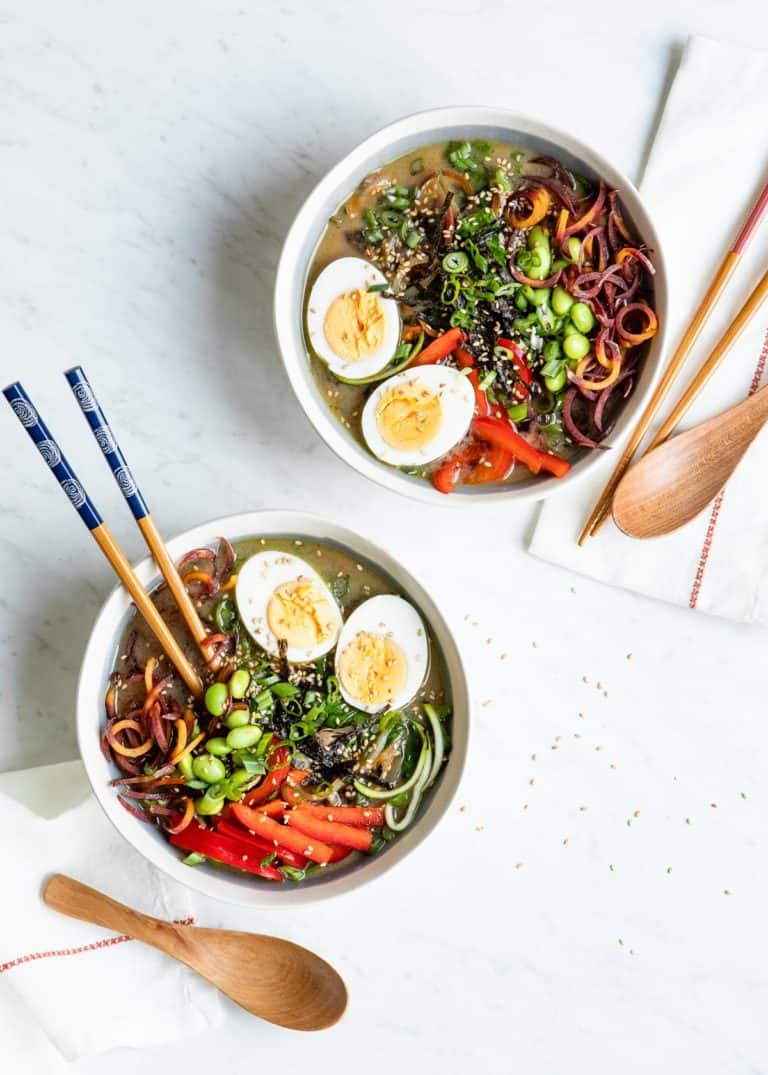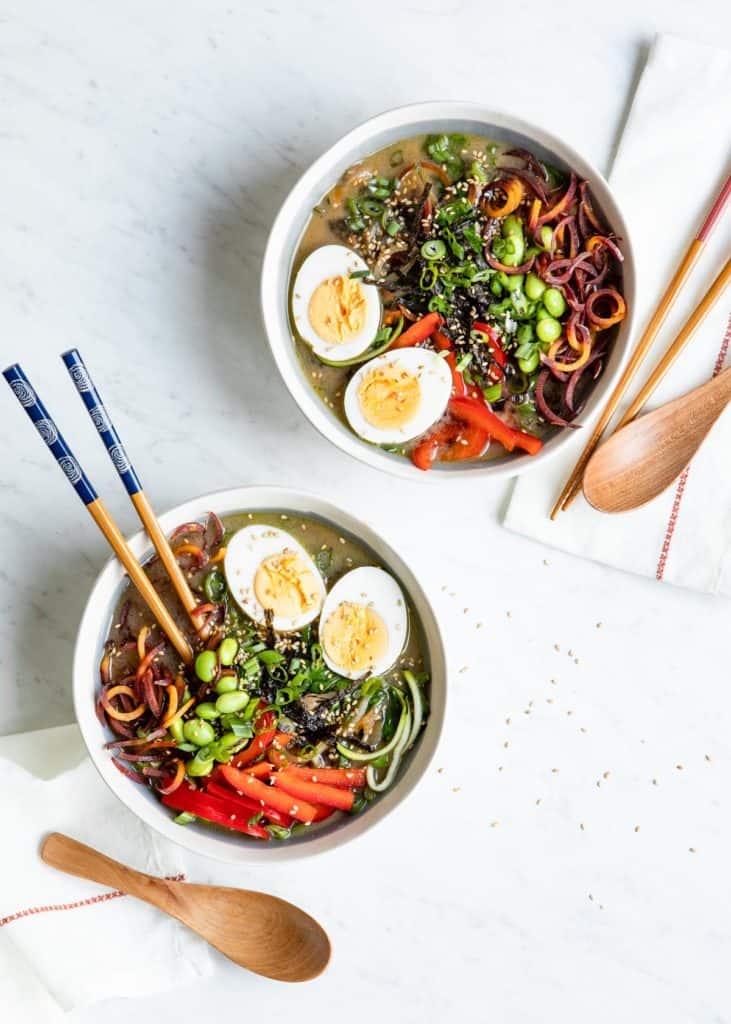 A steaming bowl of ramen in rich, flavorful broth is pretty hard to resist. In this Rainbow Veggie Noodle Ramen recipe, we've swapped traditional ramen noodles for colorful spiral-cut veggies to create a good-for-you soup that is packed with flavor. And to top it off, boiled free-range eggs with vibrant, nutrient-rich yolks.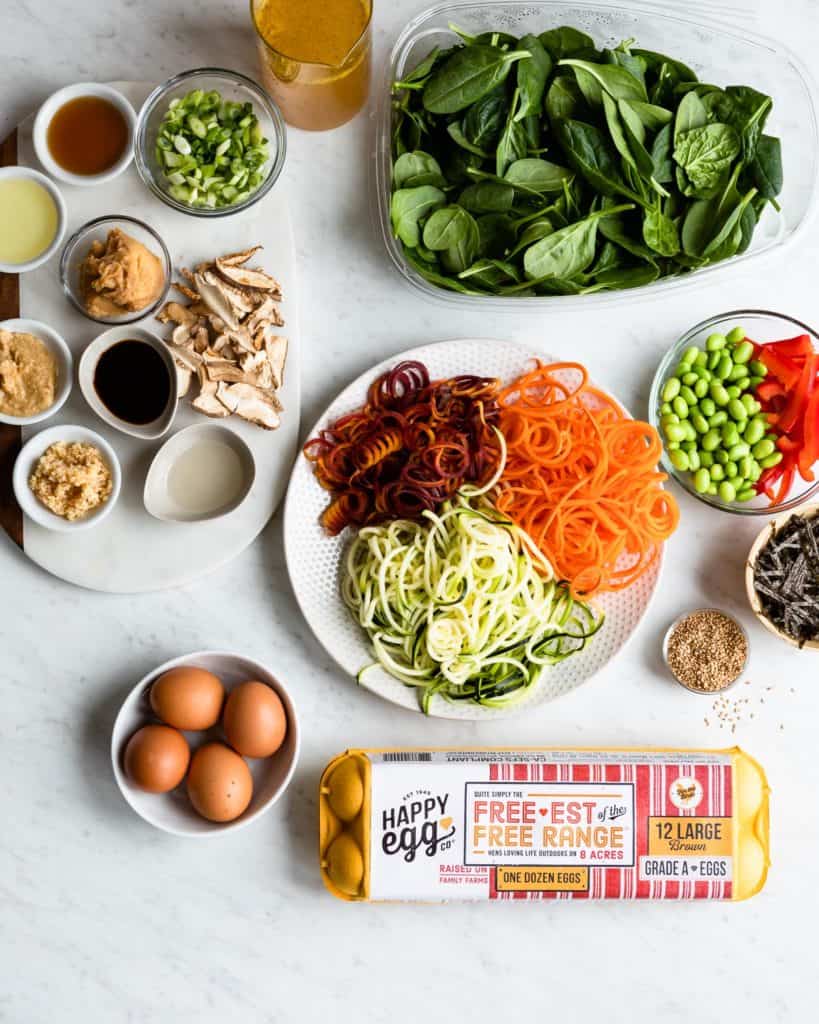 How To Make Quick and Easy Rainbow Veggie Ramen Bowls
The best ramen recipes start with a flavorful broth. Traditionally, that broth is made with bonito flakes (dried fish flakes) and kombu (a type of dried kelp).
Those aren't ingredients I have on hand, so I went with a slightly different but equally flavorful and delicious broth. While this may not be as traditional as the ramen you could get at a ramen bar, it's pretty darn tasty!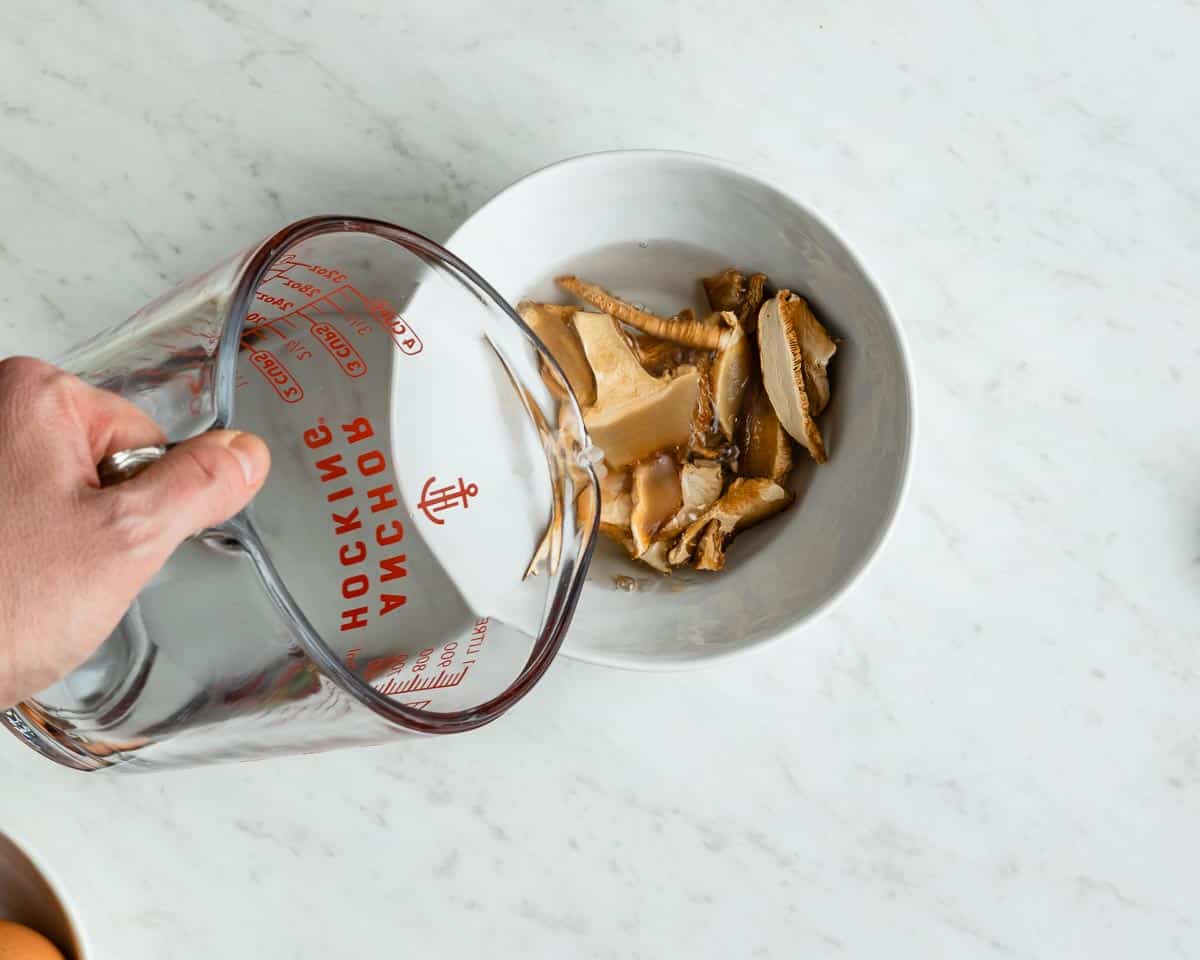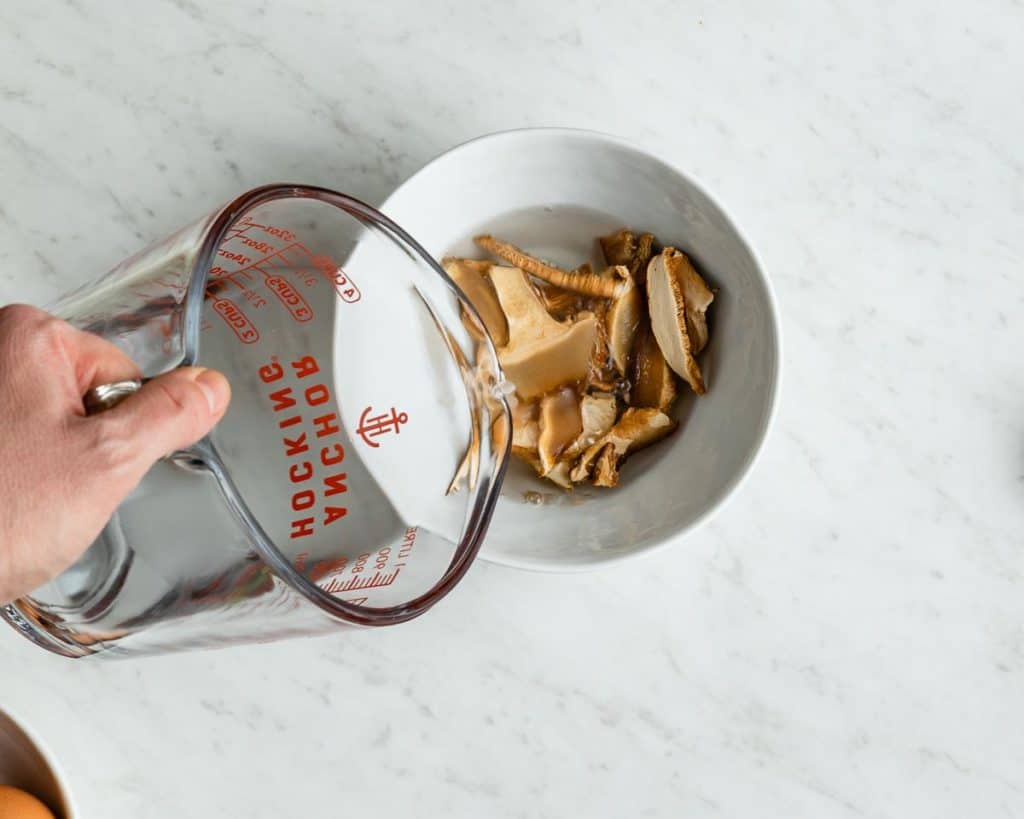 The broth starts with aromatics for a deep, rich flavor. First, dried shiitake mushrooms are soaked in boiling water for 15-20 minutes to extract flavor and to rehydrate them. The mushrooms are removed from the water, and the soaking liquid is reserved to add along with the vegetable broth.
For a shortcut veggie broth that you can make at home, I combine vegetable bouillon cubes with water, add vegetable scraps (peels and trimmings, etc) to a pot, simmer for at least an hour or up to several hours, strain and discard the solids, and use in the recipe.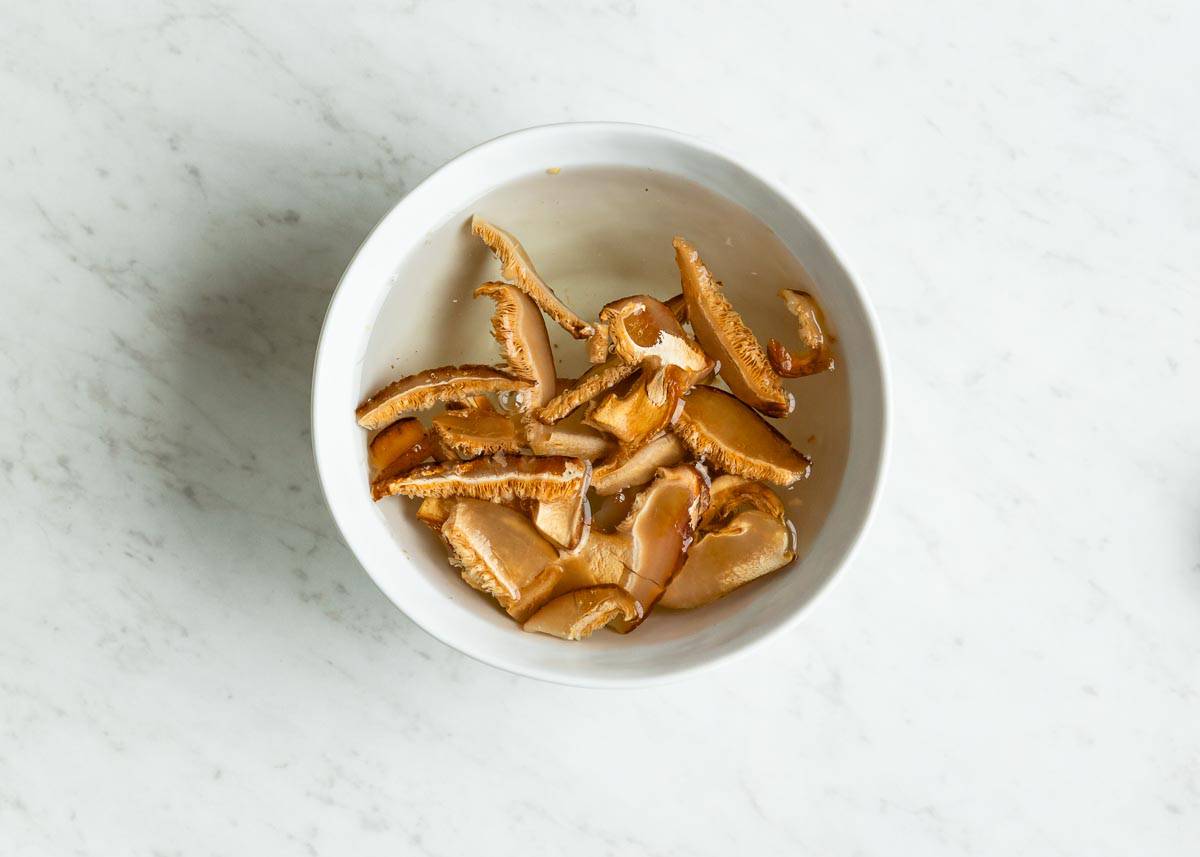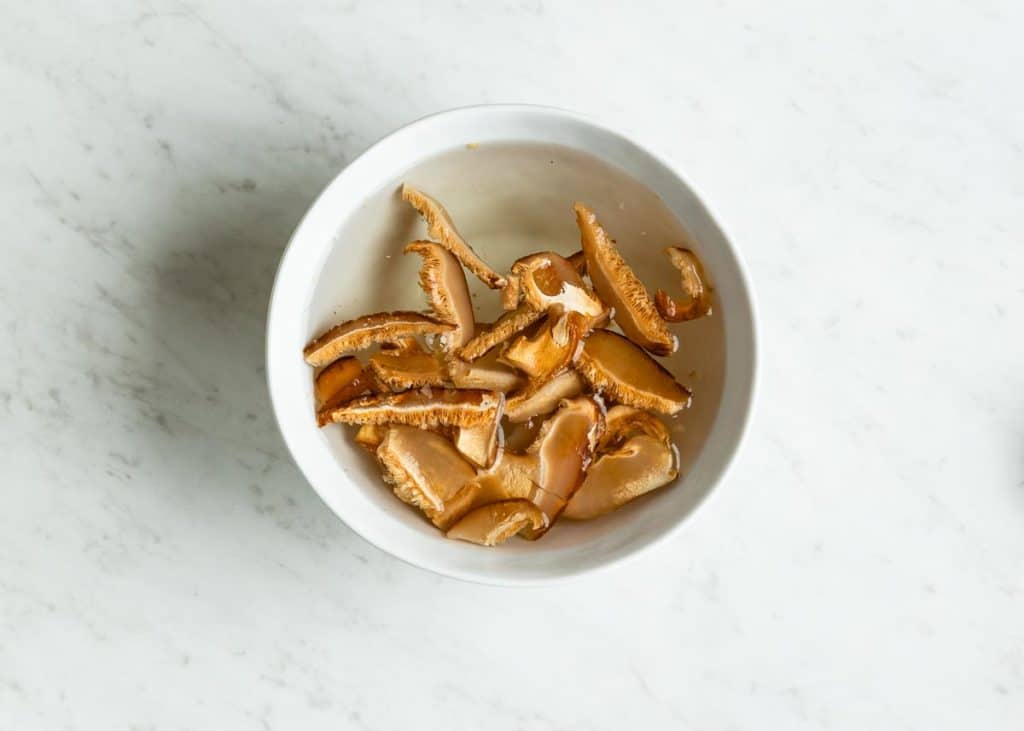 While the mushrooms soak, the other aromatics—ginger, garlic, and scallions—are sautéed in a combination of avocado and toasted sesame oils. The reserved mushroom broth and vegetable broth are added to the sautéed aromatics.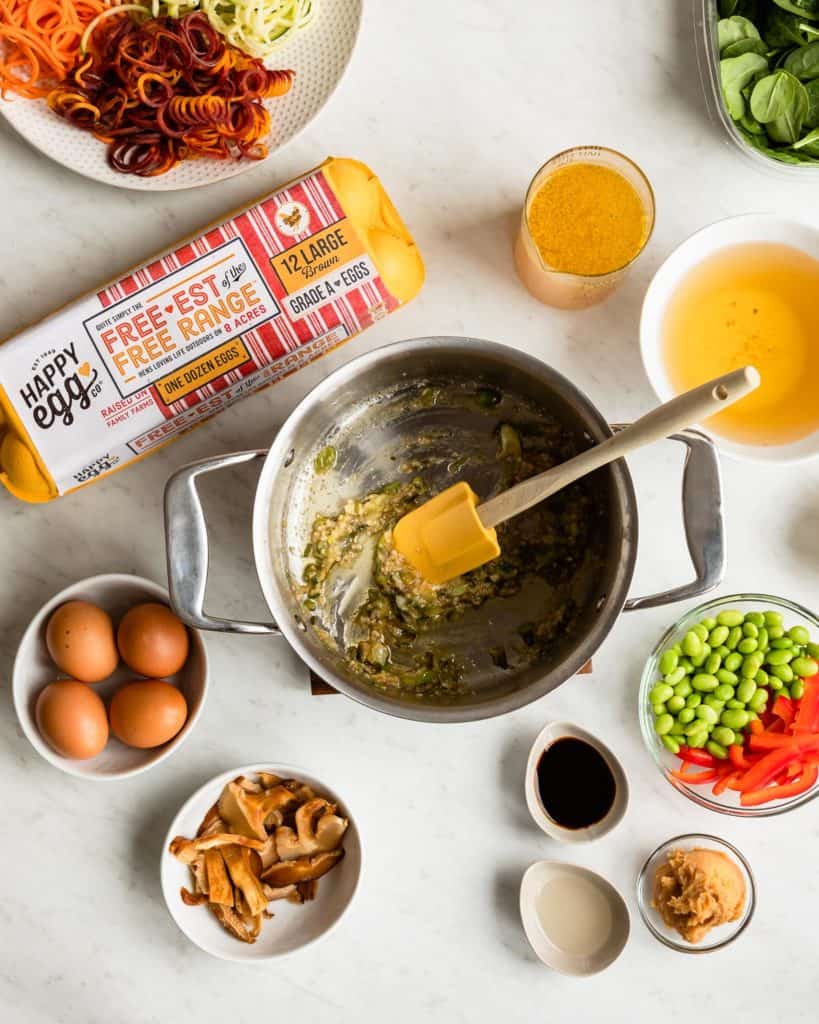 Between the mushroom soaking liquid and the vegetable broth, the ramen broth has tons of flavor. But I add one of my very favorite ingredients, miso paste, to add even more flavor and a hit of umami.
I strain the broth after simmering to remove the aromatics. It's a thick, richly-flavored broth that's ready for the veggie noodles to be added.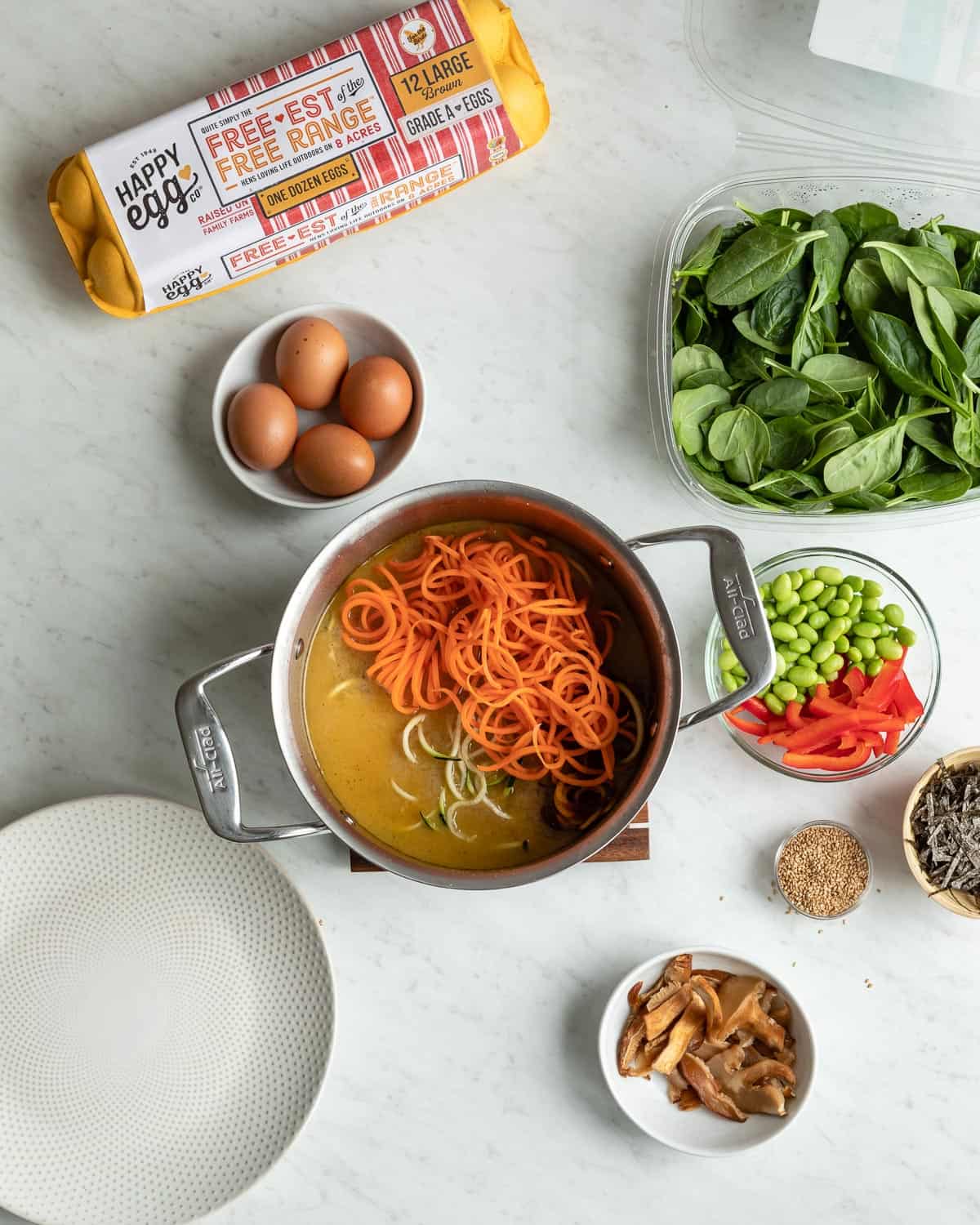 Veggie noodles are still all the rage. Adding spiral-cut veggies in place of traditional noodles makes it easier to reach the recommended daily serving of vegetables. I chose zucchini, sweet potato, and purple carrots for my noodles.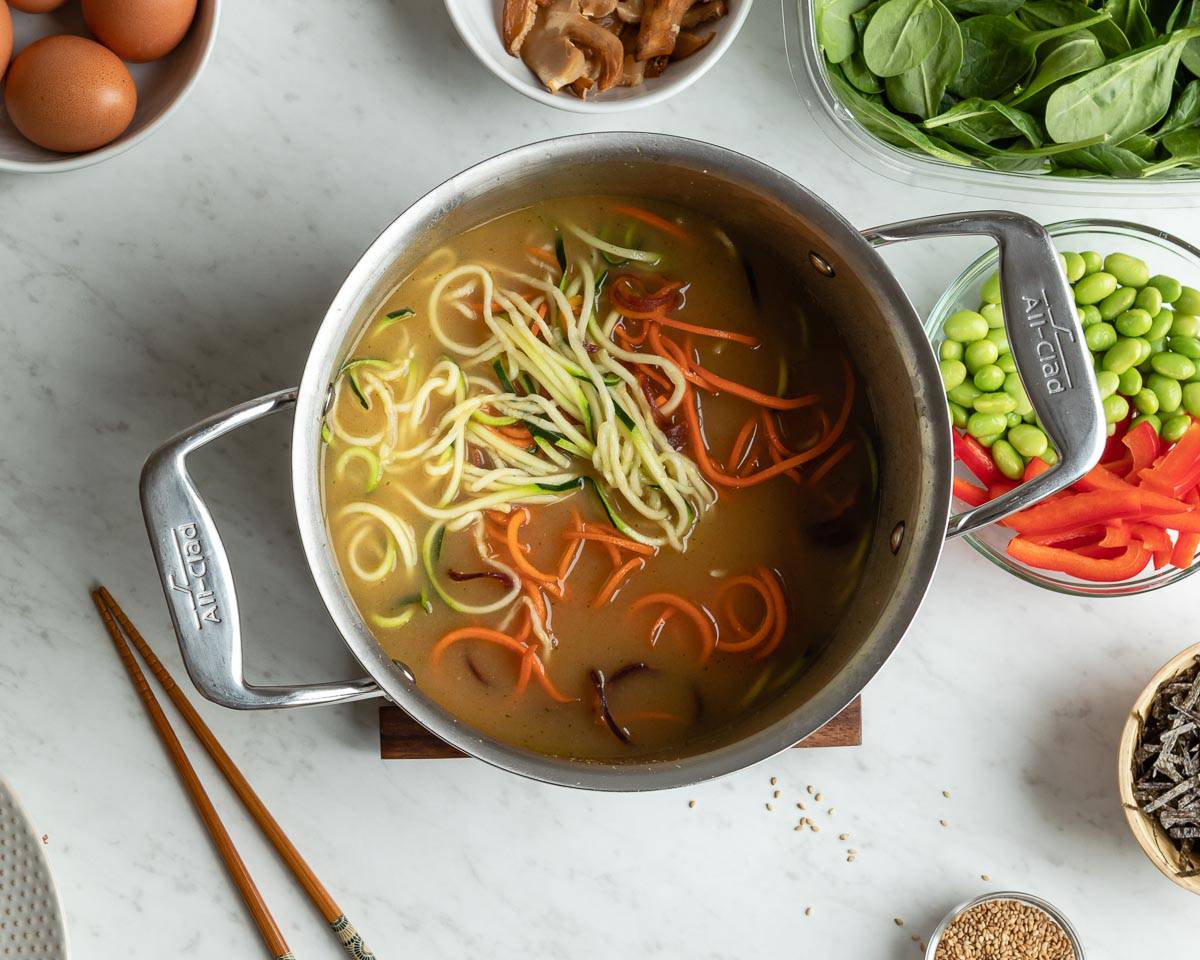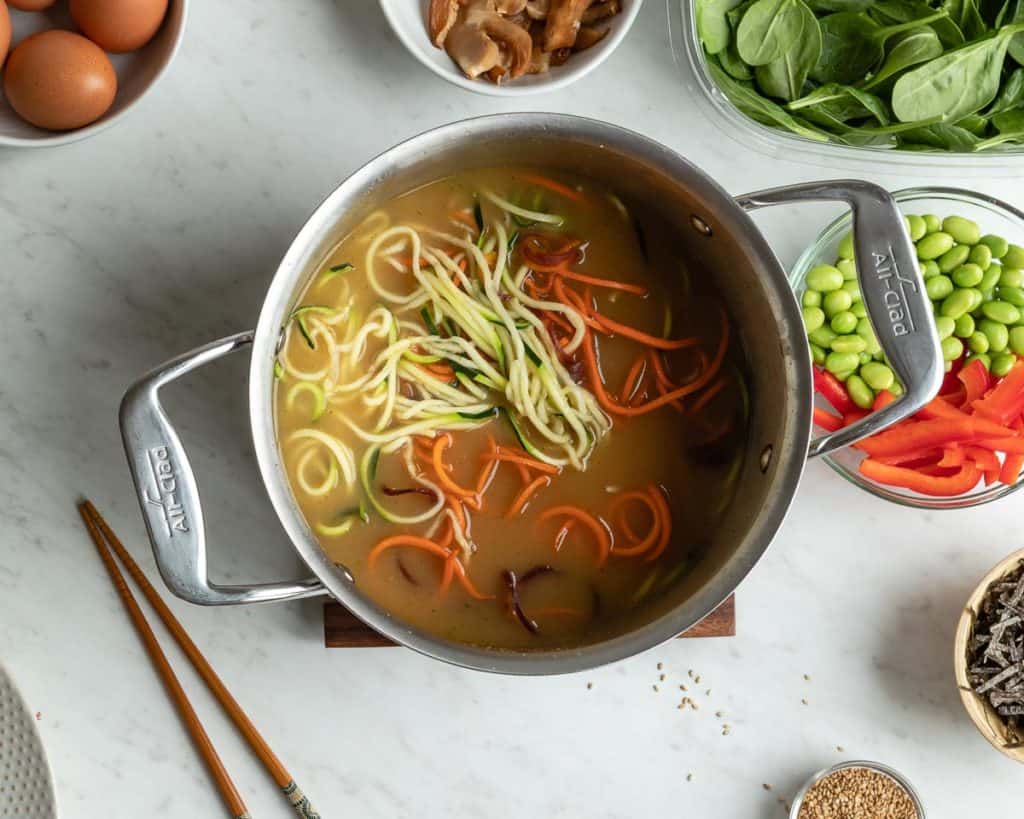 I love the colors, flavors, and textures. Other veggies can be substituted, as desired. The "noodles" just need a little simmer in the broth until they are tender. (Just a quick note: purple carrots will change the color of the broth, as will other veggies like beets.)
Spinach is my favorite leafy green to add to ramen, but bok choy, cabbage, or kale also work great. The residual heat of the broth helps to wilt the spinach.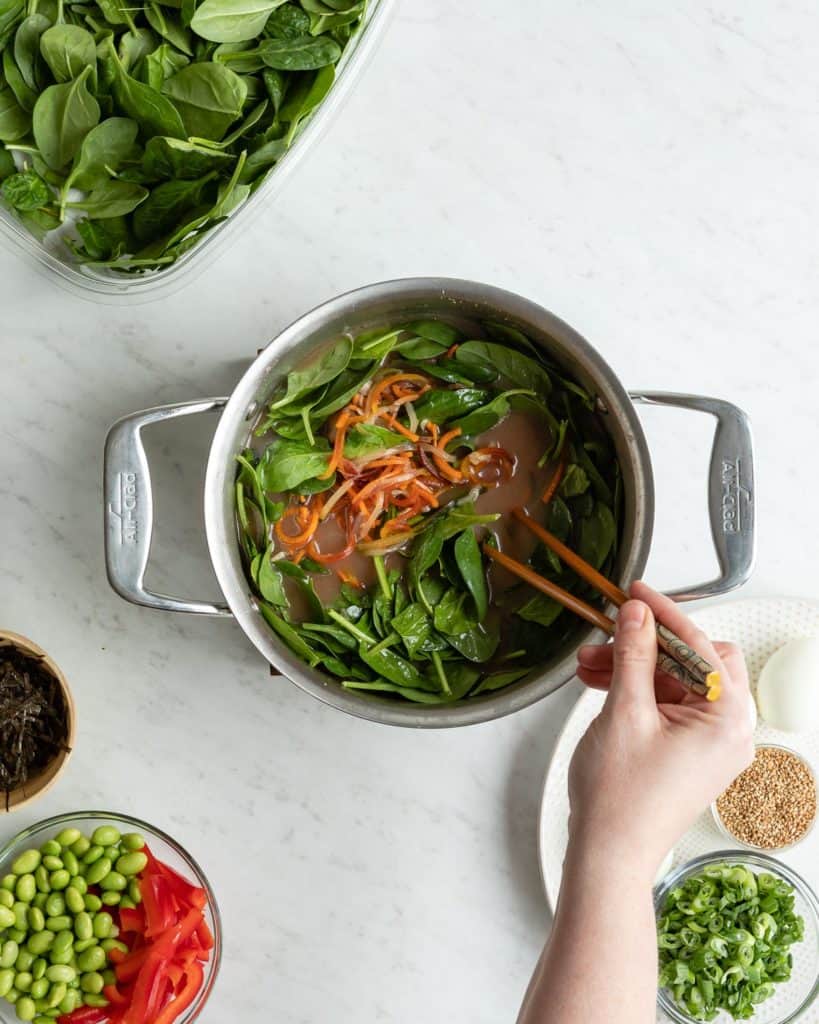 For toppings, I like an array of fresh and crunchy bell peppers, edamame, and scallions with thin strips of nori (seaweed), toasted sesame seeds, and, of course, a free range boiled egg.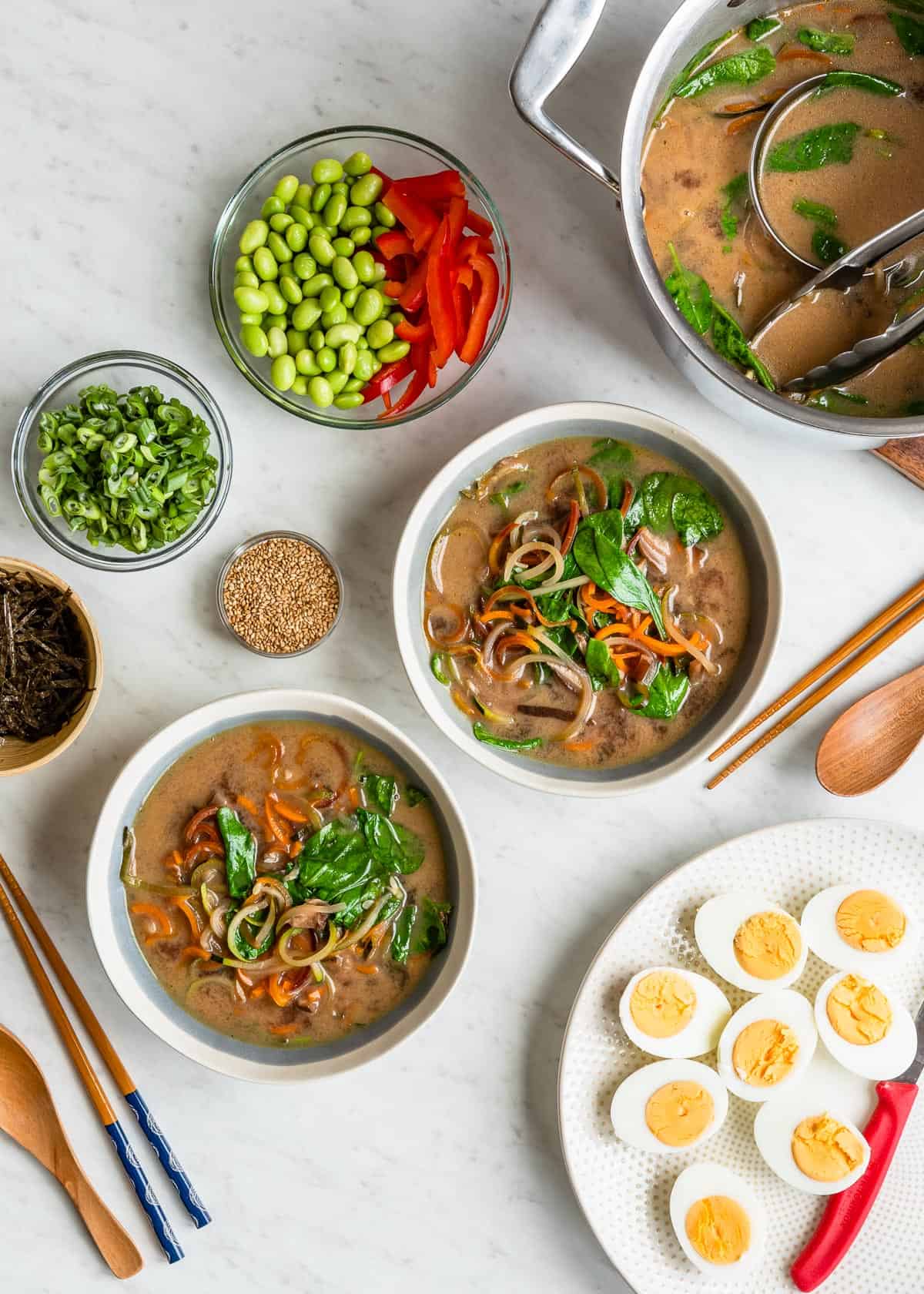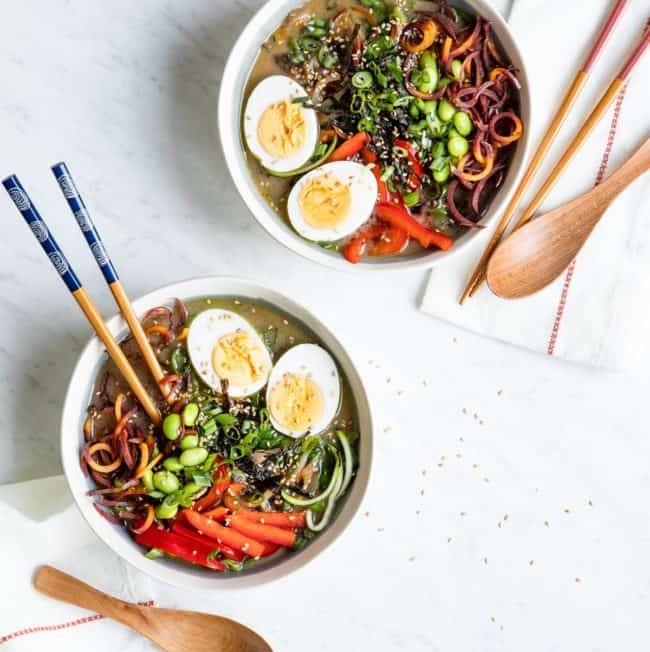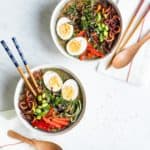 Print Recipe
Rainbow Veggie Ramen Bowls
Full of vibrant colors and flavors, this Rainbow Veggie Ramen swaps traditional ramen noodles with spiral cut veggies contained in a savory mushroom and miso broth, topped with free range boiled eggs and an array of fresh veggies.
Ingredients
For broth:
1

.4-.5 ounce package dried shiitake mushrooms

2

cups

boiling water

1

tablespoon

avocado oil

1

tablespoon

toasted sesame oil

1

bunch scallions

thinly sliced, divided

1

tablespoon

fresh ginger

finely grated or minced

3

garlic cloves

minced

2

cups

vegetable or mushroom broth

2

tablespoons

Tamari or coconut aminos

1

tablespoon

mirin

2

tablespoons

white miso paste
For ramen:
1

small sweet potato

spiral cut

1

small zucchini

spiral cut

1

large purple carrot

spiral cut (reserve smallest pieces for topping)

3

cups

baby spinach
For serving:
4

large The Happy Egg Co. Free Range Eggs

hard- or soft-boiled, cooled and peeled (see notes)

1/4

cup

red bell pepper

thinly sliced

1/2

cup

edamame

thawed if frozen

1

sheet nori

finely cut into thin strips

Toasted sesame seeds
Instructions
For broth:
Place dried mushrooms in a medium bowl and pour the boiling water over the top. Let soak for 15-20 minutes. Remove the mushrooms with a slotted spoon and chop. Reserve the soaking liquid.

In the meantime, place the oils in a 4-quart pot and heat over medium-high until shimmering. Add the white part of the scallions to the pan along with the ginger and garlic. (Reserve the green parts of the scallions for ramen topping.) Sauté for 3-5 minutes, or until fragrant and softened.

Add the reserved mushroom soaking liquid and vegetable broth to the pan. Stir well and add in Tamari and mirin. Bring to a simmer.

Place the miso paste in a small bowl and add about 1/2 cup of the broth to the bowl to help dissolve the miso. Add the miso mixture back to the rest of the broth. Continue simmering for 15-20 minutes to allow flavors to blend. Strain through a fine-mesh sieve and return broth to pan; discard the solids.
For ramen:
Add the spiral-cut vegetables to the pot and simmer for another 10-15 minutes, or until vegetables are tender.

Remove from heat and add baby spinach. Stir and allow the spinach to wilt for a few minutes.
To serve:
Using tongs, divide the veggie noodles between four bowls. Ladle the broth over top.

Cut each egg in half and add to the bowl.

Top with red bell pepper, edamame, reserved carrot pieces, nori, toasted sesame seeds, and a sprinkle of reserved green parts of the scallions. Serve immediately.
Notes
For the perfect boiled eggs: place free-range eggs in a heavy-bottomed saucepan with deep sides. Cover the eggs with cool water to cover by several inches. Add 1 tablespoon white or rice vinegar to the water. Place pan on heat source and bring to a rolling boil. Boil for one minute, then turn off heat and let stand in the water for 14 minutes for hard-boiled, 10-12 for a softer yolk, and 6 minutes for a runny yolk. Immediately plunge into ice water to stop the cooking. Once eggs are completely cooled, refrigerate until ready to use. The eggs will be easier to peel if they are vey cold. Peel under cold water if the shell has trouble coming away from the whites.
23