One of the simplest (and cheapest!) ways to make the switch to natural living is to incorporate essential oils into your life. They're incredibly versatile, smell fantastic, and have a multitude of therapeutic properties. You can use them in everything from cleaning products to body care formulations, and they're perfect for those of us who like to DIY!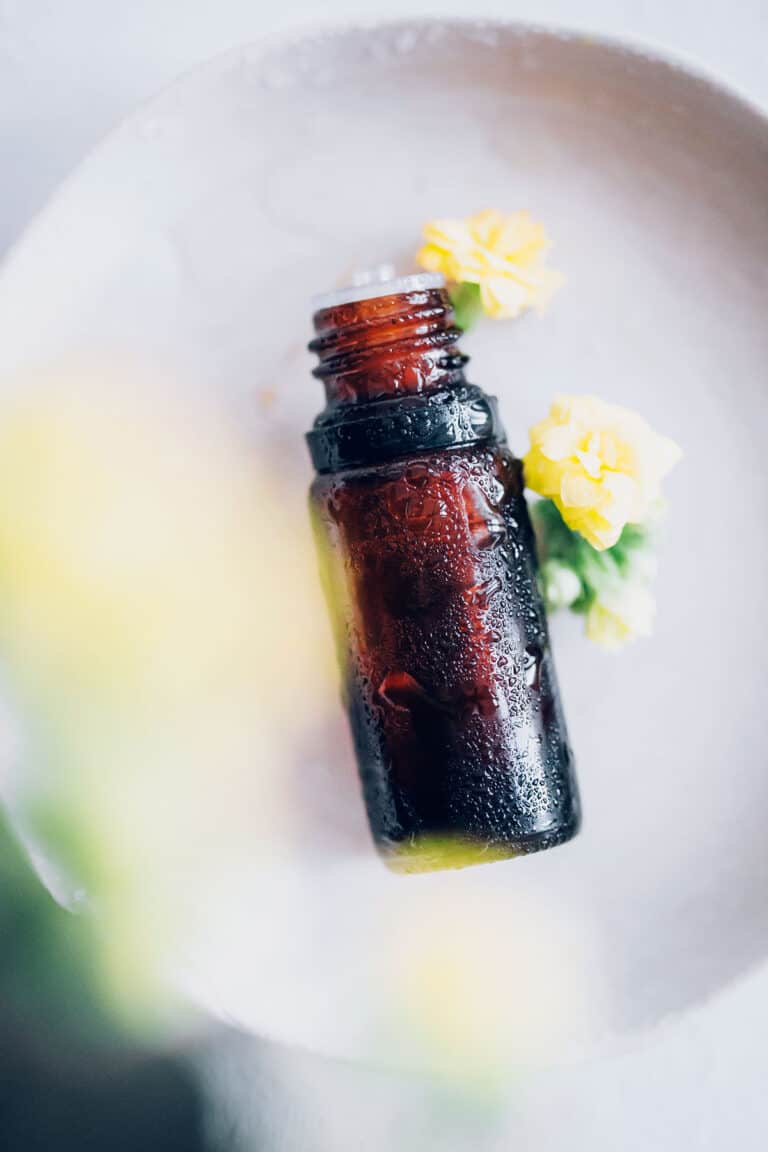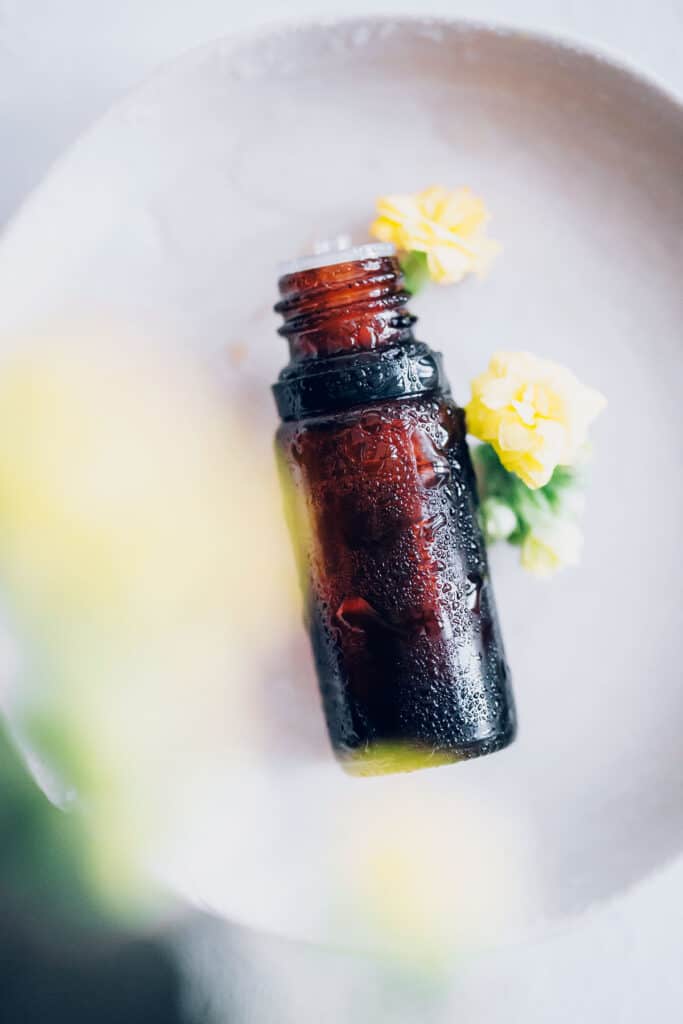 With all the research being done on essential oils and their subsequent rise in popularity, more and more people are starting to incorporate them into their natural living routines. However, with the dramatic increase of essential oil users comes a need for basic essential oil knowledge.
While it's true that essential oils are natural products, it's important to know that they're highly concentrated with a potential for adverse reactions if not used properly [source]. Follow these basic guidelines for properly diluting essential oils before you use them.
I highly encourage you to research the specific essential oils you'll be using. See if there are any situations where you should NOT be using a particular oil.
Also, learn what the potential risks are, and most importantly, determine if there are certain individuals a given oil should not be used around. Hint: You can find a lot of great information in the Aromatherapy section of Hello Glow!
Why Dilute Essential Oils for Topical Use
?
When using essential oils on the skin (topical application), it's important to dilute them properly so that you don't cause skin irritation, redness, itching, or allergic reactions.
Some essential oils are known to be skin sensitizers and can cause adverse effects and even pain when applied to the skin undiluted. For instance, oregano essential oil is often referred to as a "hot oil" because, if applied to the skin undiluted, it can cause a burning sensation and redness—or worse!
You should also note that some essential oils have recommended maximum dilutions that may differ from general dilution guidelines. For example, clove bud essential oil should not be used on the skin unless it is diluted to 0.5% or more.
For this reason, I recommend the book Essential Oil Safety for in-depth, accurate, and safe information regarding dilution amounts.
Essential Oil Dilution Guidelines
In general, essential oils should be used in 1% to 3% dilutions. Most of the situations in which you will use essential oils will be well-suited for dilutions within that range. However, there may be times when a lower or higher dilution may be needed.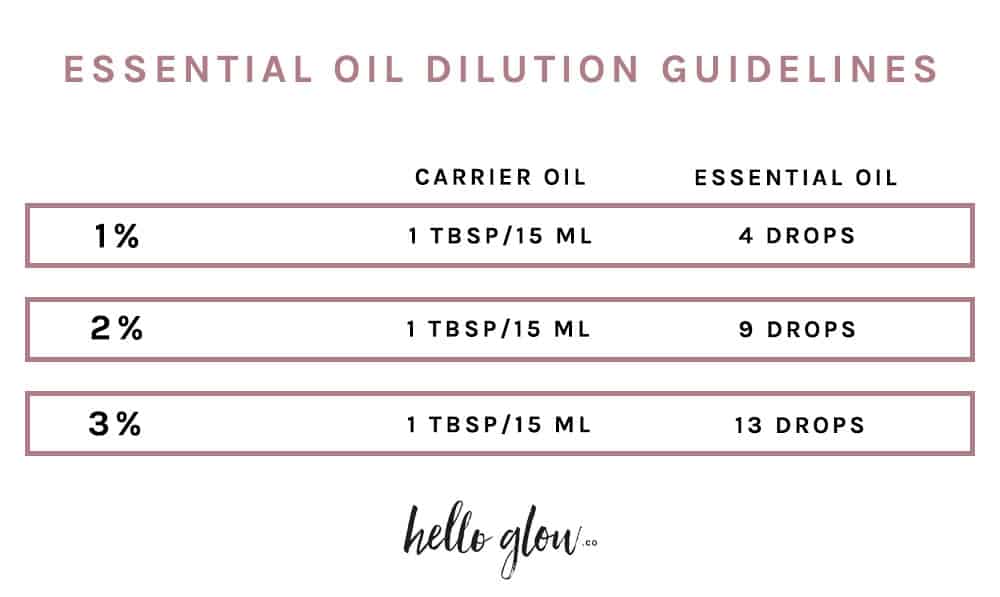 1
%
Dilution
A 1% dilution is ideal for:
-Children aged 2 years or older
-Older individuals
-Sensitive skin
-Facial applications
-Long-term daily use
A 1% dilution is a great starting point, and you will most likely find that it's all that is needed in many situations.
To create a 1% dilution, combine 4 drops of essential oil to 1 tablespoon (15 mL) of carrier oil or 9 drops to 1 fluid ounce (30 mL).
2
%
Dilution
This dilution is the one most preferred for healthy adults who plan on using the formulation regularly. It's generally considered to be a safe dilution for many essential oils and is a good choice for blends.
To create a 2% dilution, combine 9 drops of essential oil with 1 tablespoon (15 mL) of carrier oil or 18 drops to 1 fluid ounce (30 mL).
3
%
Dilution
A 3% dilution is ideal for situations involving pain or discomfort when the formulation will be used for a shorter period. This would be great for situations like headaches or muscle, joint, or skin injuries.
To create a 3% dilution, combine 13 drops of essential oil with 1 tablespoon (15 mL) of carrier oil or 27 drops to 1 fluid ounce (30 mL).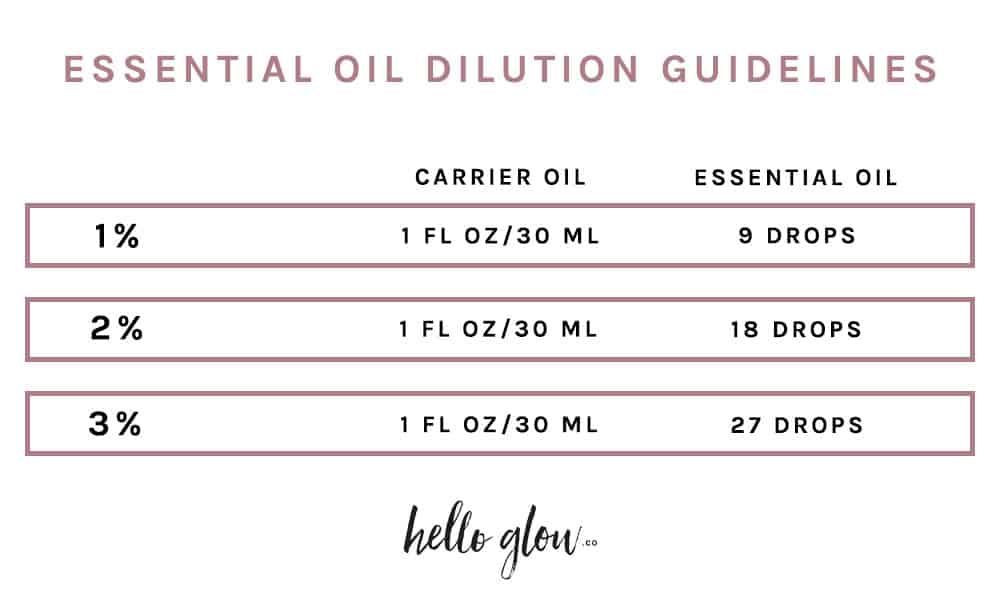 Essential Oils and Young Children
It is important to note that there is some debate regarding whether essential oils should be used topically on children under 2 years old. Some believe that it is fine as long as very low dilutions are used, like 0.1% to 0.5%, while others claim it shouldn't be done at all.
Children have thinner skin and are naturally more sensitive to the effects of essential oils, leaving them more susceptible to adverse reactions. Because of this, I recommend you exercise caution and seek the advice of a qualified aromatherapist or health practitioner before using essential oils on the skin of infants and children—or pets [source].
In Conclusion
Essential oils can be great tools to help support wellness. Not only are they completely natural, but they also have numerous therapeutic benefits.
However, they are also highly concentrated and should always be diluted before use to prevent adverse skin or systemic reactions. In general, 1% to 3% dilutions are usually recommended, depending on the situation.
Some essential oils should be diluted even further, so it's important to learn about the oils you're working with. Armed with this basic knowledge, you should be well on your way to safely experiencing all of the wonderful benefits of essential oils!
This article was medically reviewed by Dr. Gina Jansheski, a licensed, board-certified physician with over 20 years of experience in practice. Learn more about Hello Glow's medical reviewers here. As always, this is not personal medical advice, and we recommend that you talk with your doctor before using this recipe to determine what's best for you.
22