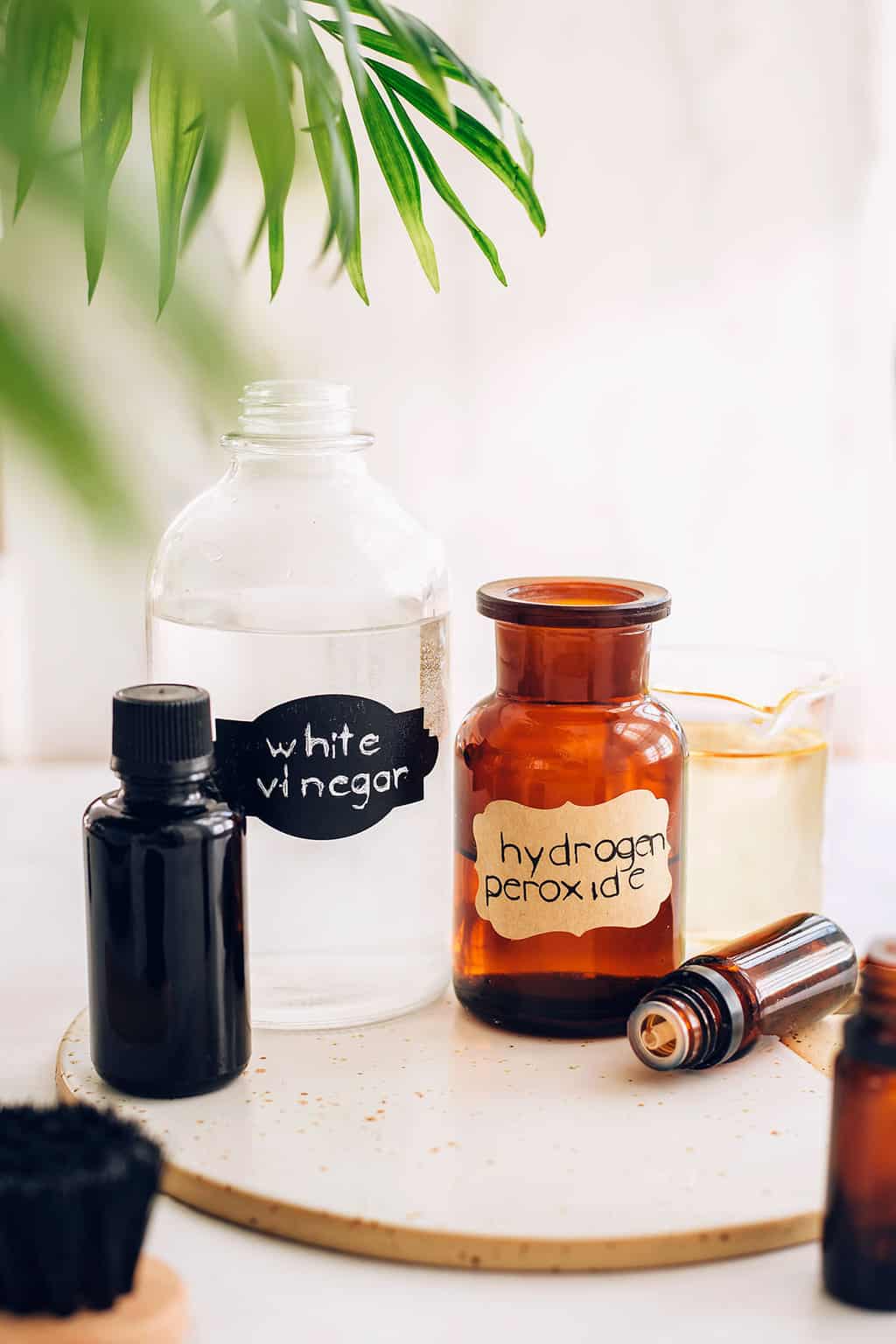 Tomorrow, my house goes on the market. I can't believe we're selling our home—it's the first house we've ever owned. It's where we lived when we got married and where we've created hundreds of memories. Needless to say, it's going to be tough to say goodbye.
To get our house ready to list, we had a few punch-list items to go through, including steam cleaning our carpets, which had quite a few stains on them (thanks to our adorable kittens and their less-than-adorable hairballs).
So we went to Lowe's to rent a professional steam cleaner. But when we got home, we realized we forgot to buy the actual carpet cleaning solution. Doh!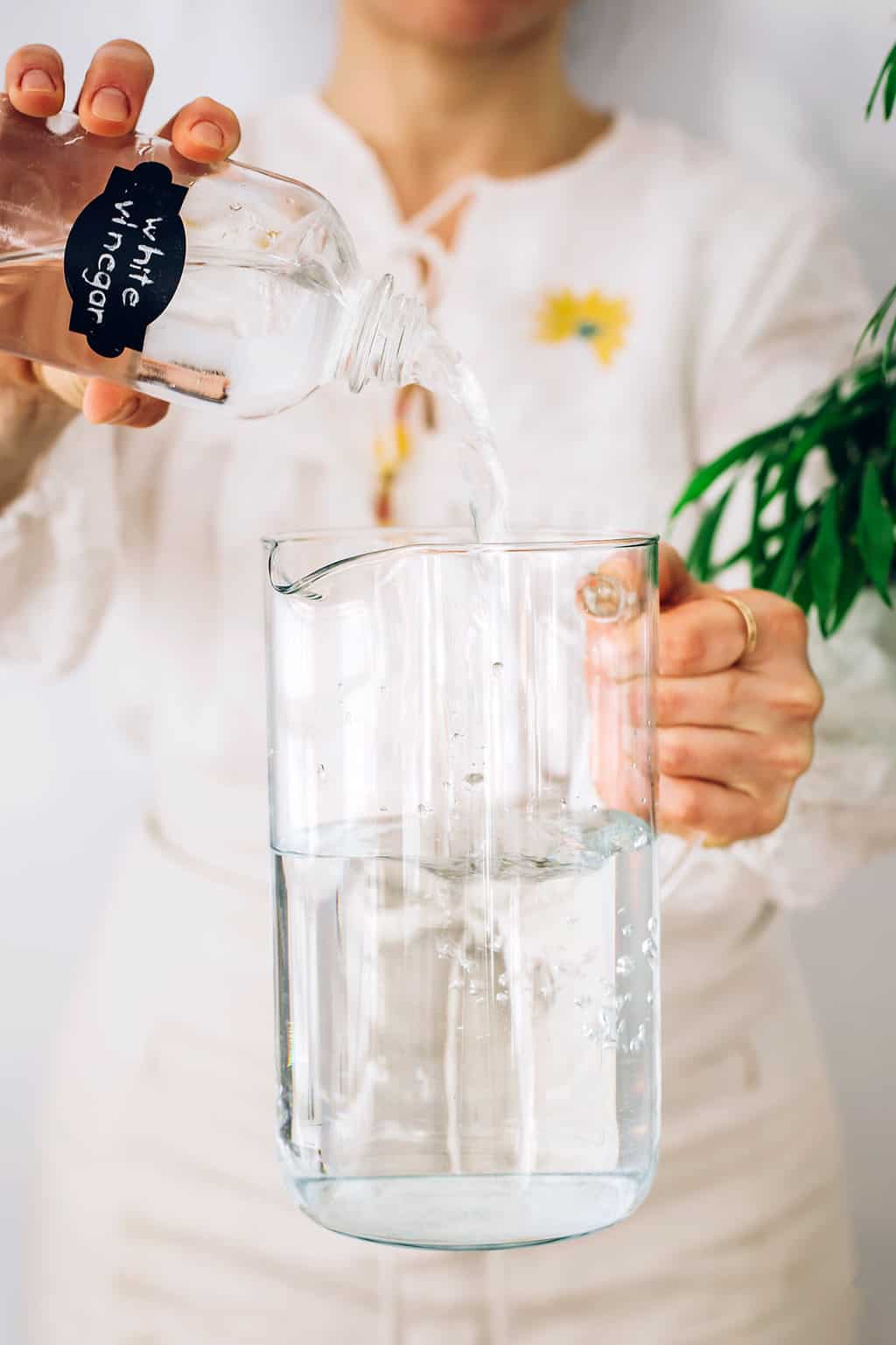 Turns out, after looking up the ingredients, we did ourselves a favor. It turns out store-bought carpet cleaning concentrate is full of dangerous chemicals, like cancer-causing alcohol ethoxylates, endocrine-disrupting and allergy-inducing fragrances, and environmentally unfriendly copolymers and methylisothiazolinone. I dare you to try and pronounce that last one.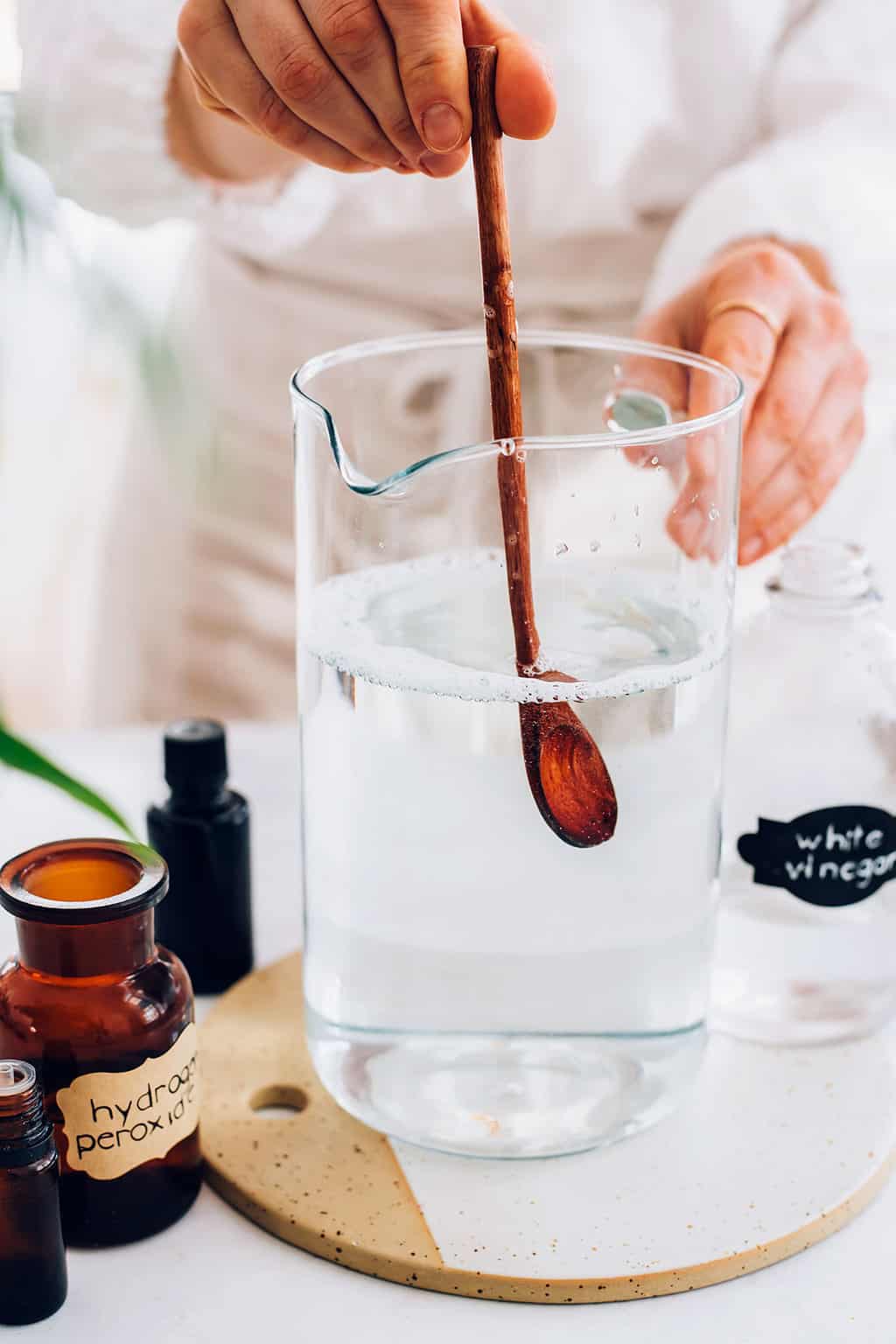 Fortunately, I had all the makings for a super-safe carpet cleaner in my pantry and medicine cabinet—all you need is distilled white vinegar, hydrogen peroxide, Castile soap, essential oils (I recommend lemon and sweet orange), and hot water.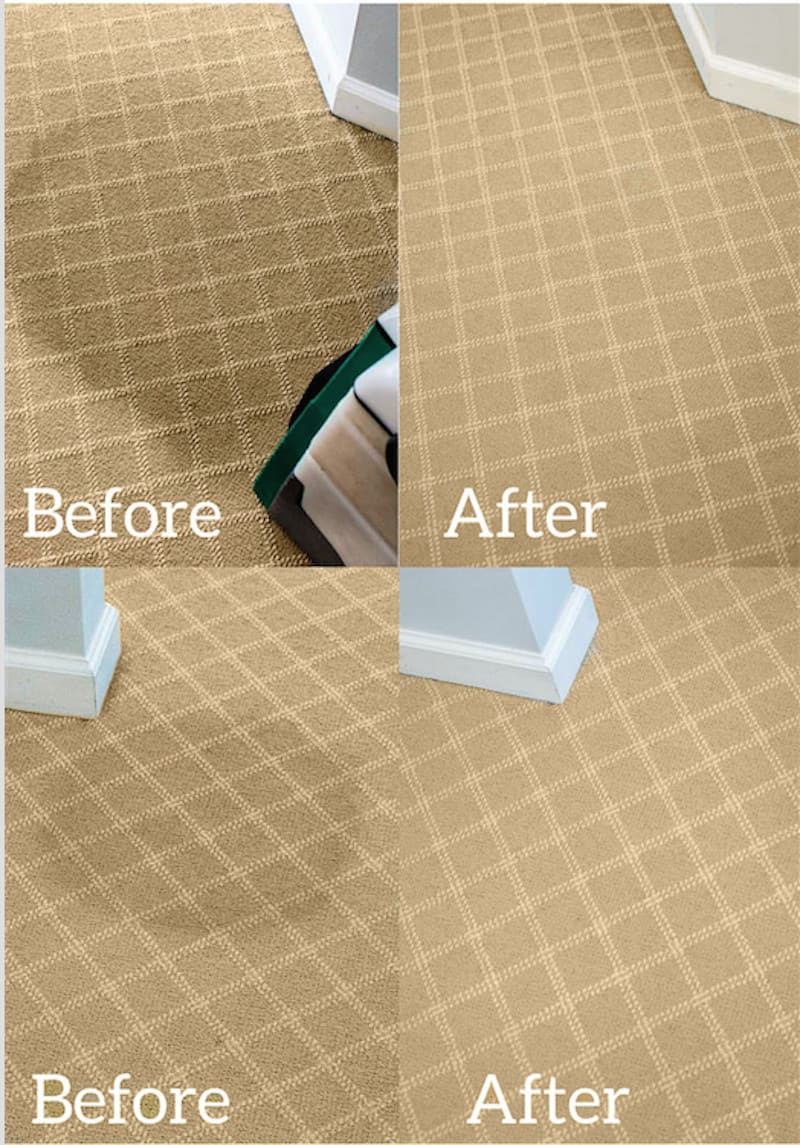 So I decided to make my own and see what happened. As you can see from the photos above, the results were incredible!!
Not only was this DIY homemade carpet cleaner just as effective as conventional store-bought cleaners—if not more so—but it was WAY less expensive, infinitely safer, and a breeze to make. Once again, I've found a DIY recipe that's as easy as pouring liquids into a bowl and stirring.
You can swap out the essential oils you use if you prefer a different scent. Something about citrus just smells clean to me, but lavender or another flower scent would be beautiful, too.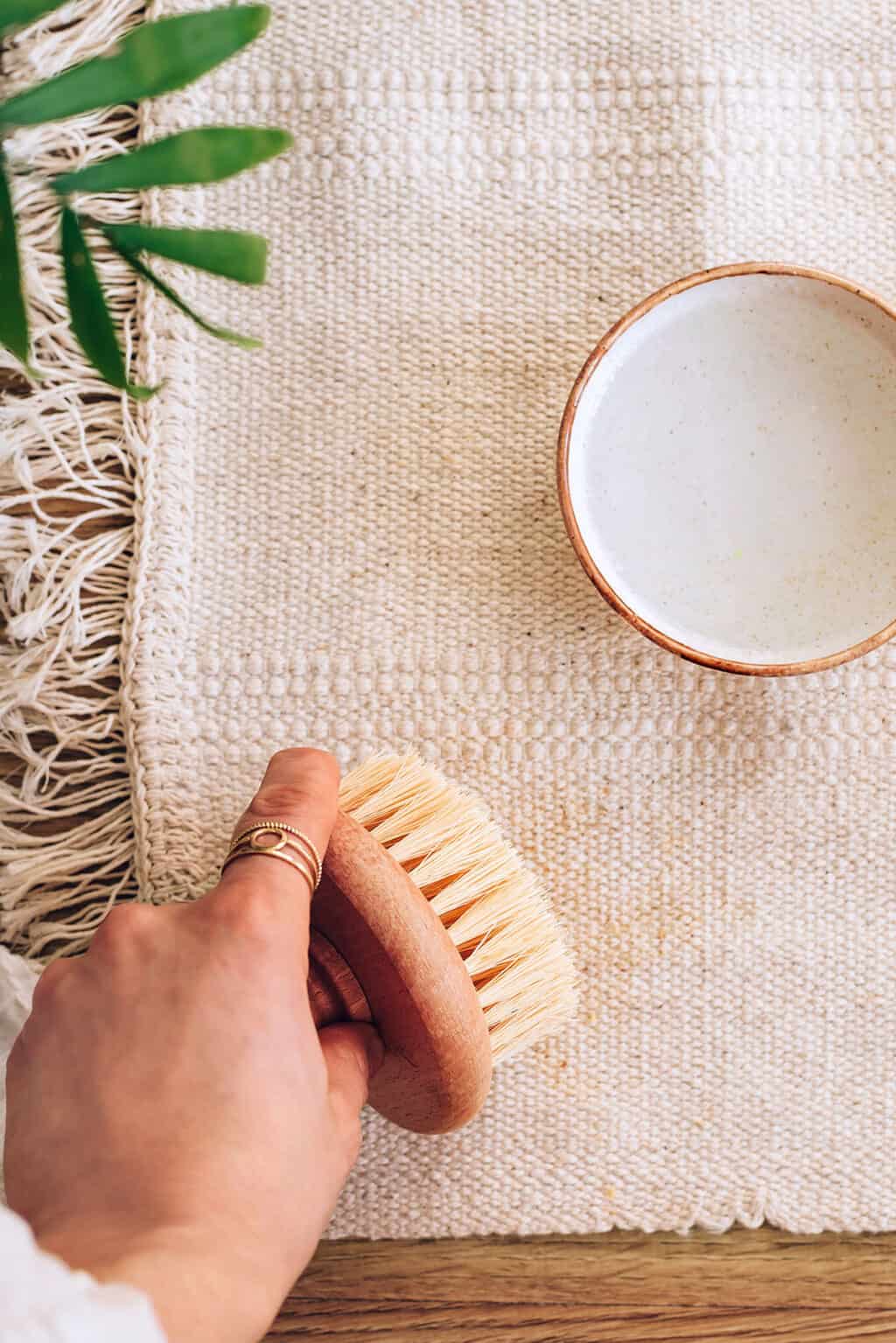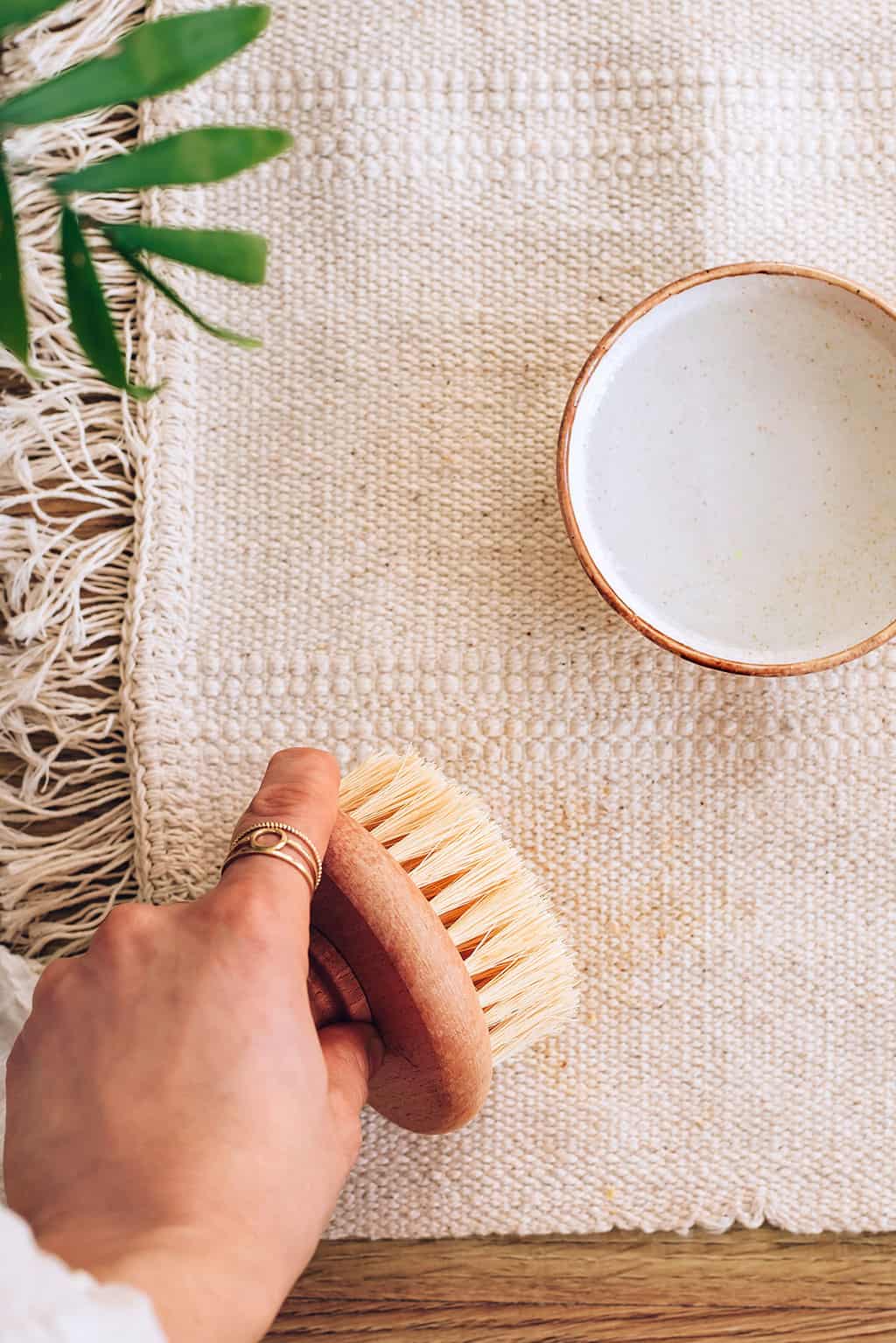 And you don't need a professional steam cleaner for this to work. I've tried bottling the solution and just spraying it directly onto a stain, letting it sit, and scrubbing with a bristle brush, and it works just as well.
Next time you reach for a toxic store-bought carpet cleaner, give this a try instead. And share your results in the comments below. I'd love to hear how it works for you.
If you're looking to freshen up more fabric surfaces and textiles in your house, check out these simple recipes for DIY Upholstery Spray and Lavender Linen Spray.
DIY Carpet Cleaner FAQ
Do I need a professional steam cleaner to use this recipe?
While this recipe can be used in any steam cleaner designed for home use (professional or not), you can also opt to whip up a batch and put it in a spray bottle to spot-treat stains.
How can I use this carpet cleaner to spot-clean carpet?
As discussed above, you don't need a steam cleaner to put this recipe to good use. After mixing up the solution, simply bottle it instead and spray it directly on stains. Then let it sit before scrubbing with a bristle brush.
Is this carpet cleaner safe for pets?
Yes, the all-natural ingredients used in this recipe are pet safe. However, some essential oils may not be, so ensure any essential oils you include are pet-friendly.
Can I use this cleaner to deodorize my carpet?
While the essential oils included in this cleaner certainly will have a deodorizing effect, if you're just hoping to freshen the scent of your carpet rather than treat stains, you may find it easier to use a baking soda-based cleaner that you can sprinkle on for that purpose. This lavender carpet deodorizer is simple to make at home using only baking soda and lavender essential oil.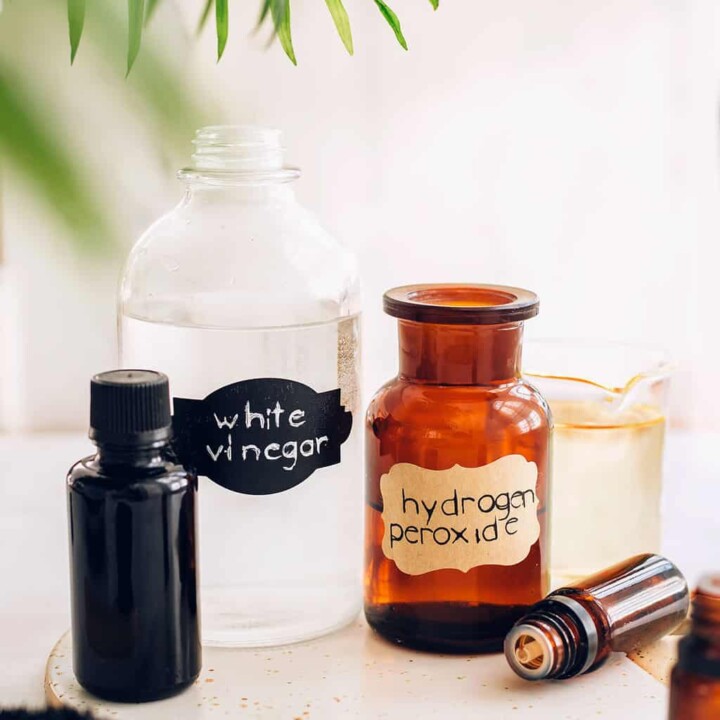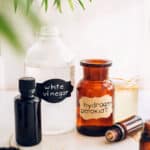 Print
DIY Carpet Cleaner
Who needs all those harsh chemicals when you can get spills and stains out naturally with this simple homemade carpet cleaner?
Materials
6

cups

hot water

I set my tea kettle to Delicate // 160F.

2

tablespoons

liquid Castile soap

2

tablespoons

white distilled vinegar

¼

cup

hydrogen peroxide

15–20

drops essential oils

I recommend lemon and sweet orange.
Instructions
Combine all ingredients in a large jug or pitcher and stir gently.

To use, pour into a carpet steam cleaning machine and use according to directions. Or apply directly to the carpet stain, and scrub with a bristle brush to remove.
Kate Kordsmeier is the founder of Root + Revel, a food and wellness site helping people live naturally, without sacrifice. After being diagnosed with PCOS, leaky gut, hypothyroidism, and insulin resistance, she healed her body naturally and reversed her symptoms with food and natural holistic remedies. Kate is the founder of Root + Revel, a site centered around real whole foods, safe, non-toxic beauty, effective DIY recipes, and healthy living inspiration. Sign up for Root + Revel's newsletter to receive a FREE DIY Natural Cleaning eBook.
233