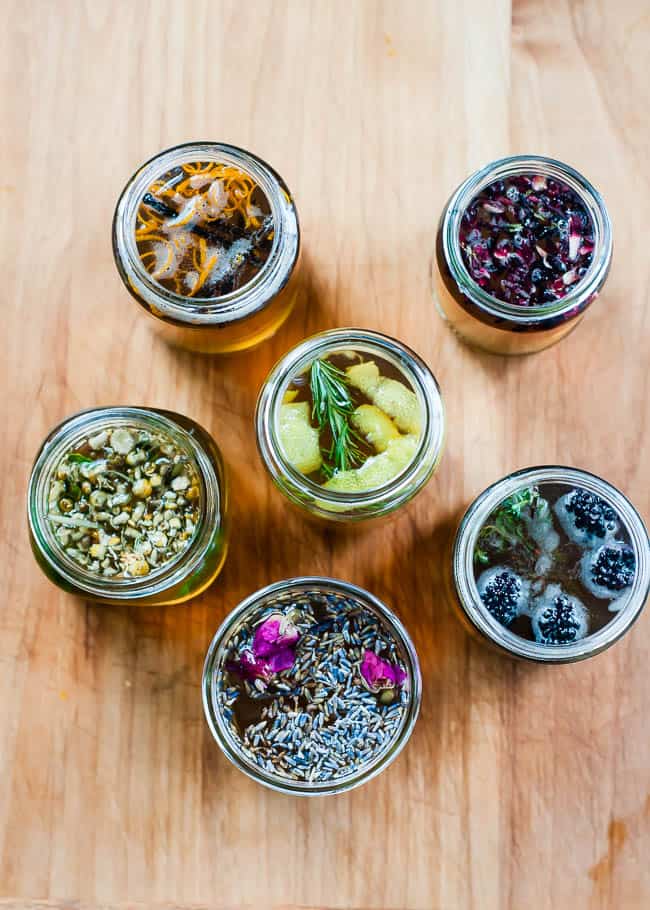 Warmer weather is here, which means it's time for ... fun summer drinks! If you make cocktails at home, you're probably familiar with simple syrup. I make simple syrup every time I mix up a pitcher of lemonade because it's much easier to mix into drinks than just sugar by itself.
The other great thing? You can easily infuse simple syrup with just about any flavor you can imagine. I'm sharing six great flavor combinations guaranteed to put you in the mood for a summer beverage.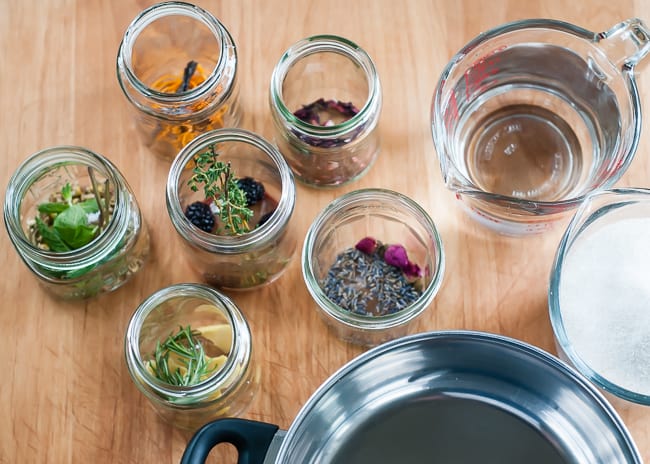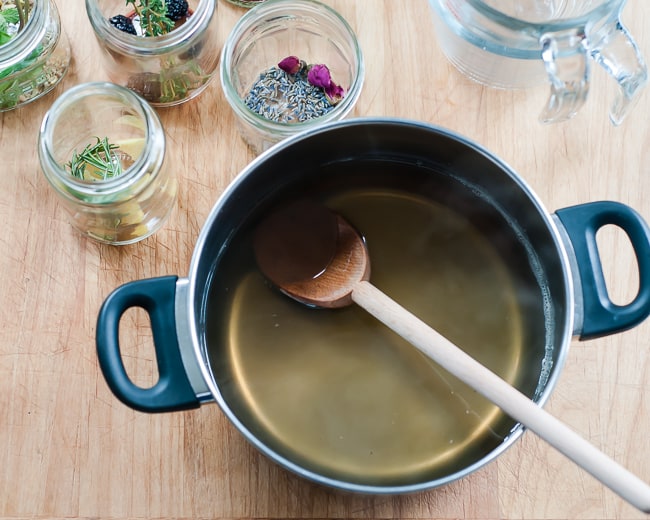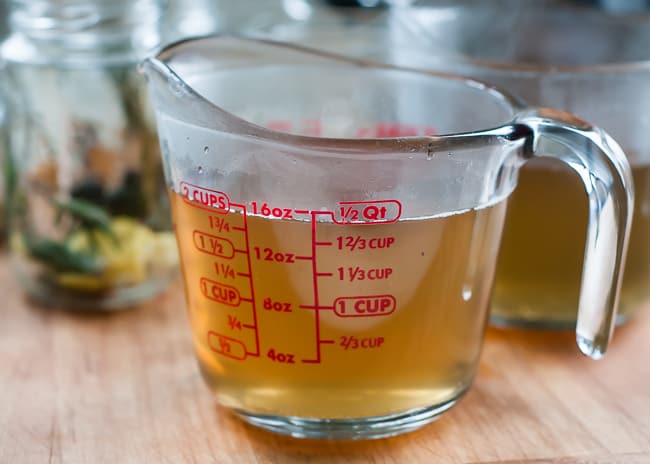 There are several ways to make simple syrup. I prefer a 1:1 ratio of water and organic evaporated cane juice. You can use whichever sweetener you like.
For a lighter colored simple syrup, use white granulated sugar. To flavor it, simply add your favorite edible flower (fresh or dried), herb sprigs, fruit or even spices. I use a more concentrated simple syrup because it takes up less space in the fridge.
For this, I used 2 cups evaporated cane juice and 2 cups water. It yields a little less than 4 cups of simple syrup. Because I wanted to make several different flavored syrups, I steeped the flowers, herbs and citrus peels in small glass jars.
Steeping them in the hot syrup helps release their flavors or essences. It doesn't take too long for the syrup to be infused - as little as 15-20 minutes.
The longer it steeps though, the stronger the flavor will be. Always strain the syrup to keep it from spoiling. The syrup needs to be kept refrigerated, and, while it will last for several weeks, it won't last forever.
6 Infused Simple Syrups for summer
1. Hibiscus
Steep ½ to 1 teaspoon dried hibiscus petals (can also use hibiscus herbal tea blend) in 6-8 ounces hot simple syrup. Let steep for at least 30-60 minutes. Strain and store in fridge.
2. Rosemary + Lemon
Use a vegetable peeler to remove thin strips of the zest of 1 organic lemon. Place in a jar with 1 small sprig organic rosemary. Add 6-8 ounces hot simple syrup and let steep for at least 30-60 minutes. Strain and store in fridge.
3. Lavender + Rose
Steep 1 teaspoon culinary grade, organic dried lavender and dried rose buds in 6-8 ounces of hot simple syrup. and Let steep for at least 30-60 minutes. Strain and store in fridge.
4. Chamomile + Mint
Place 1-2 teaspoons dried organic chamomile buds or 1 Tablespoon fresh chamomile buds and 1 sprig organic fresh mint in a small jar. Add 6-8 ounces hot simple syrup and let steep one hour or longer. Strain and refrigerate.
5. Blackberry + Thyme
Place 4-5 ripe blackberries and 1 sprig organic thyme in a jar. Add 6-8 ounces hot simple syrup to the jar and let steep. Mash the berries with a spoon to release more flavor.
Strain out the berries and thyme. Store in fridge. Use within one week.
6. Orange + Vanilla
Zest 1 large orange and place the zest plus 1 vanilla bean, split in a small jar. Add 6-8 ounces hot simple syrup.
Let steep for several hours. Strain out zest and vanilla bean. Refrigerate.
(Note - I use leftover vanilla beans that were used in another recipe. It's a great way to curb waste by reusing it.)
Strawberry Hibiscus Lemonade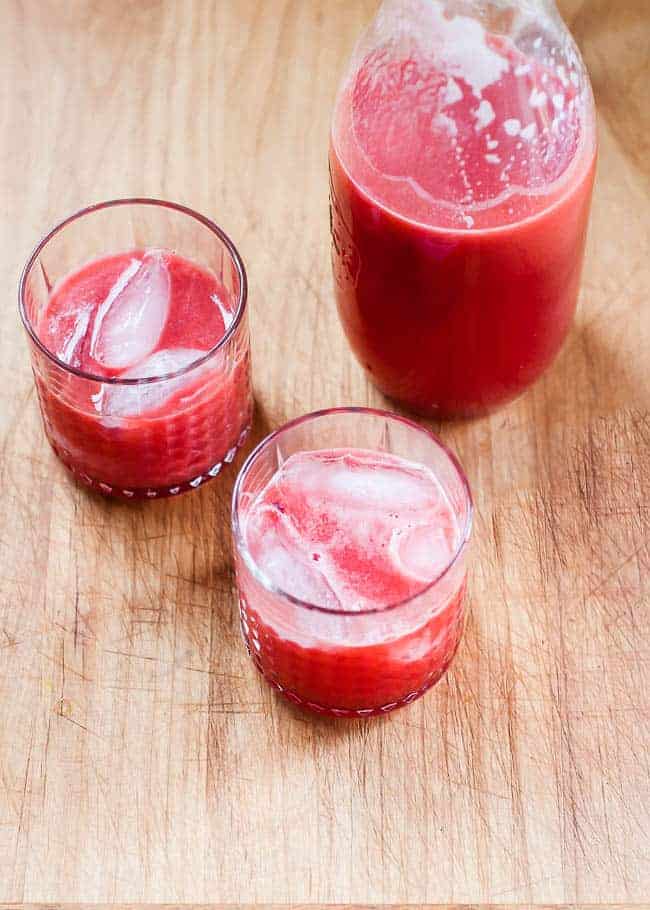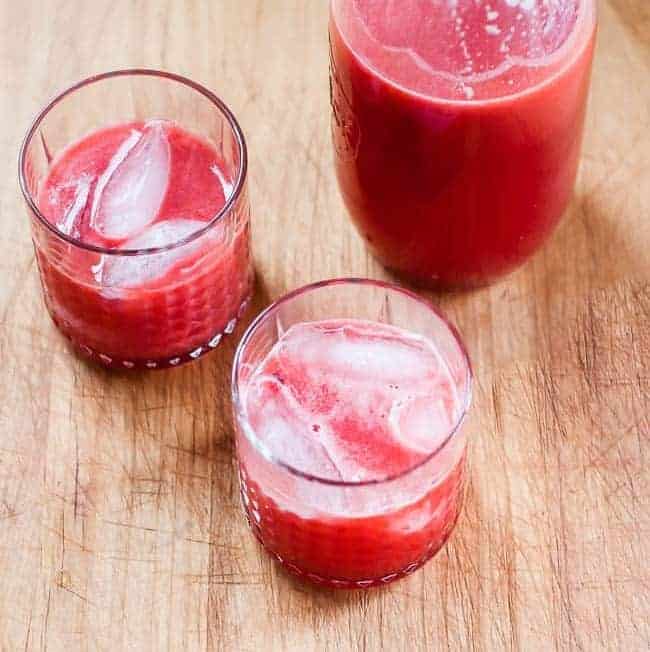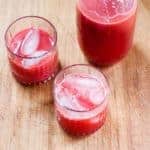 Print Recipe
Strawberry Hibiscus Cooler
A refreshing summery beverage made from strawberries and hibiscus simple syrup and a splash of vodka.
Ingredients
1

cup

Hibiscus Simple Syrup

1

cup

water

1

cup

fresh or frozen strawberries

½

cup

fresh squeezed lemon or lime juice

For serving - ice and vodka

or sparkling water
Instructions
Place Hibiscus Simple Syrup, water, strawberries, and fresh lemon or lime juice into a blender. Puree. Strain into a pitcher.

To serve, pour 4 ounces of the mixture over ice and add a splash of vodka or sparkling water.
Notes
To make the simple syrup: combine ½ cup organic evaporated cane juice and ½ cup water in a pan. Bring to a boil. Add 1 teaspoon dried hibiscus petals. Let steep for 30-60 minutes, or longer, and strain into clean jar. Store until ready to use.The strawberry drink is pretty sweet and concentrated. If you don't want to make a cocktail, just add more water to dilute it to your personal preference.Swap out the strawberries for another berry or fruit.
38