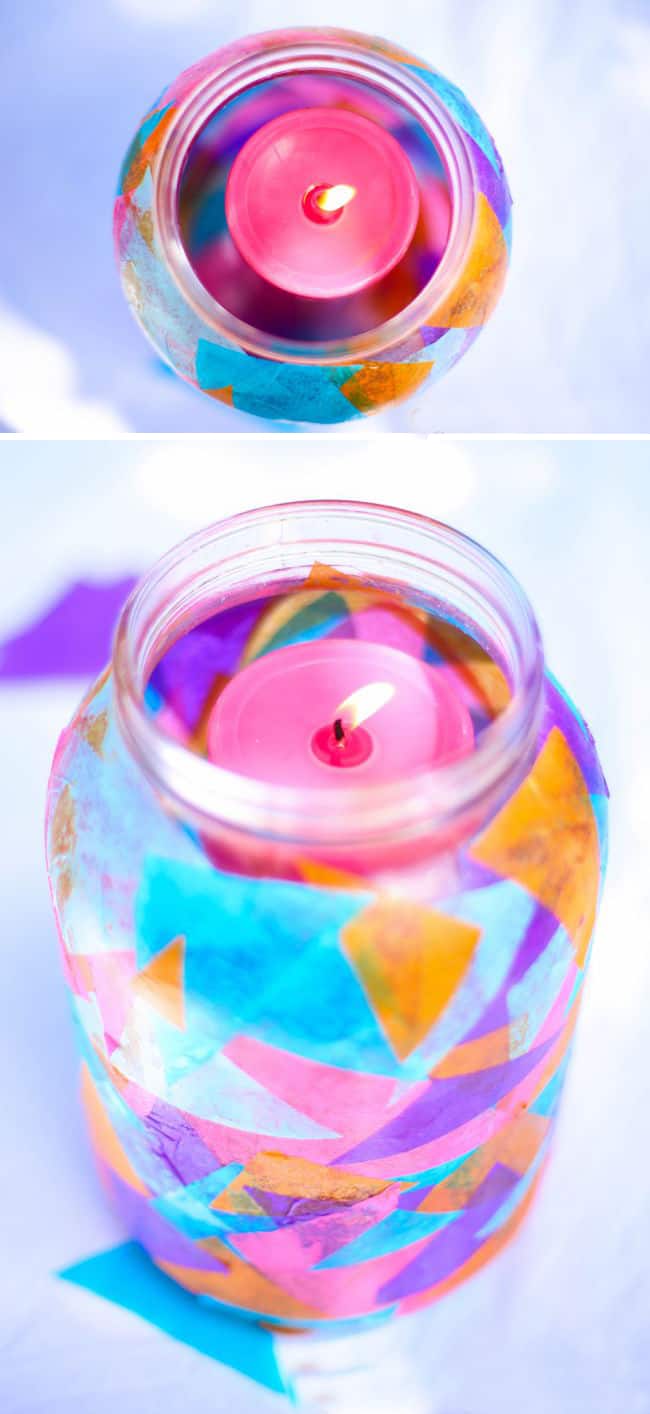 I've never considered myself a crafty person. Heaven knows I'm not artistic – my stick figure people look remarkably like my 3-year-old's. But I like to make things. There was never really a way to channel this before I started a blog. Everyone thought I had ADD because I jumped from hobby to hobby – learning how to do new things like make cheese or recover a chair and then moving on to the next bright & shiny idea.
Since starting this blog, I've been amazed to learn just how many things I actually can make on my own. Candles? Soap? Mason jar lights? Who knew? Though I'll be honest, it's not easy for me. I'm definitely not a natural when it comes to creativity. But I enjoy the process – without a project I'd be bored in 5 minutes. These DIY mason jar lanterns will light up your life, literally!

When someone asked what it means to live a well-crafted life, I had to simmer on the question – over a glass of wine on the patio with my hubby now that weather is warm and breezy. I told him how much I loved the idea of celebrating makers. People who care about making beautiful lives. How I want that to be me, too.
I'm not sure how that translated into cutting hundreds of tissue paper triangles to make these giant DIY mason jar lanterns. But now our evening wine conversations have a warm glow.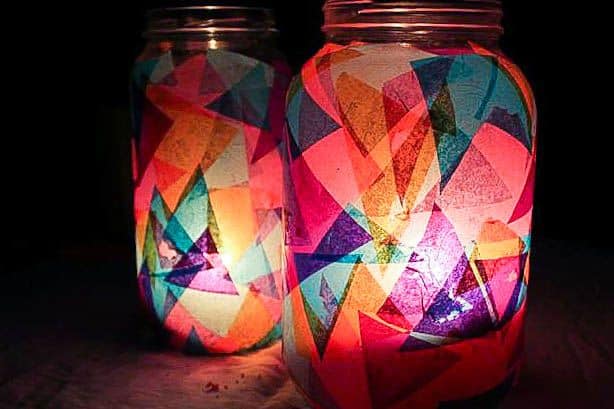 I realized that, for me, creating a well-crafted life has been the process of figuring out my passions and finding what inspires me. That's why I've loved blogging so much. It's an endless opportunity for learning.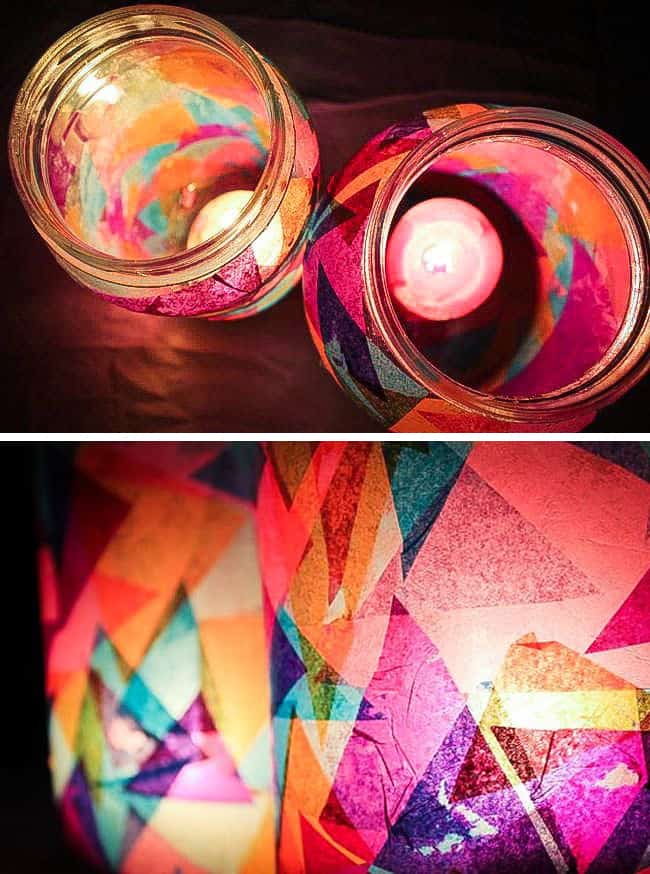 How do you define a well-crafted life?
Frequently Asked Questions About DIY Lantern Jars
What are DIY lantern jars?
DIY lantern jars are decorative lanterns made using mason jars, which are typically glass jars with a screw-on lid and a wide mouth. These lanterns can be used to create a soft glow and add a cozy ambiance to any space, and are often used for home decor or outdoor events.
How do I make DIY lantern jars using mason jars?
To make DIY lantern jars, you will need mason jars, spray paint in different colors (optional), battery-operated tea lights or other types of lights, white glue or Mod Podge (optional), and any other embellishments you desire, such as beads or a beaded handle (optional). First, you can spray paint the mason jars with a light coat of paint in the desired colors and let them dry. Then, you can attach any embellishments using white glue or Mod Podge, and insert the battery-operated tea lights into the mason jars. Once everything is in place, you can hang the lantern jars using a beaded handle or simply place them around the jar.
Can I use other types of paint instead of spray paint?
Yes, you can use other types of paint, such as acrylic paint or glass paint, to customize your DIY lantern jars. However, spray paint is often preferred because it can provide a smooth and even coat on the glass surface of the mason jars, and dries quickly. If using other types of paint, make sure to follow the manufacturer's instructions and allow sufficient drying time before handling or inserting the lights.
How many lantern jars do I need for my project?
The number of lantern jars you will need depends on the size of your project and your desired outcome. It can range from as few as 1-2 jars for a small centerpiece or accent piece, to 10-30 jars for a larger display or event. Consider the space where you plan to use the lantern jars and the overall aesthetic you want to achieve when determining how many jars to use.
Should I use real candles or a battery-operated tea light?
Some people believe you should candles for safety reasons. Mason jars are made of glass and can become hot when used with real candles. Battery-operated tea lights or LED lights are a safer option if you are going to leave your lanterns unattended for a long time, as they do not produce heat and eliminate the risk of fire hazards. Always prioritize safety when creating DIY lantern jars or any other crafts involving candles or lights!
296