Candles are one of those little luxuries that can instantly set the mood. Whether it be for your morning sun salutations, a relaxing soak in the tub, or a romantic dinner, candles make any activity feel like a special event.
I have always loved collecting candles, so much so that my family doesn't even try to surprise me at Christmas anymore. They know to just give me candles, and I'll be elated. But just when I think I've tried them all, along comes one that surprises me.
I got the idea for these hidden crystal candles from an airport gift shop, of all places! They're made with nontoxic soy wax and scented with essential oils to create the perfect relaxing aroma. And if that wasn't enough, each one has a little crystal hidden inside.
As the candle burns the crystal is revealed, so eventually, you can tuck it in your pocket or purse and carry it with you to reap the energetic benefits. Not only are they fun to light, but they make amazing gifts even candle aficionados will love.
How to Make Hidden Crystal Candles
Candle making is a deceptively easy craft—if I say so myself. Once you get over the initial investment in materials, you can simply melt and pour your way to endless color and scent combinations. That's what makes them so great to give as gifts!
Choose some pretty jars and pick up some essential oils you can easily mix and match (sweet orange, clove, and ginger are my personal faves). Then customize your candles with a crystal chosen specifically for the receiver. This allows you to add a personal touch while still making them in bulk to give away.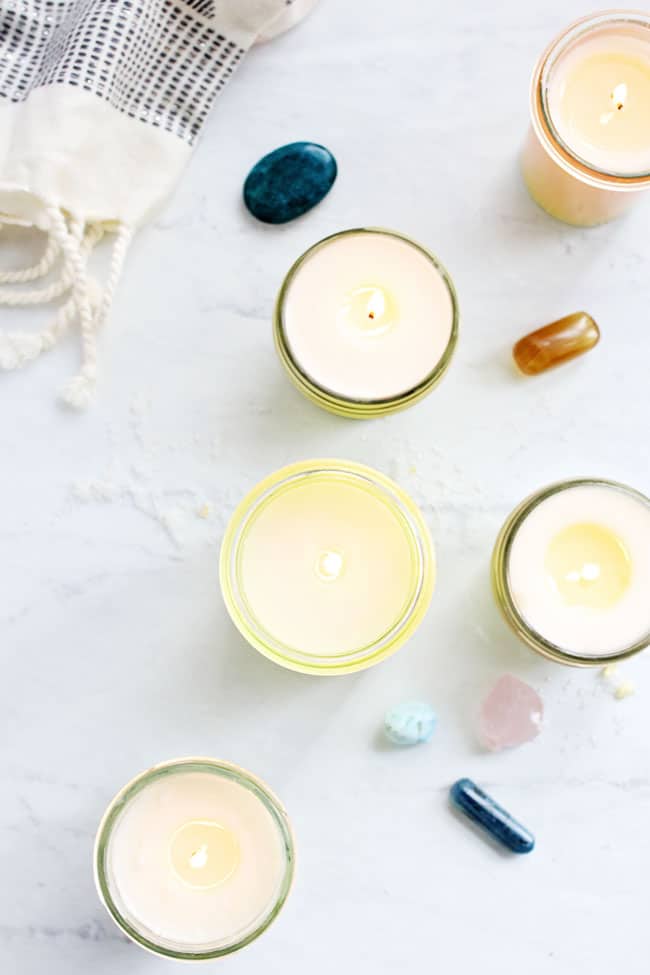 If you're not too familiar with crystals, it's okay to start by picking one just because you love the color. But it's believed that healing crystals carry the life force of the earth and have the ability to emit energetic frequencies. So it's a good idea to do a little research before picking a stone.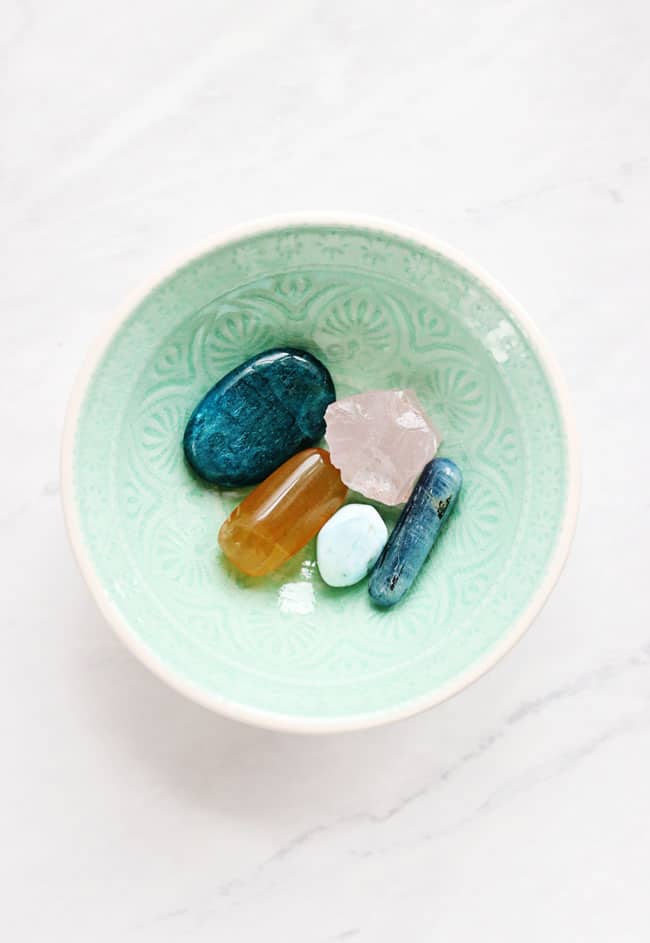 When it comes to gifts, you can never go wrong picking some of these stones:
Healing: amethyst, rose quartz or turquoise
Good luck: moonstone or carnelian
Success: citrine quartz or aventurine.
I always pick up extra stones whenever I visit my local crystal shop, but you can buy them online if you don't have a shop nearby. Etsy is a great source. You can also pick up a crystal sampler set from Amazon and get a variety of stones for cheap.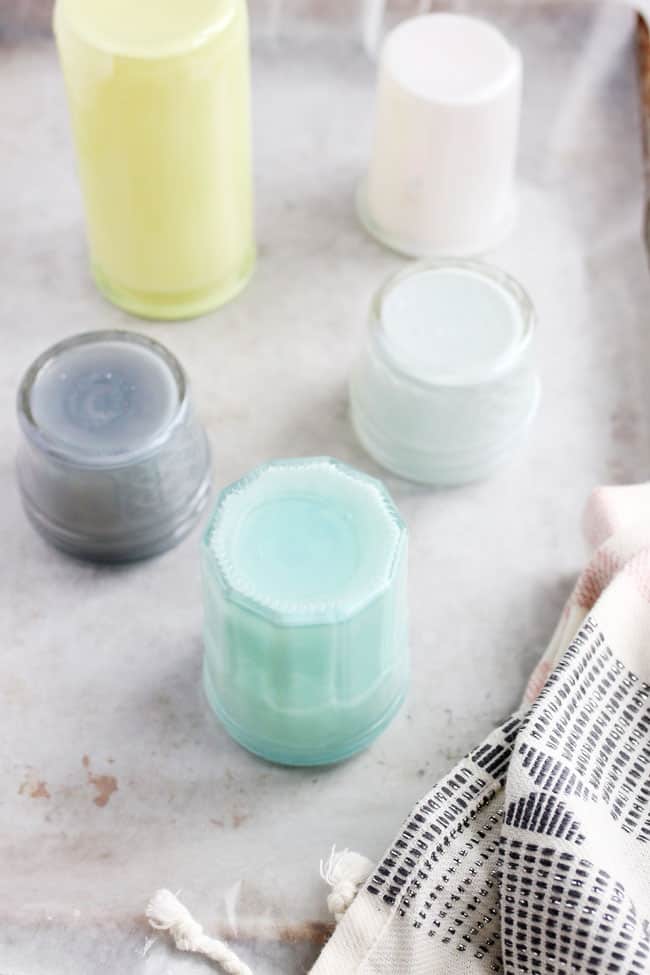 How to Make Tinted Jars
Here's a little trick: instead of buying new jars for gifts, I like to collect older jars and tint them to give them new life.
With a little bit of Modge Podge and some food coloring, you can easily match your jars to the crystal inside.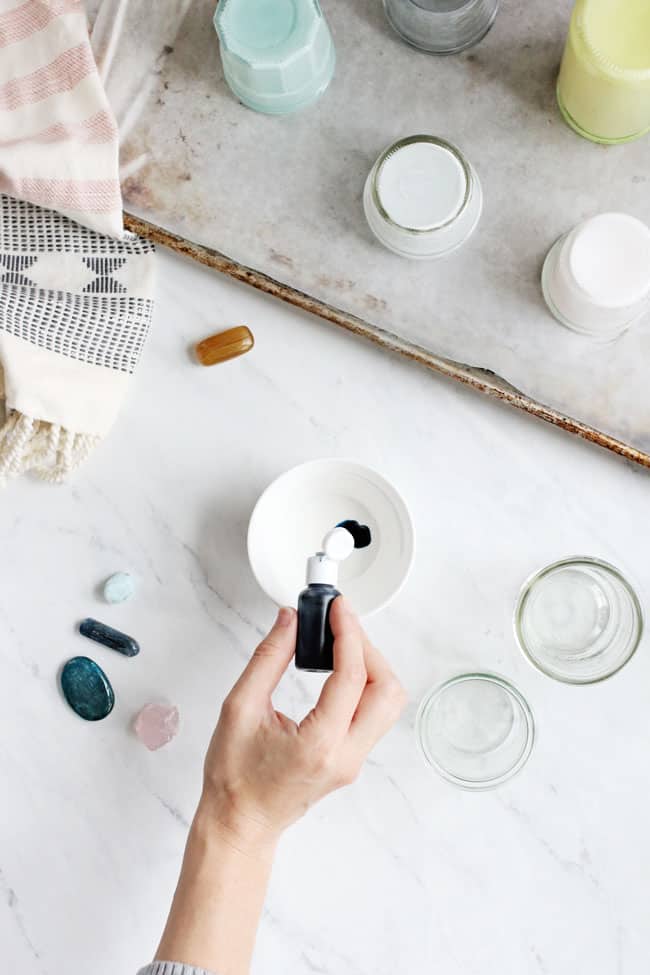 Here's how to do it:
1. Mix several drops of food coloring with 1 tablespoon Modge Podge and 1 teaspoon water in a small bowl until you get a shade you like.
2. Pour the colored Modge Podge into the jar, and roll it around until the sides are evenly coated.
3. Pour out the extra, and place the jar upside down on a piece of wax paper so that the extra drains out.
4. Let them dry for about 45 minutes, and then pop your jars in a 225ºF oven for another hour to cure.
You'll be left with a subtle tint, perfect for brightening a hallway or adding a relaxing bit of color to a bedside table.
Once the jars have cured completely, you can create your hidden crystal candles without messing up the color.
Crystal Candle FAQs
Can I use beeswax instead of soy wax?
Yes, beeswax should be fine. You can actually use any kind of wax you like for these, and the recipe will stay the same.
Is it really cheaper to make your own candles?
So. Much. Cheaper. While the ingredients might cost you a bit upfront, you can make about 6 to 8 candles from one bag of soy wax. And if you use cotton wicks, repurposed jars, and inexpensive crystals, each might clock in somewhere between $4 and $6.
How long should candles cure before you can use them?
For soft waxes, like soy or coconut, candles should cure for about 2 weeks before using them. If you can't wait that long (and I don't blame you!), 3 days should be adequate.
Why won't my homemade candles smell?
Natural essential oils aren't nearly as fragrant as chemical scents. Combine that with low-melting waxes, like soy wax, and the wax doesn't really get hot enough to throw much of a fragrance. You can either add more essential oils or just accept the fact that natural candles won't ever be as fragrant as you're used to.
Can I use wooden wicks for my candles?
I'm a huge fan of wooden wicks! Just know that wooden wicks need to be soaked in oil or some sort of burning agent or they won't burn well (I learned this the hard way). Otherwise, they look great and make for really gift-worthy candles.
How do I get the wax off the hidden crystal when I'm done?
Smooth crystals should clean off pretty easily with just some dish soap and a paper towel. But for rougher, more natural crystals, you might need to boil the stone to remove the wax.
I'm not sure how boiling will affect the crystal, but I can guarantee that most crystals purchased online (like on Amazon, for instance) have seen far worse!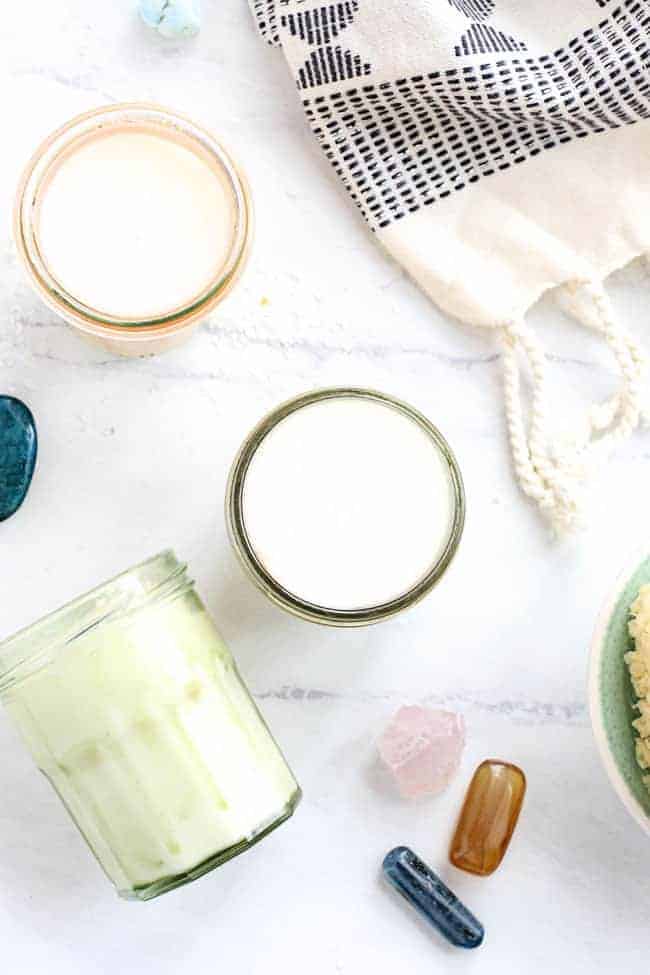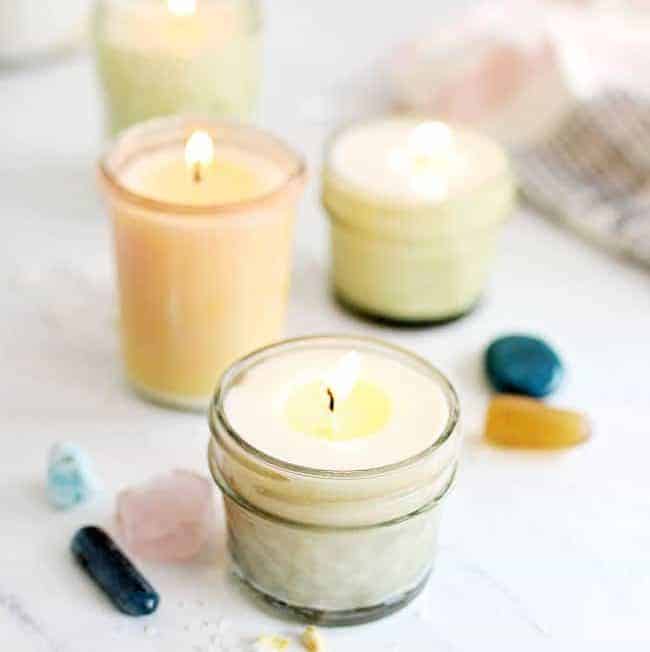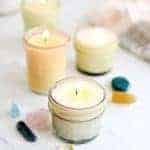 Print
Hidden Crystal Candles
Get some good vibes in your space by burning these DIY hidden crystal candles. (And make lots of extras to give as gifts, too!)
Instructions
Combine 1 tablespoon Mod Podge with 1 teaspoon water in a small cup. Add food coloring one drop at a time until you get the perfect color (Once baked, the color will look a lot lighter, so don't be afraid to go a little dark). When you have a color you like, pour the mixture into the jar and swirl it around until the inside is completely coated.

Pour out any excess, set the jars upside down on a baking tray lined with wax paper. and let them dry for at least 45 minutes. Then bake at 225ºF for 1 hour.

After the jars have cooled, slowly melt the soy wax chips (I melt mine in an old 16-ounce glass jar in the microwave, checking often.). Secure the wick to the bottom of the jar with a drop of wax, and carefully place your crystal next to the wick. Once the wax is completely melted, add essential oils and stir. Then pour the mixture into the jar and let it sit until the wax hardens. Trim the wick if needed.
Notes
Let your candles cure for about 3 days—better yet, 2 weeks, if you can wait that long—before lighting them.
Burn candles until you uncover the hidden crystal inside. To remove the crystal, blow out the flame and let the wax cool for several minutes. Because we used soy wax, it shouldn't be hot enough to burn you if you allow it to cool slightly.
Remove the crystal and wash with dish soap to remove the wax.
249