For the price of a massage at the spa, you could instead invest in quite a few high-quality essential oils. You'll then be ready to us this recipe to make tranquil, soothing, yummy-smelling DIY massage candles to have at your fingertips whenever you want a relaxing massage.
A combination of soy wax and other skin-soothing oils, massage candles melt easily, and the wax is cool enough to pour right on your skin for a soothing, spa-like treatment.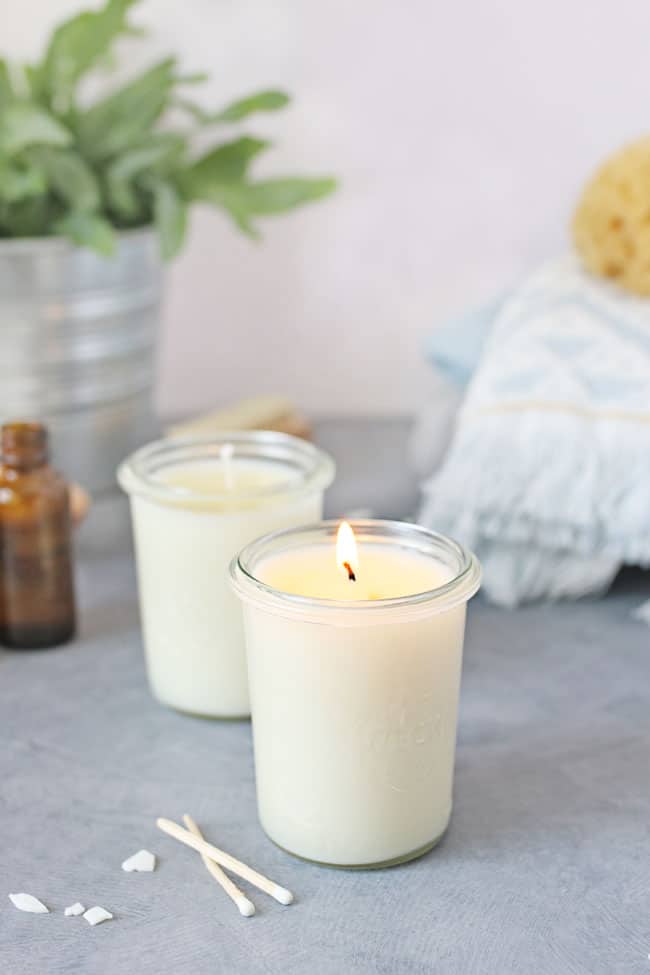 Benefits of a Candle Massage
Unlike some other massages, using a candle incorporates heat into the massage process. This helps to:
soothe muscles

relax the

nervous system

ease tension and

pain

release the aromatherapy benefits of your essential oils
And while you might be thinking that candle wax is too hot to apply directly to skin, soy wax melts at a lower temperature than others, so it never really gets hot enough to do serious damage.
With soy wax, you can let it cool until it reaches a comfortable temperature (this usually takes just a couple of minutes). And then apply it to skin just like you would a lotion, to lock in moisture and nourish dry skin.
How to Make DIY Massage Candles
The process of making massage candles is similar to that of other types of homemade candles. Just make sure to choose skin-safe essential oils and, if you're sensitive to heat, allow plenty of time for the wax to cool before applying.
Here's how we made ours: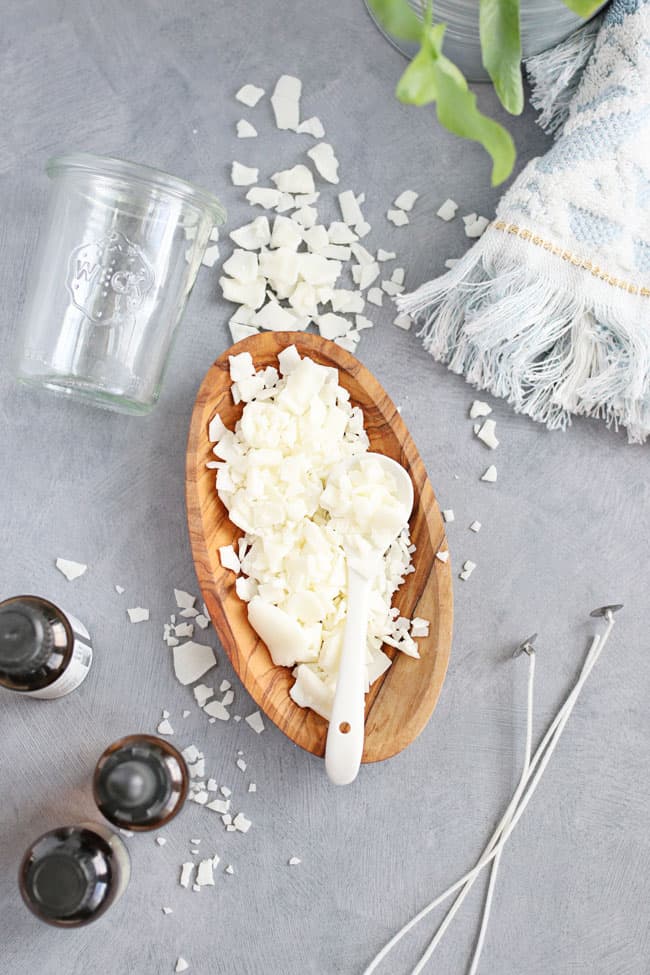 Supplies needed
Step 1
Measure out 1–2 cups of soy wax flakes and melt in a microwave-safe glass. My wax took about 90 seconds to melt completely, but your time may vary.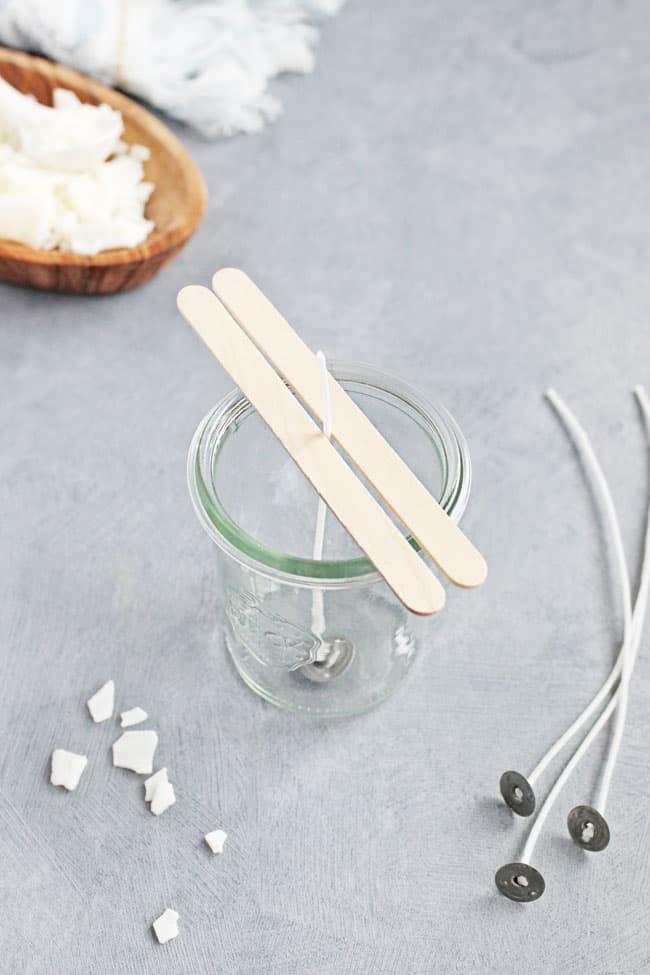 Step 2
While the wax is melting, place the wick in your candle jar. Be sure the wick is straight and that the tab is pressed to the bottom. Help keep it in place by placing popsicle sticks on each side of the wick.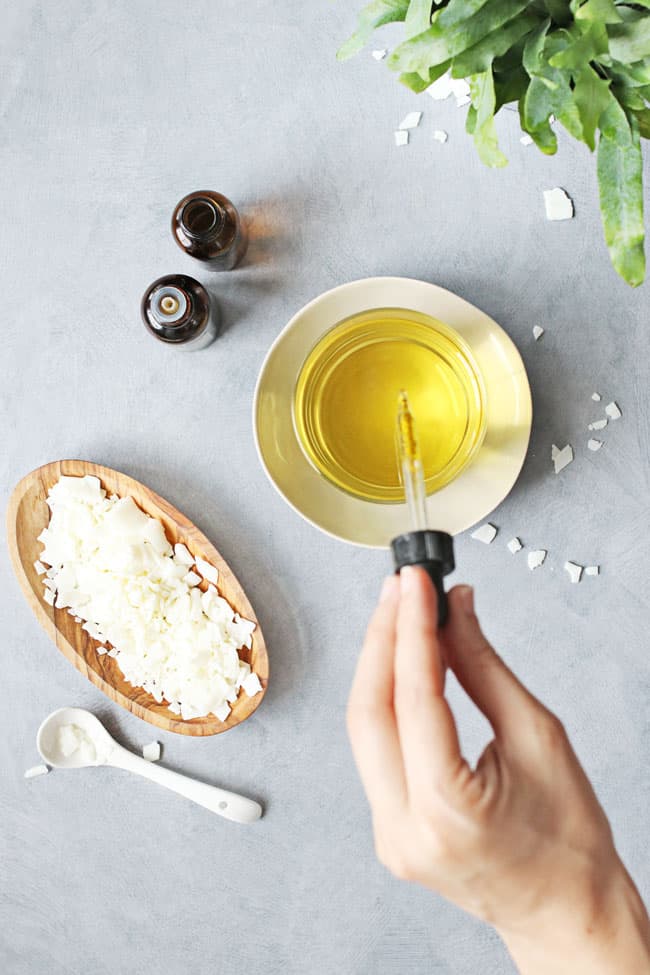 Step 3
Let the wax cool slightly before adding your jojoba oil, vitamin E, and essential oils. Stir well.
Note: You can have fun with this! Customize your DIY massage candles by adding in your favorite combinations of essential oils. I love using woodsy oils like cedarwood as a base and adding in a few drops of a citrus oil, like clementine, just to keep things interesting. About 30 drops divided between your favorite scents will give you a really pleasant candle that isn't too strong.
For calming candles:
Use oils such as ylang ylang, chamomile, lavender, clary sage, cedarwood.
For stress-relieving candles:
Use oils such as frankincense, rose, nutmeg, sweet almond, and chamomile.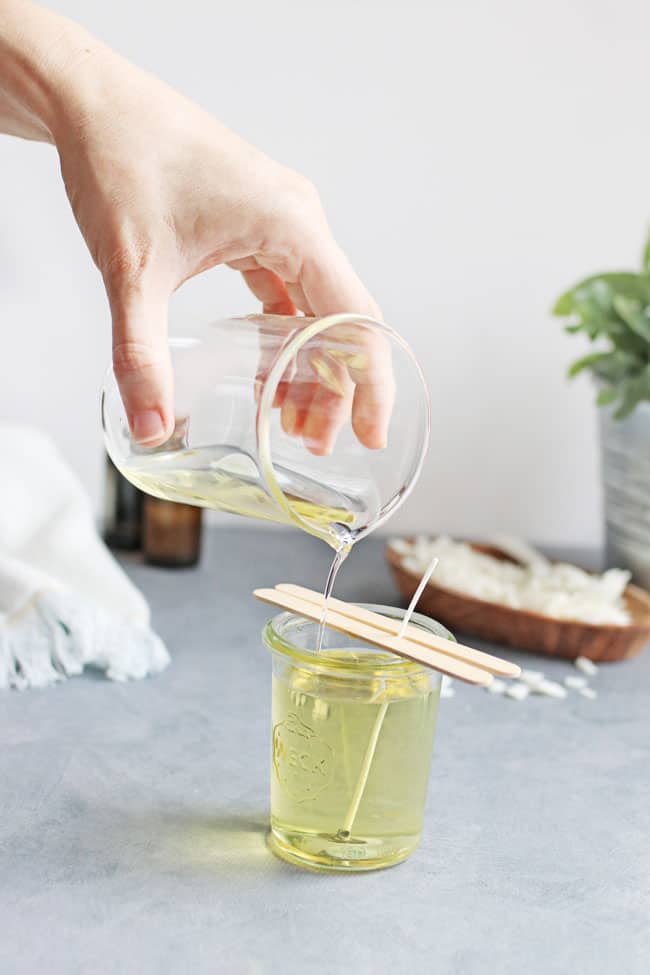 Step 4
Carefully pour your mixture into the jar and let it set up for an hour or two. (If your wick moves while you're pouring the wax, simply re-center it before the wax hardens.) When cool, trim the wick.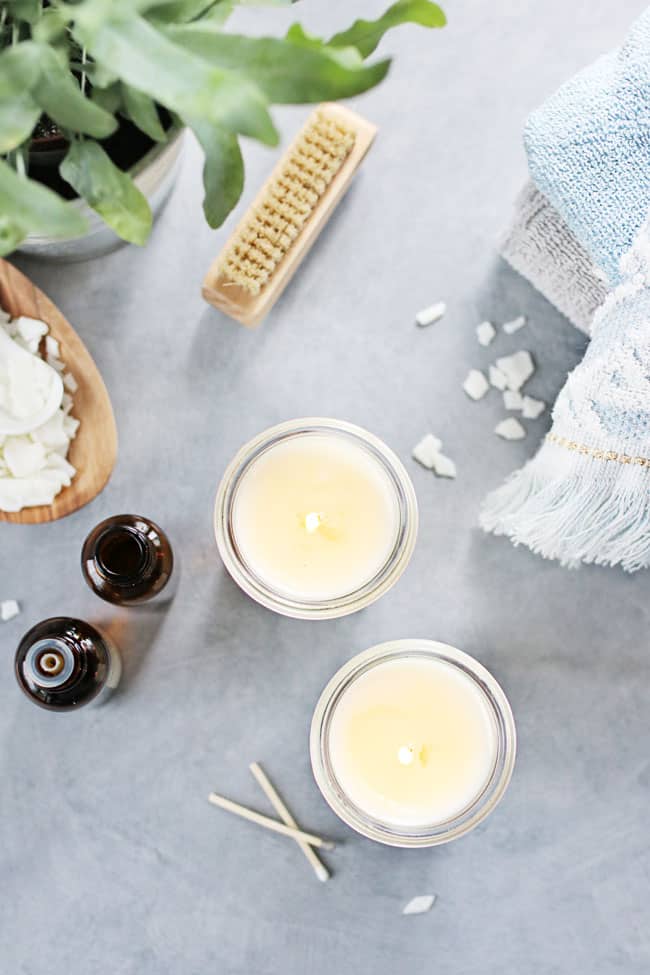 How to Use Your Candles
Light your massage candle and let burn for 15–20 minutes, allowing a small pool of wax to form around the wick. Blow out the flame and let cool for several minutes.
Then carefully pour the wax into your hand, or dip the tips of your fingers in the wax Massage the skin, as usual, working the wax into skin like you would with massage oil or lotion.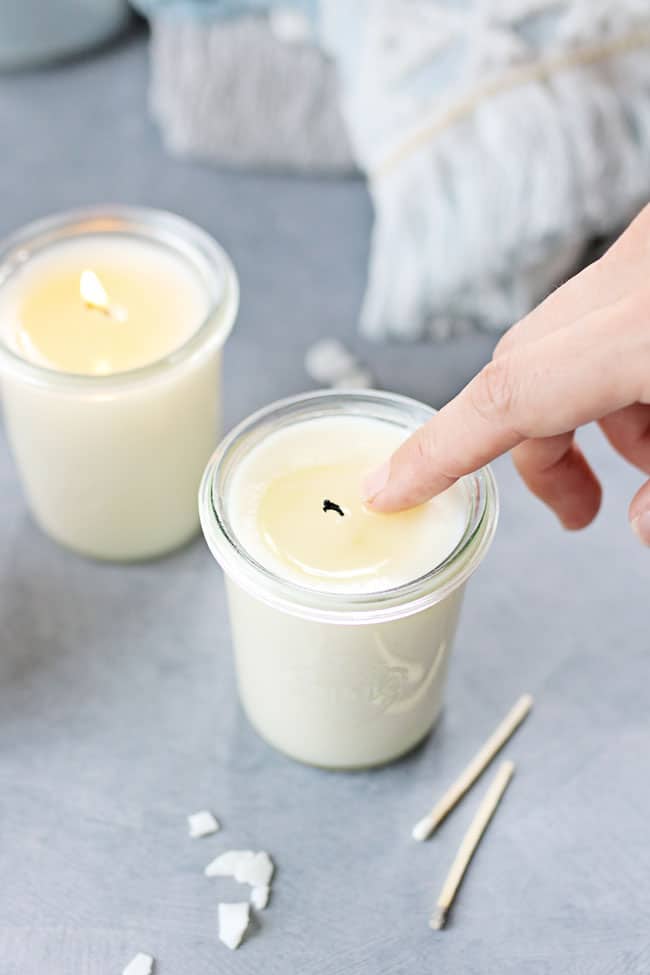 Massage Candle FAQ
Can I use a different type of wax or oil instead of soy wax?
Soy wax is specifically chosen because it has a relatively low melting point, which means that it won't burn you if used properly. It also behaves more like an oil than a wax when used on skin.
Paraffin wax also has a pretty low melting point, which is why it's often used in spa treatments (but a lot of wellness folks don't like paraffin because it can release toxic fumes when burned).
If you want to experiment with using other waxes, that's up to you. But I would stay away from using beeswax or straight coconut oil because both of those can get hot enough to cause serious burns.
Can I use cologne instead of essential oils?
I wouldn't recommend it because combining cologne with wax and then exposing it to an open flame could change the chemical composition or release hazardous vapors into the air. It's best to stick with all-natural essential oils.
What else can I add to make my candles feel more like a lotion?
You can add a tablespoon of cocoa butter, shea butter, or even coconut oil to give your candles a more lotion-like consistency. Just make sure to use those ingredients in moderation, or you run the risk of degrading your candle's consistency and affecting the melting point.
Do massage candles hurt?
No, they shouldn't! Always let the wax cool slightly, and be sure to test the temperature on your wrist or inner arm before applying to a larger patch of skin.
Should I wash off the massage candle wax when I'm done?
That's a personal choice. The oils are full of skin-soothing vitamins and humectants, which will leave your skin feeling soft and moisturized if left on. But if the thought of being slathered in oil makes you feel gross, then yes, go ahead and give yourself a quick rinse.
Want to skip the candles but keep the massage?
Try making your own massage oil with these 6 essential oil blends.
This article was medically reviewed by Dr. Gina Jansheski, a licensed, board-certified physician who has been practicing for more than 20 years. Learn more about Hello Glow's medical reviewers here. As always, this is not personal medical advice and we recommend that you talk with your doctor.
Photos by Stephanie Pollard
224