Adding essential oils to your shampoo sesh can soothe scalp issues and jump-start hair growth—no homemade shampoo required! This guide explores the best essential oils for shampoo, gives tailored blends for different hair types, and explains the proper usage techniques to get the biggest benefits for your hair.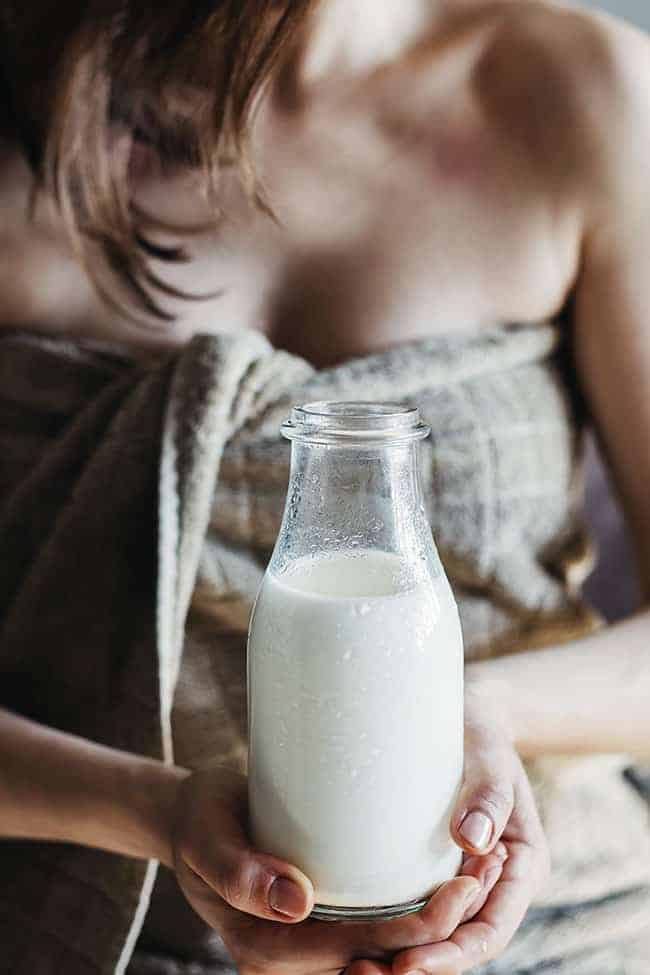 One of the primary benefits of incorporating essential oils into your shampoo is the promotion of a healthier scalp. Oils, such as tea tree, lavender, and rosemary, possess antimicrobial and anti-inflammatory properties, combating issues like dandruff, itchiness, and dryness. By soothing and balancing the scalp, essential oils help create an optimal environment for hair growth.
If you're looking to accelerate hair growth, essential oils can be a game-changer. Incorporating essential oils into your shampoo, you can support the natural growth cycle of your hair, leading to longer and thicker locks.
Essential oils have the incredible ability to add shine, softness, and manageability to your hair.
Jump to:
Best Essential Oils to Add to Shampoo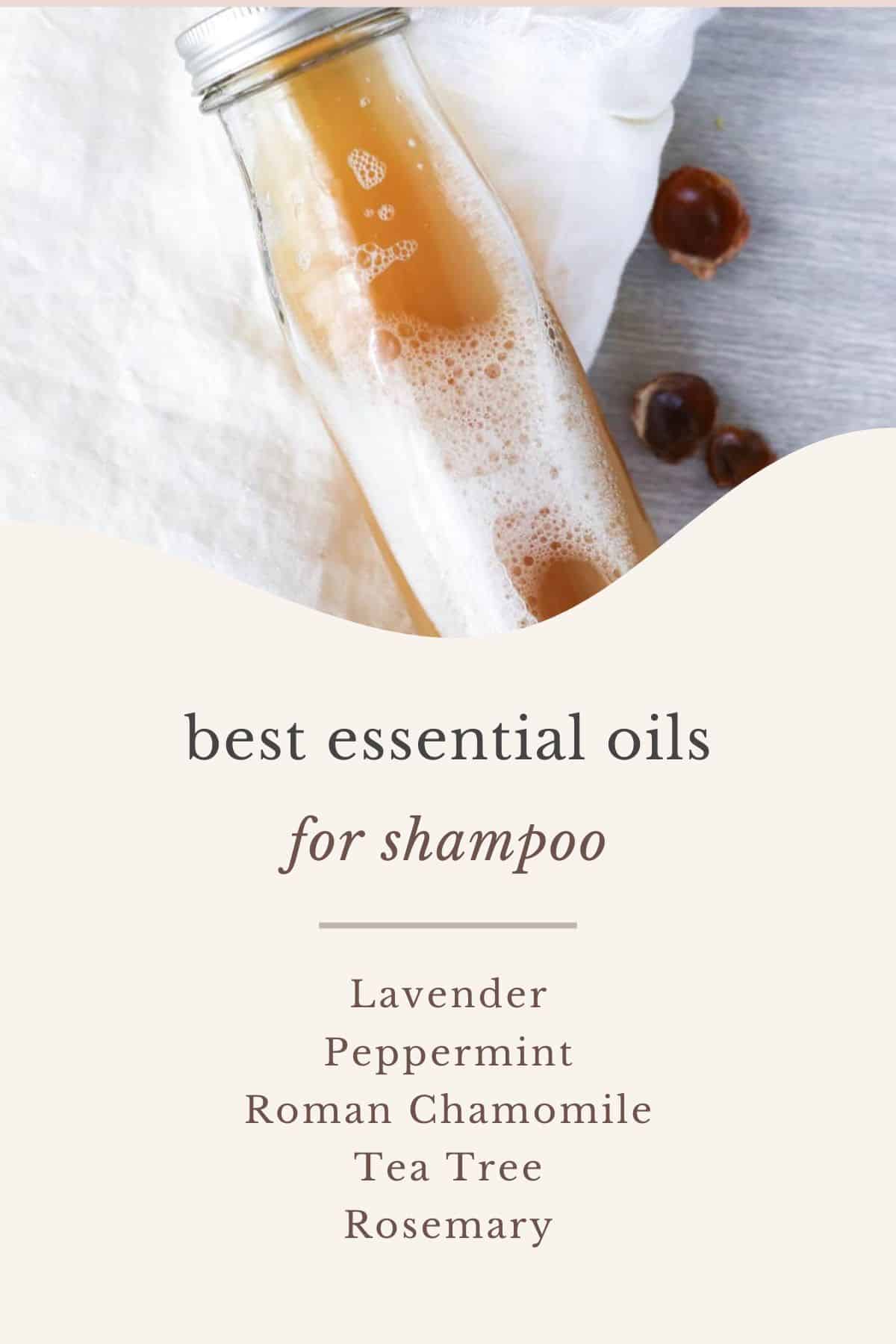 Lavender: Lavender is a versatile essential oil that offers a myriad of benefits. Its calming scent and anti-inflammatory properties [source] make it an excellent choice for soothing the scalp and reducing hair loss. Additionally, lavender EO can promote hair growth [source] and impart a delightful fragrance to your shampoo.
Peppermint: Peppermint EO is invigorating and refreshing, making it an ideal addition to shampoo. It contains menthol and other compounds that stimulate blood flow to the scalp, promoting hair growth [source] while also providing a cooling sensation that soothes itchiness and irritation. Peppermint EO can leave your hair feeling refreshed and revitalized.
Tea tree: Tea tree EO is renowned for its powerful antifungal and antibacterial properties [source]. When added to shampoo, it has been shown to effectively treat dandruff [source], and it can also combat dryness, irritation, and scalp infections. Tea tree EO can help restore balance to an oily scalp while playing a role in promoting healthy hair growth [source].
Rosemary: Rosemary EO is a potent oil that stimulates circulation, thereby promoting hair growth [source] and reducing hair loss. It also has antioxidant properties that help combat free radicals [source], keeping your hair healthy and vibrant. Rosemary oil is an excellent choice for those seeking to strengthen and revitalize their hair.
Chamomile: A gentle and soothing oil, chamomile EO is particularly beneficial for those with sensitive scalps, irritation, or dandruff. In animal studies, it has been shown to improve itching in dermatitis [source]. And it can enhance the natural shine of your hair, promote a healthy scalp, and even lighten hair color gradually. Chamomile brings a touch of relaxation and softness to your shampoo routine.
Blends for Every Hair Type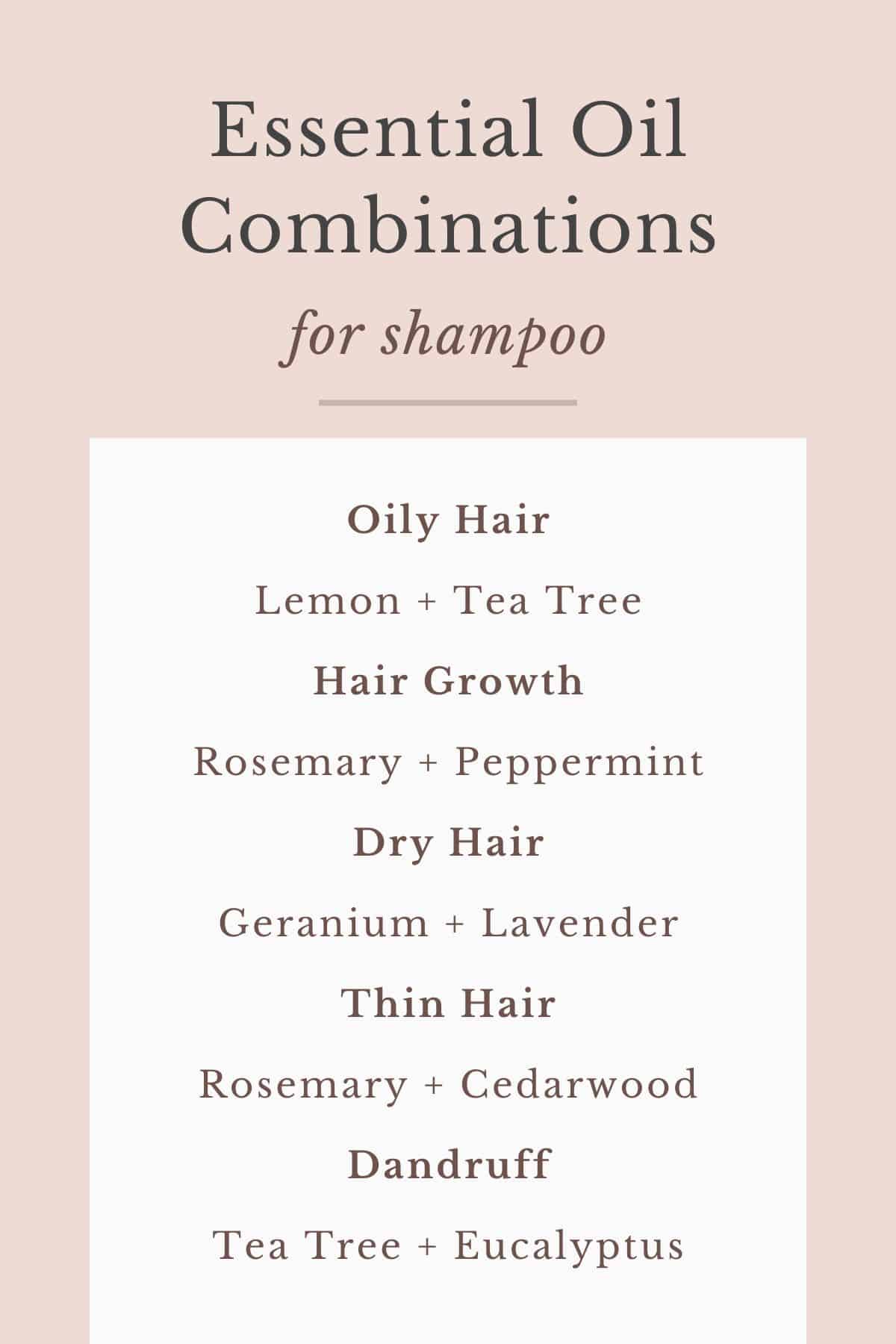 Oily Hair: For oily hair, a blend of tea tree and lemon essential oils can work wonders. Tea tree helps regulate oil production, while lemon oil clarifies the scalp and removes excess sebum. This blend purifies the scalp, reduces greasiness, and restores balance to oily hair.
Hair Growth: Stimulate your scalp with a blend of rosemary and peppermint essential oils. Rosemary and peppermint stimulate blood circulation in the scalp, promoting hair follicle health to strengthen hair strands and minimize breakage.
Dry Hair: To nourish and moisturize dry hair, consider combining lavender and geranium essential oils. Lavender calms and hydrates the scalp, while geranium helps retain moisture and adds luster to dry, dull hair. This blend provides deep hydration and restores vitality to dry locks.
Thin Hair: If you're looking to add volume and thickness to thin hair, try a blend of rosemary and cedarwood essential oils. Rosemary stimulates hair growth, while cedarwood helps improve circulation to the scalp, strengthening the hair follicles.
Dandruff: For those battling dandruff, a blend of tea tree and eucalyptus essential oils can be highly effective. Tea tree's antifungal properties combat dandruff-causing yeast, while eucalyptus oil soothes the scalp and reduces itchiness. This blend helps eliminate flakes and relieves dandruff-related discomfort.
Instructions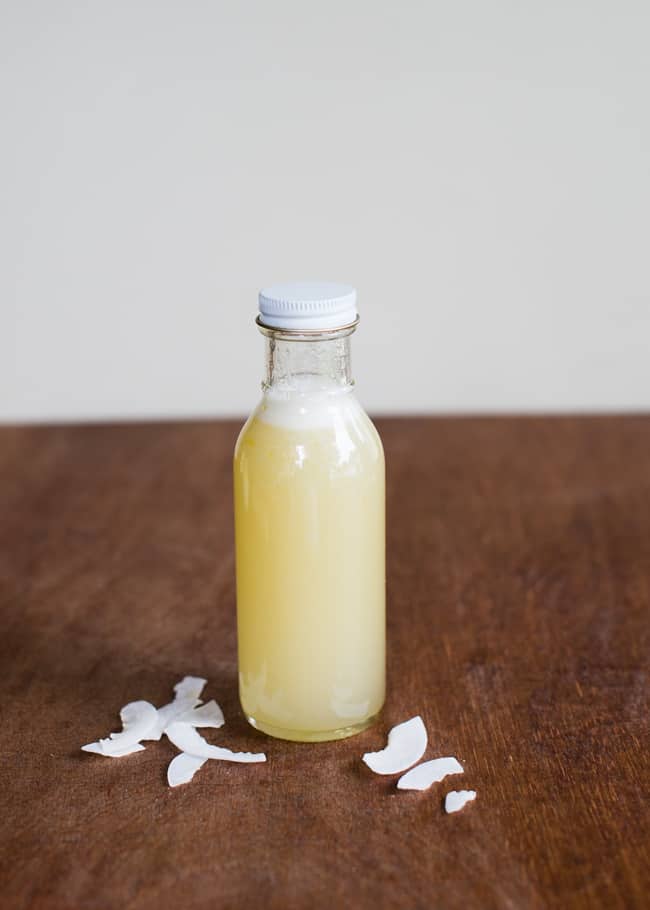 Start by adding the essential oil or blend to your regular shampoo. Add a total of 6 drops of essential oil for each ounce of shampoo. You can add it directly to the bottle, then replace the cap and shake well to distribute the oils.
Shake the shampoo bottle before each use to ensure proper distribution of the EO.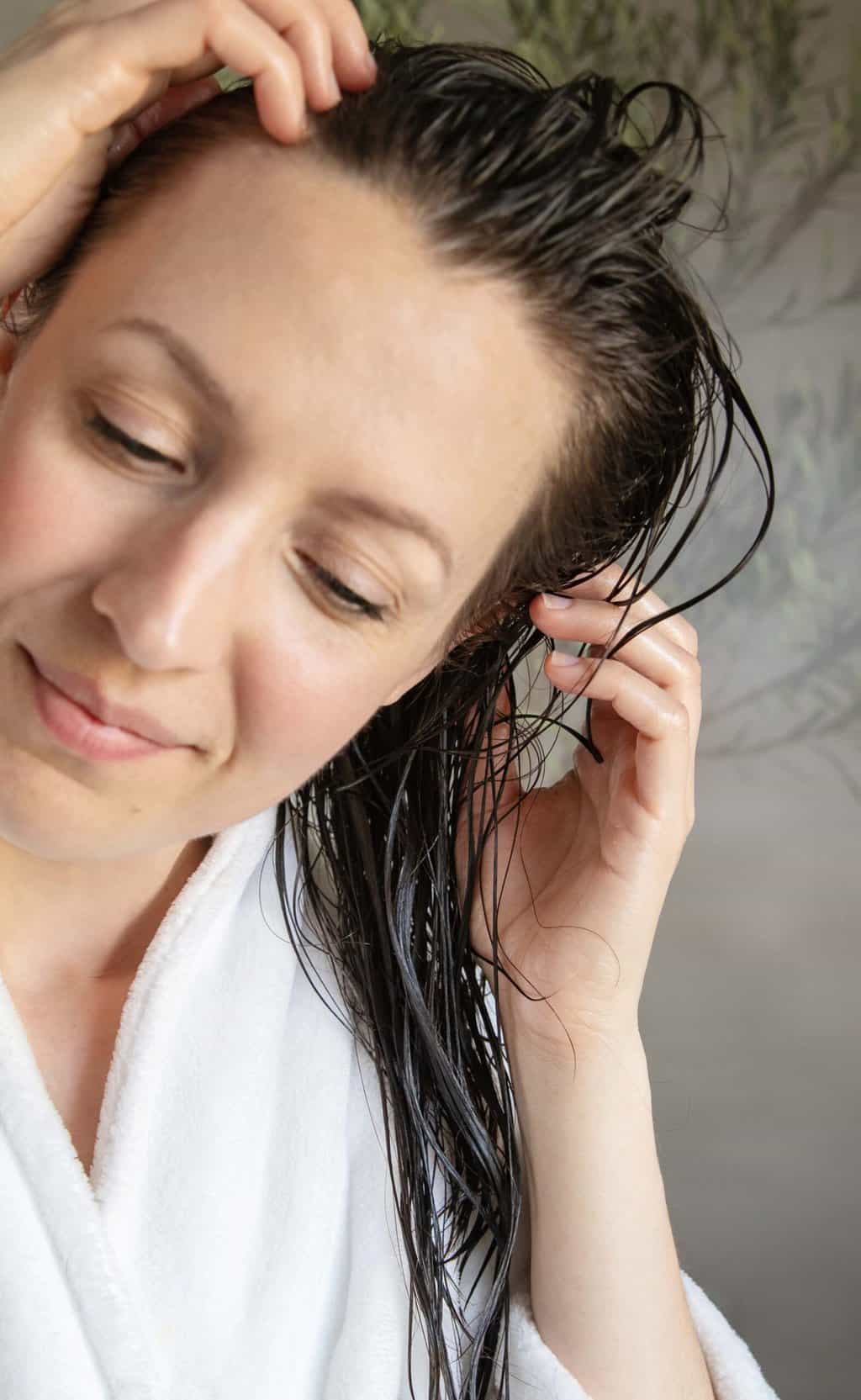 Wet your hair and massage the essential oil-infused shampoo into your scalp. Focus on the roots, where the oil can have the most impact on hair and scalp health. Gently work the shampoo through the length of your hair, allowing the essential oils to nourish and strengthen each strand.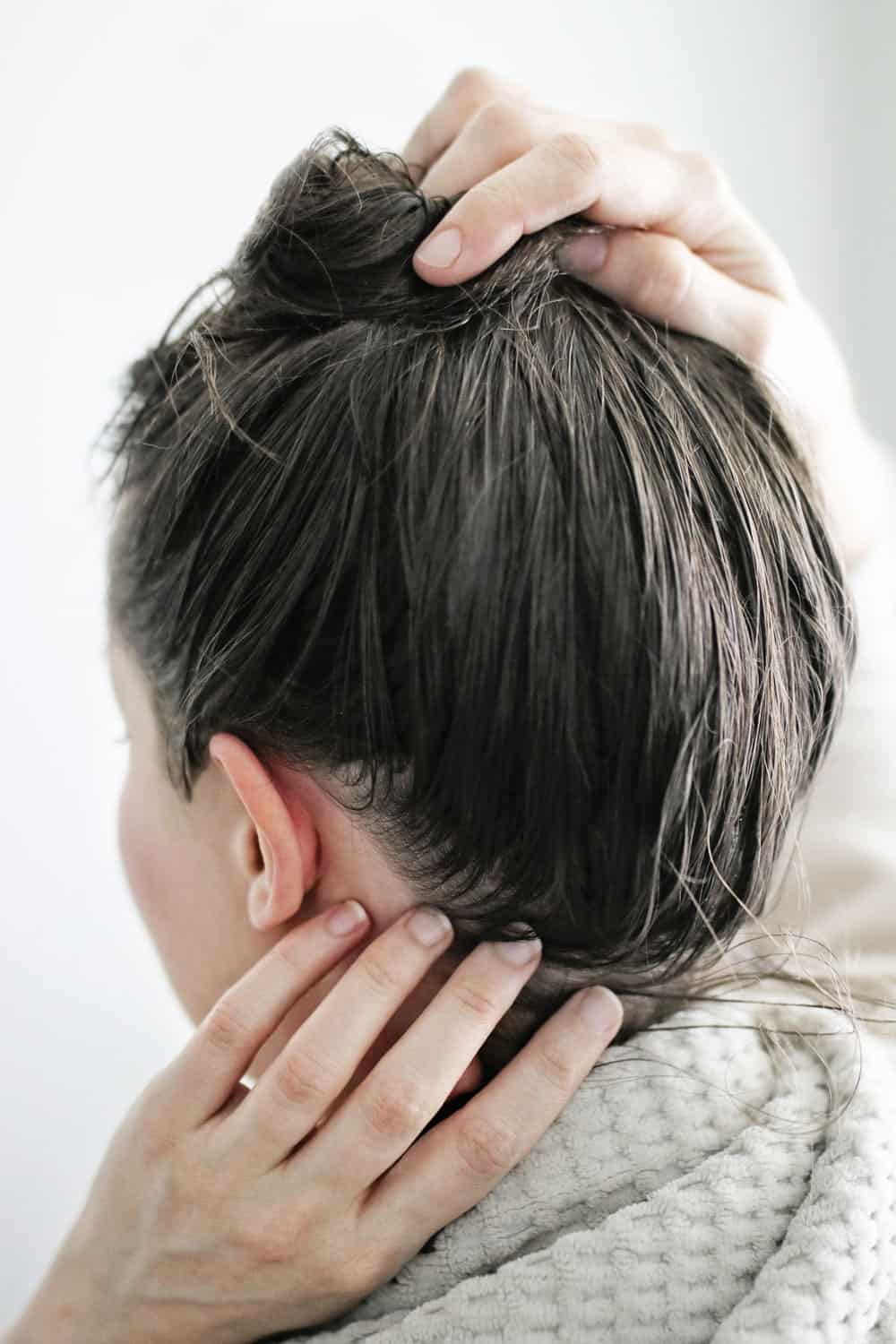 Allow the shampoo to stay on the scalp for at least 1 minute.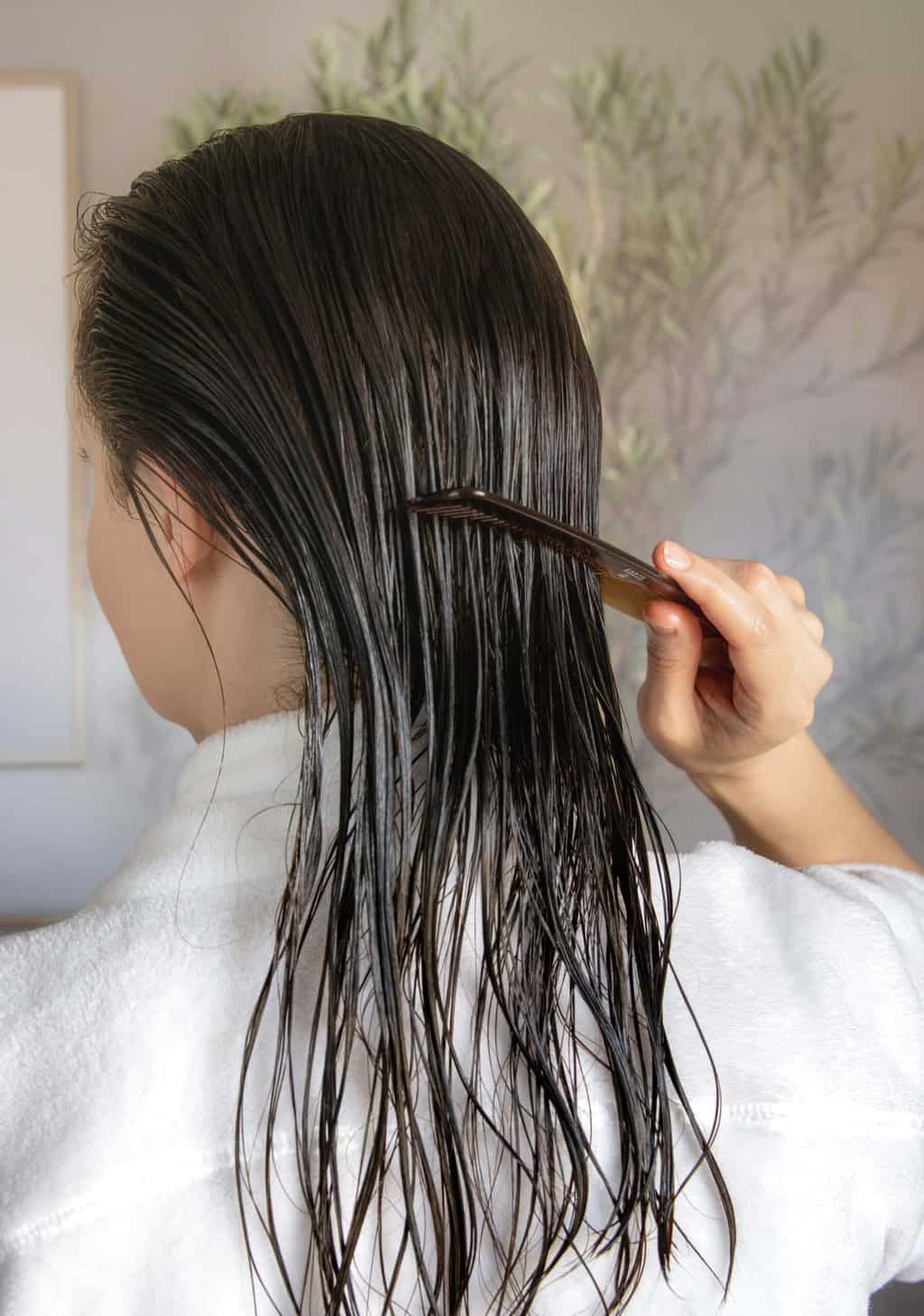 Then rinse your hair thoroughly to remove any residue or lingering oil, which may weigh down the hair or leave a greasy feel.
Hint: Avoid getting essential oil-infused shampoo into your eyes. If this happens, rinse your eyes with water immediately.
Variations
Product buildup: Combine a dollop of shampoo with 1 teaspoon of baking soda and 4 drops of lemon essential oil to create a simple clarifying shampoo that strips away grease and residue from styling products.
Volume: Adding salt to your shampoo is an easy trick for volumizing hair. In your palm, combine equal parts shampoo and kosher salt with 4 drops of peppermint essential oil and wash normally.
Add essential oils to unscented shampoo to get the most out of their aromatherapy benefits.
Top tip
Add essential oils to unscented shampoo to get the most out of their aromatherapy benefits.
References (in order of appearance):
4