Vitamin C (aka ascorbic acid) is known as the one supplement that covers all the bases in the skincare world. This nutrient is found in most foods and it's a popular ingredient in skin care products because it's a defender, a repairer and a creator for skin. That's a lot of jobs for one antioxidant. And the list goes on! Let's see if it ticks all of our 'must-have' boxes:
Forms collagen? Check!
Neutralizes free radicals? Check!
Firms skin? Check!
Repairs skin? Check!
Reduces sunburn? Check!
Protects from UV radiation? Check!
Improves skin elasticity? Check!
Lightens sun damaged skin and age spots? Check!
Increases skin circulation? Check!
Have I convinced you yet? Ok, good. Since the above list is full of actions that typically occur during the daytime, such as protect from UV rays, reduce sunburns, and fights free radicals, Vitamin C is most commonly applied for daytime use, but it can also be included in a nighttime routine as well. Basically, the more often, the merrier.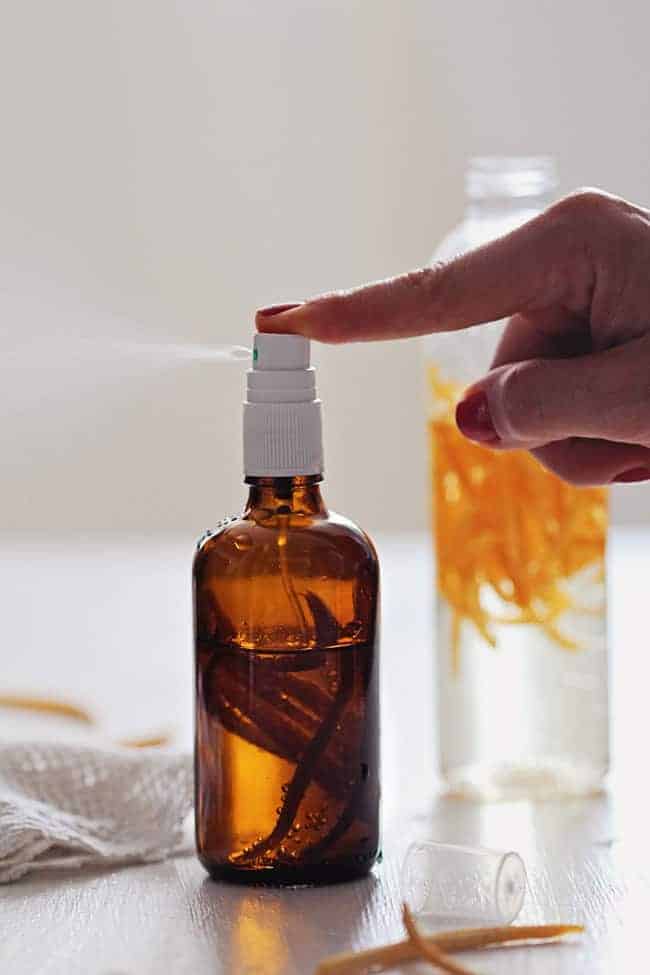 While 75 milligrams a day for an adult woman is the recommended vitamin C dosage, it's also a vital ingredient to weave into your topical skincare routine as well.
How can you weave it into your daily routine?
Vitamin C is the first product I apply in the morning after cleansing. It's such a powerhouse ingredient, I like it to be the closest layer to my skin with no barrier in between. A toner is typically the first step post-cleansing, so a Vitamin C toner is the perfect layer. This simple and refreshing DIY toner is a great way to add ascorbic acid to your skincare routine.
Firming Antioxidant Vitamin C Citrus Toner
Peel of 1 organic orange or lemon
1 tablespoon witch hazel
Heat Safe Jar + Lid
1 cup boiling water
Strainer
Dark glass spray bottle
For this toner you'll want to be sure to use organic fruit since we will be working with the peel of the citrus fruit, which is where pesticides typically settle. Take a clean lemon or orange and remove the peel in small pieces with a knife or citrus peeler.
Add the peels to a heat safe jar and pour in 1 cup of boiling water. Cover with the lid and let steep overnight. Strain the steeped liquid into a spray bottle and add 1 tablespoon of witch hazel. Vitamin C should be stored in a dark glass container to keep it's potency fresh.
Shake before each use; spritz on your face after washing day and night or whenever you need a quick refresh throughout the day. Store in the refrigerator to keep maximum freshness.
Do you have any favorite vitamin C products that you've incorporated into your regimen for daily use? We would love to hear it in the comments.
Vitamin C is popping up in all sorts of varying products from masks and scrubs to cleansers and serums, and there's no mystery as to why. Hopefully ascorbic acid will quickly become an internal and external component contributing to your overall skin and body's health.
Photo by Ana Stanciu
262