Love 'em or hate 'em, toners are one of those skincare items that really will make a difference in your skin—if you give them a chance. Not only do toners help remove makeup and cleanse your pores but they nourish skin and add moisture.
As if that weren't enough, this vitamin C-packed citrus toner takes things a step further and bathes your skin in antioxidants, helping you look bright eyed and bushy tailed, even when you don't feel it.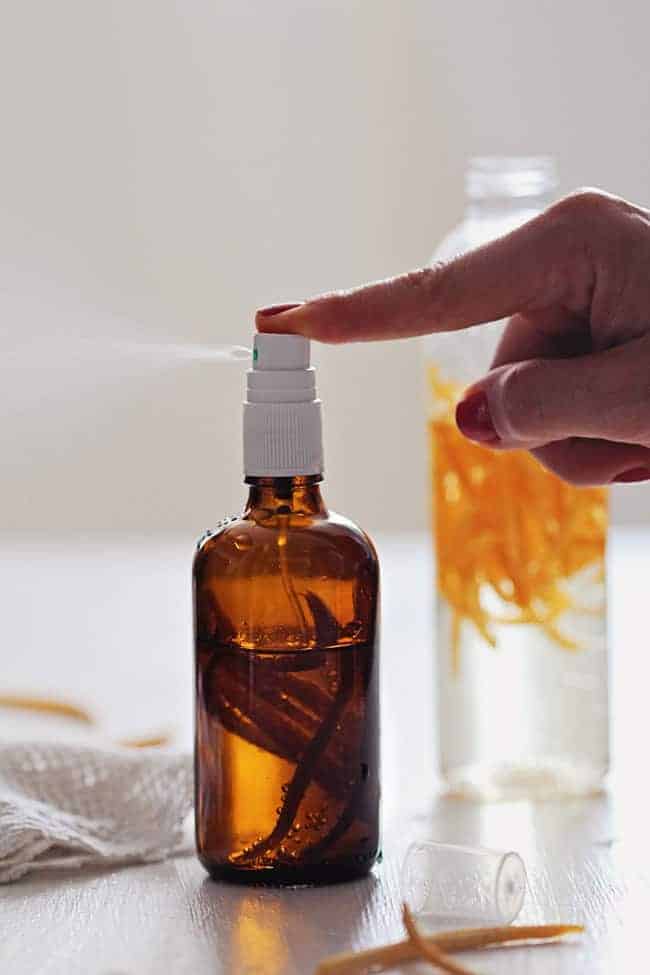 Benefits of Vitamin C for Skin
Vitamin C (aka ascorbic acid) is known as the one supplement that covers all the bases in the skincare world. This nutrient is found in most foods and it's a popular ingredient in skin care products because it's a defender, a repairer and a creator for skin. That's a lot of jobs for one antioxidant. And the list goes on! Let's see if it ticks all of our 'must-have' boxes:
Forms collagen? Check!
Neutralizes free radicals? Check!
Firms skin? Check!
Repairs skin? Check!
Reduces sunburn? Check!
Protects from UV radiation? Check!
Improves skin elasticity? Check!
Lightens sun damaged skin and age spots? Check!
Increases skin circulation? Check!
[source]
Have I convinced you yet? Ok, good. Since the above list is full of actions that typically occur during the daytime, such as protect from UV rays, reduce sunburns, and fights free radicals, Vitamin C is most commonly applied for daytime use, but it can also be included in a nighttime routine as well. Basically, the more often, the merrier.
While 75 milligrams a day for an adult woman is the recommended vitamin C dosage, it's also a vital ingredient to weave into your topical skincare routine as well.
How can you weave it into your daily routine?
Vitamin C is the first product I apply in the morning after cleansing. It's such a powerhouse ingredient, I like it to be the closest layer to my skin with no barrier in between. A toner is typically the first step post-cleansing, so a Vitamin C toner is the perfect layer. This simple and refreshing DIY toner is a great way to add ascorbic acid to your skincare routine.
Firming Antioxidant Vitamin C Citrus Toner
Peel of 1 organic orange or lemon
1 tablespoon alcohol-free witch hazel
Heat Safe Jar + Lid
1 cup boiling water
Strainer
Dark glass spray bottle
For this toner you'll want to be sure to use organic fruit since we will be working with the peel of the citrus fruit, which is where pesticides typically settle. Take a clean lemon or orange and remove the peel in small pieces with a knife or citrus peeler.
Add the peels to a heat safe jar and pour in 1 cup of boiling water. Cover with the lid and let steep overnight. Strain the steeped liquid into a spray bottle and add 1 tablespoon of witch hazel. Vitamin C should be stored in a dark glass container to keep it's potency fresh.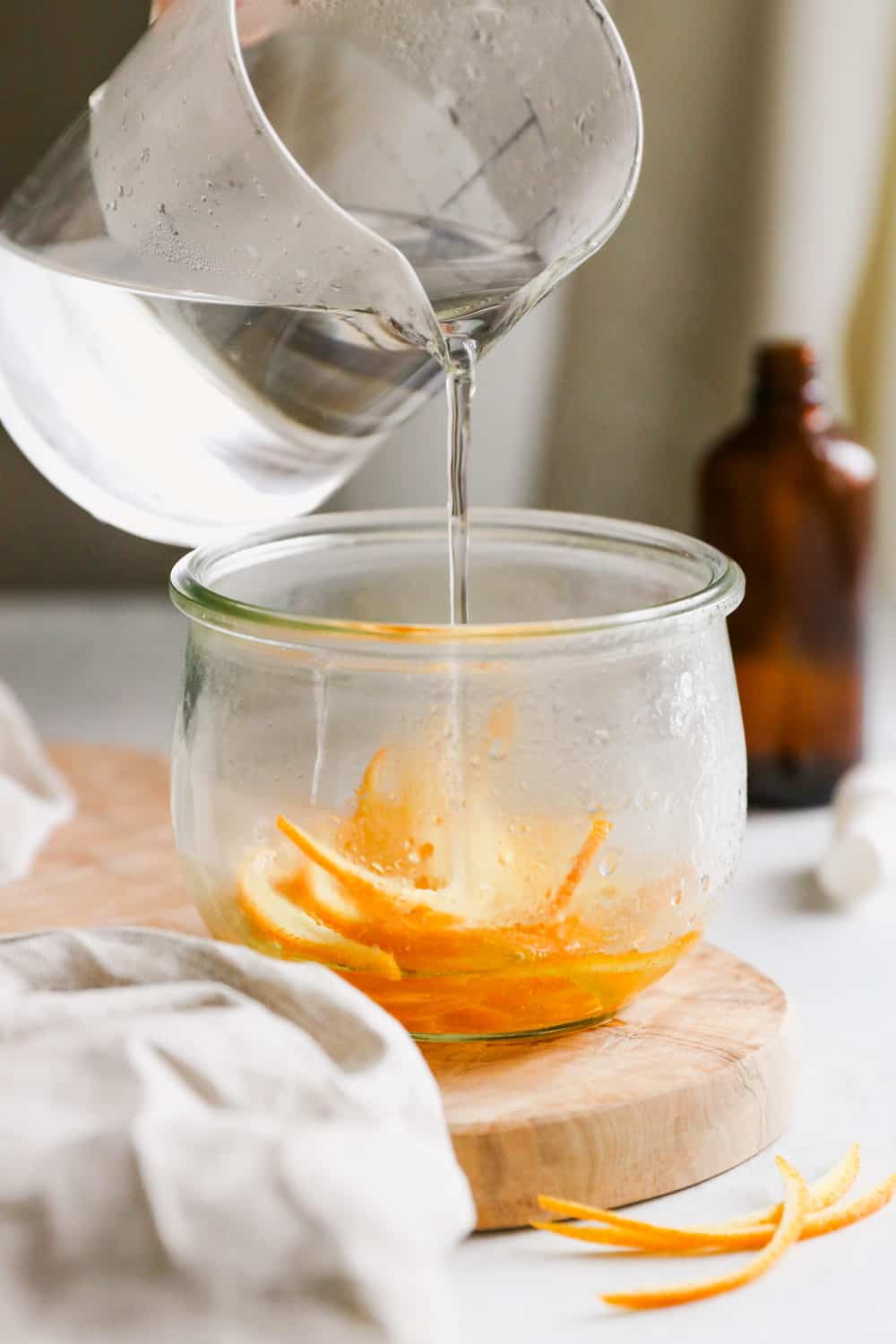 How to Use Toner
Toner is best applied to fresh skin 1-2 times a day. As always, stop using it if noticed any redness or irritation.
1. Wash your face and gently pat dry.
2. Shake your citrus toner and spritz on your face, neck and chest. Alternatively, you can pour a bit of toner on a cotton ball or in the palm of your hands and apply that way.
3. Allow toner to sink in for about a minute before applying serum or moisturizer. Applying serum or moisturizer while you skin is still slightly damp will help to lock in moisture and keep skin supple.
4. Apply sunscreen to prevent any potential photosensitivity (sunburn) issues.
5. Reapply in the evening.
6. While toner works best on clean skin, you can apply it throughout the day to refresh skin or revive your makeup. The nutrients won't sink in as easily, but it will make you face appear fresher and less dry.
Store your citrus toner in the refrigerator for maximum freshness and use within 2 weeks.
Vitamin C Toner FAQ
Do you wash toner off?
No there's no need to. It's best to leave toner on and allow it to sink into skin prior to applying the remaining items in your skincare routine.
Do you apply toner to wet or dry face?
You can do either! Applying toner to dry skin ensures that you're not watering down your toner, thus making it more effecting. If you have sensitive skin, applying toner to wet skin will dilute the product somewhat making is less astringent.
Can I use toner only?
Sure. You don't need to follow up with serum or moisturizer if you don't want to. But I do recommend wearing a broad spectrum SPF if you'll be spending any time outside.
Will this citrus toner damage my skin?
No, unlike some vitamin C + citrus products on the market, this toner is incredibly gentle and shouldn't irritate skin. If you do notice irritation, quit using the toner for a few days and give your skin a break.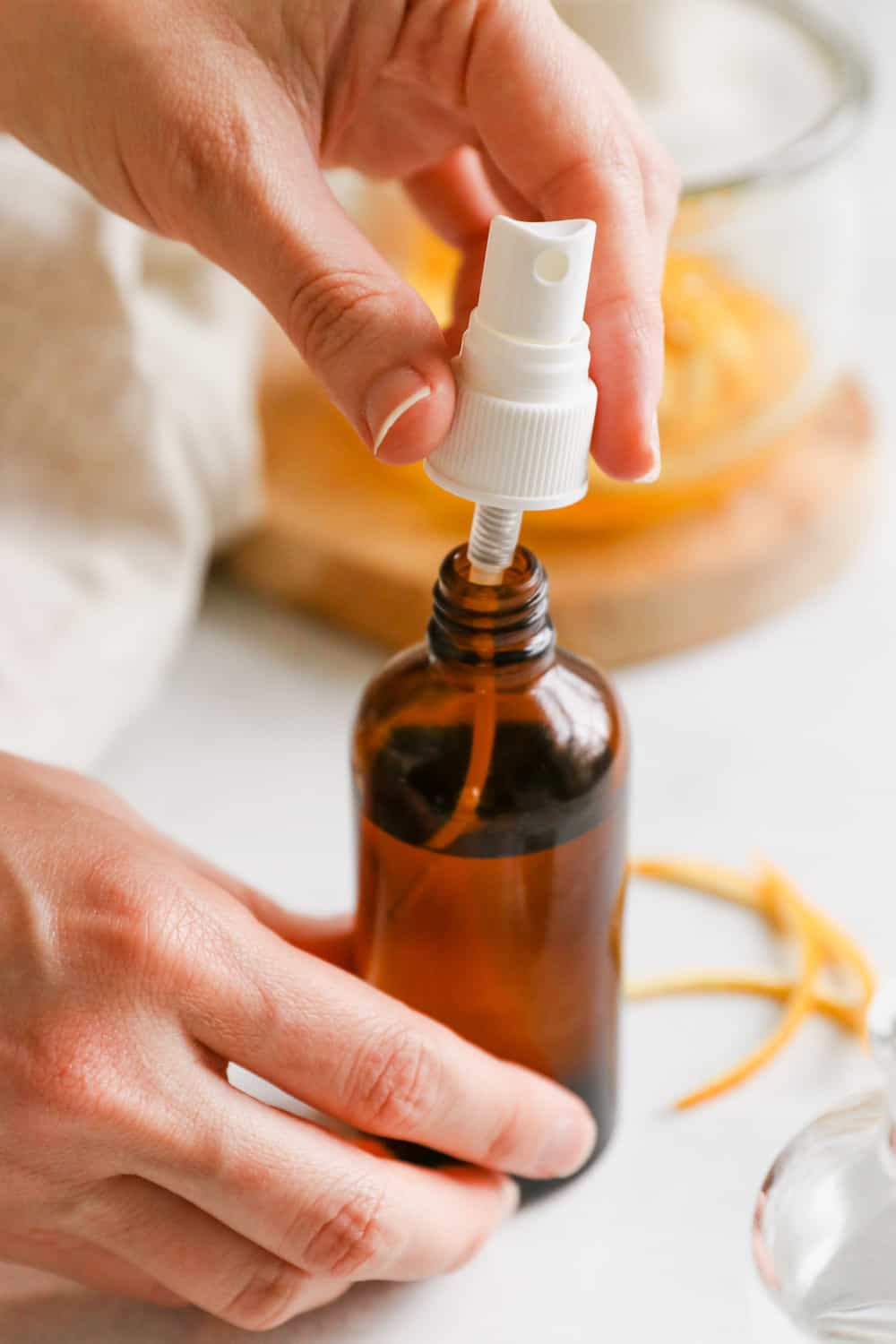 Does vitamin C make you more sensitive to the sun?
Yes, it can. Topical vitamin C products can make skin more sensitive to the sun and increase the risk of sun burn. But since we're just infusing water with orange peels, our toner isn't nearly as potent as some other products on the market. To be safe, always apply sunscreen in the morning before heading outside and reapply throughout the day.
Can I use orange essential oil in place of orange peels?
Sure! I would recommending using 3-4 drops orange oil per 4 ounces of water/witch hazel. But like with orange peels, orange essential oil can make skin photosensitive, so always apply a broad-spectrum sunscreen before heading outside.
Do you have any favorite vitamin C products that you've incorporated into your regimen for daily use? We would love to hear it in the comments.
Photo by Ana Stanciu
297