I try dozens upon dozens of homemade beauty treatments each year, and I'm always racking up a list of some of my favorites. One that secured a spot at the very top is this fabulous rosewater toner. It was recommended to me by a friend who came up with the recipe.
I was so surprised by how easy and simple it was to create, and how effective of a treatment it was during and after use.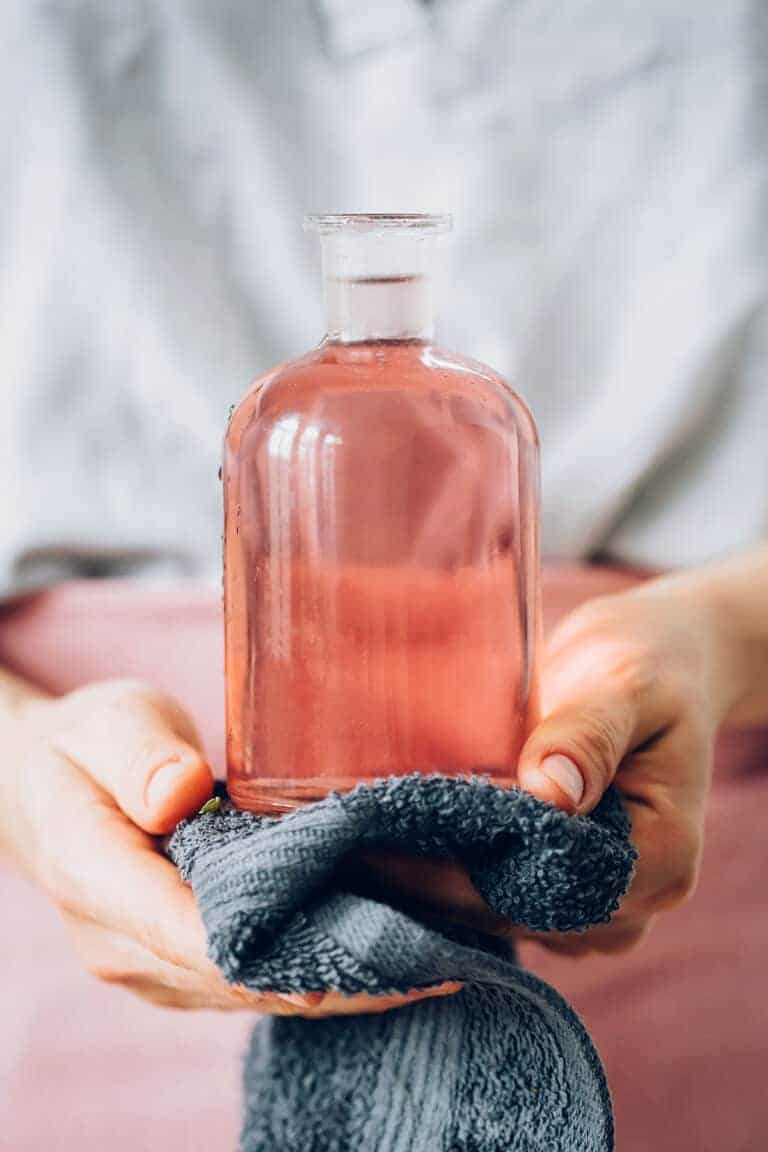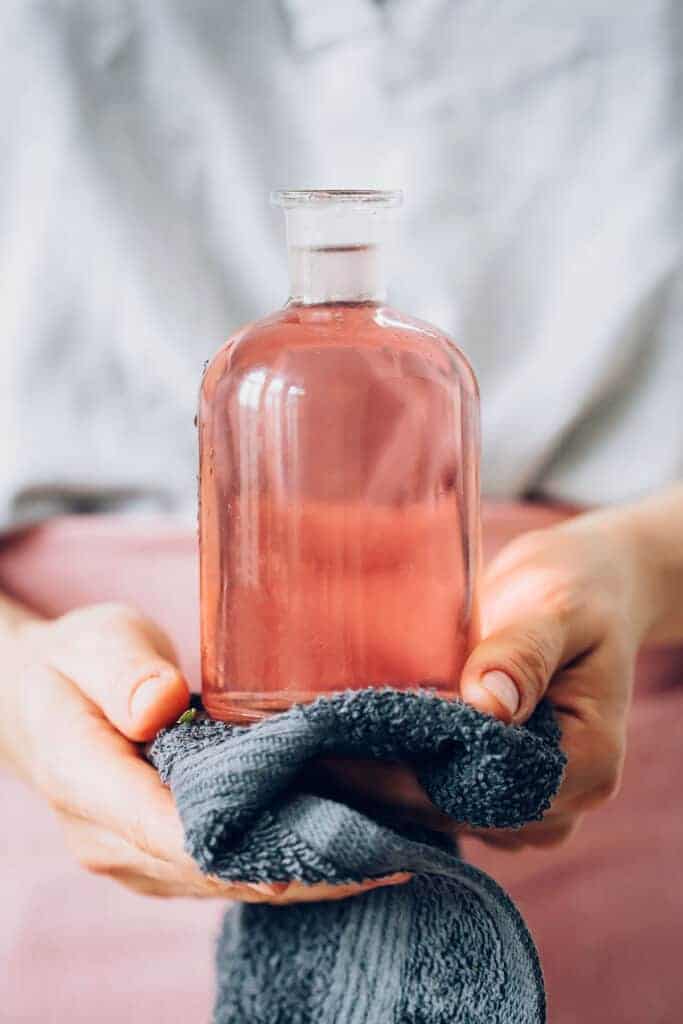 Why we love rose water
To understand the benefits of rosewater toner, we should explore the ingredient list, which is surprisingly only three items:
rosewater

witch hazel

lemon juice
Rosewater has long been used as a beauty treatment thanks to its impressive anti-inflammatory effects as well as hydrating. It provides both astringent and antibacterial benefits, which is what makes it particularly useful in a toner, since the goal of a good toner is to absorb excess dirt, oil, makeup and any other grime that can sneak its way into your pores throughout the day (and night).
In addition to anti-inflammatory effects, rose water has been found to be hydrating and calming, especially in those with dry, sensitive skin and those with a history of eczema, acne and/or rosacea. Rose water may further promote collagen and elastin synthesis and as a result, is helpful to incorporate in one's anti-aging routine.
Toner is also used to help balance the pH of your skin, which in itself helps fight acne. This leads to clearer skin overall with less red splotches and browns spots. Finding a gentle toner for acne-prone skin may be a daunting task, so looking for ingredients that help to balance the skin's pH level, such as rose water, is essential to maintaining healthy, hydrated skin.
Witch hazel is a natural ingredient found in pretty much any store-bought toner (and plenty of homemade versions). It comes from a flowering plant in the Hamamelidaceae family (native to North America and Japan), and it has some impressive skin-saving benefits.
Unlike certain alcohol-based toners that strip the natural oils from the outermost layer of the skin, witch hazel is gentler while reducing excess oil production and as a result antimicrobial properties (bacteria thrive off sebum production).
First, it helps shrink the appearance of pores without stripping the skin of the moisture it needs to function properly. It's also super rich in antioxidants called tannins that help fight off free radicals found in the environment that lead to premature aging.
Tannins were initially found to have wound healing properties in the 1980s have also been found to have antimicrobial and anti-aging properties.
Witch hazel has been utilized for various inflammatory skin conditions including eczema, acne and psoriasis.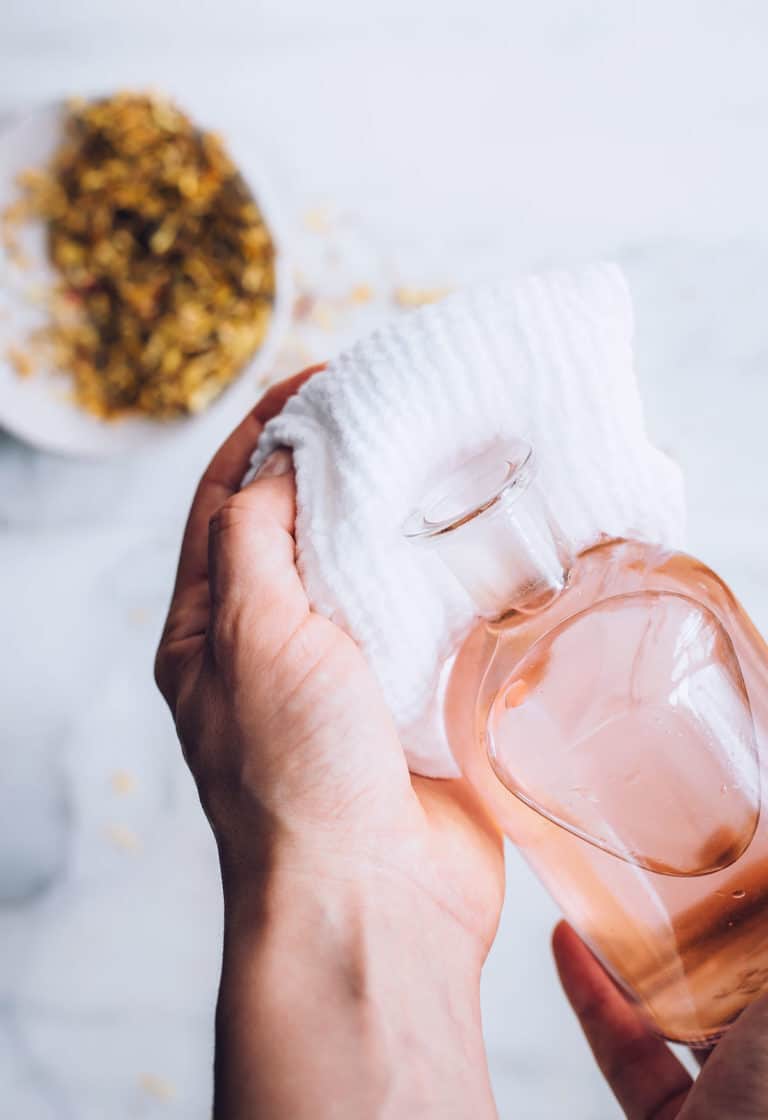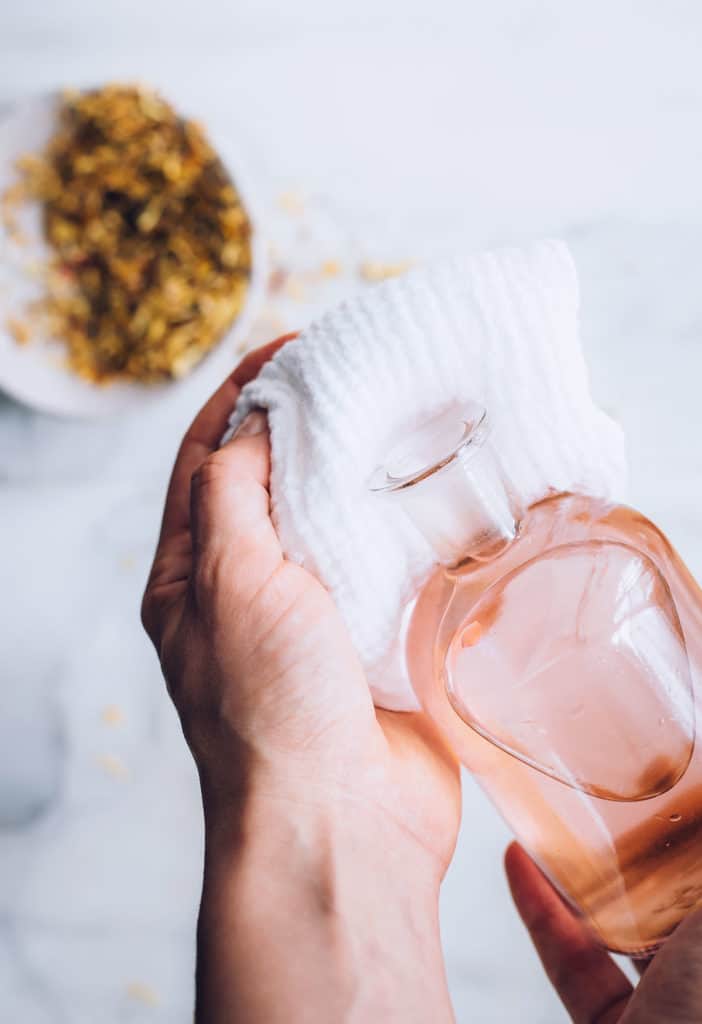 Lemon is another great skin care ingredient because it's rich in vitamin C, another antioxidant that helps ward off free radicals. It makes a good ingredient in an astringent because it helps unclog pores, which results in smoother, tighter skin overall.
Interestingly, lemon oil–containing natural levels of citric acid– has been utilized in the cosmetic and skin care industry as a potent exfoliator as well as treat dyspigmentation. Of note, caution with use of lemon on the skin when exposed to sunlight as citric acid may result of photosensitivity and hyperpigmentation of the skin, playfully known as "lime dermatitis" or phytophotodermatitis.
Personally, I love the feel of using toner, but gave it up ages ago because many of the drugstore versions contain alcohol which was making my dry skin even worse. Since this toner is made with only natural ingredients and free from alcohol it feels super pampering and hydrating on the skin.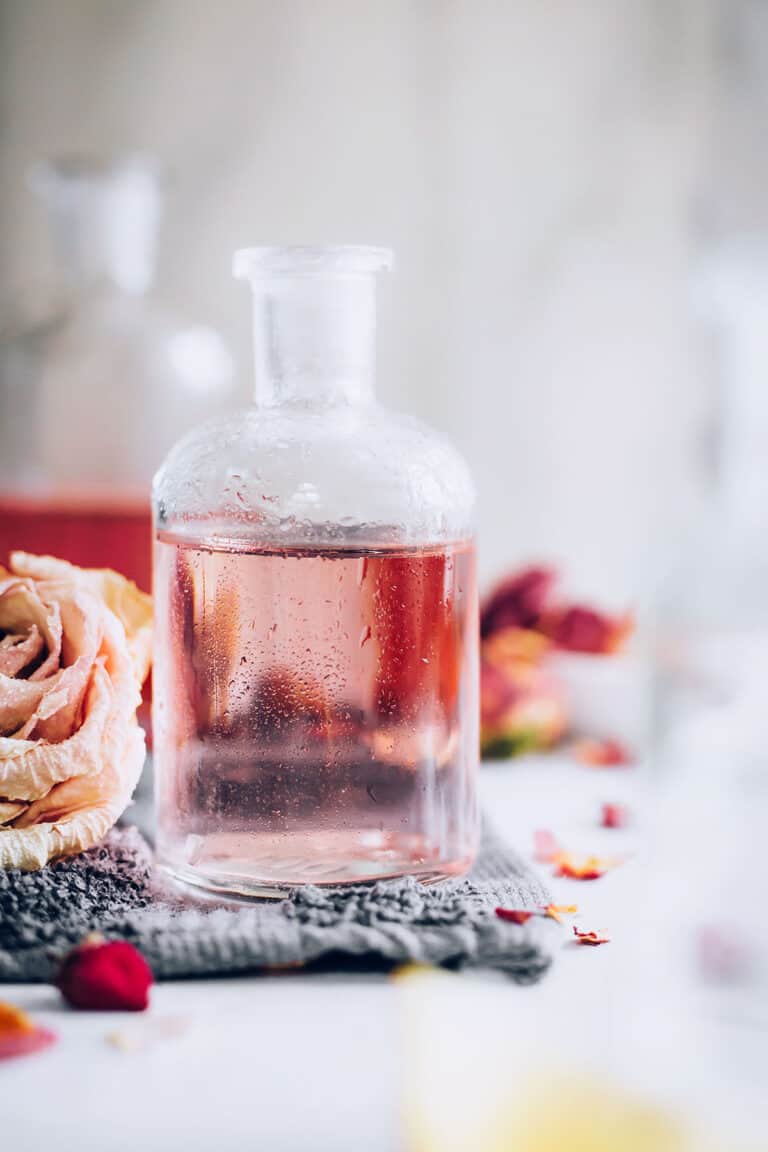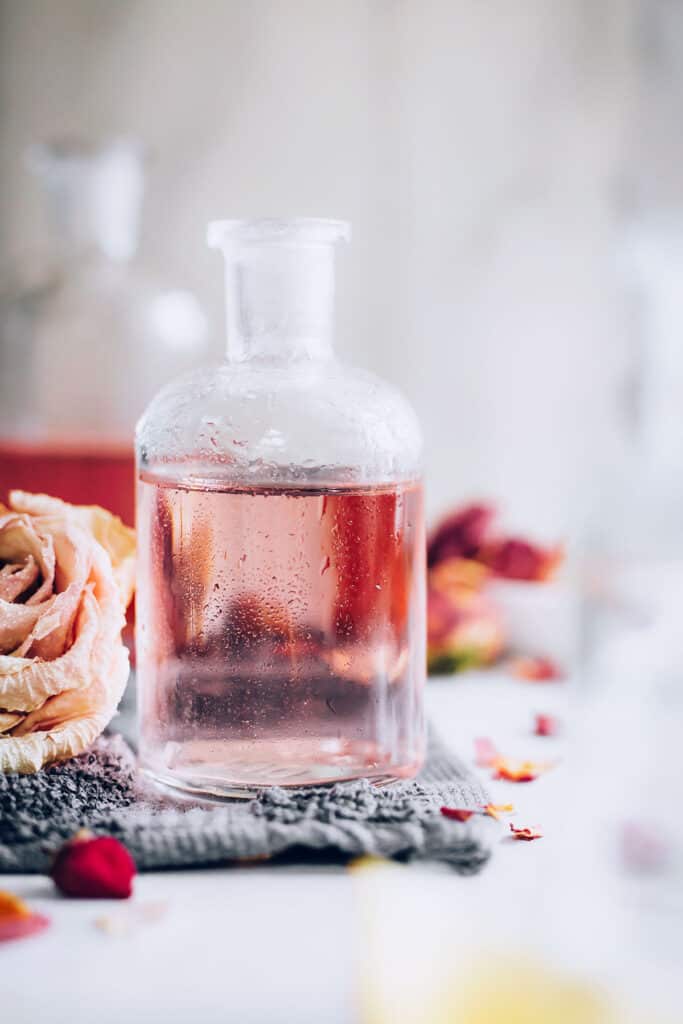 How to make Rosewater Toner
To make your own rose water, combine 1/2 cup rose water (you can either make your own or buy it from a health food store) with 1/2 cup witch hazel (just make sure it does not contain alcohol) along with 1 tablespoon fresh lemon juice. Stir the ingredients together and transfer to a sealed container.
Next, clean your face and remove any make-up you might be wearing. Lastly, apply the toner to your face with a cotton ball and follow up with a hydrating moisturizer.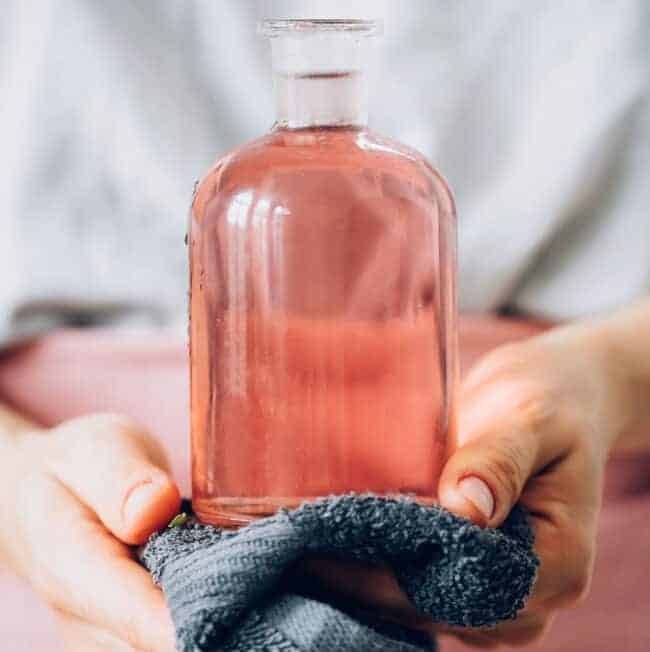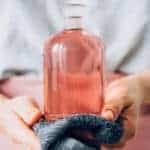 Print
Homemade Rosewater Facial Toner
A DIY Rosewater Toner recipe to pamper your face - and there's no alcohol so it won't dry out your skin.
Equipment
8-ounce glass jar with lid
Instructions
Stir the ingredients together and transfer to a sealed container.

Apply toner with a cotton ball after cleaning your face and removing makeup. Follow up with a hydrating moisturizer.
Notes
It helps to apply this toner to clean, freshly washed skin twice a day. Follow up with a hydrating moisturizer to seal in nutrients and skin-soothing botanicals.
Store toner in the refrigerator and use within 1-2 weeks.
This post was medically reviewed by Dr. Rina Mary Allawh, M.D., a dermatologist who performs adult and pediatric medical dermatology, skin cancer treatment and cosmetic dermatology. Learn more about Hello Glow's medical review board here. As always, this is not personal medical advice and we recommend that you talk with your doctor.
Photos by Ana Stanciu
460