Toner is so much easier – and fun – to use when it's applied as a face mist. Spritzing anything feels very spa-worthy. Here's a simple vitamin C toner recipe that's easy to make, inexpensive and highly effective at strengthening the skin's defenses against aging.
Why do we even need toner?
Raise your hand if you've asked yourself this question. I know I have. It's usually after I run out of cotton balls and try to apply my toner with toilet paper. (A fine mess, my friends.)
Deborah, our Hello Glow esthetician, explained a while back that toner is needed to balance the skin's pH after cleansing. It's also used to hydrate and refresh skin and deliver valuable nutrients. Let's take a look at our toner ingredients.

Hibiscus Tea
Hibiscus is known for its ability to cleanse, tone and balance the skins delicate pH. Hibiscus is rich in alpha hydroxy acids that naturally exfoliate and amino acids that provide a tightening effect to the skin without stripping the natural (sebum) oils. The tea also has a high vitamin C content, which helps fight the signs of aging.
Witch Hazel
As a teenager I wanted the strongest toner available to dry up my oily skin. And it often stung and burned because most store-bought toners for oily skin rely on alcohol, which is drying and harsh.
Now I'm a big fan of witch hazel, which is naturally naturally anti-inflammatory and astringent so it can tighten pores without over drying. The witch hazel you can buy in the grocery store often contains alcohol so search out one (like Thayer's) that is 100% witch hazel.
Vitamin C Powder
Vitamin C is a bit of a skin wonder ingredient for aging. It fights free radical damage and combats the effects of aging as well as helping skin balance is pH levels. I started with a small amount of vitamin C powder for two reasons: it breaks down quickly, losing its effectiveness, and it can also cause irritation. Wellness Mama recommends no more than 1.5 teaspoons per batch of toner so start small and work your way up.
Skip the cotton balls and put the toner into a small spritzer bottle. A dark colored bottle will slow down the breakdown of the vitamin C, but I'll admit I used a clear bottle because I loved the bright red color. Then after cleansing, spray a gentle mist directly on face. Keep your eyes closed.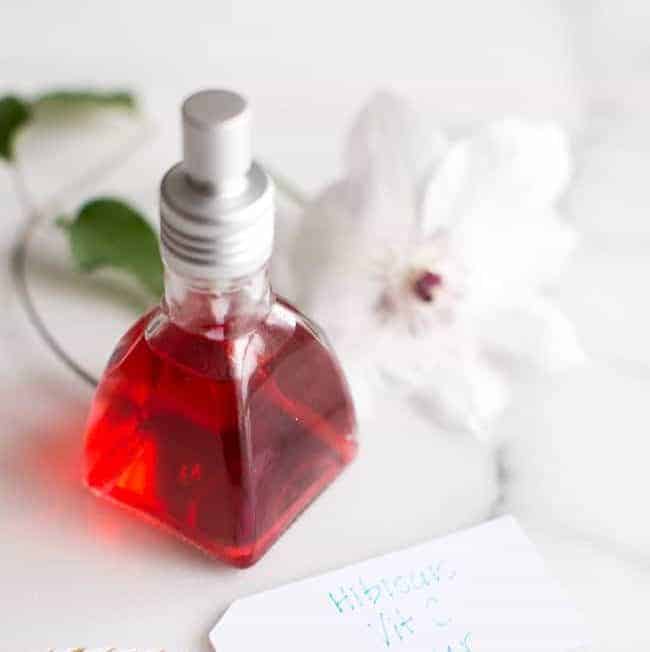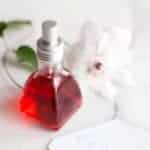 Print
Hibiscus Tea Toner Mist With Vitamin C
A simple vitamin C toner recipe that's easy to make, inexpensive and highly effective at strengthening the skin's defenses against aging.
Instructions
Bring six ounces of water to boil, turn off heat, and add three organic hibiscus teabags.

Steep covered for 20 minutes.

Remove teabags and add one ounce of alcohol-free witch hazel and 1/2 teaspoon of vitamin C powder.

Transfer to a small spray bottle. Keep in a cool, dry spot and use within 2 weeks. Refrigerate for longer shelf life.

Apply a bit to the neck to make sure you don't have any sensitivity, then use morning and night after washing your face.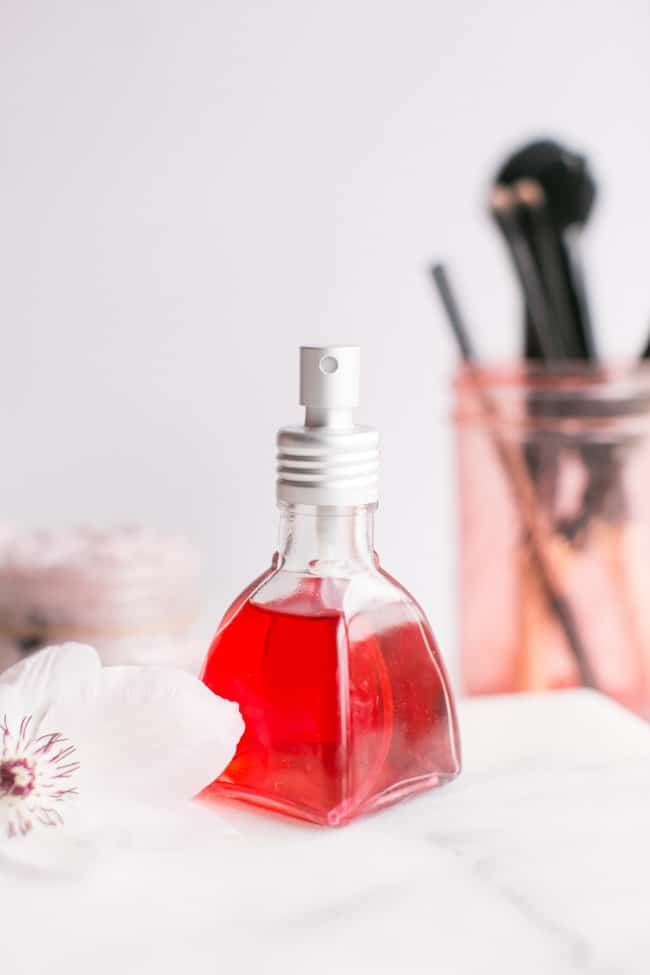 263