Toner is so much easier—and fun—to use when it's applied as a face mist. Spritzing a vibrantly colored potion on your skin feels very spa-worthy, yes?
Here's a simple vitamin C toner recipe that's easy to make, inexpensive, and highly effective at strengthening the skin's defenses against aging.
Why do we even need toner?
Raise your hand if you've asked yourself this question. I know I have. It's usually after I run out of cotton balls and try to apply my toner with toilet paper. (A fine mess, my friends.)
Deborah, our Hello Glow esthetician, explained a while back that toner is needed to balance the skin's pH after cleansing. It's also used to hydrate and refresh skin and deliver valuable nutrients.
But you don't need a fancy store-bought toner to reap the rewards. You can get many of the same benefits from ingredients lurking in your kitchen and medicine cabinet.
Our vitamin C toner uses hibiscus and witch hazel to nourish skin and vitamin C to help fight the effects of aging. Here's what makes it work:

Hibiscus Tea
Hibiscus is known for its ability to cleanse, tone, and balance the skin's delicate pH. The flower is rich in alpha-hydroxy acids that naturally exfoliate [source] and provide a tightening effect to the skin without stripping the natural (sebum) oils.
The tea also has a good supply of antioxidants [source], including a high vitamin C content [source], which help fight the signs of aging.
Witch Hazel
As a teenager, I wanted the strongest toner available to dry up my oily skin. And it often stung and burned because most store-bought toners for oily skin rely on alcohol, which is drying and harsh.
Now I'm a big fan of witch hazel, which is naturally anti-inflammatory and astringent [source], so it can tighten pores without over-drying like alcohol does. But most witch hazels you buy in the grocery store actually contain alcohol, so search out one (like Thayer's) that does not use alcohol in its preparation.
Vitamin C Powder
Vitamin C is a bit of a wonder ingredient when it comes to aging skin. It fights free radical damage and combats the effects of aging as well as helping to balance the skin's pH levels [source].
I started with a small amount of vitamin C powder for two reasons: it breaks down quickly when added to liquid, losing its effectiveness, and it can cause irritation. Wellness Mama recommends no more than 1.5 teaspoons per batch of toner, so start small and work your way up.
How to Apply Toner Effectively
Since cotton balls are wasteful (both in regards to your wallet and the environment), I recommend storing your toner in a small spritzer bottle (in the fridge) and applying directly to skin. When it comes time to apply, it's best to:
Cleanse your skin. Either use a soap-based cleanser or an oil cleanser to remove dirt, grime, and makeup.
Spritz toner directly on skin. After washing your face but before applying serum or moisturizer, close your eyes, and lightly spritz your vitamin C toner all over your face.
Follow up with serums and moisturizer. Let the toner sink in for several minutes before applying the remaining products in your skincare routine.
Repeat morning and night. Use toner in the AM and PM, unless you start to notice dryness or irritation. If you do, cut back to using toner just once a day.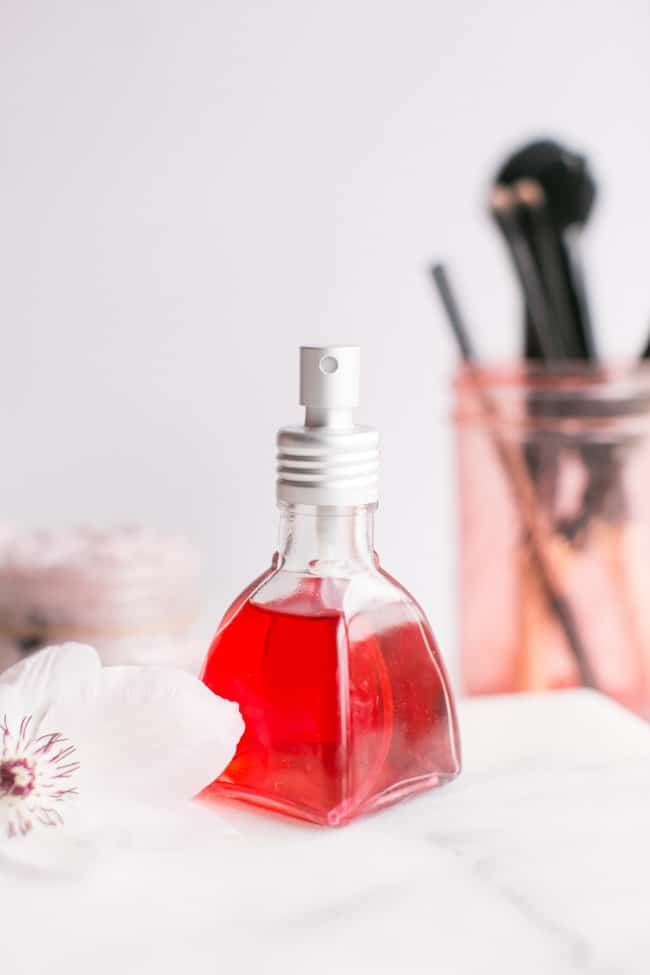 Homemade Toner FAQs
Will this toner stain my skin or my clothes?
I haven't had any issues with it staining my skin, but it may stain your clothes if you're not careful. Drape an old towel around your shoulders to prevent it from landing on your good clothes (or just don't use it while wearing them). And feel free to use fewer tea bags (while keeping all other measurements the same) to lighten the color.
Can I use a preservative to make this last longer?
Sure, although I haven't tried it myself. I recommend using a broad-spectrum preservative that's made for water-based products, such as Leucidal Complete. Be forewarned; a preservative may change the consistency and effectiveness of the final product.
Can I use a vitamin C serum in place of powdered vitamin C in this recipe?
Not really. Combining a store-bought vitamin C serum with 6 ounces of tea will end up diluting the ratio of vitamin C, making it pretty ineffective. But by using vitamin C powder, you can increase or decrease the ratio to control the potency of your toner.
Is it safe to apply a hyaluronic acid serum after using this toner?
I'm not an expert, but according to the internet, it's safe to use hyaluronic acid after applying vitamin C. As always, test it on a small patch of skin first to make sure you don't have an adverse reaction. And if you notice any redness or irritation, stop using them immediately.
Can I use an essential oil in place of the vitamin C powder?
Sure! But there are a couple of important caveats:
1. Citrus essential oils increase photosensitivity (sensitivity to the sun), so use them sparingly, better in the evening, and always wear sunscreen!
2. When using EOs, it's important to dilute them properly before applying directly to the skin. I would use 3–6 drops of a skin-friendly EO per ounce of toner.
3. Since oil and water don't really mix, make sure to give your toner a good shake before each use.
Can vitamin C cause my skin to break out?
If you're not accustomed to using it, vitamin C may be too strong for your skin, which in turn may cause you to break out. (That's why we encourage you to start with ½ teaspoon and work up!)
If that happens, make another batch of toner with less vitamin C, and apply it once a day until your skin gets used to it. Then either increase the frequency or the amount of vitamin C in your toner until you get to the recommended ½ teaspoon.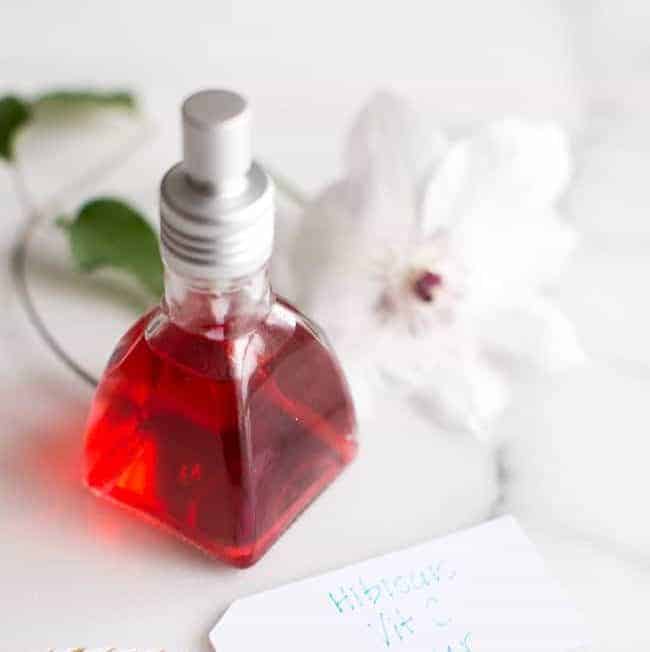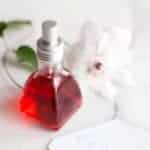 Print
Hibiscus Tea Toner Mist with Vitamin C
A simple vitamin C toner recipe that's easy to make, inexpensive, and highly effective at strengthening the skin's defenses against aging.
Equipment
Tea kettle

Heat-proof mug or cup

Small spritzer bottle
Instructions
Bring 6 ounces of water to a boil. Place 3 tea bags in a heat-proof glass, and pour the hot water over the tea bags. Steep covered for 20 minutes.

Remove teabags and add 1 ounce of alcohol-free witch hazel and ½ teaspoon of vitamin C powder. Stir well to dissolve the vitamin C powder.

Transfer to a small spray bottle. Keep in a cool, dry spot and use within 2 weeks. Refrigerate for longer shelf life.
Notes
A dark colored bottle will slow the breakdown of vitamin C, but I'll admit that I used a clear bottle because I love the bright red color. Either way, it should last 2 weeks when stored in the refrigerator.
Since this recipe makes so much, try freezing your leftover toner in an ice cube tray and thawing cubes one at a time whenever you run out of toner.
To use the first time, apply a bit to the neck and wait an hour or two to make sure you don't have any sensitivity. Then use morning and night after washing your face.
Bonus Recipe: Aloe Vera Vitamin E Toner
Making your own toner can be an easy and cost-effective way to care for your skin using natural ingredients. Aloe vera gel, witch hazel, vitamin E oil, and green tea are some of the ingredients you can use to create a toner that suits your skin's needs.
¼ cup of aloe vera gel
¼ cup of alcohol-free witch hazel
1 tablespoon of vitamin E oil
¼ cup of green tea (brewed and cooled)
1-2 drops of tea tree oil (optional)
1-2 teaspoons of lemon juice (optional)
Directions:
Brew green tea and let it cool.
Combine all ingredients in a bowl and mix well.
Pour the mixture into a spray bottle.
Shake well before use.
Apply the toner to a cotton pad and gently swipe across your face.
Aloe vera gel can help soothe skin irritation and even out skin tone, while witch hazel is a natural astringent that can help shrink pores and control oil production. Vitamin E oil is a powerful antioxidant that can protect the skin from environmental damage and promote collagen production. Green tea is naturally anti-inflammatory and can protect the skin's protective barrier. Adding a drop or two of tea tree oil can help fight acne, and lemon juice can help brighten the skin.
Using natural ingredients in your skincare routine can be a great way to keep your skin healthy and glowing. However, it's important to keep in mind that not all natural ingredients are suitable for everyone. If you have sensitive or dry skin, it's best to consult with a dermatologist before trying any new skincare products. Also, keep in mind that homemade toners may not have a long shelf life, so it's best to make small batches and store them in the refrigerator.
This article was medically reviewed by Dr. Gina Jansheski, a licensed, board-certified physician who has been practicing for more than 20 years. Learn more about Hello Glow's medical reviewers here. As always, this is not personal medical advice and we recommend that you talk with your doctor.
337