Roses are so many things. Sure, they're pretty to look at and they smell amazing, but they are so. much. more.
I love to spritz rosewater on my face first thing in the morning because, well, it's pleasant, but it's also an anti-inflammatory—the first defense against swollen, puffy eyes. And can we talk about the toning aspect of rosewater? Second to none in my book.
Rich in phenols, flavonoids, and other antioxidant compounds [source], rose petals have been found to have many therapeutic benefits, from anti-wrinkle effects [source], to protecting the skin from DNA damage [source], and suppressing the growth of cancer cells [source].
Rosewater mists can cost a pretty penny through your favorite beauty retailer—I brought back a bottle from a trip to Paris that I rationed like liquid gold. But it's so darn easy to make on your own.
Here's our easy step-by-step tutorial on how to make your own rosewater, so you can control what goes into it and help save a few bucks.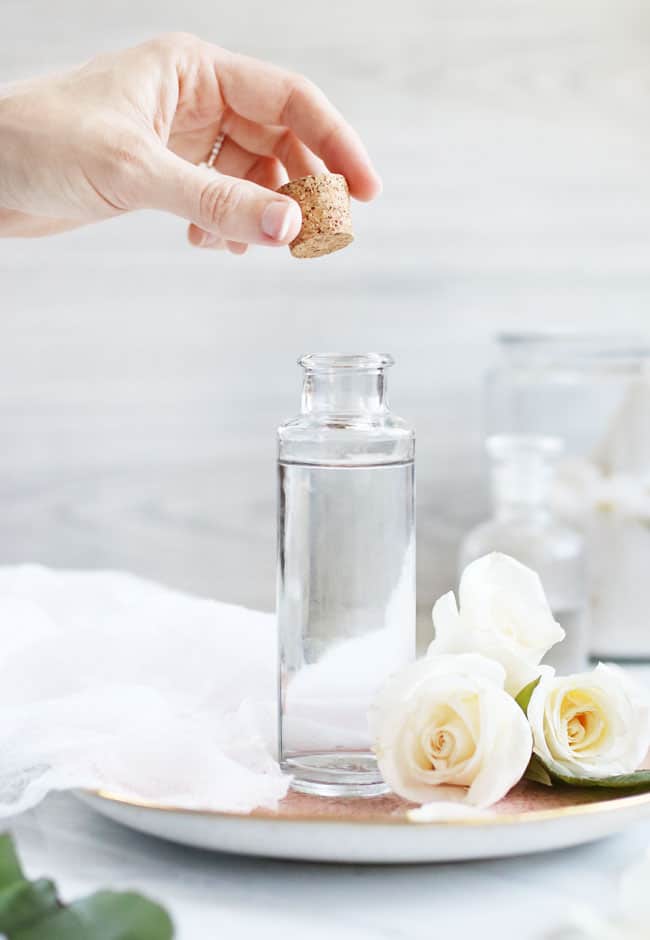 How To Make Rosewater
– 6–8 cups of extremely fragrant (organic, if possible!) rose petals
– Distilled water
– Ice cubes
– Large pot with a lid
– Tongs
– Brick, or small bowl weighted down with kitchen weights
– Shallow, wide-mouth bowl
– Glass jar or vessel with lid to store rosewater
– Measuring cup with spout or kitchen funnel
For best results, we recommend using home grown without pesticides or organic roses that are super fragrant. If you don't plan to use the rosewater on your skin and are simply going to use it as an air freshener or room spray, you can use regular old store-bought roses.
In fact, this could be a great way to use up those roses your sweetie gave you on Valentine's day! Otherwise, use organic to make sure there are no pesticides.
Start by removing the petals from your roses, separating them from the stem, and shaking out any stamen that might have gotten caught up in the petals.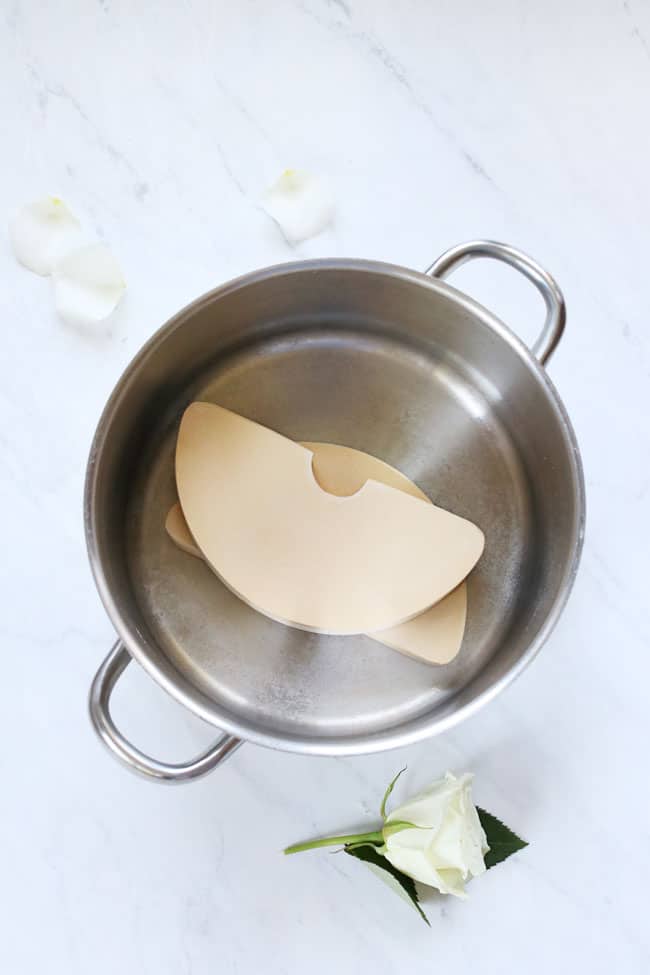 Place a brick, heavy bowl, or cup filled with kitchen weights in the bottom of your pan. Then place a wide-mouth bowl on top of the brick or weighted bowl.
Before moving on to the next step, place the lid upside down on your boiling pot (you'll see why later on) to make sure it closes. If your bowls are too tall, you won't get a good, tight fit with your lid.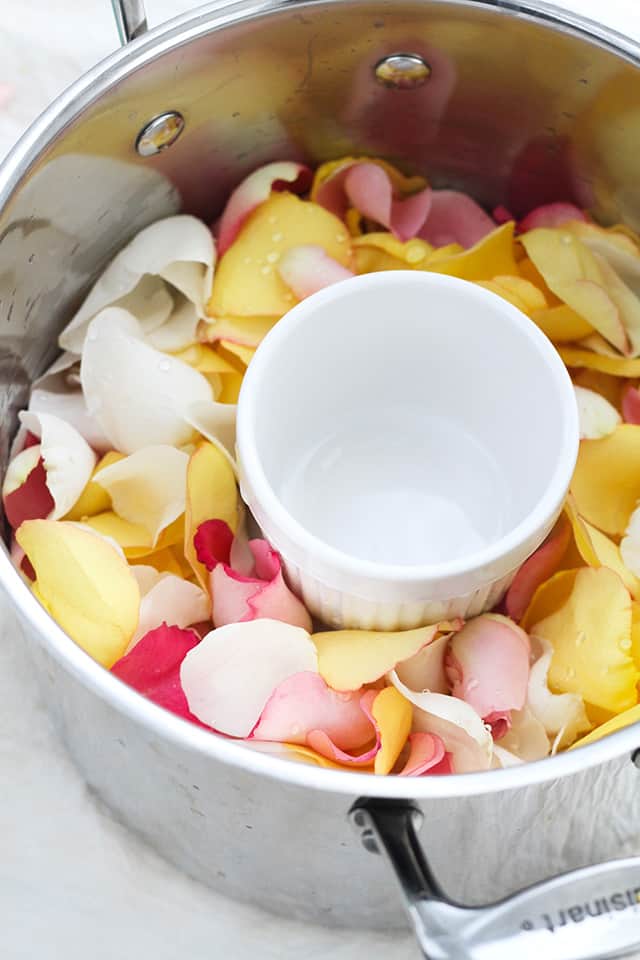 Once you've got the weight and bowl inside your pot, start filling up the pot with those fragrant rose petals by placing them around the bowl.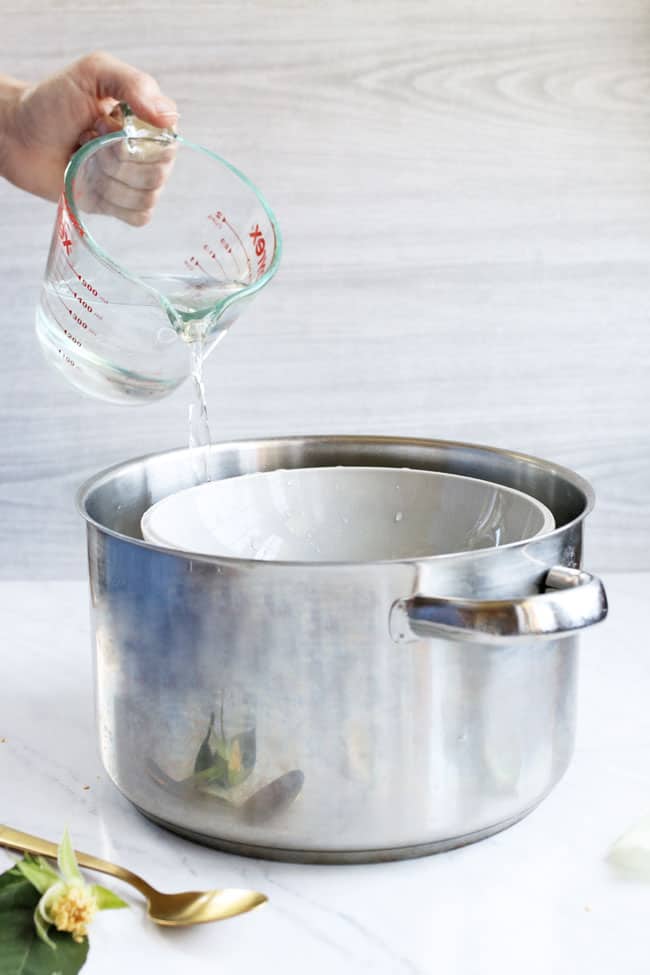 Then pour the distilled water around the sides of the bowl and lightly submerge the flower petals. I ended up using about 6 cups of water.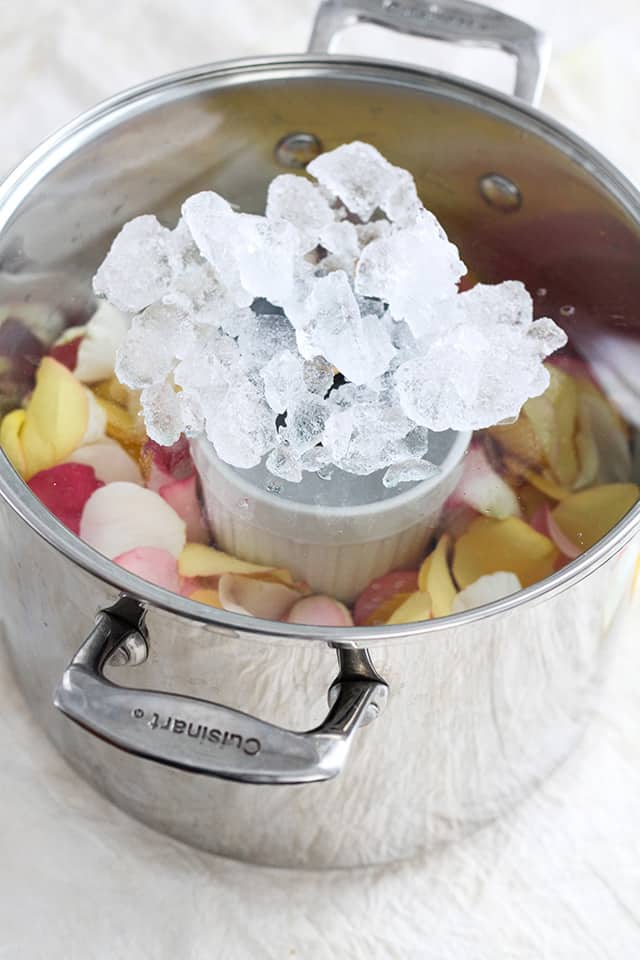 Place the lid on top of the pot, upside down, and pile a handful of ice cubes in the center of the upturned lid. Let the petals simmer on medium-low for 15–20 minutes until the petals begin to lose their color. Replace the ice on top as it melts.
The condensation that forms on the underside of the lid will drip down to the center, eventually finding its way into the wide-mouth collection bowl. Through the magic of distillation, you've now made your very own rosewater!
Using your tongs, carefully remove the collection bowl from the pot, and pour the yummy smelling contents into a jar with a lid and seal it. A kitchen funnel makes this process easy, but you can also pour the contents into any old measuring cup with a spout to make it work.
What's your favorite way to use rosewater in your beauty routine?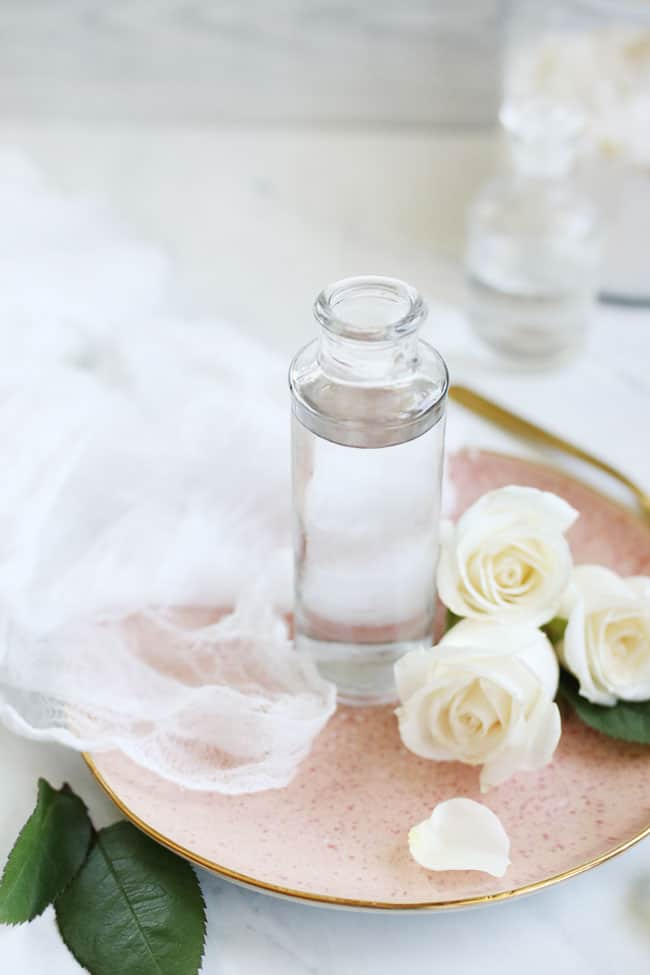 DIY Rosewater FAQ
How long does homemade rosewater last?
If you store your rosewater in the refrigerator in a sealed jar or bottle, it can last up to six months.
Can I use store-bought roses for rosewater?
To avoid pesticides and chemicals, I would recommend using homegrown or organic roses to make rosewater. However, if you have store-bought roses that you'd like to put to good use rather than just tossing once they start to wilt, you can still use them to make your own rosewater. In this case, you may want to avoid using the rosewater on your skin and simply use it as an air freshener or room spray instead.
What can I do with homemade rosewater?
Aside from spritzing it on your skin—to tighten pores, hydrate, reduce redness, and help smooth fine lines and wrinkles—rosewater has lots of uses around the house and in your beauty routine. You can add it to your bath, mist it on linens and towels to keep them fresh, or use it as a simple air freshener.
If you're using organic rose petals, you can also add rosewater to teas and lemonades. We've compiled a guide with 13 uses for rosewater if you're looking for more ways to incorporate it into your beauty routine.
What kinds of roses are best for making rosewater?
Organic or homegrown roses are best for rosewater that will come into contact with your skin. I've read that English roses, French roses, and cabbage roses are the best choices as far as types of roses.
Beyond that, roses that are pink or red in color tend to have a stronger scent, while yellow or white roses may have more of a lemony, violet, or clove scent. Truly, I'd suggest letting your nose guide your decision—choose whatever particular rose has a scent that you enjoy the most.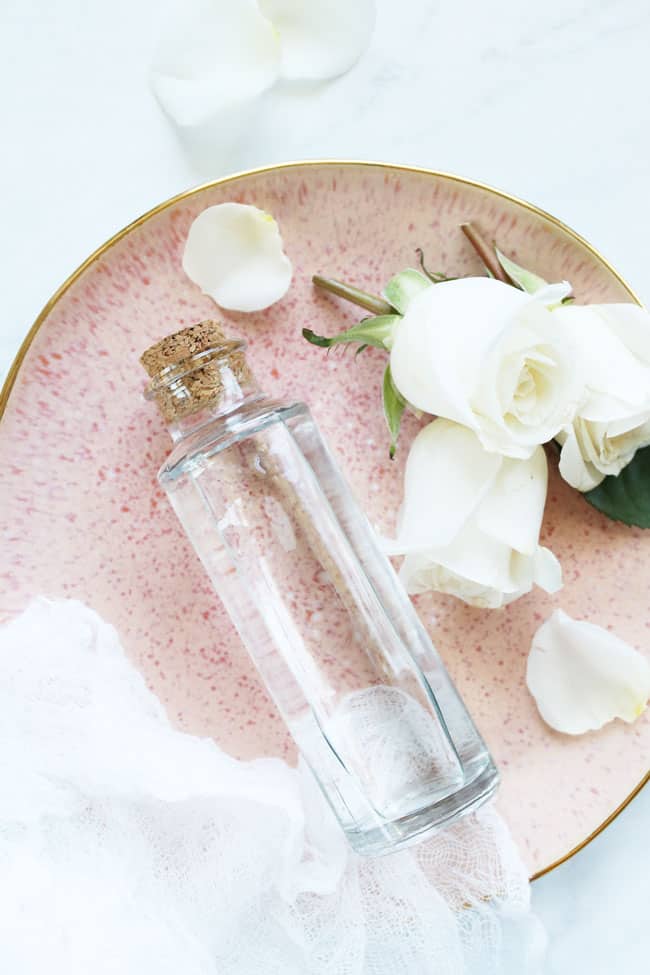 This article was medically reviewed by Dr. Gina Jansheski, a licensed, board-certified physician who has been practicing for more than 20 years. Learn more about Hello Glow's medical reviewers here. As always, this is not personal medical advice and we recommend that you talk with your doctor.
Photos by Stephanie Pollard
120