We've partnered with Wonderful Pistachios to create this post.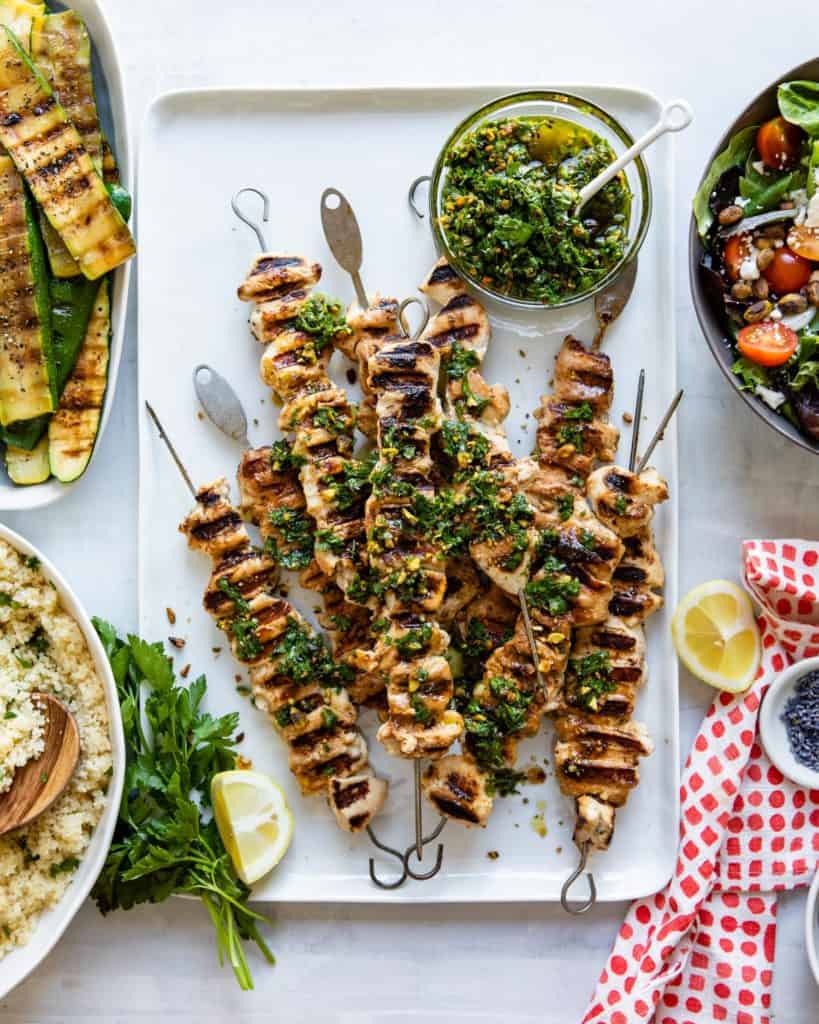 If you have yet to fire up your grill this summer, this recipe is the perfect motivator! These Grilled Chicken Kebabs with Pistachio Gremolata are so good. I'm not just saying that. This is going to be your summer entertaining go-to. I'm totally serious. Your guests will be begging you for the recipe.
It packs so much flavor into each and every bite, starting with the yogurt-marinated chicken and ending with the yummiest pistachio-herb sauce (aka Pistachio Gremolata). The whole dish comes together quickly and makes for a spectacular, memorable main for your summer parties.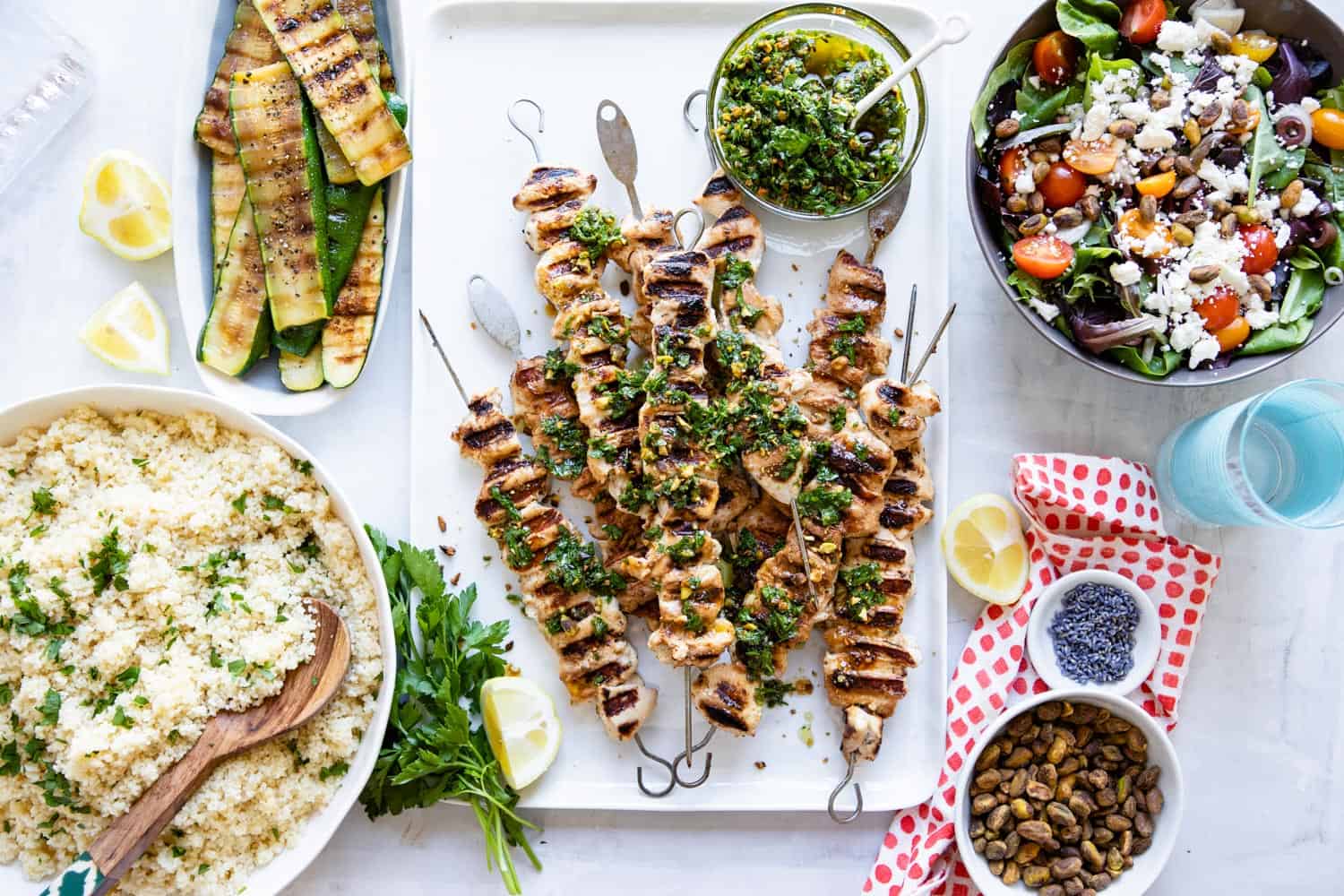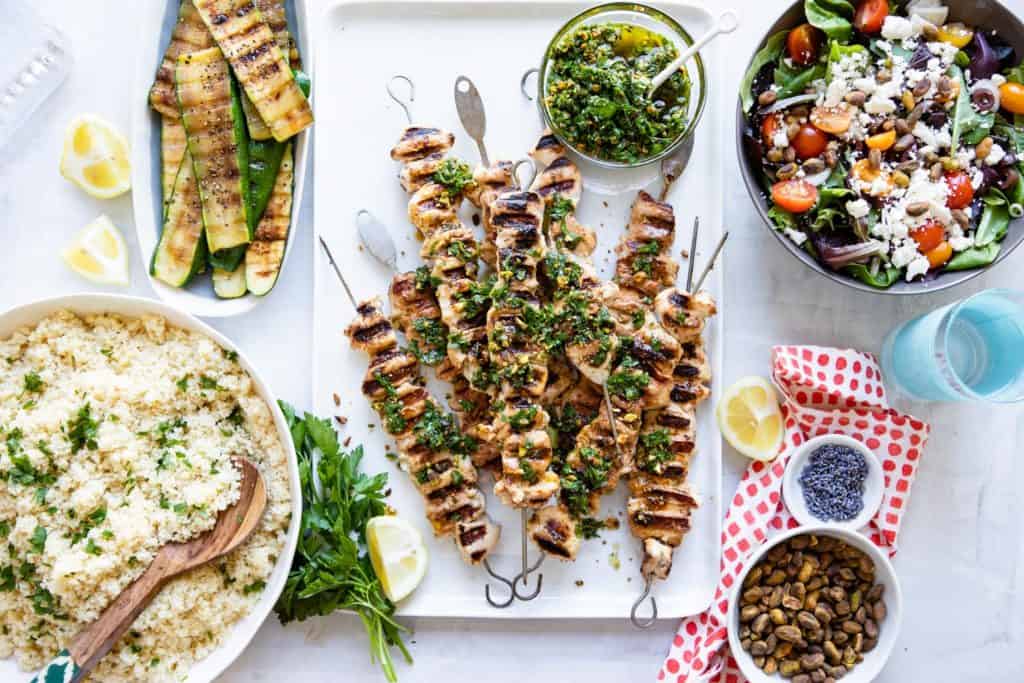 I guess you could say I'm a fan of herb-based sauces. Fan would probably be too mild a word for it. I'm always the one taking more than my fair share of the pesto and chimichurri during dinner. And then there's gremolata…happy sigh.
Gremolata is a traditional Milanese sauce that goes splendidly with grilled fish, meat, veggies, and chicken. Naturally, if I'm grilling up some chicken kabobs, then I'm totally going to need a fantastic sauce to pair with them. Gremolata fits the bill very nicely – it's lemony without being tart. (The tart comes from that lovely marinade. Both together = magic.)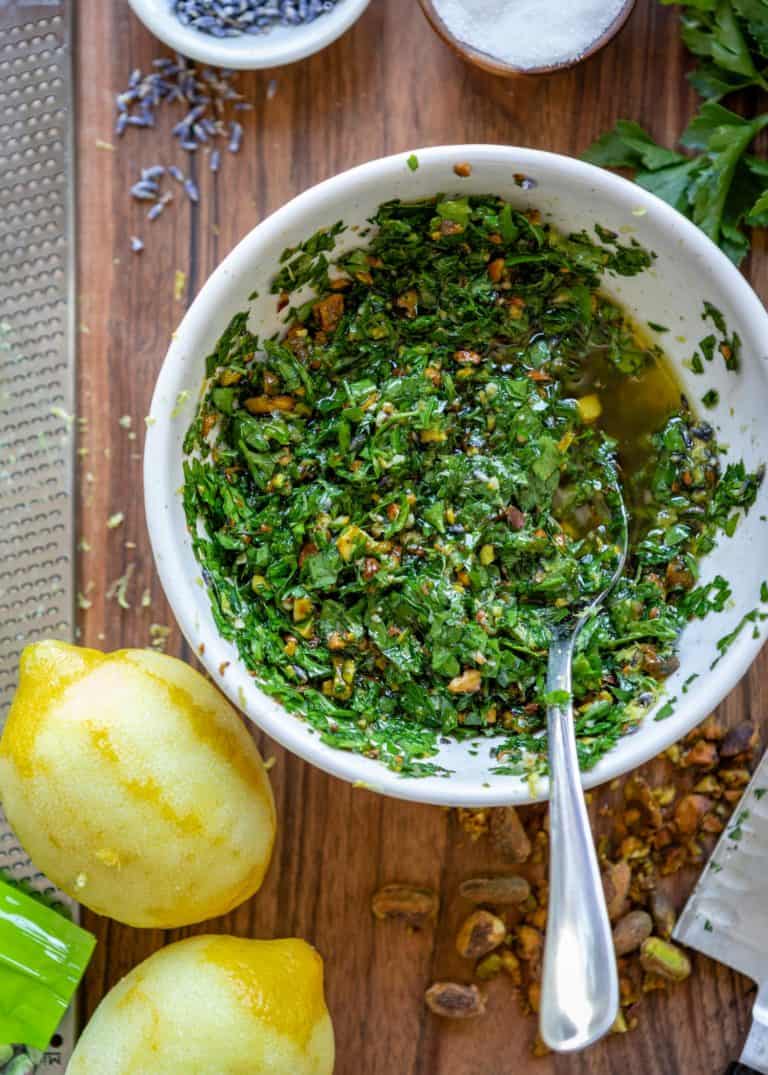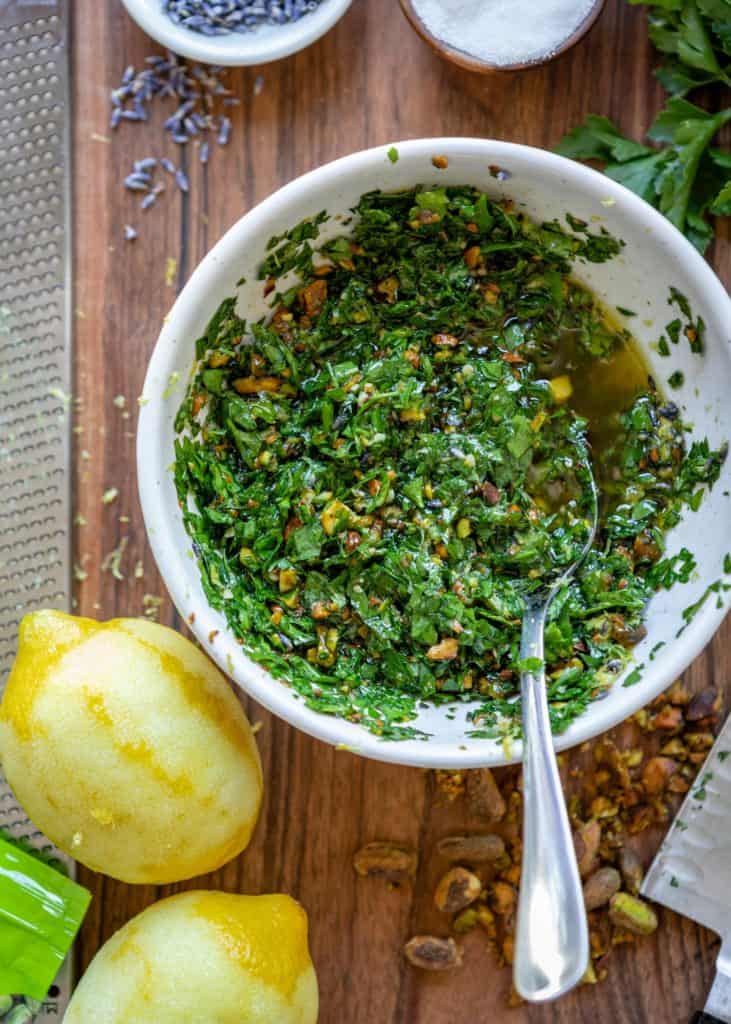 The Importance of Marinating Boneless, Skinless Chicken Before Grilling
Before we get to the star of the show, the Pistachio Gremolata, a few words about the yogurt marinade. When grilling boneless, skinless chicken, which is relatively lean, it's important to make sure it won't dry out as it cooks. Using an acidic marinade plus oil will tenderize the chicken and keep it juicy.
In this marinade I use both yogurt and lemon juice as my acids. I also like to balance it out with a little sweetener. I use honey for this recipe because it just goes so well with all of the other ingredients. If you've brined chicken before, you know that brines usually contain sugar. This helps add a little more flavor and helps with browning as it cooks. I only use a little here because that's all it needs.
I also use plenty of salt, a little garlic and onion powder (don't want to overwhelm the other flavors), and freshly ground black pepper. Adding a little dried lavender to the chicken adds another layer of flavor.
It's important to let the chicken marinate long enough, but not too long. Because it's already cut into pieces before marinating, you can get away with a shorter marinating time, but I recommend at least an hour. You really want those flavors to infuse the chicken. But overnight works great too if it fits better into your schedule.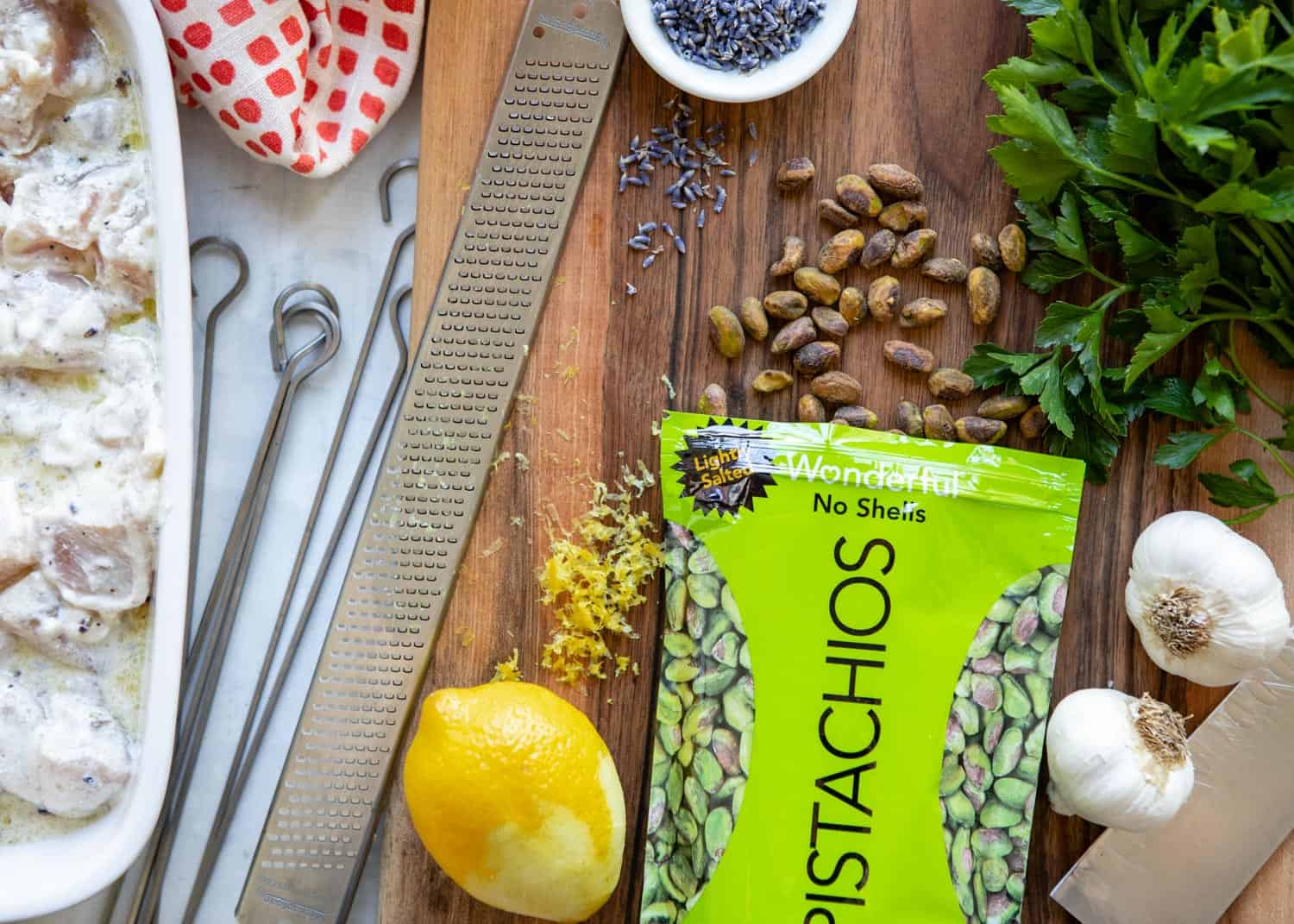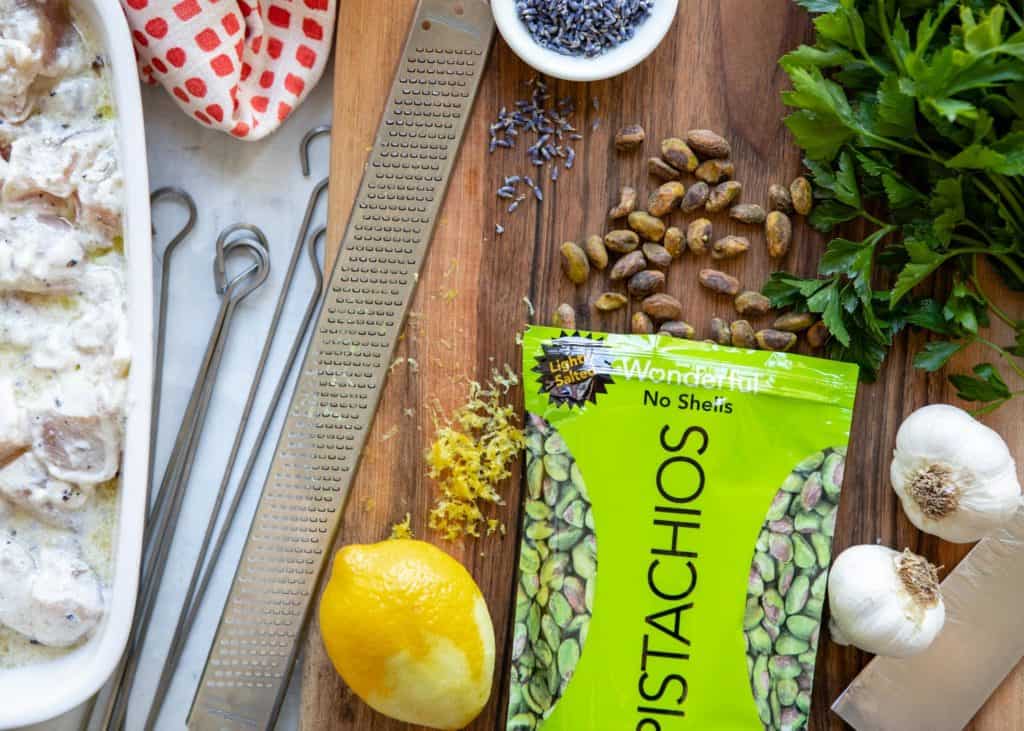 As far as skewers go, I used to use bamboo almost exclusively, but then I decided to buy metal skewers. I actually have found I prefer the metal because as you can imagine, it helps the chicken cook more evenly and quickly. But I do still like bamboo. Just make sure if you use bamboo, you soak them at least 30 minutes so they don't burn on the grill. (Pro tip: soak a whole bunch of skewers, drain, and place in a container or plastic freezer bag to have handy whenever you need them!)
The Best Pistachio Gremolata You'll Ever Taste
I love tweaking gremolata here and there while still staying true to its Italian roots. One of my favorite ways to take a basic gremolata recipe to the next level is to add finely chopped pistachios. Their beautiful green color and buttery flavor play so well with the bright parsley, lemon zest, and garlic.
And when it comes to the pistachios, Wonderful Pistachios No Shells are the way to go, by far. They even come shelled and ready to go. My local market keeps them near the produce section and in the snack area. You can't miss the vibrant green bags calling out to you. Gosh, I sure love pistachios.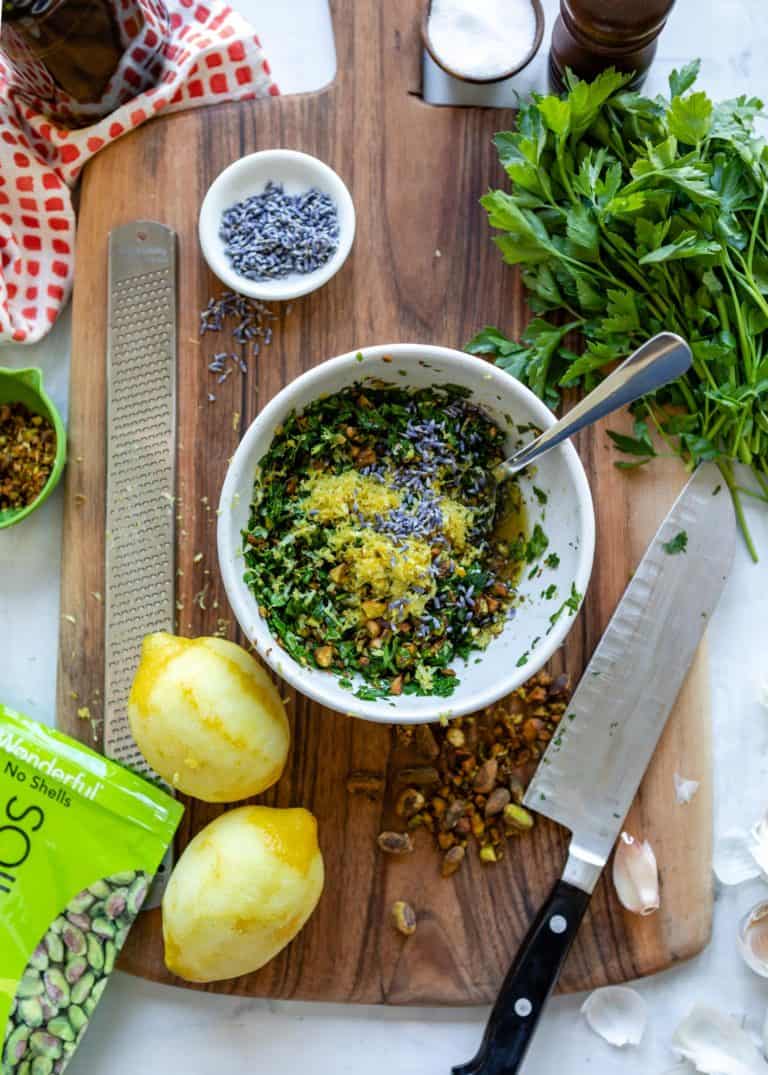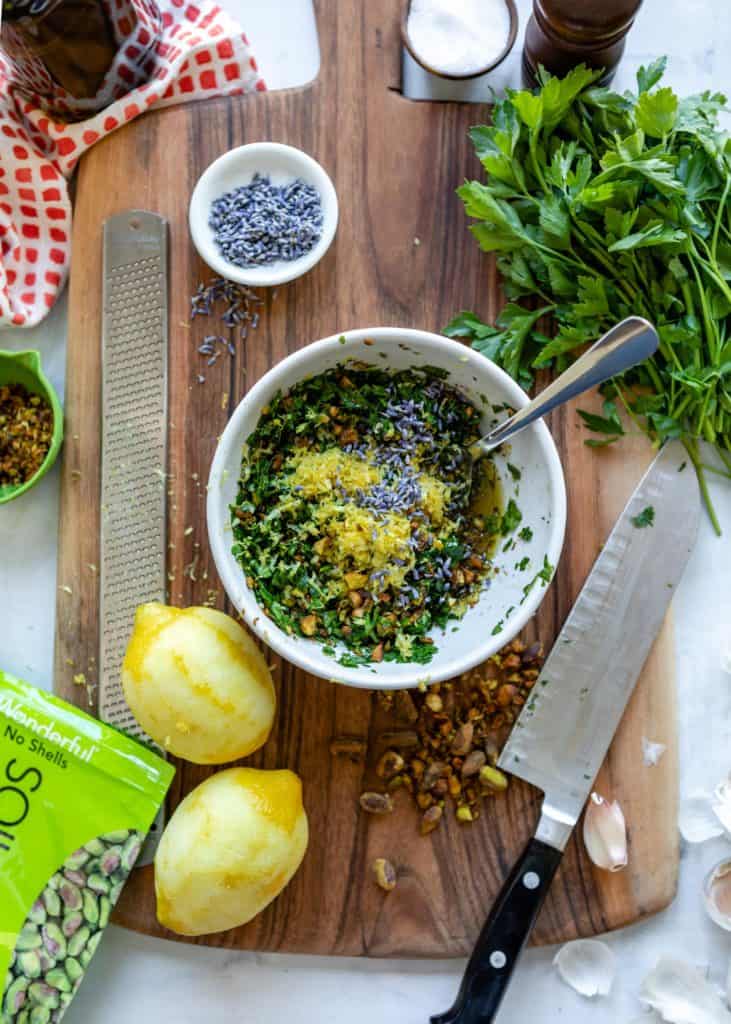 Lavender…But Why?!
So why the lavender? Well, lavender is sort of my favorite herb to combine with lemon. A few summers ago I had the idea to add it to the yogurt marinade I've included below and it was dynamite. It's not overly floral and it just adds this sophistication that you almost can't place unless you know it's there.
While this gremolata is traditionally Italian, I'm kind of pulling inspo from the Mediterranean region. Adding lavender and herbs to chicken is associated with Provençal cooking. And pistachios are frequently paired with lavender in sweeter recipes, but I think it really works here in this savory application.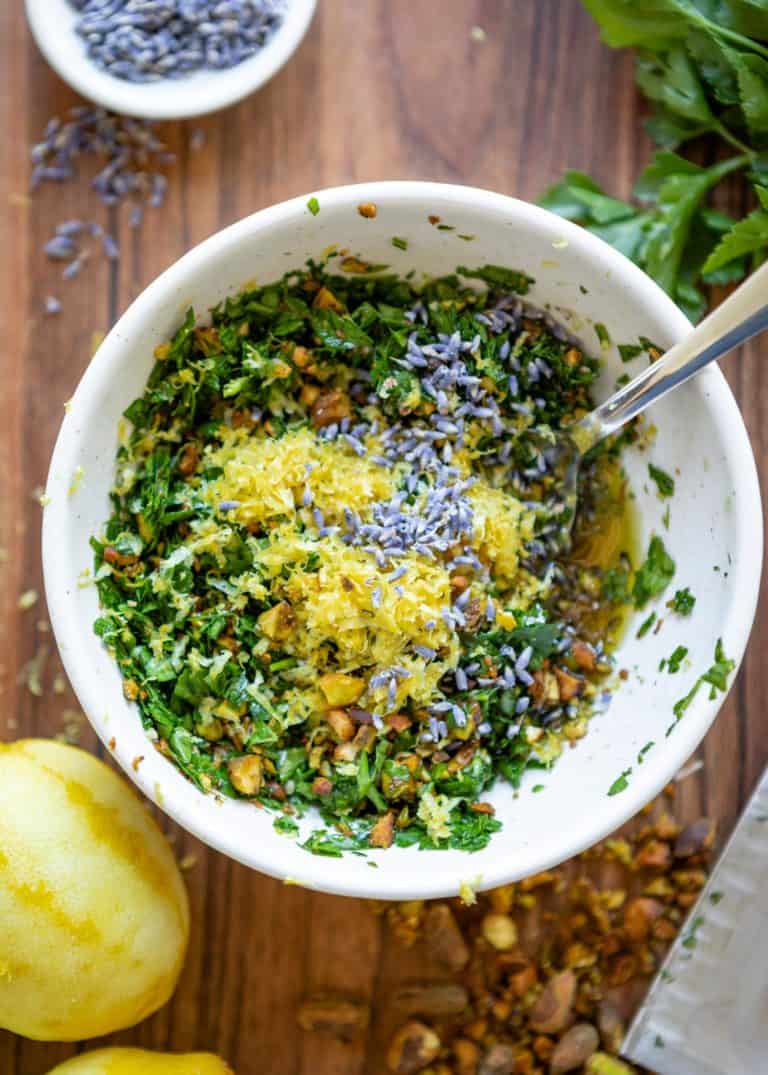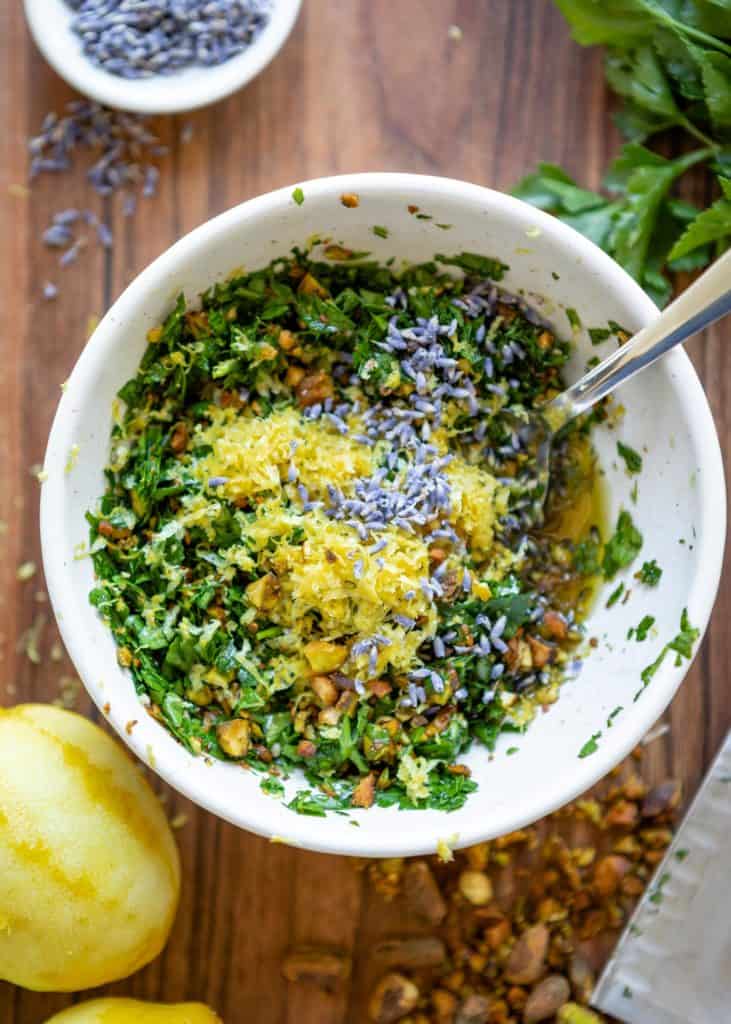 Isn't it so pretty? Those beautiful colors and flavors scream summer.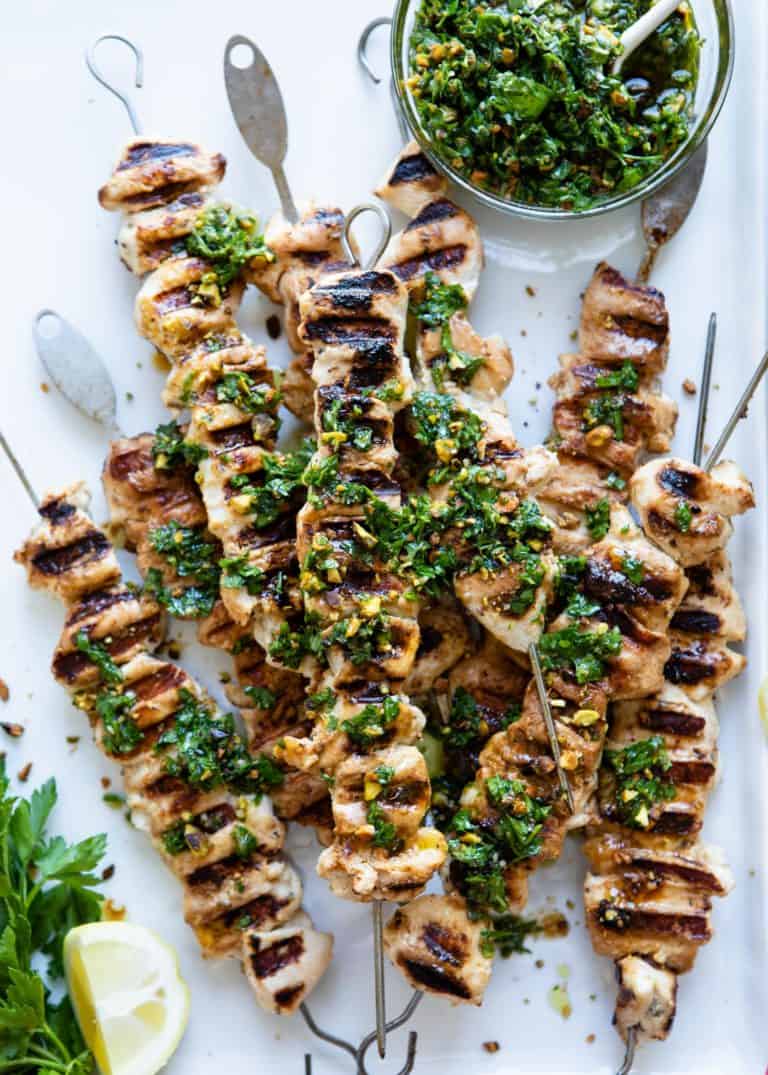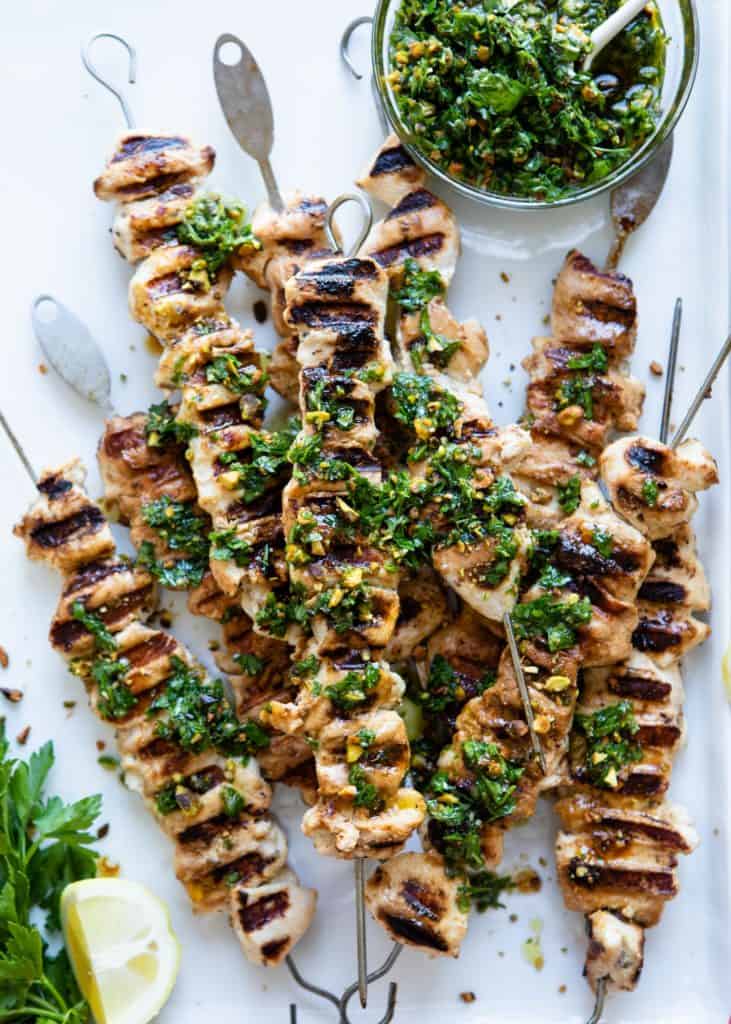 Sides Are Important!
As far as what to serve with these tasty kebabs, I recommend sticking to that Mediterranean theme. Couscous is our go-to, along with grilled zucchini and a green salad. Don't forget an extra bowl of Wonderful Pistachios No Shells. (Seriously though, who has time for shells?! All the work is done for you!) I love the creamy, buttery flavor of the pistachios with that light hint of salt. Mmmm. Perfect for snacking and cooking.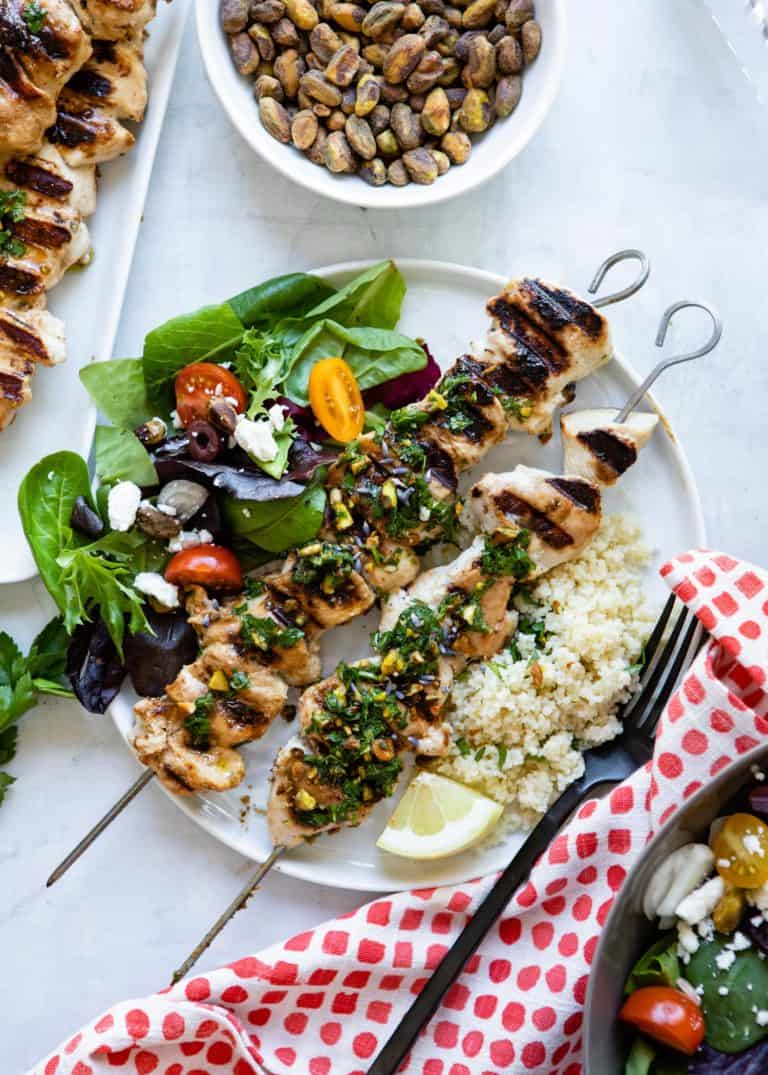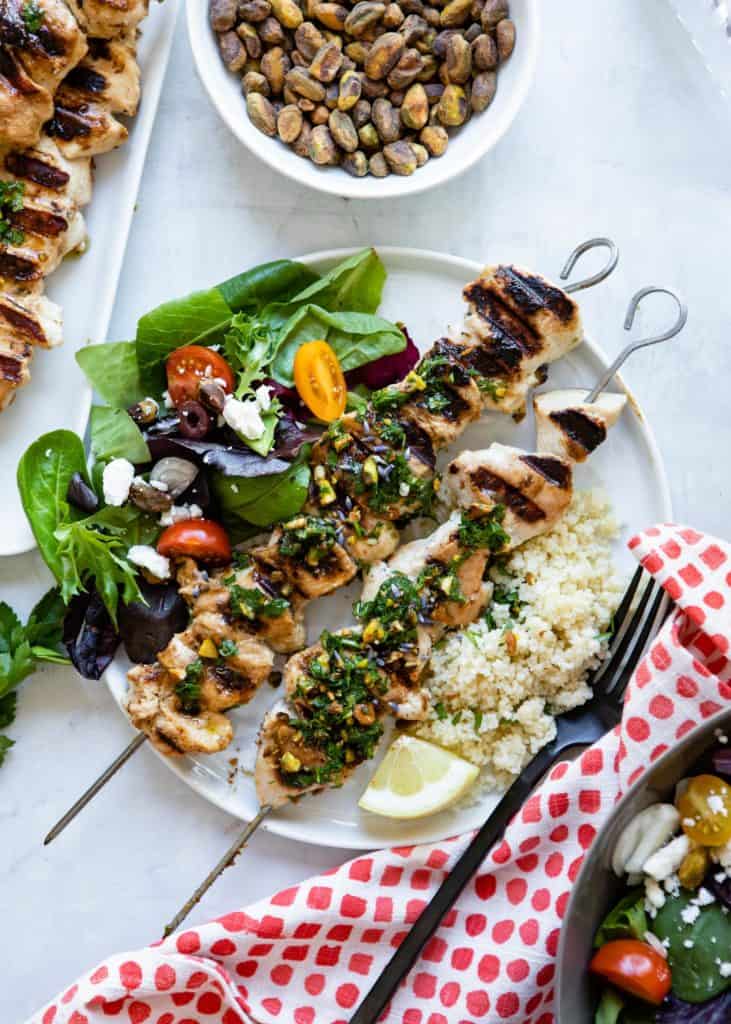 Happy grilling, friends! And Happy Summer!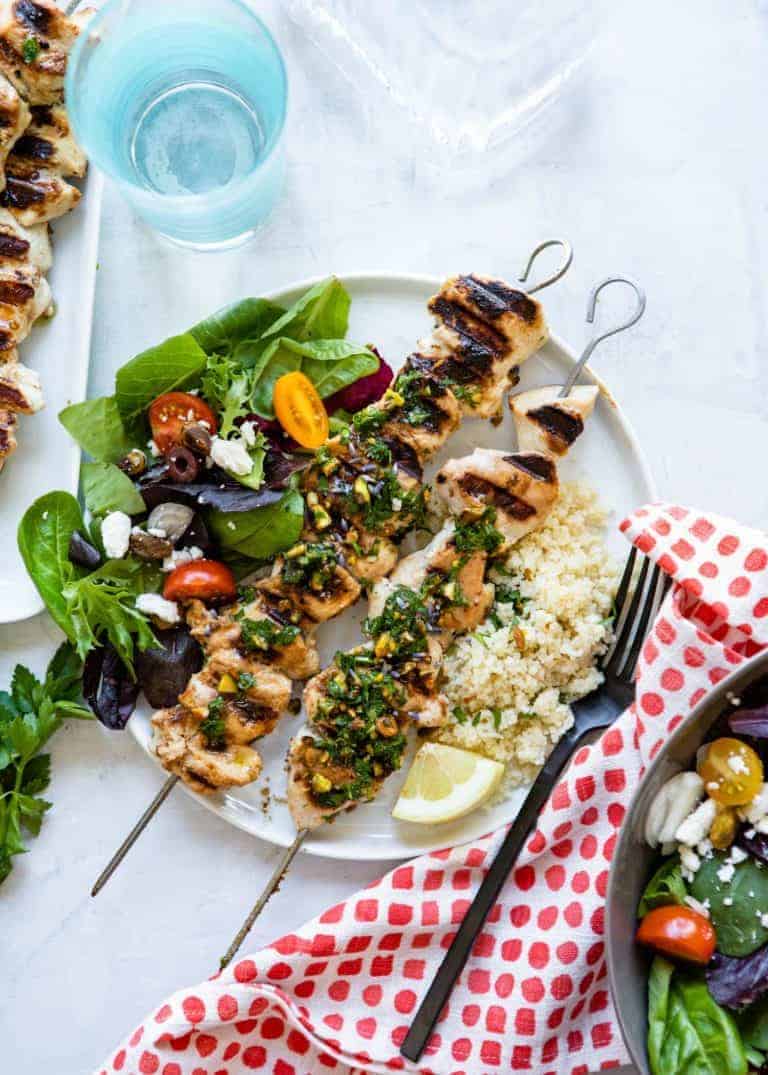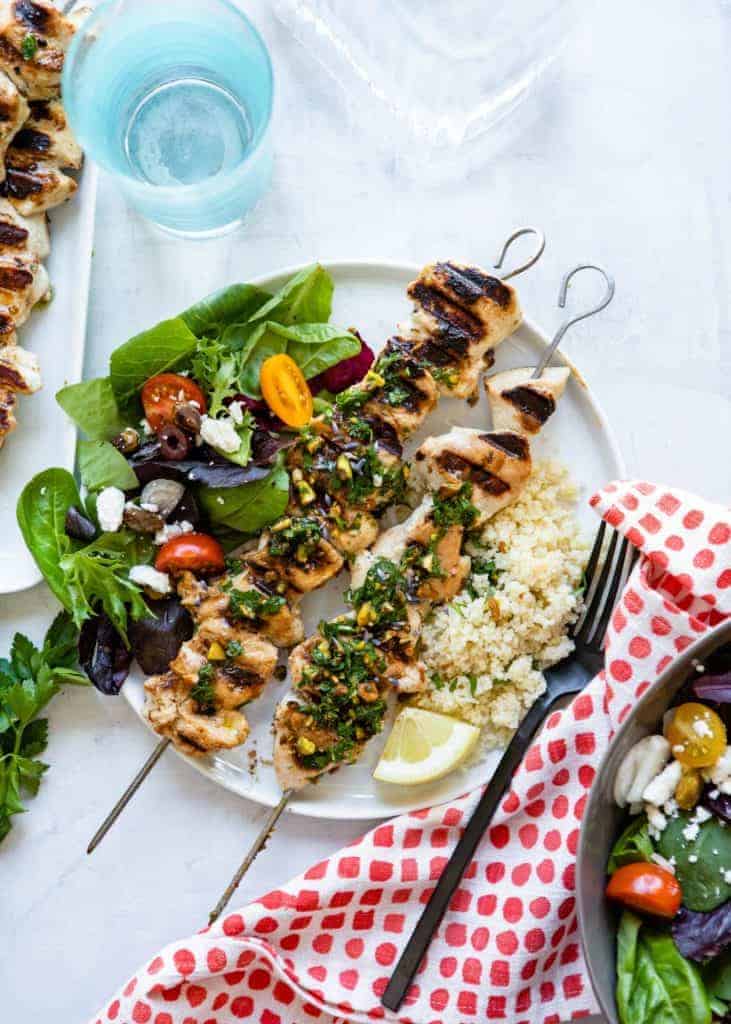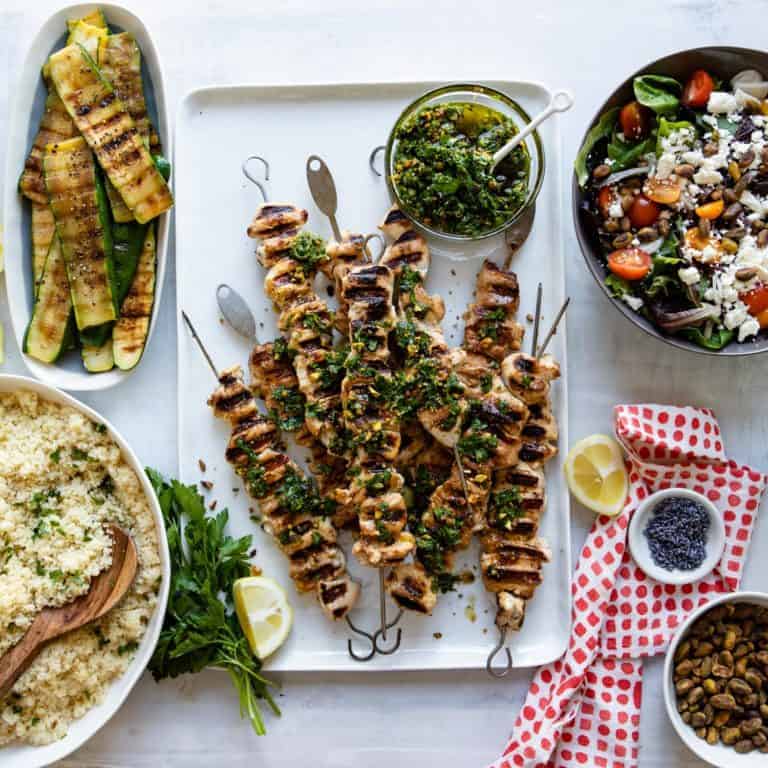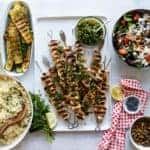 Print Recipe
Grilled Chicken Kebabs with Pistachio Gremolata
Tender, juicy grilled chicken topped with a fresh, vibrant pistachio and herb sauce that will knock your socks off.
Ingredients
For chicken kebabs:
3

pounds

boneless

skinless chicken breasts or thighs, cut into 1 1/2" cubes

1/2

cup

Greek yogurt

1/4

cup

olive oil

1/4

cup

fresh lemon juice

1

tablespoon

honey

2

teaspoons

sea salt

1

teaspoon

culinary grade lavender buds

optional

1/2

teaspoon

garlic powder

1/2

teaspoon

onion powder

1/4

teaspoon

freshly ground black pepper
For Pistachio Gremolata:
1

cup

flat-leaf parsley

finely chopped

1/2

cup

Wonderful Pistachios No Shells

finely chopped

Zest of 2 medium lemons

finely grated

2

garlic cloves

finely minced

1-2

teaspoons

culinary grade lavender buds

optional

1/2

teaspoon

sea salt

or to taste

1/4

teaspoon

freshly ground black pepper

to taste

1/2 to 3/4

cup

olive oil
Instructions
Place chicken cubes in a casserole dish or large bowl.

Combine yogurt, olive oil, lemon juice, and remaining marinade ingredients. Whisk well to combine. Pour over chicken. Toss so chicken is completely coated. Cover bowl and place in refrigerator to marinate for at least one hour or overnight.

To make gremolata, combine parsley, pistachios, lemon zest, garlic, lavender (if using), salt, and pepper. Add 1/2 cup of the olive oil and stir well. If needed, add the remaining olive oil. The gremolata should be spoonable and not too "dry." Cover and refrigerate until ready to serve.

To grill kebabs, prepare outdoor grill for direct heat on one side and indirect heat on other side; or have a grill pan ready to preheat if using stovetop. Thread the chicken cubes onto metal or pre-soaked bamboo skewers. (If using cooking indoors, preheat grill pan now.)

Arrange skewers over direct heat side of grill and cook for 3-4 minutes; turn over and cook for another 2-3 minutes, then move to indirect heat to continue cooking for 3-5 more minutes. (Using the indirect heat side prevents the chicken from burning on the outside before the inside is cooked properly.)

Transfer chicken kebabs to a serving platter. Drizzle some of the gremolata over the kebabs. Serve remaining sauce on the side.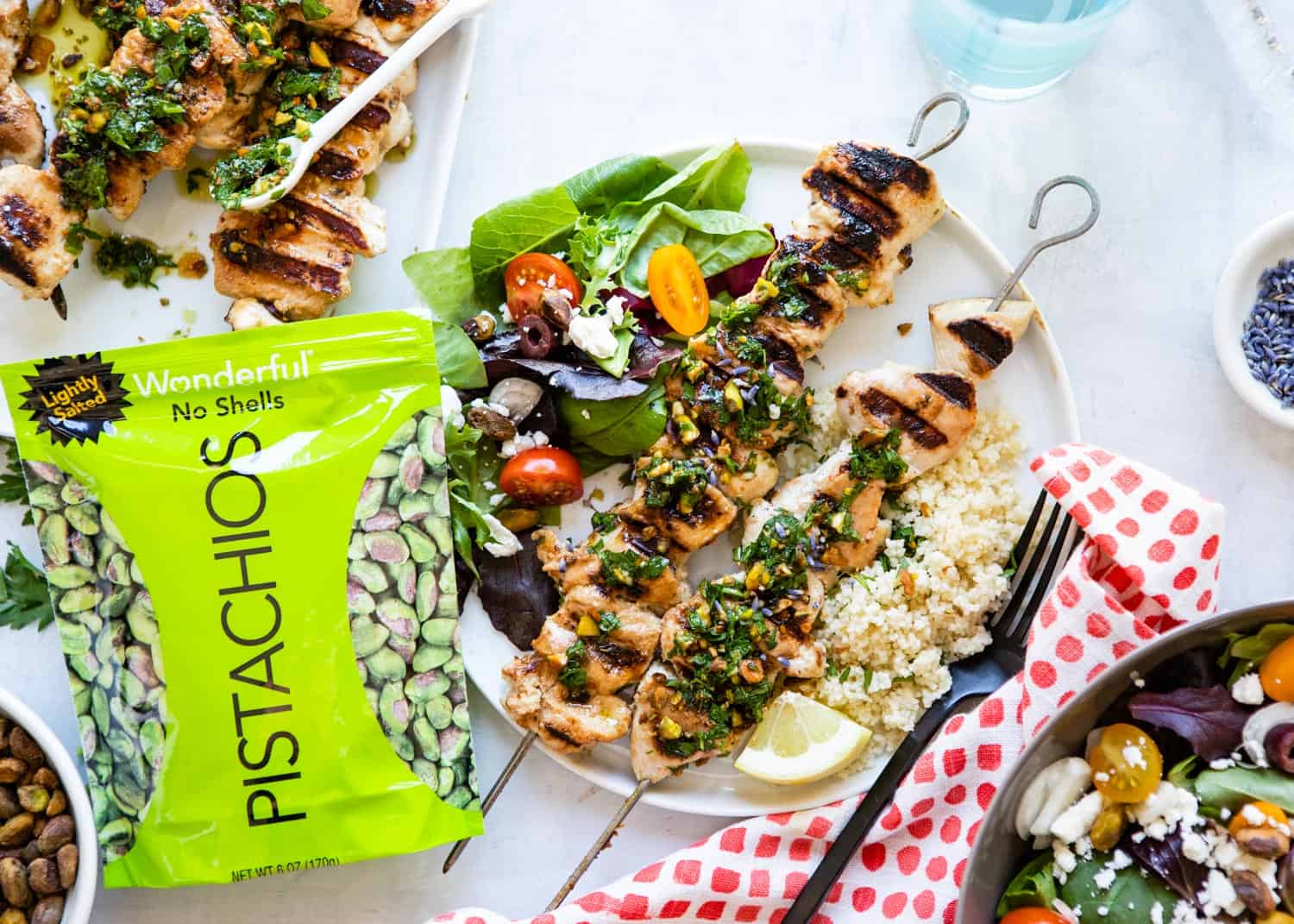 24