Hold on tight because this pudding is about to blow your mind! It's thick and rich, full of deep, dark chocolate flavor—and it's good for you! Like, you can eat this every day and not feel the least bit guilty about it. This kind-of-good-for-you vegan avocado chocolate mousse has gained popularity over the last few years.
So if you haven't tried it, now is the time, my friend! Read on to learn how to make your own.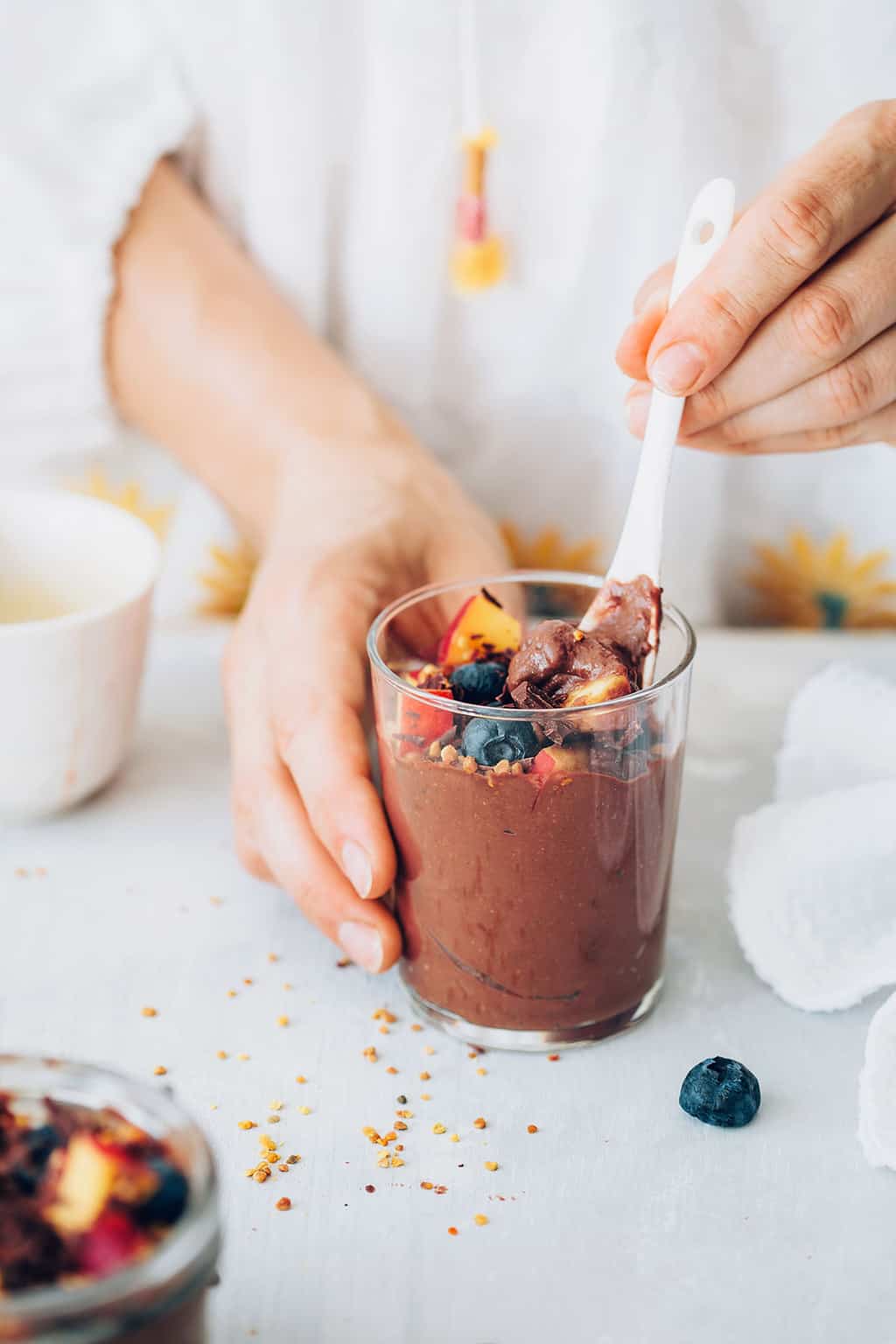 Vegan Avocado Chocolate Mousse
Let's talk about avocados for a second. They just so happen to be the star of this recipe and one of the healthiest foods you can add to your diet. They're known to be rich in monounsaturated fats and are said to help lower bad cholesterol and triglyceride levels [source], which may help improve heart health. Researchers are not entirely sure how avocados do this.
A study looking at the effect of adding one avocado a day to one group of subjects on a moderate-fat diet showed bad fat levels went down most in the avocado-eating group, even more than the folks placed on a diet lower in fat than they were on. This led the investigators to conclude that there is something beyond just the healthy fats in this fruit that lowers cholesterol [source].
Avocados are high in fiber as well as vitamins C, E, B6, folate, and potassium—all of that in a tasty package rich in fats with absolutely zero cholesterol [source]! (Um, can your chocolate cake do that?)
To transform avocados into a mousse-like consistency, all you really need is cocoa powder, vanilla extract, maple syrup, and almond milk.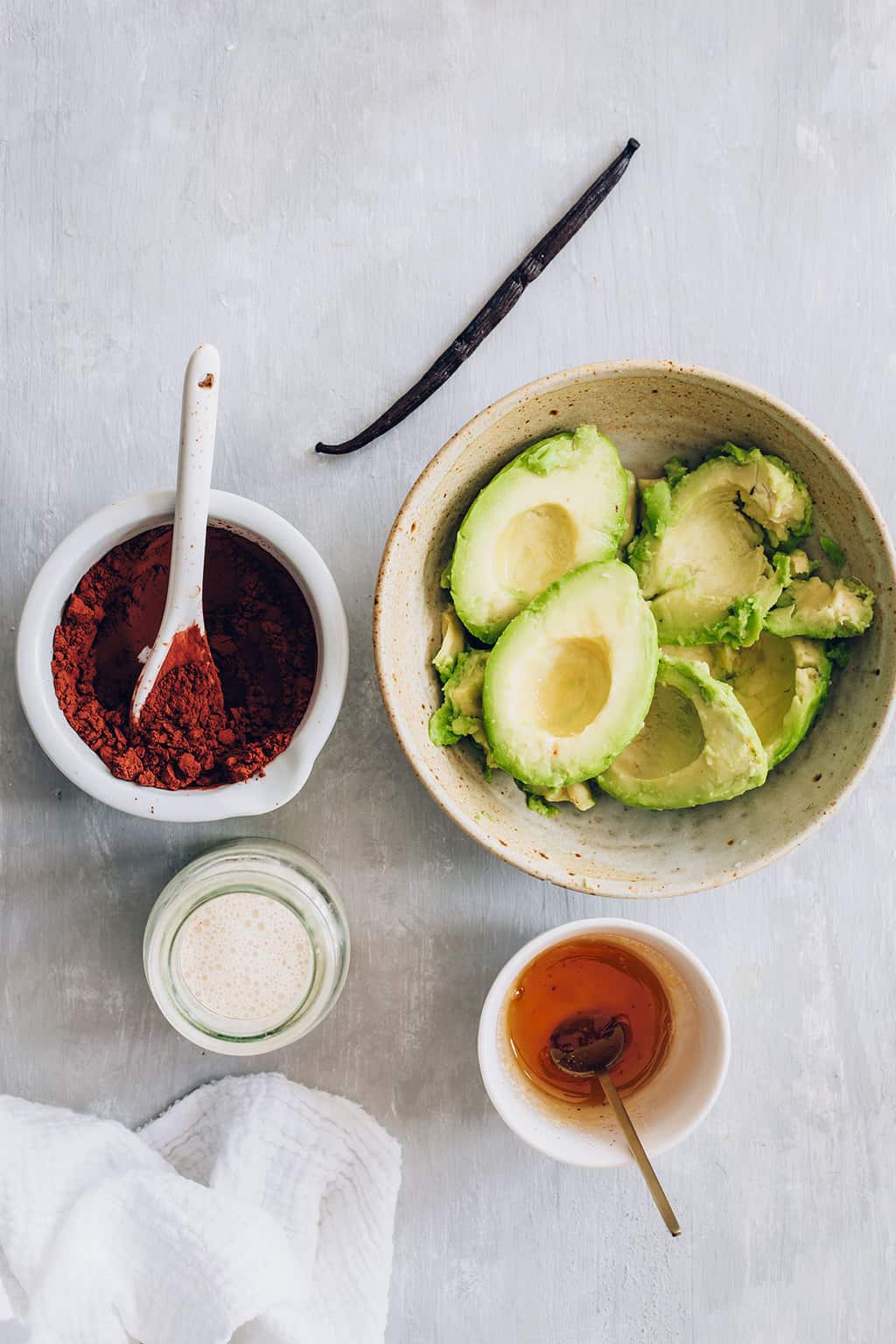 Look for an almond milk that's free from dairy, gluten, carrageenan, cholesterol, and artificial colors & flavors, so your mousse actually tastes like mousse and not some chemical-laden processed snack.
Next comes cocoa powder, which is naturally rich in antioxidants and flavonoids and has been shown to have positive effects on cardiovascular health [source]. I think cocoa powder is perfect for giving this a rich, chocolate-y flavor, but I've known other food bloggers who add melted chocolate to theirs, and they say it's to die for.
So feel free to experiment with that if you like to play with your recipes—just be sure to let me know how it is!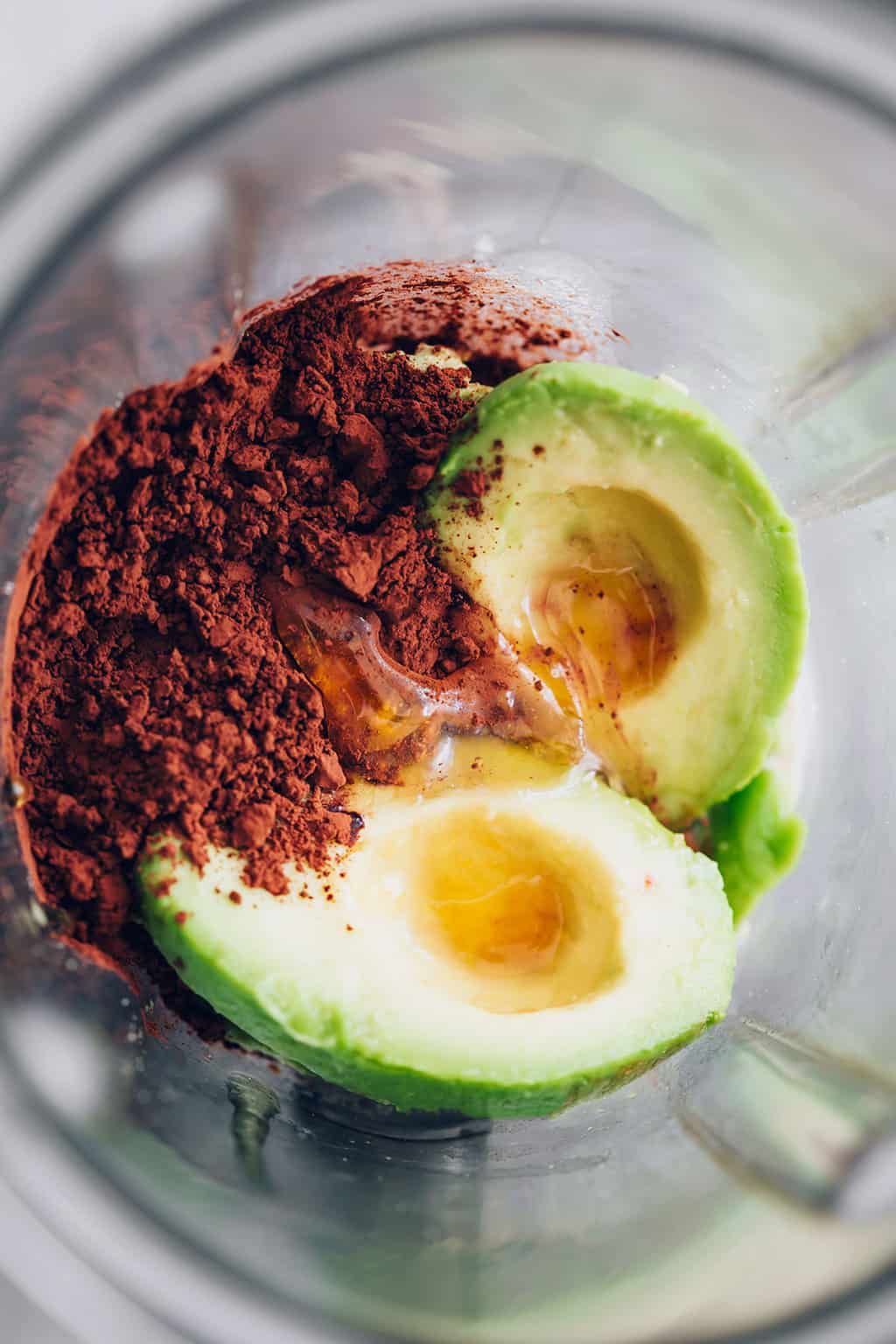 But even without all the healthy stuff, the creamy texture and rich taste of this pudding are absolutely dreamy. You truly can have your pudding and eat it too!
To make your mousse, all you need is a blender, to which you'll add a few avocados, a splash of almond milk, a touch of maple syrup, and vanilla. Blend it all up for 60 seconds, and you'll end up with the smoothest, richest chocolate mousse you've ever had.
Oh, and the raspberries on top are optional, but they taste amazing!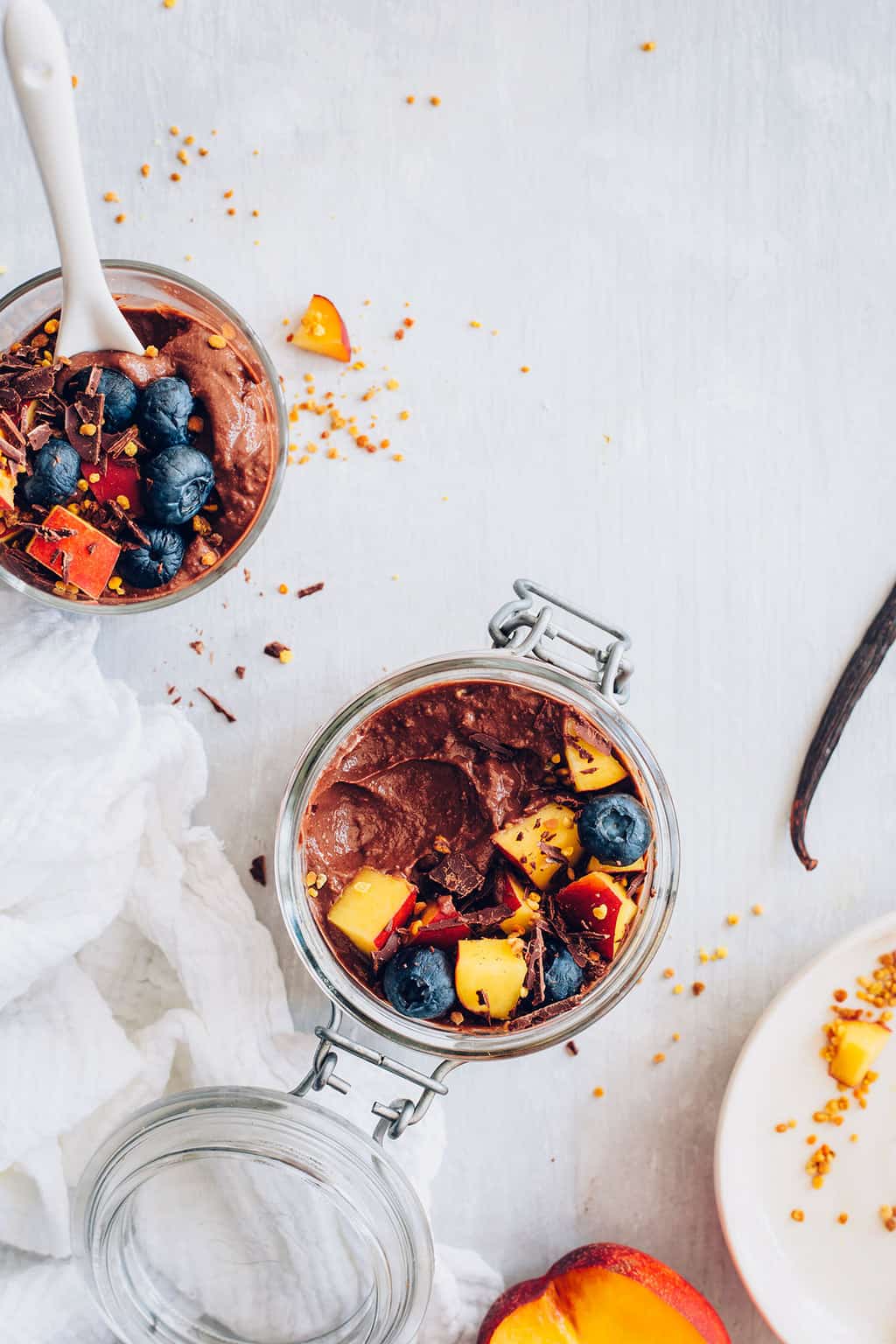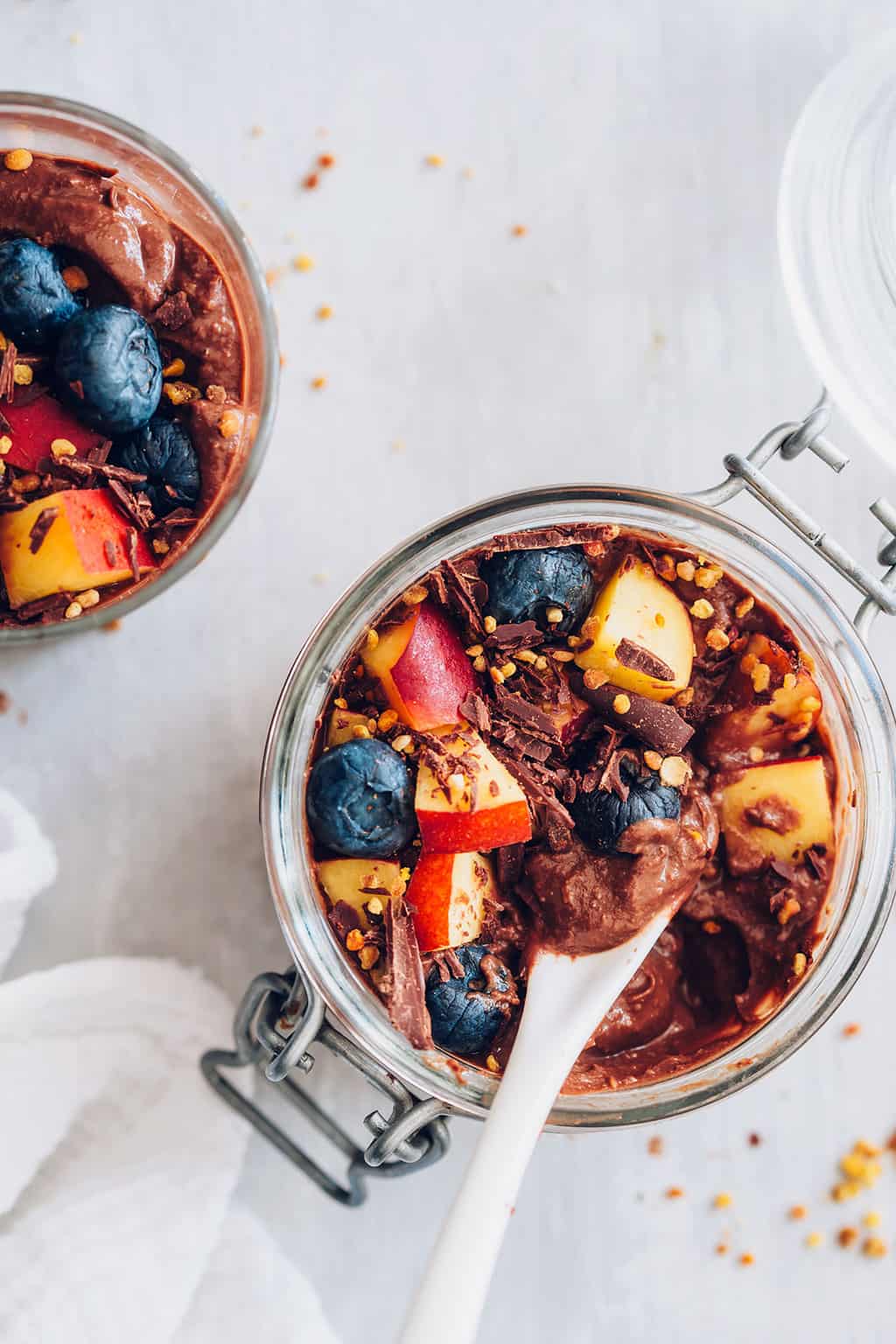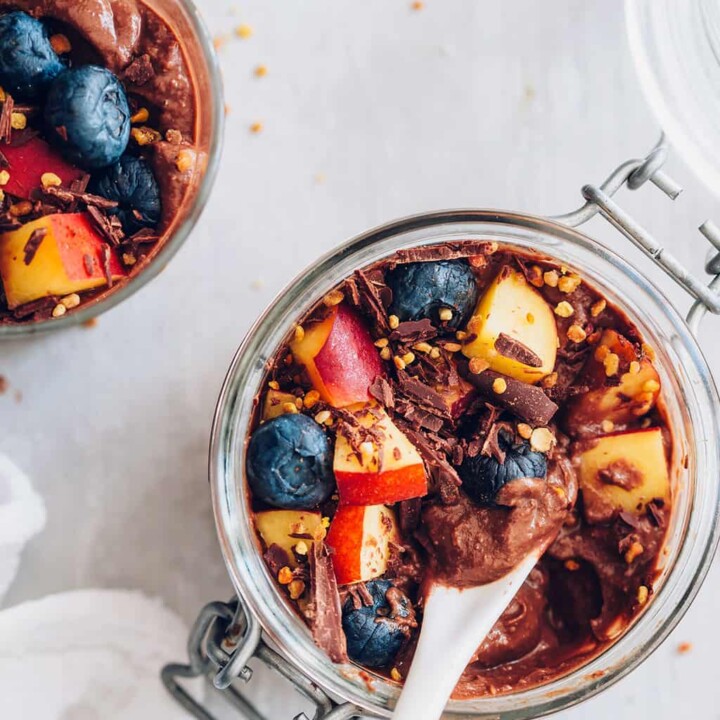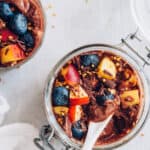 Print Recipe
Healthy Dark Chocolate Avocado Mousse
Make a healthy, vegan avocado chocolate mousse fit for a Valentine's dessert. It's as pretty as it is delicious!
Ingredients
1

large or 2 small ripe avocados

2

tablespoons

unsweetened cocoa powder

¼

cup

almond milk

1–2

teaspoons

pure maple syrup

to taste

1

teaspoon

natural vanilla extract

fresh fruits, chocolate flakes

for garnish
Instructions
Place avocados, cocoa powder, almond milk, maple syrup, and vanilla extract in the jar of a blender.

Puree until smooth, stopping when needed to scrape down the sides. The mixture will be very thick and mousse-like. Add a little more almond milk if needed to thin out a bit.

Spoon the pudding into dessert cups and top with fresh raspberries, chocolate flakes, or other fun toppings.
This article was medically reviewed by Dr. Gina Jansheski, a licensed, board-certified physician who has been practicing for more than 20 years. Learn more about Hello Glow's medical review board here. As always, this is not personal medical advice and we recommend that you talk with your doctor.
Photos by Ana-Maria Stanciu
89