We've partnered with Ello to create this post. All opinions are 100% my own. Thank you for supporting our sponsors!
This year I'm focusing on exercising mindfully. I've decided that in order for me to really enjoy my workouts and stick to them, I need to listen to my body and pay attention to its cues. Part of exercising mindfully includes my warm-ups and cool downs, not overdoing it, as well as making sure I'm properly hydrated before, during, and after.
I'm prone to nightly leg cramps – ouch! So I'm also mindful of replenishing my electrolytes, especially if I've had an intense workout. I came up with this Hibiscus Tea Electrolyte Replenishing Drink to help keep my electrolytes in balance without turning to sports drinks that are full of artificial flavors and colors. This electrolyte drink is naturally sweet and includes ingredients chosen specifically for their mineral and vitamin contents.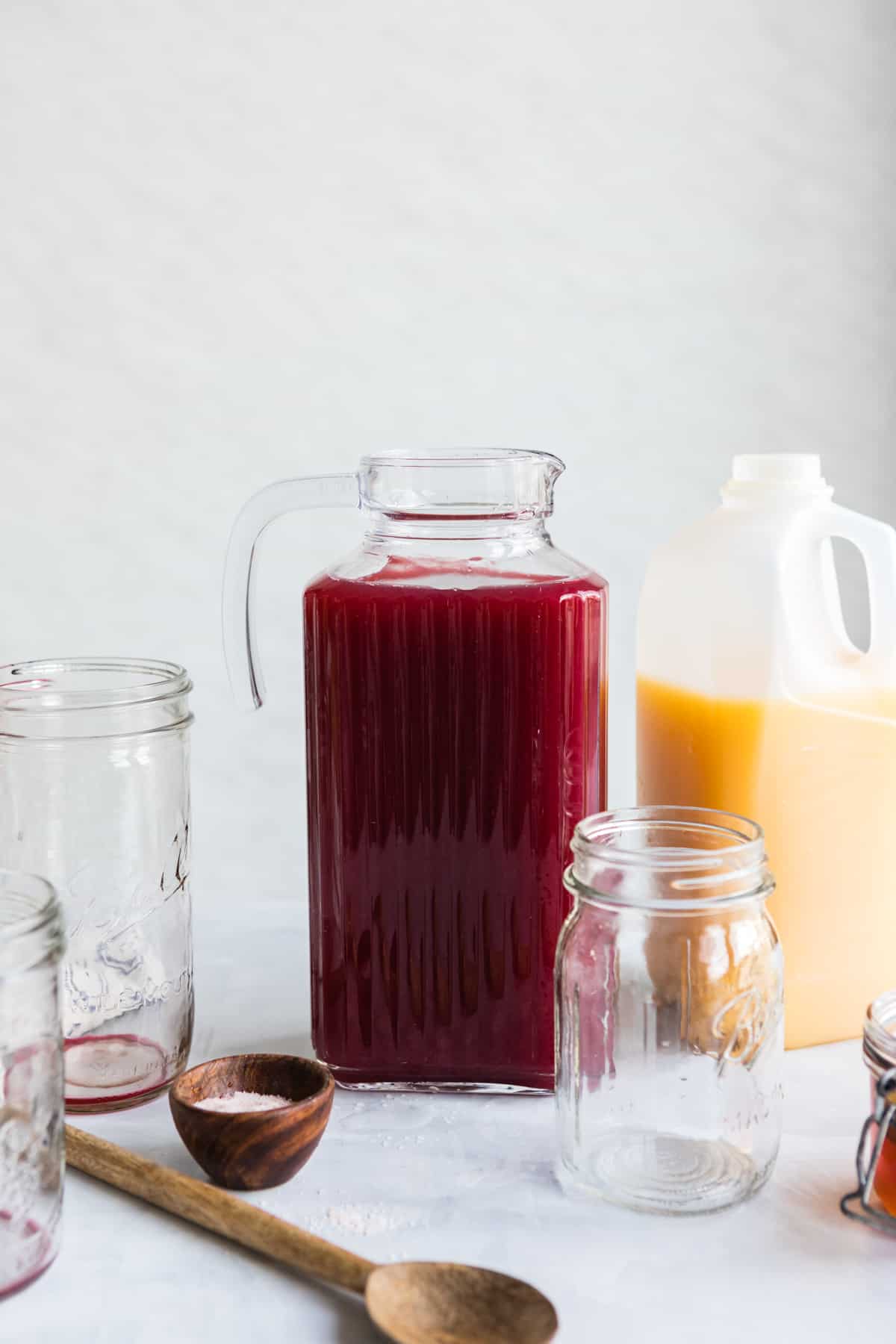 Taking my Hibiscus Tea Electrolyte Replenishing Drink to the gym has helped get rid of those nightly muscle cramps in my feet and calves as I'm drifting off to sleep. I drink plenty of water during my workouts, but perspiring heavily can rapidly deplete the body of essential minerals like sodium, potassium, zinc, magnesium, and calcium. That's why it's important to add them back in. These minerals are essential for heart health, including blood pressure regulation, and preventing those dreaded muscle cramps.
Ello sent me their Riley stainless steel bottle to try out and it happened to be perfect for bringing my homemade electrolyte drink with me wherever I go. And spoiler alert: I am over-the-moon about this bottle! I had seen Ello bottles at Target for awhile and I kept seeing other gym-goers using them. They're very nice looking bottles and I wondered what set them apart from others I've tried in the past.
For starters, Ello bottles are stainless steel which is durable, shatter-proof, doesn't rust, and won't impart any flavors. They are vacuum insulated and keeps drinks cold up to 24 hours and hot for up to 6 hours. (Really!) And the bottle doesn't sweat at all. I repeat: the bottle doesn't sweat!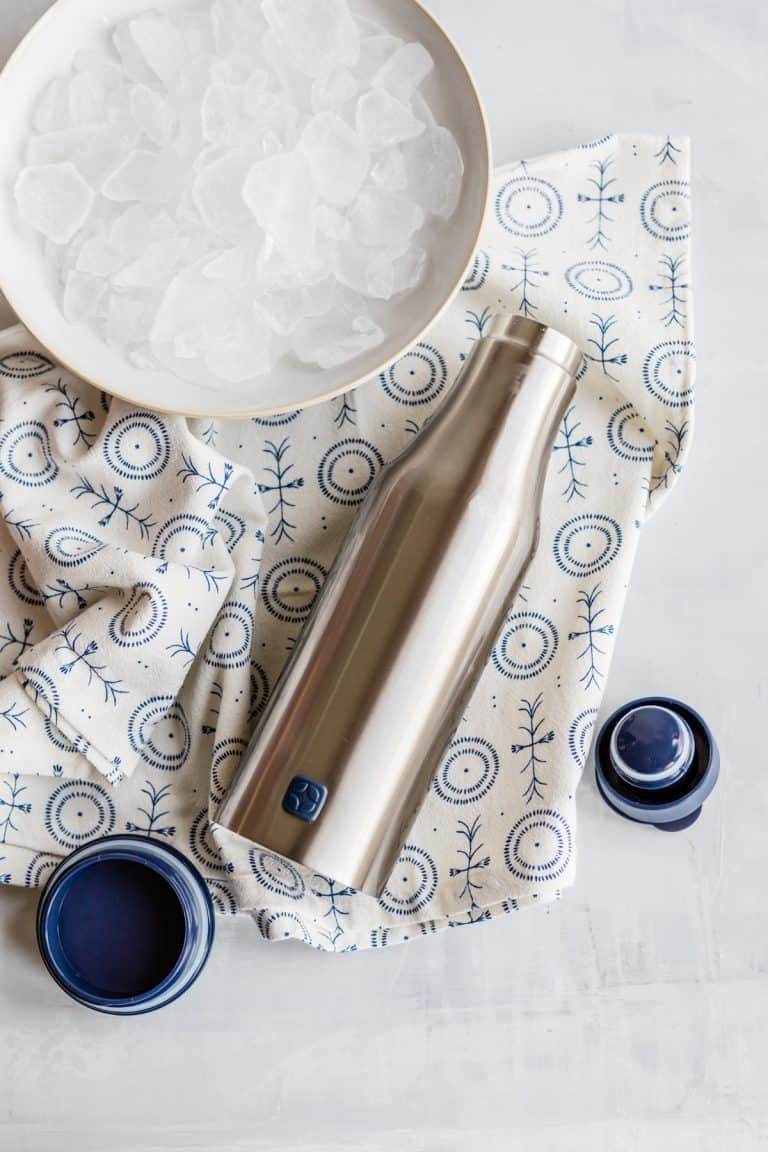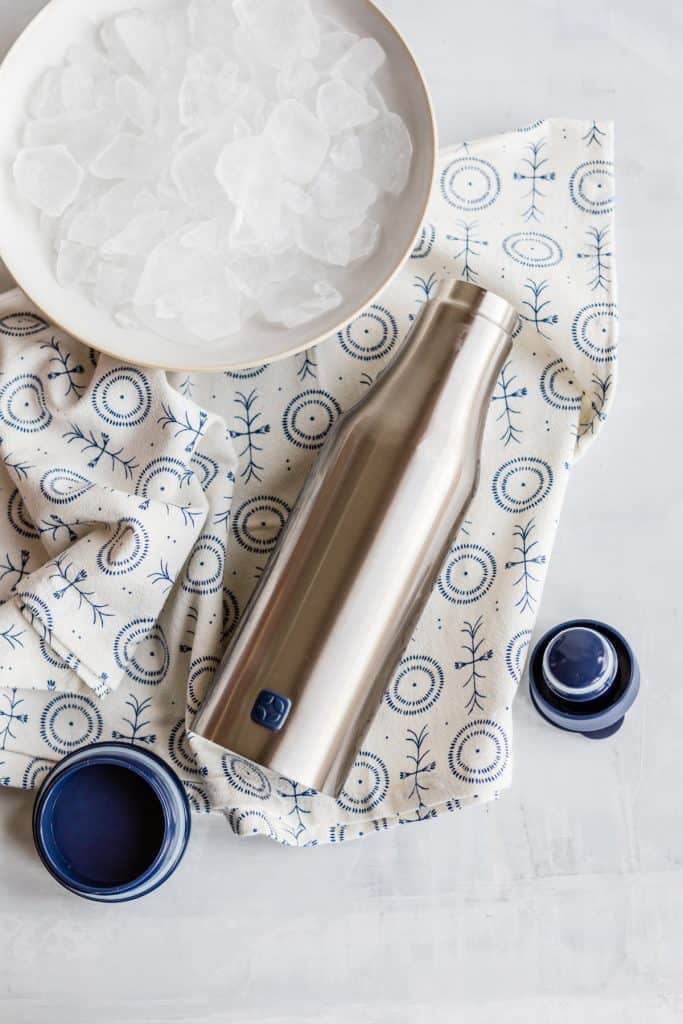 But probably my favorite feature is that the bottles unscrew from the top and the bottom. The narrow top opening is for drinking, but the genius of the bottom opening is that you can easily add ice (super important) and it makes cleaning the bottle a cinch. Read: no special bottle brush necessary.
I'm sorry, but if you don't think that's awesome, then you've haven't been standing at your kitchen sink at 5:30 am trying to disassemble, scrub with a tiny brush, and reassemble a water bottle because you forgot to wash it the night before. That only happened to me every morning…so I'm down with anything that makes this mundane task easier and quicker. (By the way, hand washing the Riley bottle is recommended.)
But I'm also down with the way this bottle keeps my water (or beverage of choice) ice cold for hours. It's not just good for workouts, but I can toss the bottle into my bag when I'm heading out to run errands and I'm not tempted to buy bottled water. See? These bottles are also better for the environment!
Now let me get back to my special electrolyte drink. I promise you're going to want to keep a pitcher in your fridge!
Electrolyte Drink Ingredients Matter
When the weather starts to warm up, you'll especially want to keep this electrolyte drink on hand–it's incredibly refreshing. I specifically chose the ingredients based on the minerals I wanted to replenish after a workout.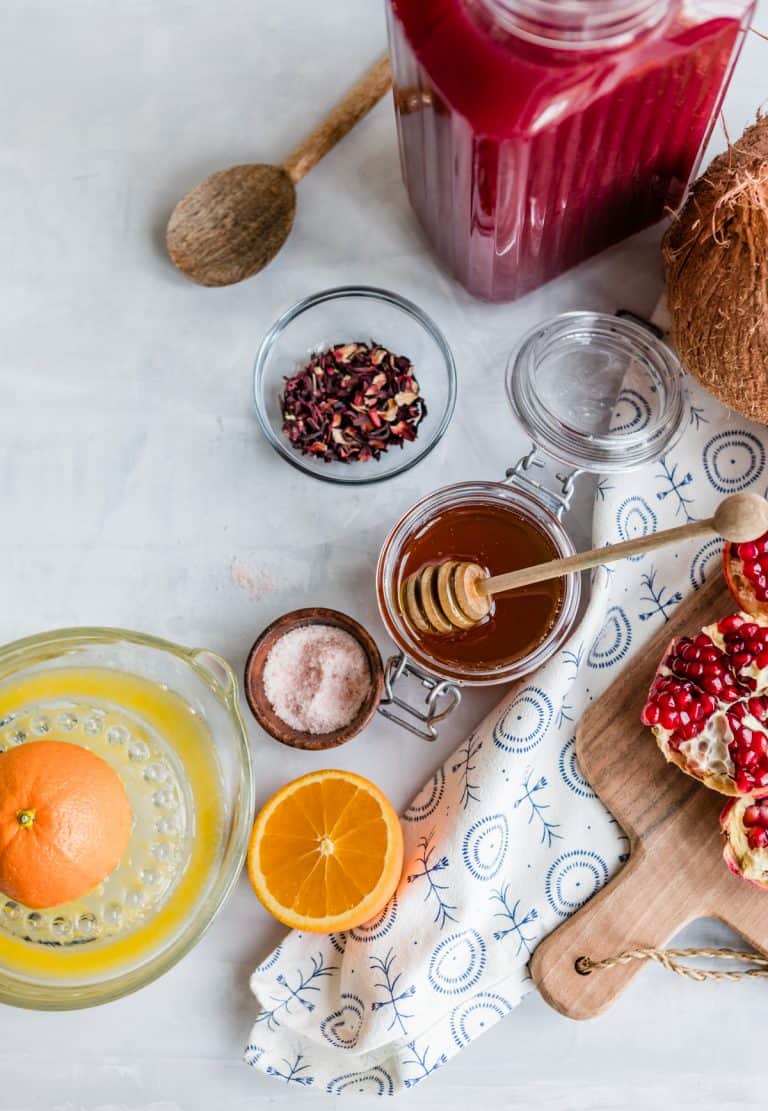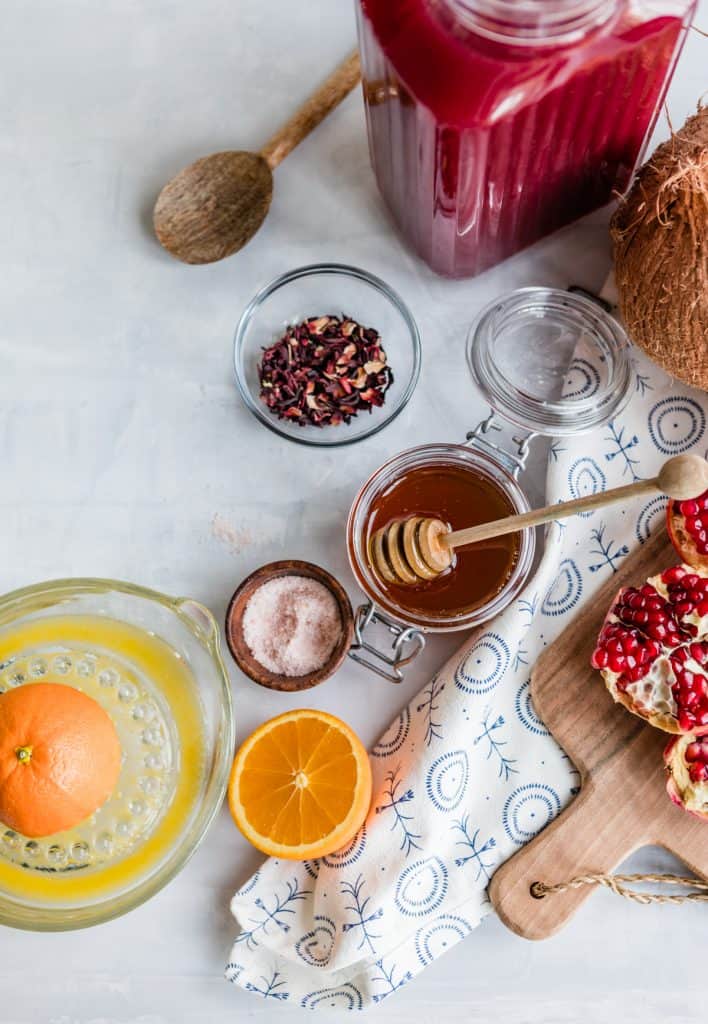 Here's a little breakdown of the ingredients and what they bring to the table:
Hibiscus Tea – potassium and vitamin C, anti-inflammatory properties (and loads of iron!)
Orange Juice – provides small amounts of magnesium and calcium, tons of potassium and vitamin C, natural sweetness
Pomegranate Juice – magnesium, calcium, potassium, and one of the richest fruit-based sources of zinc
Coconut Water – natural sodium, potassium, magnesium, calcium, natural sweetness
Himalayan Pink Salt – sodium, trace minerals
Honey – glucose, fructose, trace minerals including calcium, magnesium, potassium, and sodium
Hibiscus tea, sometimes labeled "jamaica," is one of my favorites. The dried petals of hibiscus flowers create a beautiful, deep purple-red tea with a tangy-bitter flavor reminiscent of cranberries.
You may find it as a loose tea or most often it will be combined with other herbs and botanicals and sold in tea bags. Either is fine to use here.
If you haven't been drinking hibiscus tea, it's a great time to start. The high levels of potassium and iron are worth it, but so are the anti-inflammatory benefits, which are also beneficial after exercising.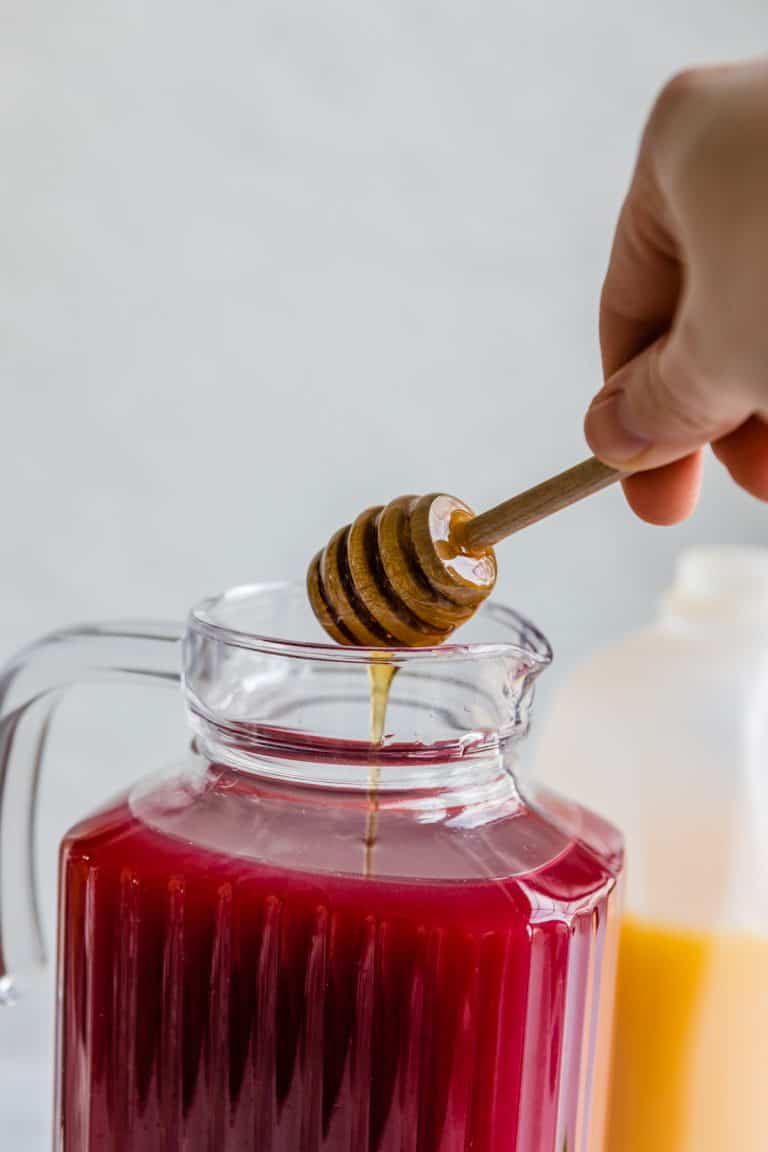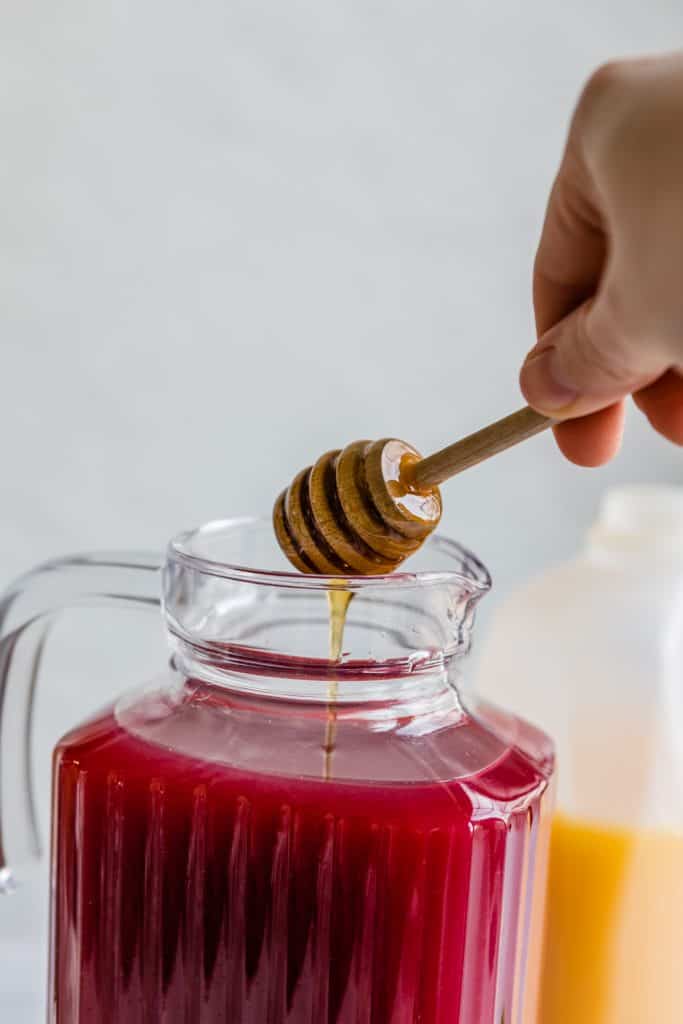 Adding honey is optional. The fruit juices are pretty sweet on their own, but if you have had a particularly intense or long workout, the glucose and fructose in honey will help replenish your energy as well.
I don't call for very much salt because the coconut water already contains quite a bit. It really depends on your personal taste and preference and health needs. If you perspire heavily, its worth adding that extra bit to play it safe.
My favorite way to enjoy electrolyte drinks, especially homemade ones, is over plenty of ice–another reason to love the Ello Riley bottle, which is so easy to fill with ice cubes. As the ice melts, it does dilute the flavor a bit, but not too much.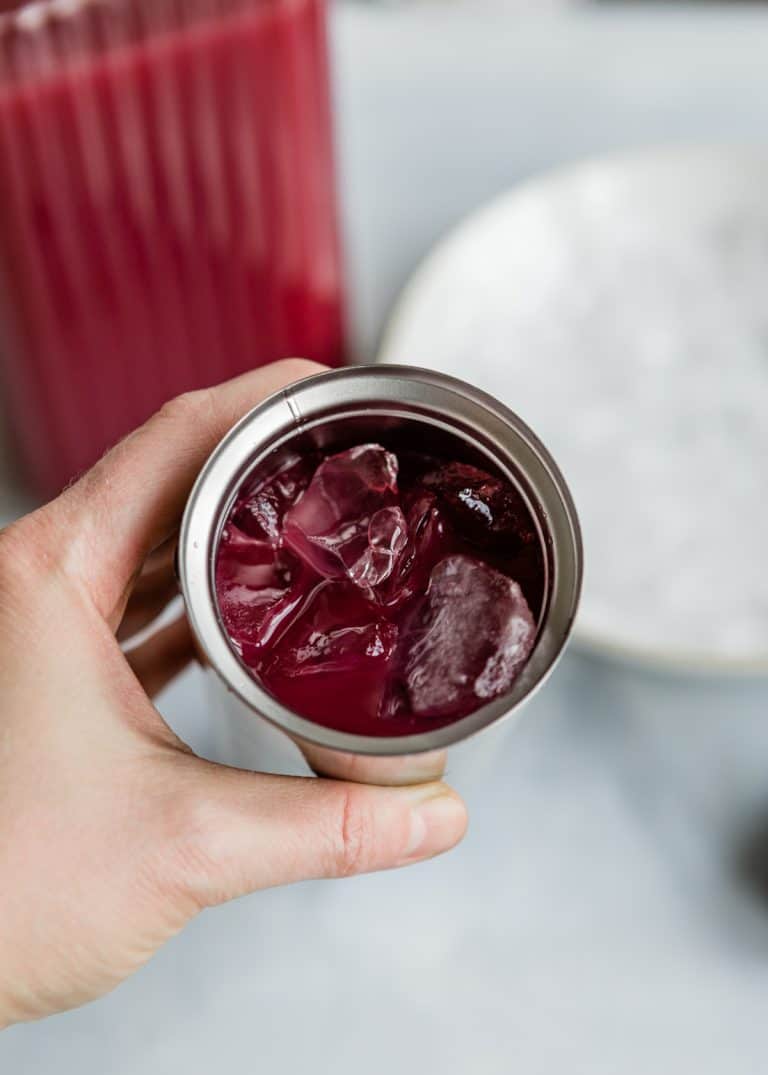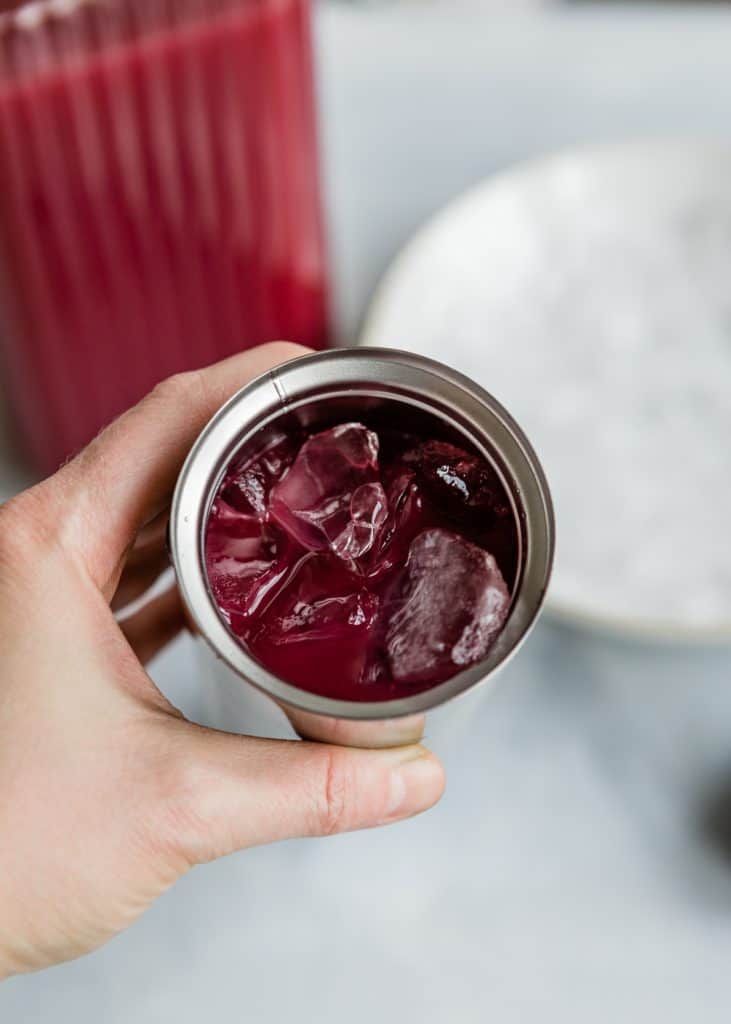 Next time you're thinking of reaching for a sports drink, make this natural version instead and reap the benefits of replenishing your electrolytes the healthy way after exercising, spending time out in the sun, or when you're feeling under the weather.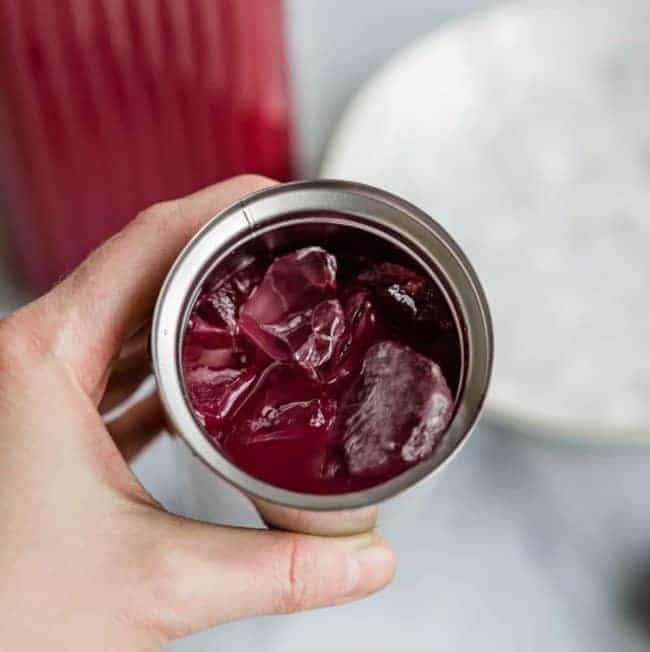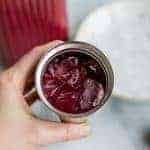 Print Recipe
Hibiscus Tea Electrolyte Replenishing Drink
Make this beverage to take along to the gym in your reusable bottle to hydrate and replenish electrolytes naturally.
Ingredients
2

cups

hibiscus tea

strongly brewed

2

cups

orange juice

preferably fresh not from concentrate

2

cups

pomegranate juice

bottled or fresh

2

cups

unsweetened coconut water

1/4

teaspoon

Himalayan Pink Salt

Honey or maple syrup

to taste (if needed)
Instructions
Combine all of the liquids in a large pitcher or jar. Stir in Himalayan pink salt. Taste and if needed, add a little honey or maple syrup to sweeten. It should be lightly sweet and refreshing.

Cover tightly and refrigerate for up to one week. Or freeze in ice cube trays and store in airtight container for several months.

To serve, fill a reusable bottle with ice and add the electrolyte replenishing drink.
Notes
To brew hibiscus tea, bring 2 1/4 cups water to a boil. Place 4 hibiscus tea bags in a glass measuring cup or other container. Pour the hot water over the bags and allow to steep for 8-10 minutes. Gently press the bags to express any extra liquid and discard. Allow tea to cool before using in recipe.
Loose hibiscus tea or tea bags can be used here. It's preferable to use an herbal blend if you cannot find plain dried hibiscus and need to substitute with a blend.
20