Matcha is the bright green powder that everybody's talking about these days. An antioxidant wonder, energy booster, and effective mind calmer, I would simply say that matcha is a superfood that often replaces my morning coffee—and here's why.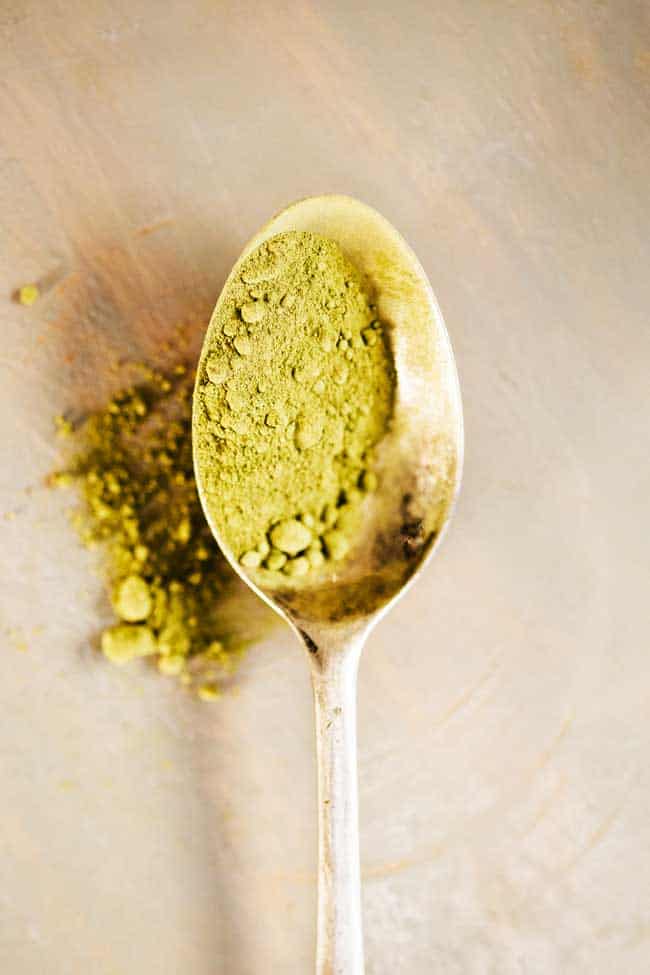 Why We Switched to Matcha Lattes
There are many reasons to try using this Japanese wonder with an incredible nutritional profile. Matcha doesn't cause the increased heart rate like you get from coffee or the acidity and stress those exert on your liver.
Everything about matcha is Zen—its perfect green tone, its restoring effect on your cells, and of course, the comforting calm awareness it gives your mind after drinking its brew.
These sound like perfection to me, and if you're thinking of improving your morning ritual, here are four reasons why you should consider matcha as the healthy alternative to coffee.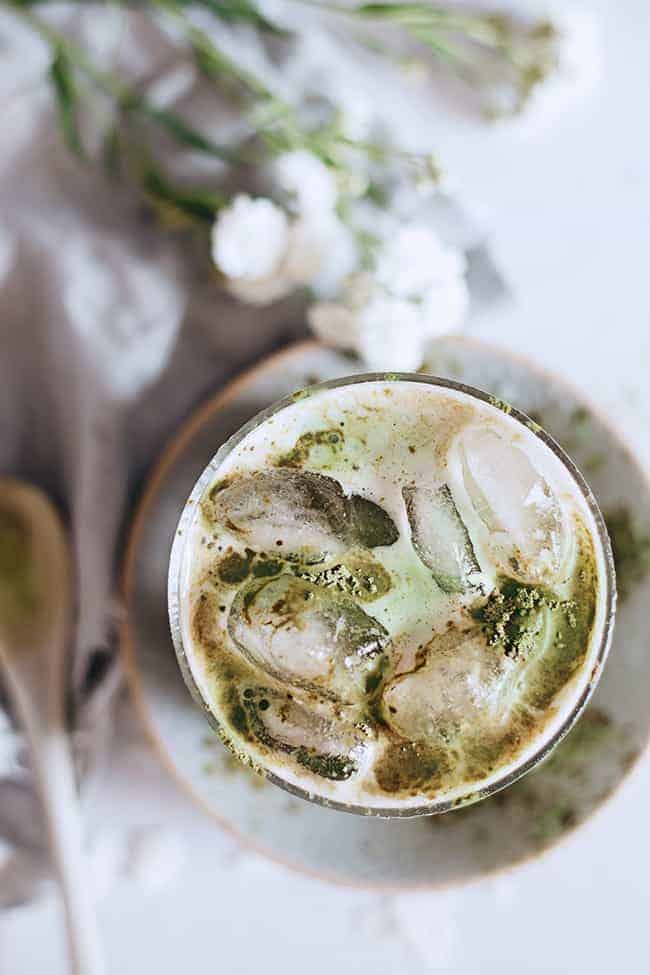 Matcha contains caffeine
.
That's because it is made from ground green tea leaves, and it preserves all the qualities of tea but in higher concentrations. So matcha contains more caffeine than regular green tea [source] but not quite as much as coffee.
Matcha contains L-theanine
.
This amino acid found in high amounts in green tea gives your mind a calm alert and awareness, not the instant boost and later crash that coffee is known for. Research has shown that it reduced stress and anxiety in test subjects [source]. This might be the reason why Zen monks often use matcha drinks before meditation.
Matcha supports the natural detox function of your body cells
.
It contains a high level of catechins, powerful polyphenols that reduce the oxidative stress and damage caused by free radicals [source]. The antioxidants in green tea have been shown to diminish the risk of cardiovascular disease [source], cancer [source], and chronic inflammatory diseases [source] while also slowing the aging process [source].
Matcha boosts metabolism and mental function
.
Additionally, matcha helps you burn calories by setting your metabolism on fire, enriches your diet with fiber, antioxidants [source], vitamins, and chlorophyll [source], and is a quality source of key minerals (selenium, zinc, and magnesium).
During mild stress, it has been shown to improve both attention and work performance with daily use [source]. Research in animals demonstrated lowered anxiety levels [source], and a study in college students showed a definite stress reduction when taken daily [source].
4 Matcha Latte Recipes
Ready to make the switch? Here are 4 recipes you can start with:
1
.
Energy-Boosting Iced Matcha Latte
Lately, I've been experimenting to create deliciousness with this magical green tea powder, and this iced matcha latte is my latest obsession. Because I like to make my lattes creamy, I used almond milk, but you can pretty much make this refreshing drink with any vegan milk you prefer.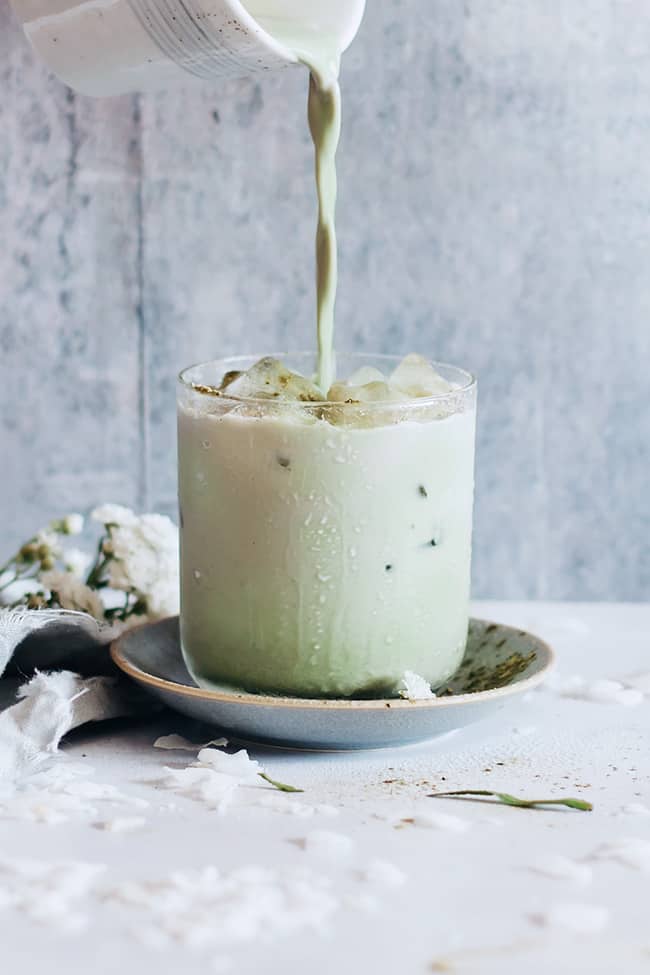 Iced Matcha Milk
Refreshing, energizing, and loaded with antioxidants, this matcha drink is made with all vegan ingredients and deliciously replaces your morning coffee.
Instructions
Add all the ingredients (including the 5 ice cubes) into a blender, and pulse until frothy.

Add the extra ice cubes into the serving glasses. Pour in the matcha milk and enjoy!
Notes
You can easily introduce matcha into your healthy routine by adding it to your breakfast bowls, smoothies, or teas. This matcha milk or "Matcha Latte" is a great choice, especially if you're trying to quit coffee and want to stay energized. I like to make my lattes creamy, so I experimented with almond milk, but you can pretty much make this refreshing drink with any vegan milk you prefer.
2
.
Bone Broth Matcha Latte
There's a lot you can do with bone broth aside from sipping it straight and using it as a base for soup. One of our favorite new ways to use it is to whip it up into a nourishing latte.
Restorative organic bone broth delivers the benefits of collagen, amino acids, vitamins, and minerals to help support the immune system and gut health. And with collagen from the broth and antioxidants from the matcha, this latte is amazing for your skin, too.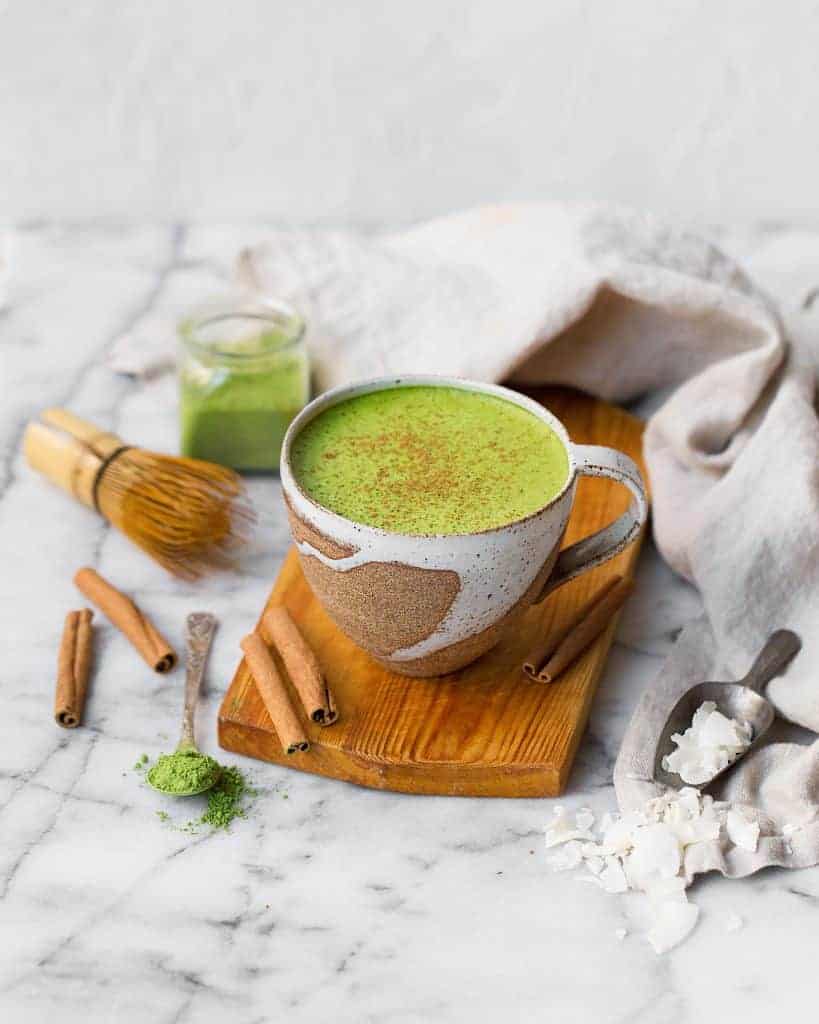 Bone Broth Matcha Latte
With antioxidants from green tea and a boost of collagen, this bone broth matcha latte is ideal for healthy, glowing skin.
Equipment
Mesh strainer

Blender

Tea kettle
Ingredients
1

heaping teaspoon matcha powder

2

ounces

hot water

about 170ºF

½

cup

favorite non dairy milk

heated

1

cup

chicken bone broth

heated

1

tablespoon

coconut butter

1 - 1 ½

teaspoons

honey to sweeten

optional
Instructions
First, measure out 1 heaping teaspoon of matcha powder and sift it through a strainer and directly into your blender (I use a Vitamix). This removes clumps.

Next, add your near-boiling water (roughly 170ºF!)

Add milk and broth to the blender.

Add coconut butter and honey, if using.

Secure the top of your blender well, and blend on low-medium for about 2 minutes.

Pour into a mug and enjoy!
Notes
This latte is best consumed warm and immediately after making.
Feel free to add any sweetener you like to give this latte a more traditional taste.
3
.
Morning Clarity Matcha Mushroom Latte
Reishi mushrooms not only give your immune system and mood a boost, but they can also improve your memory and help protect the brain as it ages. And then there's matcha, the zen-inducing superfood that has been linked to enhanced focus [source].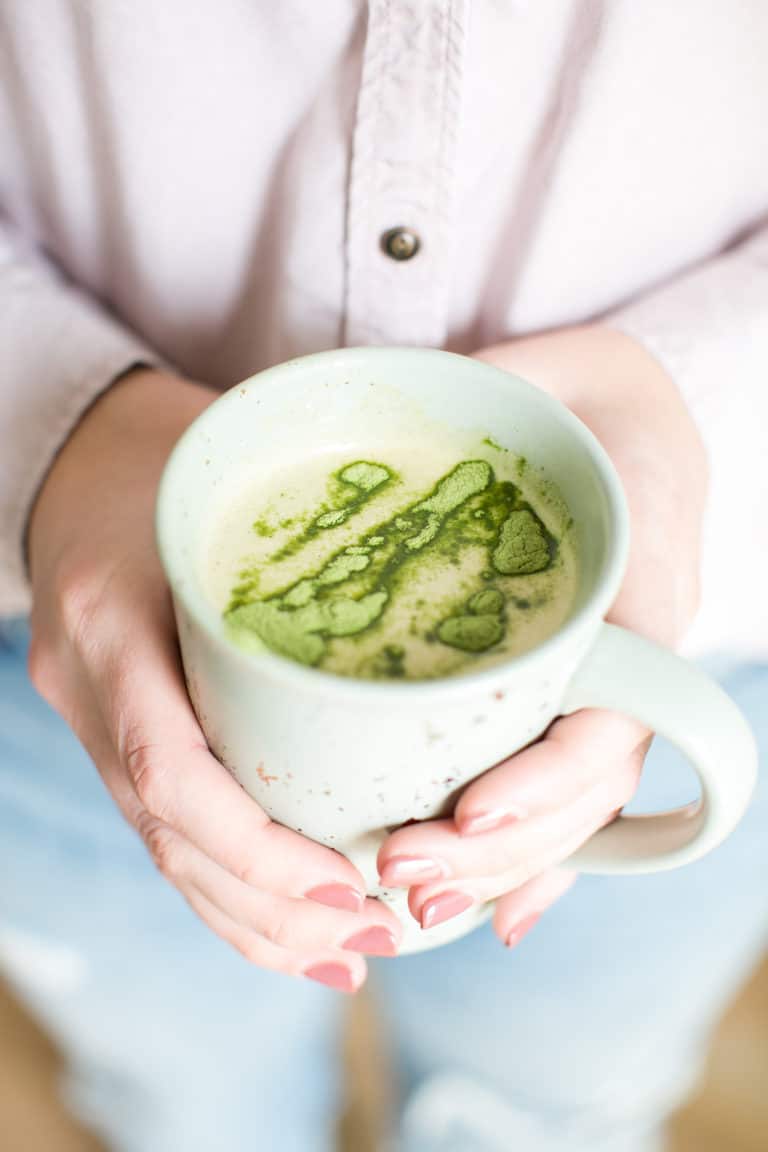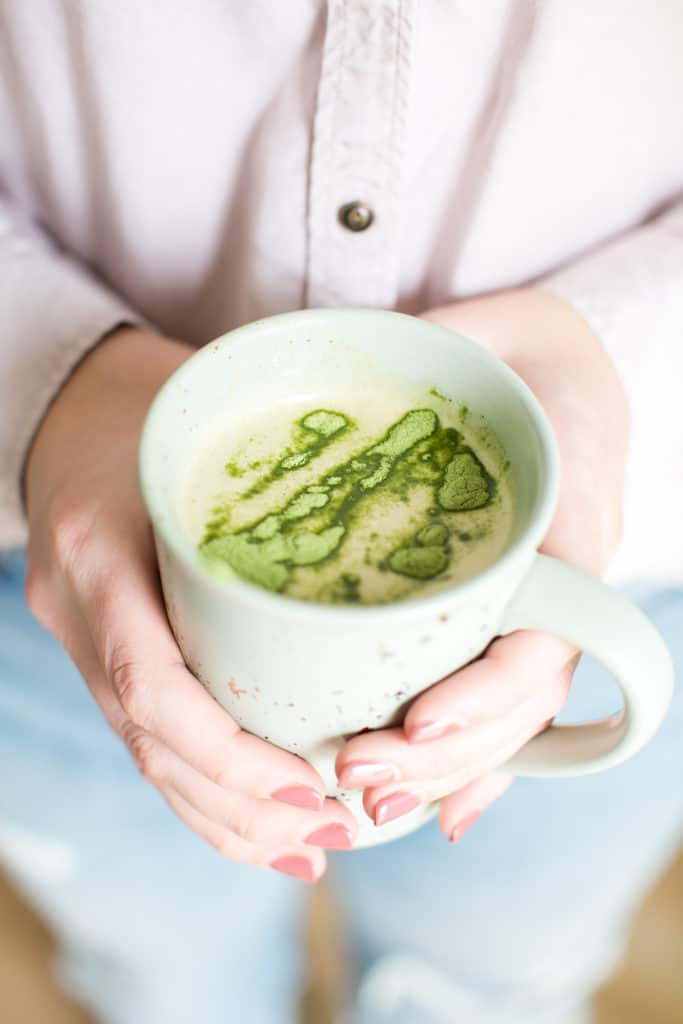 Matcha Mushroom Latte for Morning Clarity
Collagen contains glycine, which is helpful in decreasing anxiety and promoting mental calmness. Add a scoop (or two!) of matcha collagen to your morning latte to banish the brain fog and bring clarity to your mind.
Equipment
Tea kettle or microwave

2 mugs
Ingredients
2

tablespoons

Vital Proteins Matcha Powder 

3

cups

unsweetened almond milk

warm 

2

teaspoons

tahini 

1

tablespoon

cashew butter

1

teaspoon

Reishi powder

1

teaspoon

Lion's Mane powder

2

teaspoons

maca powder

½

teaspoon

freshly grated ginger

3

pitted dates

chopped
Instructions
Add all the ingredients into a blender and process to obtain a creamy liquid.

Serve warm.
Notes
Feel free to make your matcha latte ahead of time and store it in the refrigerator for whenever you need a lift (best if consumed within 2-3 days). Gently reheat in the microwave and stir well before serving. 
4
.
Classic Matcha Latte Recipe
For matcha beginners, this is the perfect way to start your journey. A matcha latte is comforting and antioxidant-rich, and it can be sweetened to suit your taste as you get accustomed to the herbal flavor.
You can blend the milk and matcha together in a blender or use an immersion frother for easier cleanup.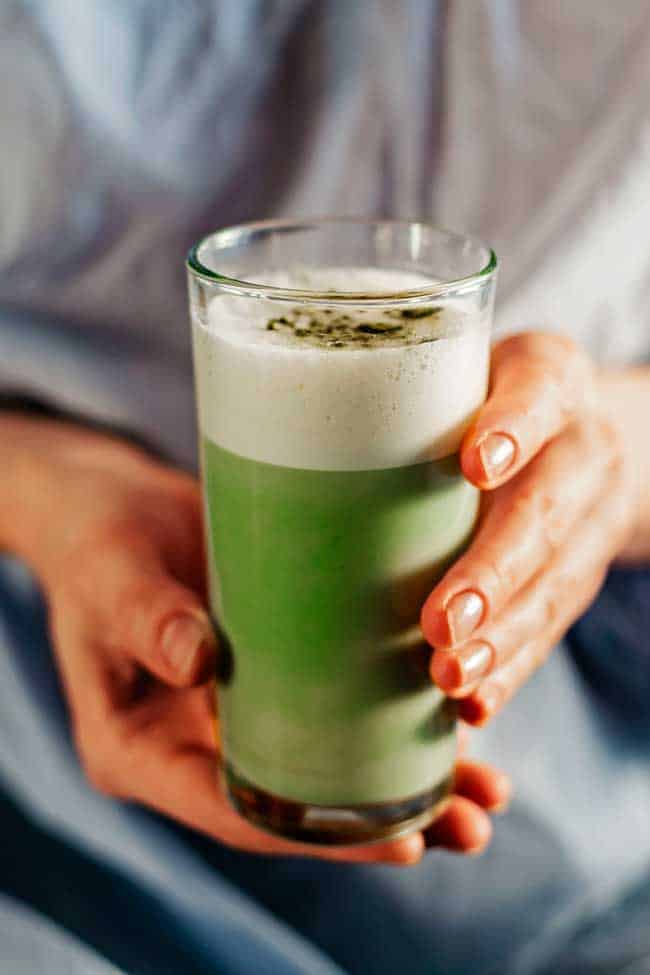 The Easiest Matcha Latte Recipe
A bright-green colored, energy boosting, and antioxidant-rich beverage, matcha latte is the best way to improve your morning ritual.
Ingredients
Classic Matcha Latte
1-½

cups warm vegan milk

(I prefer almond or cashew milk.)

4

teaspoons

matcha tea powder

*Optional: sweetener of choice
Instructions
Classic Matcha Latte
Place the vegan milk and matcha powder into the blender and process until foamy.

Pour into serving mugs, add the sweetener of choice, and then serve.
Notes
Best if consumed immediately.
This article was medically reviewed by Dr. Gina Jansheski, a licensed, board-certified physician who has been practicing for more than 20 years. Learn more about Hello Glow's medical reviewers here. As always, this is not personal medical advice and we recommend that you talk with your doctor.
44