As soon as the temperature drops and rainy days seem never-ending, that's when warm, comforting drinks make their delicious way into my kitchen. There is nothing like coming home from a long walk in the rain or from a hectic day at the office and having a cup of hot, creamy hot chocolate to warm you and cheer you up.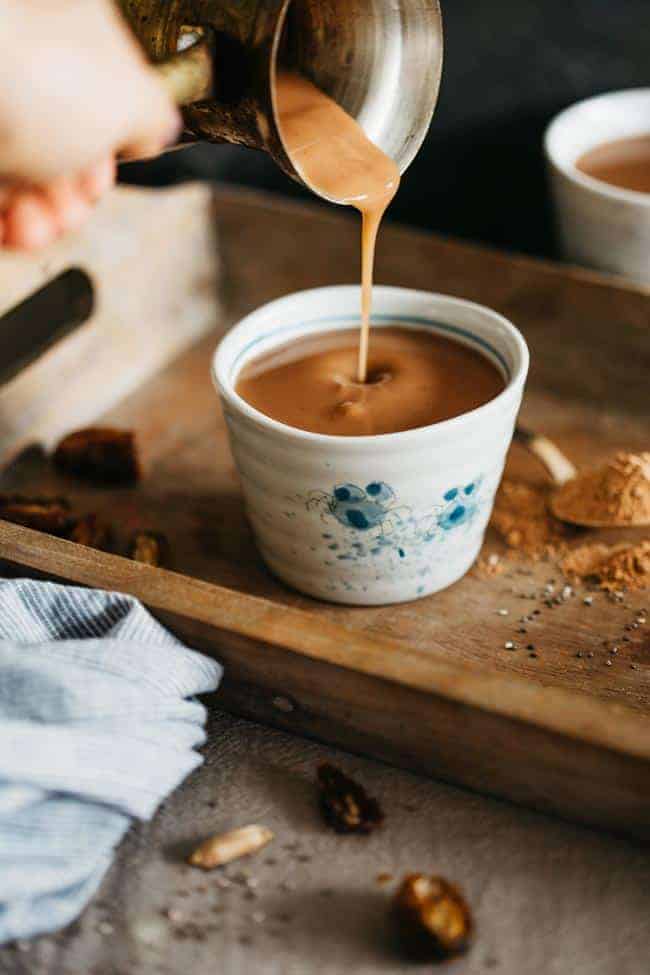 How to make a Hormone-Balancing Hot Chocolate
While I love a cup of classic hot chocolate, my struggle with hormone imbalance got me searching for vegan versions. Many of the conventional milk and dairy products are loaded with hormones, antibiotics, pesticides [source], and steroids [source] and are definitely something you should ditch if you're dealing with hormone issues. I always go for a tasty plant-based milk for my hot chocolate recipes, and almond is definitely my favorite.
There are four ingredients I love to add to my hot chocolate to get a lush, creamy texture and a delicious taste—but that also turns it into real medicine.
Raw cacao powder
Cacao, touted as the "Food of the Gods," is loaded with beneficial compounds that affect many body functions [source]. It is an excellent source of powerful antioxidants called polyphenols [source] as well as essential and trace minerals, especially magnesium [source], which can help balance mood swings [source].
Maca powder
Known as the Peruvian ginseng, this radish-related plant was long used for promoting sexual function and chronic fatigue syndrome. With its high mineral and vitamin content, especially iron, magnesium, and B complex [source], maca can help balance hormones.
Plus, the natural sugars in maca help give hot chocolate a delicious taste. While you're enjoying this tasty beverage, the rich nutrient profile of the maca powder is going to work to increase libido and fertility, balance hormone levels, and alleviate PMS [source].

Lucuma powder
The Gold of the Incas, lucuma has a delicious maple syrup-like taste that delivers a subtle sweetness to whatever it's included in. Rich in beta-carotene, B vitamins, vitamin C, iron, calcium, and other trace minerals, lucuma is a great natural energizer, gives vitality, and helps with depression.
Chia seeds
A great source of soluble fiber and plant-based protein, chia seeds turn into a gelatinous mass and absorb toxins and excess estrogen, flushing them out and preventing their leak back into the bloodstream.
These four ingredients make a delicious elixir for hormone balance and mood boost, making this hot chocolate the perfect treat for those days when the sun seems to never show its face.
How To Make Healthy Hot Chocolate
Turning your favorite winter drink into a health booster is really something to consider, especially if you drink it often. Here are a few tricks to help you enjoy your hot chocolate any time you want:
Cut down on sugars - most of the hot chocolate mixes are loaded with refined sugar that leads to inflammation and hormone disruptions. Consider adding pure maple syrup, or simply use a date or two to sweeten your hot chocolate.
Choose raw - Ingredients such as raw cacao powder preserve more nutrients than the conventional cacao powder. Magnesium, antioxidants, protein, and fiber—all these nutrients involved in detoxification are to be found in just a tablespoon of raw cacao powder.
Go plant-based - cow's milk and other dairy products are often linked to inflammatory and autoimmune conditions [source] such as acne [source], type 1 diabetes [source], and rheumatoid arthritis [source]. Although these have valuable nutrients, they also contain animal fats and proteins. So if you want to reduce inflammation in your system, go for the plants!
Consider choosing a plant-based milk alternative for a healthier hot chocolate. Our favorite is almond milk, but oats or cashew are also great. Go for an unsweetened version, as you will add healthy sweetener to the combo to suit your taste.
Choose your superfood - adding superfoods, spices, and adaptogens to your hot chocolate will increase its nutritional load. For more balanced hormone production, choose maca or lucuma.
For an immunity boost, go for reishi [source]. Add lion's mane to improve brain activity and mood [source], or lower inflammation with chaga [source]. A simple cinnamon powder reduces the risk of cardiovascular disease [source], while ginger powder spices up your hot chocolate and improves digestion.
Add fiber - a teaspoon of chia seeds or ground flax will naturally thicken your hot chocolate while adding healthy fats and also contributing to a natural detox and better digestion.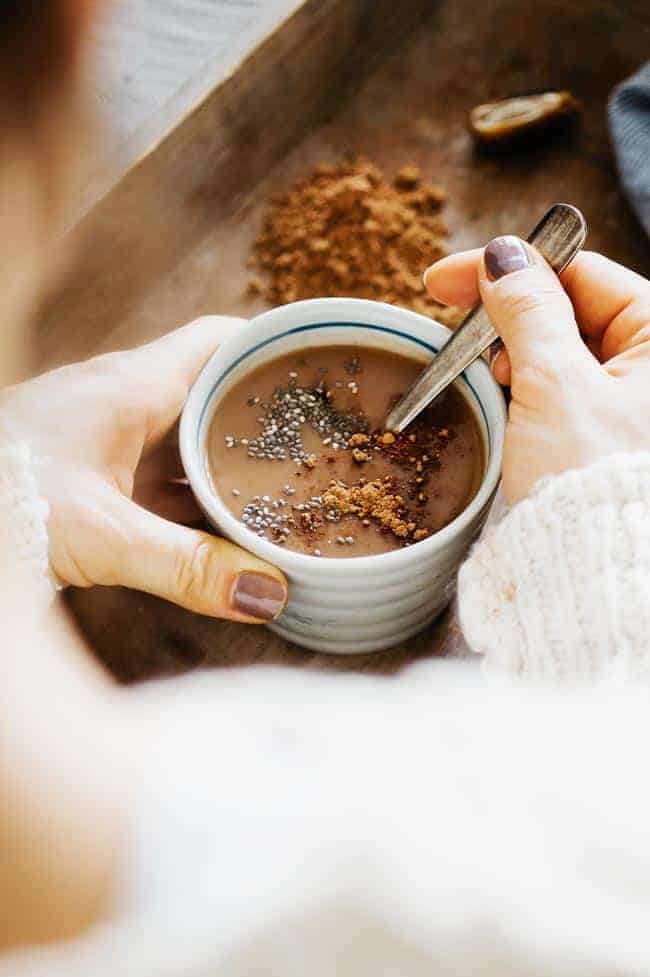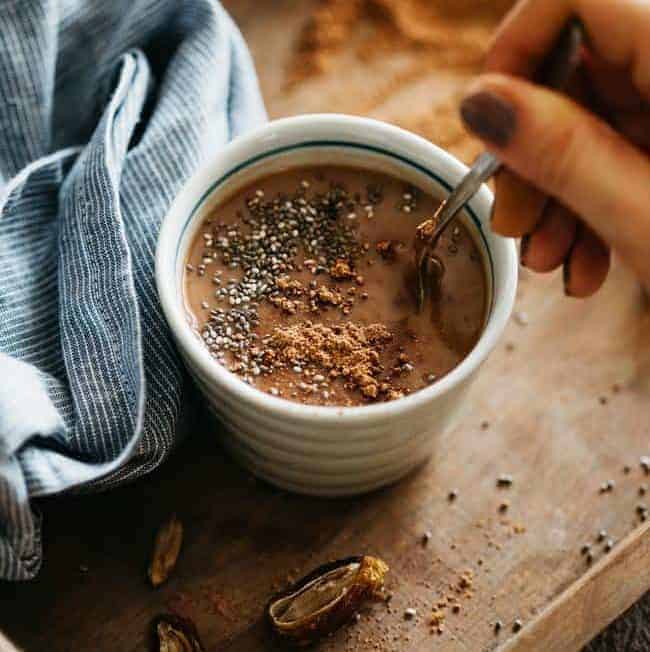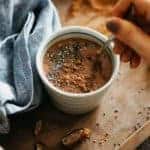 Print Recipe
Hormone-Balancing Vegan Hot Chocolate Recipe
Deliciously flavored and loaded with mood-boosting ingredients, this hot chocolate is the perfect treat for a rainy day.
Equipment
Medium bowl

Blender

Small saucepan
Instructions
In a medium bowl, add the chia seeds and pitted dates. Pour a half cup of almond milk over them and let soak for 30 minutes.

Transfer into the blender, alongside with the rest of the ingredients, and process to obtain a smooth liquid.

Add it into a medium saucepan and heat until comfortable to drink. Do not bring to a boil because the lucuma and maca nutrients can be destroyed.
Notes
These four ingredients create a delicious elixir for hormone balance and mood boost, making this hot chocolate the perfect treat for those days when the sun seems to never show its face.
This post was medically reviewed by Dr. Kimberly Langdon, M.D., a university-trained obstetrician/gynecologist with 19 years of clinical experience. Learn more about Hello Glow's medical reviewers here. As always, this is not personal medical advice, and we recommend that you talk with your doctor.
193