The word crudité translates to "rawness." A crudité platter sounds fancy, but it is simply an appetizer made up of fresh, raw veggies, and accompanying dipping sauces.
It's easy as can be to put together a veggie platter and I'm here to help you build the most epic crudité platter ever that will wow your guests and their tastebuds.
(And if you're more into cheese? We've got a post on how to build an epic cheese board and one for a vegan cheeseboard, too.)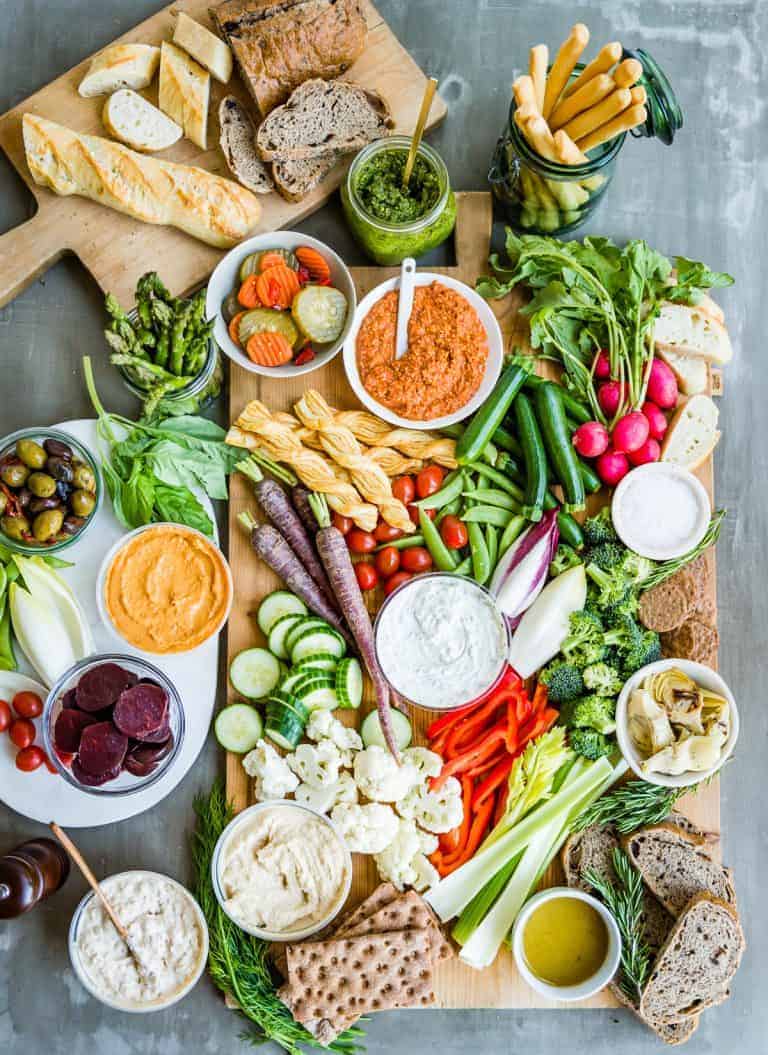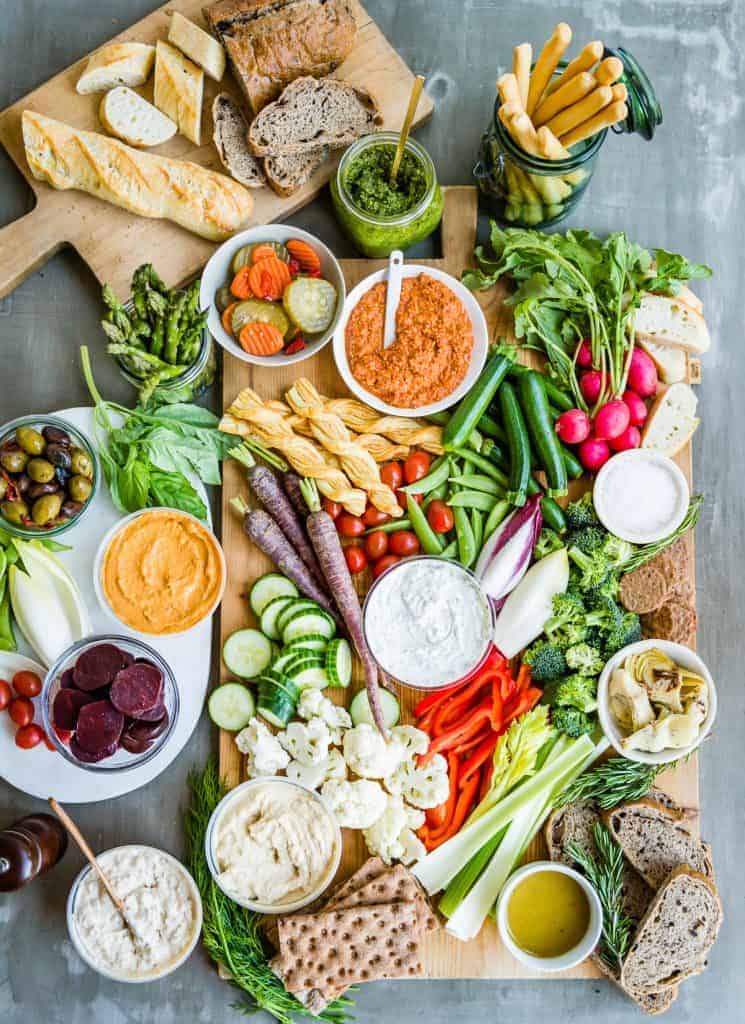 Vegetables for a Crudité Platter
A good crudité platter naturally starts with the vegetables. Depending on the season or availability, choose an array of veggies with varying colors, textures, and flavors.
A theme can be chosen, or it really can be as simple as highlighting the season's best vegetables. And it's easy to modify for holidays too.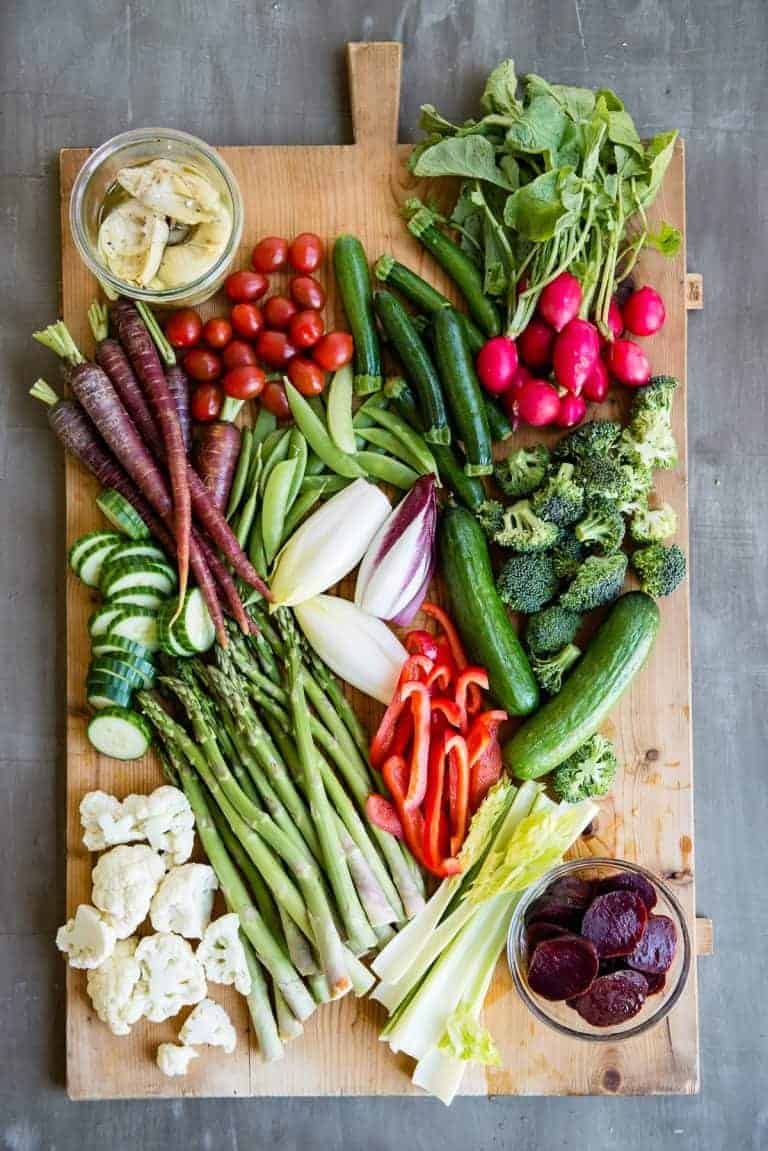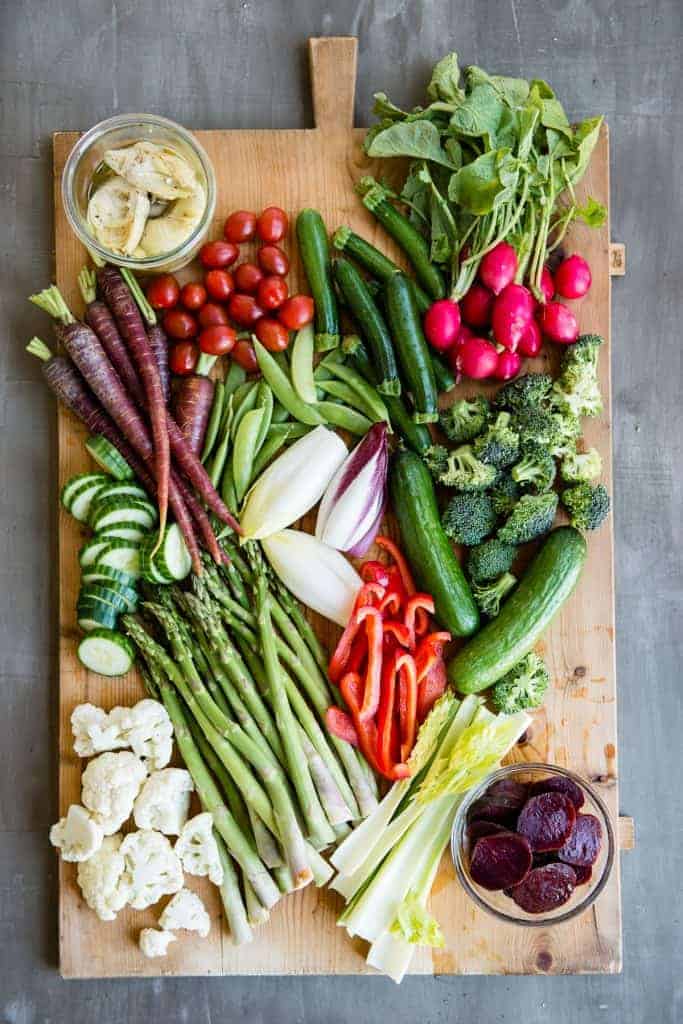 I'm taking crudités a step further by suggesting that it can also be fun and interesting to include pickled or cooked veggies along with the raw ones. That is kind of personal preference, but it can really add in some extra flavor and textures.
Whichever veggies you choose to include, be sure to cut the larger or tougher veggies for easier eating as well as for the art of the presentation. Leave a little stem on the carrots. Use some baby veggies which are tender enough to be eaten raw.
Look for heirloom or other varieties that offer a punch of color such as watermelon radishes, rainbow carrots, heirloom tomatoes, purple cauliflower, etc.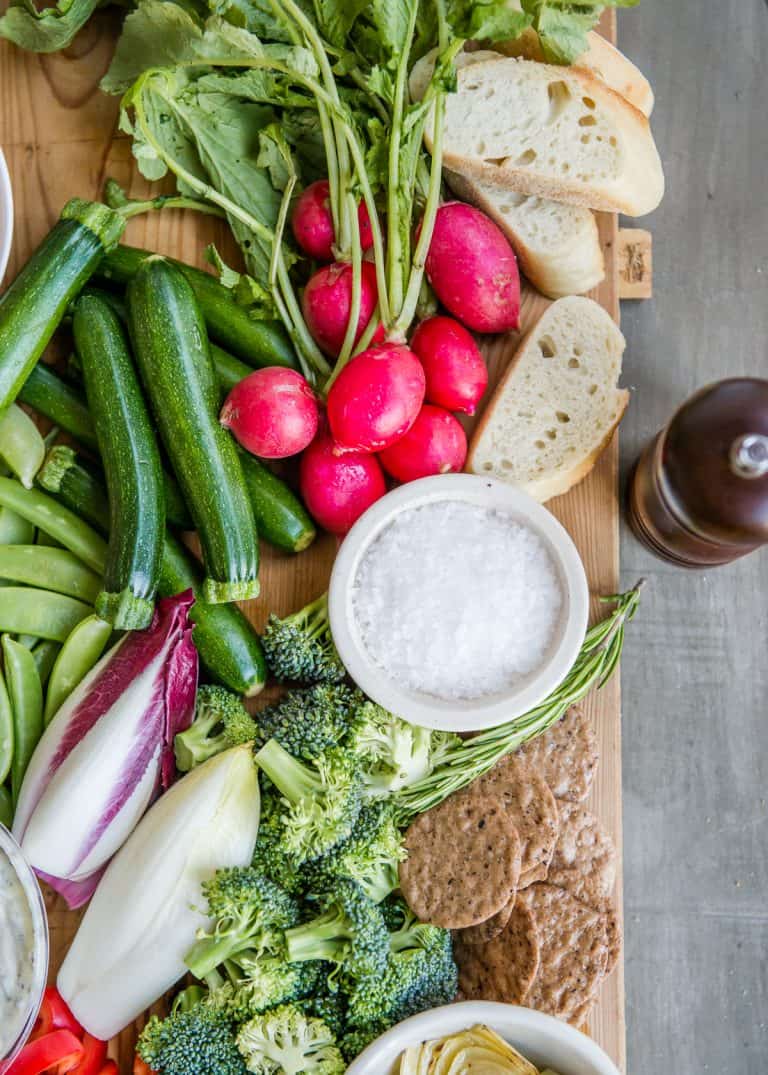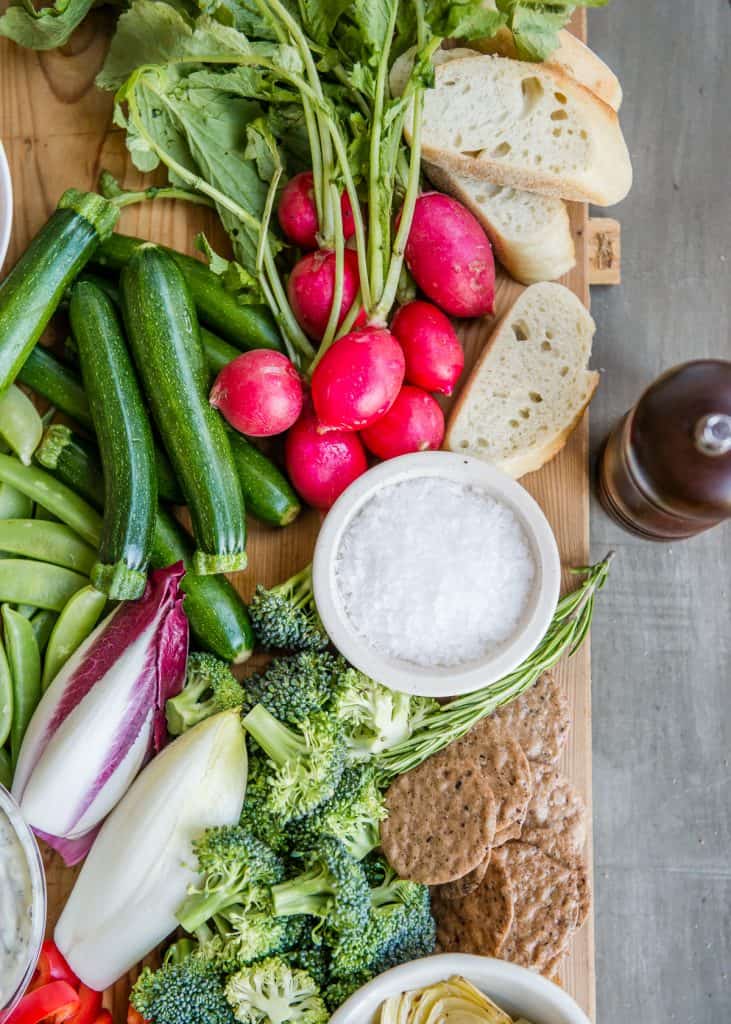 Ideas:
Broccoli and cauliflower
Bell peppers and other sweet peppers
Root veggies - carrots, beets, jicama, radishes
Cucumbers
Baby summer squash - zucchini, yellow squash, pattypan
Tomatoes
Peas and string beans
Asparagus
Celery
Fennel
Endive + lettuce hearts - great for using as "boats" for dip and sauces
Artichokes - steamed, grilled, or marinated
Dips + Sauces for a Crudité Platter
Next up are the dips. You can go the traditional route and serve the vegetables with a really good vinaigrette, like a basic Dijon, which is excellent with just about every veggie out there.
Or you can serve up an assortment of dips. I like to include a nice range of flavors and textures, making sure that there's something for everyone.
For example, I like to always include some great vegan or non-dairy options. I should mention, too, that a crudité platter really is a crowd pleaser because it is so versatile and you truly can have something on it for every dietary need, personal preference, etc.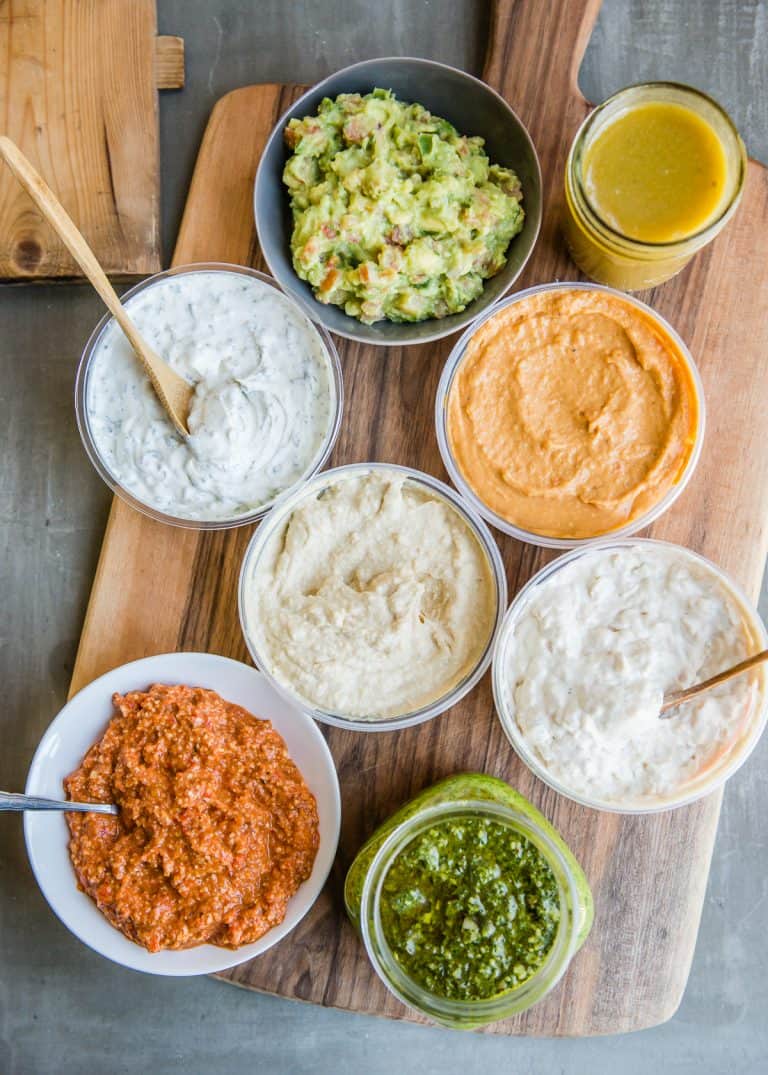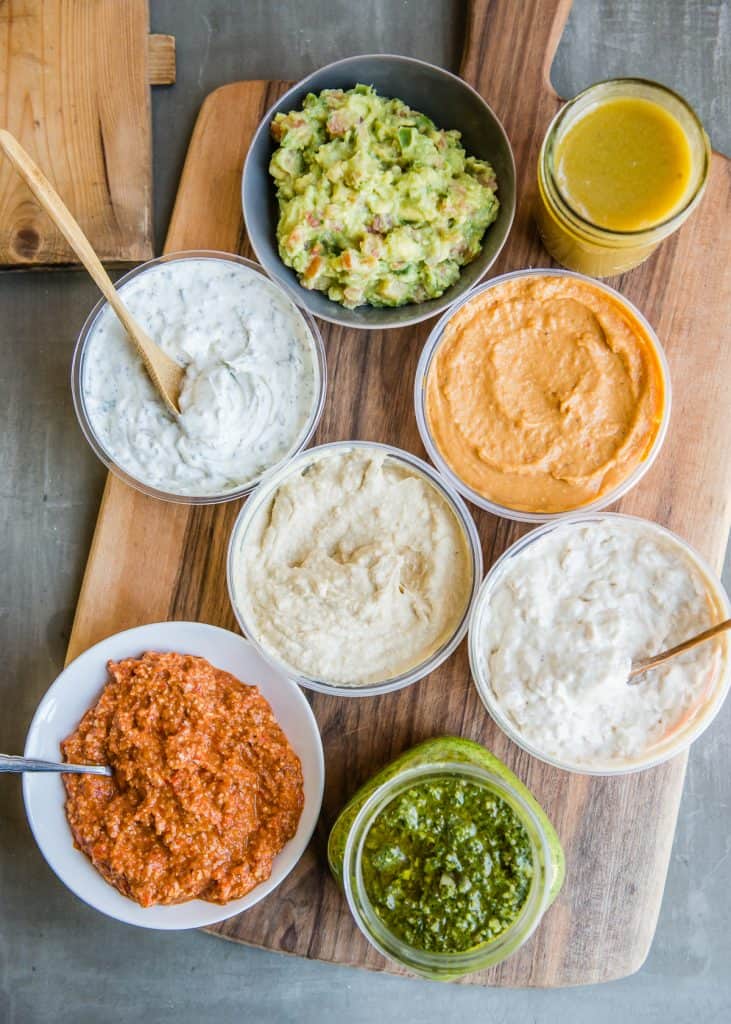 (Clockwise, top to bottom, left to right: guacamole, Dijon vinaigrette, tomato basil hummus, caramelized onion dip, arugula pesto, muhammara, plain hummus (center), cilantro chive yogurt dip)
Great veggie dip ideas:
Hummus: plain or flavored with herbs, sun-dried tomatoes, roasted red peppers, artichokes, beets, carrots, etc.
Guacamole or other avocado-based dips
Nut-based dips: Thai peanut sauce, plain almond or other nut butters
Pesto - basil or another variety like arugula, kale, sun-dried tomato, etc.
Aioli or mayonnaise
Creamy dips: yogurt-, buttermilk-, or sour cream-based dips like ranch, onion, dill, lemon herb, or tzatziki are a must!
Olive tapenade
Veggie-based dips: eggplant (baba ghannouj), spinach artichoke, red pepper (muhammara), butternut squash or pumpkin (this is my favorite)
Cheese dips and spreads: pimento cheese, queso
I think it's perfectly acceptable to purchase some (or all) of the dips and supplement with a few homemade ones, if desired. Again, work within a theme to keep the board feeling cohesive. Even an "Around The World" theme can be fun with an assortment of dips with international flair.
Accompaniments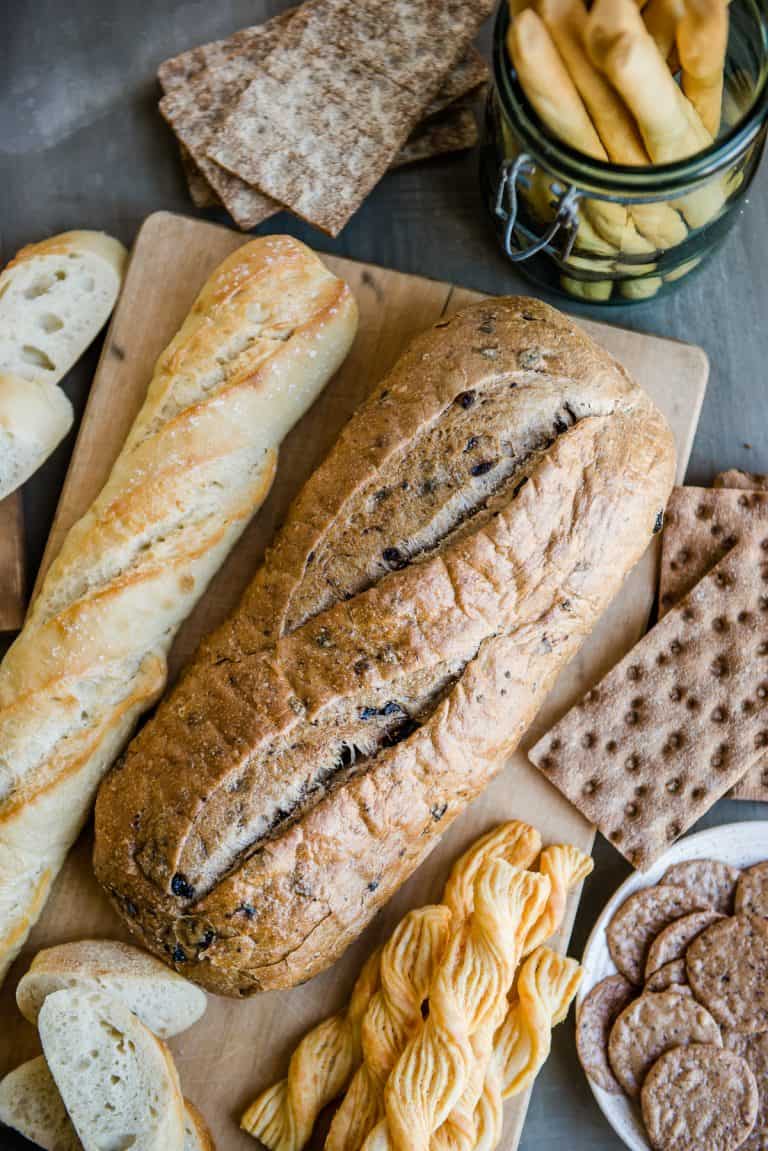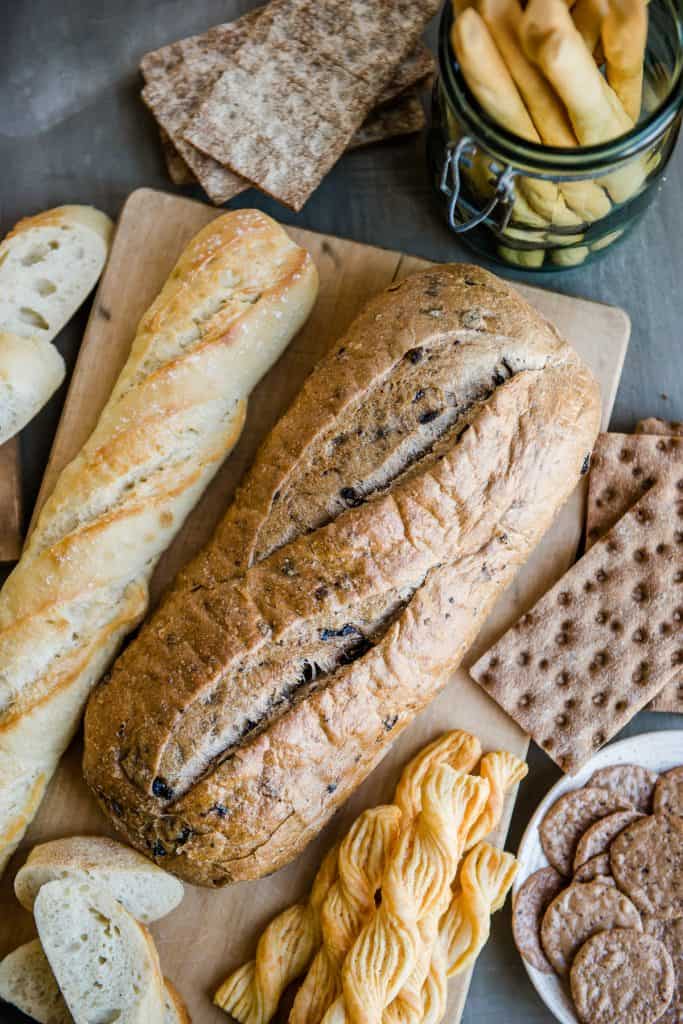 While you can certainly have an epic crudité platter with just veggies and dip, it's also nice to include a few extras. They not only help break up the monotony, but also add a nice crunch, salty or tangy bite, or savory flavor.
Here are some extras I like to add:
Olives: add a savory flavor punch; check out the olive bar at the grocery store for different varieties
Pickles: the sharp, tangy saltiness is a great balance with the raw, sweet veggies
Crackers, pita chips, and crisp breadsticks: choose different sizes and flavors
Bread: top a slice of baguette with a little dip or butter and pile on a few veggies for an open-face bite-size sandwich
Nuts and seeds: raw or roasted
Butter: preferably salted and cultured for best flavor (hello, radishes + butter!)
Cured meats and cheese: for a more substantial meal or to go with cocktails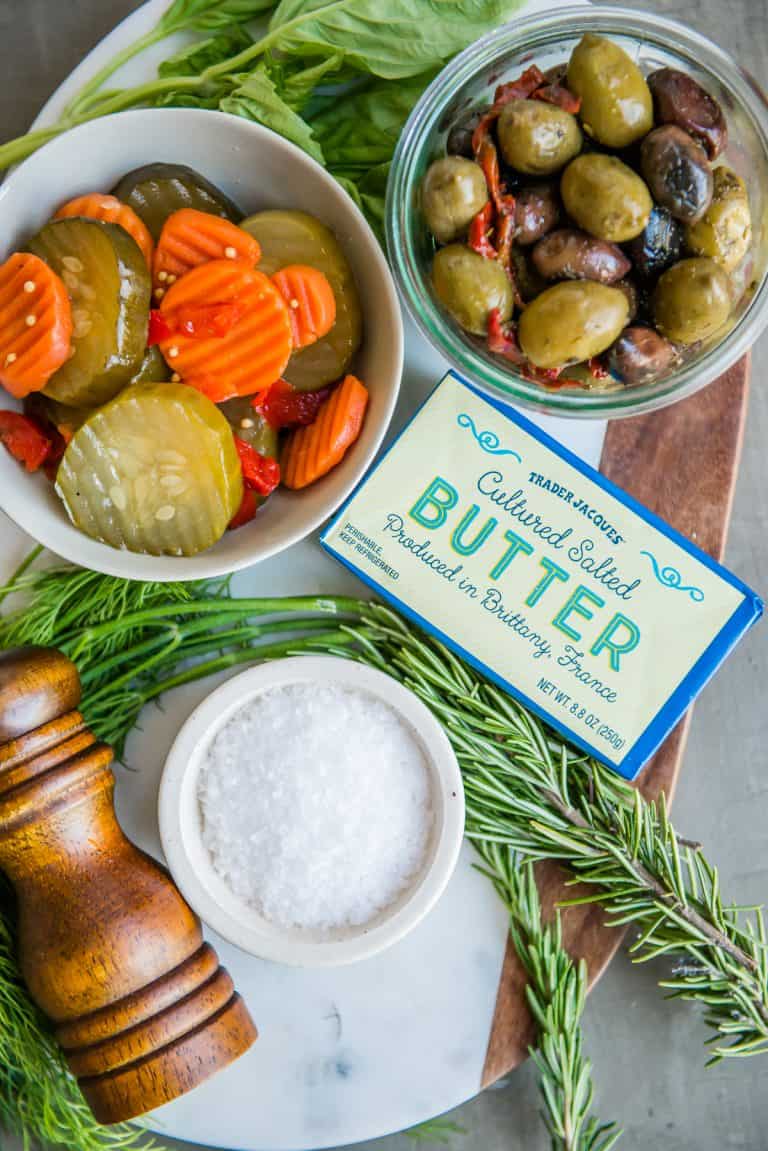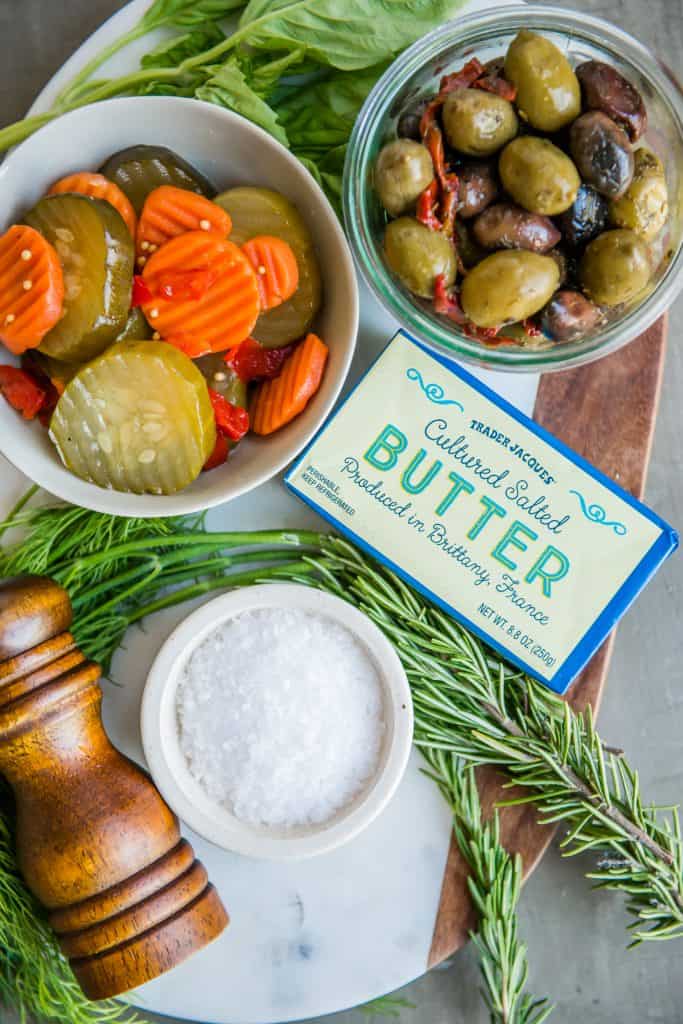 Prep Tips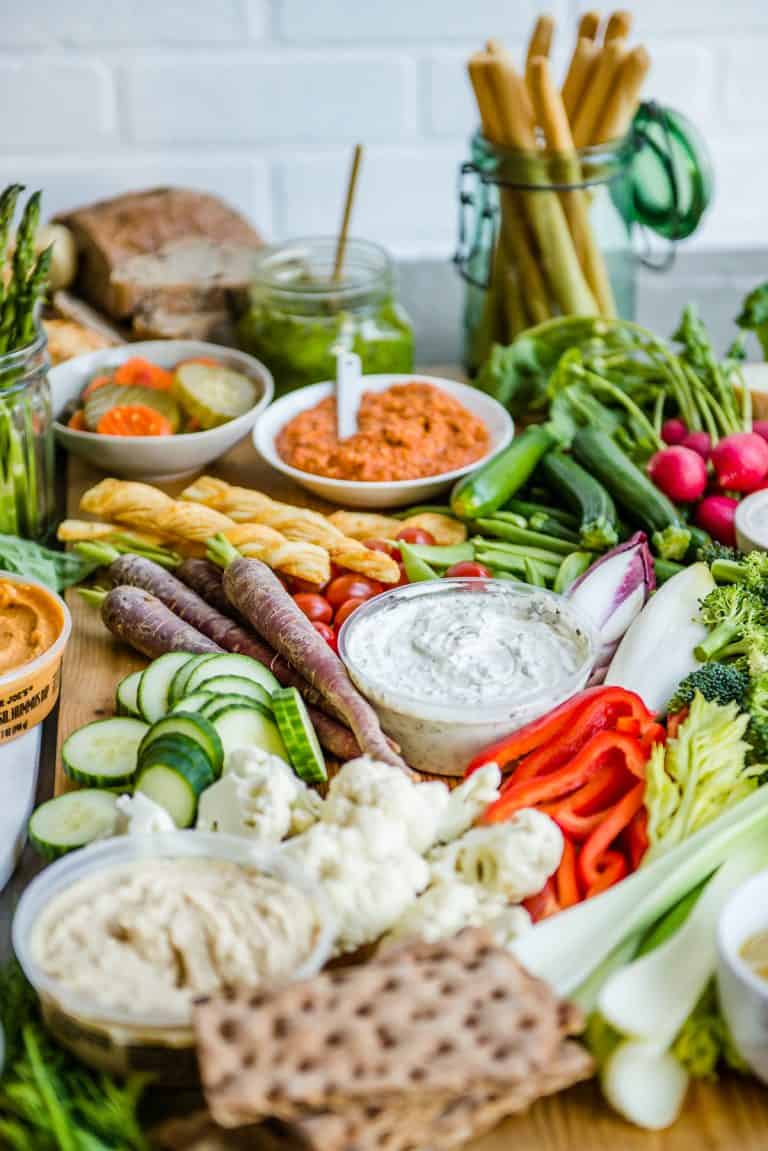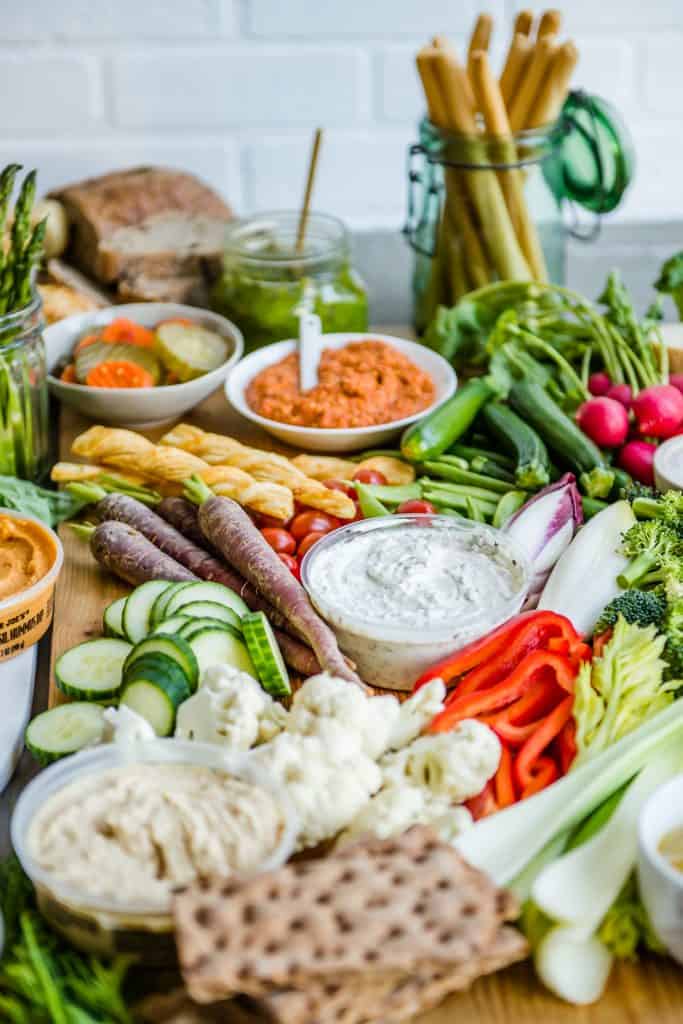 Any party fare that can be prepped in advance gets major bonus points in my book and a crudité platter is one of those things. Pretty much any veggie you want to use can be prepped in advance--peeled, sliced, halved, etc. Be sure to keep any cut veggies in an airtight container in the fridge until ready to serve.
And keep in mind that the ideal time to prep the veggies is within a few hours of serving, but up to a day in advance is generally fine. To refresh any wilted veggies, give them a quick soak in ice water. For veggies that discolor after being cut, give them a dip in water with a little fresh lemon juice added in. (I'm looking at you, fennel.)
If you're including roasted or cooked veggies, most of those can be done in advance too. Small fingerling potatoes are great boiled, cooled, and halved and served chilled or at room temperature. Beets can be served raw or cooked, or both! Bonus points for picking some up in the chilled produce section and saving yourself some time.
Grilled veggies are magnificent, but require a little more strategic planning when it comes to timing, or they can be grilled ahead of time and served at room temperature or chilled.
Depending on the type of veggie, you may want to blanch (briefly plunging the veggies into boiling water) and shock them (plunging them into ice water to stop the cooking process), pat dry and serve chilled or at room temperature. String beans not only benefit from blanching, but also removing the string for easier eating.
Almost every dip can be prepped in advance as well; most will keep for 3-5 days or longer if purchased and unopened.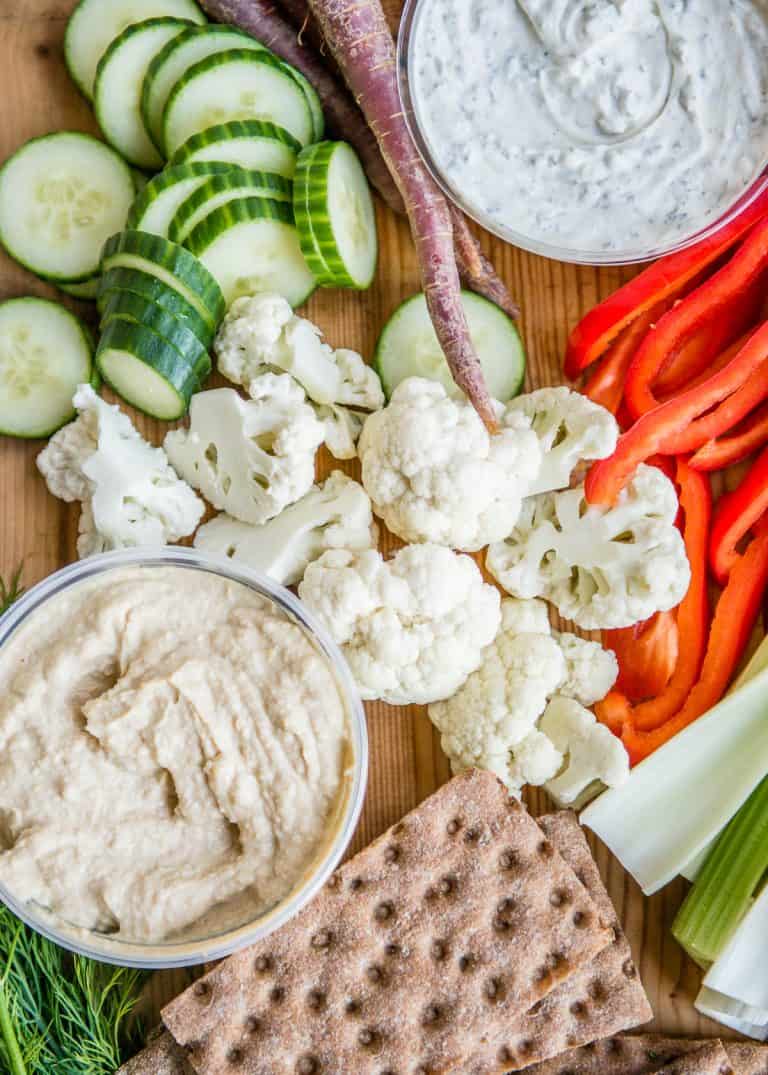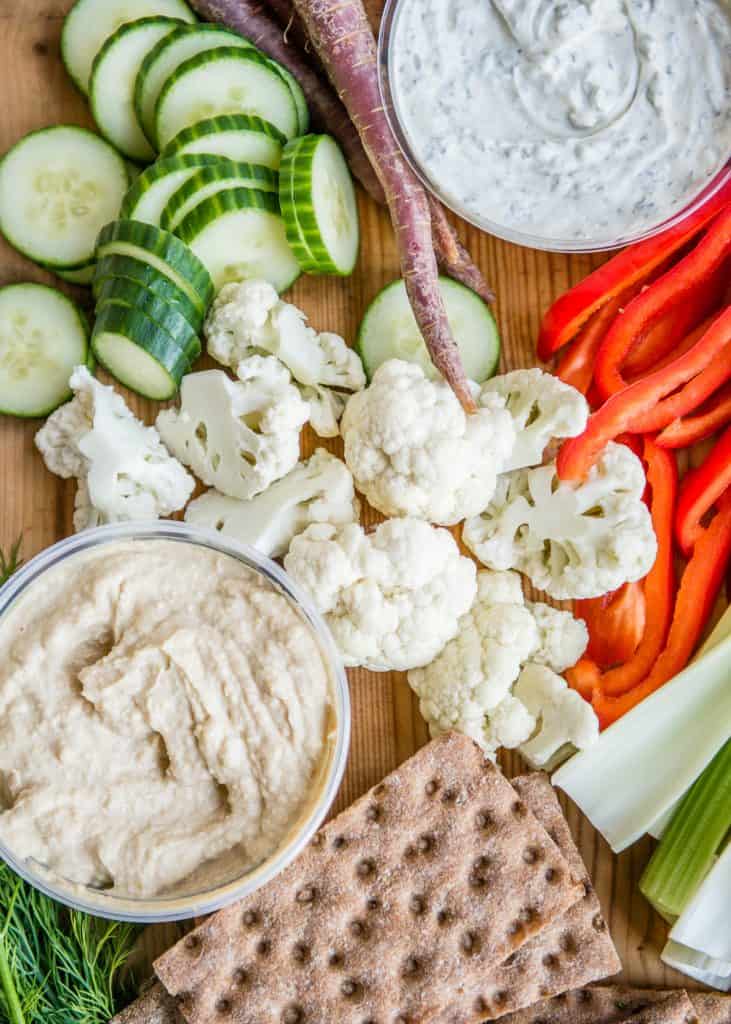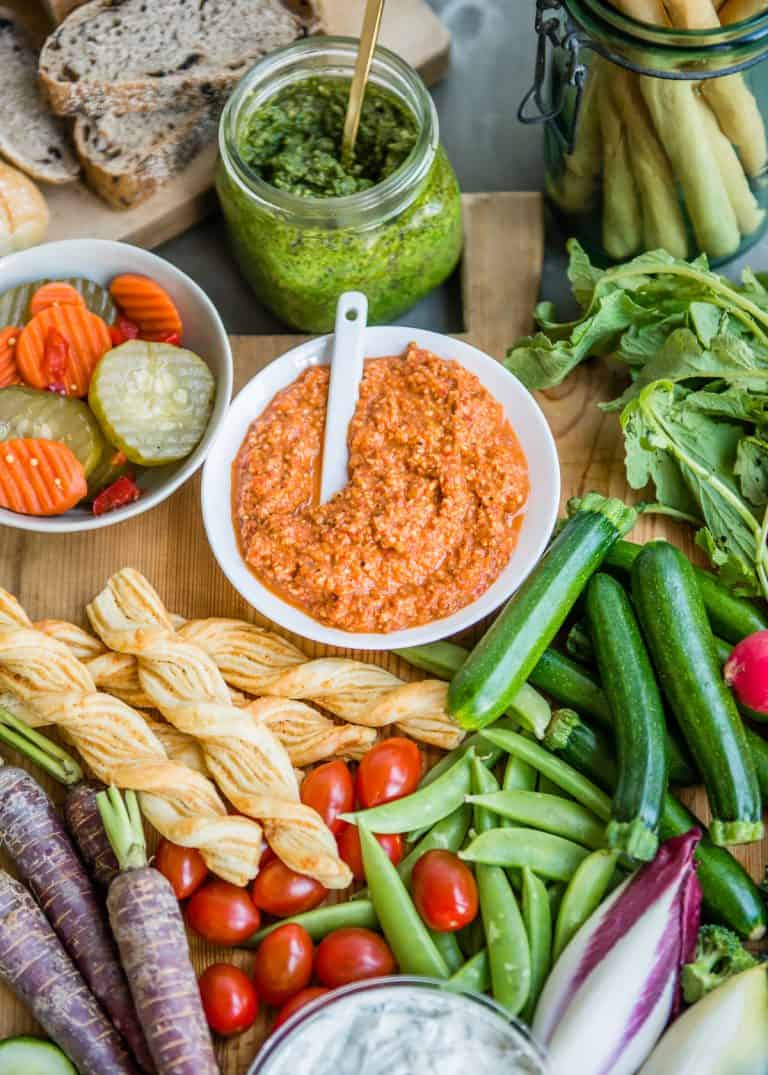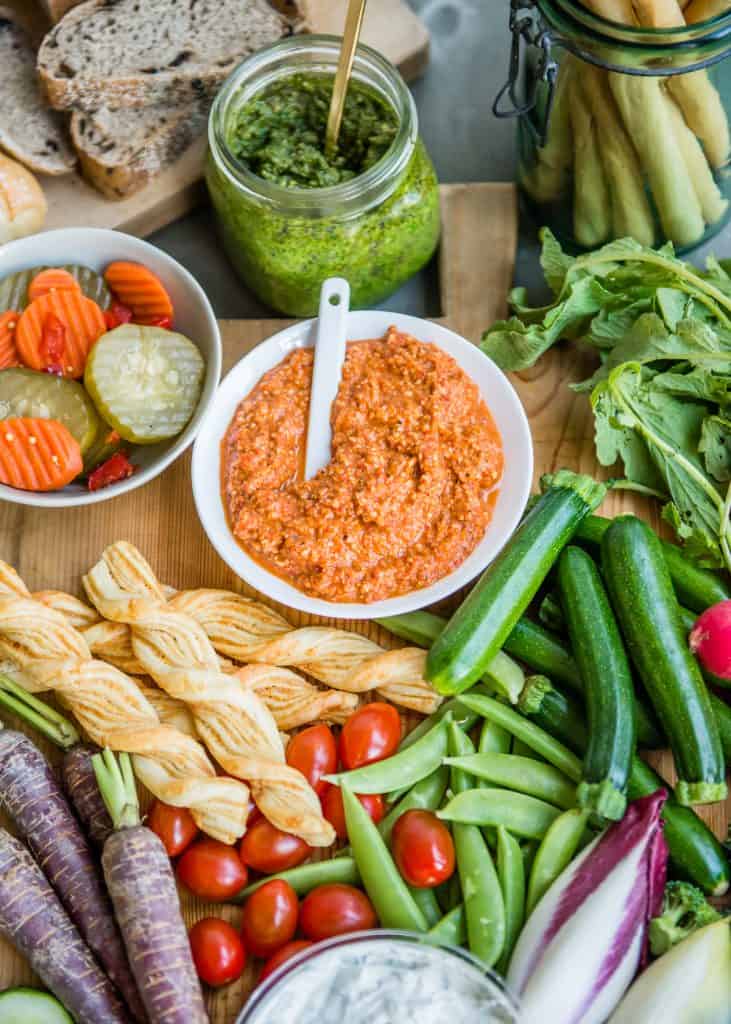 Did I miss any tips? What would you add to an epic crudité platter?
37