I have been looking for an easy and natural way to look younger, healthier, and more vibrant without spending a ton of money. That's when I discovered that frankincense essential oil not only has a gorgeous woody aroma, but it's also one of the most widely used essential oils for skin care!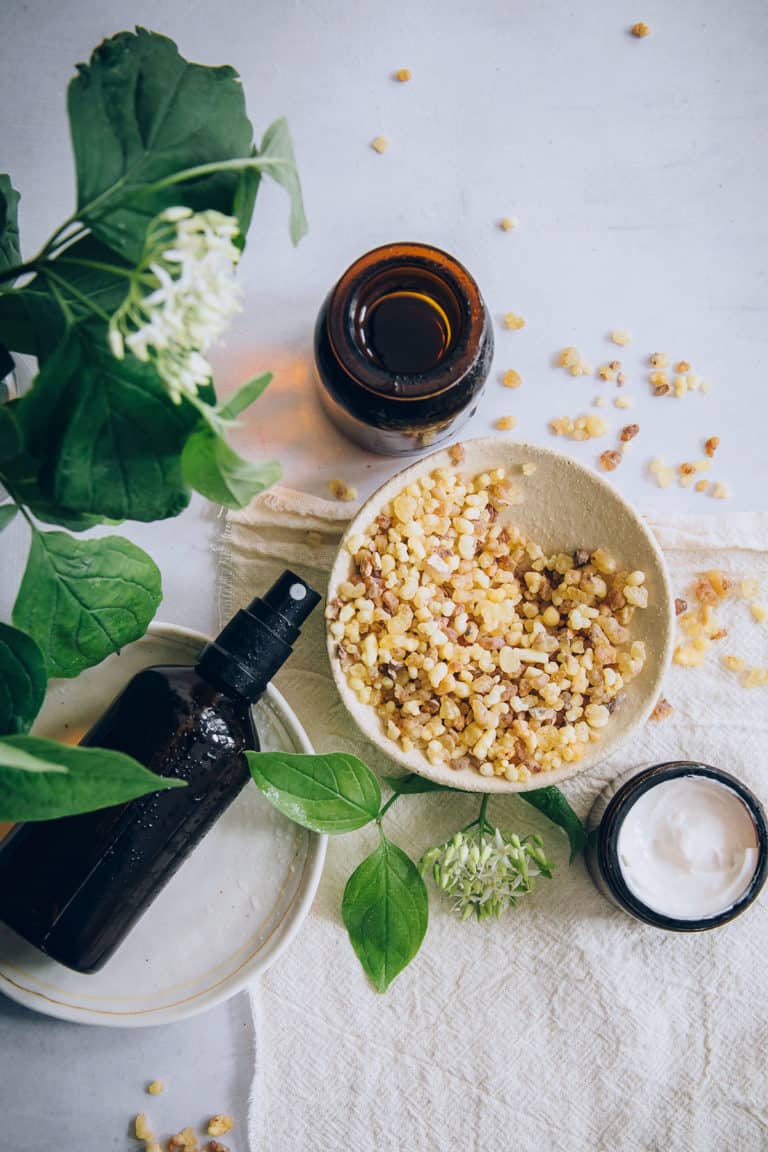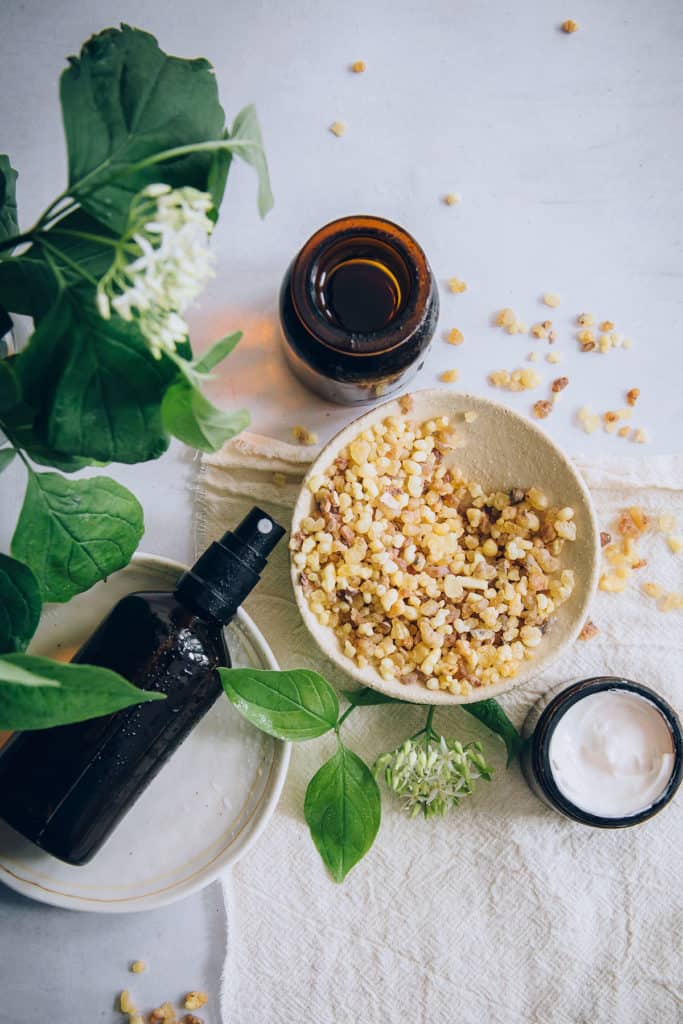 For thousands of years, people have used frankincense oil for a plethora of reasons [source]. And to this day, it remains a beloved oil that many individuals regularly incorporate into their skincare routines.
Although studies are somewhat lacking on the use of frankincense essential oil, many believe it to contain numerous properties that can help support healthy skin and hair.
Frankincense is widely believed to be a natural astringent, and it also contains properties that are beneficial for wound healing and tissue remodeling [source]. This is especially useful if you have injured skin or even if you struggle with acne.
Additionally, the boswellic acids found in frankincense oil and used in Ayurvedic medicine have been found to largely contribute to its awesome anti-inflammatory actions [source].
Like many essential oils, it also contains potent antibacterial properties [source]. All of these reasons and more are why frankincense is such a fantastic oil to help support healthy skin. And to get you started, here are a few tips to help you take your skin care to the next level for a more radiant complexion.
Tips For Mixing Frankincense Oil Into Your Skincare Products
It's actually incredibly easy to add frankincense to your daily skincare regimen. Simply adding a few drops of frankincense essential oil to your existing moisturizer, shampoo, body lotion, or virtually any other beauty product is all you need to reap the countless benefits of this precious ancient oil.
1. Use ~ 6 drops per ounce for face products.
2. Use ~ 12 drops per ounce for body lotions.
3. Use ~ 20 drops per ounce for shampoos, hair masks, and products you rinse off.
4. Always dilute essential oils first in the proper proportion, do not add directly to the skin.
5. Always do a patch test first to check for skin sensitivity.
6. For liquids, shake well before use.
Recommended for:
Mature skin

Prematurely aging skin

Acne-prone skin

Injured skin
If you are anything like me, you're not entirely sure what's in your store-bought skincare products and worry you might be rubbing harmful chemicals onto your skin every day. Fear not!
You can tailor make your products and know exactly what's in them if you make them at home. Remove the mystery, and try these simple DIY recipes for yourself.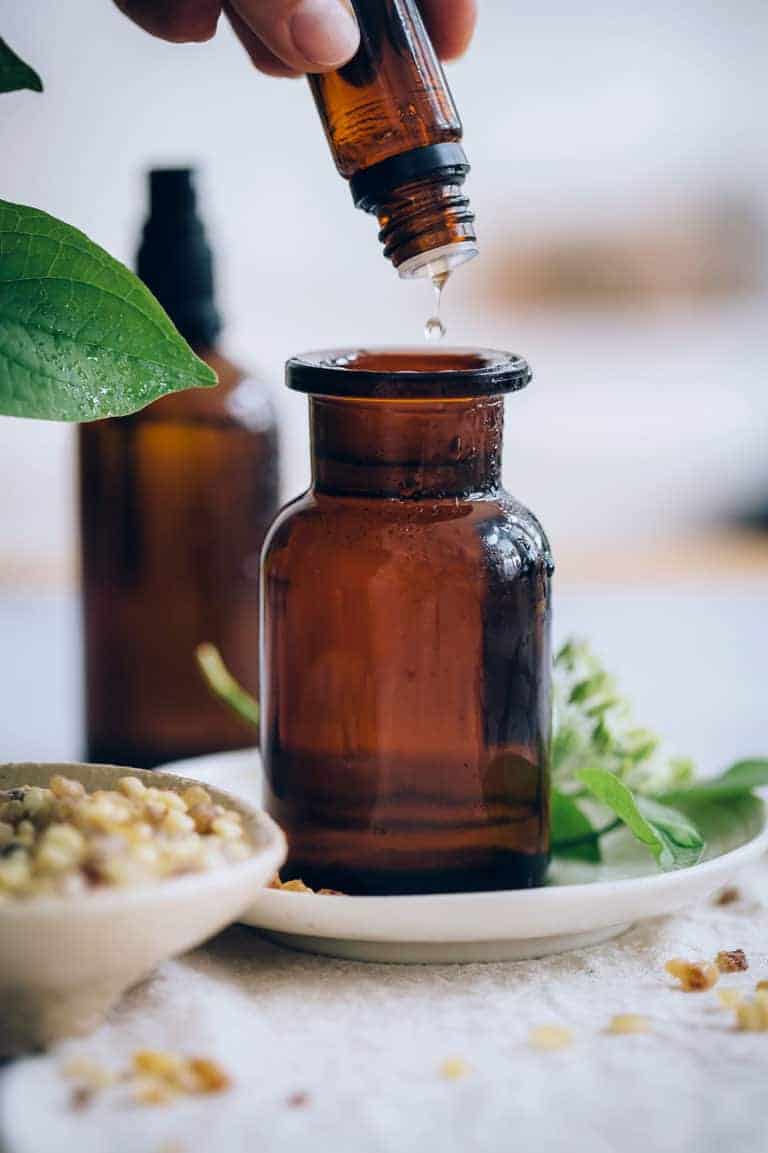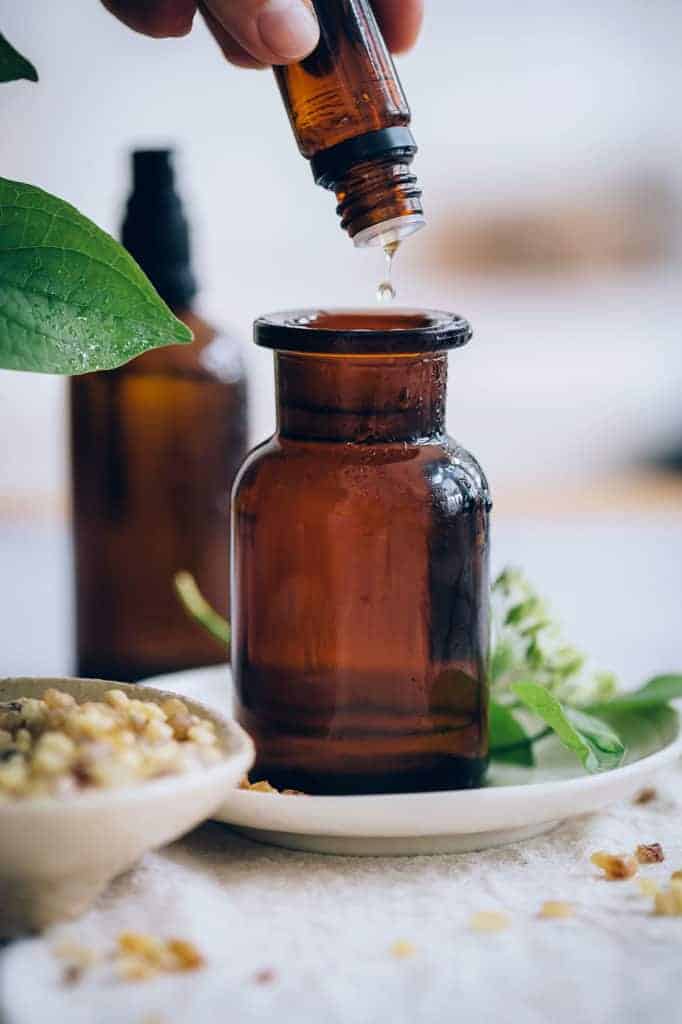 Fresh-Faced Moisturizer
As I mentioned above, frankincense is believed to be a natural astringent and is frequently used in formulations to reduce the appearance of aging. It's also used for evening out skin tone and when dealing with any wounds or sores.
Mix well and store in a dark glass container.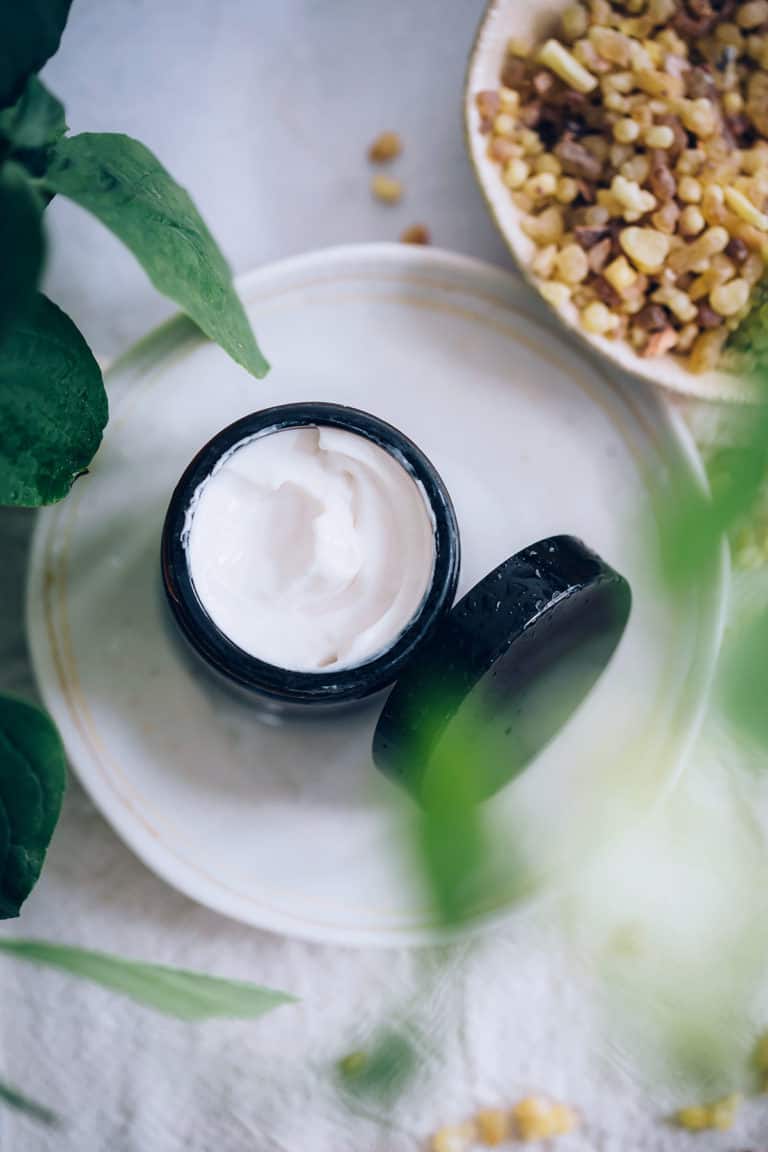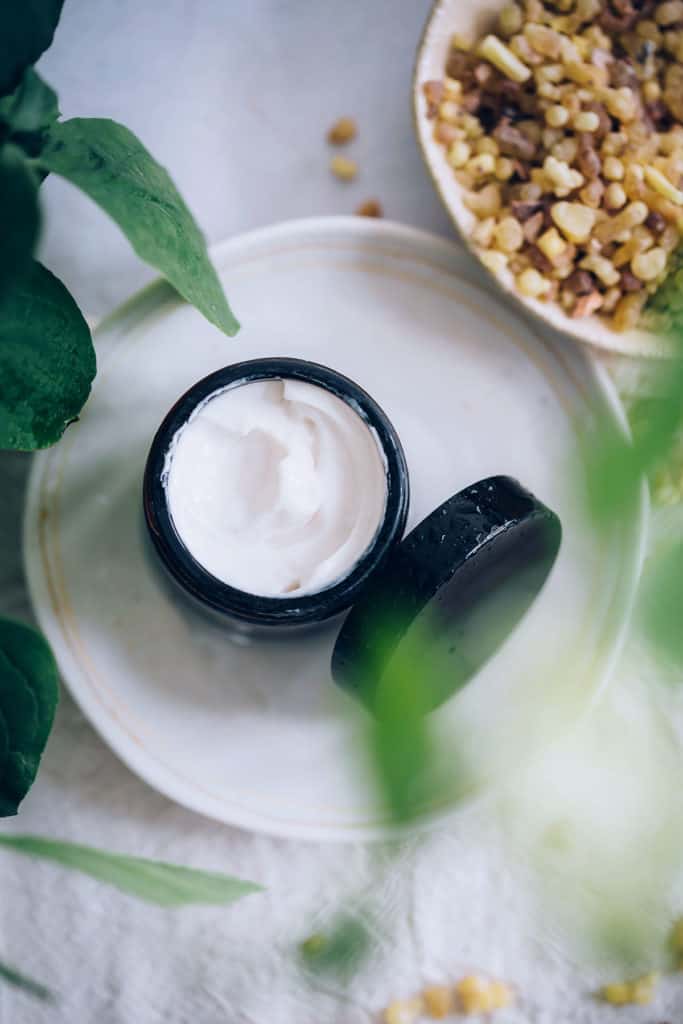 Beautifying Body Butter
Not only does frankincense support healthy and glowing skin, but it smells great, too! The ingredients in this rich body lotion can help to reduce the appearance of scars, stretch marks, and dark spots.
As an added bonus, frankincense contains anti-inflammatory properties [source], which is great if you're dealing with inflamed, irritated skin.
This DIY lotion has found its way to my beauty regimen and my medicine cabinet. I use it every day, right after the shower, to lock the moisture into my skin—and I love the youthful glow it gives me!
Heat a large pot of water on the stove.

Put 3 ounces of

virgin coconut oil

in a glass container.

Place the glass container in the warm water until the coconut oil melts to a liquid.

Add 20 drops of

frankincense essential oil

and mix well.

Store in a dark glass container.

Enjoy your glowing skin!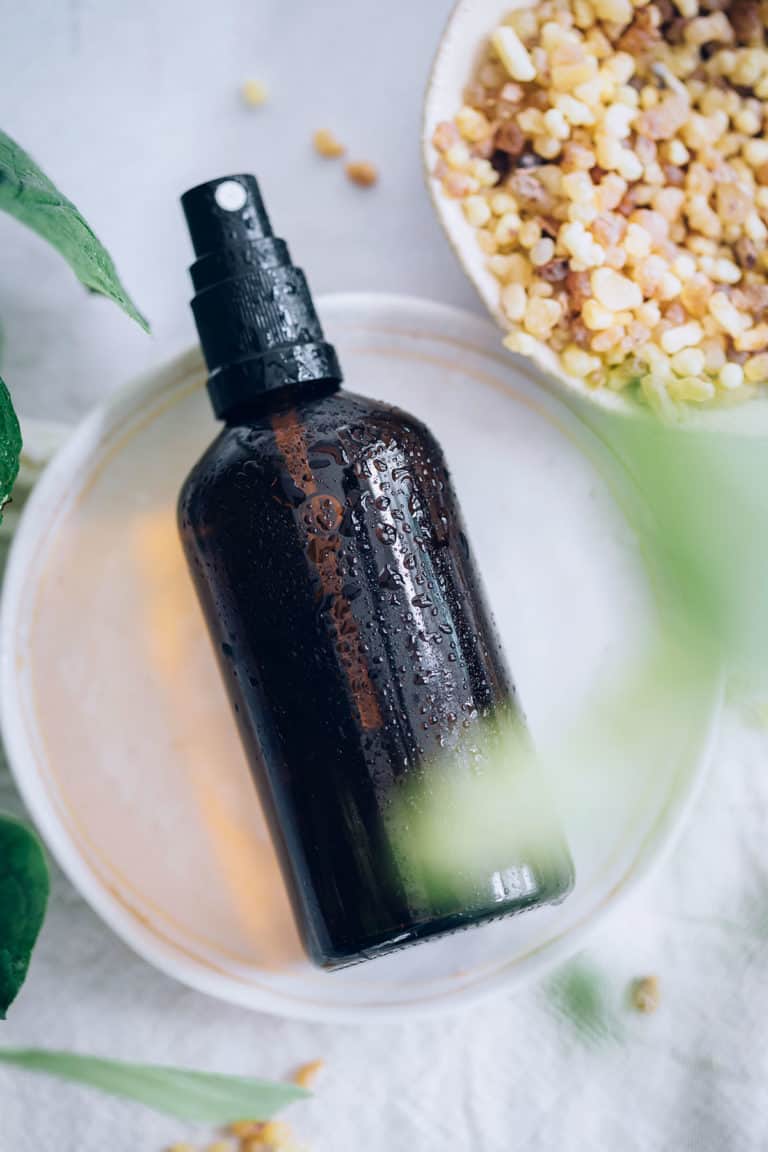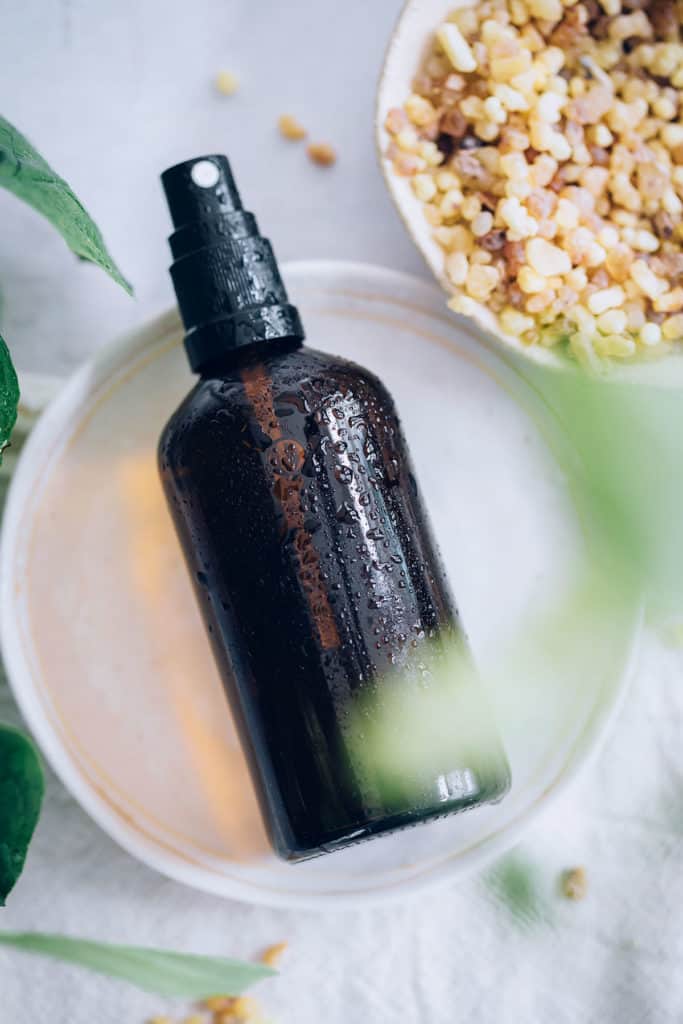 Frankincense Face & Body Spritz
Frankincense oil mixed with pure water makes a simple and fragrant skin toner and refresher. I love to set my makeup with a few sprays of this refreshing oil mix.
I've also started using it after washing my face at night to wake up with radiant, glowing skin. If you have sensitive skin—no problem! Just add a few drops of lavender oil. I simply love this stuff!
Fill a

dark glass squirt bottle

with pure water.

Add 6 drops of

frankincense oil

per 1 ounce of water.

Mix well before each use, or add 3 drops of vodka to prevent separation.

Spray onto face & body whenever you want a refresher.
In Summary
Let's do a quick recap. Frankincense is a wonderful choice for natural skincare since it contains numerous therapeutic properties that can help support healthy skin. Some of the benefits of frankincense essential oil include:
It's useful for many different skin types.
It's a natural astringent.
It's anti-inflammatory—making it a wonderful choice for eczema, burns, bites, rashes, and other inflammatory skin conditions.
It's antibacterial—meaning it's great for killing germs, preventing infection, and eliminating unwanted bacteria from the skin.
It can help with evening up skin tone.
It's useful when dealing with bruises, wounds, and other skin injuries.
And so much more!
Now that you know why and how to use frankincense essential oil to boost your skincare products, let's get glowing!
This post was medically reviewed by Dr. Holly Smith, a board-certified physician in nephrology and internal medicine with a background in nutrition. Learn more about Hello Glow's medical review board here. As always, this is not personal medical advice, and we recommend that you talk with your doctor.
249