Today's recipe is a gorgeous, delicious, super-healthy smoothie I'm planning on drinking as long as pomegranates are in season. Because yes, pomegranates are the star of this recipe!
While I love all things pumpkin spice and I'm a sucker for a good latte in fall, sometimes my body craves something lighter. All fruit, no dairy, something you can blend in a second and be out the door in the next.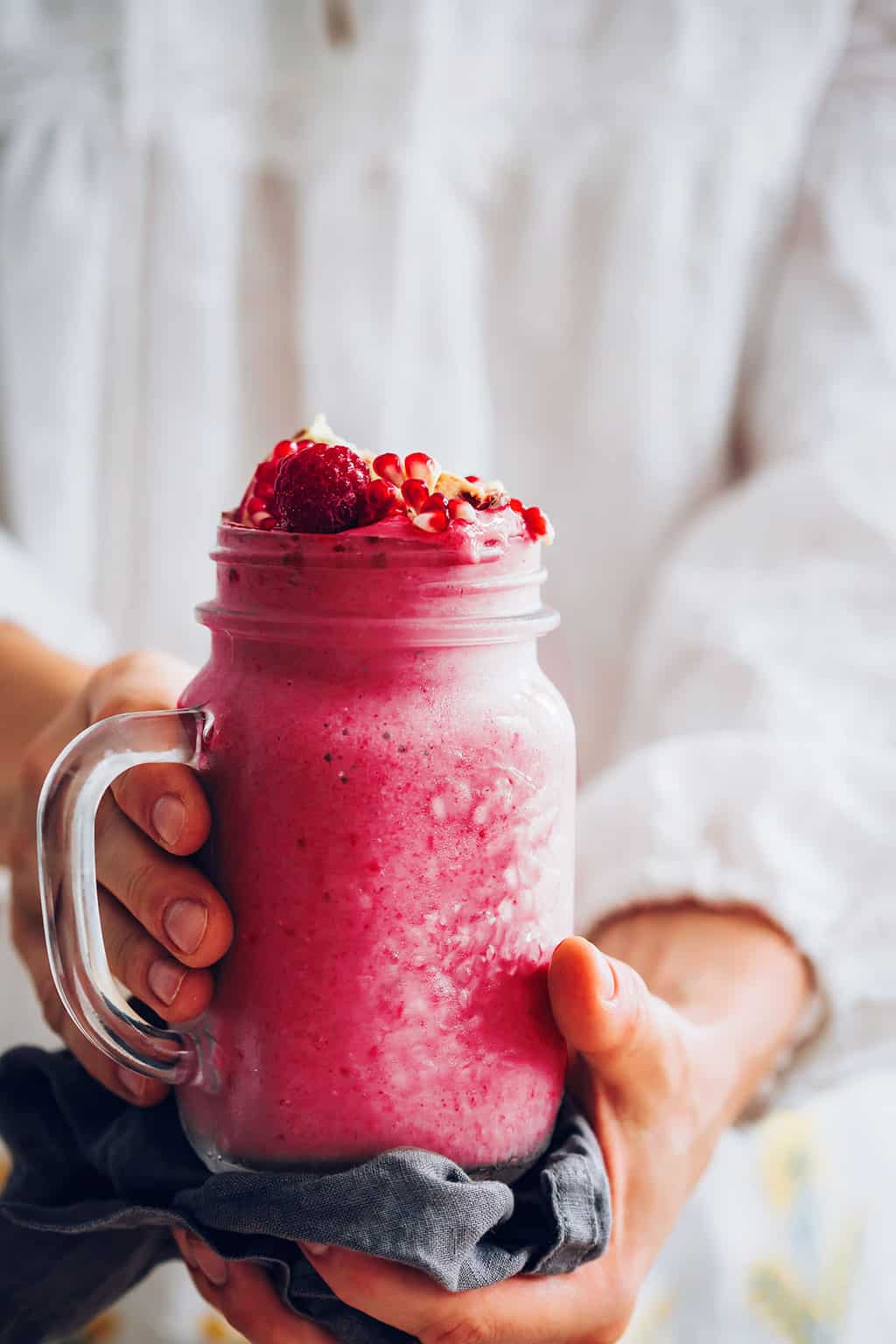 Why we love pomegranate
Found in the writings and artifacts of many ancient cultures and religions, the pomegranate (Punica granatum) is native to Persia. This nutrient dense, antioxidant-rich fruit has been esteemed as a symbol of health, fertility and eternal life.
Pomegranates contain high levels of flavonoids and polyphenols, potent antioxidants offering protection against heart disease [source] and different types of cancer [source 1, source 2]. Supplementary health benefits of pomegranate include lowering of blood pressure [source] and contribution to cardiovascular, nerve and skeletal health.
With an impressive nutrient profile, including potassium, folate, fiber, and vitamins C and K, pomegranates also come with important anti-inflammatory properties, which could reduce the chances of heart disease, Alzheimer's, and type II diabetes.
The pomegranate fruit offers a hub of health benefits and should maintain a permanent spot in our healthy body regimen. If you're not sure how to incorporate the wonder fruit into your diet, this pomegranate smoothie is an excellent starting point.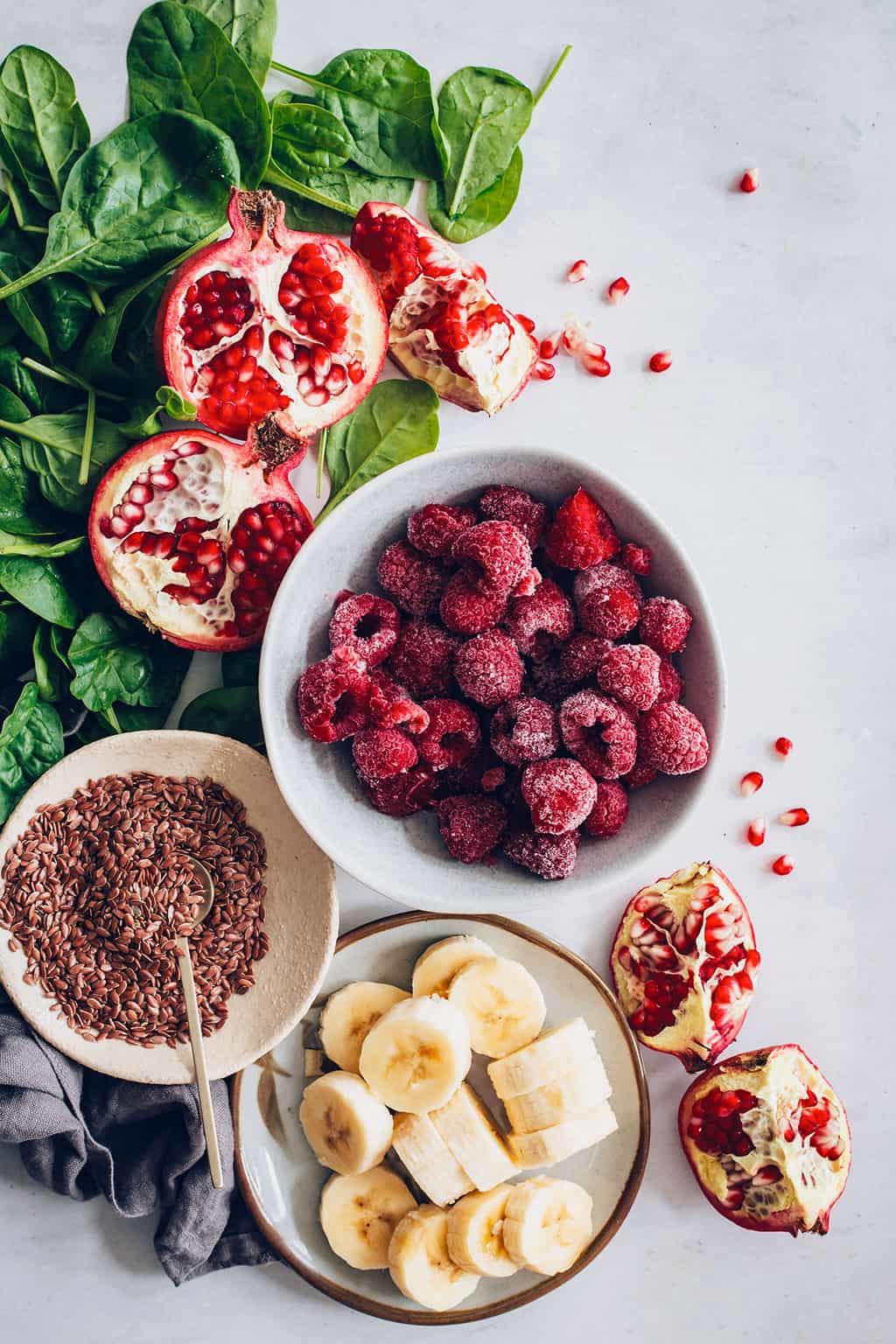 Antioxidant Rich Pomegranate Smoothie
Pomegranate seeds are not just super healthy – they taste great, too! Their sweet and sour flavor comes with few calories, while their jewel red color makes for an Instagram-worthy look.
In this smoothie, we paired pomegranate with frozen raspberries, for an even more intense color and an extra antioxidant boost; some banana for creaminess; plus greens and seeds for even more health benefits.
Scroll down for the full recipe, and feel free to increase the quantities if you want to make ahead and freeze for later.
Want to add this amazing fruit to your beauty routine? Try these easy pomegranate face mask and scrub recipes to get you glowing on the outside.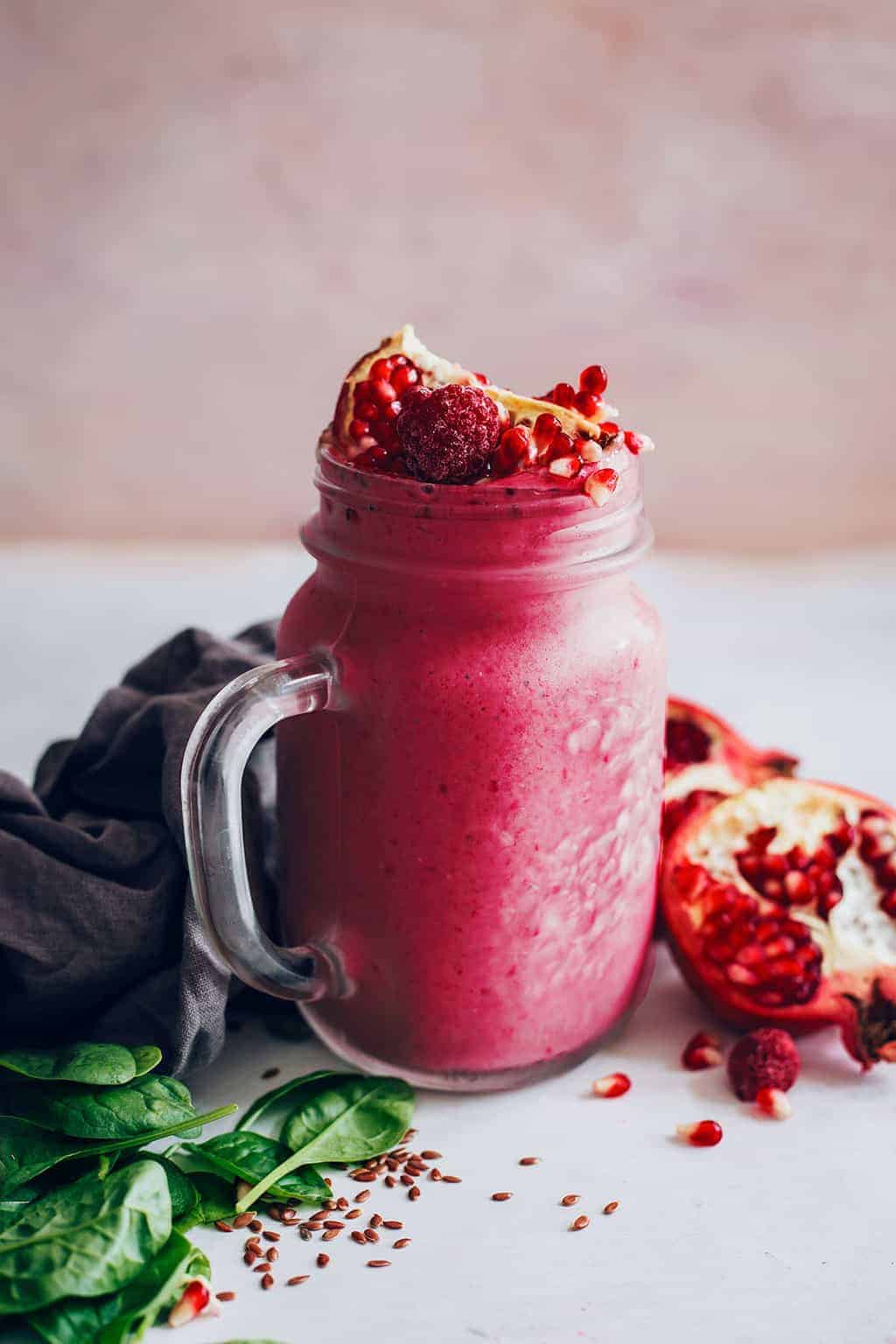 Photos by Ana-Maria Stanciu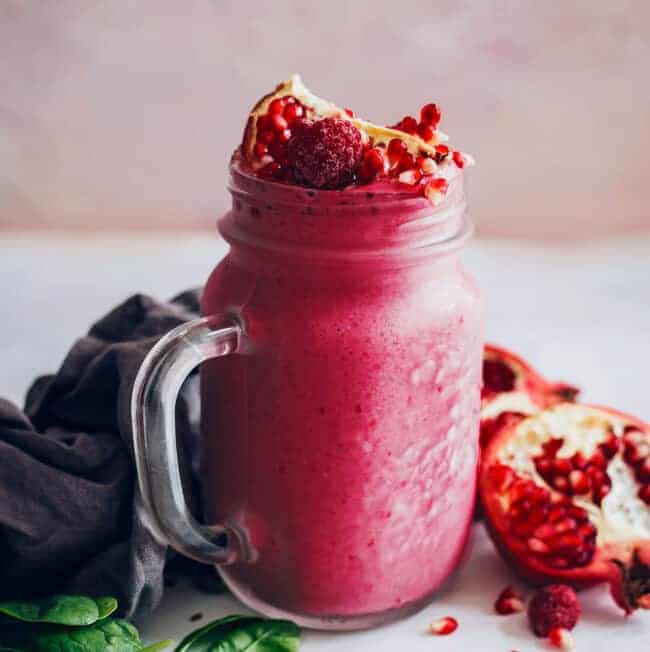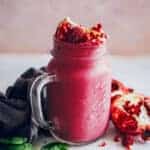 Print Recipe
Antioxidant Rich Pomegranate Smoothie Recipe
Get the antioxidant benefits of pomegranate in a delicious smoothie.
Ingredients
1

cup

pomegranate juice

1/2

cup

frozen raspberries

1/2

banana

handful

spinach

1

tablespoon

flax or hemp seeds
Instructions
Add pomegranate juice, frozen raspberries and banana into the blender. Add in a heaping tablespoon of flax seeds or hemp seeds. Toss in a handful of spinach and blend until smooth.
36