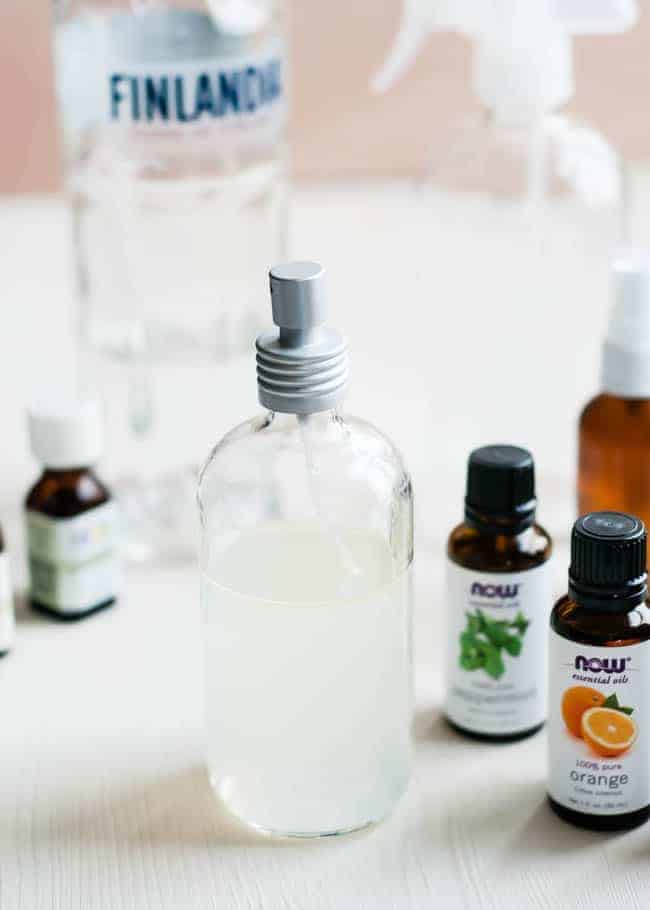 My kids are obsessed with those plug-in room deodorizers and candles. But I can't stand the smell of most of them – they're too strong and fake. But what I do love is the smell of essential oils. It's easy as can be to make your own essential oil room sprays with three simple ingredients – water, alcohol, and essential oils.
You can spritz it anywhere that needs a bit of freshening – bathroom, kitchen, laundry room, closets, anywhere! You can make the scent as strong or light as you want by altering the amount of essential oil.
I'm partial to orange and jasmine because it reminds me of Hawaii (not a bad thing!). Peppermint, lavender, lemon, bergamot, cinnamon, rose and rosemary are very nice too, but you can use just about any essential oil you combination you like. I like to spritz different blends according to my mood, time of year or day.
Essential Oil Room Spray Blends
It's fun to come up with your own special aroma spray blends. We've made summery blends and a cheery room sprays to beat the winter blues. Here are a few more ideas:
1. Relaxing bedroom blend
Combine lavender with vanilla to shift your brain into sleeping mode. Or use lavender, chamomile and vetiver to make a soothing pillow spray.
2. Energizing kitchen blend
Combine sweet orange with grapefruit or lemon for a scent that keeps you alert and energized.
3. Focusing office blend
Try a combination of peppermint and rosemary when you need to stay focused and on task.
4. Deodorizing bathroom blend
Use the natural antibacterial power of cinnamon, clove and tea tree to freshen up the bathroom.
5. Freshen the air blend
Bring the scent of the outdoors inside with the energizing scents rosemary and juniper or use the uplifting scents of mint or basil.
6. Mood boosting blend
There's nothing like the clean, refreshing scent of citrus to make things a bit cheerier. Sweet orange oil is sunny, refreshing and energizing as well as relaxing. Lemon combined with eucalyptus and mint creates an invigorating aroma that's perfect for spritzing on dreary days.
7. Warming blend
Spice things up with warming scents like ginger and sandalwood. Especially when combined with sweet orange oil, they becoming energizing as opposed to overpowering.
8. Breathe Easy Blend
Try a blend of eucalyptus, peppermint and basil when you need you feel stuffy and congested. It can be especially helpful when used with the steam in the shower.
Why vodka?
The vodka is an essential ingredient for the room spray. You probably know that oil and water don't mix, but adding a little alcohol fixes that. It disperses the oil and also helps the scent linger longer in the air.
Buy the highest proof alcohol that you can find; I often use grain alcohol. And definitely go with the cheapest, you don't need to use anything expensive. Avoid rubbing alcohol, however.
If you want to scale the recipe down to use less of your essential oils, then use a 4 ounce spray bottle and just one tablespoon of vodka.
Before each use, you will need to shake the bottle of room spray a bit before you spritz so that the essential oil is evenly distributed in the liquid. I reuse or purchase little glass spritzer or spray bottles for the room spray. I get mine at the health food store or online.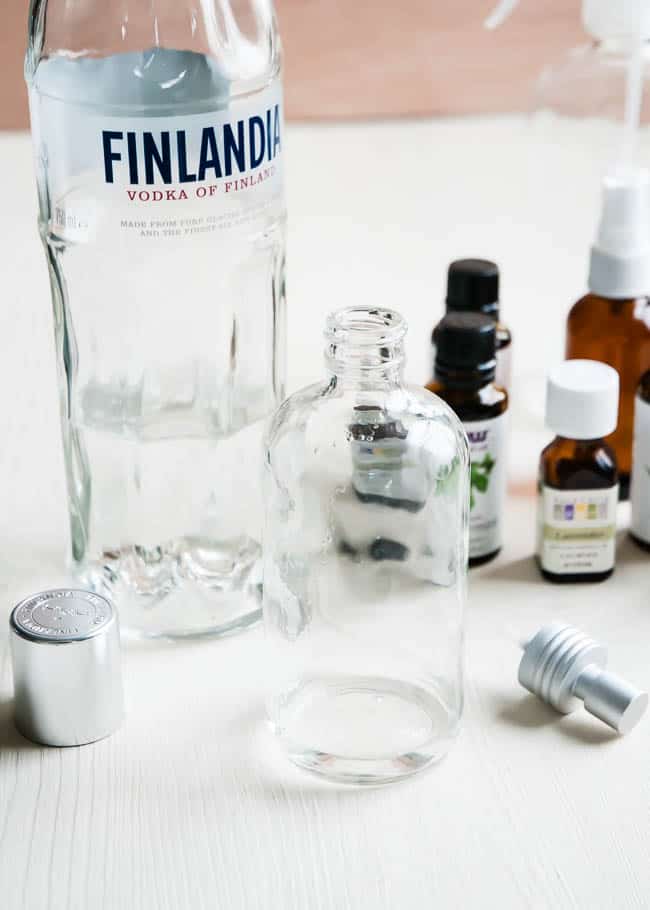 Do you use essential oil room sprays? What's your favorite scent?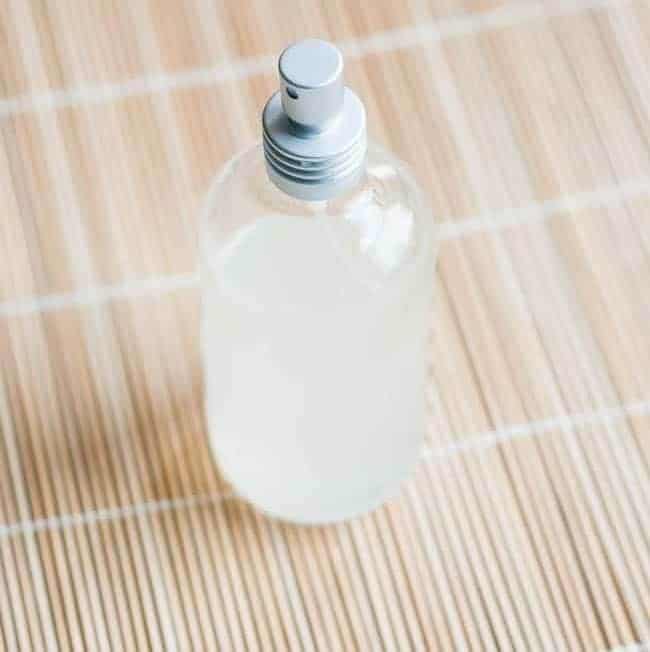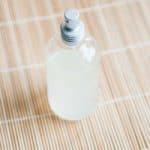 Print
Essential Oil Room Spray
An easy essential oil room spray made from three simple ingredients to keep your home smelling fresh.
Equipment
8 ounce spray bottle

Funnel (optional)
Materials
2

tablespoons

vodka

6

tablespoons

filtered water

10-40

drops of essential oils

peppermint, jasmine, citrus, lavender, etc
Instructions
Place the alcohol into a small spray bottle. Add the desired drops of essential oils.

Let the oils sit for 5 minutes or so and then shake well and add the water.

Shake again and spritz whenever you need a little pick-me-up.
Notes
Feel free to adjust the following blends and ratios to meet your own needs:
Relaxing bedroom blend
Energizing kitchen blend
Focusing office blend
Deodorizing bathroom blend
Freshen the air blend
Mood boosting blend
Warming blend
Breathe easy blend
45